Books | Culture & Community | Economic Development | Education & Youth | Arts & Culture | Whalley/Edgewood/Beaver Hills | Possible Futures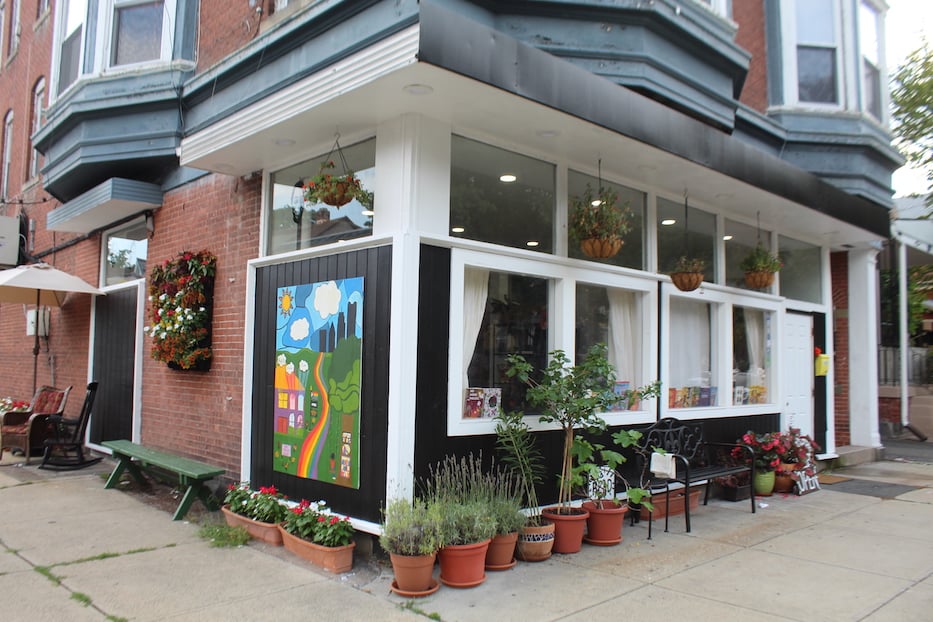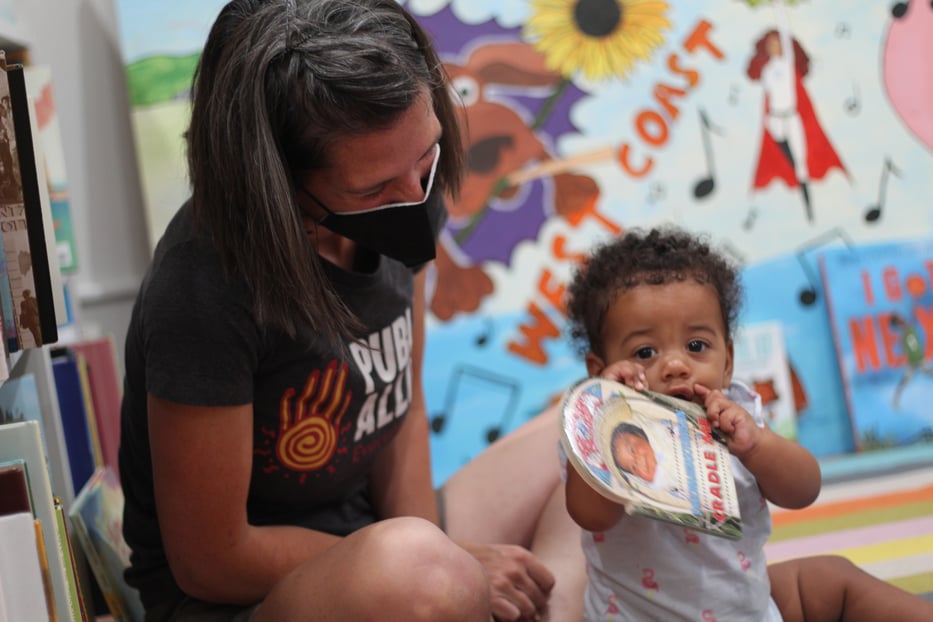 Top: The outside. Bottom: Lindsey Tengatenga and Shamiso. Lucy Gellman Photos.
A bright 4 p.m. light poured through the front windows of Possible Futures, setting new book displays inside aglow. Copies of Soul Food Sunday, Felon and On Earth We're Briefly Gorgeous peeked out onto the street. At the front of the space, Sekai Tengatenga snuggled into a sun-warmed couch, immersed in a copy of The Tea Dragon Society. A few yards away, her baby sister Shamiso lifted Debby Slier Cradle Me into the air, and then fitted one corner into her gummy mouth.
Every so often, laughter bubbled up from the center of the store, where kids lined up to be measured in the first breaths of a new school year. A monstera plant spread its thick leaves toward the ceiling, nourished by the sound of their conversation.
It's a familiar scene at Possible Futures, the new-old brainchild of bibliophile and former People Get Ready co-owner Lauren Anderson nestled at 318 Edgewood Ave. Eight months after People Get Ready closed its doors on Whalley Avenue, the bookspace opened on Edgewood Avenue, in what used to be a branch of the New Haven Free Public Library. Anderson, who sees it as a next chapter in her anti-racist bookstore dreams, has been working for months to welcome the neighborhood back.
After a soft opening in August, the space opened formally in early September. This month, it is charging into fall with a makers' circle, author and educator talks, and a pop-up at Elm City Lit Fest. Learn more here.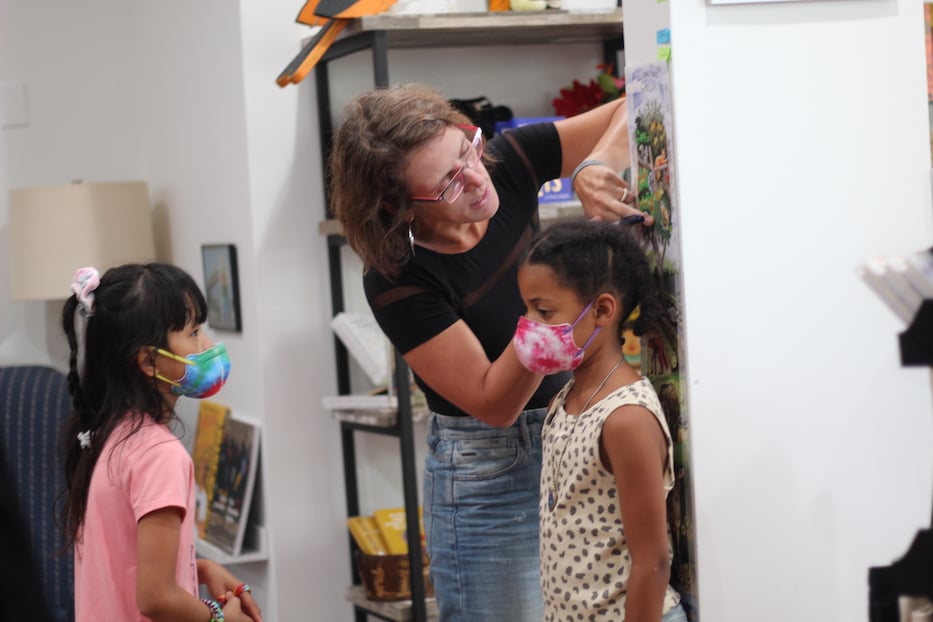 "It's really exciting to have a place available for people to gather," Anderson said on a recent Tuesday, as her dog Sugar padded around the store, resting in circles of sunlight that pooled on the floor. "It feels like a long time since I've been in a bookspace."
That sense of enthusiasm—geekery for not just books, but also for the people who gather around them and get lost in their pages—is evident from the moment a reader comes upon the building. Above the windows, passers-by can still make out a faded sign for a neighborhood branch of the New Haven Free Public Library, which at some point made way for Miss Dee Dee's Dance Studio. After that studio moved, the first floor sat empty for years, Anderson said—meaning that she had her work cut out for her when she moved in.
Now, she's transformed the corner and the space. From the sidewalk, the bright storefront beckons with huge front windows, books lining the sills from the inside. Along the exterior, sprigs of lavender sprout beside a spray of red and white begonias, their faces turned toward the sky. A display from Your Queer Plant Shop hangs beside a mural by members of Students for Educational Justice. At the center of the piece, a rainbow-patterned road leads toward a city that could very well be New Haven.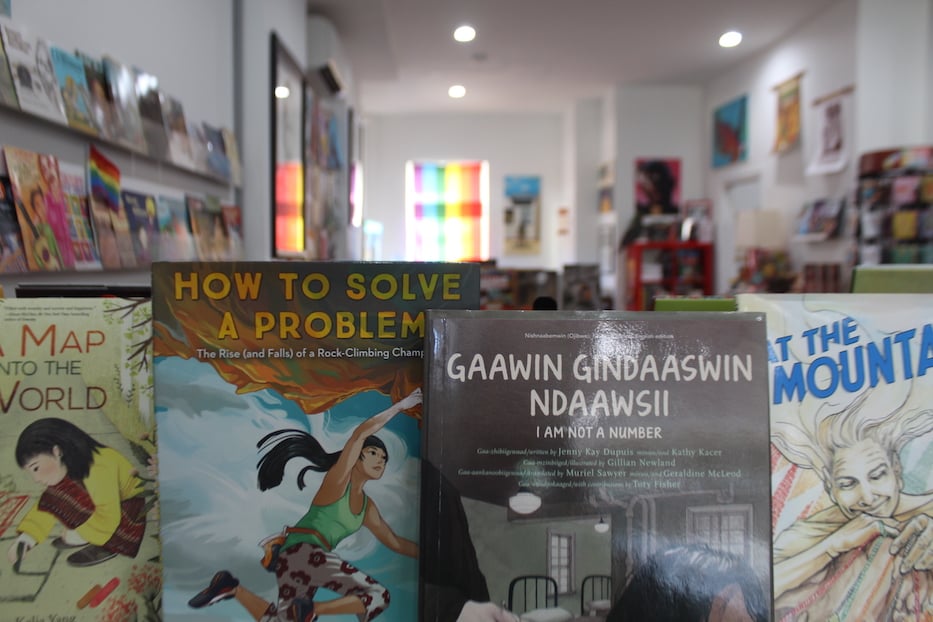 There are reminders of community like this everywhere. Kenia and Michael Massey's Black Corner Store sits just down the street, as does Augusta Lewis Troup School and a Coin Op Wash & Dry. Neighbors from Edgewood and nearby Sherman Avenue often duck in to see what's new, and find that Anderson is on a familiar basis with them within minutes.
On the walls, she has installed children's handwritten notes and drawings beside paintings from her partner, the artist Chris Barnard. One, a portrait of Sugar by budding artist Isla Javier-Jones, has attracted a fan base of pint-sized humans and dozens of adults alike.
On a recent Tuesday, neighbors and new customers drifted in and out, pausing at the snugly packed shelves and displays of locally made jewelry, handmade soaps, candles and all manner of book-based swag. Towards the front, Anderson chatted with Edgewood Avenue neighbor Lindsey Tengatenga, cooing as she lifted her infant daughter Shamiso into her arms. Behind them, copies of African American Poetry: 250 Years of Struggle & Song and Make Good the Promises waited for eager eyes. As if on cue, Shamiso burst into a wide, dimpled smile.
On the space's cozy couch, Tengatenga's older daughter Sekai sank into the cushions with Kay O'Neill's The Tea Dragon Society, and let herself get lost in the words. Anderson smiled across the room, taking it in: she routinely invites customers to stay and read, whether or not they purchase a book before leaving. It's part of why she prefers "space"—which inherently connotes gathering—to "store."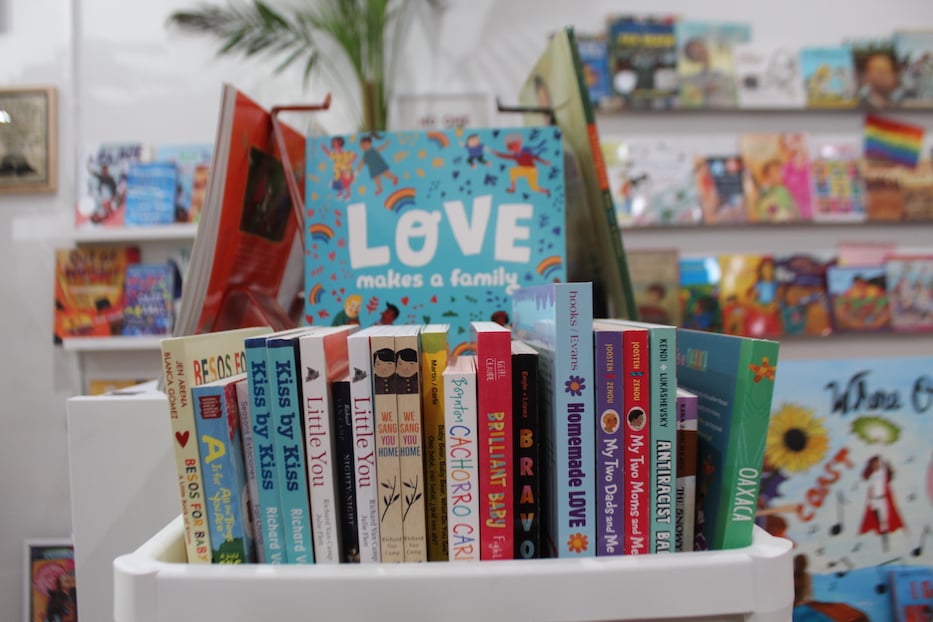 "It's the best thing ever," Lindsey Tengatenga said as she half-danced over to the board books in the back, and settled on a rug beside Shamiso. "I think that we need these spaces where people can come and be together and imagine a better future. I've traversed so much more of my own neighborhood because this is here. It's a treasure."
Towards the back, Edgewood Creative STEAM Magnet School student Aeriana Blackmon buzzed over a display of children's books and rearranged a few that had slid out of place. In every title, a new universe waited for the right reader. There was the English-Ojibwe Gaawin Gindaaswin Ndaawsii and Kiss by Kiss / ocêhtowina: A Counting Book for Families in English and Cree, copies of Little You and Besos for Baby waiting for a pair of chubby baby hands. Sophie Beer's Love Makes A Family sat at attention behind them, as if it was keeping watch.
As Anderson's neighbor on Elm Street, Aeriana started helping around the store in July, as Anderson was still setting up the space. She's stuck around because she loves volunteering in the storefront, where hours of calm might be pierced by an influx of loud, giggling students glad to be back at school and parents who haven't found a time to catch up in months.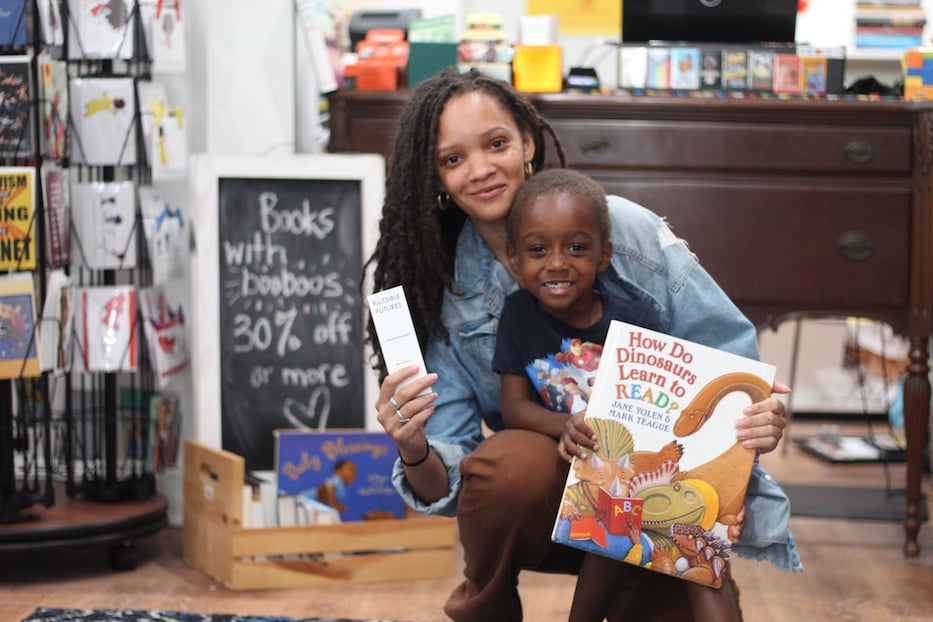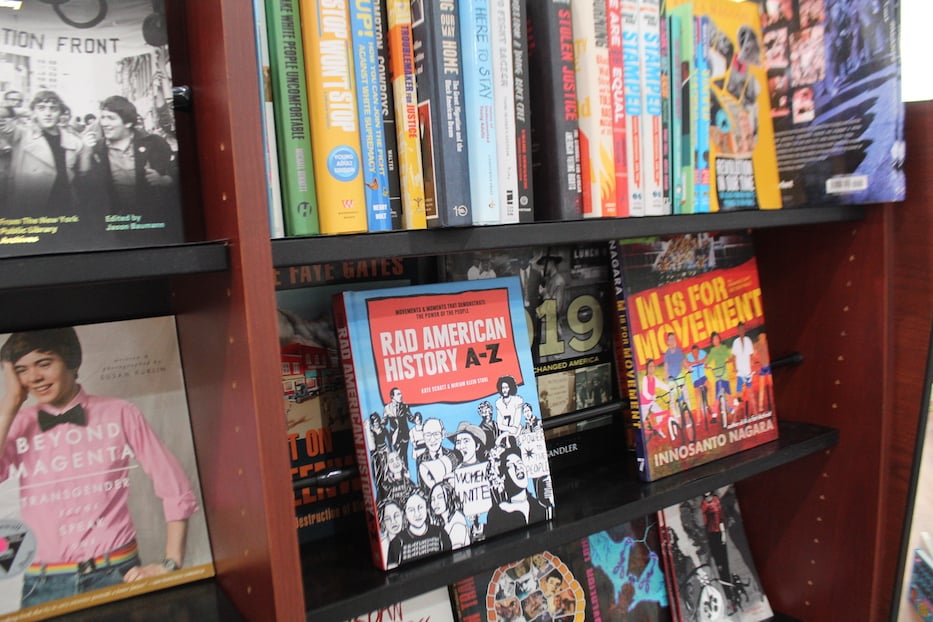 Ny and Jasiah. Lucy Gellman Photos. The photo at the bottom of Dr. Beryl Bailey is from Lauren Anderson.
At the register, BAMN Books founder and self-described book nerd Ny and her 4-year-old nephew Jasiah made their final selection for the day, cradling copies of Malcolm Little and How Do Dinosaurs Learn To Read?. Born and raised in New Haven, Ny said she's thrilled to have a new all-ages bookspace "right in the heart of where I grew up." Even before they were out the door, Jasiah was immersed in the pages of How Do Dinosaurs Learn To Read, entranced by the illustration of a triceratops charging through a library.
As a kid, the library at Wexler-Grant Community School was her safe place, Ny said. Now, Possible Futures has recreated it in the core of Edgewood for a younger generation. As she browsed, Anderson opened and unboxed a puzzle for Jasiah, his eyes gleaming with delight. By the end of an hour in the store, he was making friends with Sugar.
"It's amazing," Ny said. "I've seen the hard work that she's put in and I'm excited about how she's going to bring the community together."
In just over a month, Possible Futures has also built a steady and devoted fan base, including people who followed Anderson from Whalley Avenue over to Edgewood. Driven by her love for books, Inner City News Editor and WNHH Community Radio host Babz Rawls-Ivy has started a fundraising campaign to cover the cost of books for kids who would not otherwise be able to afford them. New Haveners can participate by sending a payment with the hashtag #BabzBookJoy to Possible Futures (@possible-futures) on Venmo or leaving a donation at the bookstore.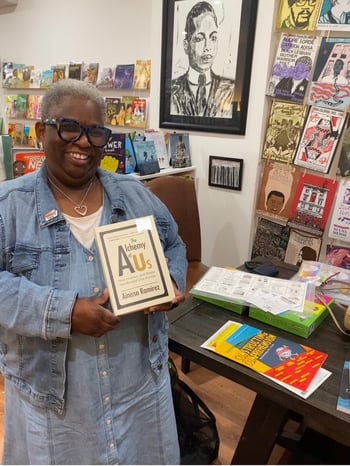 Dr. Beryl Irene Bailey, a longtime educator who raised her daughter in the third floor apartment above the store from 1988 to 1993, said she sees it as transforming the corner. As a kid, Bailey grew up in Edgewood, where Augusta Lewis Troup and Timothy Dwight Schools (the latter closed in 2009) sparked in her a love of teachers and teaching. For her, 318 Edgewood Ave. was a "family house," where she helped raise her niece, her sister Deirdre and her daughter. Her dad, a World War II veteran who passed earlier this year at 99, lived on the second floor.
Seeing a bookspace on the first floor marked a full-circle moment, she said. In her work, Bailey is in the process of writing a historically, culturally responsive read aloud curriculum that reflects the diversity of the country students live in. In early September, she met Anderson through Elm City LIT Fest Founder IfeMichelle Gardin, with whom she attended Hillhouse four decades ago. When she saw the books organized in the space, she said, it was love at first sight.
"I have 72 children's books in this curriculum, and when I saw them on her shelves, I said, 'She's definitely knows what's going on!'" she recalled in a recent phone call. "She had titles that I didn't have. I said, 'Wow, this is great.' She literally is catering to that community and providing a much-needed resource."
Bailey added that she loves thinking of neighborhood kids coming into the store to read, whether they're on the block because their parents are doing laundry or they and their friends live nearby. What moved her most, she added, was watching the warmth and familiarity with which Anderson interacted with every person who came through the door.
"Just the fact that she's on a corner where I'm sure there used to be a lot of negative traffic," she said. "I think she has repurposed that corner. Imagine children who can walk across the street and spend time reading."
Possible Futures is open Tuesday and Wednesday from 11 a.m. to 5 p.m. and Thursday through Saturday from 11 a.m. to 6 p.m. Visit its website here.