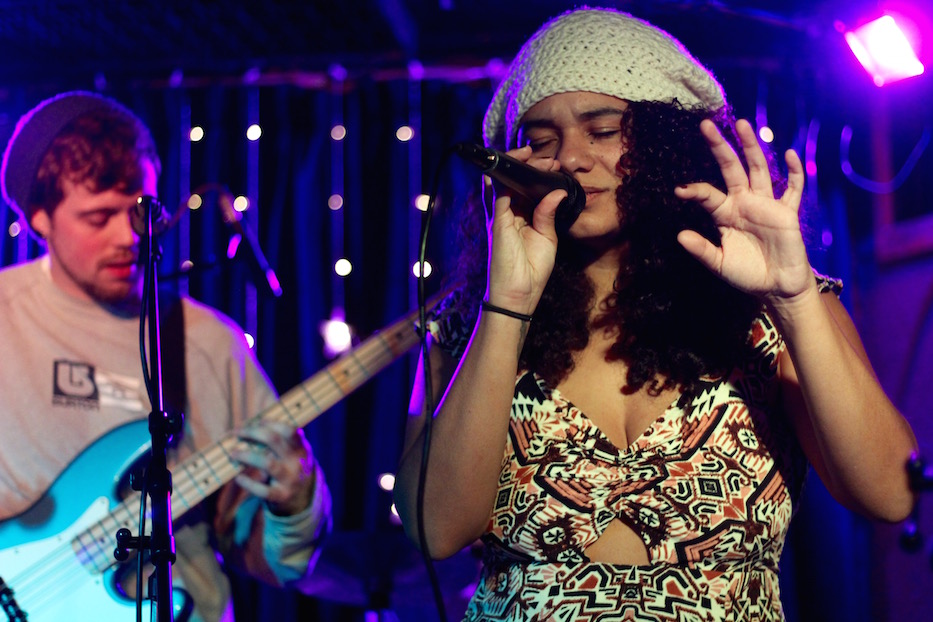 Cafe Nine | Music | Arts & Culture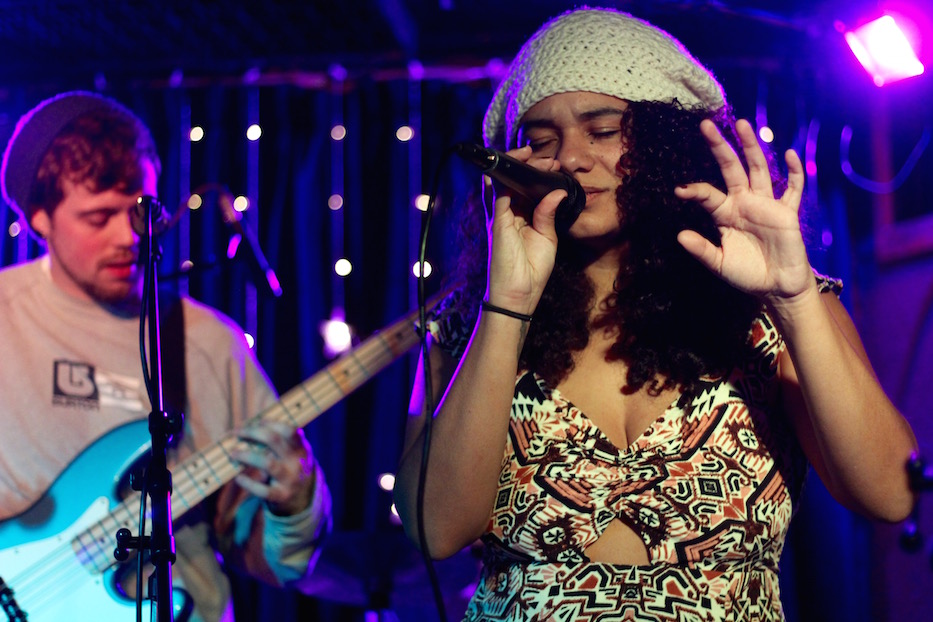 Fernanda Franco at a recent gig at Cafe Nine. Lucy Gellman Photo.
Fernanda Franco moved to New Haven in March. Nine months later, she has introduced her band to the city, recorded and dropped an EP with the group, and started working towards a full album. For most of it, it seems there's been a mic in her hand.
This year, Franco stunned and delighted New Haven as a frequent presence at packed jazz jams, well-worn city venues, open mics and small shows with big, beam-raising vocals. Now, she and members of the band FaTE—that's Fernanda and the Ephemeral—are looking towards 2020 with a new album on the horizon. It comes just as she finishes her graduate degree in elementary education.
The group's EP, Large Faxes, was released in November. It is available for download and streaming on Bandcamp and Spotify. The band includes Alex Patrie on keys, Zack Rosenberg on guitar, Zack Ross on bass and Nick Morcaldi on drums.
"This band has been a therapy for me," Franco said at a recent gig at Cafe Nine. "I'm learning how to be myself."
On the EP, her vocals take center stage, building slowly until they're at full force. On "Hold My Hand," she soaks the track in R&B, carrying the song before she bows out for a guitar solo and then jumps back in. The band joins on vocals and tumbles forward, immediately danceable. "Baby won't you let me/call you mine!?" she croons, and every hopeless romantic is nearly on their knees.
Each track has that quality, showing off a group that is still budding and eager to experiment, and a leader who has no fear and no boundaries. The beat drops on "Nothing Lasts," and she's coating the track in honey with razors at the edges of her voice. From R&B, the band swoops into indie rock and even metal, sometimes muddling the three with a guitar riff or propulsive percussion. When she slips over the track on "Smoke and Mirrors," she has grit and luster at the same time, her voice turning on a dime.
Franco is the vocal glue here, but she's also warm and silly. The title track features audio of her futzing around with a Rubik's Cube on her couch, taken from a recording that Patrie took on the sly. As he tinkers with his guitar, the two muse on the plural of "large facts"—"like, we talk about big facts" she explained recently at Cafe Nine—and ultimately get Large Faxes.
"I'm so excited that it's finally out," she said. "On top of it, we're working on an even bigger project. It's just incredibly exciting to move so fast. Usually, I feel like it's hard to move uphill."
That sound has been years in the making. Franco was born in Brazil, but moved to Bethel, Conn. with her family when she was eight. It was a culture shock: they spoke no English, and she was placed in special education classes. The town was very white, without another Brazilian family in sight (now there is a small Brazilian population; a little over one percent of the town's residents speak Portuguese as their first language).
At home, she was soaked in bossa nova thanks to her dad, who is a Brazilian percussionist ("those were my lullabies"). It was only a matter of time until she started making music herself.
In college at Western Connecticut State University, Franco met her future bandmates while studying opera. When she graduated, she moved to Los Angeles, and then back to Connecticut to pursue a degree in teaching. FaTE formed last year, during the summer months. The band became a rotating door, Franco said: some members who started it have now left, and others have come on.
Franco realized she couldn't afford to be in the suburbs while she worked on her graduate degree. New Haven kept calling her until she finally made the move in March. She praised the city, where she lives just off Whalley Avenue in the Whalley/Edgewood neighborhood.
"I love it so much," she said. "It's so crazy, but it's such a beautiful community. New York doesn't have that. It's kind of soulless at this point. I don't feel that when I go to Hartford."
The choice, it turned out, was also an unexpected boon to listeners across the city. As FaTE booked gigs across the state, she made the city's music scene her informal home. In July, she awed audiences at the inaugural jam at The State House, turning covers of Mary J. Blige and Lauryn Hill into her own pieces. Two months later, she popped up at the first Jazz Where?, and has become a fixture at jazz brunches and New Haven Jazz Underground events.
At a recent EP release show at Cafe Nine, she sang out the longest day of the year with fiery, soulful vocals, inviting friends and former bandmates up to the stage. At one point she handed a mic to Phat A$tronaut frontman Chad Browne-Springer and launched into a soaring, funny duet that will be on the upcoming album.
She crooned; he improvised. He dropped tight bars, she became a sweet-throated cheerleader, with quick interjections of encouragement. Even after he was finished, she teased him from the stage about his contempt for mayo, about which he is so passionate he has written the track "There Is No Mayo In Heaven" for Phat A$tronaut.
As the band eased into "Smoke and Mirrors," Franco leaned so far forward on her mic stand that it looked like she might walk right out onto a makeshift dance floor. Attendees cheered, watching her every move as she wailed "I give in to your smoke/I give to your warmth/I give to your strength/I give up now I'm high." She stepped back as guitar swelled and began to shred .
In between pieces, she joked about knit hats, big hair, and having just finished school, as if to prove to the audience that she was still just a girl with a mic doing her thing. She was easy and gentle, thanking attendees who had braved the cold and shouting out current and former members of the band. As the night wound down, she introduced a new song about New Haven, weaving in street names and jokes around IKEA.
"I just moved this year," she said to cheers. I'm still just getting to know her, and she's so sexy."
The beat picked up around her. Franco exploded into a huge grin, and got right into the song.
FaTE is on Facebook and Instagram at @FateBandCT. For more, check the band out at Bandcamp,