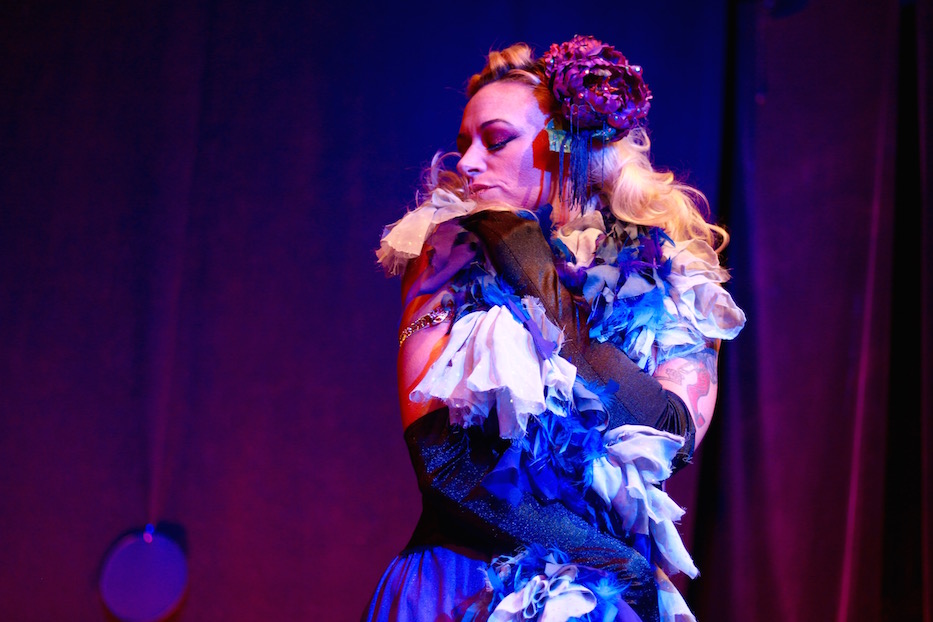 Bregamos Community Theater | Fair Haven | Music | Arts & Culture | Visual Arts | Cabaret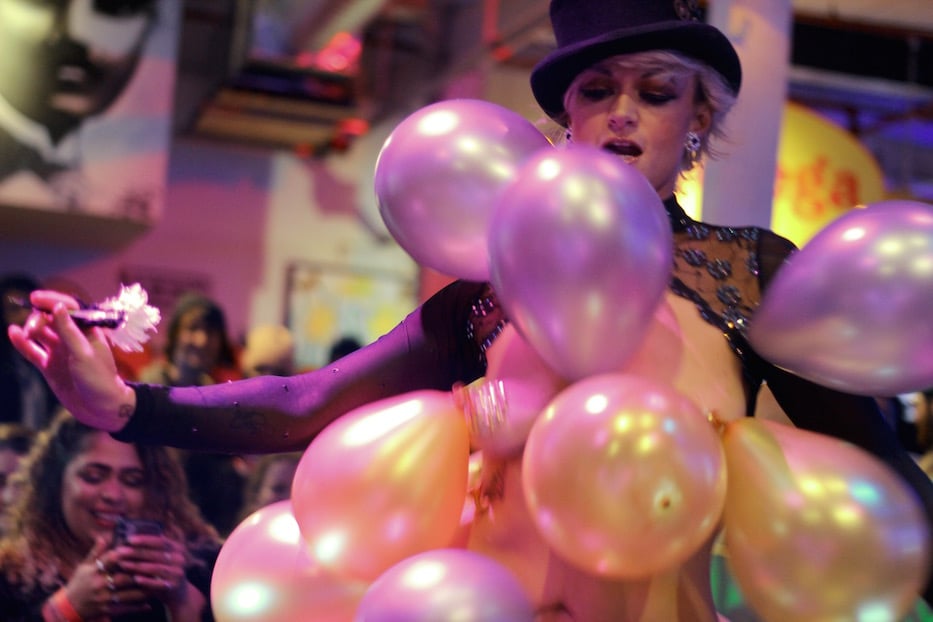 Burlesque performer Marion V Ette. Lucy Gellman Photos.
At one end of Bregamos Community Theater, burlesque performer Marion V Ette hopped off the stage, floating in a cloud of silver and gold balloons that covered her legs and chest. At the other, artist Anthony Barroso looked back at two paintings that channeled George Grosz and Rene Magritte. Beside him, Hazel Lebron served up another two jerk shrimp empanadas, their edges golden.
Across the space, Ette pulled a feathered dart and popped a balloon at her hip. A roar rose from the audience.
Performers, artists and small business owners gathered Saturday for The Wandering, a celebration of community artmaking that doubled as a fundraiser at Bregamos Community Theater. The brainchild of artists Anika Stewart and Elizabeth LaCroix Taylor, the event gave artists a chance to share their work and raised over $600 for Bregamos by the end of the evening.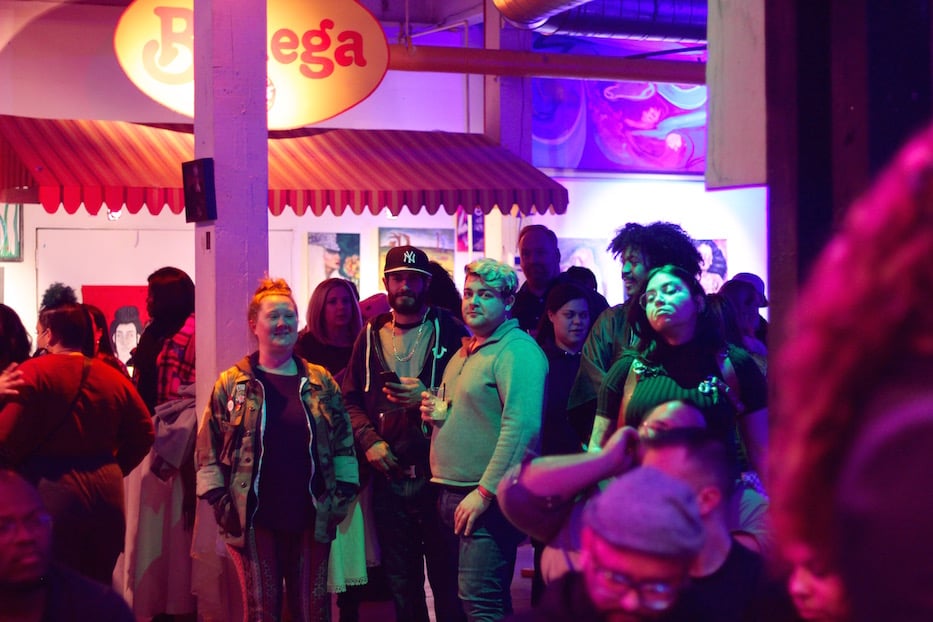 Attendees at The Wandering.
This year marks the fourth iteration of the series since it began in 2019, Stewart said. Years ago, the two met after Stewart hung a show at Barracuda Bistro and Bar, and LaCroix Taylor invited her to collaborate on a Day of the Dead exhibition. LaCroix Taylor runs LaCroix Artistry; Stewart is a working artist and runs Your Queer Plant Shop with her partner Georgina Gross. Both praised Bregamos Founder Rafael Ramos for opening the space to them.
"I grew up on the lines of being poor, and never had the opportunity to go to art school," Stewart said Saturday, as a steady stream of attendees floated through the door and all manner of jumpsuits and stilettos filled the space. "Trying to find your way in the art world—it's not so linear. We have a lot of friends who are artistic, we have a lot of friends who are vendors."
"And it's an awesome community space," LaCroix Taylor chimed in as music from DJ Hot Toddie boomed through the small theater.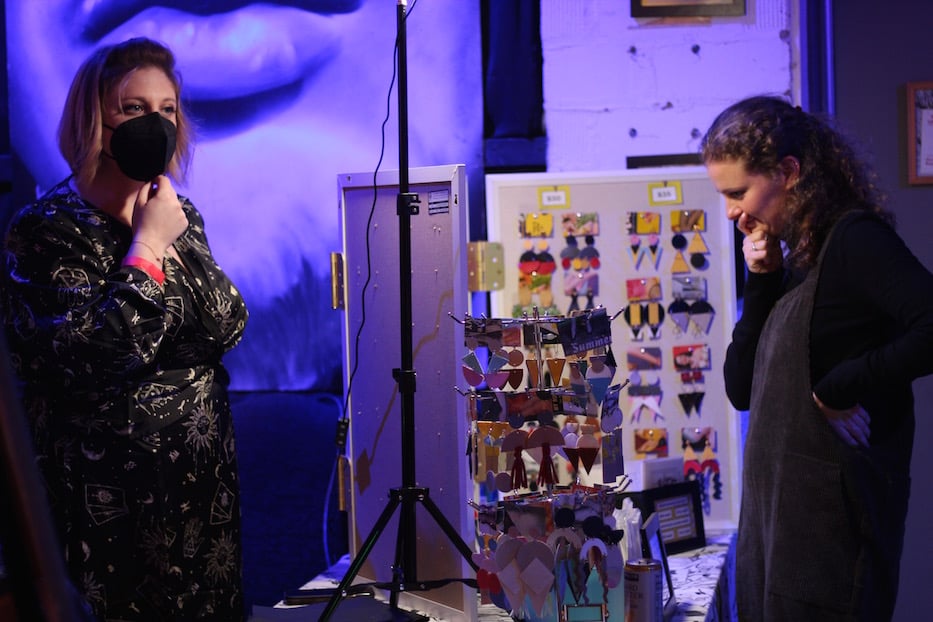 Alex Novak Foster of Pearl Studio (at left).
Before performers took the stage, the night belonged to artists who set up around the room, selling everything from paintings to plants to empanadas. By the entrance, Alex Novak Foster welcomed attendees to a pop-up from Pearl Studio, which she operates out of her home in New Haven. On a table, pairs of earrings glinted in the light with chunky, geometric designs in faux leather, recycled paper and bits of repurposed jewelry. Sets of collaged holiday greeting cards sat on one side of the table. A portrait of Frida Kahlo stared out warily on the other.
The education manager for Arts For Learning Connecticut, Novak Foster started making the earrings during the pandemic as a way to keep her hands occupied "when I got nervous" listening to the news, she said Saturday. After the murder of George Floyd last year, she began donating 100 percent of the proceeds to The Bail Project. That number is now 15 percent, which lets her cover the cost of supplies and keep contributing as a monthly donor. Every few minutes, a new customer rolled up to her booth, inspecting the designs.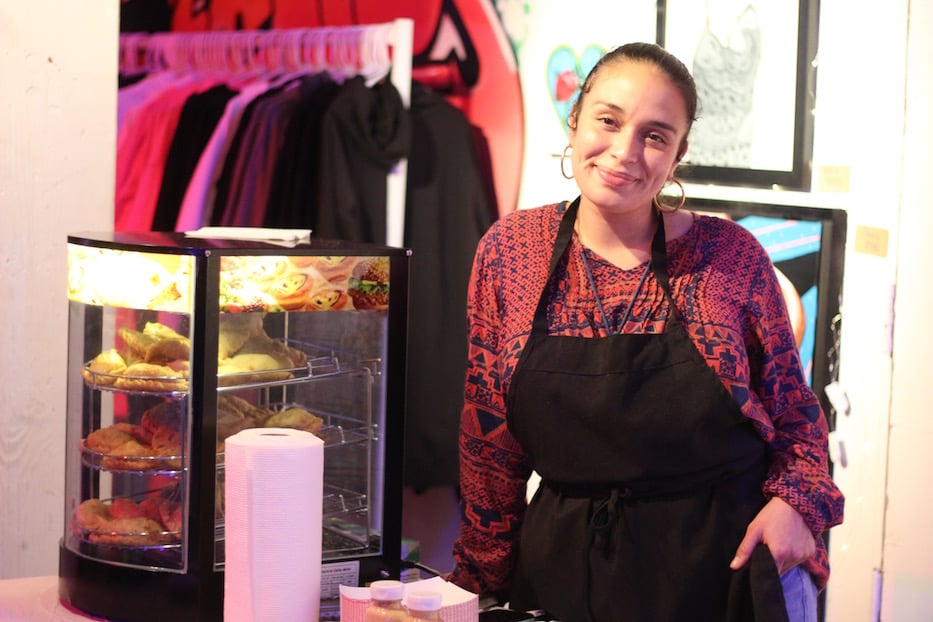 Hazel Lebron, who runs Madeline's Empanaderia with Maurice "Chef Moe" Watson.
Just yards away, Hazel Lebron sold crisp-at-the-edges empanadas from Madeline's Empanaderia, a brick-and-mortar restaurant that grew out of a pandemic pivot. Raised by parents in the military, Lebron spent her childhood traveling until she moved to New Haven for classes at Gateway Community College. For five years, she sold Caribbean and Latin American food through Caribe Soul, a New Haven food truck that shuttered during Covid-19 last year. When it became clear that shutdowns were not as temporary as she had thought, she closed the business and sold the truck.
As she figured out next steps, she learned that Maurice "Chef Moe" Watson and his Lunch Box 23 food truck had suffered the same fate. The two opened Madeline's, named after her nine-year-old daughter, on Middletown Avenue in April of this year. Although Lebron has cooked for years, she runs front-of-house operations while Watson turns out the flaky pocket pastries in the kitchen. The two worked together on the menu, which includes sweet and savory empanadas, small plates, and sandwiches.
Your Queer Plant Shop was one of Saturday's vendors. Stewart runs it with her partner Georgina Gross.
Saturday, she stood beside a bright warming display case, where empanadas with jerk shrimp, cajun chicken, and ground beef with American cheese waited for hungry passers-by. The three are some of the restaurant's most popular: Madeline's also has vegan and vegetarian options with Brussels sprouts, curried potatoes, spinach, mushrooms, and lots of melty, bubbly cheese.
She said it's part of a decades-long path to entrepreneurship, from selling candy and water bottles at school to old cameras and vintage radios at tag sales. Watson "was exactly the same way," with a t-shirt business long before his food truck.
"It's therapeutic," she said. "It's kind of like our form of art."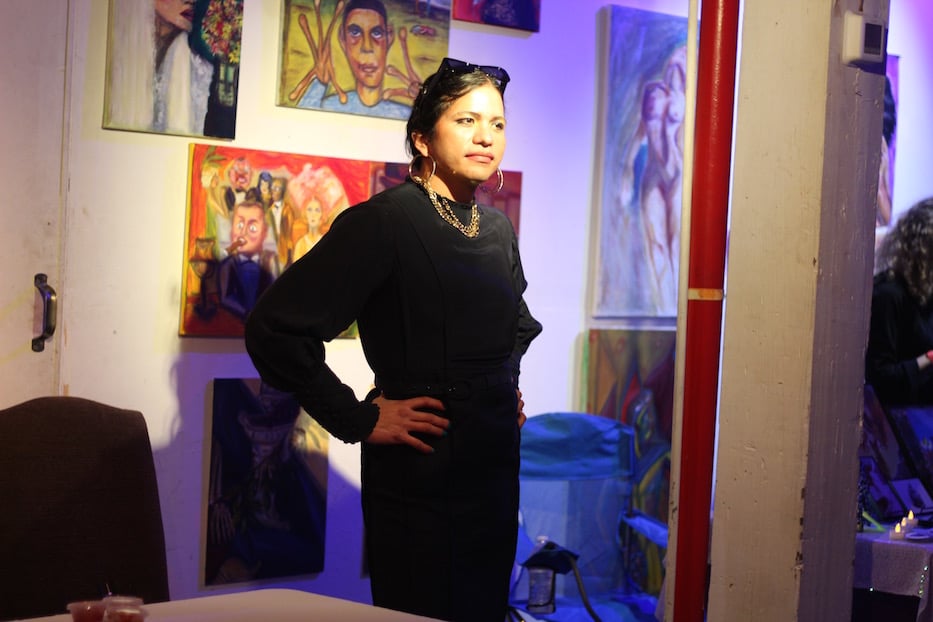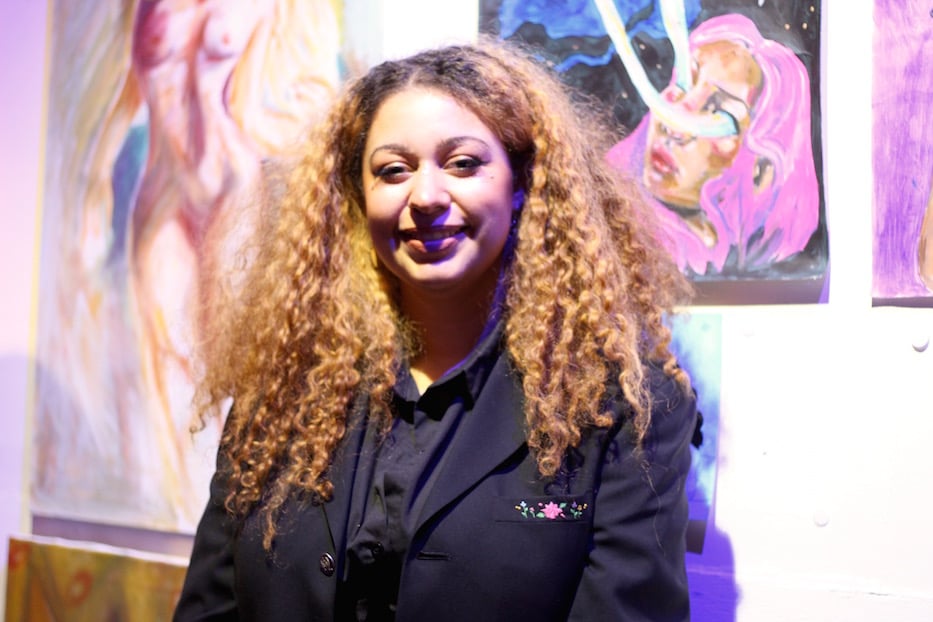 Top: Anthony Barroso. Bottom: Amahdi Stewart.
Beside her, visual artist Anthony Barroso looked out over the room, his paintings hung one atop the other at his back. One, modeled after George Grosz' 1926 Drinnen und Draussen, came out of a final project at Gateway Community College last year. Another work channeled René Magritte's La boîte de Pandore. Both originals live in the collection of the Yale University Art Gallery, where Barroso spent time with them before the pandemic hit Connecticut. The works shared a long wall with paintings by Amahdi Stewart, whose work comes out of an interest in spirituality.
Barroso pointed to the piece he may be proudest of at the moment: a surreal, fantastical self-portrait installed just above his left shoulder. In the painting, a boy looks out at the viewer, wide-eyed and full of questions. His fingers are spread out, stretched matchstick-thin and distorted. They reach out toward the viewer, as if the canvas is just a thick pane of glass and the boy is pressing on it to get into the viewer's world.
He said he thinks frequently about what it means to live at multiple intersections—queer, immigrant, undocumented, Latinx—in this country After looking back at several photographs from his childhood, he "saw a lot of sadness," he said. When Barroso was young, he spent years in Ecuador while his parents worked to bring him to the U.S.. He finally arrived when he was eight, and has since become a DACA recipient and fierce advocate for immigrant rights.
"You have to really look at yourself in the mirror," he said. "Our own systems can sometimes tell you that you're bad."
He added that he was particularly grateful for the chance to exhibit his work in a year that has forced him to put painting largely on hold. For the past year, Barroso has been juggling a part-time job with Gateway's program in radiation therapy, which he is close to finishing. He rarely has time for his artwork, he said. If he paints, it happens during the occasional all-nighter.
"Making art has taken the back burner," he said. "And at the same time, I want to stay connected to my artmaking. I feel like we're building a community of artists here, where we're collaborating."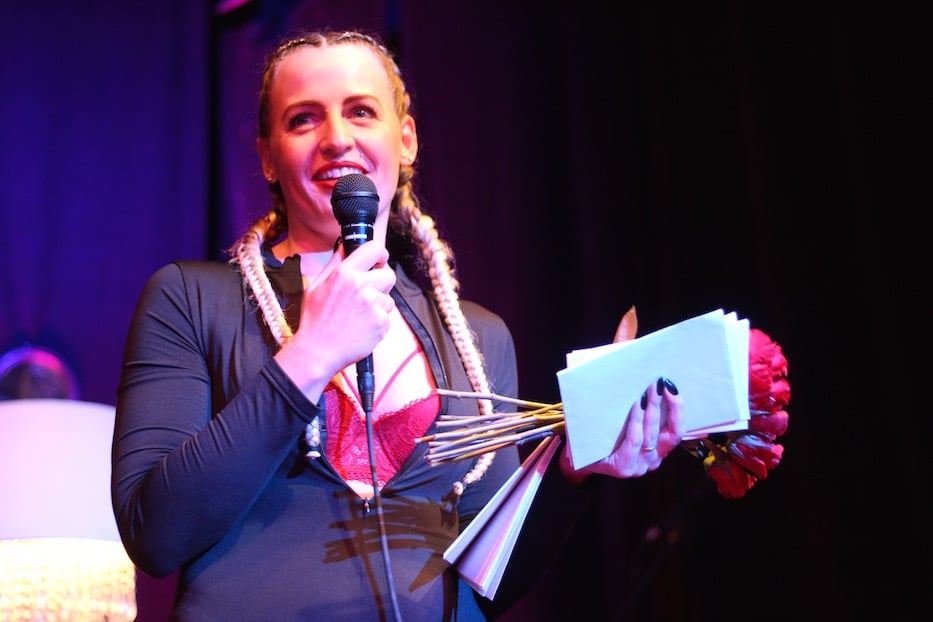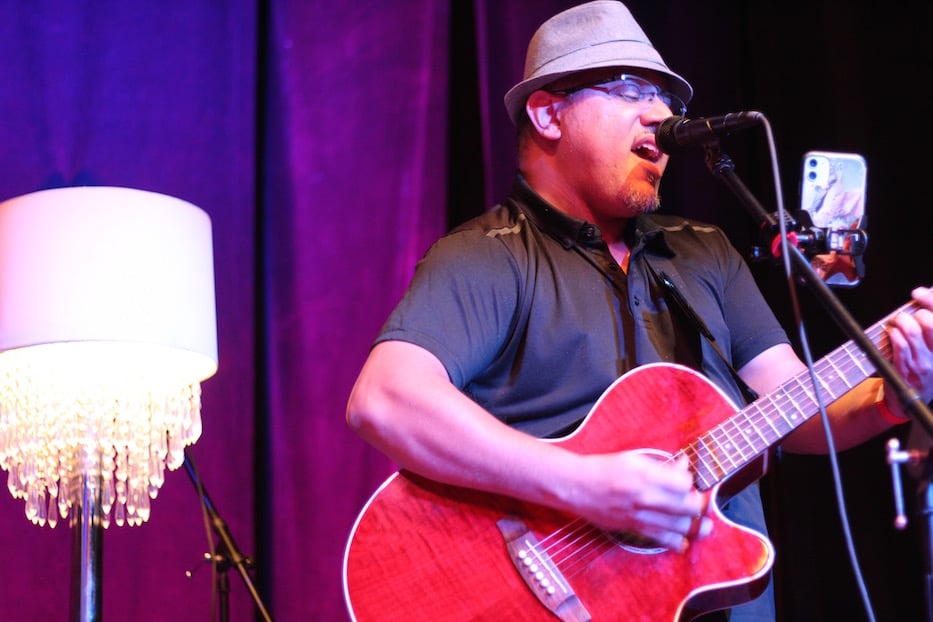 Top: Elizabeth LaCroix Taylor. Bottom: Jemar Phoenix. The Hooch, with which he performs, will drop an album next year.
At the stage, the party was just getting started. Born and raised in Fair Haven, musician Jemar Phoenix took his guitar and began his set with a new single "Gonna Be Alright" from his forthcoming 2022 album. A member of The Hooch, Phoenix said that the past year has been one of musical rebirth after a long and unexpected pause. In 2020, members of the group only performed three shows. This year, "we're starting to slowly come back," he said.
"I saw a lot of friends that walked away," he said in conversation before getting onstage. "I feel lucky because we somehow came out better. We had a gap and came back."
Leaning into the mic, he beamed and chatted with the audience between songs, remembering what it was like to grow up just blocks away from Bregamos on Blatchley Avenue. In middle school, a classmate challenged him to write a love song that folded in rap. It became his gateway to rap and then R&B, and later convinced him to keep writing and buy a guitar.
Saturday, he gave attendees a sneak peek of new pieces from the new album, including "Better Way." A few cries of "Woo!" and "Dawmn!" went up from the audience. He flowed into "Feeling You," and his voice became sultry, dipping low with the lyrics. Then he switched gears.
"You guys okay if I sing a cover song?" he said to nods, snaps, and big smiles from the audience. He had the musician The Weeknd on his mind.
"You don't even have to ask!" an attendee responded from the second row.
Phoenix strummed out the first notes of "Can't Feel My Face" and burst into a smile. "My mom raised me right, so I always ask," he said. He dipped into the song and a few more cheers exploded from somewhere in the fourth row. Then the crowd was jamming.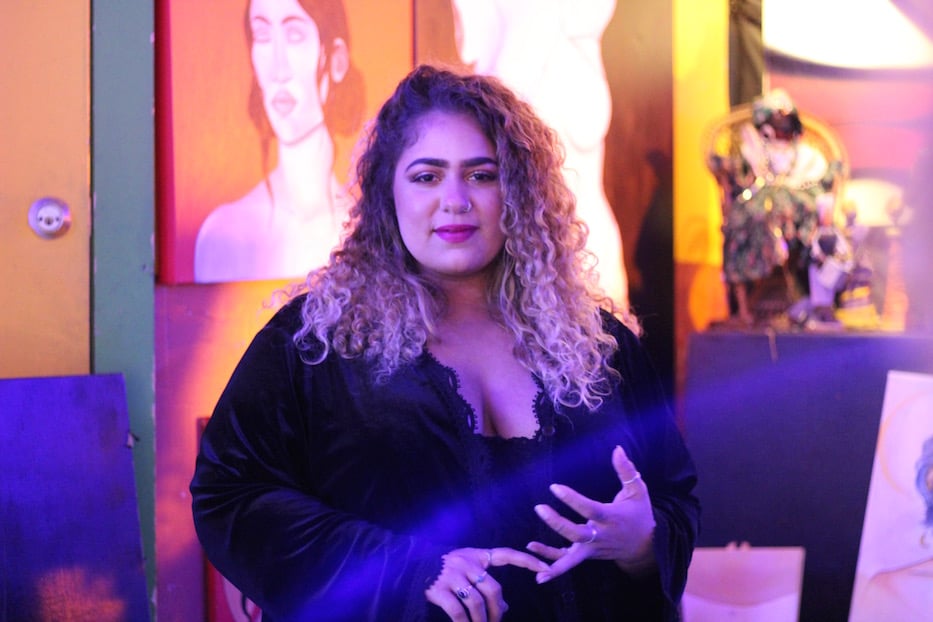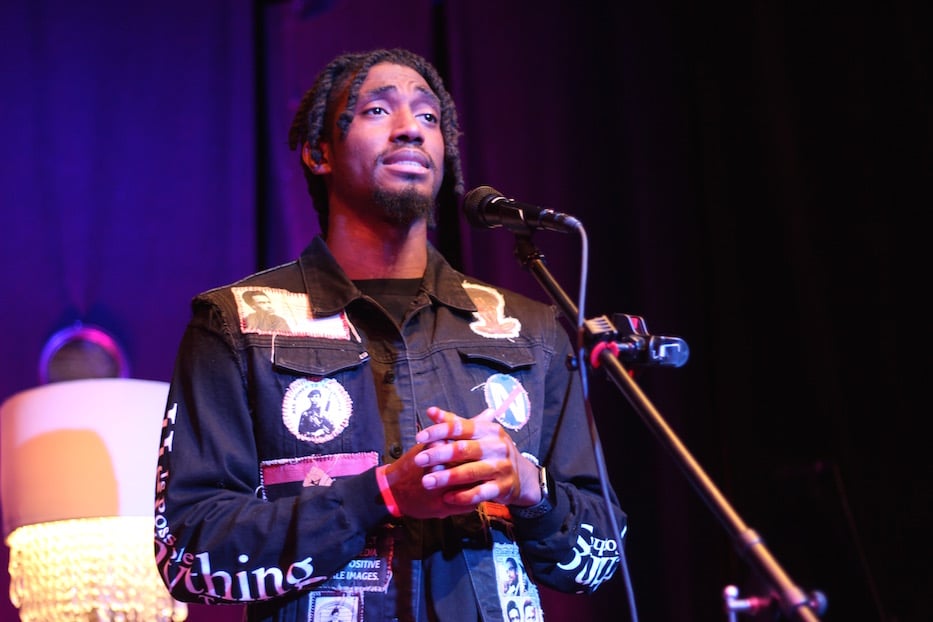 Top: Anika Stewart, who co-curated the night with Elizabeth LaCroix Taylor. Bottom: Brooklyn-based poet Kimane Patterson.
He opened the door to poetry, burlesque, and cabaret performances that slid neatly into each other. Taking the stage, Stewart welcomed attendees with a spoken word invitation to wander through the space, her words a mantra for the half-seated, half-standing house. The audience responded with Mmmms and knowing yeses. Even the buzz of conversation in the background seemed to fit.
There is hope, for as long as I wander and wander, she read.
For as long as I question where you came from and how to get there
As long as I can differentiate between precious metals and the shine of your teeth,
the color of your hair and the moon's reflection in a body of water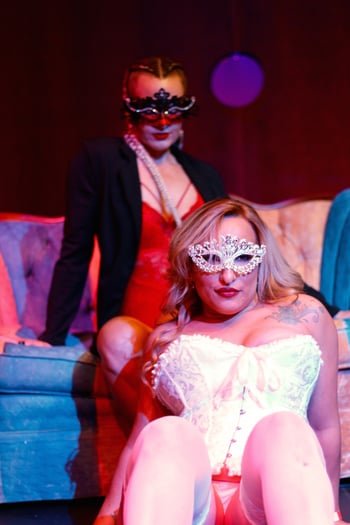 The curve of your lips and the sound of rain
As long as I can align my footsteps with yours/And pave the ghosts of them with gold
Just to lead me where you came from
LaCroix Taylor and Solmarie Santiago took the poem as an invitation, wandering out onto the stage for their first-ever burlesque number as a duo. Santiago is the owner of SOLÉI, a body contouring spa on Ella T. Grasso Boulevard. When she wasn't onstage, she was running a station at the other end of the room. As she emerged in a white, fringed corset, garters and a masquerade mask, she shape-shifted from small business owner to a Vaudeville-era vixen, striking a pose as she sank onto the stage.
Attendees celebrated Brooklyn-based poet Kimane Patterson, whose work "Dear Black Woman" opened a six-minute set dedicated to the often overlooked strength and brilliance of women across a diaspora. He praised Black mothers, with lines like "Mind so strong/having the will to raise Black bodies in a world/That's unforgiving." He praised bodily autonomy. By the time he wound down with an ode to intellect, the audience was cheering between stanzas.
They kept the energy going as Bianca Cali and a performer who identified himself only as "Charlie" stepped on stage. As he bounced from the couch to a microphone to the keyboard, Charlie relaxed, with robot-like moves that transformed into a one-man rhythm section. Cali dipped into a cabaret-inspired set. Her vocals, sultry and strong, wrapped around the stage.
A member of the evolving House of Artistic Unity on Winchester Avenue, Cali later said that the two met during an open mic at Stella Blues and hit it off immediately. Saturday, she strung together a set that included Feist, ​The Aristocats, Amy Winehouse, and Édith Piaf. When she bowed, attendees could make out a headband with tiny, sparkly cat ears that matched her dress.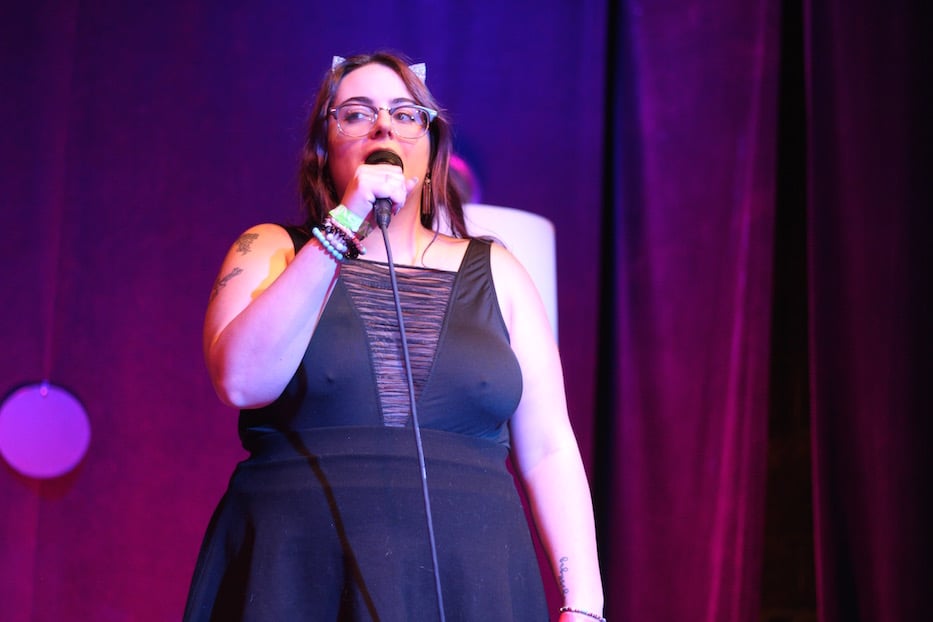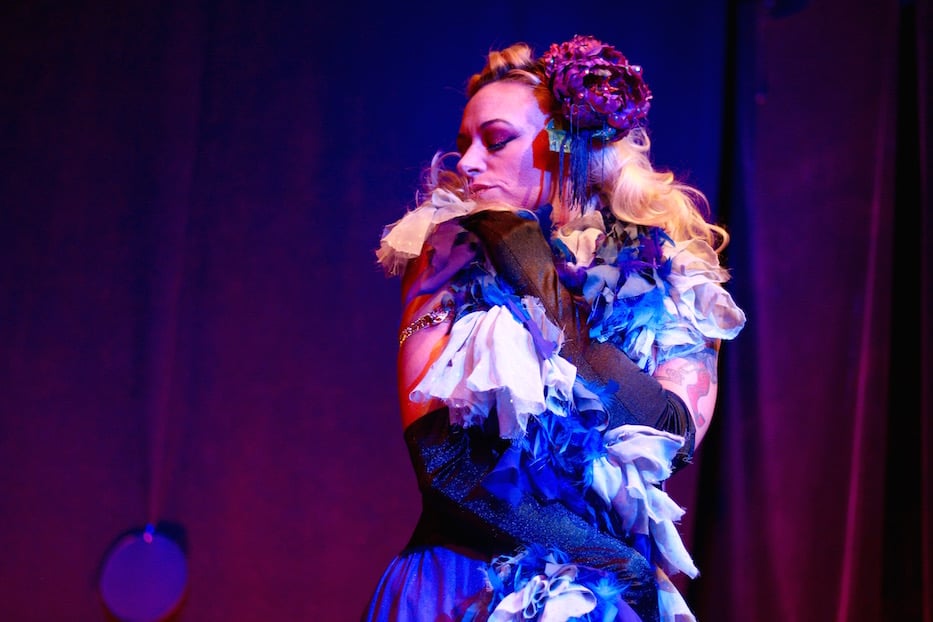 Top: Bianca Cali. Bottom: Marion V Ette in her final number of the night.
But it was Ette, who her sister described as "the Bargain Barbie of Burlesque," who captured the spirit of the night as she came on and off stage for three different numbers. Based in the Black Hills of South Dakota, Ette is still at the beginning of her burlesque career, and working to get it off the ground. Saturday, she strutted out onto the stage dressed in balloons, a shimmering lace wrap, and glittering pasties. Introducing her, her sister Jess noted that she may be one of the thriftiest performers out there: Her outfit ran her a whopping 98 cents.
Before jumping from the lip of the stage into the audience, Ette pulled out a single dart and lowered it to a balloon by her hip. In the audience, there was a collective leaning forward to see what she would do. With a quick flick of her wrist, she popped it. The audience cheered as its rubber shell fluttered to the stage. Within moments, she was among them, dancing through a narrow aisle.
Over three numbers, she brought the spirit of burlesque—its sense of risque parody and humor, as well as its hard-edged, sometimes austere and old-timey beauty—into the theater. By the final number, set to a slow, sultry cover of "Purple Rain," attendees watched her every move. When she lifted a scarf in shades of blue above her head, it arced and danced beside a tattoo on her left bicep. She closed her eyes and a dreamy expression appeared on her face, lost in the number.
Before Ette's final number, LaCroix Taylor handed out roses and envelopes to performers, thanking them for coming. When she called Stewart up to the stage, she looked as though she might start to cry. She gave her a long squeeze, radiant beneath the theater's purple lights.
"Girl, we did it," she said. "We did it."
Watch videos from the evening above.