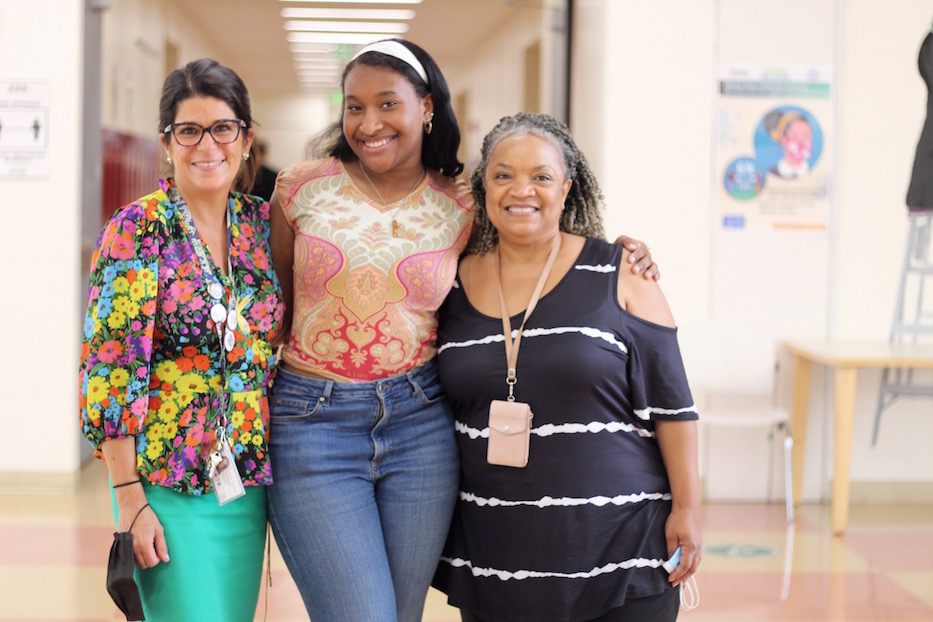 Co-Op High School | Education & Youth | Arts & Culture | Musical Theater | New Haven Public Schools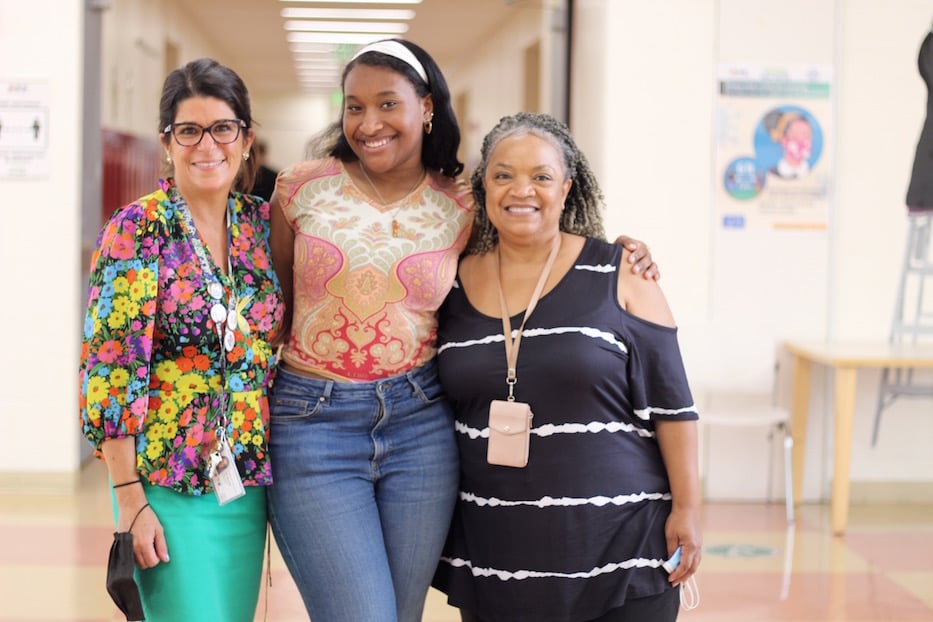 Cooperative Arts & Humanities High School Arts Director Amy Migliore, Rachel Kearse, and Choir Director Harriett Alfred. Lucy Gellman Photo.
Rachel Kearse grew up knowing she would spend her life in the classroom. But when she stepped onto the stage as Delores Van Cartier her senior year, she lifted her voice to the rafters, and transformed into another person through music alone. Now, she is taking that love with her to Broadway before starting her studies as an elementary school educator.
Kearse, who graduated from Cooperative Arts & Humanities High School last week, is the winner of a Stephen Sondheim award for her performance of Delores Van Cartier in Co-Op's run of Sister Act earlier this year. The Stephen Sondheim Awards are statewide awards given out annual for outstanding performances in high school musical theater. They are hosted by Broadway Method Academy, which works with nominees to prepare for a ceremony at the Shubert Theatre each June.
Monday, she headed to theater boot camp for the Jimmy Awards, a national celebration of high school musical theater in New York City. For the next week, she will live in housing at The Juilliard School with 92 other awardees from 46 theater programs across the country. Then next Monday, she will compete against 45 other young people for the title of Best Performance by an Actress.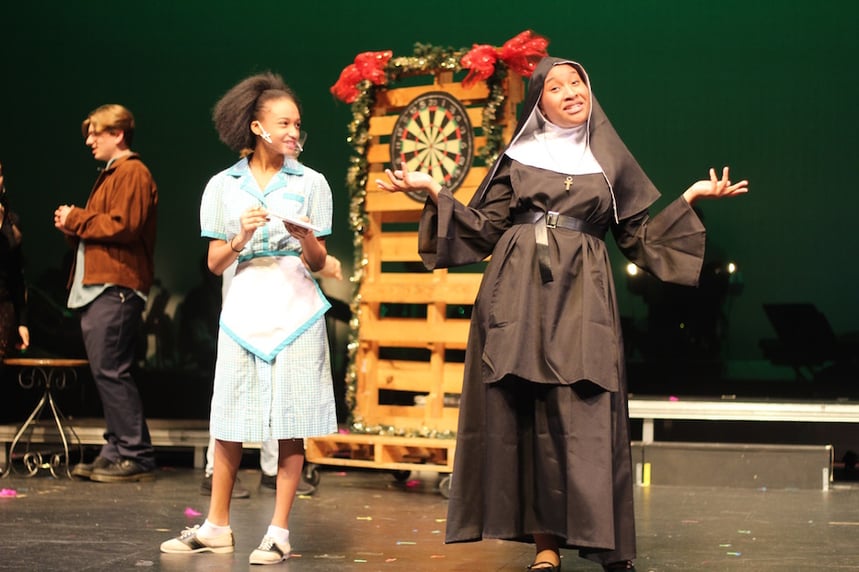 Kearse in Sister Act earlier this year.
It marks the first time ever that Co-Op, which often competes with whiter, more robustly funded theater programs from across the state, has snagged a Sondheim Award and sent a student on to the Jimmy's. In addition to Kearse, Co-Op students Selena Zamora (Sister Mary Lazarus) and Ajibola Keeme Tajudeen (Eddie) received nominations for best supporting actress and best actor respectively for their performances in Sister Act.
From Wilbur Cross High School, which in March performed Freaky Friday: The Musical, student Kaylee Zawadowski won a Sondheim for best scenic design. Cross student Nina Laverty also received a nomination for her role as Ellie Blake in the same musical.
"It definitely feels crazy," Kearse said last week, sitting in Co-Op Arts Director Amy Migiore's office for what may have been the final time. "I feel very excited, shocked, and surprised. I'm so grateful for the experience. After Sister Act finished, I kind of thought that was it. Now … I think it means that I'm not done with musical theater yet."
The Jimmy Awards are like the Tonys of high school musical theater, Migliore and Kearse explained. For a week, Kearse and 95 fellow students will receive training from professionals in the field, including actors Desi Oakley, Max Chernin, Howard Mcgillin, Janet Dacal, Maryann Hu, Denis Jones, and Jacques Smith. In addition, they will learn the vocal parts and choreography to several ensemble numbers, which they plan to perform together at the Jimmy's.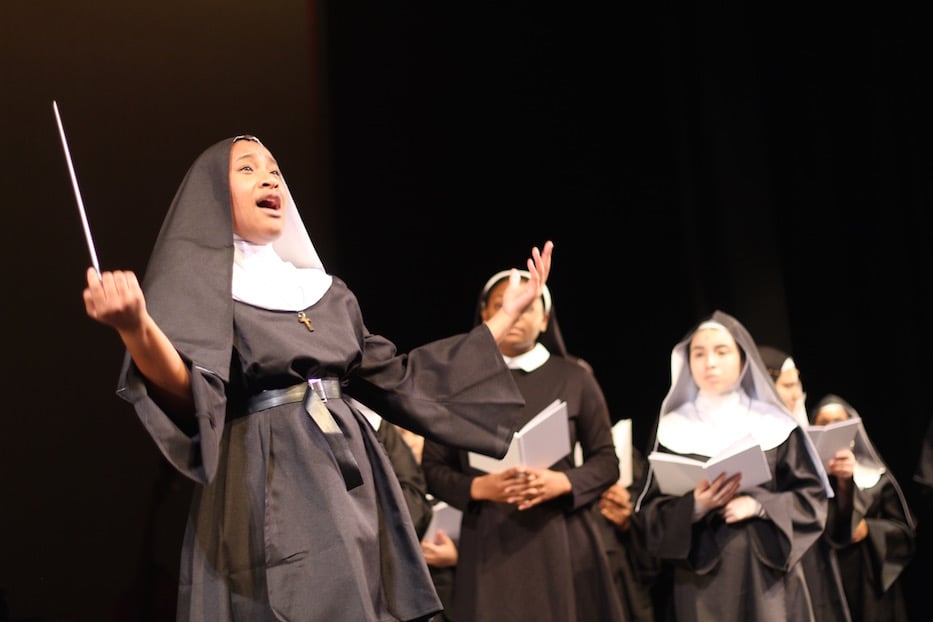 Kearse leads the song "Raise Your Voice" in Sister Act earlier this year. She played Delores Van Cartier a.k.a. Sister Mary Clarence.
Then next Monday, the Jimmy Awards will unfold at Broadway's Minskoff Theatre, nestled on West 45th street in Manhattan's bright theater district. Several Co-Op students, newly minted grads, and staff members plan on attending.
"I'm so proud of her," said Migliore, who students refer to affectionately as "Ms. Miggs," flipping through pictures from the Sondheims as she spoke. "I think as a school, we really felt strong about the process of getting into the Sondheims this year. We had kids in the right roles. They were up against these schools with huge budgets and huge programs … they [the judges] saw the talent, and not just the glitz and the glam."
Stepping Into The Spotlight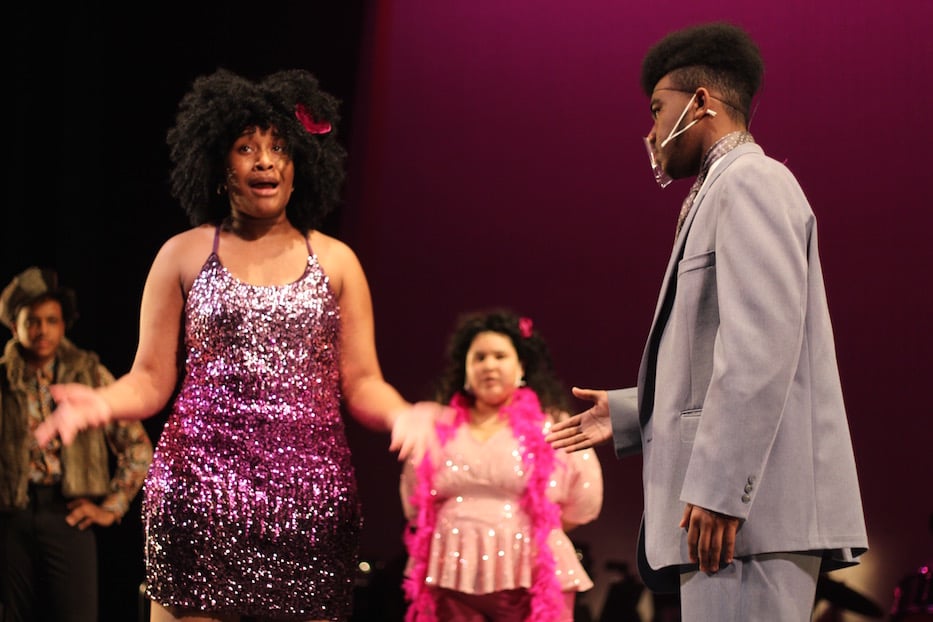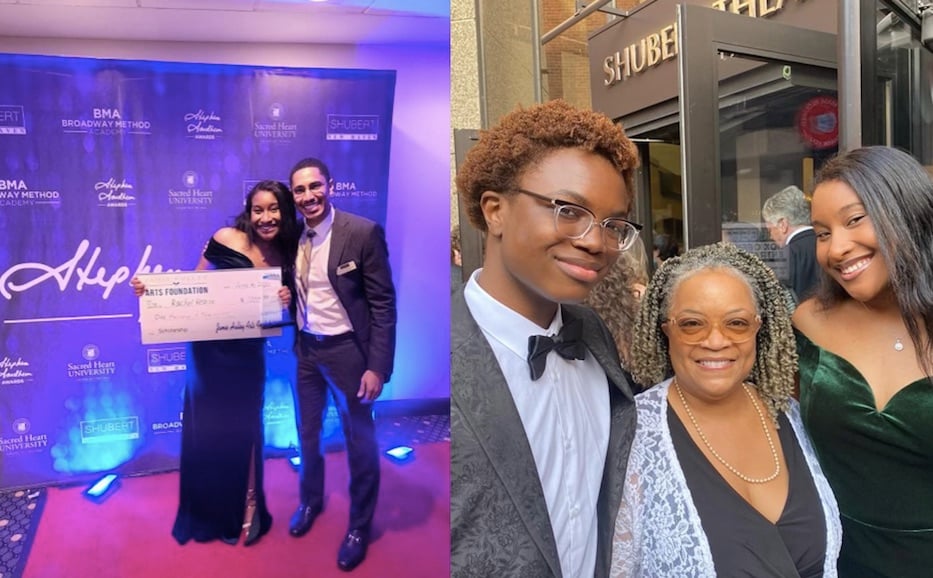 Top: Rachel Kearse and Aaron Steed, who played Curtis. Bottom: Kearse at the Sondheim Awards earier this month. At the left, she is pictured with Shubert Executive Director Anthony McDonald. At the right, she is pictured with Ajibola "Keeme" Tajudeen and Harriett Alfred.
Kearse's path to musical theater wasn't a linear one—nor is it the only passion that defines her four years at Co-Op. Last Tuesday, she also received a $500 scholarship from the New Haven Federation of Teachers - Retiree Chapter, which each year recognizes two New Haven Public Schools seniors in honor of the late Nina Wolfson. Kearse plans to study secondary English education when she arrives at the University of Connecticut in the fall. She will also be part of the university's choir.
The $500 from that scholarship joins a $1,000 award that she received from the Sondheim Awards earlier this month.
Her love for education and her love for song balance each other out. Raised in New Haven's Westville neighborhood, Kearse fell in love with elementary education when she was just a kid, and stepped into Alyssa Lockwood's classroom at L. W. Beecher Museum Magnet School of Arts and Sciences. Lockwood, who still teaches at Beecher, was the first Black teacher Kearse had ever had. She was also the reason Kearse stayed at Beecher.
After learning under Lockwood's guidance, Kearse started thinking about careers that would allow her to work with young people in a mentorship role. There was child psychology. There was pediatrics. Then something clicked. "A teacher is all of those things," she realized.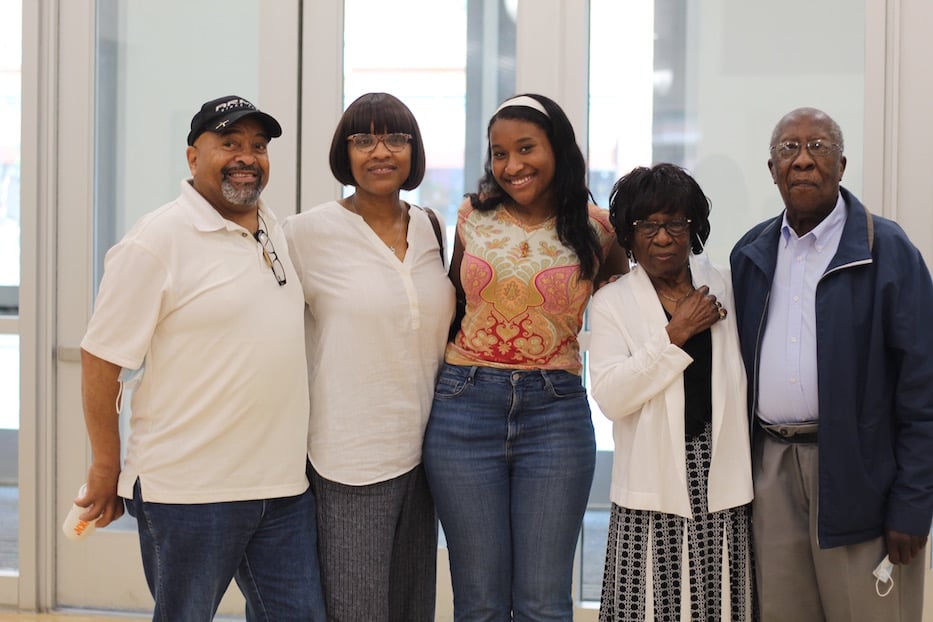 Douglas Kearse and Deborah Lynn Kearse, Rachel Kearse, and Kearse's "adopted" grandparents Marguerite and Frank Anderson.
When Kearse arrived at Co-Op her freshman year, it was teachers that made her want to come to school every day (tearing up at graduation, Migliore said the same of the class of 2022). She became especially close with Choir Director Harriett Alfred, a veteran educator who has been with Co-Op since its beginnings in the 1980s. When Alfred gave her feedback—to take voice lessons with Dr. Tiffany Jackson, for instance—Kearse followed it to the letter. Four years later, she carries a wallet-sized school picture of Alfred in her phone case.
For her, singing became a salve and a coping mechanism, particularly as schools went remote during the spring of her sophomore year. As classes pivoted online, she kept singing. Her junior year, Kearse joined the cast of FAME, Jr. as Mabel Washington, a young dancer who loves to sing, and uses it to process some of her own demons. With school remote for the second academic year in a row, the role kept her motivated.
"I just think it's so needed," she said. "It literally feels like everything that was in my head prior to singing just goes away. Like, 'I am somebody else right now.'"
This year, she returned to the stage—in person—as Sister Act swept through the school in March. As Delores Van Cartier, a lounge singer and mistress turned nun in Witness Protection, Kearse delighted audiences, stepping into Delores' world with a wisdom and humor well beyond her high school years (read about that performance here).
Alfred, who attended the Sondheim Awards earlier this month, said she is incredibly excited for Kearse. The first time she met Kearse as a freshman, she put her into the alto section. She soon found that her student "is really a fake alto," with such a wide range that she could slide easily into the soprano range without raising eyebrows. When the pandemic hit, she worked to make sure her students were still singing. She was thrilled to return in person for Sister Act.
When she heard announcers call Kearse's name at the Sondheims, "it kind of brought a flashback" from years ago, well before she became an educator and moved to New Haven. As a high schooler in Gary, Indiana, Alfred aso also won a big award. When she turned around, "my mom jumped up and just started stomping."
This time, she was the one jumping right out of her seat.
"It gave me chills that what I saw in her was recognized by the organization," she said. "I'm extremely proud. I hope this is only the beginning."
Turning to Kearse, she smiled. "We're gonna miss this little crazy chick," she said.
The Jimmy Awards will be held on Monday, June 27 2022 at Broadway's Minskoff Theatre. They will also stream live on the awards' Facebook and YouTube channels.