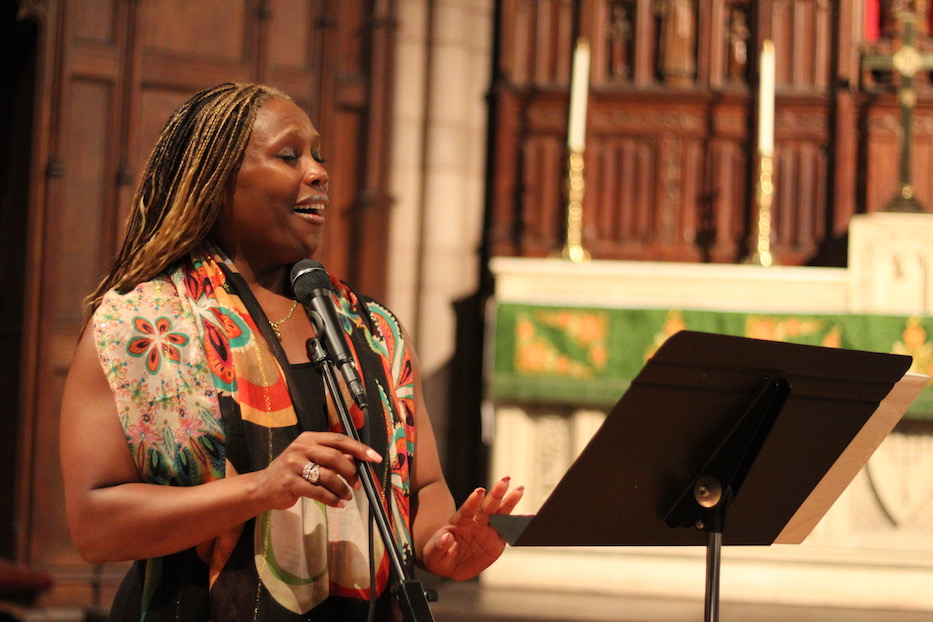 Music | Arts & Culture | Wooster Square
Dr. Tiffany Jackson leaned back from the mic, tracing and retracing her steps. Somewhere in front of her, the ghost of James Weldon Johnson was waiting to see what came next. A rising sax stopped in its tracks. At the piano, Drew Fermo looked up. Jackson went back to the drawing board, one arm slicing through the air on its way down.
"We did something really nice before but I just forgot it," she said, laughing a little. "I think it was something with the chords. When I get it, I'm straight with it."
Johnson's "Sence You Went Away" joins gospel, soul, blues, jazz, opera, and fluid first-person narrative in Jackson's From The Hood To The Ivy League, a one-woman show that debuts Oct. 6 at the Church of St. Paul and St. James. Proceeds will go to her fledgling nonprofit, Gift-Passion-Purpose Inc., which provides financial and educational support to young musicians in underrepresented communities in Connecticut.
Tickets and more information for the world premiere performance are available here. Jackson will be accompanied by musicians in the Saint Paul and Saint James Jazz Band, including David Chevan, Fermo, Will Cleary, and Tido Holtkamp, as well as the Elm City Vocal Ensemble for part of the performance.
"My story is so unique," she said in a recent interview at Koffee? On Audubon Street. "For years, I've been wanting to do something with it."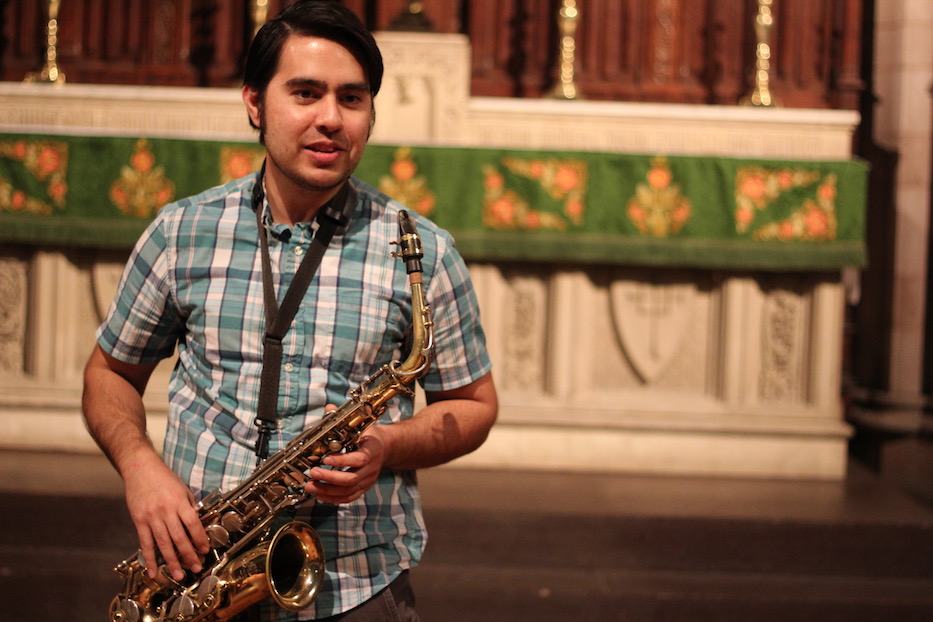 Will Cleary at a recent rehearsal at St. Paul and St. James.
A fusion of century-spanning music and personal storytelling, From The Hood To The Ivy League chronicles Jackson's own journey from the Church Street South housing complex to graduate degrees at Yale and the University of Connecticut to teaching in New Haven, with stops in South Africa and on prime-time television along the way. At every turn, she injects the piece with rich context, weaving civil rights, Black history, the #MeToo movement and the multiplicity of a diaspora into her own life.
It's a story that she's been preparing to tell for decades. Jackson's own musical career began in the 1970s, during a childhood in the Church Street South housing complex. Back then, she recalled, the now-demolished site was still new and beautiful, a chapter of its life that is often forgotten to the violence of the 1980s in New Haven. For her, it was synonymous with rich, vibrant friendships, early childhood games and time to meet both lifelong New Haveners and transplants who had come to the city for something new.
Even from a young age, Jackson gravitated toward music. As a kid, she would burst into song around the house and in church, buoyed by her mother's faith and grace. When she was 11, she started taking voice lessons at Neighborhood Music School (NMS), to which she later added time at the Educational Center for the Arts (ECA) and Cooperative Arts & Humanities High School.
But it was also a time in her life where feel could see her path diverging from many of the kids in her neighborhood. Around her, she saw friends and fellow New Haveners succumb to drugs and the violence that often came with them. She saw a country that declared a war on drugs, but was also waging a war on American poverty and people of color. When she graduated from high school in 1989, she went on to the University of Michigan to study opera.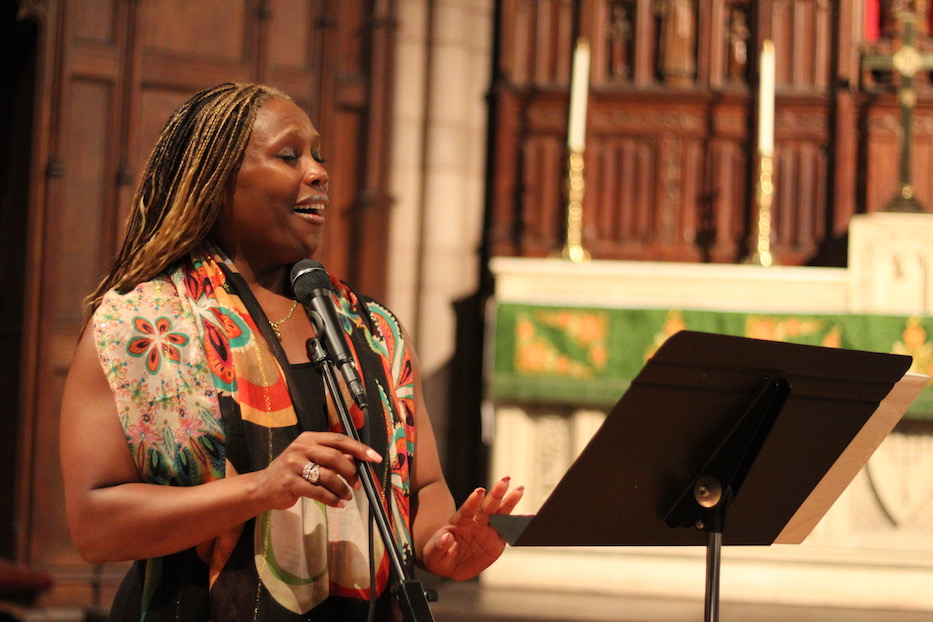 "The purpose is service to others. That's the rent you pay for your room on this earth."
It was a revelation: her voice teacher was Dr. George Shirley, a Detroit-born opera legend who laid the groundwork for generations of Black tenors that followed him. In a department where almost no one looked like him—or like her—she had someone urging her onward.
The deeper her studies became, the more connections she made: between slavery and centuries of American popular music, between jazz and blues, opera, and culture consumed in twentieth-century Europe, between collective trauma and music making. In 1993, those studies propelled her back to New Haven for a master's degree at the Yale School of Music, after which she worked as a professional opera singer and teaching artist.
But in the years that followed, she began to realize that "I didn't feel complete only singing opera." She was at the top of her game: she toured the country and the globe, stunning audiences worlds away from New Haven. In the early 2000s, she added fitness to her wheelhouse, becoming known for opera-and-bodybuilding routines that ultimately took her to "America's Got Talent." Something was still missing.
Then in 2014, she decided to go back to school for her doctorate. She fell in love with the research she was doing, which tied the French genre of chanson réaliste to musicians Bessie Smith, Jack Johnson, Josephine Baker and the explosive worlds of jazz and blues at home and overseas. The department wasn't particularly supportive, she recalled—no one looked like her, and no one was doing the same research. But it didn't matter, she said.
"I was amazed by all these realist singers, how they sang in the streets," she said. "I fell in love with the music."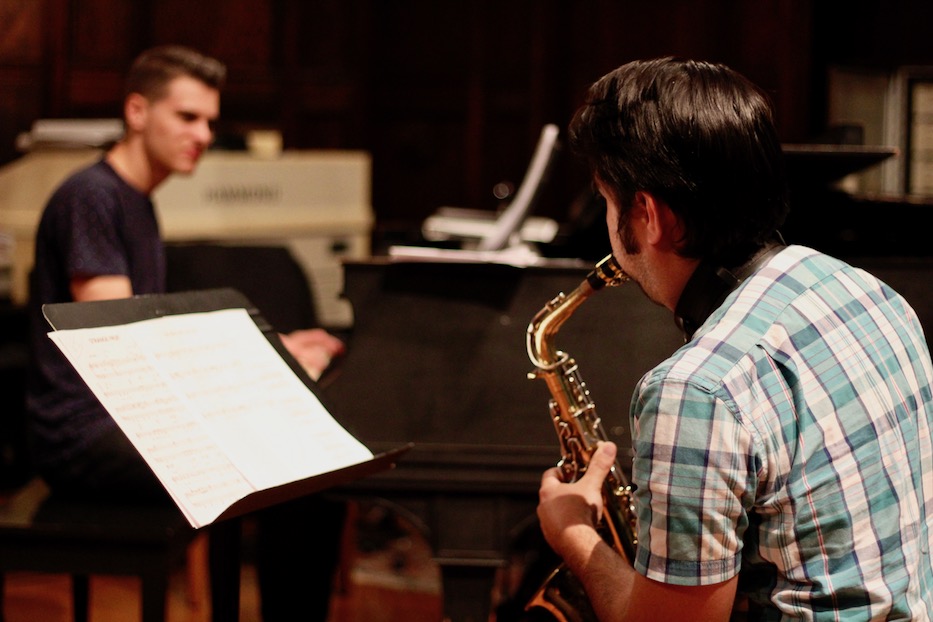 As it helped her move out from opera into other genres, Jackson also saw it as her mission to educate others on the artists that music history had largely forgotten. While she was in the thick of finishing her dissertation last year, a friend asked her to do a presentation during Black History Month at a private Catholic school in Stamford. Jackson didn't hesitate when she said yes.
She designed a talk that followed the history of minstrelsy, injected it with opera, and probed the staggering, largely overlooked role of Black musicians in American music—a template she would return to with From The Hood To The Ivy League. She recalled watching students, all of whom were white, look on wide-eyed as she belted opera, rewrote American music history, and explained that it was Big Mama Thornton—and not Elvis Presley—who first sang and recorded "Hound Dog" in 1952. When she headed out, she realized she wanted to make that part of her work.
"When I left, I was in my car, and I just felt this energy," she recalled. "This sense of, 'you can't just do this once. Your story has to be shared.'"
Now, she is in the process of doing that. In the performance, she has divided that narrative into three distinct parts (gift, passion, and purpose, to mirror the name and mission of her nonprofit), traveling from her family's history to her own. In between sections of speaking, her voice winds around opera, jazz, blues and gospel in new, sometimes heart-rending interpretations. It seems effortless: she swoops from eighteenth-century Italy to gospel to hip-hop like it's no big deal, then burrows back into the canon all over again.
"Singing is my gift," she said. "It is the thing that has made room for me in this world. Without it, I don't know where I would be."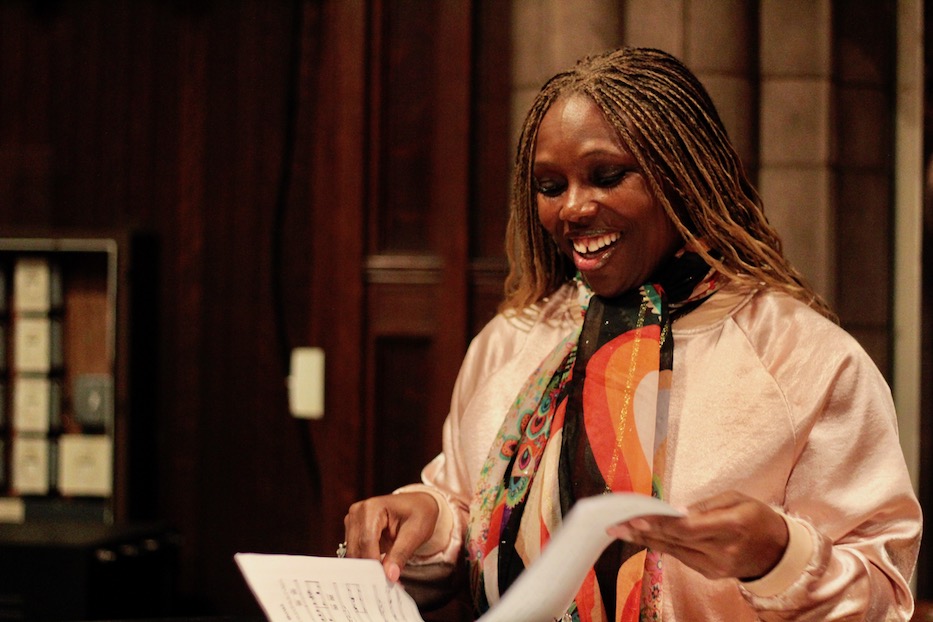 "I want the sound to reflect a moment."
It is not an easy show, but it is one that feels as necessary as her nickname. At a recent rehearsal, her voice filled the church, wrapping around a version of "Strange Fruit" that honored Billie Holiday but also became very much her own. With Cleary and Fermo at the ready, she started and stopped on the piece, enunciating every consonant the song threw her way.
"Here is a strange and bitter crop," she sang, the note lingering just long enough for one's skin to start crawling. On sax, Cleary sent a flare-like wail straight up in the air. A dizzying cascade of piano notes spilled in. Then Jackson stopped and turned back to Cleary and Fermo.
"I want the sound to reflect a moment," she said. "Whatever is the last moment of life. I know this may sound grotesque, but after Black men were lynched it didn't stop there."
She started up again, building to the final lines ("For the sun to rot,/for the tree to drop/Here is a strange and bitter crop") before Cleary's sax became a billowing thing, its sound running away with the notes. Jackson pushed onward. When she held them, they bloomed and broke, at once florid and disfigured. It was as she had imagined it.
In this way, she has baked activism right in to the performance, unspooling the structural racism that lurks not just in music history, but in wider history itself. From recent history she catapults the audience back to opera, stitching African-American poetry, religion, jazz and civil rights effortlessly together. Her take on "Oh Mary Don't You Weep" is enough to bring the audience right to its knees, with wells of feeling that spring from somewhere deep within her.
But she also makes time to be vulnerable. While her family life and education doubles as a sort of scaffolding for the show, she also speaks on personal trauma, and a healing process that included not just physical fitness, but also a trip to South Africa with Oprah's book club, to learn about Alan Paton's Cry, The Beloved Country.
For her, she said, part of her mission is giving young artists the same access to education and opportunity that she had. Founding her nonprofit was a major step in that direction. Building scholarships, which she is in the process of doing, will be another going forward.
"The purpose is service to others," she said. "That's the rent you pay for your room on this earth."
"It's something much bigger," she added. "I feel this God-force beginning to reveal to me what it's going to be."
Tiffany Jackson's one-woman show, From The Hood To The Ivy League, debuts Oct. 6 at the Church of St. Paul and St. James on Chapel Street. Tickets are $45 and go to Jackson's nonprofit, Gift-Passion-Purpose. More information is available here.