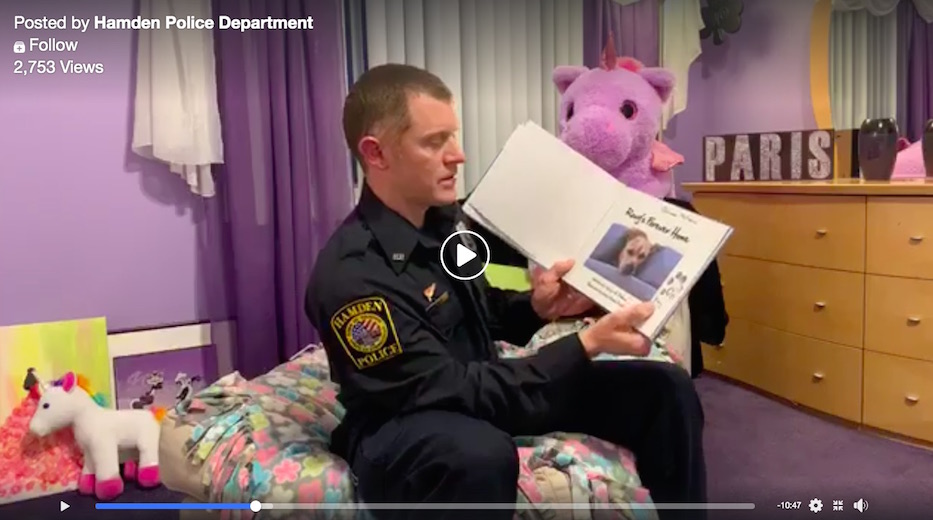 Books | Hamden | Hamden Department of Arts & Culture | COVID-19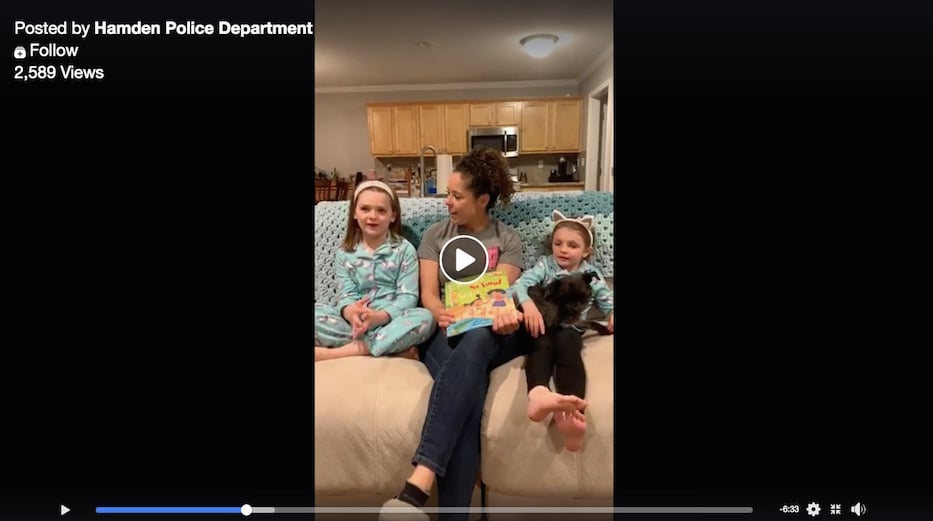 Officer Angela Vey was making a new kind of house call. She leaned back on the couch and took in her surroundings. On her lap sat Ky, a six-year-old Maltese-Yorkie mix with big, wet eyes. Two girls in matching pajamas pressed into her sides. One of them played with the book on her lap.
She was responding to an unprecedented emergency: kids everywhere were out of school. The world had been turned on its head in a matter of days. And both kids and their families were in need of a bedtime story.
Vey is one of the readers behind a new, nightly storytelling initiative from the Hamden Police Department to keep kids entertained at bedtime and build trust between the police and community members in the process. Spearheaded by Officers Vey and Jeremy Brewer, the project is supported by the Hamden Department of Arts & Culture and takes place each night via Facebook Live.
It is currently scheduled to run through early May. Brewer called it part of a larger effort to reshape public perception around the department's role in the community, which has included an officer-involved shooting of an unarmed Black couple in the past year.
Officers appear each night at 7:30 p.m., with titles that have included Ruby's School Walk, Roxy's Forever Home, and And Here's To You among others. It comes at a time when Hamden Public Schools are also working to reconfigure teaching for online, and the Hamden Department of Arts & Culture is working to find arts-adjacent activities that promote community during a period of social isolation.
"It's important for us in law enforcement to humanize ourselves," Brewer said in a phone call Monday afternoon. "We gotta work on our brand. We do! We forget that the world we work in is a very negative environment. So, like, to see me in a dad role, or Angela [Vey] in a mom role ... I think it's a way for us to give back."
The project was inspired by the New Britain Police Department, members of which started a nightly story time routine from their headquarters last week. Brewer liked the idea, but wanted to find a way to personalize it. Most nights he and Vey read from their homes, using books from their kids' bookshelves as nightly inspiration.
Sometimes they are in uniform; occasionally they are dressed in jeans and slippers. In one of the first videos, Brewer pulled in almost 3,000 viewers as he appeared in his young daughter's bedroom, surrounded by purple walls, matching purple drapery, and plush unicorn toys. He has also read with them at his sides.
"I think as adults, we are dealing with this as much as the kids are," Vey said on Monday, a few hours before reading Ruby's School Walk with her stepdaughters. "We need to get them back into some sense of routine. I really think it helps the kids and gives them a sense of normalcy."
When they are on duty at the station, the two have tried to enlist other officers to read with them. On Tuesday, Vey appeared with Officer Betty Montijo, a 16-year veteran of the department, to read Biscuit Finds a Friend (Bizcocho encuentra un amigo) in both English and Spanish. Before launching into the book, Montijo reminded readers to wash their hands in Spanish. She waxed poetic on her dog Charlie, a rescue that she's had for years.
Brewer said that's part of the point: he wants kids and their families to see both literary characters and officers-turned-storytellers that reflect an increasingly diverse town, and a renewed commitment to community policing.
He acknowledged that members of the public do not always feel safe when they see members of law enforcement, particularly out of the Hamden Police Department. They have reason not to: last year, Hamden Officer Devin Eaton very nearly took the life of Stephanie Washington and Paul Witherspoon during an officer-involved shooting in New Haven.
In their framing the department, Brewer and Vey have looked for books that come in multiple languages and have characters of color (rescued dogs have also featured prominently). Because both officers identify as white, Brewer also wants to bring in other officers to show a diverse and united police force.
"It's gonna be a lot of fun," he said. "We might get a couple more officers. My only rule is, we can't mess this up. If I say we're gonna be there every night, that's the one certainty I'm guaranteeing, That's what we're trying to teach the kids."
In under a week, the videos have caught on not only in Hamden, but with viewers across the country. When Brewer and Vey choose their books, they write to the authors to let them know they'll be reading. Brewer has focused especially on Connecticut authors; Vey has had authors tune in from as far as the U.K., which Tuesday declared a state of lockdown.
Before they launch into nightly selections, they speak directly to readers of all ages. Their nightly appearances have included shoutouts to local authors, hellos to grandparents that are far away in an age of social distancing, and frequent reminders to readers to wash their hands and stay healthy.
Brewer said he is also hoping that the videos will add some sense of routine to a world that feels as uncertain to parents, grandparents and guardians as it may to their children. When his three kids have asked him about the pandemic, he's found himself explaining that he is just figuring it out too. That's also true for Vey, who has two young stepdaughters who help her read when she's at home.
"At the end of the day, we can't live in panic," he said. "I think collectively, all of our lives have been disrupted. I'm using those words with kids, to say 'I'm feeling disappointed. I'm feeling sad. I'm feeling frustrated.' This is the one shining piece. You have to find those positive moments."
Hamden Police Storytelling is held every night at 7:30 p.m. via Facebook Live. For more information, click here.