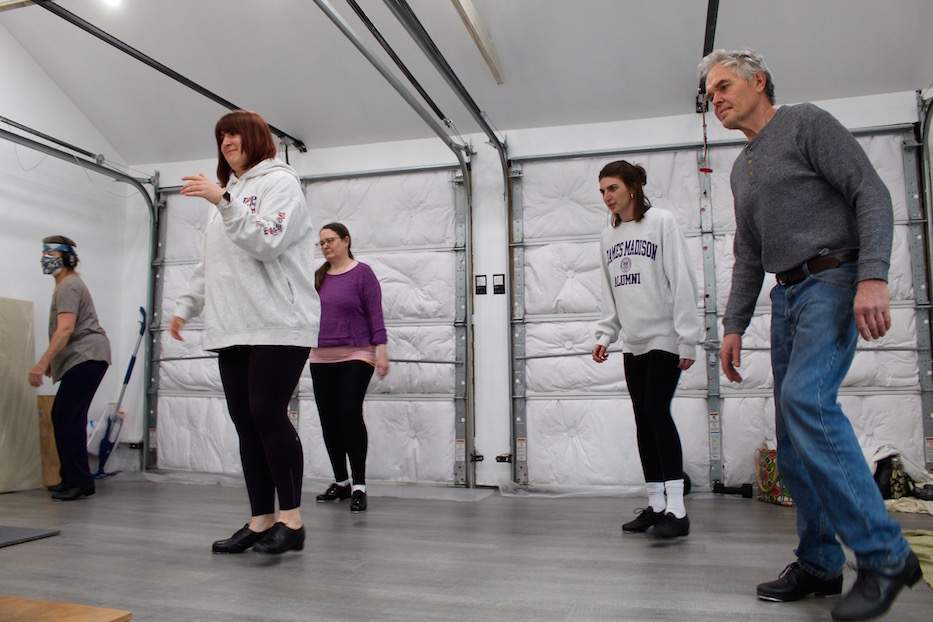 Culture & Community | Dance | Hamden | Music | Arts & Culture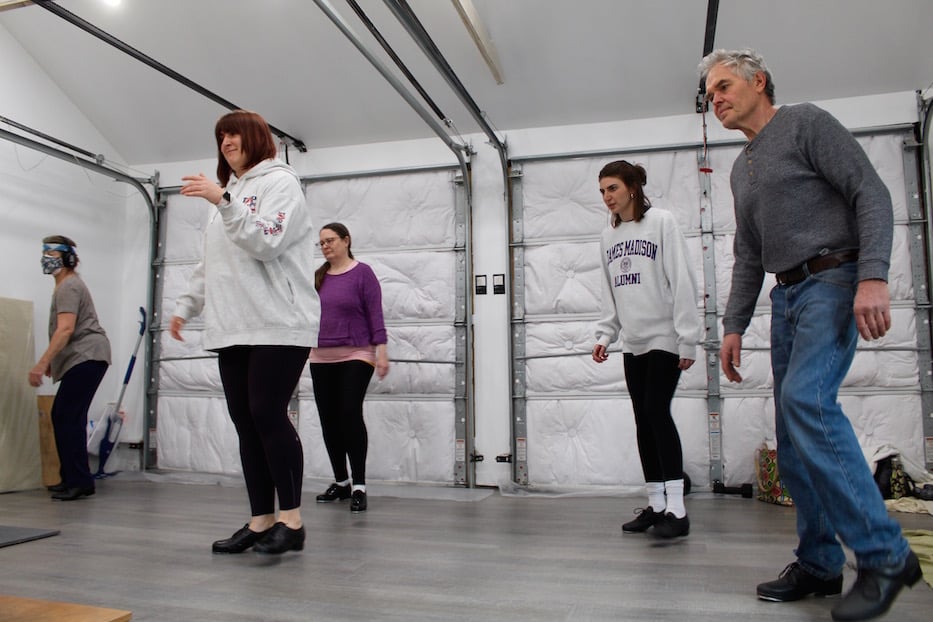 Lucy Gellman Photos.
The persistent click-clacking of metal on wood filled a garage off Mill Rock Road, laying down a percussion section note by note. Click-clack-clackey-clack-clack, six pairs of tap shoes called out, sound cutting through the cool air. Keys responded with a bouncing, low bridge as Finn Henry eased into the music. Guitar crept in, and suddenly there was a carpet of sound beneath the dancers. The still-nascent "Cliff Edge Blues" melted right into "Satin Doll."
That was the scene—and sound—at a Saturday rehearsal for "Rooted In Dance and Music," a multi-artist, multimedia performance from Alexis Robbins, Cliff Schloss, Finn Henry and several other dance artists scheduled for May 21 in Peter Villano Park in Hamden. Months in the making, it is an explosive, Covid-cautious celebration of rhythm tap and the jazz music to which it is historically yoked.
Rehearsals have unfolded at Robbins' home studio in Hamden, a 400 square foot garage with wooden boards laid across sections of the floor.
Remaining rehearsals are scheduled for May 13 from 4 to 6 p.m., May 15 from 11 a.m. to 1 p.m., and May 19 from 7 to 8 p.m. Dancers need no prior tap experience to be part of the work; only one rehearsal is required to participate.
"Ultimately, I believe that tap dance is music. Tap dance is magical. And dance and music, live music, should happen together," Robbins said after rehearsal last Saturday, sitting in her garage. "New Haven has an amazing music scene, but dance is really never happening, or never funded. Dance is not being invited into the conversation most of the time, and I'm not okay with that."
Robbins dreamed up the performance last year, while applying for a $5,000 "Artists Respond" grant from Connecticut Office for the Arts. The premise was simple, she said: she wanted to create a community-wide tap performance, in which dancers of all experience levels could participate free of charge. In the work, she envisioned live accompaniment, just as she has had for many of her own performances in and beyond New Haven.
As a rhythm tapper, Robbins has long understood tap and instrumental music as intimately intertwined, a tradition steeped in centuries of Black history and culture. When she moved to New Haven in 2018, she folded that history into her teaching (it does not feel like a coincidence that this month also marks international celebrations of Bill "Bojangles" Robinson, who was born on May 25, 1878). In the years since, Robbins' work has honored the roots of her art form, music (sometimes recorded, and often live) flowing through her performances.
When the grant came through, she was thrilled. It marks the first time she has ever received grant funding for a project.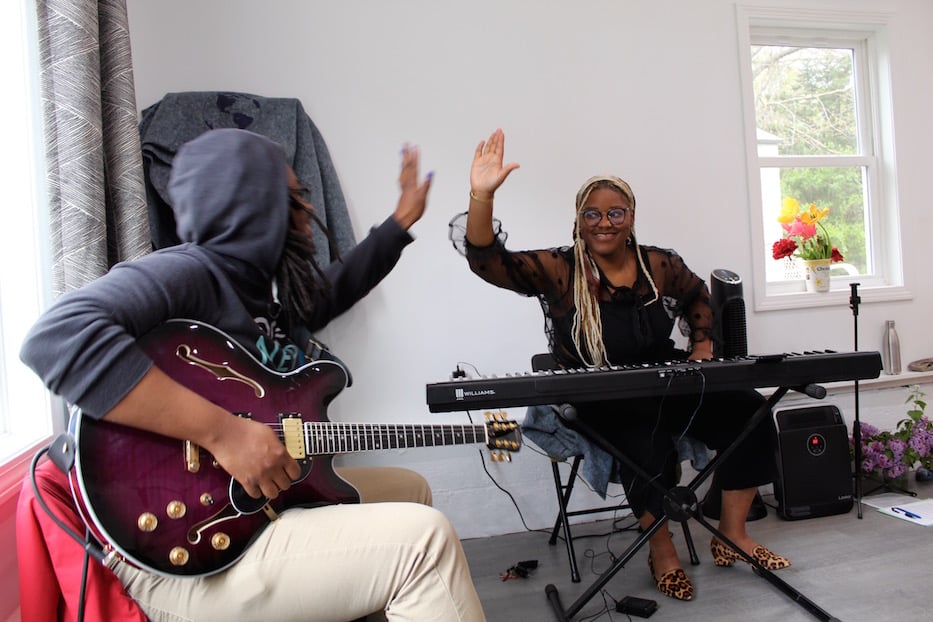 Clifford Schloss and Finn W. Henry.
She looped in Schloss and Henry because of the comfort she already feels around them, she said. In the past three years, Robbins has worked to fold dance into the city's music scene, and found that "not everyone has been super welcoming to that." When she showed up at a number of citywide jazz jams, musicians rarely made space for her and her small board. She said Henry and Schloss are among a select few musicians to whom she can turn, sound off a four-four beat, and open herself completely to the music.
"It is wild to me that there's so much jazz in New Haven, and tap dance came first, and they're the same thing," she said. "And they're both Black art forms that came up together, together. Not separately. Dance and music can and should happen together, and it's just not hard. It's not. Full stop."
Last Saturday, the garage sprang to life as dancers filed in, slipping on their tap shoes as they spread out across the small space. Against one wall, Schloss set up his equipment, strumming a few chords as dancers shuffled into a warm up. Robbins directed with her hands and feet, bouncing from one end of the garage to the other. Behind her, dancers followed suit. As part of the project, each participant has a chance to build a "phrase," or section of the overall work.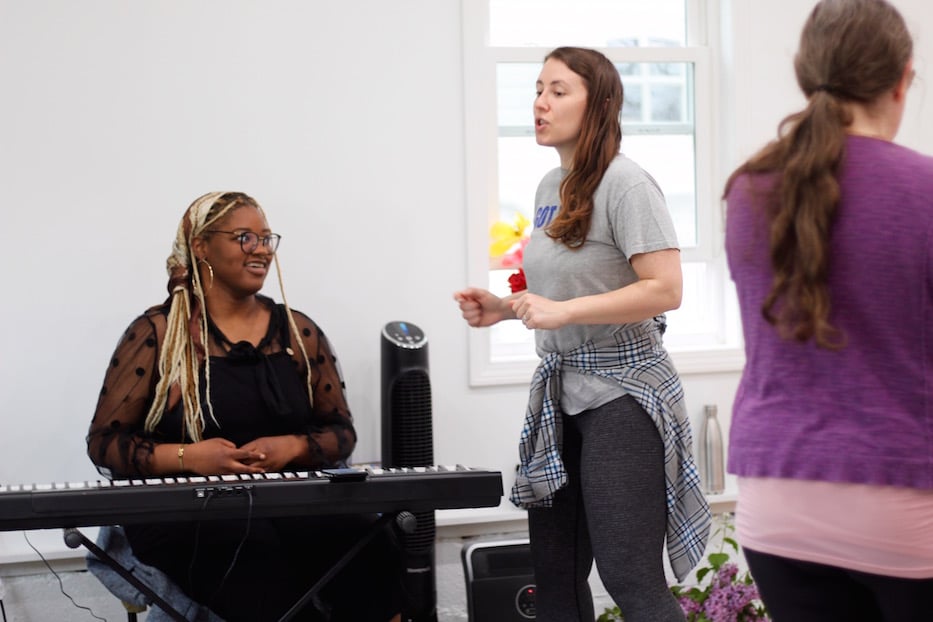 Schloss watched carefully, then picked up the pace just a little. The words "Book Nerd" peeked out from his sweatshirt. The door creaked open, revealing Henry with a keyboard fitted beneath one arm. Robbins smiled and watched the group before lifting her arms.
"We're just gonna do that, play with our phrases," Robbins said. At the keyboard, Henry listened to Schloss play a few bars, and then joined in. The class snapped back into motion, feet clicking against the hard floor. At an invisible signal, dancers began to walk around the room, forming a loose circle as they moved from heel to toe, heel to toe.
This was the "Cliff Edge Blues," an original composition that plays in the work before Duke Ellington and Billy Strayhorn's "Satin Doll" and Thelonious Monk's "In Walked Bud." On a windowsill, a bouquet of tulips and zinnias drooped forward, as if they wanted to get in on the action from their place in a repurposed yogurt container.
Victorya McEvoy, who has been taking lessons from Robbins for the better part of four years, looked up quizzically. Her feet, metal plates shining at their tips, were still just a moment. Robbins seemed to read her mind.
"Do you want to try"—Robbins tapped out a bluesy rhythm, her shoes melting into the floor. One skidded across the ground in a half moon, making a hollow, sweeping sound. Her feet finished the sentence.
"I would love to," McEvoy said.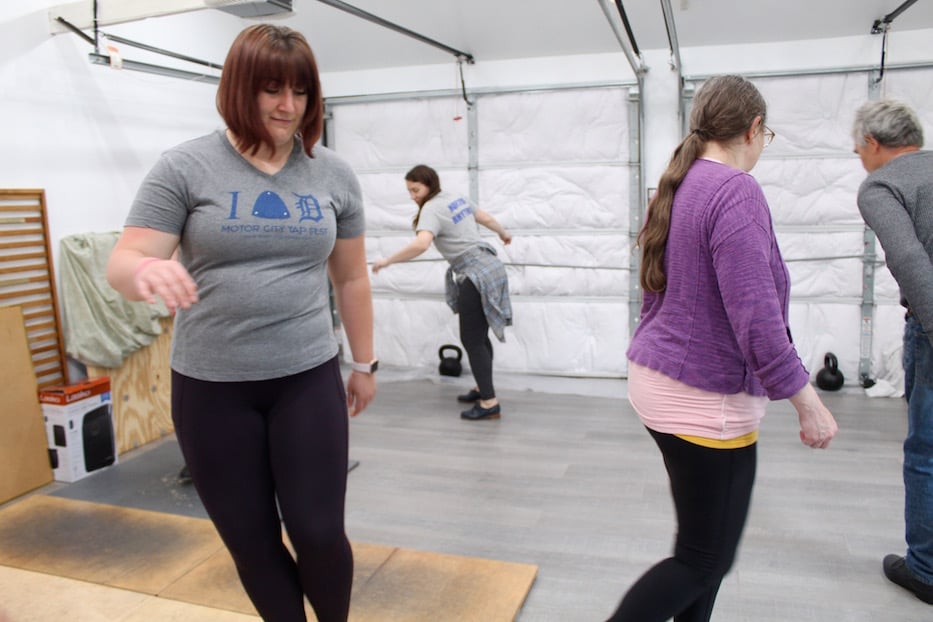 For the next two hours, that feedback became part of the dance. As Schloss and Henry built a bridge from "Cliff Edge Blues" to "Satin Doll," Robbins led the group in a phrase from longtime student and artist Joe Fekieta. Where feet had been tapping in a heel-to-toe staccato, they suddenly became mouselike, shuffling forward along the floor with thunderous precision. It was as if six typewriters had frozen in the same spot, and dancers were working to un-mash the keys.
"Pick a side, pick a leg," Robbins reminded the dancers as they skidded forward, lifted a single leg, and began to rotate. Guitar bubbled underneath her, Schloss and Henry sinking into "Satin Doll." They played without music in front of them, keeping time with the dancers. On one side of the garage, McEvoy, who has a fondness for naming phrases, recommended "Joe's Jam." She later worked through her own phrase, affectionately titled "Mac's Mash."
Robbins used the rehearsals not only to teach rhythm tap, but to weave in its long history. Every time she puts on her shoes, she said, she acknowledges that she is honoring a Black art form. During "Mac's Mash," she took McEvoy's request for trenches—deep, almost-tumbling lunges toward the ground, in which one leg flies up and a hand may graze the floor—to describe the erasure of Black people from an art form they spearheaded. She demoed a traditional trench as she spoke, her hair flying behind her as her shoulders cut through the air. Just when she looked as if she might fall forward, she balanced herself.
"When we, like, whitewashed tap dance—put it on 42nd Street—it turned into this," she straightened her body and leaned forward politely, working her arms back and forth as she went from foot to foot. McEvoy smiled beneath two masks, her eyes crinkling at the edges.
"It Just Feels Wonderful"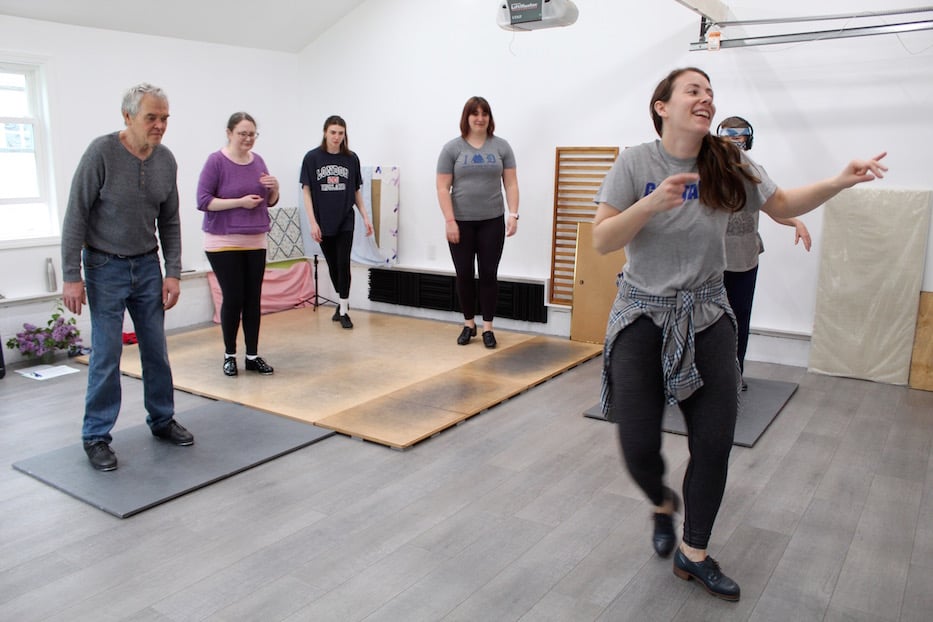 For participants and for Robbins, "Rooted In Dance and Music" has become many things—but perhaps nothing so much as a chance to build community. Currently, there are roughly 12 participants in the work, although Robbins said anyone is welcome to join through the final rehearsal.
Fekieta, who has been studying tap with Robbins for two years and eight months, said he's grateful for the chance to be part of an ensemble piece—and to deepen his own tap repertoire.
In tapping out moves in class, in his kitchen, in the line at the grocery store, he has learned that "you can be part of the art form from anywhere you are," he said. Every night, he flips on the radio and dances for 30 minutes at his home in the Hill.
"Tap is just anywhere, and it just feels wonderful," he said. "I think it's helped my rhythm, helped me understand rhythm. That's the thing. I like drumming, and now my feet are a percussion instrument that can accompany the music. I can add something to every song that I tap to. And that's really fun."
After moving to New Haven a month and a half ago, Meghan Drabant saw an ad for Robbins' project on a Facebook group for Connecticut-based dancers. As a veteran dancer—she has been tapping since she was three years old—she jumped at the opportunity.
Saturday, she wore a shirt for the Motor City Tap Fest in Detroit, the city where she started dancing at just three years old. The shape of a blue-and-grey metal tapping plate bounced out as she took the floor for partner work with Fekieta and then Stephanie Prieto.
"And I thought, 'Why not? Let's jump in!'" she said. "I love that anyone can tap dance, and it didn't matter if you knew how to tap dance for millions of years, or if you didn't even have tap shoes yet, and you were just learning. It's about that rhythm and community and connection."
"It has been an adventure," McEvoy chimed in, speaking from beneath two masks layered tightly atop each other. As a kid, she said, she dreamed about tap dancing. So when she had the chance to join Robbins four years ago as a student, she jumped onboard. She and Schloss also go way back; the two were in Belonging together at Long Wharf Theatre in 2017. After lessons on Zoom, she said she was excited to tap back into togetherness.
"I can't even express my gratitude," she said, her voice gentle. "I have no superlatives big enough to express my gratitude for this opportunity to tap. The exercise, I'm getting my balance under control. Focus, memory—all of those things. And community. Community."
Schloss, who stayed after rehearsal to talk with Robbins, said he's equally excited for the project. Both he and Henry, as well as flutist and sax player Dylan Olympi McDonnell, have become frequent collaborators with Robbins. In the past two years, he's fallen deeper down the classical music rabbit hole, and started thinking about how much music is tied to the history of dance—and the erasure of the non-Western cultures from which civilization springs.
He looked to Wolfgang Amadeus Mozart, who wrote a huge volume of dance music during his lifetime. "Mozart is dancey as fuck," he said.
When Schloss plays jazz, he loves hearing Robbins articulate a phrase with her feet, sometimes letting her whole body become part of the band. During rehearsal Saturday, he and Henry played as she encouraged dancers to use not just their lower extremities, but their arms, bobbing heads, wrists and hands. At the end, he lingered to talk about the project before heading back downtown.
"Dance and music are always together," he said. "I think that's kind of a 'duh,' but it gets lost sometimes."
"Rooted In Dance and Music" takes place May 21 at 5 p.m. in ​​Peter Villano Park, 260 Mill Rock Rd. in Hamden. In addition to an ensemble performance, the evening will include appearances from Medusa, Kelly Kaleta, and kamrDANCE with Finn Henry, Clifford Schloss, Avery Collins, and Kelsey Fields. Remaining rehearsals are scheduled for May 13 from 4 to 6 p.m., May 15 from 11 a.m. to 1 p.m., and May 19 from 7 to 8 p.m.