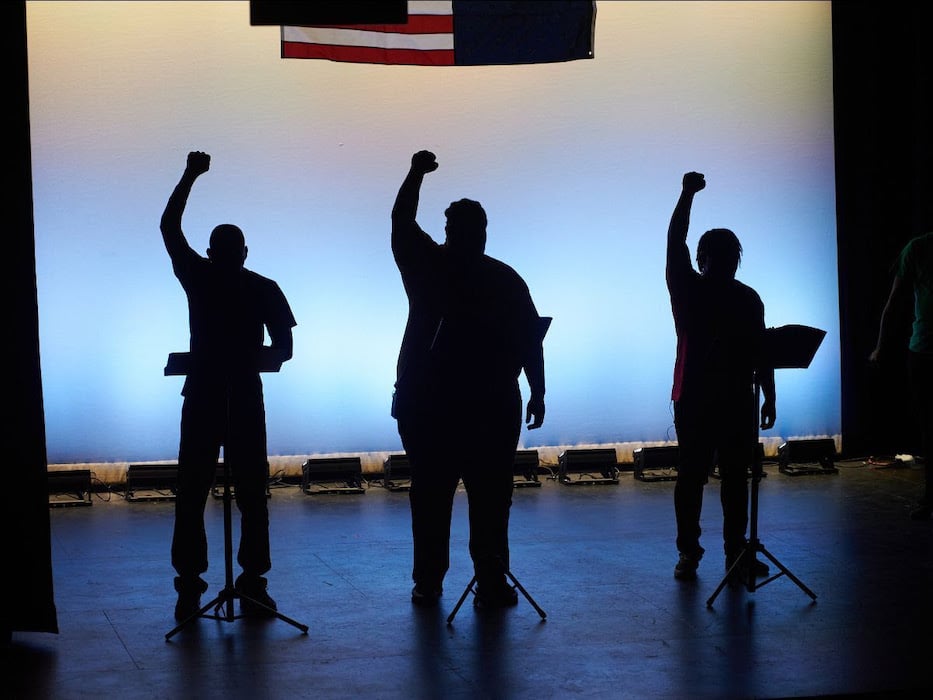 Culture & Community | Reporting from the road | Arts & Culture | Theater | Arts & Anti-racism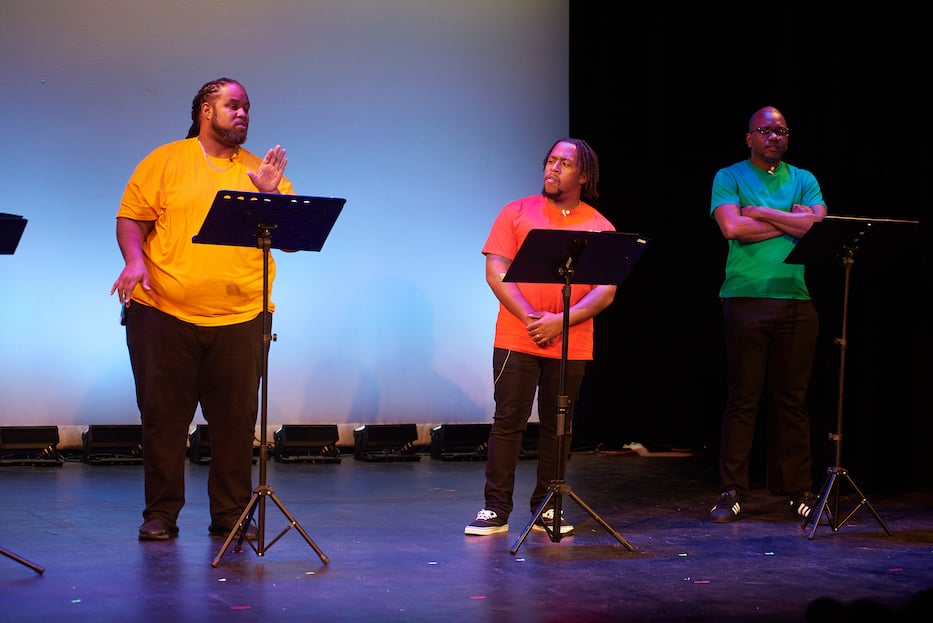 Gold (Sharmont "Influence" Little) with Red (Stephen King) and Green (Jason Phenix Hall). Photo courtesy of the West Side YMCA and M.A.D. Content.
Gold held his hands to his sides, fingers stretched toward the ground. In his mind, he was doing time travel, sorting through his childhood and teenage years for the answer to a single question. He let the breath travel through his body, heavy on the exhale. Outside, rain soaked 64th street, sloshing up over the sidewalk. Inside, a listener could have heard a pin drop.
"What kind of man do I want to become?" he said, his voice sailing through the auditorium. "I don't know. I guess I've got to know one to be one."
Gold (Sharmont "Influence" Little) is a character in Steve Driffin's Death By 1,000 Cuts: A Requiem for Black and Brown Men. Last month, the show traveled from New Haven to New York for its Off-Broadway premiere, playing at the West Side YMCA on 10 West 63rd St. in Manhattan. In a profound, sold-out two-day run, it represented a dream years in the making.
A talkback with the YMCA's Cedric Dew, attorney and author Shirley Skyers-Thomas, and educator Dr. Kenneth Waters followed each performance.
Since Driffin first debuted the work at the LAB at ConnCORP and then Quinnipiac University earlier this year, he has been working toward this point, with performances and talkbacks at The Whitney Center and Long Wharf Theatre. Cast members include Green (Jason Phenix Hall), Gold (Little), Red (Stephen King) and Black (Rodney T. Moore). The characters' names are no coincidence: together they comprise the colors of the Pan-African flag.
The cast after the show. Lucy Gellman Photo.
"I've been carrying this for so long," Driffin said at a Thursday night talkback for the show last month. "All of the themes resonate with me. A lot of this is personal, but it's also [from] having conversations with Black and Brown men. I wanted to be as authentic as possible. To be able to tell our story."
And he does, with a constant urge to tinker that adds something to the work every time. Written and edited over eight years, Death By 1,000 Cuts tells the stories of dozens of men Driffin interviewed, listened to, documented, and built community with. In 2013, the playwright started attending the meetings of Fathers Cry Too, a support group for fathers who have lost their children to gun violence. Among them, Sean Reeves, Sr. and Thomas Daniels, Sr. have since become two of his closest friends and collaborators.
There as a visitor in the space—Driffin is a father, but not a bereaved parent—he realized that he was hearing stories that needed to be told. There were stories of shared generational trauma, of unimaginable loss, of consistent dehumanization—and also of small victories, resilient and profound Black love, and unexpected, sometimes biting humor. Driffin, whose fondness for language is infectious (James Baldwin's words on suffering as a bridge spring instantly to mind), included it all.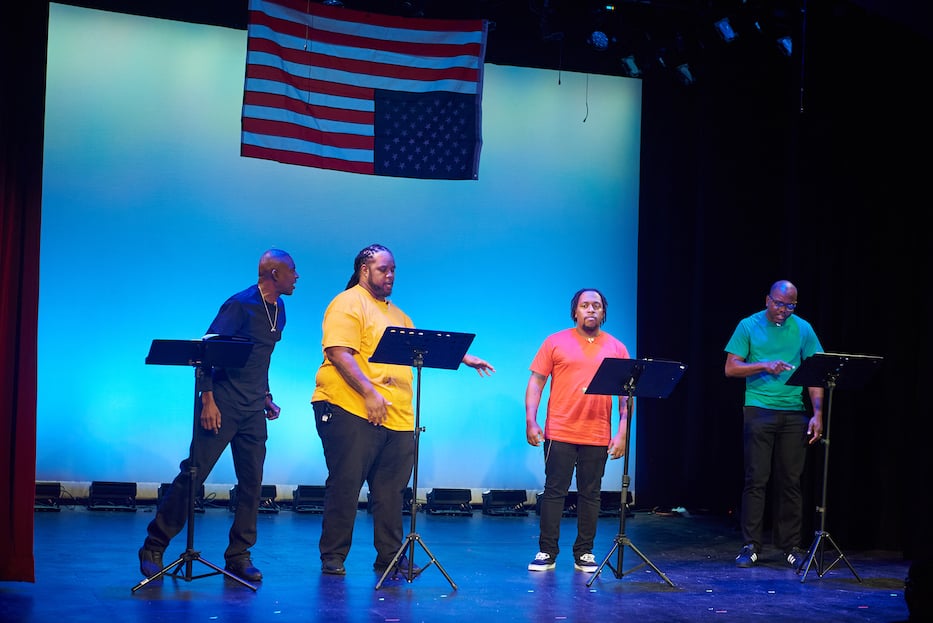 Photo courtesy of the West Side YMCA and M.A.D. Content.
It turns the script into a fast-paced, sharp and deeply heartfelt trip through the trauma and toxicity that men, and particularly Black men, experience on a near-daily basis. Throughout the show, audience members see both flagrant displays of racism and smaller, equally insidious microaggressions: an elementary school teacher who assumes his Black, male students are fatherless, live in the projects, and do not have career aspirations; a colleague who does not give Black (Moore) a ride in his car, because he mistakes him for a random guy on the street; a cop who will defend Blue Lives Matter, but turn the other cheek at the first mention of lynching or January 6.
It shows in real time the damage these comments do, from the school to prison pipeline to internalized anti-Blackness and the use of colorism as a weapon. Along the way, Driffin makes room for every story he has heard, from classrooms to kitchen tables, bedrooms to board rooms. It is an act of both honesty and compassion: he asks his audience to look America straight in the face, and then tell him that things are genuinely getting better.
On a recent Thursday night in New York, characters were in full form. As they took the stage, Black, Green, Red and Gold held in their hands dozens of stories, from childhood neglect and abuse to Black love, toxic masculinity ("Sisters, we are waiting to exhale," Red said, and one could hear the audience take a collective breath) and the impossibility of forgiveness. Jumping through decades, they pulled the audience in, turning the stage into playgrounds, neighborhoods, homes, and workplaces where white supremacy gnashed its sharp teeth.
They moved into every crack and crevice of the language, throwing their bodies into the words. Behind them, a minimal set became its own character, an upside down American flag bathed in blue light.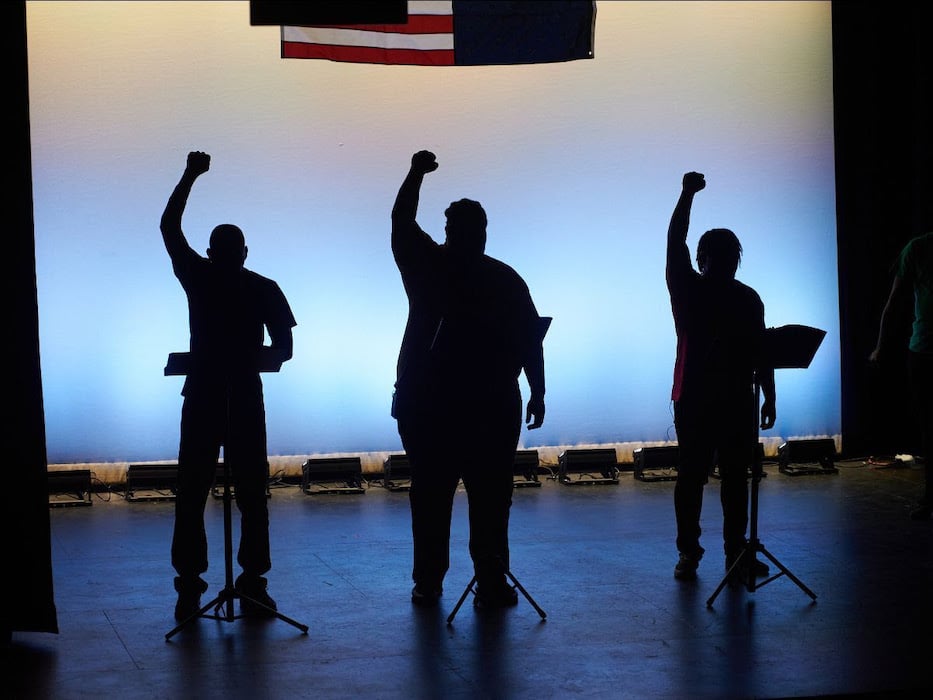 Photo courtesy of the West Side YMCA and M.A.D. Content.
Beneath them, Driffin folded in tracks from New Haven-based musicians Stephen "Gritz" King (who plays Red) and Tyler Jenkins, bringing a sense of rooted-ness to the show. From Jenkins, the track "Depression" hit right on time, bubbling up beneath the actors as they spoke of the symptoms—and the stigma surrounding—depression and mental illness in their own lives. So too with King's "Black Love," a recent release dedicated to his wife, Shaniqua King.
It created the perfect container for the show. Within it, nothing was sacred: not Elon Musk and his attempted conquest of space, not the shimmering and threadbare curtain of Diversity, Equity and Inclusion (DEI) programming at white-led institutions; not the so-called justice system and the colonial origins on which it was built. And certainly not the January 6 insurrection, in which a Confederate flag made it into the U.S. Capitol. It was not without cheeky humor either: King warrants a shout out for his doe-eyed delivery of the line "late for what?" in a section on unexpected fatherhood that doubled as a critique of sex education and puritanical values in a country that is rotting at its core.
Indeed Driffin may be a poet, but he minced no words in describing a country turned on its head, built by stolen people on equally stolen land. When Black exclaimed that "Diversity and inclusion/It's just an illusion!" it felt both on time and long overdue. In a section dedicated to the miracle and joy of Black love, he gently put on the brakes, giving the prose equivalent of a 1970s slow jam. Later in the show, he described the heaviness of "the mask" Black men must wear, so vividly that it seemed like something the audience could reach out and touch.
Nowhere, perhaps, was his sharp lyricism clearer than in "The Shuns," a section of the work dedicated to depression, anxiety and struggles with mental health that are often stigmatized among men, and particularly men of color. As lights shifted from blue to a mustard yellow, actors let the lyrics wrap around them, putting music to that feeling of the sunken place.
"The biggest shun I got is the Red, White, and Blue," Gold said, and the audience Mmmmed and began moving to the beat instinctively along with him.
Throughout, the house was rarely quiet. Audience members snapped, nodded, and even murmured back to the actors, watching bits and pieces of their own stories come to life onstage. At one point, laughter bubbled up from the front row, the kind that comes when the only other option is crying. At another, actors mourned the loss of children to gun violence, and sharp breaths became audible throughout the theater.
When the lights finally came down, it seemed like the applause wouldn't end.
"It's A Roller Coaster"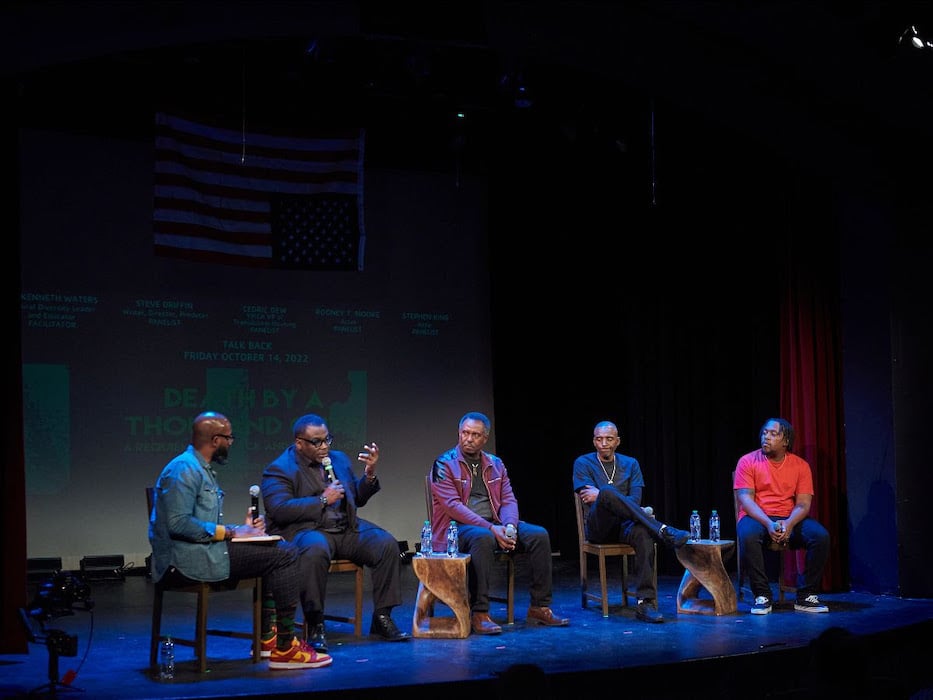 Photo courtesy of the West Side YMCA and M.A.D. Content.
That sense of engaging with the text continued after the performance, during a talkback with Driffin, cast members and a panel of educators, attorneys, and housing advocates.
No sooner had the group sat down than Dew, who works as the vice president of transitional housing for the YMCA of Greater New York, noted how deeply the work had resonated with him. For 23 years, Dew's father was a palpable absence in his life. When the two finally met, "he kept saying, 'what do you want?'" Dew recalled.
It took Dew time to find the answer, he said to a quiet auditorium, every ear turned toward the stage. He finally found it.
"I want you to tell me everything you regret, every sickness you have, every vice you have, so I don't repeat it," he remembered saying.
Little, who was still coming down from the show, nodded. When he started familiarizing himself with the script almost a year ago, he wrote a single stage direction for himself: Be your biological father. He explained that for him, the script isn't just a construct: he sees himself in the pages. Bringing his lived experience to the show often brings him to tears at the end of each performance—and he welcomes them.
As a poet, spoken word artist, and nurse, he's constantly code-switching for the perceived comfort of white people around him. In a talkback at Quinnipiac University in February, he recalled bringing his daughter into the emergency room with a sprained ankle, only for staff to turn to her mom as they explained a course of treatment. He—the healthcare professional—was left in the background.
"It's a rollercoaster," he said. "Everything in the show except losing a child, that all has happened to me."
"We end up with complexes, because we have to switch, code switch so much," he later added.
Little's wife stood up in the fifth row, a catch in her voice as she spoke. "Gold, you are my husband, you can come to me and drop that mask," she began.
She looked around at the audience. "When does the cycle stop?" she asked. "When does the forgiveness come in, because I haven't gotten there yet?"
Driffin added that the idea of the mask—which gained a new dimension with Covid-19 and the parallel pandemic of white supremacy and violence—was one that stuck as he wrote, because it was so much a part of his lived experience. He urged attendees to let themselves be vulnerable, acknowledging the generational unlearning that it will take.
"We should teach our young sons and young men to talk about feelings," he said. "We have to front all the time."
"The cycle ends with going to therapy and not giving it [the force or forces behind the trauma] any power," Hall chimed in. He recalled the pain of losing his mother when he was just 12, on the cusp of young adulthood. "I really needed my dad," he said—and his dad wasn't very present at home, because he was working to sustain his family.
It was only years later that Hall realized that he may have been doing the best he could do.
"What trauma cycle is he living in?" he remembered asking himself after getting to know the show. He added that Death By 1,000 Cuts has helped him slow down "and take a deep breath," and improve relationships and communication with his children.
After the show, attendee Von Harris said that he expected the work to stay with him for some time. A fraternity brother of Driffin's, he recognized himself in the work—partly because one of his own stories was in the script. Last year, Harris was mugged in a department store, and then shrugged off by security. It was only after they watched camera footage of the attack that they believed him.
"This trauma that we've all experienced, it starts to eat your soul," he had said just minutes before.