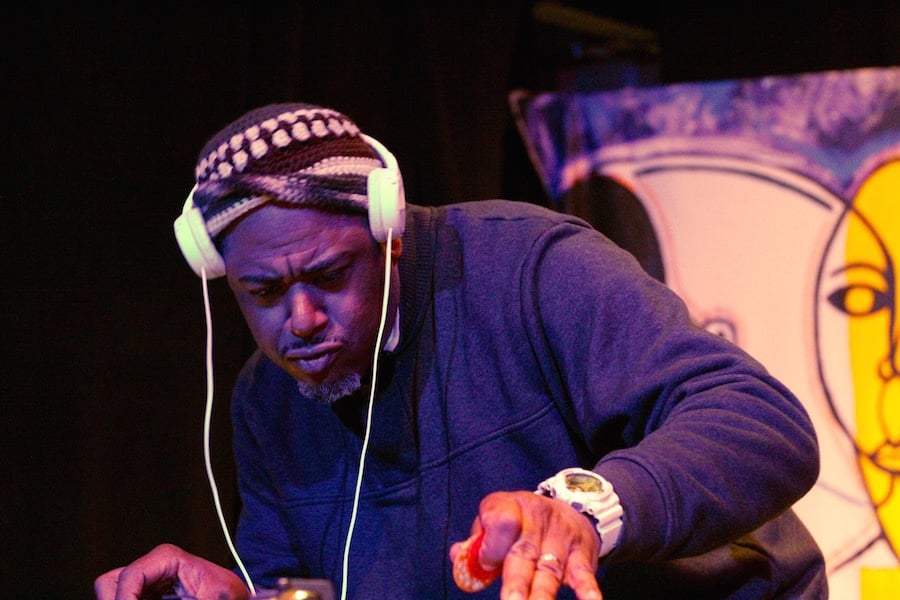 Dance | Music | Arts & Culture | COVID-19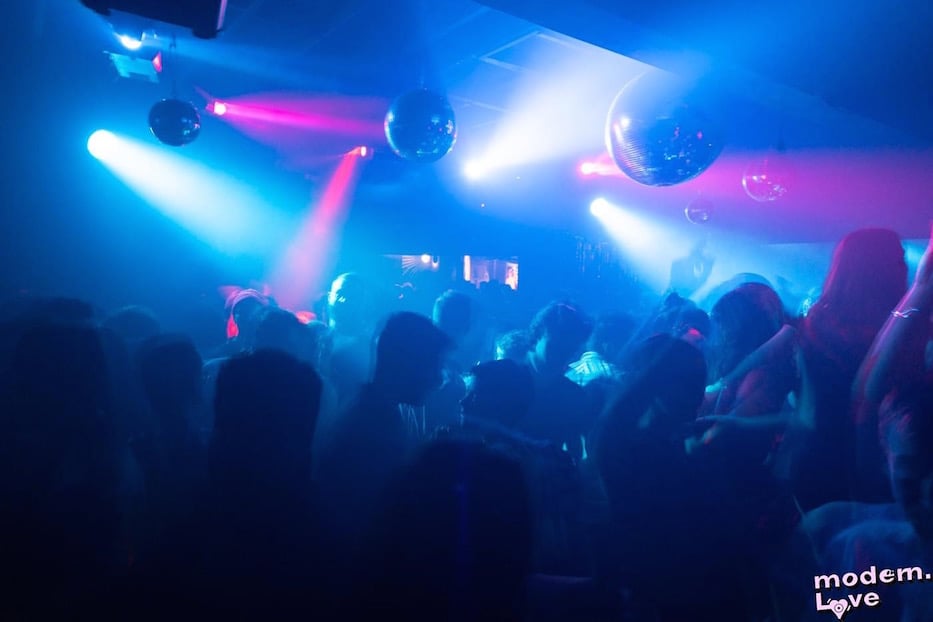 A Modem Love set at Partners earlier this year, before COVID-19 closures swept the city.
2020: We are reimagining, re-thinking, re-envisioning. COVID-19 be damned, we are out in the streets thousands strong, protesting for all the right and long overdue reasons. As we adapt to social distancing, our interactions are mitigated increasingly by technology. If something seems like it's missing that's because it is: the human element.
The role of the modern DJ has forever been in question. Our art has increasingly gone the way of the robot—streaming now accounts for 80 percent of all music revenue in 2019. Algorithms, Orwellian artist payouts (streaming on average pays artists about $.0040 per stream), low quality sound—it's not my thing.
Fortunately, the arts beacon of New Haven has nourished a hotbed of eclectic spinsters who invoke human touch, care, thought and love - the je ne sais quoi of a special night out. Pre-COVID-19, this was one hell of a bumping city, and many local DJs are using tech to their advantage to deliver and preserve their art. Here are just three of them.
You Don't Stop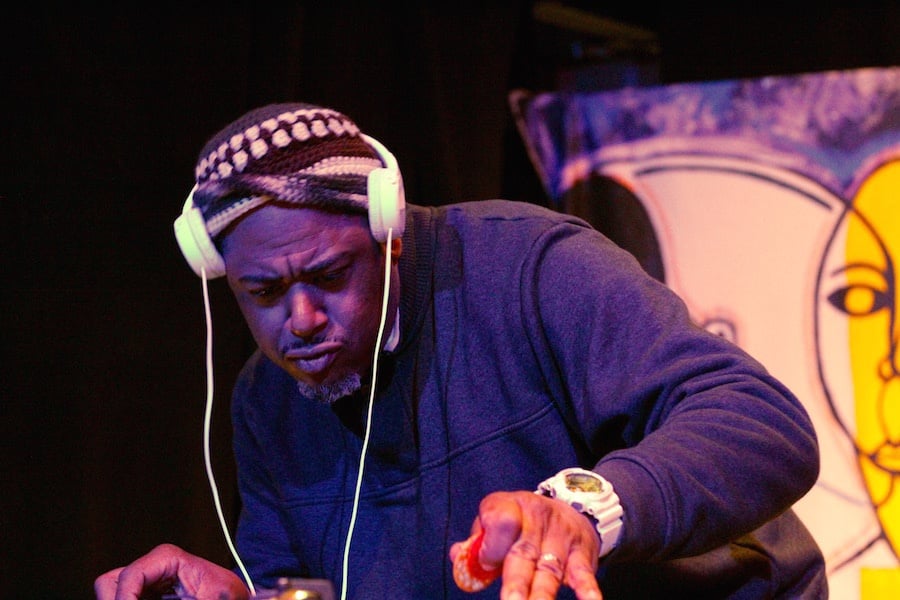 Dooley-O at Bregamos Community Theater in February 2018. Lucy Gellman File Photo.
Love fueled an obsession and wild ride for Allen Jackson—a.k.a. Dooley-O—perhaps New Haven's most prolific and pioneering DJ, MC, recording artist, producer, TV host, and graffiti artist. In part, Jackson has gone back to his roots to keep making music through COVID-19.
Jackson first heard the early manifestations of hip hop in '77/'78 Harlem as a young man. By the mid-80s, a tight hip hop scene had emerged in the Elm City, but DJ-ing "never dawned on me." At the time, he saw other DJs doing the work, including Chris Lowe and Birdy B Fly. With his late cousin Steve "Stezo" Williams, he was there as a rapper.
"I knew my place at the time," he said. " They DJ'd and, you know, records cost money!"
But the DJ mindset was with Jackson by necessity. To create beats, Dooley-O would use turntables, cassette decks, and four-track cassette machines until he was able to purchase a SP 1200 sampler. The dig for hot, unknown samples was on. By 1986, Bronx-based record collector Lenny Roberts began pressing up Ultimate Breaks & Beats, licensed collections of tunes by everyone from James Brown to the Monkees that served as foundational beats for early hip hop.
Jackson and Lowe went on an excursion to find more material that they could sample. Jackson's neighbor, who he remembers as Ms. Brown, offered up an entire closet full of records. That crate of 45s and suitcase of 12-inch albums served as the beat backbone of Stezo's Crazy Noise full-length debut album.
Deep Tina Turner, Sly Stone, Bettye LaVette, Eddie Bo tracks were excavated along with a curious album that would change the trajectory of modern music forever. Skull Snaps, a mysterious 1973 funk and R&B album, yielded the iconic "It's A New Day" sample.
The record likely belonged to Ms. Brown's son, who was partially deaf. Stezo featured it on 1989's "It's My Turn." Today, whosampled.com lists 531 samples of "It's A New Day," from Pharcyde, Gang Starr, ODB, Das EFX, Common, to The Matrix, to the parroting rock and rap fodder of Crazytown and Linkin Park.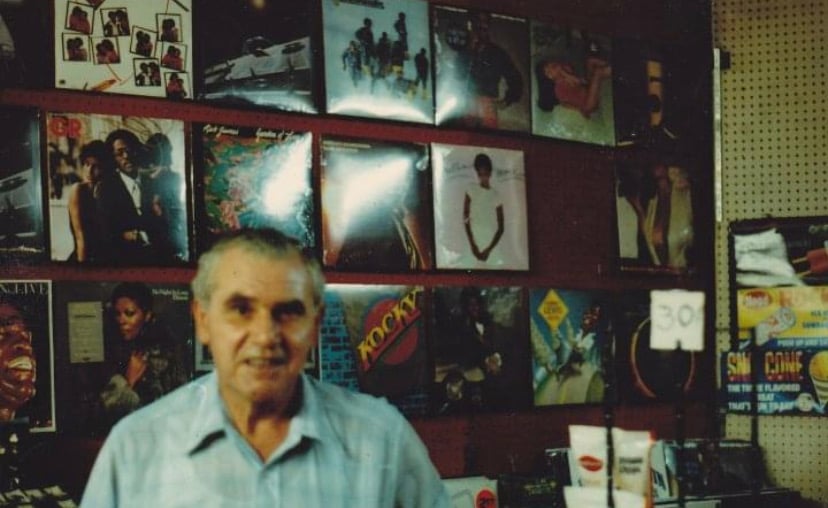 Faye's, which was once on Kimberly Avenue in the city's Hill neighborhood. Dooley-O Photo.
Jackson started visiting New Haven's then-robust collection of record stores: Replay, Cutler's, Rhyme's Records and Faye's. The last, which sat on Kimberly Avenue "had to be the first old record store I went to, to do what I wanted to do." It led him onwards to record conventions and eventually the hip-hop mecca of the Roosevelt Convention in New York. Patrons brushed digging-elbows with Q-Tip, Diamond D., and P.M. Dawn.
"I mean people were dropping albums, samples are hot, it's not just James Brown stuff anymore," he said. So then we have this competitive thing of he's producing, your producing, I'm producing and who's got the hottest beats. It's in the center of all that."
As Dooley-O's hip hop career ebbed and flowed in the music business, he struck a close friendship and mentor role with Eothen "Egon" Alpatt, who in turn introduced him to Peanut Butter Wolf (Chris Manak). Wolf was forming Stones Throw Records, a hip-hop leaning label that would enter legendary status through the years with releases from J Dilla, Madvillian, Arabian Prince and others.
The two of them opened Jackson's world once again: he recalled attending parties with them and feeling stunned that they were Djing records he loved to sample.
"I was like, wait a minute, I never thought people would party and play these records!" he recalled. "And that's the one thing Egon took from me was that, he'd say, 'I watch you play samples, but you never play the whole record. You play the sample, chop it up, and make music but you never just DJ the whole song.'"
Around 1997, with encouragement from his friend and New Haven hip hop community rock, Vinny Ferraro, Jackson hit the vinyl decks of San Francisco getting his chops at The Fly Bar and Make Out Room. He did his thing: "Curtis Mayfield, James Brown and a whole buncha other little records I was playing." The crowd went wild.
"At one point, it had to be no less than 15, 20 minutes, I had the dance floor rockin," he said. "So San Francisco kind of took me on a wing, learning how to DJ."
Returning to New Haven, Dooley-O hosted "Funky Chicken" and "Bustin' Loose," all-vinyl funk and soul DJ parties at Café Nine. He hosted "Wax" at Firehouse, events at Elm Bar (now Three Sheets New Haven), and eventually established a weekly Saturday residence at Rudy's called The Back Room. 2020 marked the ten-year anniversary of The Back Room as it branched out to venues like The State House, Diesel Lounge, Mickey's Upstairs, the Oasis in New London and Tony's in Bridgeport.
Dooley-O weaved the music he's lived in: hip hop, funk, soul, R&B, as well as popular hits.
"I try to make the crowd happy, but make me happy as well," he said. "You know what I'm saying? My new theory was to find the popular songs, but find good remixes to 'em. They give me that bounce. That way the crowd can say, 'OK this guy is not your average DJ.'He's not interested in watching somebody twerk all night.' That's not what I'm here for. I'm here for an experience."
As bars and clubs shut down due to COVID-19 Jackson moved his work online, hosting a number of virtual gigs on Zoom and Facebook Live. He has also been working on projects that fuse past and present, from "The Beat Segment Three" and music from the vaults to a new mural in memory of Stezo at the border of New Haven and West Haven. Still, he said, nothing beats DJing for a crowd.
"Live is live," he said. "It's the communication part. The interaction with people. Online DJing can get boring quick because you don't really have the people in front of you dancing, smiling, having a good time. It's that energy that bounces."
"Hopefully during this time all DJs can get back to being artists, not a jukebox," he added. "You know? Everybody's gotta get back to their own style, their own creativity."
I Feel Love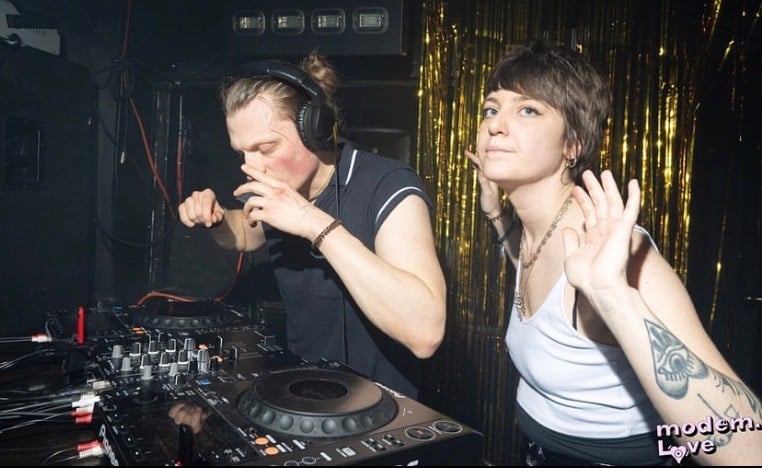 Modem Love's Anteo Fabris and DJ GODAI. Photo courtesy of DJ GODAI.
On a typical pre-COVID-19 Saturday in New Haven, energy was bouncing to a slightly different beat a few blocks away at Partner's Café.
Modern Love—also known as Modem Love—is a DJ collective and record label midwifed by David Rudnick in 2008. When the collective was born, Rudnick referred to it as "Yale's first nightclub," which came to life Fridays between 12 a.m. and 4 a.m. from his home on Edgewood Avenue.
"Please, for one night in all our hectic weeks; No More Scenes," he wrote in an initial email. "No More Cool. No Irony. Only Music. Only Love."
For 12 years the Modem Love moniker has been passed down to DJs in New Haven and those farther afield. The collective hosts events, trains up-and-coming DJs, and runs a record label. Its aesthetics lean heavy on electronic, dance, drum 'n' bass, and experimental music, but its philosophy has always been open, guided by inclusivity and encouragement. That's been especially true for Erica Pustari, also known as DJ GODAI.
In November 2016, listening to the U.S. election results in a plane mile-high, Pustari returned from two years in Queensland, New Zealand to work at the family business, Modern Apizza.
GODAI was looking for her community. She grew up in the arts in dance competitions, piano and singing lessons. While attending Johnson State College in Burlington, Vermont, she quickly discovered the underground rave scene.
"All my friends were DJs, and I was always that dancer girl, always dancing," she said. "Someone looked at me one day and said, 'YOU should be doing this!' It dawned on me - why haven't I tried this? I love it so much and everyone else saw that passion."
GODAI was able to get a hold of a Numark Mixtrack Pro II controller, practicing in her bedroom, intimidated by the infinite possibilities the machine possessed. After college, she developed a language she describes as, "Tech House, which consists of a clean and minimal production style that was associated with techno from Detroit and the U.K."
While in New Zealand, GODAI introduced herself at the Vinyl Underground, a U.K.-based drum 'n' bass venue. The club had a DJ drop out and offered her a gig next day. A six hour set on completely foreign equipment blasted off.
"When I make music it's noisey-avant-garde with some hot bass lines and glitch industrial feels," she said. "My choice of tracks usually hit somewhere on a metaphysical level. It has to speak to me in some way. I feel like art and music do this for us - they say things when we can't."
GODAI found her DJ footing in New Haven playing parties and DIY spaces. In 2019 she joined the ranks at Modem Love, which by 2017 had morphed from a basement blowout to a monthly queer rave at Partners Café. GODAI and Anteo Fabris extended Modem Love events to the State House.
Photographs from an early 2020 pre-COVID rave evoke a foggy, packed, sweaty, intersectional, futuristic and free community. Just as Modem Love was gaining mass New Haven momentum, lockdown crept in.
"In these times, you miss connection obviously," she said. " That's why I love music so much. It gives us those raw authentic moments where you're dancing with another person and nothing in the world could be wrong with you! You're not thinking anything, you're being, you're being. And you're feeling the music and feeling other people's energy – we're all doing this together and it's a fun beautiful thing. That's what music is all about in my eyes is community. It's a community of like-minded individuals that want to make a difference in the world."
When COVID-19 closures began, the Modem Love team of over 25 DJs put their ideals into action offering the next best alternative. Modem Love's website and Mixcloud account now offer a daily set from DJs around the world.
The feat requires immense behind-the-scenes coordination, communication, graphics, writing; a sweat that is well worth the push for GODAI and the Modem Love team including: Anteo Fabris, Stephen Krewson, Khaleel Rajwani and Alex Grabnier.
"The whole point of it is to have a community online," she said."Some DJs have huge followings and some have none at all. It's a good thing for the underground community to come together. And that's what I love about it – it's for everyone, it's about unifying people."
Freeform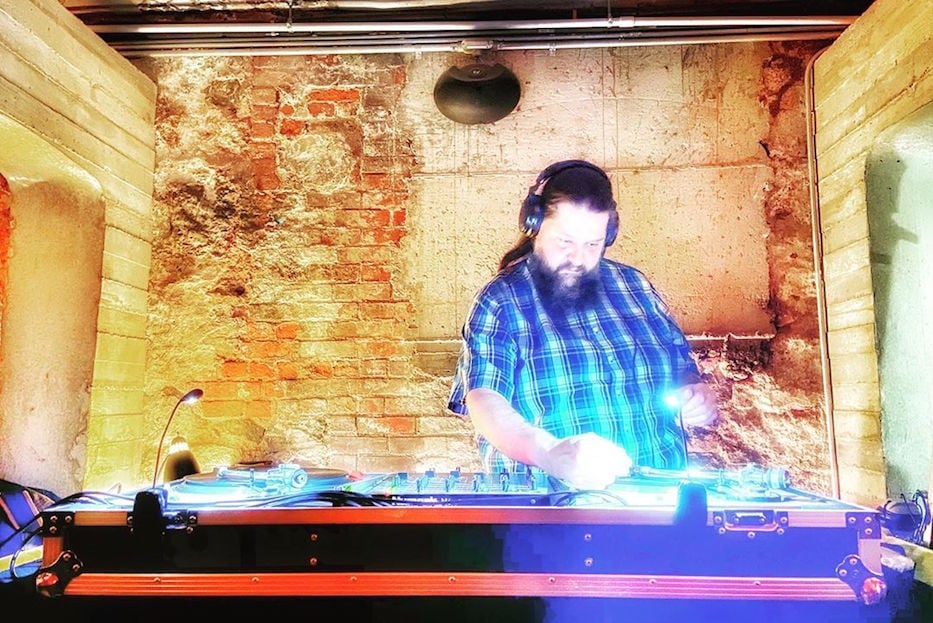 Gary Amedy a.k.a. DJ Darkglobe at Firehouse 12. Ian Applegate Photo.
Going literally underground to the bar at Firehouse 12 before COVID-19, there was a likely chance of entering a set from Gary Amedy a.k.a. DJ Darkglobe, who has come to establish the eclectic, freeform aesthetic of the joint since his start in 2011.
DJ Darkglobe's all-vinyl mixes lent themselves to Firehouse's listening-focused atmosphere, veering anywhere and everywhere from the Flying Lizards, Lee Dorsey, Freddie Hubbard, Black Sabbath, Captain Beefheart, Ultravox and back again. The heavy side of his taste is reflected in a handful of Amedy's music projects including Neurospora, Sea of Drones and Sea of Bones.
"The scene is generally very chill," he said. "People enjoying music and drinks, some people will be nodding their heads and grooving, but not too much dancing."
DJ Darkglobe was a music fan and collector as far back as he can remember. He listened closely to radio, combed through his parents vinyl collection, amassed 8-tracks and flea market purchases. Early (and continued) favorite artists were Bull Angus, Cream, Grand Funk Railroad, Iron Butterfly, and Quicksilver Messenger Service. DJ Darkglobe lived for the thrill of discovery.
In 2009, show promoter and musician Rick Omonte asked DJ Darkglobe to spin records for his Shaki Presents Sundazed shows in the back room at BAR. Soon Firehouse 12 came calling.
On a usual night, DJ Darkglobe makes his selections from a collection of three or four thousand records. He finds them in many places—"Redscroll Records, junk shops, thrift stores, any record store within 50 miles."
"It's a lot of digging," he said. " Half the things I find are just things I have no idea about. Price is right if it's not too outrageous. Up to ten bucks I'll buy almost anything that's interesting. That's probably why I have so many records - just anywhere, anytime."
His greatest nights at Firehouse 12 were punctuated by moments where he could "turn people onto new things they have never heard, or give them a dopamine push by playing things they already like or know," he said.
Darkglobe spun through "plenty of theme nights," from jazz to funk to psych. He recalled one set, a Nurse with Wound night, as a highlight - playing from a huge list of experimental, ambient, krautrock that influenced Nurse with Wound.
"It's one of those things where people are searching to find these artists," he said. " I don't think even half of them really exist. I had about 30 to 50 records from the list."
Quarantine has not stopped Darkglobe's routine record intake. He's keeping online record retailers at Discogs happy, and has turned to online mixes to be able to communicate and share his vision. As to what he misses in lockdown with a shuttered scene, it's that human contact.
"For me, it's just hearing new stuff from other DJ's and bands I'm not familiar with," he said.
Brendan Toller, aka DJ B The T Jr. is a DJ hosting the monthly Cafe Nine event Shake 'N' Vibrate.