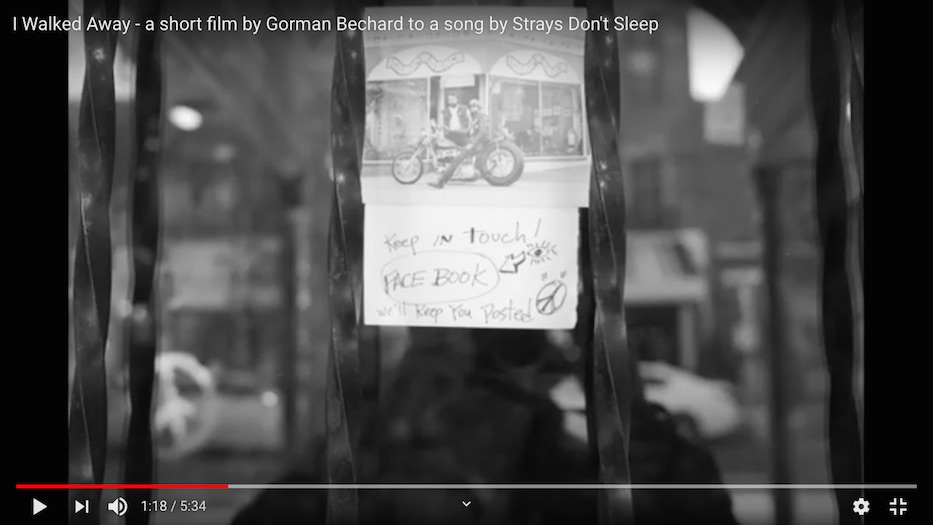 Arts & Culture | NH Docs | Film & Video | COVID-19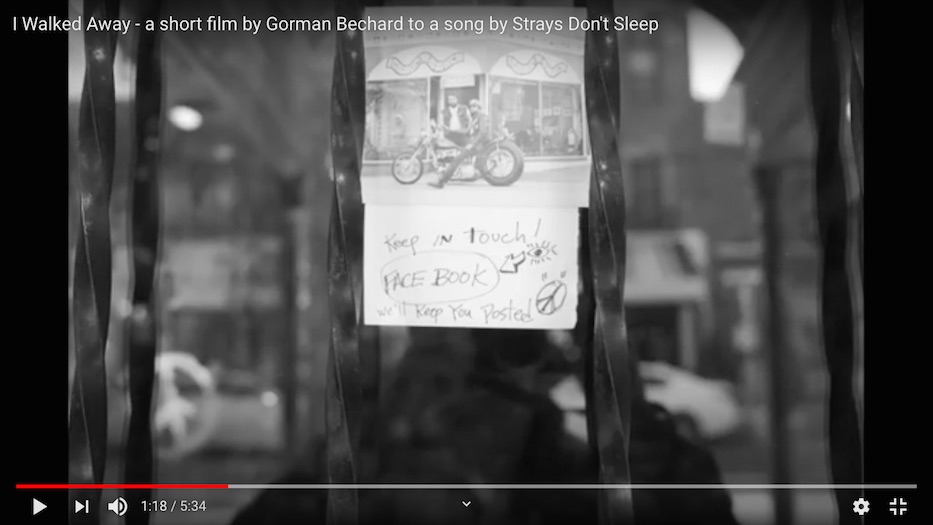 YouTube.
Maybe the first one that catches you is the note at the barbershop, scribbled in quick, sloping penmanship with a "Thank You" added hastily at the end. Or the one with its edges already curled, flapping in the afternoon sunlight as words peek out beneath it. Or the ornate doors with big brass knockers, and printed messaging in at least four different languages.
THIS BUILDING/IS CLOSED/UNTIL FURTHER NOTICE, one paper reads. All of a sudden it is March again, and the weight of COVID-19 is new and exhausting all at once.
The video is a collection of photographs by New Haven documentarian and pizza nerd Gorman Bechard, all taken under the same low sky on March 21. Last week, he released them as a short film titled "I Walked Away," set to an eponymous track by the Nashville-based band Strays Don't Sleep. The montage is meant as his end-of-year love letter to New Haven, which he's called home since the 1980s.
"Dedicated to the city of New Haven, the people who have struggled, the lives we have lost," he wrote with the release. "Be safe. Be strong. Be kind."
Bechard never planned to take the photographs, let alone publish them. In March, he found himself downtown while helping his wife Kristine close up shop at Willoughby's Coffee & Tea, of which she is the longtime manager. He realized that putting the cafe to bed—disposing of old food, cleaning out appliances, making sure there was nothing in the shop that could go bad—would take hours. So he grabbed his camera and started to walk around.
By then, restaurants and bars had closed their doors. Some owners, as if in a panic, had scribbled notes in pencil and permanent marker and taped them to the glass. Others had printed out COVID-19 warnings from the CDC and the state. In the heart of downtown, where Yale sent its students home during their spring break, the streets were empty.
Bechard clicked away, documenting one emptied-out storefront after another. In the video, there's something post-apocalyptic about the images, where cleaned-to-spotless restaurant equipment and clothed mannequins stand frozen behind large glass windows, suddenly interrupted. At the Yale Center for British Art, a statue in the lobby sat alone, reaching up into the building with the same fierce grandeur it always had. Except this time, no one was inside to see.
Outside the Yale Repertory Theatre, he recalled running into the reporter Randall Beach and his wife, the two of them just staring at the building. The theater had been poised to open Carl Cofield's A Raisin In The Sun just two weeks before. Now its stages were silent.
"I guess you knew it was never going to be the same," Bechard said. "I knew that there were some places that were never going to reopen.."
When he got home, Bechard shared a few photos with friends and colleagues. The rest sat on his computer through the end of October, when Strays Don't Sleep released its latest album. Bechard listened to the first track "and I just cried," he recalled. He asked frontman Matt Ryan, with whom he has collaborated on soundtracks for his documentaries, if he could use the song for a video. He put everything together one evening in November.
If the video is a tribute to the city, it's also part of the filmmaker's own grieving process. Some days, Bechard is so busy he doesn't have time to think about how much New Haven has changed in the past 10 months. Earlier this year, he took the New Haven Documentary Film Festival (NH Docs) online, with just a few, tiny in-person events. In October, he rolled out a monthly film series with community partners including Integrated Refugee and Immigrant Services (IRIS).
This month, he's bringing Dean Falcone's annual Vomitorium to the screen, with over 40 virtual performances that will benefit Cafe Nine's tip jar. The festival will also be screening the 2018 documentary North Pole, NY from mid-December through Christmas.
Others, he said, time slows down. He thinks about how much he misses concerts and film festivals, and traveling on the road. Part of the reason he never wanted kids was because he loved the ability to pick up and travel when he wanted ("a kid does not outweigh a good Wilco show," he said matter-of-factly during a phone interview). Now there's nowhere to pack up and go to.
Instead, COVID-19 has been a crash course in watching businesses struggle and adapt across the state. The short film only signals the beginning of that spiral, but captures its gravity in just over four minutes. For the past 10 months, Bechard has watched his wife navigate two closed storefronts, a bevy of online orders, and the process of reopening one downtown location for coffee pickup.
One of Willoughby's shops, nestled downtown across from the Yale University Art Gallery, will remain closed until at least January 2021. The other, at Church and Grove Streets, has reopened for takeout orders only. While Gov. Ned Lamont's economic reopening guidelines would permit indoor dining at limited capacity, the shop is operating on a takeout-only basis out of an abundance of caution. Its Branford and Madison locations are also open.
"I miss a lot of restaurants," he said. "I miss sitting inside pizza restaurants. But there is not a meal or a cup of coffee or anything that's worth dying for."
In the video, he inserts himself into the narrative of COVID-19's destruction, as shots of his reflection appear in the glass. Nine months after that initial walk through downtown, some of those businesses have closed for good. Others have reopened, with masked chefs and thick layers of plexiglass. As he looks on to December and 2021, Bechard said he's thinking about how Connecticut businesses will hang in there as cases continue to surge across the state and the country.
"I know for one, bringing back NH Docs is huge," he said. "Hopefully we actually have someone coming into power that understands that science is truth."