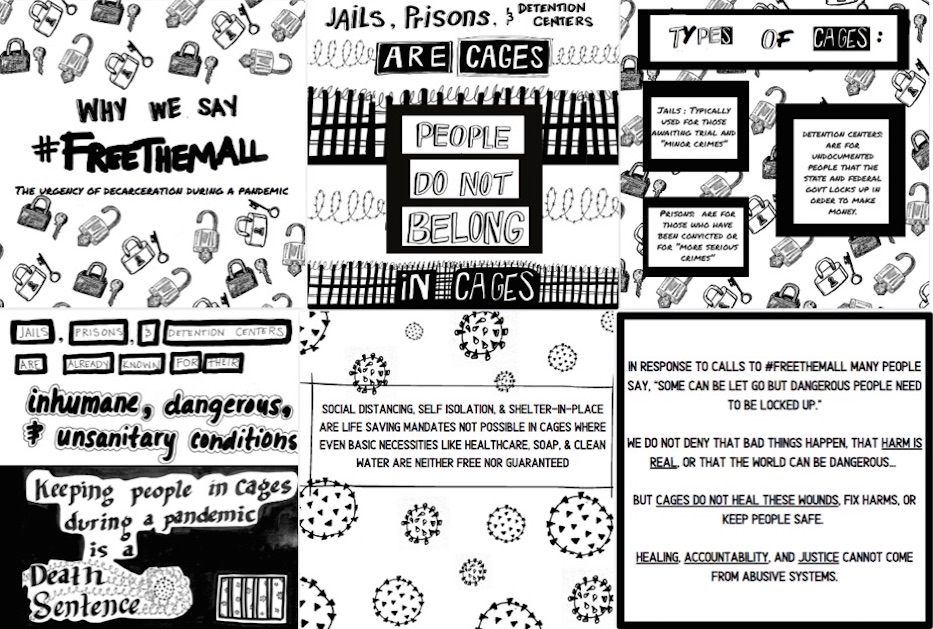 CT Bail Fund | Culture & Community | Arts & Culture | COVID-19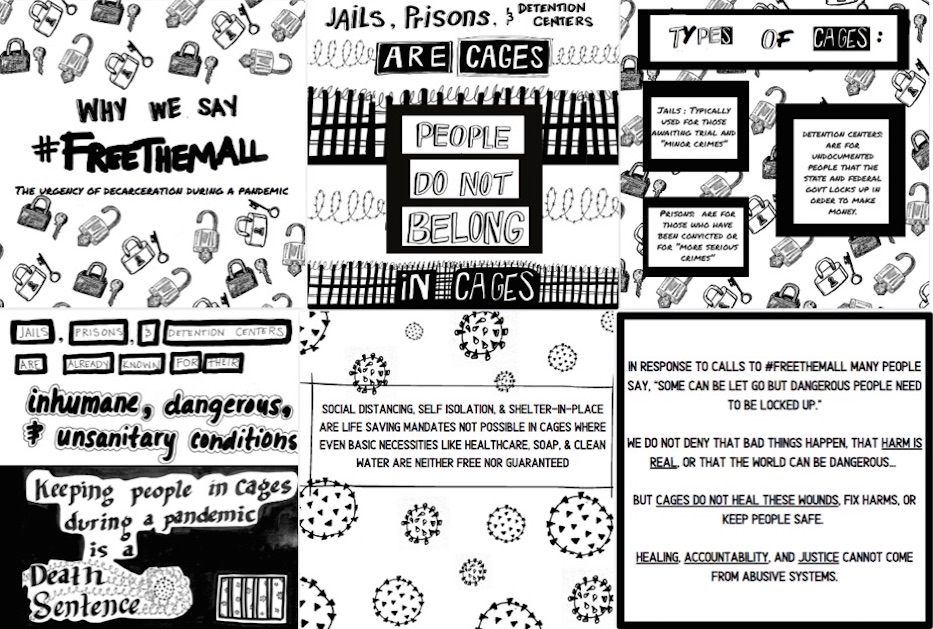 All images by Sarah Pimenta and Sophie Duncan, with permission from The Connecticut Bail Fund.
The image is striking. On a white background, 16 spheres fly at the viewer, all of them covered in spikes. The round edges are smooth; the spikes cut right into them like pins in a cushion. It registers immediately, even in black and white: this is the novel coronavirus, barreling toward the limits of the frame and into the air. Just over the center of the page, an explanation hovers in neat letters.
"Social distance, self-isolation and shelter-in-place are life saving mandates not possible in cages where even basic healthcare necessities like basic healthcare, soap, and clean water are neither free nor guaranteed," it reads.
The image comes from Why We Say #FreeThemAll, a new zine from artists Sarah Pimenta and Sophie Duncan and Connecticut Bail Fund organizers Vanesa Suárez and Jeannia Fu. It joins the Bail Fund's longtime campaign to end the carceral state, calls for which have intensified as the coronavirus pandemic highlights the unique vulnerability that incarcerated populations face.
"We are in the midst of this very deadly pandemic and we know that incarceration is a death sentence," said Fu, a community organizer with the Bail Fund. "We really have to free everyone and go past the bounds of what we think as possible, instead of picking and choosing who to save."
The idea for the zine was born weeks ago, as Suárez, Fu and other members of the Bail Fund were ramping up specific efforts around decarceration during COVID-19. While the Bail Fund's work on prison abolition is not at all new, it has taken on a new urgency in the past month, as prisons and detention facilities become hotspots for potential COVID-19 outbreaks. At the Cook County Jail in Chicago, for instance, over 250 detainees and almost 150 staff members have tested positive for COVID-19.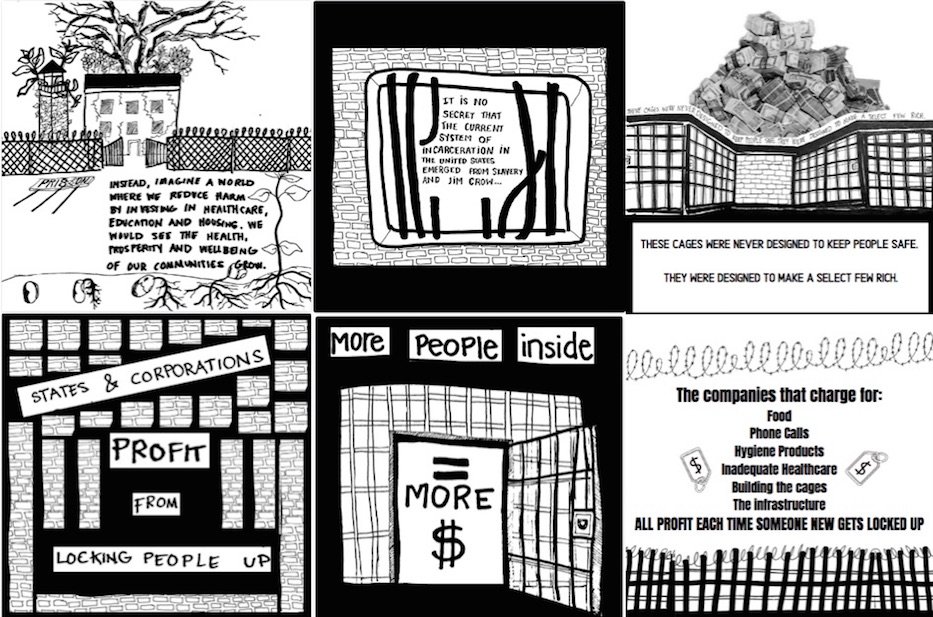 In mid-March, the Bail Fund called on local and state elected officials to release all individuals in city and state prisons, jails, and detention facilities. In the weeks since, the group has helped organize a series of state and regional "honkathons," at which activists are able to remain in their cars as they surround facilities and lay on their horns. Around that time, Fu said she also started thinking about other ways to spread awareness around the prison abolition movement.
"Even though we're doing social distancing, we have to remember that people's power is very real and still exists," she said.
She had noticed that the hashtag #FreeThemAll was getting more attention amidst the pandemic, but didn't always seem to inspire direction action. Then she thought about versions of the prison abolition zine that she, Duncan, and Pimenta had been dreaming up with activist Kerry Ellington since a brainstorm earlier this year, at the Rebellious Lawyering conference at the Yale Law School.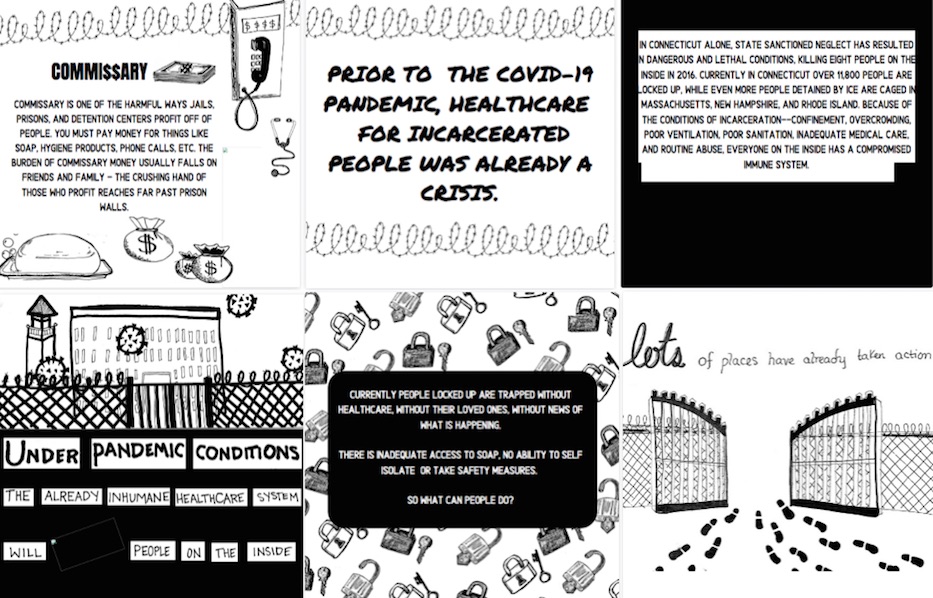 It seemed like the right time for a sort of primer on organizing and prison abolition. The group has often used art to communicate its work: previous events and fundraisers have included theater, photography, live music and spoken word poetry. Since meeting Fu through other advocacy work several years ago, Pimenta has become one of the group's go-to banner artists.
"The idea was to become an educational resource," said Duncan, reached via Zoom. "To make a zine about prison abolition, without using the word abolition. To start getting people to think about why we should free everyone, and not just some people."
"You can hashtag this thing, but people come away from that and then they don't do anything," Pimenta added. "It's a way to absorb and take in information in a way that's not overwhelming. If you have this really eye-catching, amazing thing, you're going to pay more attention to it."
They played around with different vignettes: stark images of the virus flying at the viewer, coils of barbed wire, a shaded, crisp silhouette of a person sitting alone on a cot. In one page, a gate is flung open with jubilant footsteps, the image an testament to states that have already released some detainees.
Using heavy text on some pages, they outlined the way prisons feed corporate profits, from food supply chains to the commissary system. They focus on a lack of basic healthcare before the pandemic, and then pivot to what it looks like during it.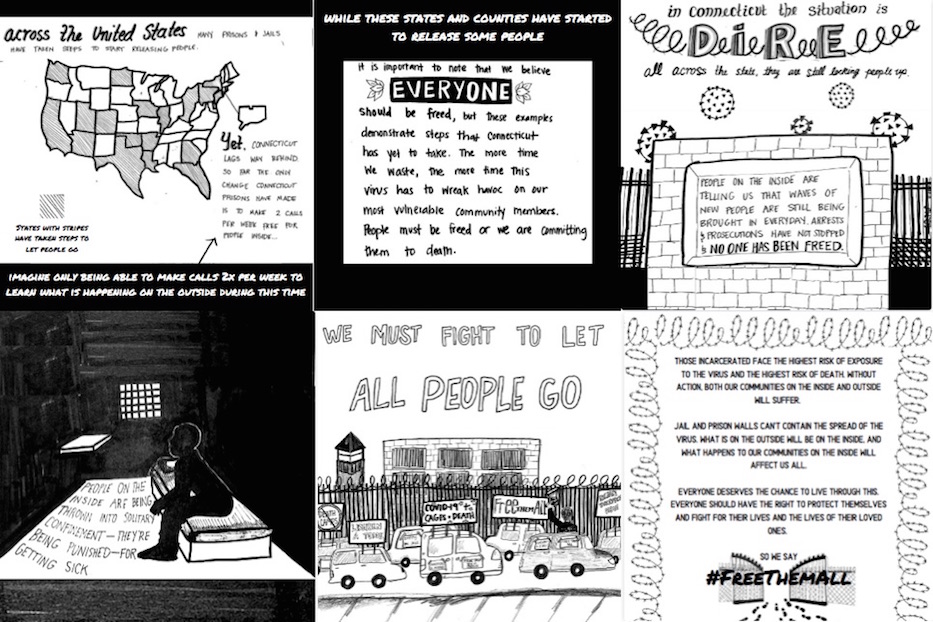 On one page, perhaps the most arresting in the zine, a person sits alone in a solitary confinement cell, staring at the wall. Their back is a straight line. The accompanying text, which slopes across the cell floor, explains the process of placing people in solitary if they are sick.
Duncan said it was also important to the group to address a major ideological divide in the movement: while prison abolitionists believe in a complete end to the carceral state, criminal justice reformers often advocate for the selective release of some detainees, and changes to the carceral state rather than its end. The Bail Fund advocates for abolition—always and particularly now—because members see anything less as a death sentence.
"No one deserves to get COVID, and no one deserves to die from COVID," she said. "And that's just impossible in a cage."
Fu added that the zine is part of a larger initiative to #FreeThemAll that the fund is rolling out as members balance physical distancing practices with their own activism. On a new website, members of the Bail Fund have included information on their work, specific demands during the COVID-19 pandemic, and ways members of the public can get involved.
"The zine is so beautiful and simple in capturing these basic truths about how we dehumanize people," she said. "Some folks are saying 'free them all,' but I'm not sure they really feel 'free them all.' The line is really between death and life, life and death right now. It is meant to make you think: Are these criminal categories worth it? Do you really want to be the one to say someone should lose their life?"
To find out more about the #FreeThemAll campaign, click here. To view the zine, click here.