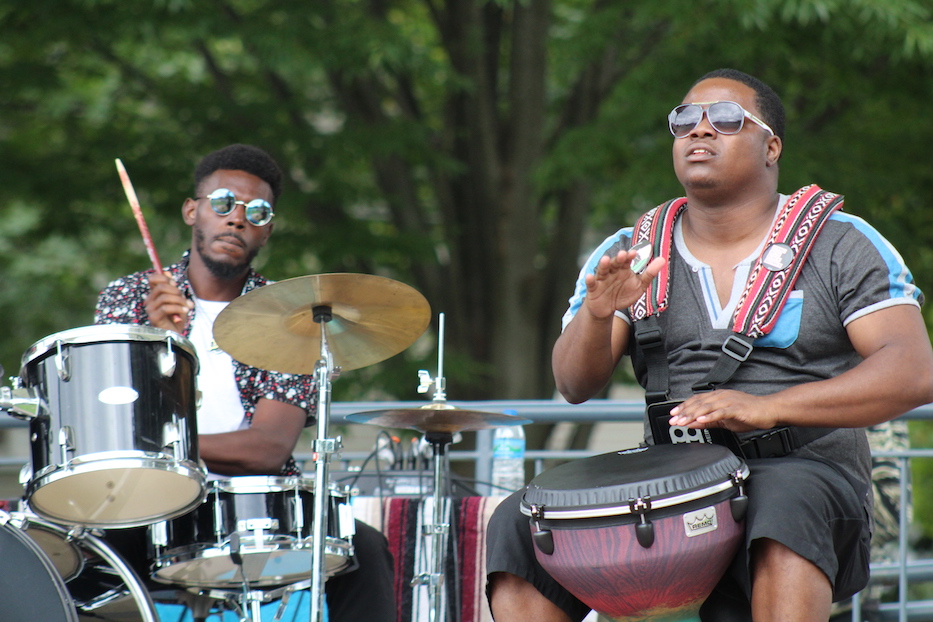 CT Bail Fund | Arts & Culture | Whalley/Edgewood/Beaver Hills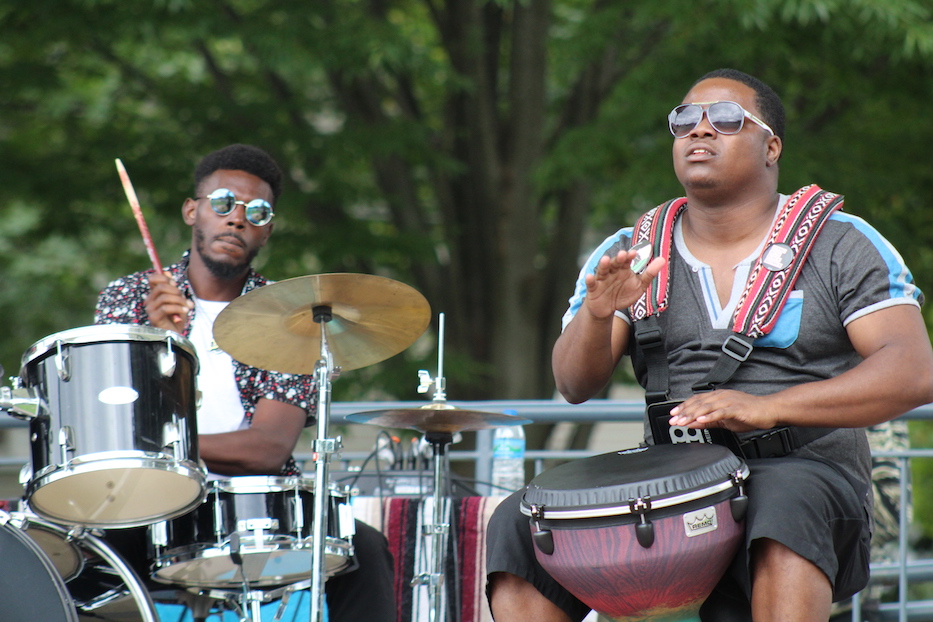 Jamarr Jabari, who got attendees moving and singing along with the New Haven-based band Voices of Change. Lucy Gellman Photos.
Jamarr Jabari pulled his drum to the front of the stage and began to play a familiar rhythm. From his hands ran a heartbeat-like story, soon rippling across band members and into the crowd. Attendees danced on the grass and in their seats, some slipping their shoes off to feel the grass. Behind him, the keyboard picked it up, then a guitar. Four guys on the basketball court took notice, and added some fancy footwork to their game. The drum had given birth to a proper jam.
Jabari and the band Voices of Change appeared as part of the Connecticut Bail Fund's first annual End Of Summer Jam, a picnic, party, and fundraiser for the group held Saturday in Goffe Street Park. The fundraiser comes as the nonprofit grows its staff from two to six members and continues its mission to end pretrial incarceration for people who cannot afford bail. Over 100 attended over the course of several hours.
"We thought this park was particularly meaningful because of the community it's in, and because we're in that jail [the New Haven Correctional Center] like, every other week," said Co-Director Ana María Rivera Forastieri Saturday. "We don't have a particular dollar amount that we wanted to raise for this event, we just really wanted to be in this community and sharing with others, and sharing about our work."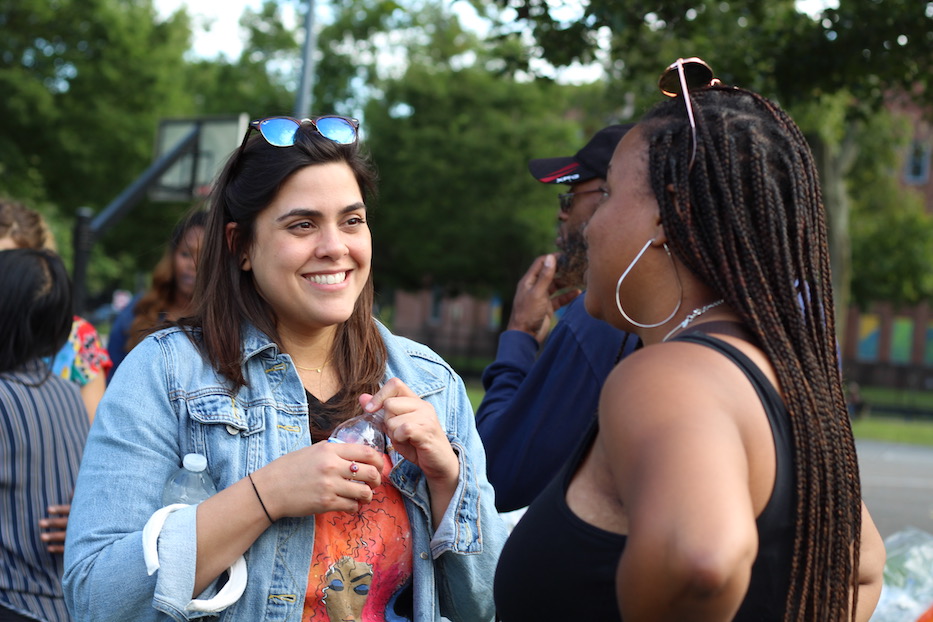 Founded in 2016, the Bail Fund has grown to also encapsulate the Immigrant Bail Fund as well as several community advocacy projects such as housing not jails. This year, Co-Directors Forastieri and Brett Davidson were able to bring on four new members: Deportation Defense Organizer Vanesa Suárez, Community Organizer Jewu Richardson, Bail-Out Organizer Norman Clement, and Women's Group Organizer Jeannia Fu.
Clement, who has been a vocal force in the activist community, took the lead on organizing the fundraiser. As he bounced between a sound booth and cluster of seats in the audience, a lineup of performers brought the park to life. They drew on social justice then broke it down to belly laughs, spanning spoken word performer Puma Simone to comedian Taylor Grate. At one point mid-afternoon, poet Tchalla Williams took the stage, juggling two books of poetry as she dove into her set.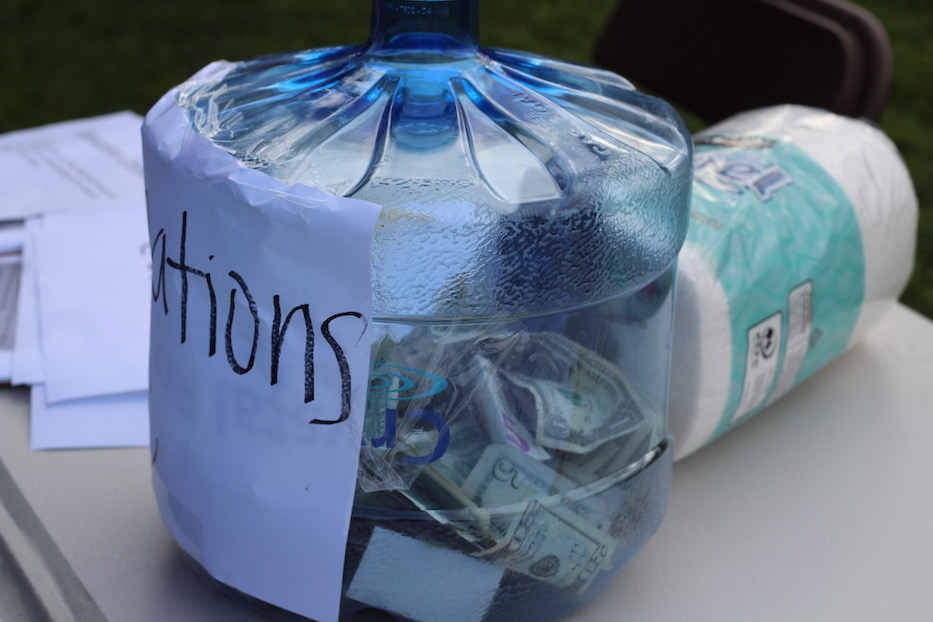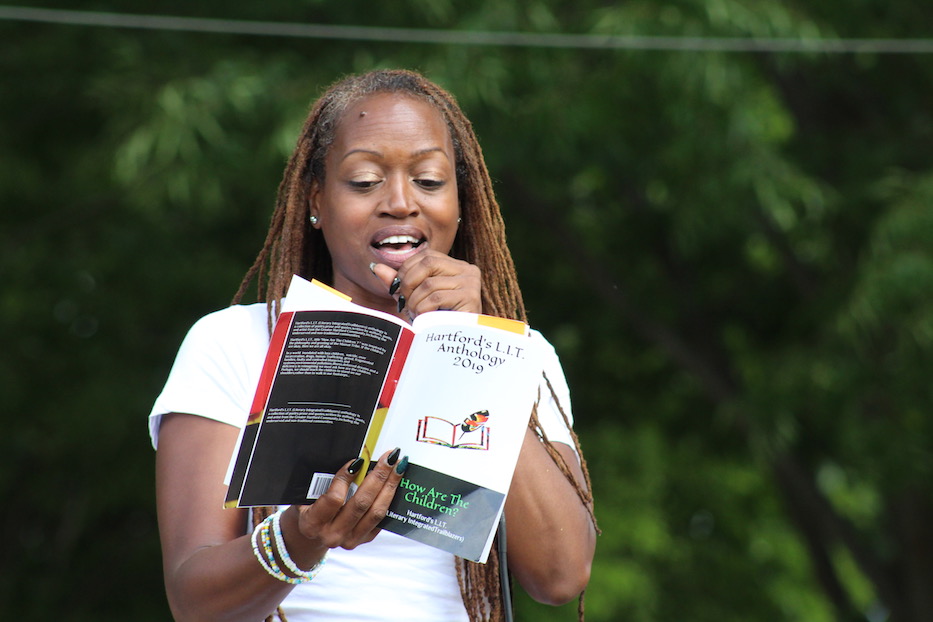 "It's summertime!" she declared at one point. "I would be feeling fine/But this year has me cryin' for/Babies passing from bullet injuries to children being left with frenemies/to pedophile men and their victims/Leaving babies on sidewalks."
"People of color outlined in chalk," she continued. "Temples of prayer riddled with bullets/Flood waters attempting to wash away what we don't say."
Before the stage, a small but mighty audience sat at attention, hanging on to Williams' every word. Further back, attendees munched on fruit, macaroni and cheese, salads and birthday cake for Richardson's son (complete with a rousing round of happy birthday). Others explored face painting, hula hoop lessons, and a green-and-white bouncy castle from which peals of laughter were audible halfway across the park.
Taking a break from her hula hoop, 12-year-old Ambar Santiago Rojas said she'd come out with her mom and sister not only to check out the fundraiser (she also performed early in the afternoon), but to show solidarity to families affected by both bail and deportation.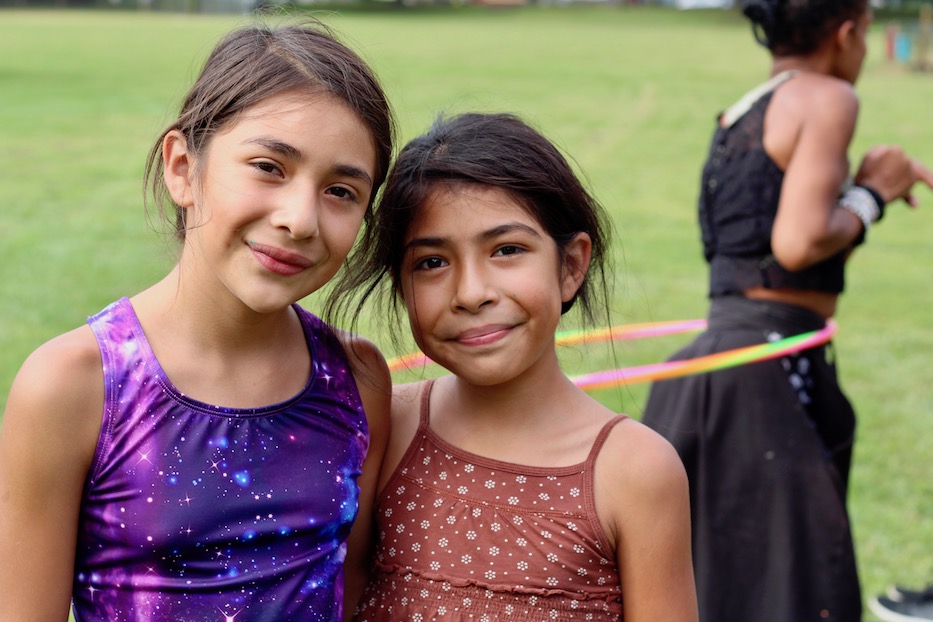 Ambar Santiago Rojas and her younger sister, Jade.
"Our community is falling apart right now," she said. "We need to get back together by telling the world right now what's right and what's wrong. It's really scary. But I think, it's like my mom says, we don't have to be scared. But we have to be aware."
Back by a donation table, poet and Black Lives Matter New Haven Co-Founder Sun Queen and her partner Ashleigh Huckabey praised the Connecticut Bail Fund for its work, including a speedy, coordinated effort to provide bond for a number of activists who were arrested by Bridgeport police for peacefully demonstrating on what would have been Jayson Negron's high school graduation date this May.
In particular, Huckabey said, she's moved by the fund's mission because Black and Brown people are disproportionately penalized by the carceral system, often punished for their economic status when they cannot make bail before trial. Sun Queen added that she hopes the fundraiser will get the bail fund closer to a goal that she and the organization have in common: "free them all."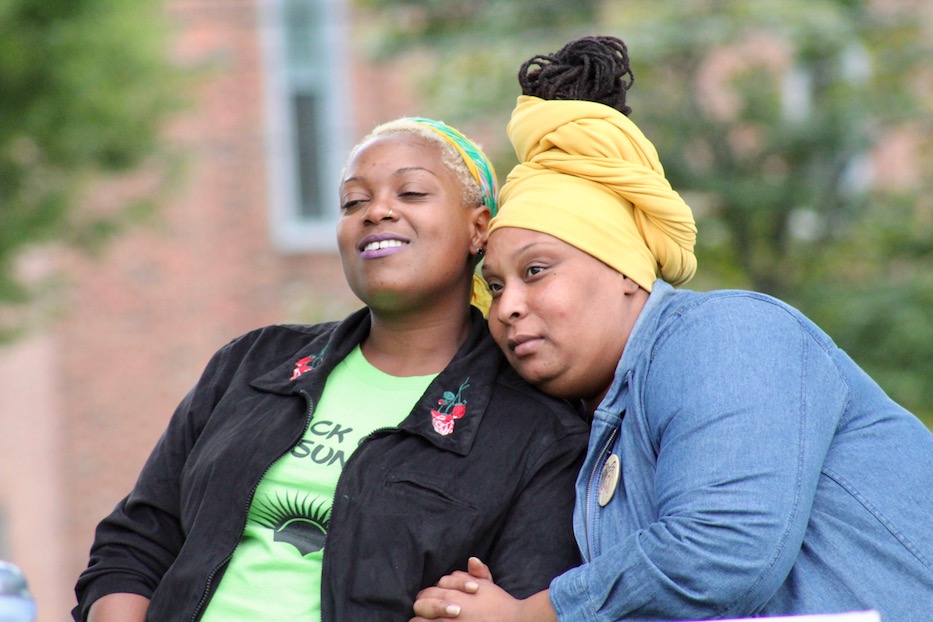 Ashleigh Huckabey and Sun Queen. Next week, the two return to the park as organizers of Connecticut's first Gay Black Pride, scheduled for Sept. 14 from 1 to 5 p.m. The event is a collaboration of APNH: A Place to Nourish your Health and Black Lives Matter New Haven.
"Most of the time, we're locked up for wrongful acts," Huckabey said. "So we're so appreciative of the fund."
Some attendees hadn't even known the fundraiser was happening, and made their way into the park when they heard music and poetry floating across the grass. Terry Miller, who lives nearby on Carmel Street, spotted the gathering from her house and wanted to see what it was all about. When she arrived, Forastieri gave her literature on the fund's mission and vision, then made sure she had time to grab a bite to eat.
A longtime resident of the neighborhood—her nickname is "Ms. Hugger," for the generosity she often shows to homeless people in the neighborhood—Miller said the fundraiser seemed made for the park, which has been home to countless gospel fests, the New Haven Caribbean Heritage Festival and many others.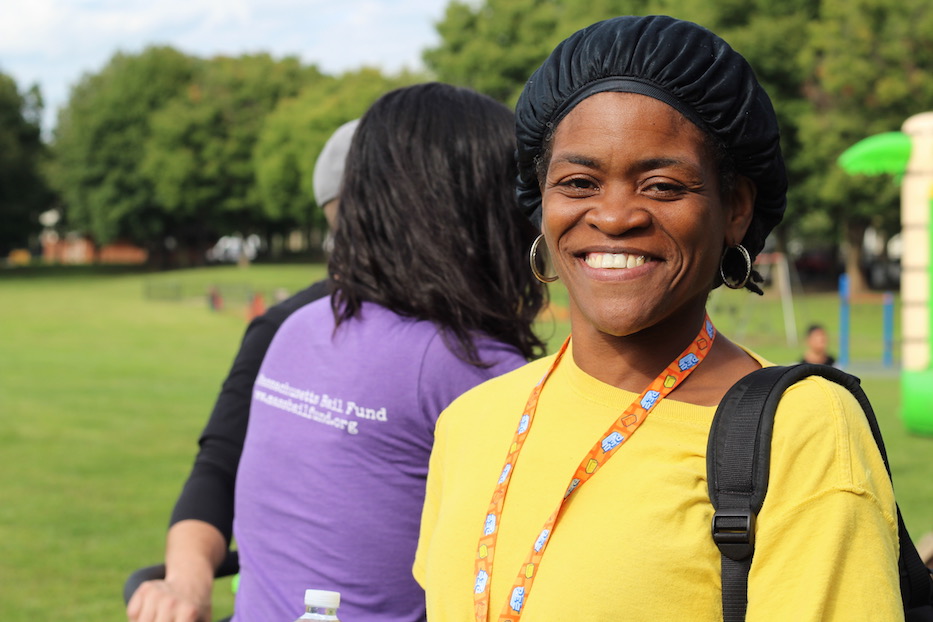 Terry Miller: Like being with family.
After learning about the fund, she said she hopes to support its mission going forward. She's watched people close to her deal with incarceration, she said, and while "I haven't been affected by it personally," she has seen the toll it can take on a family.
"When the community gets together like this, it brings such happiness to me," she said. "I believe it's a great thing that the Bail Fund exists—it's just a blessing to help folks that can't help themselves."
"And coming out here," she added, "it's like being with family."
To find out more about the Connecticut Bail Fund, visit its website.