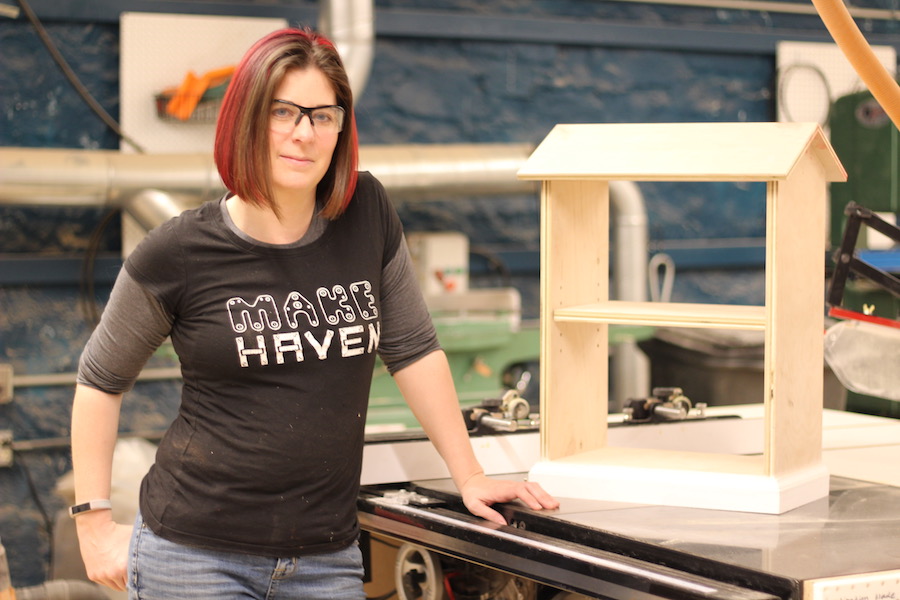 MakeHaven | New Haven Land Trust | New Haven Reads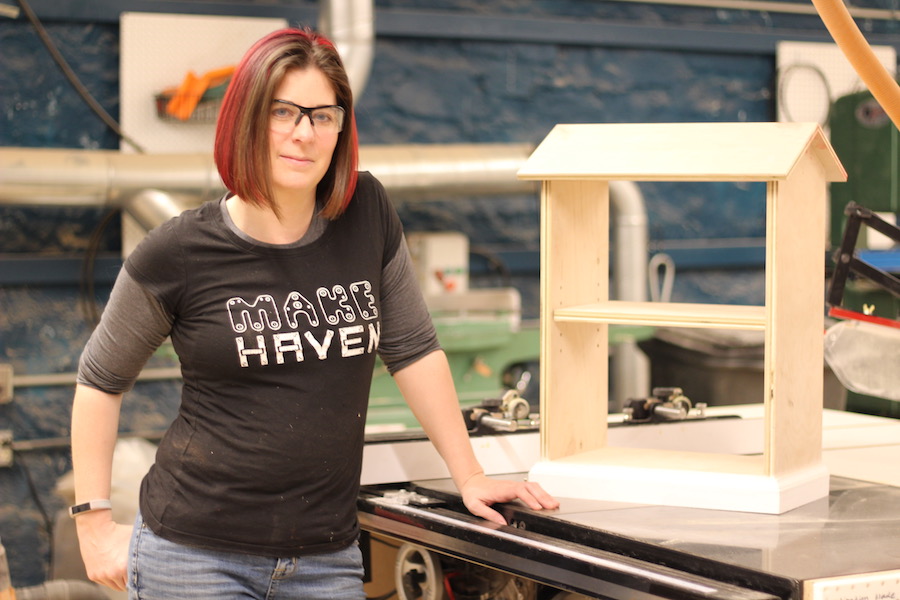 Kate Cebik, operations director at MakeHaven. Cebik said the working prototype is about half the size as the actual structures that the team will build. Lucy Gellman Photo.
Well before this summer, three New Haven organizations are planting the seeds for something a little different in the New Haven Land Trust's gardens. Six enclosed, wooden libraries, each sprouting armfuls of books in time for the year's warmest months.
That's the idea behind "Help Your Shelves," a nascent initiative from New Haven Reads, MakeHaven, and the New Haven Land Trust that will be putting enclosed, weather-resistant library boxes in six Land Trust gardens and public city spaces this summer, with the potential of more as the project unfolds. Months before a planned build and install, the three have started pitching the project to community management teams around the city, working to both identify locations and raise funds.
The team behind Help Your Shelves comprises Kirsten Levinsohn, executive director of New Haven Reads, Bradley Fleming, community garden manager at the New Haven Land Trust, and MakeHaven Operations Manager Kate Cebik. Each plays a distinct role: Fleming represents the gardens, MakeHaven will supervise the building, and New Haven Reads will supply the books.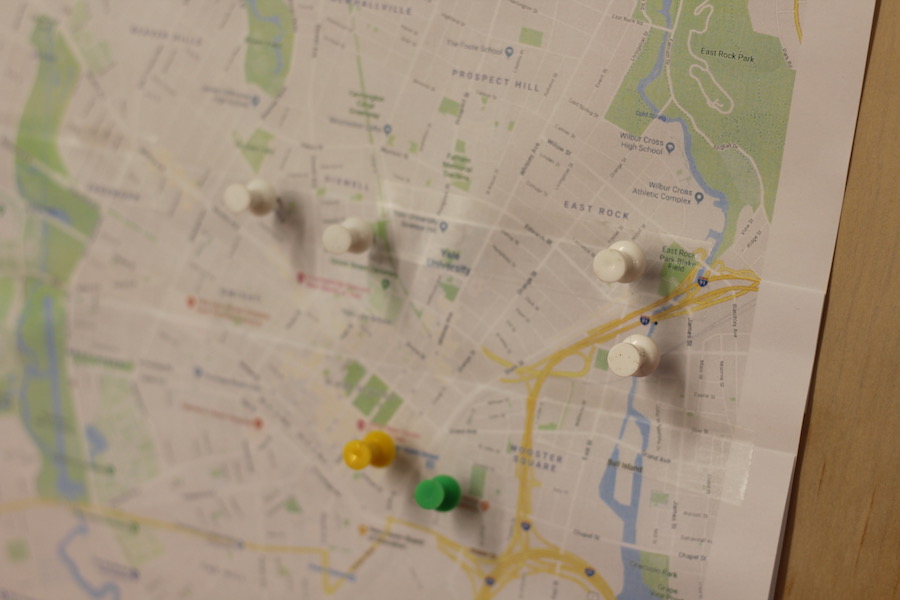 An interest map that lives at MakeHaven.
In the project's initial phases, they are working to raise $3,500, the cost of which will cover six initial units. The Land Trust has signed on as a fiduciary agent for the project.
Help Your Shelves was initially born last year, as a potential collaboration among the three participating organizations as well as the Downtown Evening Soup Kitchen (DESK), FISH of Greater New Haven, Solar Youth, and the International Festival of Arts & Ideas. In those first meetings, organizers also pitched adding a food pantry component to the bookshelves, a proposal that was ultimately put aside as DESK and FISH, then other potential partners, both dropped out (DESK Director Steve Werlin is responsible for the project's name).
At the time, Levinsohn said, several of the organizations were asking the same question: "How can we get more access into the communities, so that there are more books?" She recalled distributing books at a recent Freddy Fixer Parade, and watching as both kids and parents ran from the sides of the street and sidewalk into the parade to scoop up free books.
Since, she's been brainstorming how to get more books into more neighborhoods, some of which aren't touched by branches of the New Haven Free Public Library. She said she's been inspired by community members including Lee Cruz, who has a little free library outside of his Fair Haven home, and received a handwritten thank-you note for making one reader's day—and her life—"a little happier."
"I want these books to be as accessible as possible," she said in a recent interview in her Bristol Street office, watching as pint-sized readers headed in for their lessons.
Now, the project is set to evolve in two phases, the first of which has started in the colder months, and will continue through the spring and summer. As organizers work to raise funds (they have submitted a proposal with the nascent Could Be Fund, among others), they've also been trying to maximize outreach, leaving flyers at each branch of the New Haven Free Public Library (NHFPL) and talking to community management teams around the city, as well as members of the city's Board of Alders.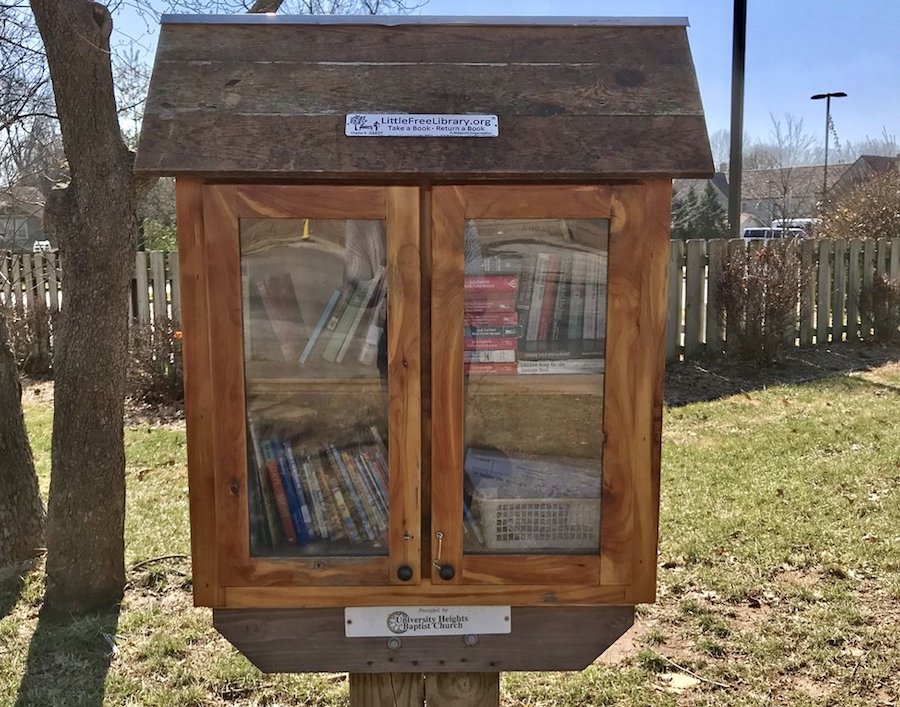 One of the little free libraries that that MakeHaven is using as a prototype. Kate Cebik Photo.
In April, Cebik said they plan to start building at MakeHaven, with support from two of their master woodworkers. While the shelves are not technically little free libraries, which require a formal "charter" and entry fee before they're considered official and put on a world map, they will look similar. Walking around MakeHaven earlier this week, Cebik held up a half-size prototype, with an angular roof, sturdy wood sides, and space for multiple shelves and weatherproof glass doors. If it's possible, she said the group hopes to have students from Solar Youth paint the boxes once they are done.
Then this summer, the first six structures will go in. So far, the group has received requests in East Rock, Fair Haven, Dixwell, downtown, and in the Ninth Square. While that will mark the end of their first phase, Cebik said they haven't ruled out the food pantry element for later iterations. Nor have they ruled out further partnerships, which both she and Levinsohn said they're still looking for.
Reached by phone earlier this week, Fleming said that he is most excited to use the initiative as one more reason to "activate the gardens in the ways that the community wants," while collaborating with new community partners.
"It's an underutilized resource," he said of the gardens, adding that he's noticed that far more New Haveners will show up to a Land Trust site for a concert, movie, or arts and crafts activity than a workday in the garden. "I just think the gardens would be a nice place for people to sit and read."
He envisioned one scenario, in which the Land Trust could host a story hour in the garden, with a volunteer reading aloud to kids. At the end, they and their parents could check out the nearby books.
"Whether or not," he joked, "they're about vegetables."
For more information or to make a donation to Help Your Shelves, contact Kirsten Levinsohn at kirsten@newhavenreads.org or Bradley Fleming at bradley.fleming@newhavenlandtrust.org. People interested in financially supporting the project can also send checks made out to "The New Haven Land Trust," and sent to New Haven Land Trust, 817 Grand Ave. #102, New Haven 06511, with "Help Your Shelves" in the memo line. To fill out an interest form online, click here.