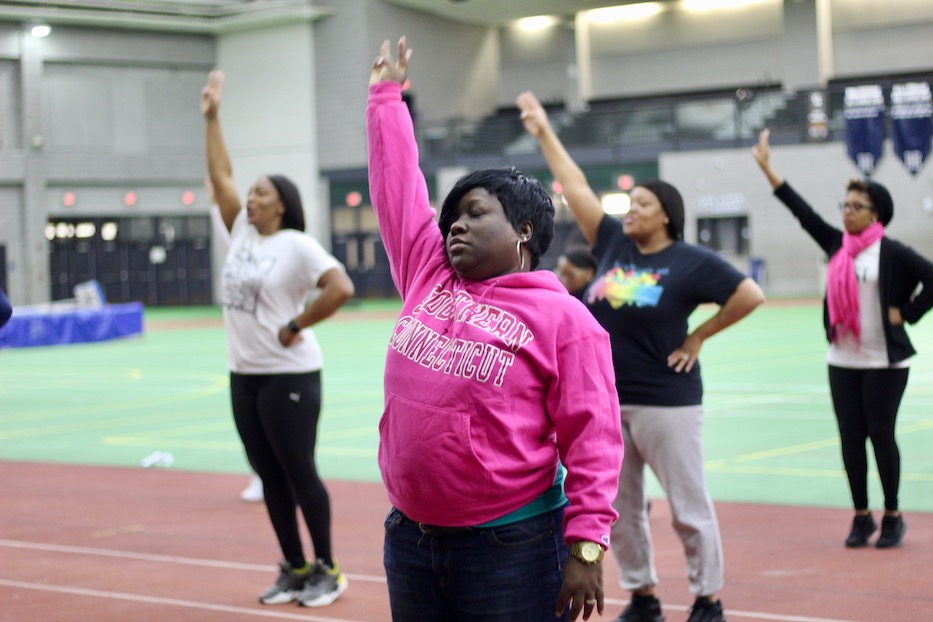 Culture & Community | Arts & Culture | James Hillhouse High School | Cheer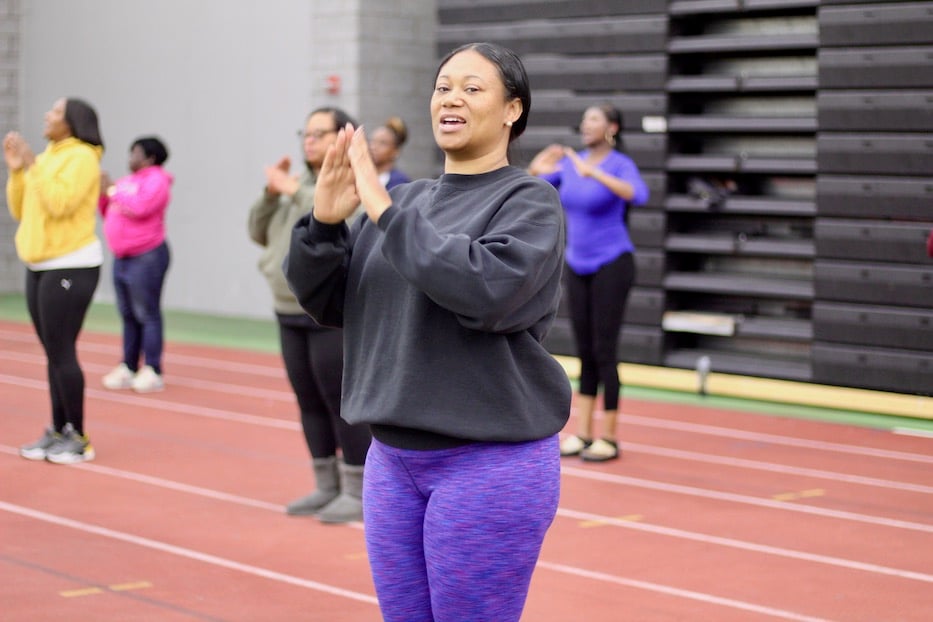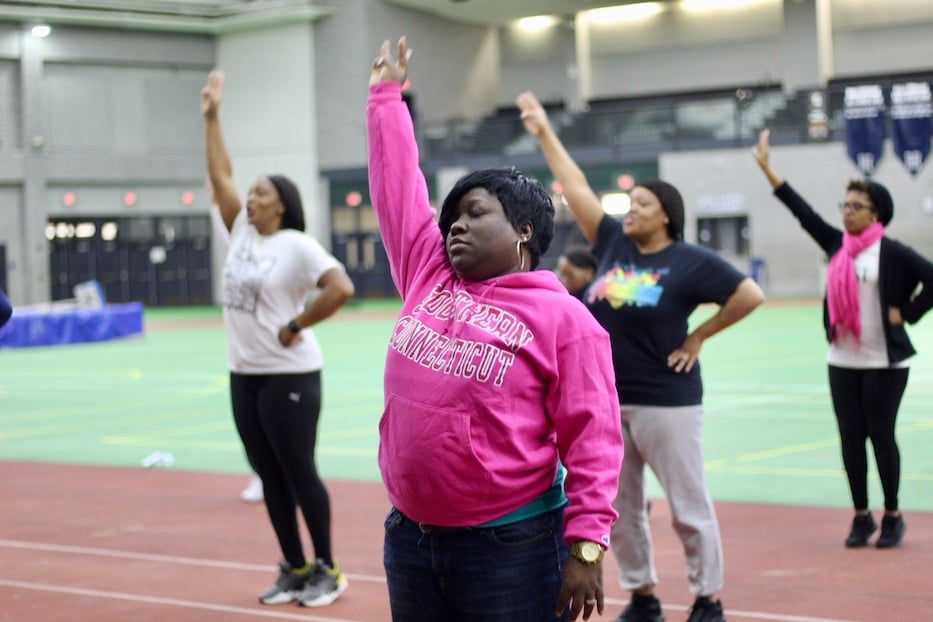 Top: Shante Teel-Williams, who graduated from Hillhouse in 1995. Bottom: The cheer sisterhood in action. Lucy Gellman Photos.
Sharp, succinct snaps filled the Floyd Little Athletic Center, the noise rising to the rafters and ringing as it ran into the walls. By the bleachers, two dozen pairs of feet hit the floor all at once. A flurry of hands lifted to chests and clapped. Hips unlocked and swayed. The cheers filled the room, full and musical as the sound carried.
Our team is red hot! We're R-e-d-Red-H-o-t-Hot! Once we start we can't be stopped!
Welcome to the James Hillhouse High School Alumni Cheer Team, back for game day for the first time since 2012. The brainchild of 1995 Hillhouse grad Shante Teel-Williams, the group comprises four decades of Hillhouse cheerleaders, ranging from 1982 to 2021. Over the past three weeks, the team has met each Monday and Tuesday at the Floyd Little Athletic Center, gathering at their old stomping grounds to learn new cheers.
This year, the group includes nurses, teachers, school administrators, high-powered lawyers, new moms, grandmothers, and at least one college student home for break. Together, members will perform this Thursday at the Thanksgiving day football game between Hillhouse and Wilbur Cross High School.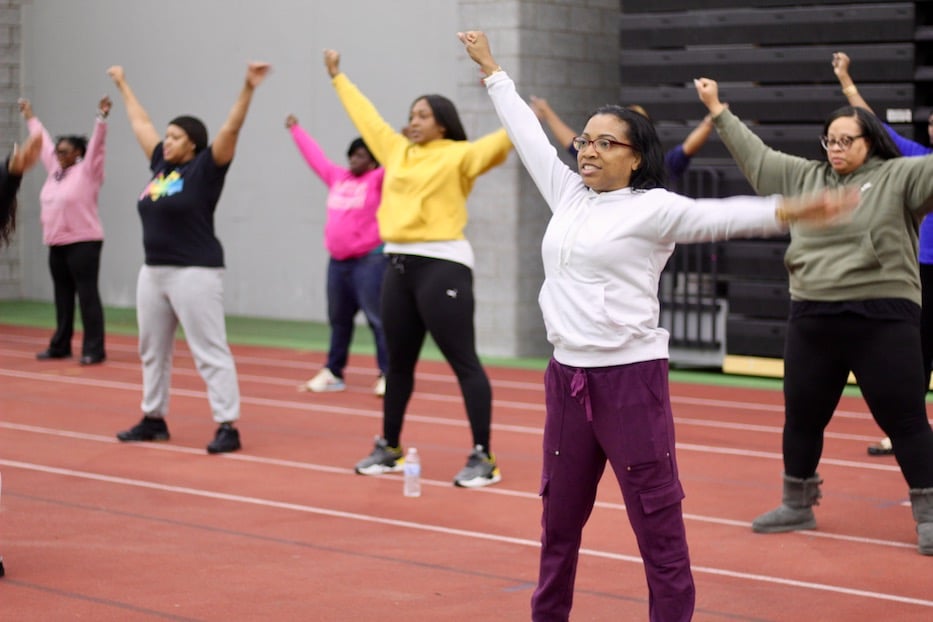 The red hot Hillhouse alumni. All said they are excited to take the field Thursday.
"It was a collective idea," Teel-Williams said at a practice Tuesday night, taking a moment to answer questions before she jumped back into cheering. "Spirit, unity, support—I think that kind of sums it up. It's a sisterhood too."
The idea for the squad was born in the early 2000s, after a Hillhouse grad posted a photo memory to social media, and fellow alumni commented on how much they missed their cheer sisters and family. Around 2005, a group came together to cheer on the school's football team, and loved the reunion that it provided. In 2012, they gathered to do it again, and found that the group had grown. So when Teel-Williams saw a post on social media again this year, it felt like time.
This fall, the early and mid 1990s have a particularly strong showing. Teel-Williams gets it, she said: she adored her time as a cheerleader at Hillhouse. After she graduated, her fierce sense of school spirit followed her to Howard University, and then back to New Haven. She is now a nurse manager at Yale New Haven Health, co-founder of the CT HBCU Alumni Network and secretary for the Southern Connecticut Black Nurses Association. In between cheers, she joked that she rarely sleeps.
"It's fun, you know, just to be able to come back," she said. As she moved from one chant to the next, her energy seemed boundless.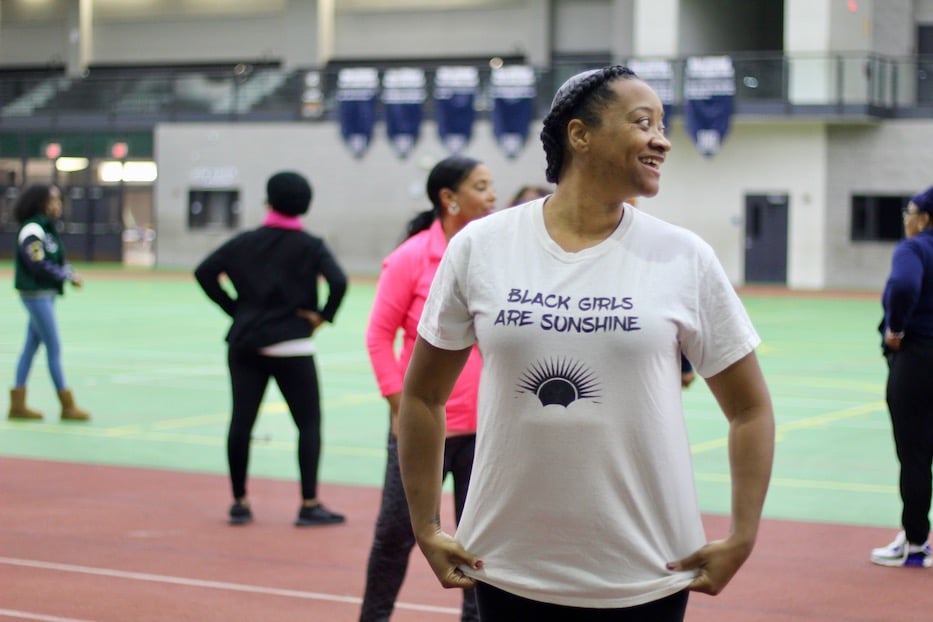 Nakia Dawson-Douglas.
Tuesday, alumni spread out beside the bleachers, four decades of Hillhouse history between them. Facing out into the center's wide open space, they extended their arms and swished from side to side. Arms went up over heads; feet lifted temporarily off the ground. The house is so-o-o bad! The house is so bad!, they cheered in unison.
As sound exploded from the group, a few toddlers ran through the space, staking their claim as future team members.
In the back row, Nakia Dawson-Douglas ran one hand through the air, practicing a move in her head before snapping into action with fellow members of the team. A 1998 graduate of Cooperative Arts & Humanities High School, Dawson-Douglas joined both cheer and track at Hillhouse to spend time with her friends and cousins—and fell in love with team sports in the process. Sometimes "I wish I could go back to high school," she said with a smile.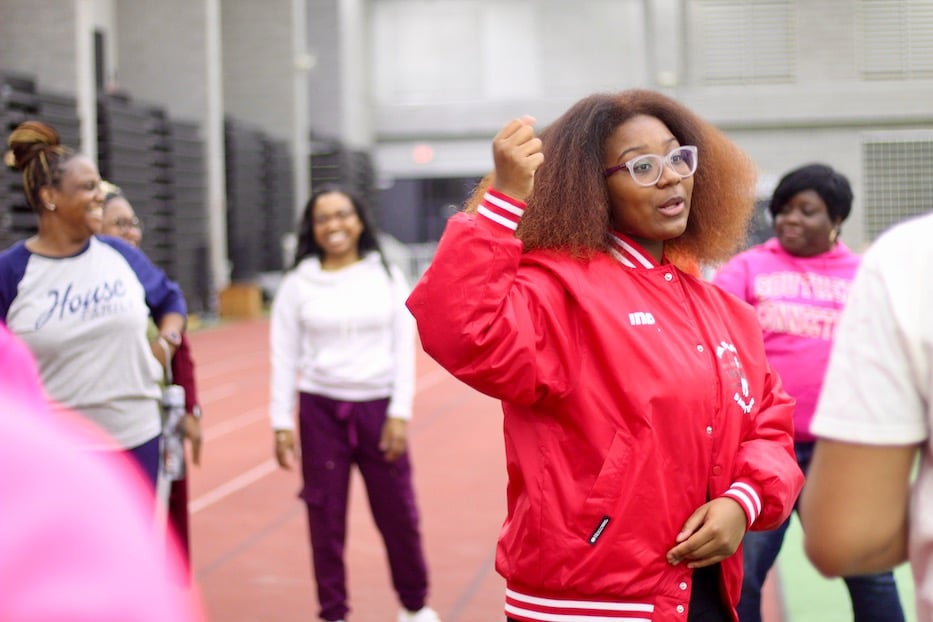 India Harrison, Nakia Dawson-Douglas' daughter, is a freshman at Hillhouse this year.
When she heard about the group from Teel-Williams, who is her cousin, she jumped in. During the day, Dawson-Douglas works as a palliative care intake specialist at Smilow Cancer Hospital. At night and around the clock, she's also the founder and president of Bereavement Care Network Inc. While the first job may end in the afternoon, she said, the second is 24 hours a day, seven days a week.
"I deal with death either way," she said. Activities like the cheer team help her leave the stress of that work for a little while. As she warmed up and jumped into action—Say hey-ey-ey-ey-ey! alumni yelled as they clapped in time with the chant—Sun Queen's "Black Girls Are Sunshine" logo winked out from the front of her shirt.
"It's just a blessing to be here," she said. After two and a half years of the pandemic—and because she deals with death on a daily basis—Dawson-Douglas said she's acutely aware of the fact that nothing is promised. This year is particularly meaningful for her: her daughter India Harrison is a freshman at the school, and a new member of its cheerleading team.
"It's nice to bring everyone together," Harrison said after walking the group through Hillhouse's 2022 version of the "Stomp and Shake."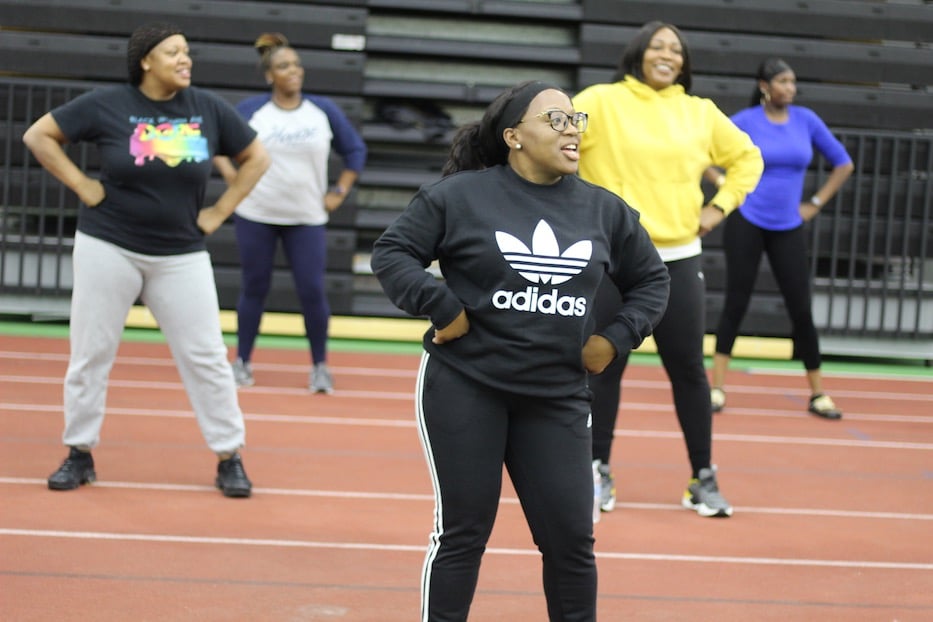 Tiffany Penn, who graduated in 1993.
The game is not just a moment for the football team, said multiple alumni Tuesday: it's a chance for current and former students alike to show their school pride, and celebrate the ability to gather after the isolation of Covid-19. While the team has included male cheerleaders—the late Chucky Brown remains one of the school's most celebrated—this year's constellation is very much a sisterhood, many alumni said. The words "sisters" and "family" came up, unprompted, in every interview for this story.
Part of that magic is intergenerational pride, including a few mother-daughter duos who will be taking the field together Thursday. In the late 1980s and early 1990s, Tiffany Penn was a student at Hillhouse when she discovered cheerleading, and learned that "the camaraderie that we had" was an integral part of her high school experience. By her sophomore year, she was the co-captain of the team. She served as captain her junior and senior year.
Cheerleading helped her excel at Hillhouse, both on and off the team. In school, she was a student in the school's Macy's Prep Program, a now-discontinued analogue to the AP and honors track. After leaving for North Carolina for several years, she returned to New Haven with a strong love for the city that had raised her. This year, she's cheering alongside a favorite Hillhouse alumna of hers—her daughter Richlyn, a sophomore studying healthcare management at Howard University.
"I love it," Penn said of the alumni team. "Each time, it just grows bigger and bigger. We're here to show our support for our alma mater."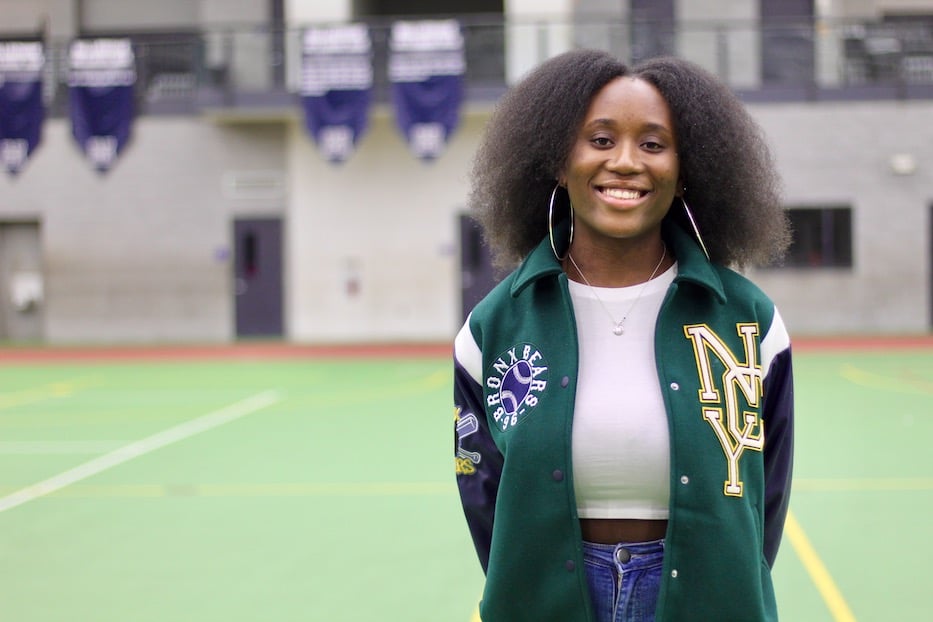 Richlyn, who is the most recent Hillhouse graduate on the squad: "Seeing this, it's like I have the opportunity to do it over. So this game is very special."
For Richlyn, who graduated from Hillhouse in June 2021, Thursday's game marks a second chance to show school spirit after a senior year upturned by the pandemic.
Richlyn was a junior when Covid-19 hit New Haven in March 2020, sending classes online and putting practices temporarily on hold. She was that rare student who did well with online learning, she said, but she missed the social interaction of school. When classes remained virtual that fall, the cheer team returned outdoors—but members were masked and socially distanced, and they had nothing to practice for, she said. There wasn't a game in the fall of 2020.
It was a rite of passage she'd looked forward to for years, taken away in the midst of a public health crisis. Now, she gets a do-over, with dozens of fellow graduates by her side. She's glad that her mom, who has been her biggest cheerleader for years, is one of them.
"It was kind of sad," she said of senior Tuesday night. "Seeing this, it's like I have the opportunity to do it over. So this game is very special."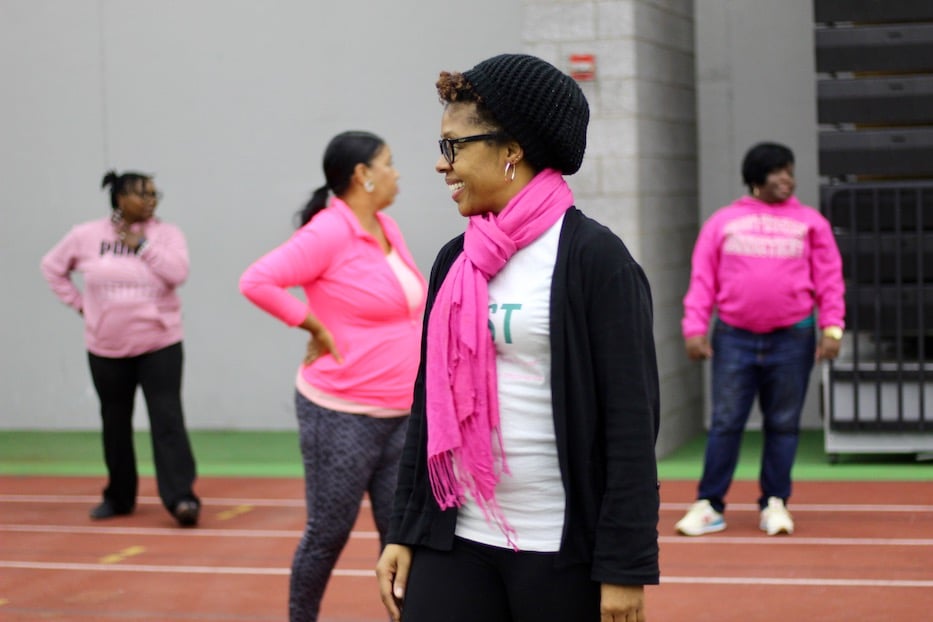 1995 graduate Chereece Smith.
Around her, graduates from the 1980s and 1990s jumped from cheer to cheer, in constant motion. Facing the wall, they began to clap in unison, with a chant of Hey-ey-ey-ey-ey! Go! Go! Go! Go! On each word, one arm punched the air, and then the other. Their fists cut through the still space with precision, in an act that was half-practice, half muscle memory.
Fight - fight - fight - fight - fight - fight!, they bellowed, ankles crossing over each other. At the front of the group, 1992 grad Niyobe Oglesby swung her arms from side to side and snapped her fingers. Rock! Rock! Around the clock! she called, and the response was immediate and thunderous.
In a black knit beanie and bright pink scarf, 1995 graduate Chereece Smith said that she was glad to be back among old friends—and making some new ones too. While she now works for the state's paid leave program, she never forgot the thrill of her high school years.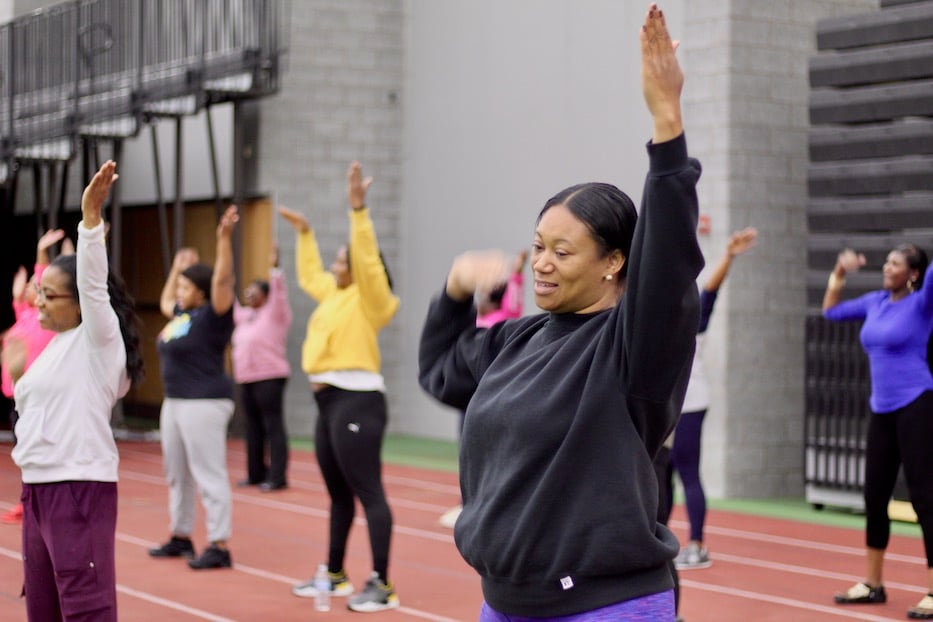 Like Dawson-Douglas, Smith studied dance at Co-Op, but did cheer at Hillhouse as a way to spend time with friends. She continued cheer in college, as a student at Temple University in Philadelphia. She called the decades-spanning team a chance to "relive" the good parts of high school—maybe with fewer death-defying lifts.
"It was amazing," chimed in Kimberly Daniley, a school administrator in New Haven who graduated in 1996. During the 1990s, Daniley was a student in the Macy's Program and on Hillhouse's state championship-winning mock trial team. Her experience at the school pushed her to return to New Haven, and nurture the next generations of educators.
"As alumni, we continue to have school pride," she said. "It's nice to come together as sisters."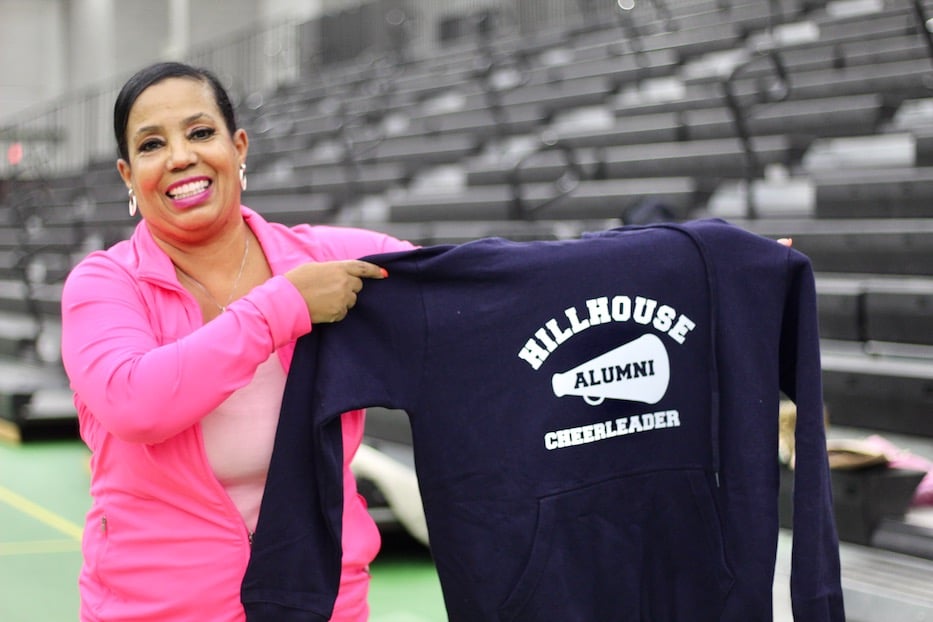 Greater New Haven NAACP President Dori Dumas.
Nearby, Greater New Haven NAACP President Dori Dumas showed off a navy blue hoodie that is half of the team's blue-and-white sweatsuit uniform for Thursday. On the front, each hoodie reads ""Hillhouse Alumni Cheerleader," with the white outline of a spirit cone. On the back, they include each member's graduation year.
A 1982 graduate of the school, Dumas fondly remembered her time as a cheerleader as "full energy, full excitement," with flips and cartwheels that she's now leaving to a younger generation. On the team, she loved a sense of sisterhood that she has since sought out as a member of the Theta Epsilon Omega Chapter of the Alpha Kappa Alpha Sorority, Inc.
"When I was a student here, we would pump them up and show out," she said. "You could feel the energy—it was always full of excitement and adrenaline and school spirit."
Now, she added, "it feels good to be back." Three weeks ago, she didn't know any of the cheers that the group is bringing to Thursday's game. Now, she's ready to bring each of them to a crowd.
"I think it's good for everybody," she said.