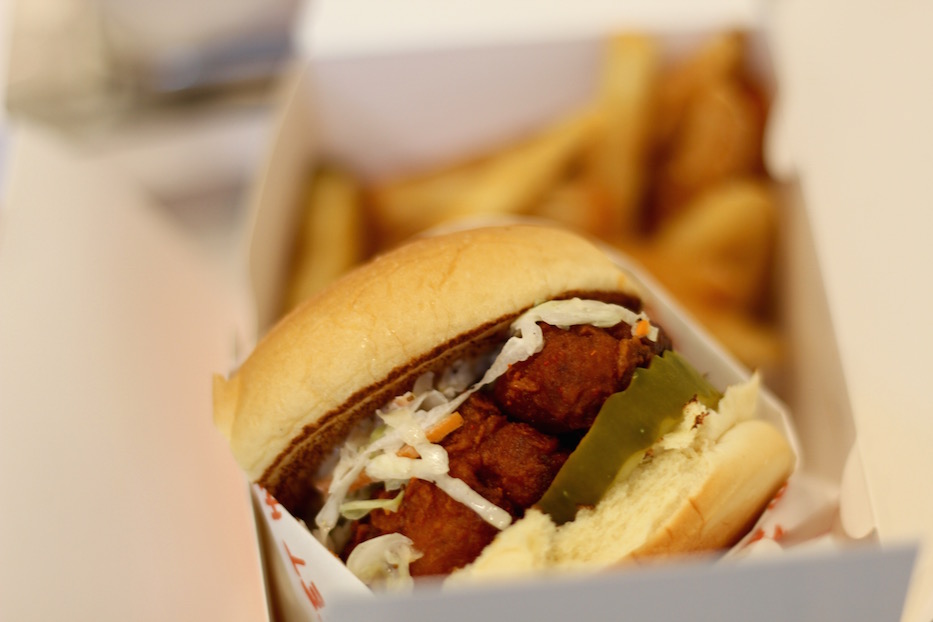 Downtown | Economic Development | Food & Drink | Culinary Arts | COVID-19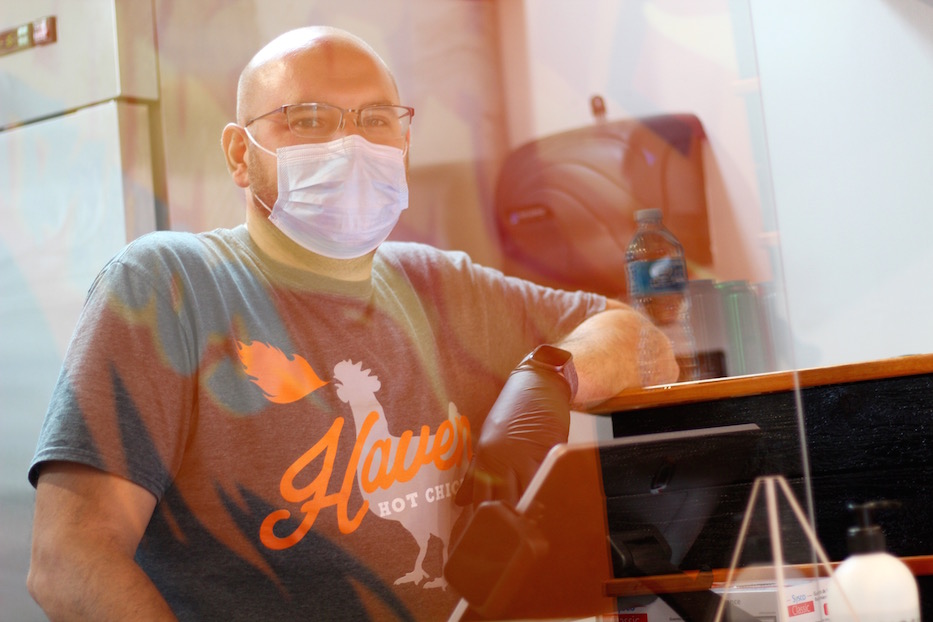 Craig Sklar, one of the partners on the business. Lucy Gellman Photos.
The first thing you notice is the heat, a slow burn that hits before the crunch of crisped breading. The cayenne pepper is gracious: it comes on strong, then steps back to let dill pickle come through, crisp and salty. There's a bite from the acid—the vinegar slaw. The cauliflower, soft but not mushy, is the last thing to come through. It all happens in under 20 seconds, the space of a bite.
The "Not Chicken Sandwich" is part of the menu at Haven Hot Chicken, a new Whitney Avenue venture from partners Rob LaTronica, Craig Sklar, Jason Sobocinski and Etkin Tekin. All of them have experience in the city's food scene: Sobocinski is a partner on Olmo, Ordinary New Haven and Black Hog Brewery and the former owner of Caseus Bistro. LaTronica was the chef at The Beer Collective, of which Sklar was the co-owner until it closed earlier this year. Tekin opened The Little Salad Shop downtown during his time as an undergraduate at Yale and later worked as a manager and beer buyer at Caseus.
"This is a new world for the restaurant industry," Sobocinski said at a press preview on Tuesday. "Everything you had with restaurants before—front of the house, back of the house—doesn't work anymore. We really want to attempt to grow this brand."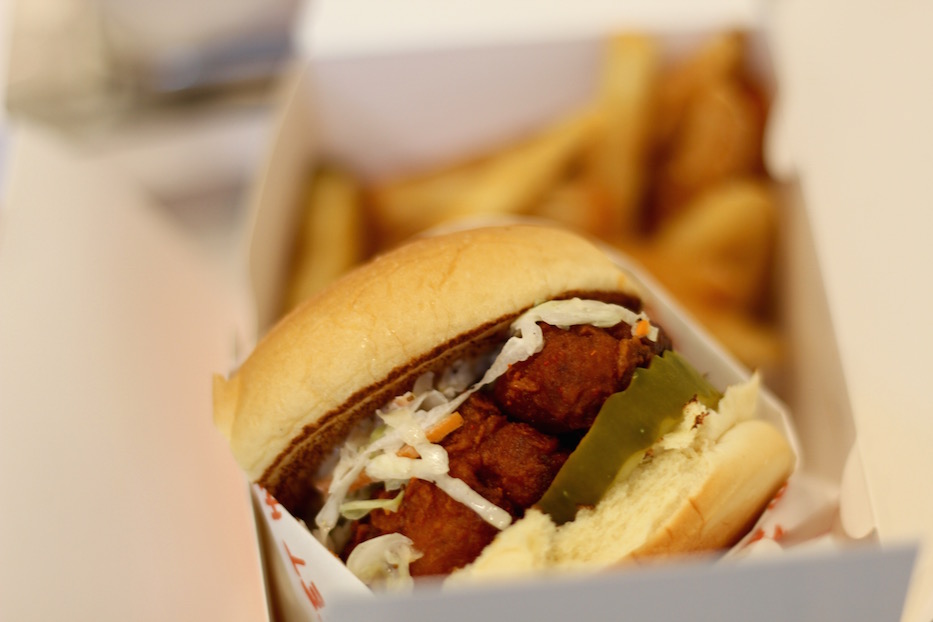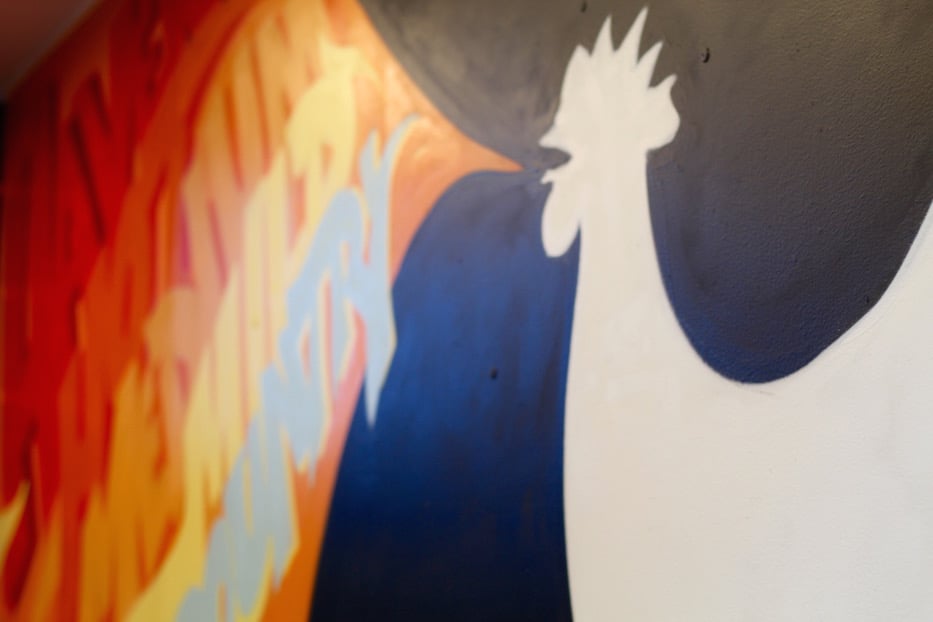 The spot, which sits in the former Freskos on Whitney, officially opens Saturday. In a move to be responsive to COVID-19, it only offers takeout and has no indoor seating. Large stickers on the floor ask patrons to social distance; containers with hand sanitizer sit at the front door and at the counter. A menu glows electronically above the counter, where staff is separated from patrons by a layer of plexiglass. The hustle and bustle of the kitchen opens up behind it.
The idea for the space began over a year and a half ago, as Sklar, LaTronica and Sobocinski held a number of hot chicken pop ups at Ordinary, High George, The Beer Collective, Sherkaan Indian Street Food, and ROIA. Originally, said Sobocinski, the hope was to work up to a hot chicken restaurant with enough seating for 40 people and a selection of local beer.
Then COVID-19 happened, and a restaurant seemed like an idea for a world that didn't exist anymore. In March, Sobocinski read that Freskos was closing. He approached the owner, who turned out to be a former classmate. They were able to start renovations several months ago. The result looks sleek and celebratory: almost everything is printed in reds and oranges. A mural from artist Michael DeAngelo shows a chicken breathing different, bright shades of fire against a black background.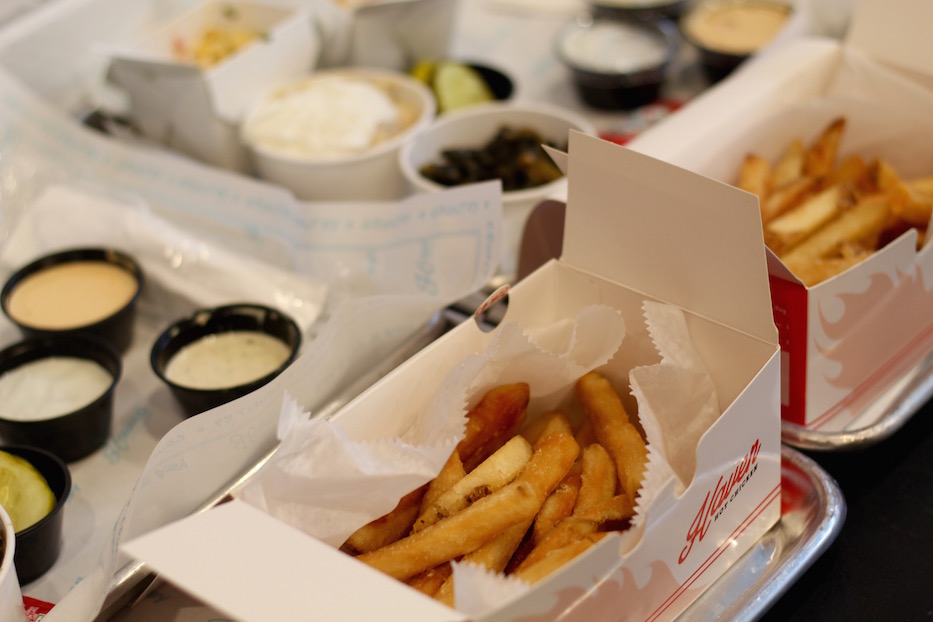 All four partners are acolytes of Nashville hot chicken, which finds its roots in 1930s Tennessee and a family of Black entrepreneurs with a culinary secret. According to André Prince Jeffries—who now owns Prince's Hot Chicken in Nashville—the dish was born after her great-uncle Thorton cheated on his girlfriend, and she drenched his next batch of fried chicken in cayenne pepper. To this day, cayenne remains the dominant flavor: some recipes for the dish call for one part lard and three parts of the spice.
But Thorton wasn't thwarted by the hot chicken. Instead of choking on it, he devoured the dish. He and his brothers started Prince's BBQ Chicken Shack, which Jeffries renamed to Prince's Hot Chicken when she took it over. It has remained a staple in the community for almost 100 years, outlasting more recent culinary trends in hot chicken that follow rapid gentrification and cultural appropriation.
Back on Whitney Avenue, the four partners said they looked to Prince's, Hattie B's, and the Los Angeles-based Howlin Ray's among other spots. LaTronica, who grew up in Redding and worked at his own catering company and his family's restaurant, visited Nashville in 2018 to attend the Music City Hot Chicken Festival. Tuesday, he recalled touring several spots, which gave him a chance to "peek into their kitchens" and get a look at how restaurants ran things. He returned to the city in 2019 to do more culinary research. By then, The Beer Collective was already experimenting with the dish.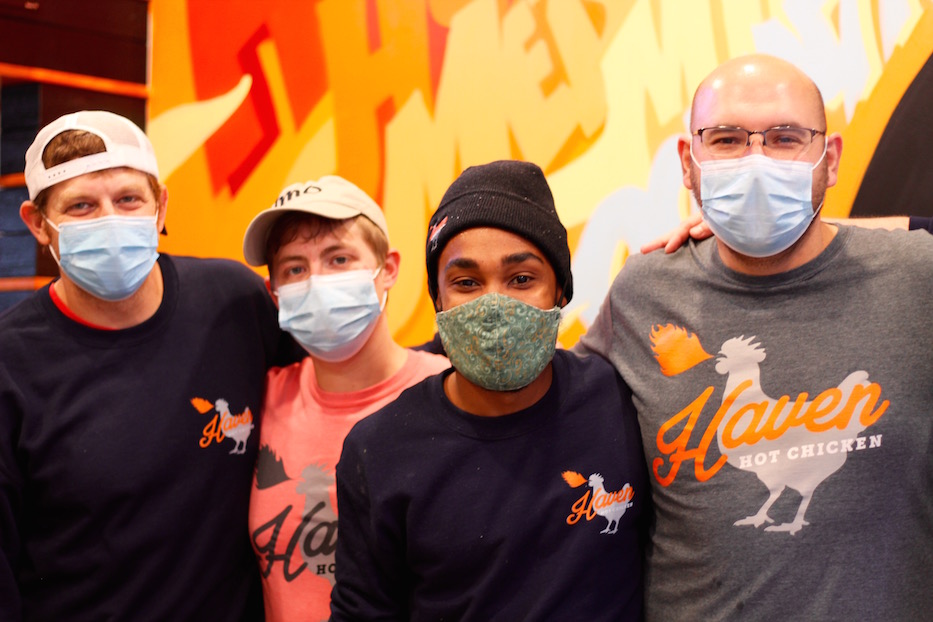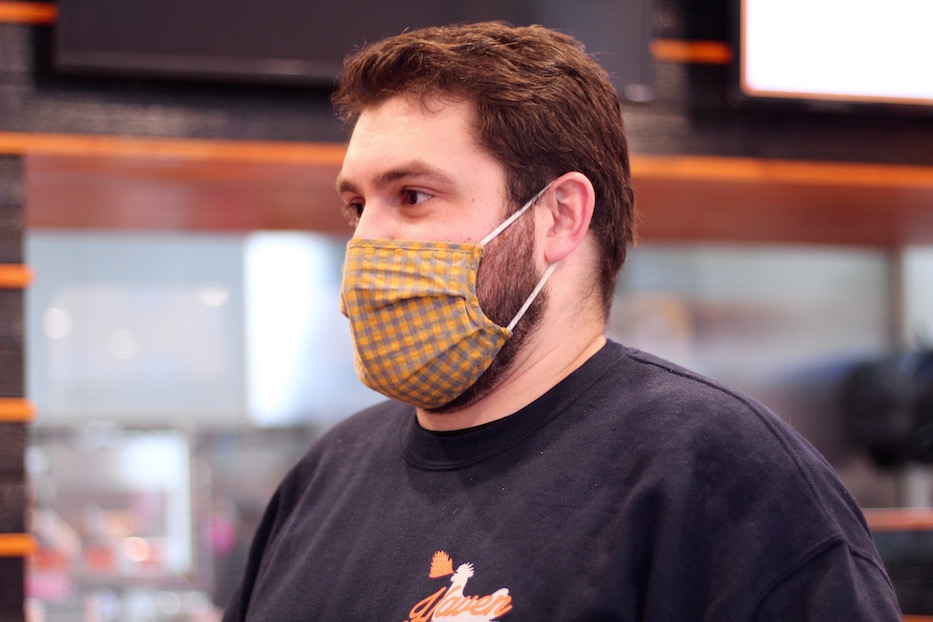 Top: Jason Sobocinski Rob LaTronica, Manager Louis Ward and Craig Sklar. Bottom: Etkin Tekin.
While working on the recipe through a series of pop-ups, he put his own spin on sandwiches and tenders, for which he uses cuts of Colorado-based Coleman Natural chicken, which is also Halal. Instead of lard, which is still used in many hot chicken recipes, he has opted for canola oil. To flavor the oil, he slow-poaches a spice blend from Bharat Bazaar, a beloved Indian Market in nearby Orange.
After dozens of beta tests, LaTronica also rolled out a vegetarian version, in which the "not chicken" is in fact cauliflower, roasted at a high heat to remove much of its moisture ("I just say not chicken, because cauliflower sounds gross," Sobocinski joked with a customer Tuesday). There are five levels of spice: country, mild, medium, hot, and haven. By the time the sandwiches come out finished, they are deep red, as if they've been dusted in rust. Most are accompanied by a "Rob sauce" named after LaTronica.
The menu is meant to be unfussy: the hot chicken sandwich starts with a cut marinated in buttermilk, coated in spices, fried and served on a potato bun with slaw, pickle slices and skin-on salted fries. A "tendie trio" of large chicken tenders is meant to give customers the option to try different spice combinations if they don't know what they like. The team chose to include family size boxes as well.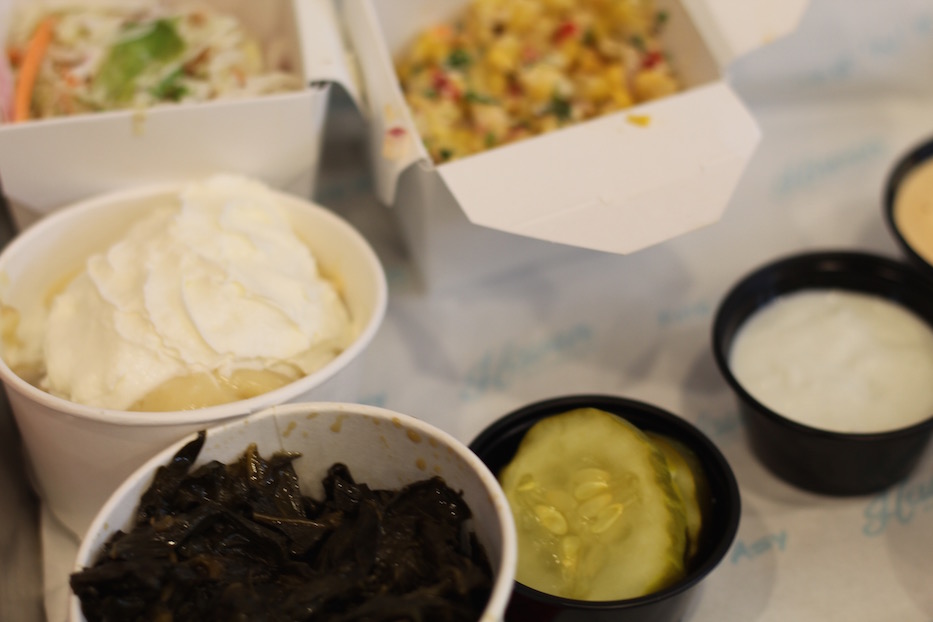 Sides are simple: crunchy slaw with whisper-thin slices of cabbage; esquites where roasted corn, red peppers, spring onions and crumbles of cojita cheese do the talking; collard greens with dark strips of smoked turkey mixed in. For dessert, the spot has banana pudding that is thick enough to eat with a fork and topped with a dollop of whipped cream.
"We are true to form," LaTronica said, adding that the blends are secret among the partners and the additional staff members. "The mildest for us is still spicy."
All said they are some version of "stoked" to be opening the space, despite the constant threat of COVID-19. In studying how the pandemic has pushed the industry toward takeout and delivery—some patrons won't even step inside to order—they are operating with a takeout-only model for the foreseeable future.
Sobocinski said he's excited for their work with Service Physics, a professor-led company that is meant to increase "speed and quality," and train every staff member in every step of cooking, prep, and checkout. The team hopes to have a staff of 10 as it launches.
"Overall, we're seeing a lot of resilience in the industry," said Tekin. "We have this crazy thing to deal with, and we're making it work."
Michael Piscitelli, economic development administrator for the City of New Haven, said he sees the new business as a sign of both a changing restaurant industry and the team's confidence in New Haven.
He pointed to several other small, to-go food spots that have opened in the past two months, including Vegan Ahava andd Edible Couture and Crafted By Hand Cafe.
"It's showing real confidence in our market," he said. "These businesses have chosen to take a chance and make a real investment in New Haven."