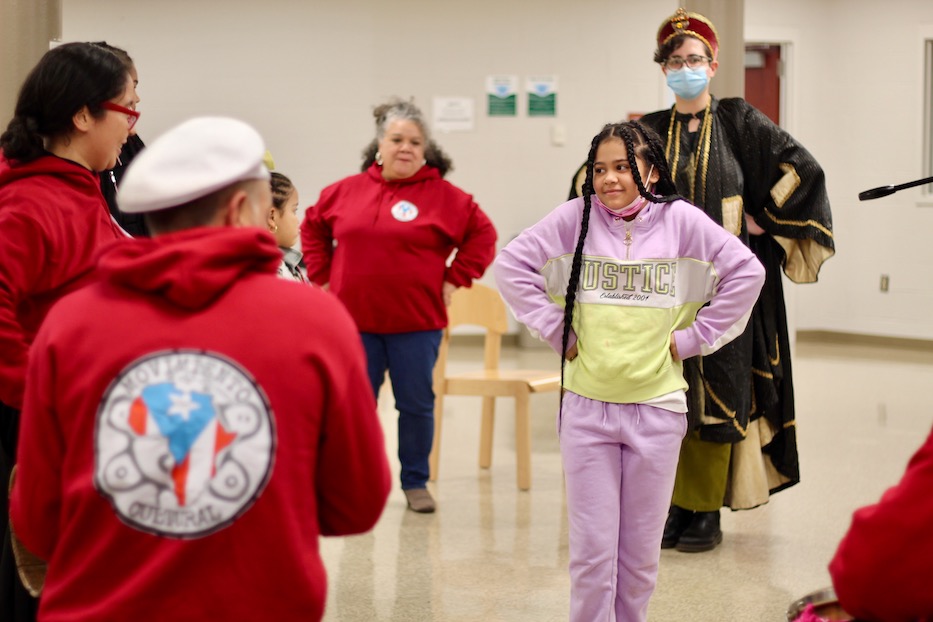 Culture & Community | Dance | Music | Arts & Culture | New Haven Free Public Library | The Hill | Movimiento Cultural Afro-Continental | Arts & Anti-racism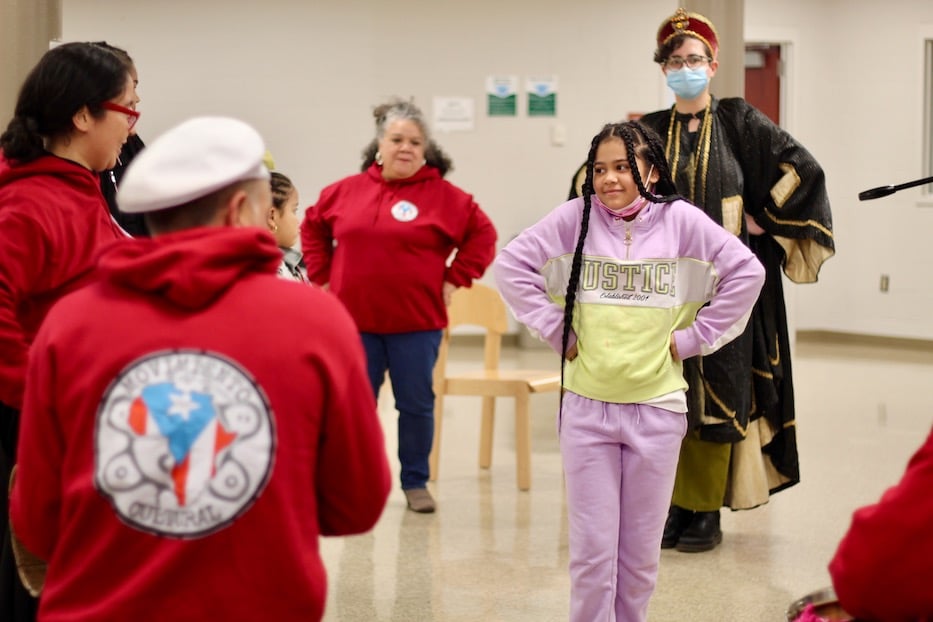 Anaily Amaro learning about Bomba for the first time. Lucy Gellman Photos.
Anaily Amaro stepped forward, drawn by the singing, deep breath of the barriles. In front of her, Kevin Diaz and Reinaldo Cruz watched every movement. She listened for the right moment, then threw her hands forward, greeted by a sharp clear cry from the drum. The echo filled the air. Diaz waited to see what would come next.
She shook her shoulders forward, and started a conversation.
Three Kings Day arrived early in the Hill Thursday afternoon, as Movimiento Cultural Afro-Continental brought dance, music, and centuries of tradition to the Wilson Branch of the New Haven Free Public Library. As Bomba filled the space's Washington Avenue basement, families streamed in, ready to welcome the holiday with crafts, gifts from the Yale Peabody Museum of Natural History, and an hour of music that held hundreds of years of history.
Kings Caspar, Melchior, and Balthasar also made an appearance, thanks to former Adult Services and Outreach Librarian Bill Armstrong, current Adult Services and Outreach Librarian Michelle Ziogas, and Library Technical Assistant Jeffrey Panettiere. Panettiere credited Fashionista Vintage & Variety, which has provided costumes for the last several years, with their transformation.
"We have Three Kings [Day] and then what we call Octavitas—people continue celebrating for the whole month of January," said Diaz, who has played and taught Bomba for over two decades and founded Movimiento Cultural in 2016. "It's part of Puerto Rican tradition. We've been doing this [bomba] for so long … This is what we love."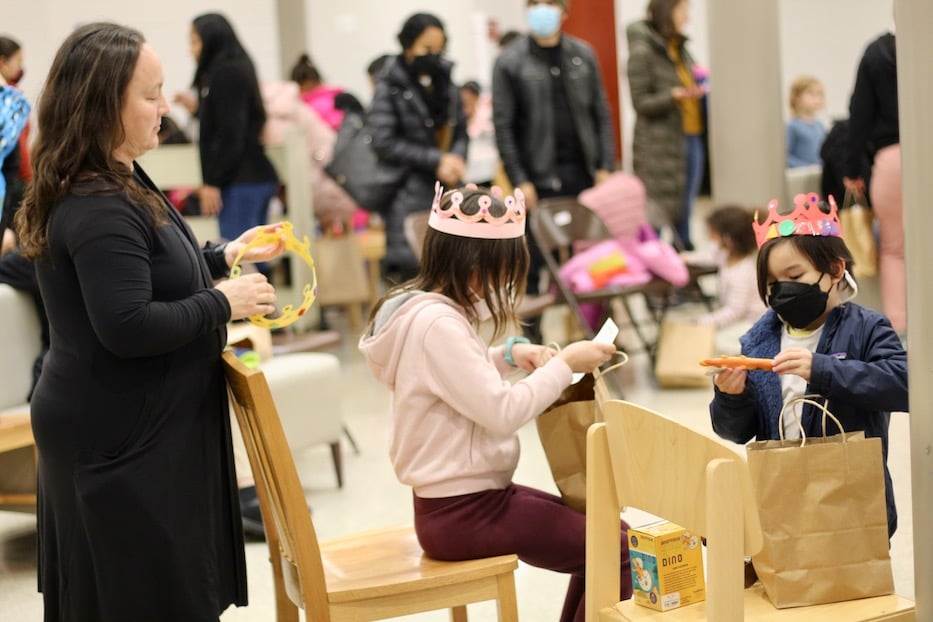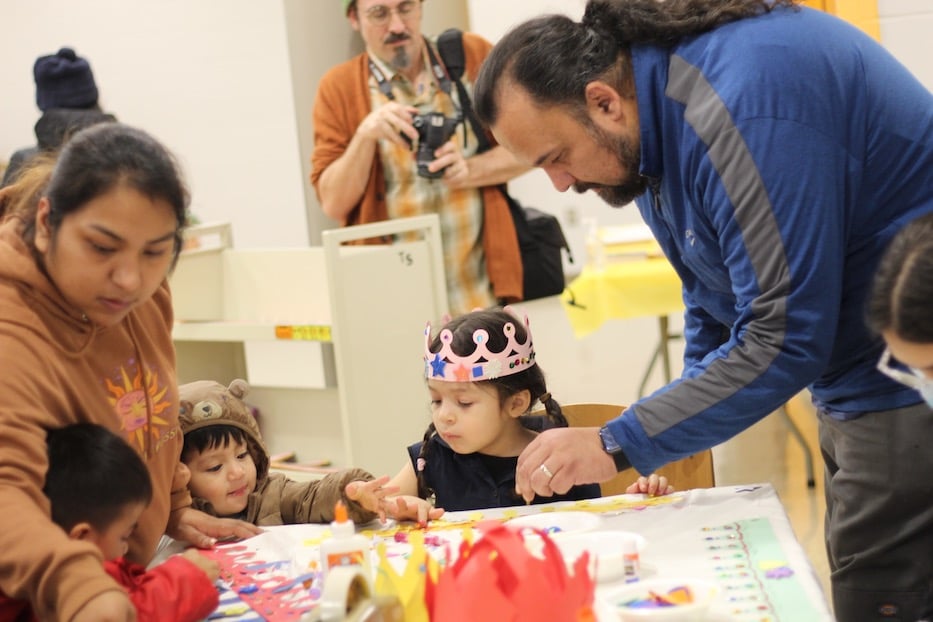 Top: Jennifer Heikkila Diaz with her daughters, Magdalena and Gabriella. Bottom: Channah and her dad, Abram Guerra.
It marks a now-annual, beloved community celebration at the library. In 2018, late City Librarian John Jessen—then branch manager at Wilson—started with a carload of toys from Hartford and the understanding that Three Kings Day, or Día de Los Reyes, resonated with many of the families in the neighborhood. Celebrated 12 days after Christmas, Día de Los Reyes commemorates the visit of the three wise men to the baby Jesus, who they have found following the light of a single star.
It is especially significant in the Hill, where a large part of the population is Latino and Afro-Caribbean, and grew up celebrating the holiday (Octavitas, popular in Puerto Rico, continues for the eight days after that). After moving the festivities outdoors in 2021 and 2022 (read more about that here and here), Panettiere said that it made more sense to be back inside with musicians' equipment. He added that he was excited to have Movimiento, which played last May, back in the building.
Even before music began Thursday, families bounded down the stairs, drawn to a table covered with glitter, glue, and a rainbow of bright markers, all waiting for tiny hands to transform them into art. Beside it, a cart beckoned with neat, not-yet-touched construction paper crowns in pink, red, blue and yellow. One by one, young patrons seemed to multiply, speaking in a mix of English and Spanish as they turned the crowns into tiny, cacophonous canvases.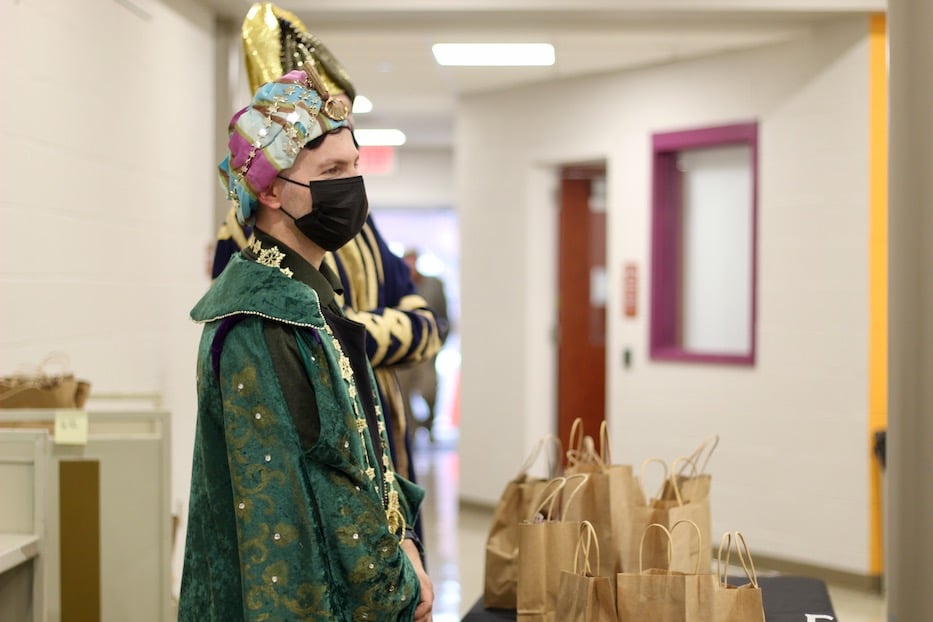 Library Technical Assistant Jeffrey Panettiere and William (Bill) Armstrong.
Looking over a scalloped strip of pink paper, three-year-old Channah Guerra picked out small, gem-like rhinestones, watching them glitter in the library's light. Methodically, she glued on shiny foam stars and aqua-tinted snowflake cutouts as her dad, Abram Guerra, helped. Raised in a Mexican American home, Guerra said he came out Thursday as a way to pass the tradition down to his daughter. It was one of three Día de Los Reyes events that he and Channah planned to attend between Thursday and Saturday.
"This event is a part of our culture," he said.
At the other end of the room, Kings Caspar, Melchior, and Balthasar lined up dozens of paper bags, each holding a gift that waited quietly inside. Panettiere said that presents, which are donated by the Yale Peabody Museum, correspond to Connecticut State Library designations for age-appropriate programming. This year, that ranged from rattles and board books for the youngest recipients to doll-sized dinosaurs, coloring books, and art making kits. One by one, young attendees lined up by the table, waiting to see what the kings had brought.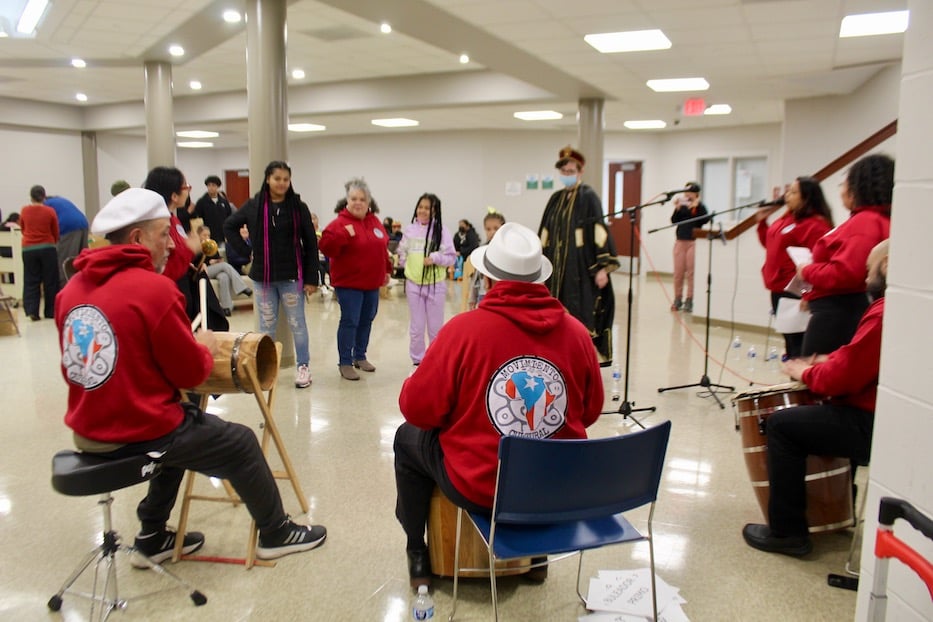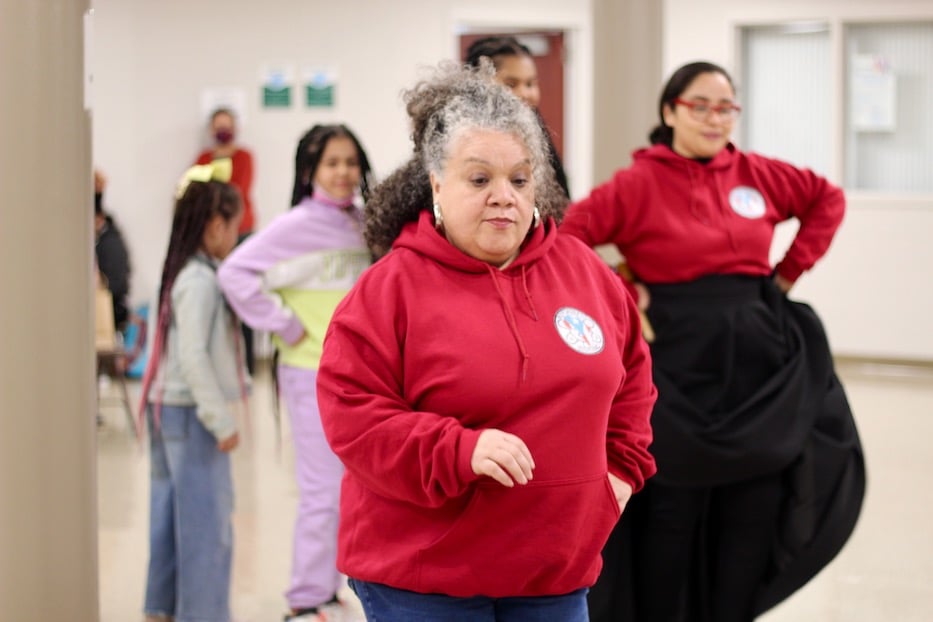 At the bottom, Lissette Valle leads the circle. Behind her is Jazmine Vega and sisters Ana (12), Anaily (10), and Ariana Amaro.
On a makeshift stage at the front of the room, Movimiento began to play. At the mic, Diaz explained that Bomba marries not just voice, dance, and propulsive percussion, but 400 years of resistance and liberation. Born out of the Afro-Caribbean slave trade, the art form allows participants to communicate through music. Songs often contain messages, from plans for revolt to praise for Puerto Rican heroes. When they enter the batey, or dance circle, dancers are in conversation with a primary drummer, also called el primo or el subidor, who plays their barril in response to their movements.
Fighting fleeting protestations, Guerra took his daughter by the hand, and led her toward the sound of the drums. At the first explosion of noise, Channah squealed, covering her ears. Her little brows furrowed, wary. There was a beat, then another. As she lowered her palms cautiously, she let the sound wash over her. One foot, then the other, started to move. She began to dance, taking her dad's hands as she jumped up and down and swayed to the rhythm.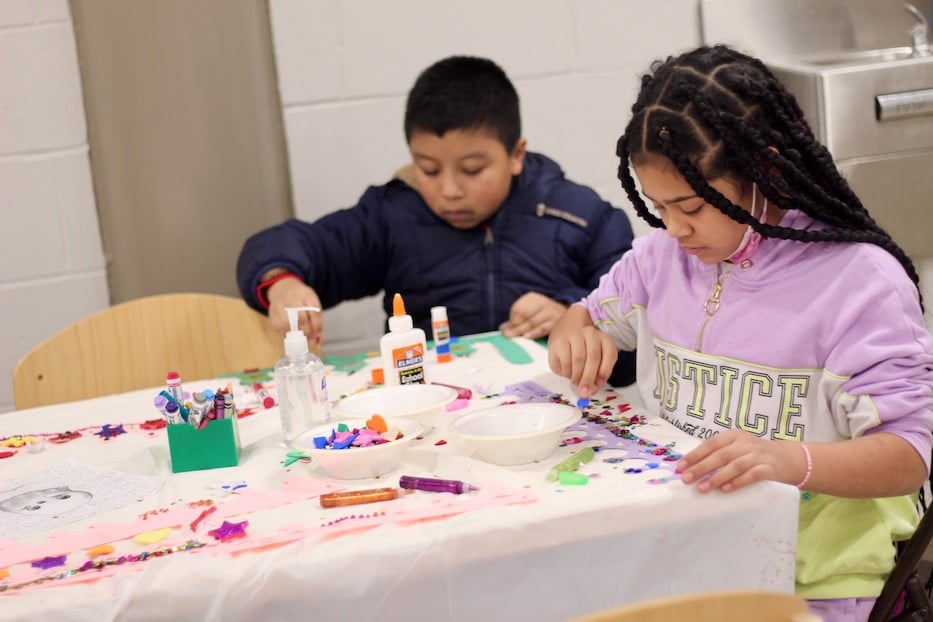 Anaily Amaro.
Back at the table, 10-year-old Anaily Amaro put the finishing touches on a lavender-colored crown, wondering if the Three Kings would deliver on her request for slime this year. She cocked her head to one side, studying her handiwork. It needed a little more glitter on the left side, she decided, and she reached for a nearby bottle of glue. On stage, the music was becoming harder to ignore as Movimiento changed up their rhythms from sicá to cuembé, cuembé to yubá. Dancer Jazmine Vega shook her shoulders, red glasses bouncing, and laughed.
A fifth grader at Hill Central School, Anaily said she sees the day as connecting her with a long history that is part of who she is. Her mom, Maria Amaro, grew up in Santiago de los Caballeros, a large city in the North of the Dominican Republic. She moved to New Haven 12 years ago, but still holds tight to the traditions she grew up with. As she spoke, the gentle back-and-forth of barriles and cuá became insistent, earwormy.
"It's about the past, and I think the past is important to learn about," Anaily said. She returned to her work, placing a rounded blue sequin at the halfway point of the crown.
"Does anyone have a favorite rhythm thus far?" Vega asked at the front of the room. It was quiet as she scanned the crowd, and then translated the question into Spanish. Still, not a peep. That wouldn't do, Vega said. "Now, we're gonna have you be interactive with us."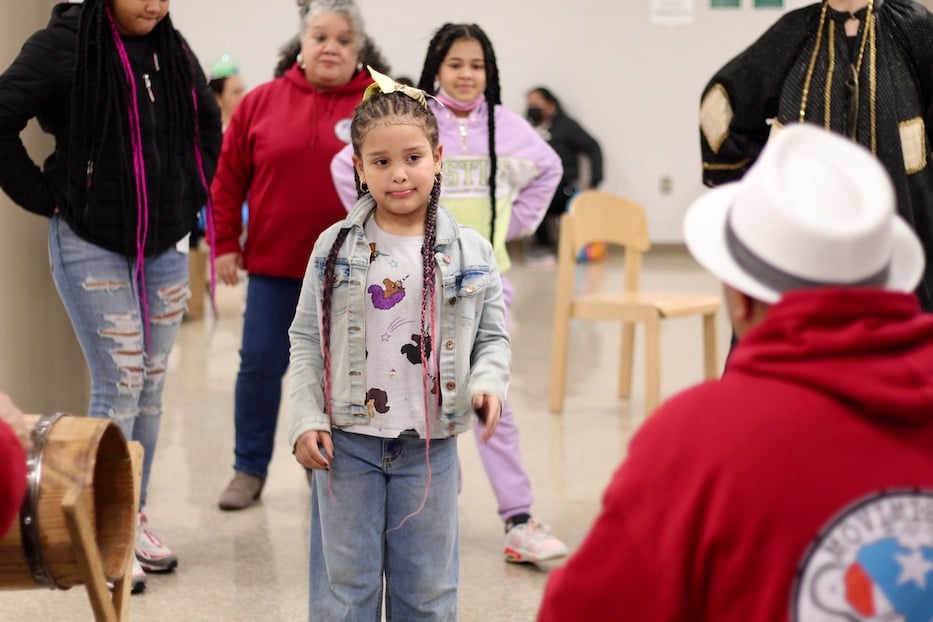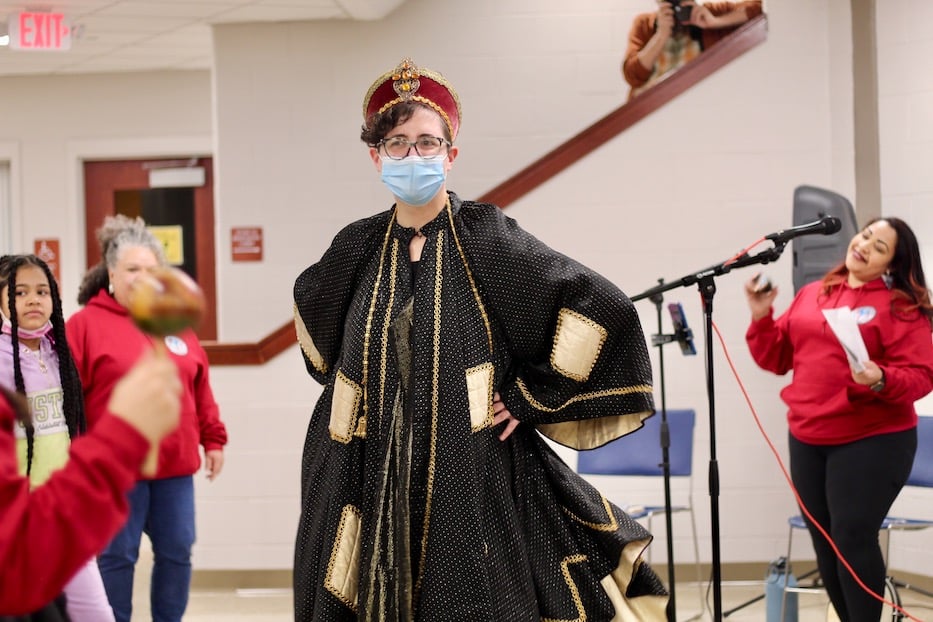 Top: Ariana Amaro. Bottom: Adult Services and Outreach Librarian Michelle Ziogas.
The room was quiet for another moment. Then, Anaily ventured forward. Her sisters Ana and Ariana flanked her, one on each side; Ziogas slipped in at their left. At the mic, Sarah Derbala described a simple back-forward step with which dancers could begin. Drums rolled beneath them, working their way into every nook and cranny they could find.
"Good job," Derbala said. "And hands go on your waist—"
The drums beat and bounced over the floor, and feet moved at their call. Guerra and Channah joined in, Diaz beaming as they found their rhythm.
"Basic step is in a circle, so you're all gonna go that same very movement you're doing, you're gonna walk in the circle," Derbala said. "Remember, hands on your waist"—six pairs of hands lifted in unison—"Good job."
Beneath her, Diaz, Cruz and Nelson Bello had started to sing as they played. Lissette Valle joined in even as she guided dancers through the circle. Bambula! Sea ya!
As they entered the batey, Vega lifted her skirt, and began to display how the dialogue between dancer and primo begins. She bowed deeply to Diaz, bringing her skirt in so close to her face that it kissed her forehead. Then she began to talk to him wordlessly, speech replaced as her wrists, feet, arms and shoulders did the work. The two locked eyes, and a smile passed between them. She stepped back, looked over the dancers, and guided Ariana over to Diaz.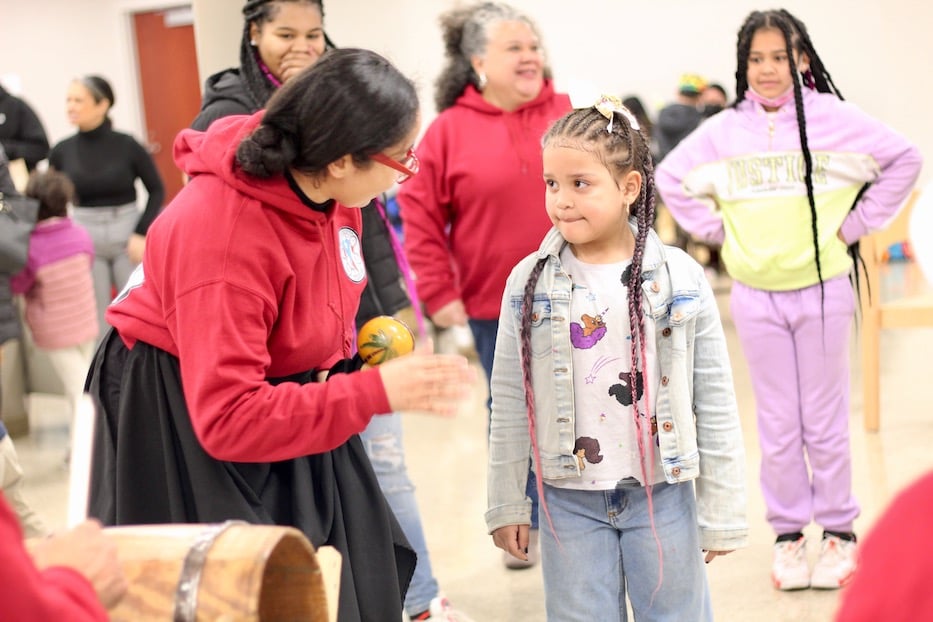 Jazmine Vega coaches Ariana Amaro.
Ariana paused, waving at Diaz before Vega demonstrated a bow, and she brought her palm down. She let her arm sail through space, Diaz coming down crisply on the barril as she chopped through the air. From behind her, Anaily watched, waiting for her turn. When it came, she entered with a bow and an explosive smile, even her braids dancing as she moved.
After over an hour of performance, Diaz said that the day has remained close to his heart not only because it is tradition, but because it passes culture from generation to generation. Growing up in a Puerto Rican household, "I remember going to the backyard, picking up grass and putting it in a shoebox under the bed," he said. It was the Puerto Rican equivalent of milk and cookies, he joked.
Decades later, he has stayed with Bomba not only because he loves it, but for the kids and families who listen and learn, he said. During his time as director with FLECHAS, Inc., Diaz brought Bomba to schools across the city. Years later, he remembered knocking on a door in Fair Haven, and hearing familiar lyrics when kids swung it open, and began to dance at the sight of his face.
As they began to head back outside, some patrons danced through their departure; others simply waved to the Three Kings with a quick "thank you" and nod of acknowledgement. Before she headed out for the night, Maria Amaro said that celebrations like the library's help her feel closer to home. It had been her first Three Kings Day at the library—but not her last, she said.
Learn more about the New Haven Free Public Library at their website.