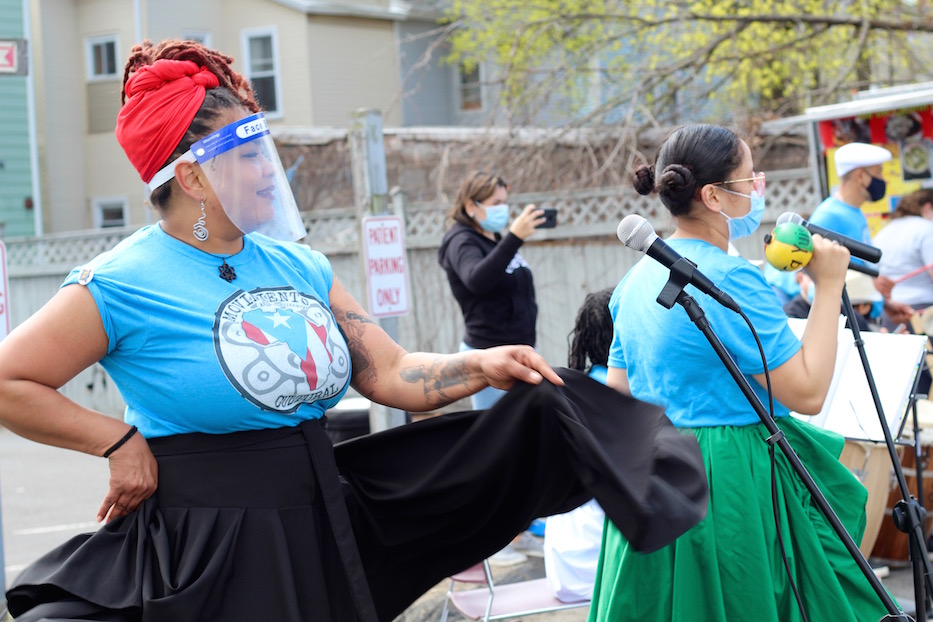 Dance | Arts & Culture | Musicians | Youth Arts Journalism Initiative | Black Lives Matter | COVID-19 | Arts & Anti-racism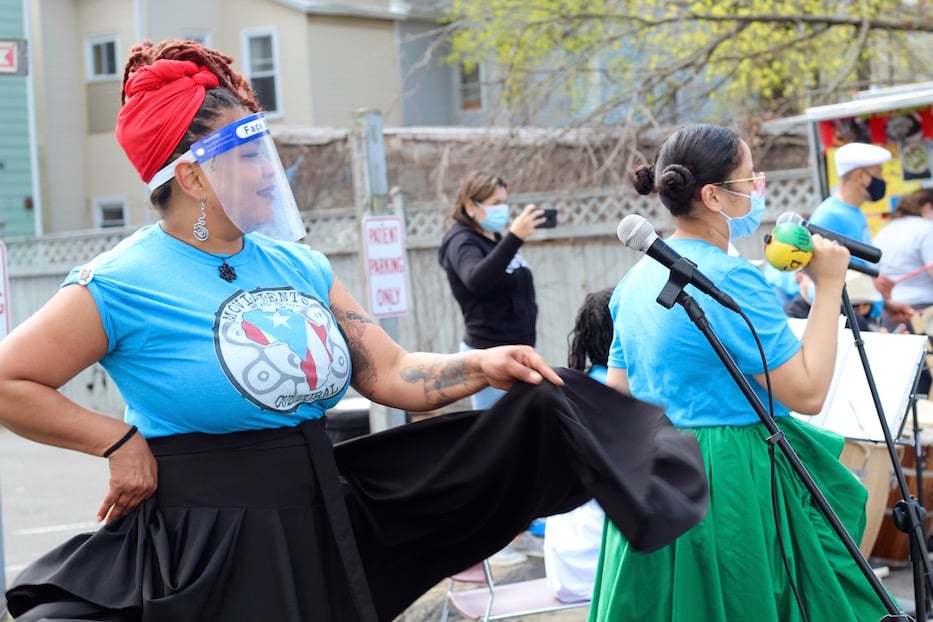 Castillo (in face shield) at a Vaccinate Fair Haven event in April 2021: "I say it with pride, yo soy Bombera. I don't just dance. It's bigger than that." Lucy Gellman File Photo.
Addys Castillo stepped up to the microphone while the beat of the drums echoed across the parking lot. "La Bomba es el ritmo de mi corazón," she sang. "Bomba is the rhythm of my heart." A few feet away, Natasha Velez danced to the message, her feet and hands telling the drummer how fast to go. Her skirt swished in her hands as she moved.
That scene unfolded at Fair Haven Community Health Care on a recent Saturday, as Movimiento Cultural Afro-Continental (MCAC) brought Bomba to a sun-soaked parking lot in the city's Fair Haven neighborhood. Fifteen months into the pandemic, members of the group are working to keep the beat going with new precautions in place. They will perform at the International Festival of Arts & Ideas on June 22, as part of a summer that is picking up.
"We want to create a community of Bomba and we want to bring the young people," said MCAC founder Kevin Diaz. "It's important with the big population of Latinx and Puerto Rican people in New Haven."
Bomba is a traditional dance that comes from Puerto Rico. It was birthed in the 16th century by enslaved Africans in Puerto Rico. It mainly comes from African roots, with words that are mainly in Spanish but also have a mix of other languages. The art form involves the "barril" or "drums," maracas called "cuas" or "sticks," and at least three drummers. The drummers' specific names are "subidor" and "buleador" which play different rhythms.
When a dancer approaches, the subidor begins to follow his or her movements to the beat of the barril. Bomba is their shared connection, through which they exchange information and tell a story of resistance and community. This is known as "Bambula," or the act of remembering one's roots and humanity. The form is set to Afro-Puerto Rican music that holds strains of Caribbean, Latin American, and West African musical traditions.
Diaz is quick to say that despite a frequent misconception, the tradition is not tied up with "brujeria" or satanism. In fact, there's no religious element at all. It is truly folkloric.
Diaz, who has been teaching for over 25 years, founded MCAC in 2016. He chose the name because he wanted to capture the breadth of the Afro-Caribbean diaspora, he said. Prior to the pandemic, the group performed in schools and universities as well as events in New Haven, the Bronx, Boston and other parts of Massachusetts. It held semi-weekly practices in Fair Haven, often using the police substation on Blatchley Avenue as a rehearsal space.
In the years before COVID-19, the group was growing steadily. When Hurricane Maria hit Puerto Rico in 2017, Diaz noticed a rise in the number of people looking for Bomba. Many had come to Connecticut from the island with almost nothing, and "people would ask, where can I find Bomba?" The group ended up performing at dozens of events.
In early 2020, they were gearing up for upcoming performances including several summer festivals and Hispanic Heritage Month. Then the pandemic hit. MCAC watched as months of gigs disappeared overnight and the city shut down.
"It really affected us … really killed us," Diaz said.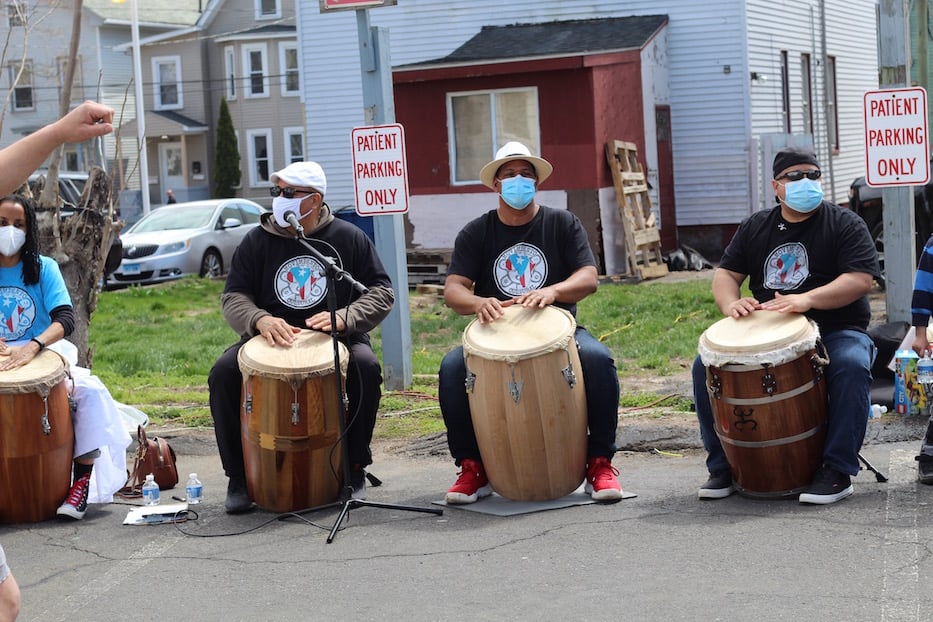 Members of MCAC performing in April 2021. Lucy Gellman File Photo.
Slowly, the group started offering workshops online, during which dancers and musicians would mask up and perform while socially distanced from each other. The group used the Black and Brown Power Center, the large space owned and operated by City-Wide Youth Coalition downtown, to gather. Diaz said that the group followed guidelines from the Centers for Disease Control and Prevention (CDC). He added that members were grateful to receive a grant from the City of New Haven and Connecticut Humanities so they could keep operating.
Virtual presentations included lessons for the Yale Latino Network Group, Yale African-American Affinity Group, Yale School of the Environment, and the International Society of Tropical Foresters, as well as a "Hope and Healing Day" at the New Haven Public Schools and the University of New Haven's spring 2021 Modern Language Festival.
It wasn't the same, Diaz said. The group did not truly regain momentum until last summer, as Black Lives Matter protests shook the city, the state, and the country following the state-sanctioned murders of Gorge Floyd, Ahmaud Arbery, Breonna Taylor, Tony McDade and dozens of others. They got a call to play Bomba at a rally in front of the New Haven Police Department headquarters, where 5,000 people showed up. It was one of the largest crowds the group has ever played to.
Members continued performing from there; Diaz said that the group is now at full vaccination. This spring, MCAC performed at the kickoff and follow-up events for Vaccinate Fair Haven, a push to vaccinate New Haven's Fair Haven neighborhood. The group already has four events planned for June, including on the main stage at the International Festival of Arts & Ideas.
"I am optimistic because things are starting to pick up," Diaz said.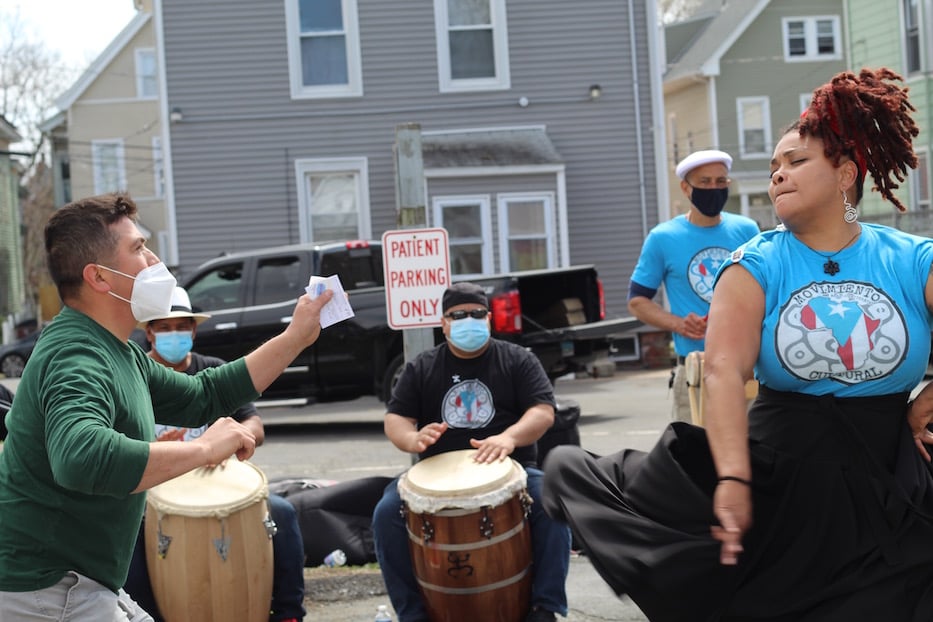 Every dancer comes to the group for a different reason. A longtime New Havener, Castillo said she started dancing Bomba to discover more of her Puerto Rican and Colombian heritage and make a connection with her ancestry. As the president of Citywide Youth Coalition, she has long believed in—and is vocal about—the power of arts and culture to further dialogue around anti-racism.
Castillo said that Bomba has "liberated" her creative practice. Before joining MCAC, she never identified herself as a dancer, despite studying genres that included hip-hop and West African dancing. Today, that has changed.
"I say it with pride, yo soy Bombera," she said. "I don't just dance. It's bigger than that."
She said that she feels at home in Fair Haven, where the group practices and performs. Since starting to dance, Castillo has met several elders dancing Bomba both in Connecticut and across the country.
"Bomba has been an opportunity to build community differently," she said. "It's a mix of everything, cultures, and ethnicities."
For Castillo, Bomba is about more than just dance. She wants to use the form, and specifically her work with MCAC, to break down cultural barriers and create joyful, communal spaces in a world turned on its head. She sees it as a way to both occupy space and bridge Black and Brown communities. Last year, Castillo joined Bomba dancers at Black Lives Matter marches and rallies in New Haven and Hartford. She performed at voter registration drives and has brought that work more recently to vaccination sites.
"The pandemic is still very present," she said. "We are in need of space to practice joy."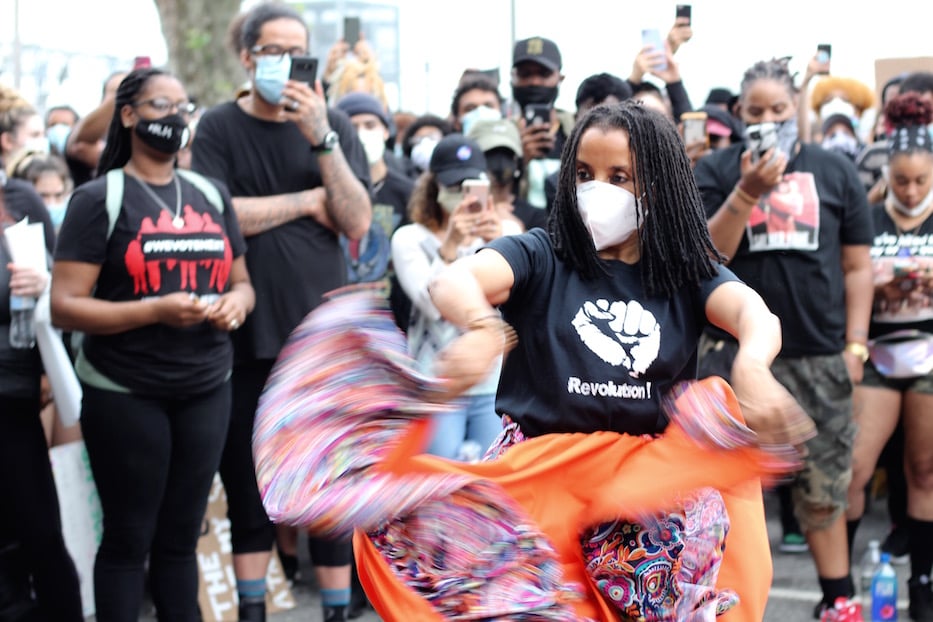 Matos in June 2020, at a rally that drew 5,000 people to downtown New Haven. Lucy Gellman Photo.
Immigrant rights advocate Kica Matos has been a member of MCAC for two and half years. She said she believes that using Bomba expresses solidarity within the community. From protests and teach-ins to vaccine sites, she is often one of the first to show up with a drum and long wrap skirt.
When the pandemic hit, she said, it made life harder in a neighborhood that was already chronically under-resourced. Fair Haven is a small part of New Haven with over 17,000 people, the majority of whom are Latinx and Black. Many people and families in the neighborhood are undocumented immigrants, meaning that they did not receive relief from the federal government.
Matos, who lives in Fair Haven, saw neighborhood residents struggling with joblessness, food insecurity, and access to medical supplies. To support these Fair Haven families, MCAC began performing for free at local causes and pitching in on food drives to help those who couldn't afford groceries.
"I saw a community that was devastated and people desperately in need of basic resources and support," she said. "I want to see a neighborhood that is vibrant and see city officials wrap their arms around Fair Haven … we have an obligation to take care of communities that suffer more than others."
For Matos, MCAC is also a form of release and an invitation to heal. She grew up in an artistic family, where her mother was a dancer and dad was a drummer and musician. Music has been an essential tool to her identity as an Afro-Boricua. Now, she sees it as tied to her vision of cultural and economic equity in Fair Haven.
"Bomba feeds my soul," she said. "I don't know how else to put it. It's a huge privilege to be part of Movimiento Cultural. The music speaks to me in a way that no other form of music does. I often turn to music as a way to heal, a way to rest, I think Bomba and arts and culture recharge my batteries, be rejuvenated—to feel that my soul is being fed."
The group has continued to gain steam as it heads into summer. Diaz said he hopes that MCAC continues to grow, and that New Haven continues to be a place where people come and celebrate their heritage. He wants to bring more attention to the history of the African and Afro-Caribbean diaspora through the work, he said—especially because it's still not widely taught.
"We cannot forget our history," Diaz said "They love it, it's something you learn, and maybe motivate you to look into your ethnic background and try to explore and pass on."
"It's something beautiful," he added. "We welcome everybody."
Alma Mendoza is a junior at Metropolitan Business Academy. This piece comes to the Arts Paper through the Spring 2021 cohort of the Youth Arts Journalism Initiative (YAJI), a program of the Arts Council of Greater New Haven. This year, YAJI has gone virtual due to the COVID-19 pandemic. Read more about the program here or by checking out the "YAJI" tag.