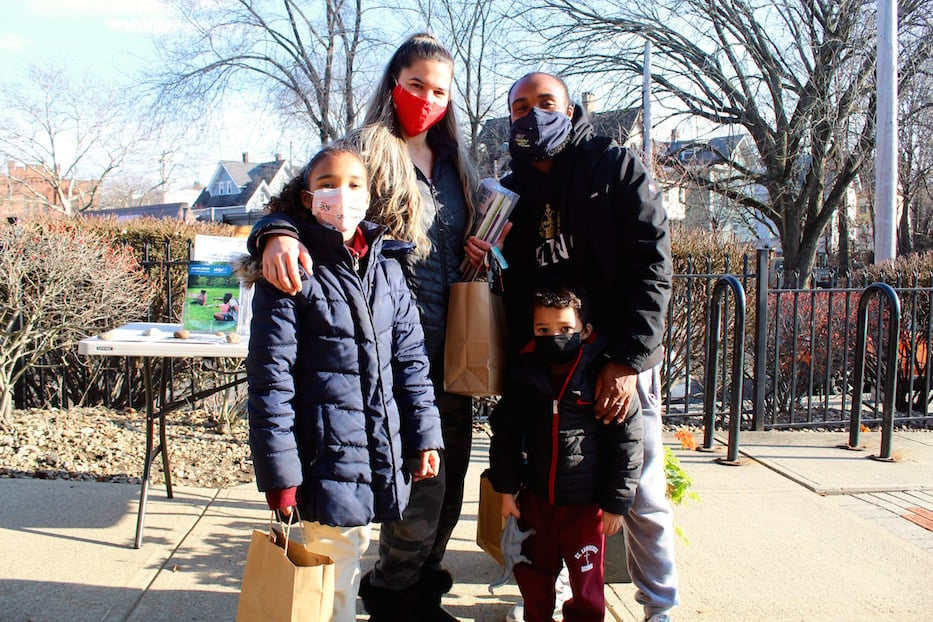 Arts & Culture | New Haven Free Public Library | The Hill | COVID-19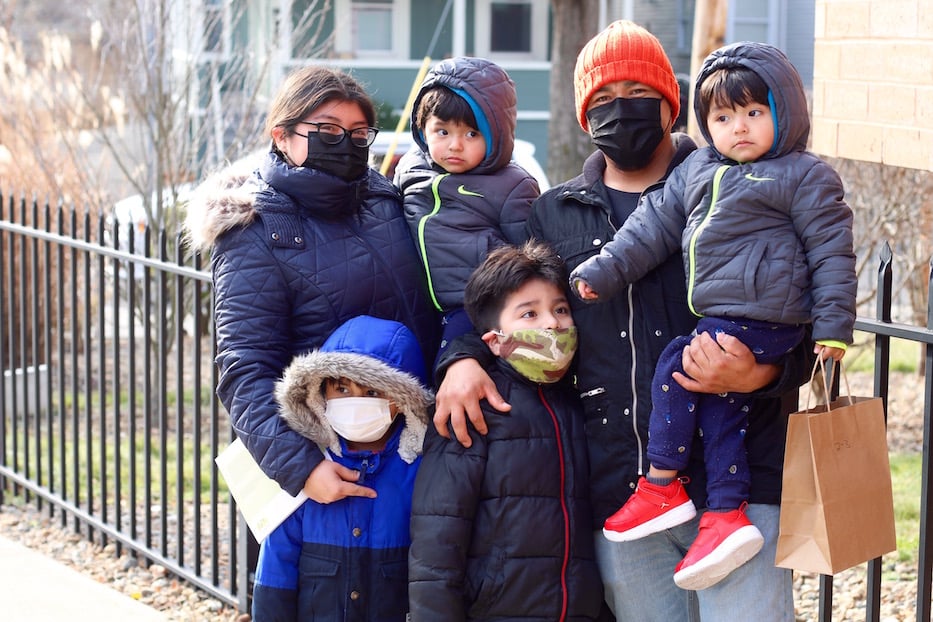 Itzel Cabrera, two-year-old Alejandro Diaz, Hugo Diaz, two-year-old Hugo Diaz, Gabriel and Damien Diaz. Lucy Gellman Photos.
Hugo Diaz jogged up the ramp to Wilson Library with his two-year-old son, masked and still beaming at the setup in front of them. Beneath a tent, three kings waited in long velvet robes, glittering crowns and crisp N95 masks beside his wife, Itzel Cabrera, and their three other children. It transported Diaz back to a childhood in Tlaxcala, Mexico, where he celebrated Día de Los Reyes each year without fail.
Dozens attended the library's observance of Three Kings Day (Día de Los Reyes) Thursday afternoon, in a masked and socially distanced celebration outside of the branch's Washington Avenue home. Instead of gold, frankincense and myrrh, three librarians-turned-kings arrived bearing painting kits, poetry collections, cookbooks and all manner of dinosaur toys from the Yale Peabody Museum of Natural History.
Celebrated 12 days after Christmas, Día de Los Reyes commemorates the visit of the wise men Melchor, Gaspar, and Baltazar to the baby Jesus, who they have found following the light of a single, glimmering star. It is especially significant in the Hill, where a large part of the population is Latino and Afro-Caribbean, and grew up celebrating the holiday. In New Haven, it also crosses cultural boundaries: families arrived speaking a mix of Spanish, English, Pashto and Dari.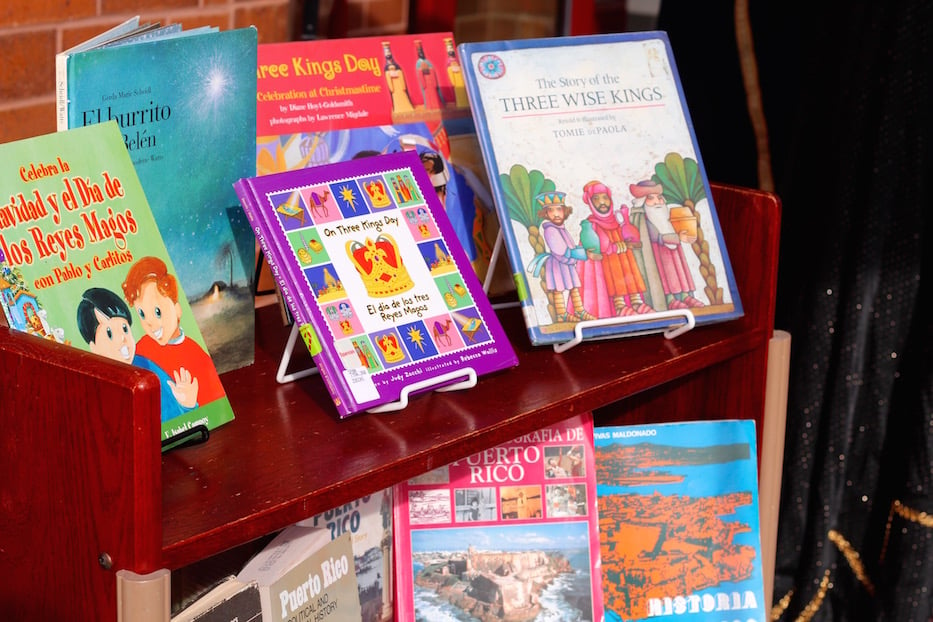 "It's strange to be celebrating right now, but it's also very needed," Branch Manager Meghan Currey said as Maso Rivera's Y su Conjunto spun on a vintage record player behind her. A bundle of mouthwash-blue surgical masks dangled from her hand, a pandemic-era addition to the toys waiting for small hands to receive them.
As parents and kids cued up outside the library, kings Mercedes MacAlpine, Jeffrey Panettiere and Arthur Volanth organized bags by age group. Their capes swished and trailed around them, adding a sense of magic to the air (even young minds librarian ​​Melissa Meagher found a crown by the end of the day). Squat stacks of An American Sunrise and New Haven Cooks sat side by side, waiting for teen and adult readers to scoop them up.
MacAlpine, a librarian who joined Wilson's staff roughly a month ago, eyed a few T-Rex heads poking from their bags. She later gave a little shriek when she picked up an amber-hued lollipop, and realized there was a crystallized bug inside. Beside her, Panettiere got distribution down to a science, eyeing each young person before giving them an appropriate gift. When he isn't royalty, he is a library technical assistant and spearheads many of Wilson's music-focused programs.
"We have one three to five [year old], one six to eleven," he would say methodically as MacAlpine handed out bags, bowing at every "gracias" and "thank you" in a jewel-encrusted hat.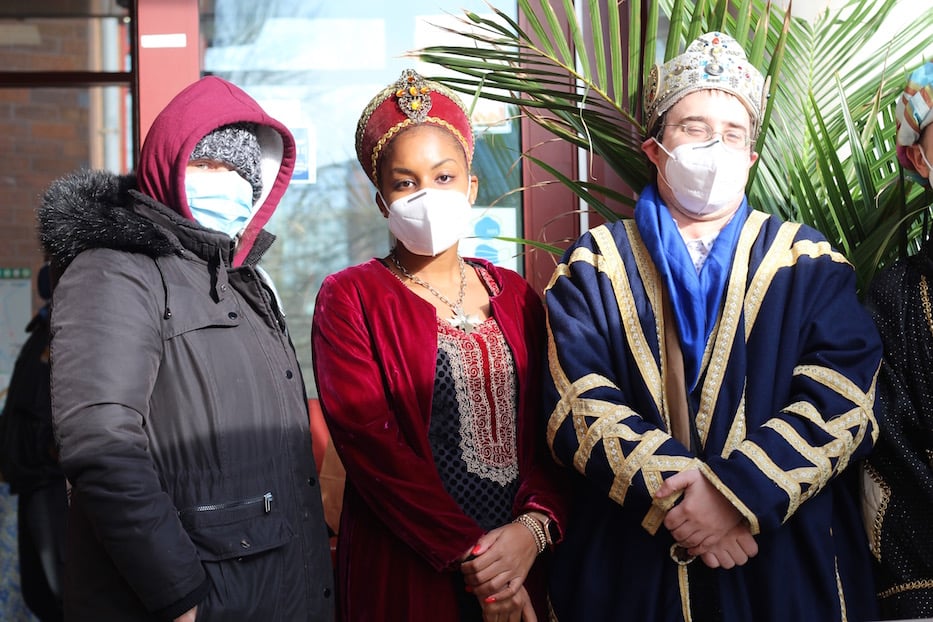 Virginia Santiago with Mercedes MacAlpine and Arthur Volanth.
One of the first in line, mom Renata Morales found herself coaxing her son, Carlos Aguilar, to approach the kings. By the library's doorway, MacAlpine stood with Panettiere and Volanth, waiting in layers of polyester, silk and velveteen as Carlos stood nervously by his mom's legs. His protestations bubbled up, loud enough for the kings to hear as they waited.
He was nervous, he told his mom. He reached for her hand and hung back. Coral Ortiz, a reporter for the New Haven Independent, crouched down and reassured him that the kings meant no harm.
He finally approached the group, squirming through a photo and gift handoff. No sooner had he returned to his mom's side than he was asking to go into the library and take a look around.
Other attendees bounded up to the front, eager to introduce their children to the same traditions with which they grew up. Diaz and Cabrera, who live in the neighborhood, brought their four kids as a way to celebrate across the miles that separate them from family in Mexico. While Cabrera was born and raised in the Hill, Diaz grew up in Tlaxcala, the region that houses one of New Haven's eight sister cities.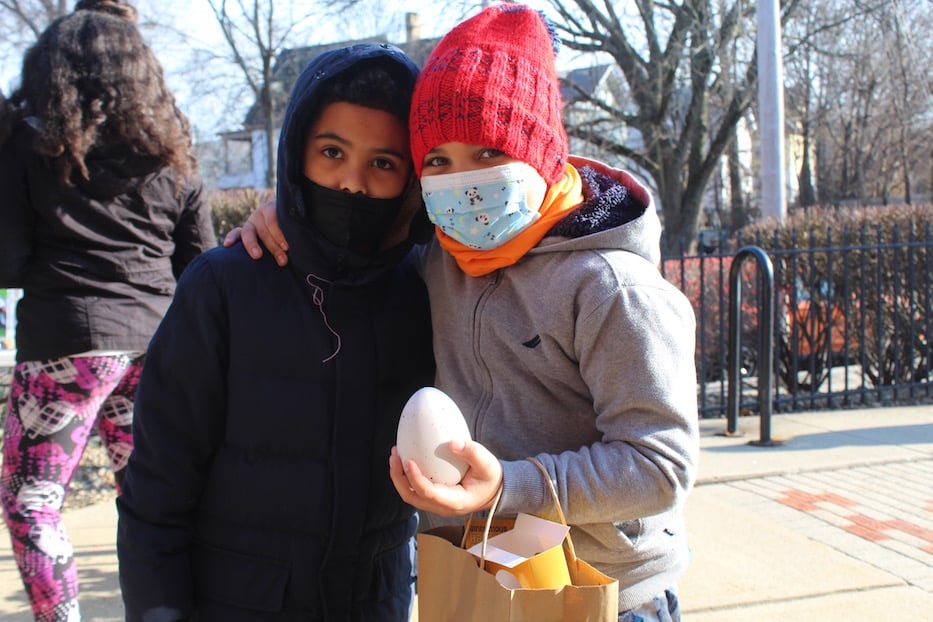 Luis Espinal Peralta (at left) could hardly contain his delight at the stegosaurus egg.
Thursday, their sons Gabriel and Damien looked on excitedly as they received their gifts, scaly, doll-sized replicas of plant-noshing dinosaurs that seemed like they might spring to life if played with for long enough. Their two-year-old twins, Hugo and Alejandro, held their bags gingerly as they waved as passers-by from their parents' arms. Before leaving, 6-year-old Gabriel said that the best part of the day is celebrating not only the Three Kings, but the miraculous birth of baby Jesus.
"It's nice because this comes from our culture," Cabrera said. "It's tradition."
That sense of holding onto tradition in a year turned on its head—across borders, cultures, and sometimes households—permeated the event. Dressed in thick hats and winter coats, Virginia Santiago and her daughter Keishla waited to pick up a bag for her one-year-old granddaughter, Zahielys. Originally from Vega Baja, Puerto Rico, Santiago resettled in the Hill in 2009 to be closer to her daughter. She said she takes any chance to feel close to the holiday, particularly the chance to reflect on the birth of Jesus 12 days after Christmas.
Areli Flores and her children Ximena and Luis Zuapio.
Areli Flores, there with her children Ximena and Luis Zuapio, described Wilson's celebration as part of how she passes the tradition onto her young children. Right now, Ximena is five and Luis is nine—old enough to remember how they are building customs as a family. Born and raised in Mexico, Flores said she's excited for the day each year, for the flood of familiar memories it brings back.
Each year, she makes the trip to a bakery in Fair Haven, where a sweet, yeasted Rosca de Reyes waits for her with candied fruit, crackly egg wash and bands of sugared dough. Each year, it's always a mystery who will find Jesus in the orange-flecked bread. Running up and down the library's ramp, Ximena and Luis looked into their bags, pulling out speckled dinosaur eggs.
"We cut the bread and celebrate," Flores said. "It's how we pass tradition on to children."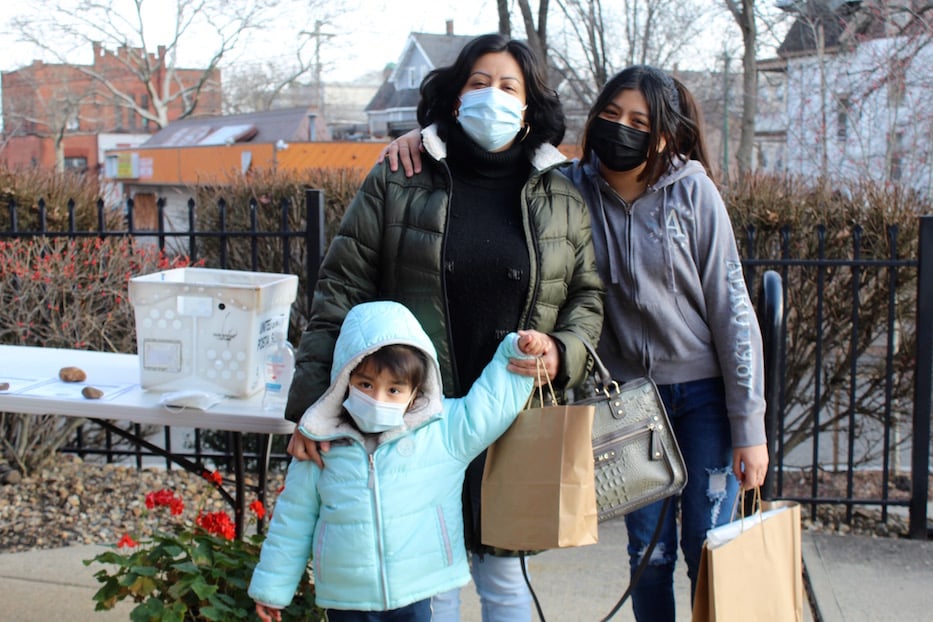 Guadalupe (she gave only her first name) and her daughters Guadalupe and Bitsa.
Guadalupe (she gave only her first name) and her daughters Guadalupe and Bitsa have also celebrated for as long as they can remember. Originally from Tlaxcala, the elder Guadalupe said she was glad to see the library promoting the holiday. In Mexico, "the Three Kings are more important than here, more important than Santa," she said. She wants her kids to hold onto the holiday with the same reverence and excitement that she does.
A few attendees hadn't heard of Three Kings Day, and came to learn about it for the first time. Sheila Cox, who lives a 10-minute walk away from the library, rolled up to the library with an Afghan family that lives across the street. Every time she heads out to an event, she said, she takes at least one other family in the neighborhood with her.
There with Cox, her sister Fatima and young siblings, Khatera Mohammad said she was excited to learn about Three Kings Day at the same place where she has nurtured a love for reading, particularly chapter books.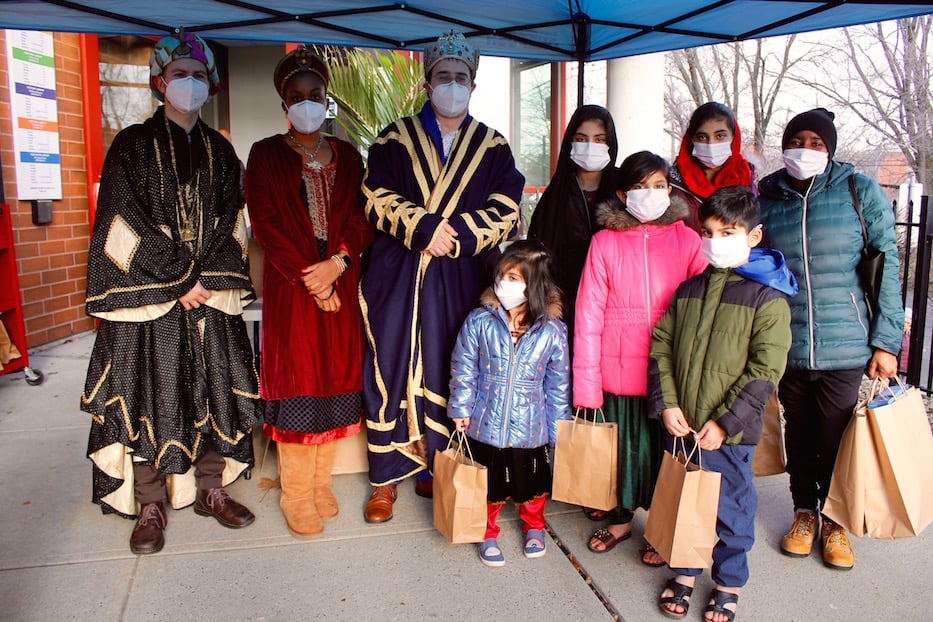 Top row: Jeffrey Panettiere, Mercedes MacAlpine and Arthur Volanth with Fatima and Khatera Mohammad and Sheila Cox. Bottom row: Aisha, Nabila, and Momain Mohammad.
Just like the Three Kings' origin story, the day revolved around small miracles like that one. Before the event, librarians packed hundreds of bags with toys that the Peabody donated when it closed for renovations in 2020. When a performance from Movimiento Cultural Afro-Continental fell through (it has been rescheduled for March 22, which celebrates the end of slavery in Puerto Rico), Panettiere brought out a vintage record player that it has been using for monthly listening sessions inside the library. For the second year in a row, Fashionista Vintage & Variety came through with costumes.
And despite a surge in Covid-19 cases that librarians talked about in hushed, clipped tones as they set up, masked smiles abounded. Close to the end of the 90-minute event, eight-year-old Luis Espinal Peralta's peals of delight—"oh snap, it's a stegosaurus egg!"—bounced over the gathering, weightless.
"I've never seen a dinosaur egg before," he said seriously after regaining his composure. "I've been studying dinosaurs in school. I'm gonna watch this egg until it hatches."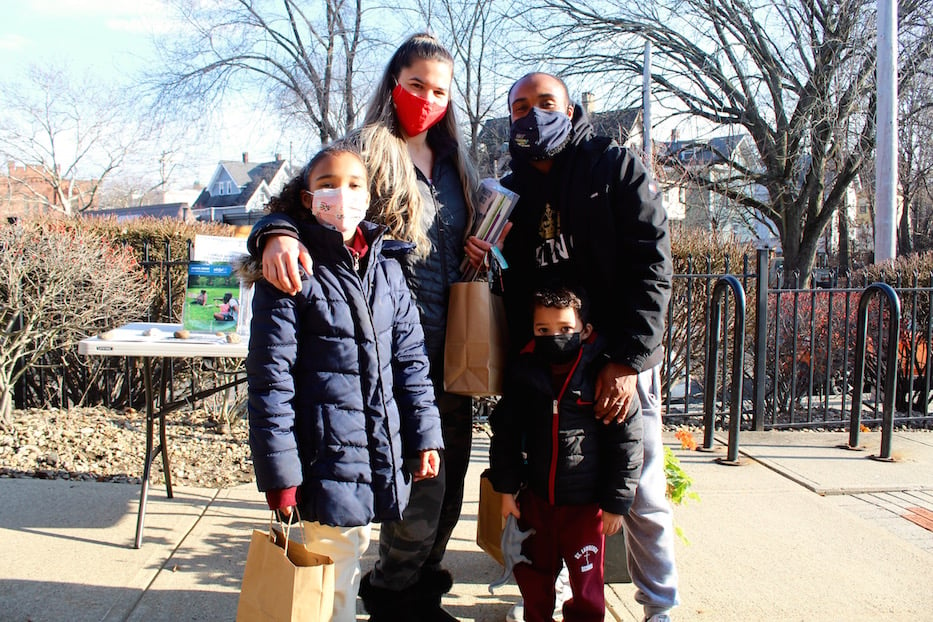 Leslie and Brian Brown with their kids Lesmari, who is eight, and Dominic, who is four.
Looking around with her kids and husband in tow, Leslie Brown didn't take any of it for granted. Now a community health organizer in the Hill, Brown was born in Puerto Rico and grew up in Bridgeport. In the midst of the pandemic, "we need as much happiness as we can find," she said.
Thursday, that came in the form of her children Lesmari and Dominic, so besotted with their new toys that they pulled out at least one dinosaur for a photo.
"I'm really happy to see the community being culturally sensitive," she said. As cases rose this week "I was really happy to hear that they [the library] didn't cancel, because we need this joy."