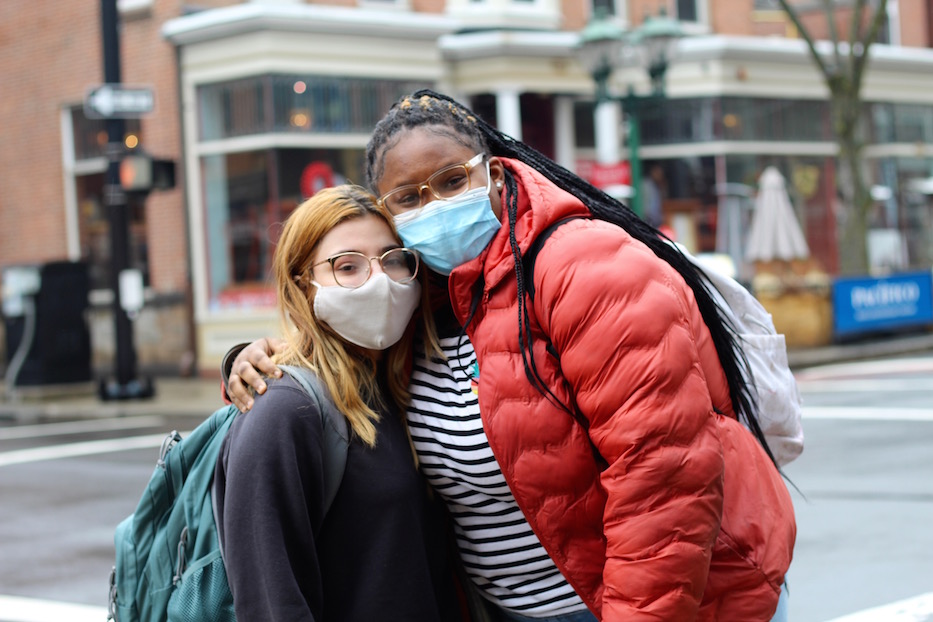 Co-Op High School | Education & Youth | Arts & Culture | New Haven Public Schools | Public Health | Elicker Administration | COVID-19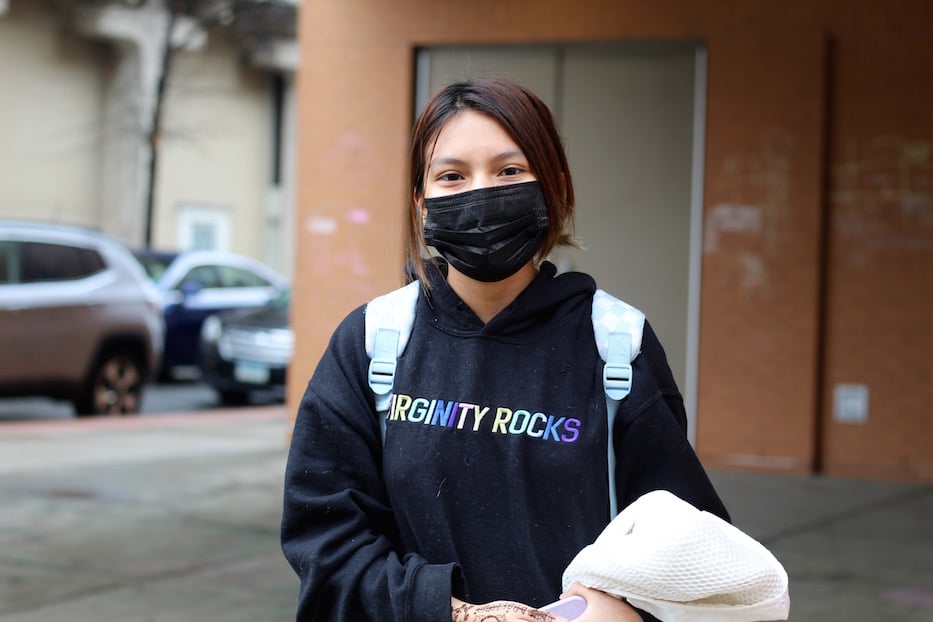 Kaitlyn Corona Munguia, a junior who is studying flute and piccolo under Patrick Smith and Matthew Chasen at Cooperative Arts & Humanities High School. Lucy Gellman Photos.
Co-Op junior Kaitlyn Corona Munguia will do anything to stay in school after two years on a screen. Senior Naiyara Diaz thinks classes should be remote for a week or two, if it makes in-person learning safer in the long run. Both have people they love at home—and don't want to bring the Omicron variant back with them after a day of classes.
They gave those perspectives Wednesday afternoon, as a steady drizzle let up outside Cooperative Arts & Humanities High School on College and Crown Street downtown. As Mayor Justin Elicker emphasized that he would keep schools open for in-person learning, students responded with a mix of anxiety, frustration, fear, and resolve.
"I can't speak for everybody else, but for my own, I feel like I develop, learn, and in this environment way more than being online, sitting on a computer," said Corona Munguia, who plays the flute and piccolo in Co-Op's band. "It's so easy to just close it and say, 'Oh, I'm gonna go to sleep.'"
Currently, 597 New Haven Public Schools (NHPS) teachers and staff are quarantining, according to an email from NHPS Spokesperson Justin Harmon. Of those, 18 are affiliated with Co-Op. Harmon said he will not know the number of Co-Op students quarantining until Friday, because "there will have been cases over the holidays that are only now being reported." Wednesday, the state's test positivity rate hit 22.6 percent.
Schools Superintendent Iline Tracey said that 13,000 of the district's 20,000 students were in school. Forty eight bus drivers were also out Wednesday, which prompted a district-wide early dismissal.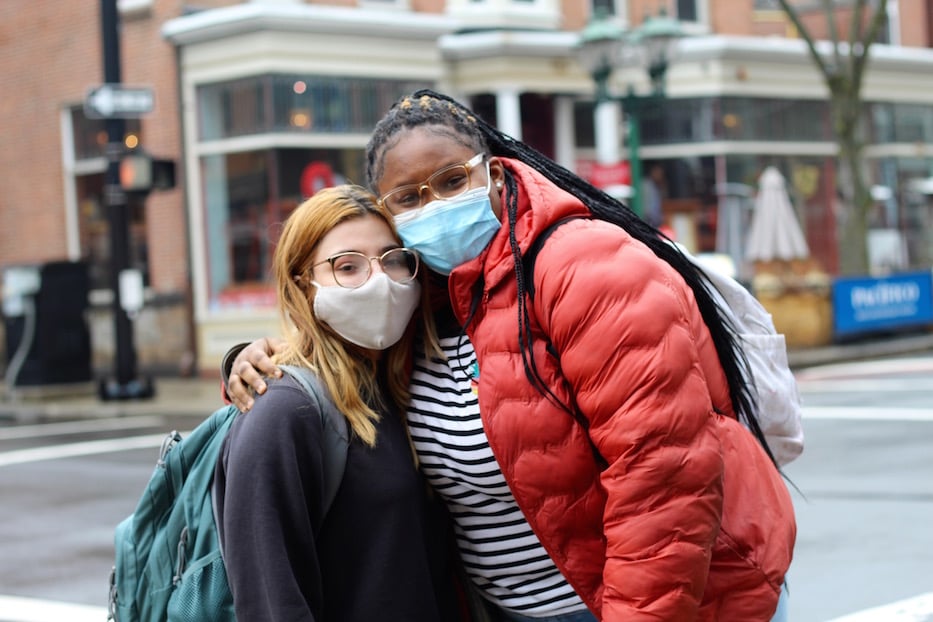 Co-Op senior Naiyara Diaz and junior Anniya Taylor-Deane. Both are studying choir.
Outside of the school on Wednesday afternoon, no one student seemed to have the same opinion as the next. Diaz, who spent her sophomore and junior years online, said she's in favor of going remote again, because she doesn't trust her classmates to tell her if they've had a Covid-19 exposure or positive test result. Last month, a friend didn't let her know that she had contracted Covid-19 from a member of her family. The two spent time together. A few days later, Diaz tested positive for the virus. It was her second bout with Covid-19, against which she is not yet vaccinated, in a year.
Now, "I can't trust other students to keep me safe," she said. "Not even my friends." When she walks into the school, she notices immediately that "a lot of people are out, we're understaffed, there's not a bunch of students here." Some of her classmates lower their masks, push back against their teachers' reminders to mask up fully, or blow off social distancing rules. Three days into the new year, she's started wondering whether it would be safer to go online for a few weeks, in an effort to keep the school in person for the rest of the school year.
She doesn't want to finish her senior year online, she added—but she doesn't want to contract or spread Covid-19 either. She added that she plans to get vaccinated as soon as she can.
"Some of these kids just like, really don't like walking around with their mask on," she said. She pulled a tan-colored cloth mask back into place as it slipped beneath her nose mid-sentence. "They don't understand the severity of it because they had to go through seventh and eighth grade online. They don't really get the maturity factor, so they don't understand the intensity of how serious this could be."
Standing beside her, junior Anniya Taylor-Deane was less eager to go back online. She advocated for a hybrid format similar to the one she had as a sophomore, which would allow some of her peers to learn remotely as she stayed in school (both teachers and students have spoken openly about the extreme difficulty of remote and hybrid learning). When she leaves the house each day, she's thinking about how a potential exposure could affect her mom or two younger siblings. Because she worries about keeping them safe, she got vaccinated last year when it opened to her age group.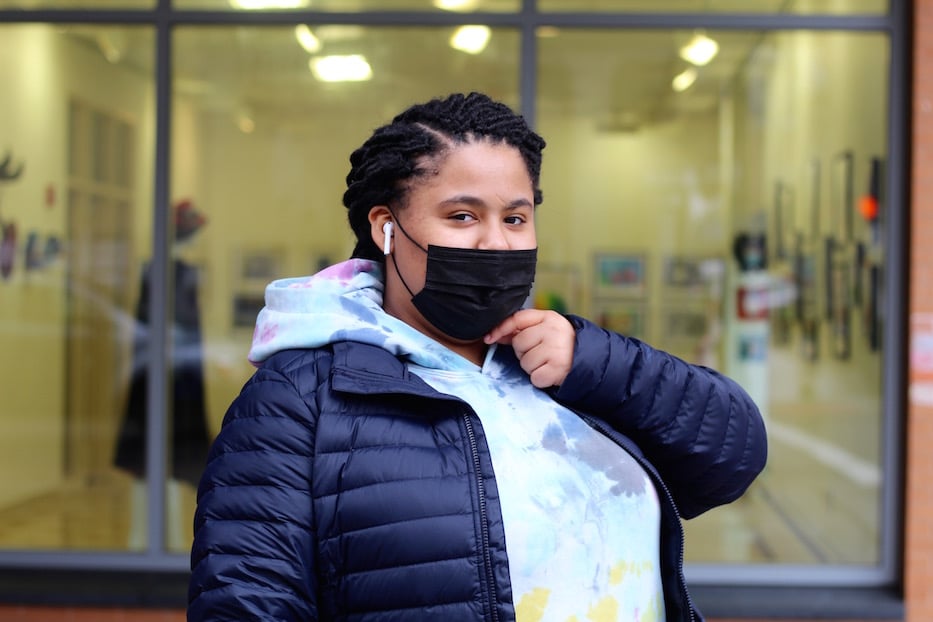 Sophomore Jamie Harris. After spending the last year of middle school and first year of high school online, she said she's not excited about the idea of going remote again.
Both she and Diaz added that one place they do feel fairly secure—maybe surprisingly—is their choir classroom. Choir director "Ms. [Harriett] Alfred doesn't play," Diaz said. Students keep their masks on and pay attention to their assignments. In an effort to maintain some sense of normalcy, students have resumed singing in duck-billed, thick singing masks that the school debuted earlier this year.
So far, Taylor-Deane said, her combination of surgical mask, singing mask, and vaccine have done what they're supposed to do. Even with a concert a few weeks ago, she hasn't gotten sick. Neither has sophomore Jamie Harris, a fellow choir student who described virtual learning as "a little tough." After starting high school online last year, Harris said she's frustrated to feel a sense of déjà vu as cases and uncertainty rise alongside each other.
As she waited for a ride on College Street, Corona Munguia said she's doing everything in her power to stay in school, because she can't imagine going back online. She was only six months into her freshman year at Co-Op when the pandemic hit New Haven. At home, she struggled to engage with the material in the same way. She called it "such a blessing that we're able to finally come back to school and learn in school."
She said that she recognizes the risk of contracting Covid-19, and works to mitigate it wherever she's able to. She got vaccinated last year in an effort to protect both herself and her 7-year-old brother, who landed in a high risk category after a case of pneumonia when he was a young child. In her band classes, she and other students play with special masks that have a purse-like opening at the mouth, fitted for their instruments. When she's in other classes, she wears a three-layered medical mask.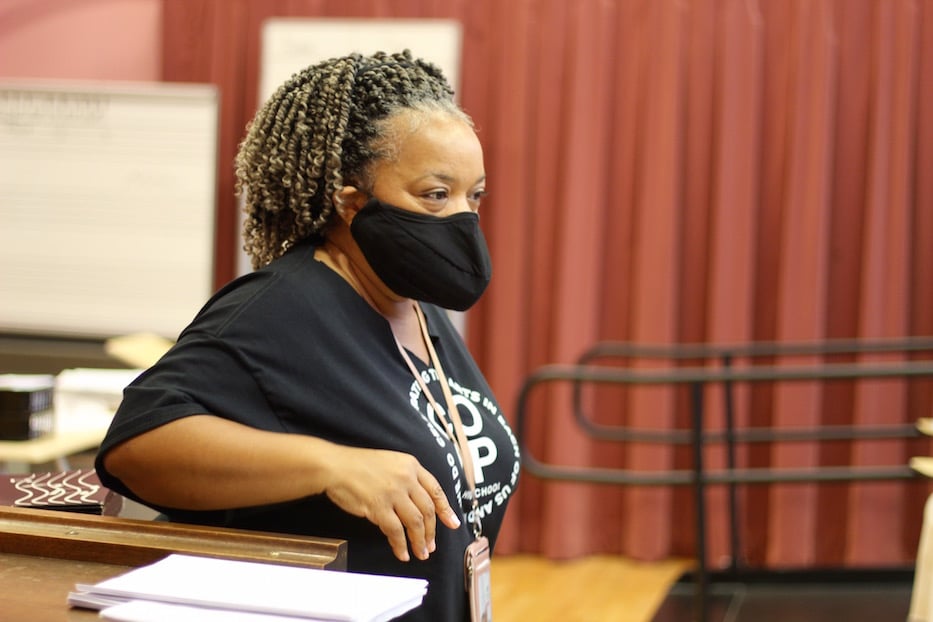 Harriett Alfred in a singing mask last August, at the beginning of the school year. Lucy Gellman File Photo.
"I'd rather stay here for eight hours no matter how bored I am or how tired I am, but I know that in the end, it'll pay off for my education," she said. "I know that my school is doing everything in its power to protect us, due to this global pandemic."
For lead music teacher Patrick Smith, who has been at the school since 1998, Omicron is another part of the new normal. In his classroom, he and music teacher Matt Chasen have worked to measure out and mark spaces for social distancing, so that masked band members aren't as close to each other as they would regularly be. When students and staff have gotten sick, he's been grateful to see that the cases are relatively mild.
He pointed to the music department's willingness to experiment and push ahead, from virtual videos he assembled with Alfred to masked winter concerts students played for their peers last month. While parents and members of the public weren't able to attend, it marked the first time students graced the stage in over a year and a half. He'll take it.
"I don't believe in mourning the loss of the past," he said in a phone call Wednesday night. "I don't think that we've lost anything. This is just where we are."
"We Are In The Middle Of A Surge"
At the same time Co-Op was dismissed Wednesday, Mayor Justin Elicker gathered at City Hall with Tracey, city Emergency Operations Director Rick Fontana, New Haven Health Director Maritza Bond, and New Haven Police and Fire Department personnel in a press conference to discuss rising Covid-19 cases across the city and the state.
All three, particularly Bond, stressed the importance of vaccination as Omicron seizes New Haven. All three also begged New Haveners to be patient as the city distributes a limited number of N95 masks and at-home test kits.
"We are in the middle of a surge and we haven't even hit the anticipated spike that we're going to be seeing in the next week or so," Bond said. "So we're going to be asking the public to please continue to work with us, to continue to ensure that you have access to testing and that you also get timely results."
Elicker stressed that Covid-19 hospitalizations are higher than they have been since May of 2020, including 17 young people currently at Yale New Haven Hospital (of those, five are in the intensive care unit). In Covid update Wednesday, Gov. Ned Lamont's office reported that the state's test positivity rate was 22.6 percent. "Of the 1,676 patients currently hospitalized with laboratory-confirmed COVID-19, 1,128 (67.3 percent) are not fully vaccinated," it read.
Her hands clasped tightly as she spoke, Tracey thanked "dedicated staff members, administrators, teachers, paraprofessionals, central office workers—everyone" who has hustled to keep schools running in person as Covid-19 cases hit students and staff hard. She described herself as "hopeful for a reprieve," which may come as soon as the end of this week. Students will not be in school Thursday in observance of Three Kings Day. For the first time in her career, she is hoping that Friday will be a snow day.
"This has been the mother of all weeks," Tracey said. "And why do I say that? We have never seen anything like this in New Haven."
She added that schools have received their first shipment of N95 masks and at-home testing kits for teachers and students. Because demand still far outweighs supply, she stressed that they are intended for those who have been exposed to or are symptomatic for Covid-19.
Fontana said that masks and iHealth testing kits are coming as soon as Thursday morning. From 10 a.m. to 1 p.m. and 3 p.m. to 6 p.m., city officials plan to set up a distribution site outside Sports Haven, located at 600 Long Wharf Dr. There will be a second, walk-up-only site for non-drivers on the New Haven Green, open from 3 to 6 p.m. Thursday. Both are for New Haven residents only.
In the past week, the city has received 17,700 testing kits. Fontana said that 9,000 of those have already been distributed; Thursday's effort marks an additional 8,700 testing kits. Across the city, alders have been working to get tests and masks to their constituents, often with a daily barrage of email updates and drop-offs.
"There will be lines, and when supplies run out, it will end," he said.