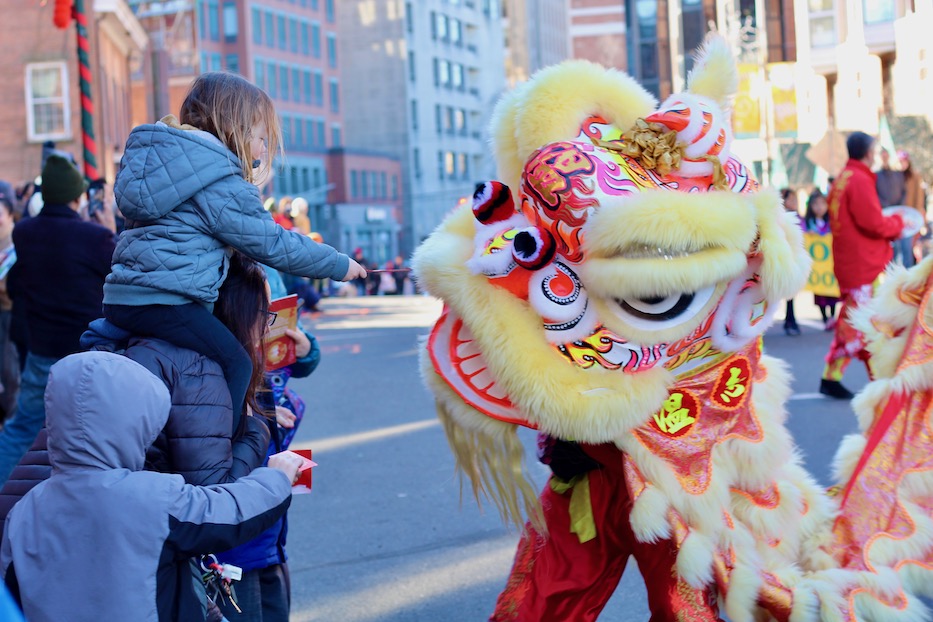 Audubon Arts | Culture & Community | Downtown | Arts & Culture | Lunar New Year | Yale-China Association | Arts & Anti-racism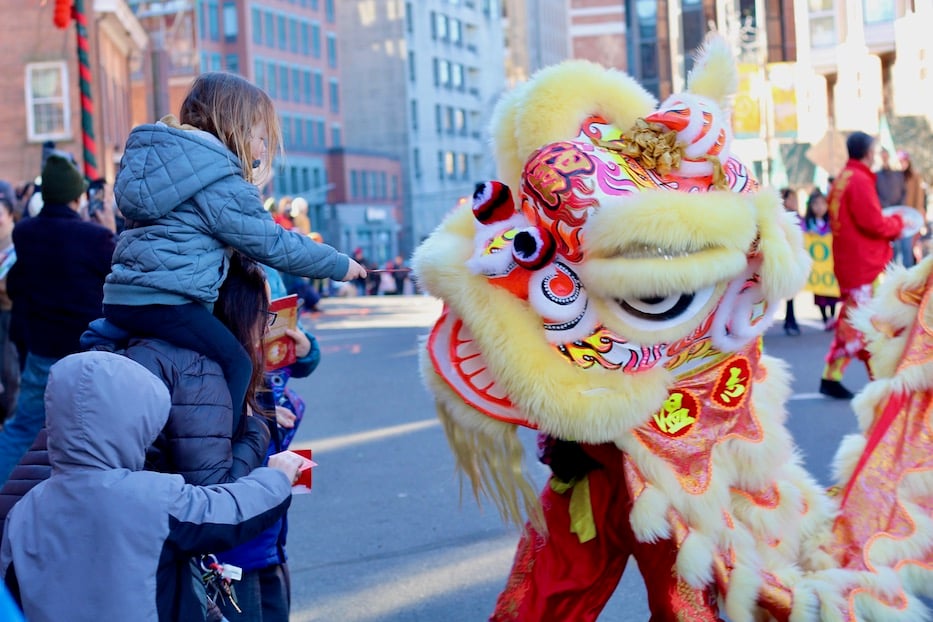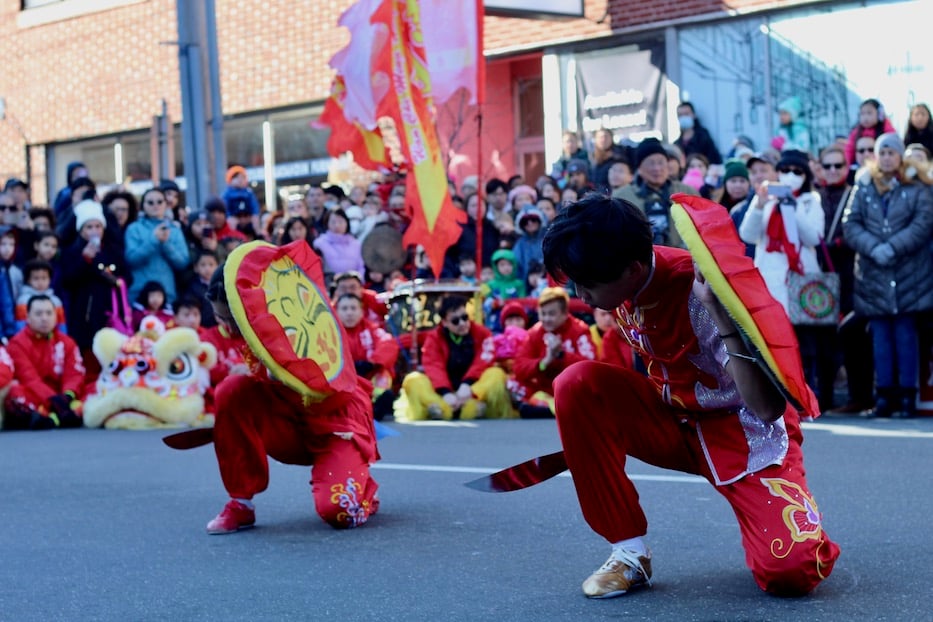 Top: Three-year-old Miles Chen feeds his red envelope to the Southern Lion as his mom, Susan Chen, watches. Bottom: Members of Wu Dang Kung Fu Academy Perform. Lucy Gellman Photos.
The sound of cymbal and barrel drum bounced over Whitney Avenue, ringing the street into being. On a table, a Southern Lion stood on his hind legs, reaching for a cluster of greens that hung high above the road. As he danced, the drum became a hammer, a heartbeat. He took the greens into his mouth and paused. Hundreds of attendees held their breath. Cabbage and confetti rained over the street, floating in bright drifts to the sidewalk.
As Michelle Guo watched from the doorway of Great Wall Restaurant, it signaled an auspicious New Year—and a return to a new normal years in the making.
New Haven's twelfth annual Lunarfest bounced back Saturday morning, as over 1,500 people returned to Whitney Avenue to ring in the Year of the Rabbit with a Lion Dance Parade, outdoor performances, and afternoon of activities across downtown New Haven. Held in person for the first time since February 2020, the parade brought out a diverse crowd of parents, elders, educators, and children of all ages, centering joy in a month that has felt heavy with violence and grief.
"I'm so happy," said Guo, who owns Great Wall Restaurant with her husband, Peter, and has supported Lunarfest for over a decade. "We've been missing this for two years. Every time they [the lions] come, they bring a lot of luck to this street. I wish everyone health and happiness this year."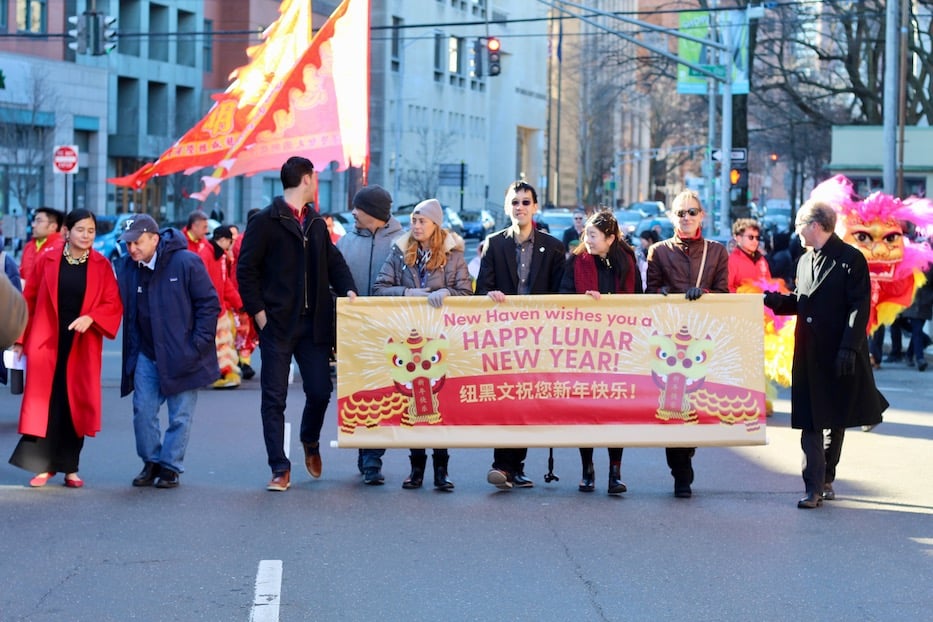 Collaborators included the Yale-China Association, New Haven Museum, New Haven Free Public Library, Office of International Students and Scholars at Yale, Long Wharf Theatre, the New Haven Public Schools, City of New Haven, and Creative Arts Workshop. For the first time this year, activities also included a celebration of Tết, or Vietnamese New Year, and closing reception for Băng Qua Nước: Across Land, Across Water at Creative Arts Workshop.
Even before festivities began Saturday, a sense of energy crackled and buzzed through the air, palpable in the quiet leading up to the parade. Waiting on the sidewalk, psychiatrists Alicia and Matt Girgenti handed their kids Dori and Jack two red envelopes, called Hong Bao or Lai See in Mandarin and Cantonese respectively. They explained how to feed the envelopes to the lions, who were slated to come down the street in minutes.
Born and raised in Chengdu, China, Alicia began coming to the parade after her kids were born. For her, it's a way to pass tradition down—and "it's just fun," she said. The two, who are six and five, were in strollers the last time the parade rolled through downtown. This year, Alicia said, she expected them to have more of a sense of what was going on.
While "they've gotten red envelopes from my family" before, they haven't had many chances to celebrate the Lunar New Year in community with other New Haveners.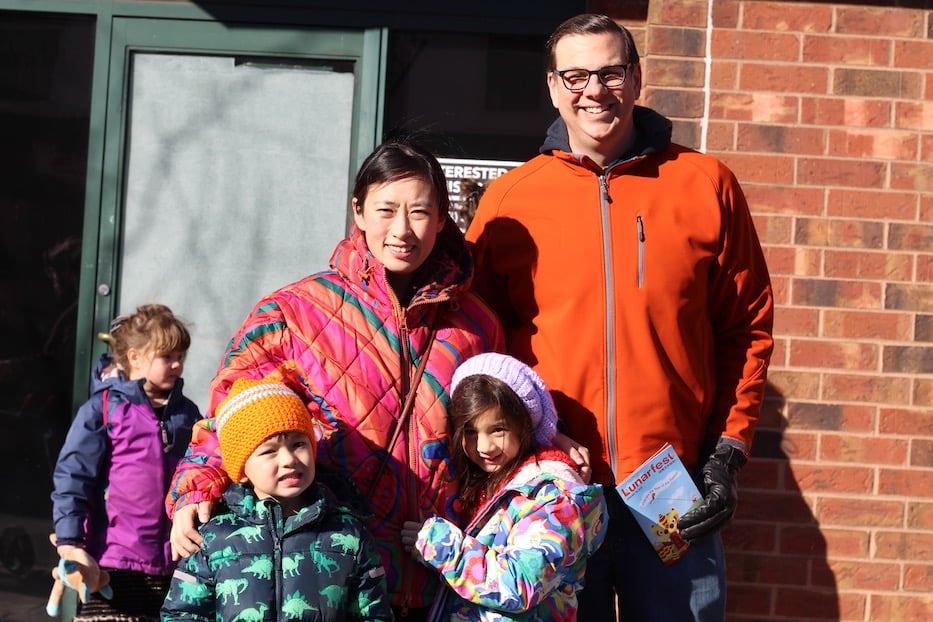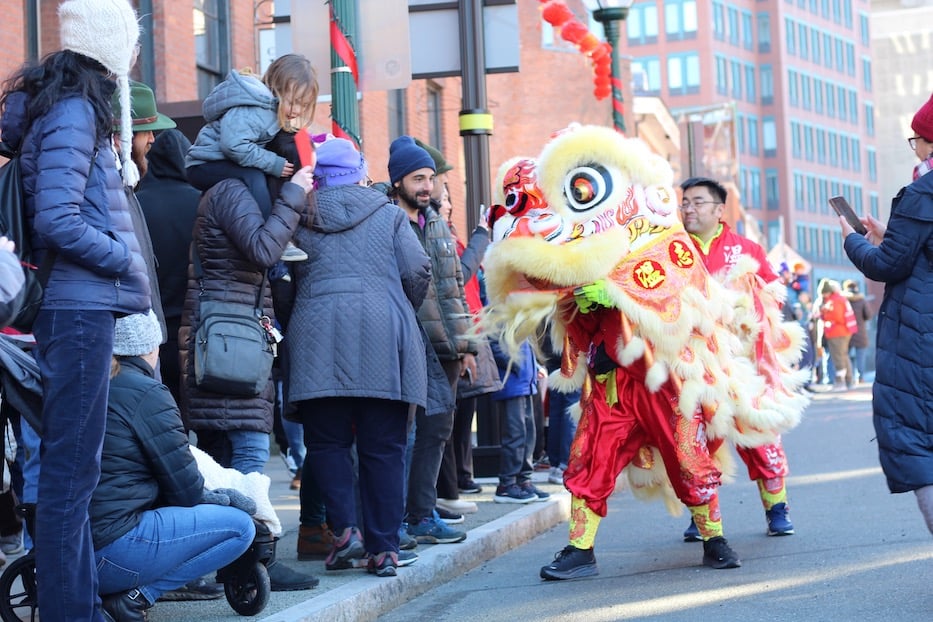 Top: Alicia and Matt Girgenti and their kids Jack and Dori. Bottom: The Southern Lion approaches as Miles Chen takes the envelope from his mom, Susan.
As she spoke, there was a flurry of excitement at Whitney Avenue and Church Street, and the parade began to move forward. Behind a red-and-yellow banner, two lions wove from one side of the street to the other, collecting red envelopes to the crash of cymbals. On the street, which had been quiet just minutes before, hundreds of families materialized from seemingly nowhere. When a breeze blew through, red paper lanterns gently rocked from side to side overhead.
Along the parade route, marchers waved; students from Edgewood School peeked out from a banner to look for their parents in the crowd. Further back, representatives of Long Wharf Theatre carried a bright installation from their Home(Coming) festival last year. At the Audubon Arts District, a bright diorama of the Chinese Zodiac looked out onto the street, designed by the artist Kaitlin Tan Fung and New Haven high school students.
But it was the lions, two dancers inside each, that quickly became the stars of the show. For years, the New York-based Wan Chi Ming Hung Gar Institute has been the heart of the parade, and this year the whole troupe returned to celebrate. As they made their way down the street, it sometimes looked as though the long-haired, larger-than-life creatures were floating on the asphalt. Every few steps, a new circle of kids formed around them, all smiles as they handed off the envelopes.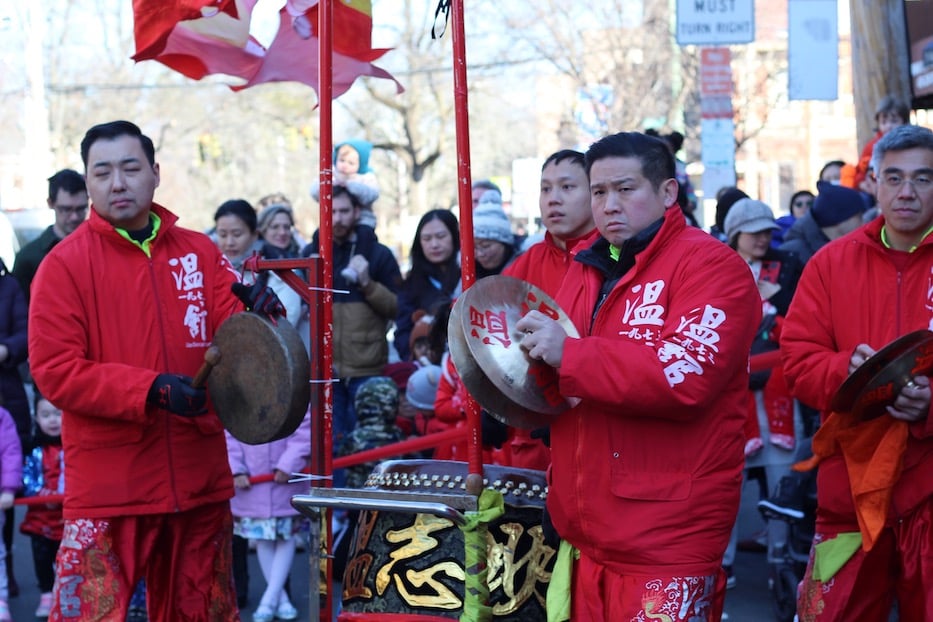 The New York-based Wan Chi Ming Hung Gar Institute has been the heart of the parade for years.
On the left side of the street, a Southern Lion crouched to the ground and swayed from side to side, as dancers Nick Ling and Juan Huang moved in lockstep inside. Across the street, a Northern Lion drew cheers as dancers Evan Choy and Justin Ng steered it towards the sidewalk. Beside them, the drums and cymbals undulated over the street, sometimes so loud it seemed they were coming from somewhere inside the ground.
Just before Audubon Street, three-year-old Miles Chen prepared for the moment he'd been waiting for. Atop his mom Susan's shoulders, he held out his red envelope, his arm a straight line. At first, the Southern Lion passed him for other kids on the block. Not missing a beat, Susan Chen took a few steps out into the street. This time, the lion spotted them. Turning its head, it batted its eyes, then took the envelope solicitously from his tiny outstretched hand.
"It's half his culture," Chen said as she looked for her husband and other child in the crowd, Miles still beaming on her shoulders. When Covid-19 hit three years ago, Miles was just a baby, and she and her family were new transplants in Connecticut. Events like this give her kids a window into their culture—and help them get to know New Haven, too.
The two turned their attention to the lions as they approached a red, cordoned-off area, dozens of kids following in their wake. Around them, hundreds of people watched, waiting to see their next move.
"This Is How We Heal"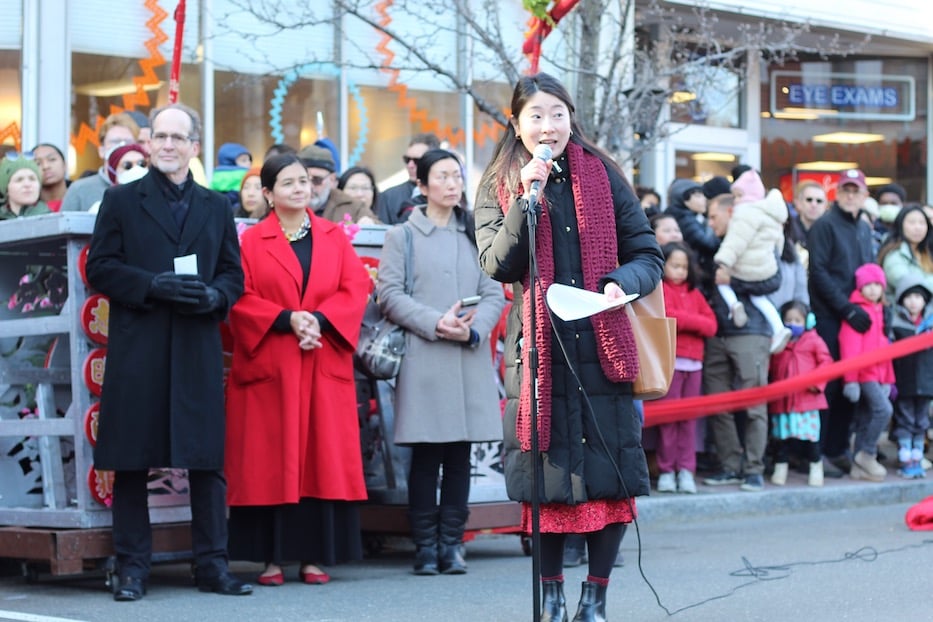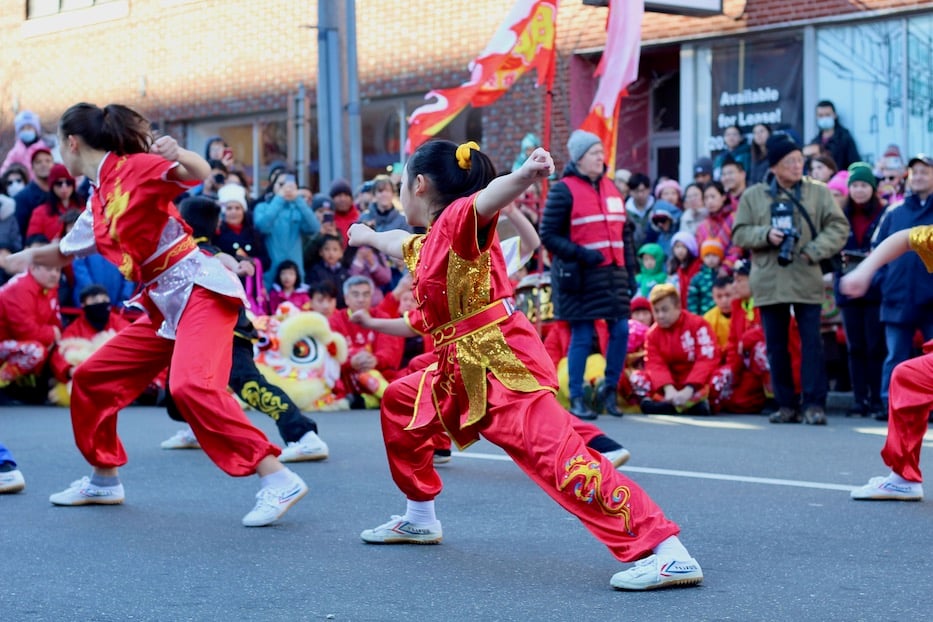 Top: Shirley Kuang, executive administrative assistant to Mayor Justin Elicker. Bottom: Students of Master Jack Guo of Wu Dang Kung Fu Academy.
Before lions shared their final dance of the morning, several speakers praised Lunarfest for bringing back a chance to gather after nearly three years of intense isolation and two years of all-virtual programming. Nearly all of them pointed to the comfort of community in a week that has included intense violence at a time that should be joyous.
Speaking early in the lineup, architect Ming Thompson stressed the importance of solidarity in the face of tragedy, including the recent and devastating violence in Monterey Park and Half Moon Bay, California. In addition to her work as co-founder of Atelier Cho Thompson and advisor on New Haven's Design Brigade, Thompson is a board member for the Yale-China Association and the co-founder of A Rising Tide, a collective of architects and design professionals working to amplify the work of their AAPI colleagues.
"I urge all of us here, from Asian American folks to their allies, to work with us to find ways to shine light in the darkness, to work to educate and protect, to build policies and resources, and to bring care to the AAPI community," she said to cheers and applause from attendees.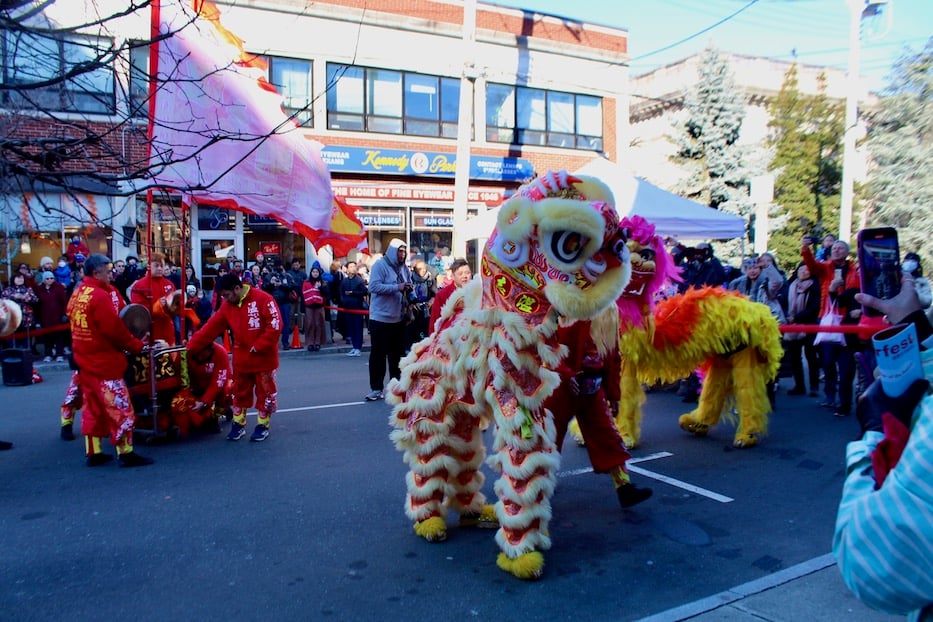 Shirley Kuang, executive administrative assistant to Mayor Justin Elicker, also pointed to the importance of making space for joy and hope in the midst of grief. Introducing herself with a festive Xīnnián kuàilè, she mourned the lives lost to gun violence in Monterey Park and Half Moon Bay California—as well as the five lost in New Haven this month alone.
In the next breath, she rejoiced in the crowd gathered around her on Whitney Avenue, where hundreds of people filled the sidewalk shoulder to shoulder. Before the parade, she said, she'd been asking herself, "What does hope look like in the midst of tragedy?" She realized that it looked like exactly what she saw around her on Saturday morning.
"Today is a day where we celebrate community," she said. "Where we celebrate the richness of our stories, our heritage, our cultures, our families, and we celebrate that New Haven is a city with so much diversity."
"Even as we grieve, this is how we heal," she added. "By being in community with one another. By gathering together, celebrating together, eating food together, having fun together, dancing together, remembering together, and advocating together."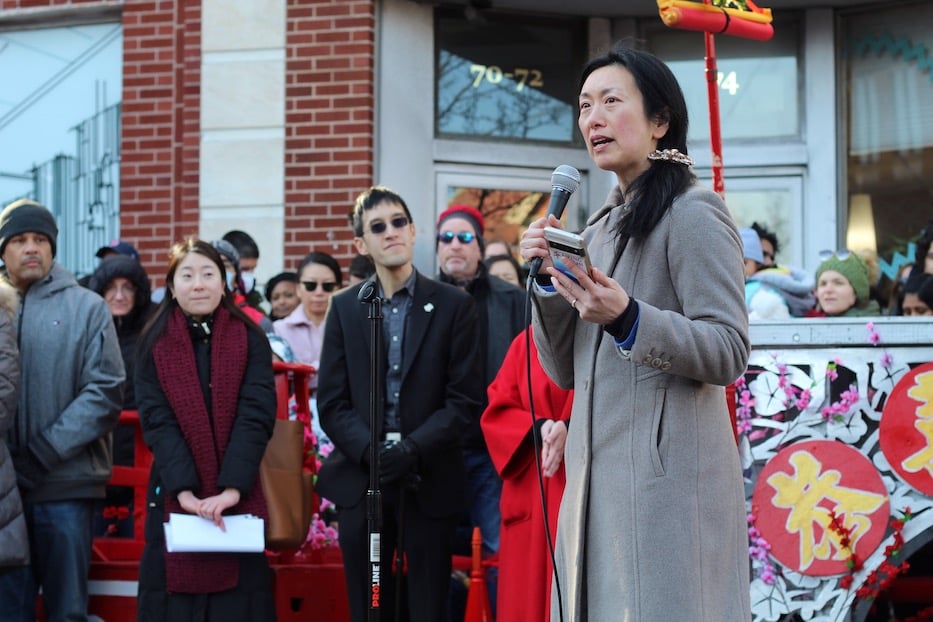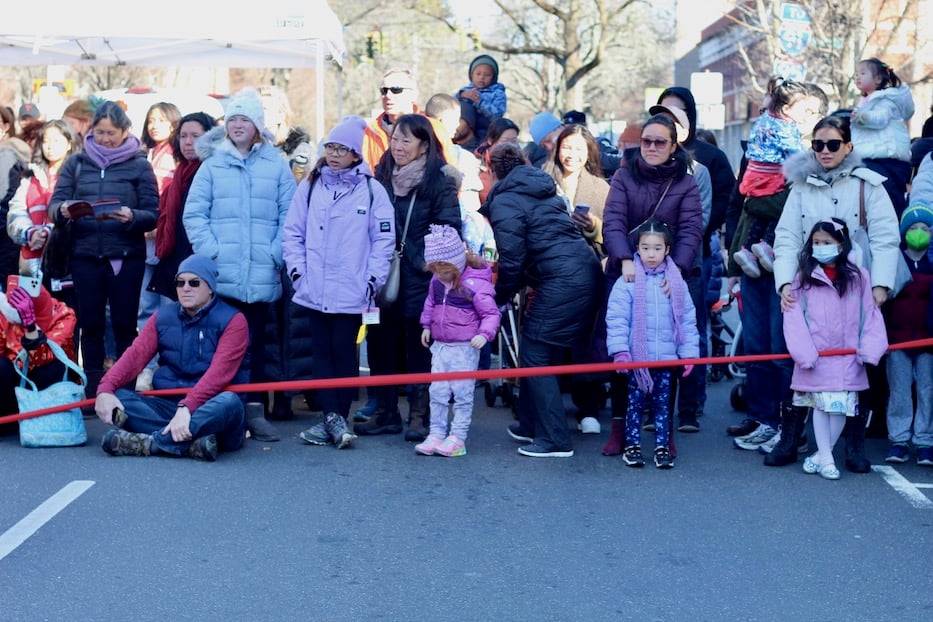 Top: Shirley Chock. Bottom: Some of the attendees.
Shirley Chock, who owns and operates the ​​Aiping Tai Chi Center in Orange, announced the formation of the New England Asian American Cultural Center in Milford, a space she is getting off the ground with Master Jack Guo of Wu Dang Kung Fu Academy. Last August, the center opened its doors to fanfare from the surrounding community. Saturday, she painted it as a model for sustained and needed recognition of Asian Americans in Connecticut.
"We believe that Asian American, AAPI culture shouldn't just be celebrated a few times a year," she said. "This is how the AAPI community supports each other. This is how we work. We are made up of a backbone of small business owners, mom and pop shops. And many of us don't have nonprofits to help support the community. So, this is a private-public model that we want to form to really support our community, so that we can bring everyone together."
As she spoke, Chock also pointed to the role Lunarfest plays in helping her—and thousands of Asian American parents and family members like her—feel welcome, acknowledged, and celebrated in Connecticut. When she moved to the state over two decades ago, Lunar New Year "was just another Wednesday at work," without any sort of pause or acknowledgement from her colleagues.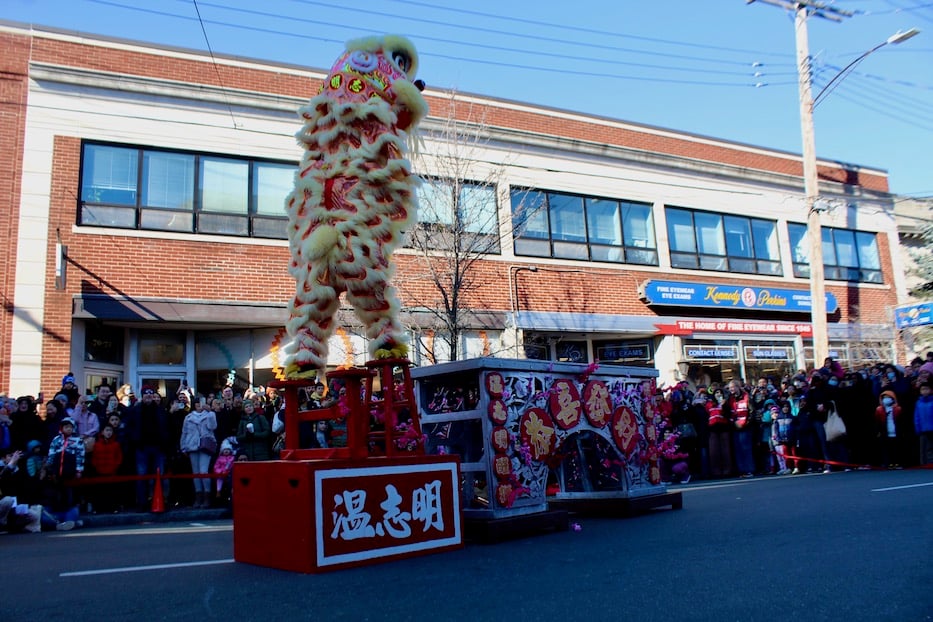 It was an unwelcome and upsetting shock to her system, she said. For Chock, who grew up celebrating in New York's Chinatown, "it was a very empty and disenfranchised feeling to know that your biggest holiday was completely not acknowledged," she said. Lunarfest, in which she has been a participant and educator for years, has shifted that entirely.
"My kids can have that same feeling I had growing up," she said. "They live in a place where their culture and heritage is affirmed and appreciated in the place that they live."
As s stepped back, performances returned with thunderous cheers and applause. Filling the street, students from Wu Dang Kung Fu Academy performed intricate wushu routines, their limbs outstretched as they twirled, crouched, extended their arms, incorporated the broadsword known as the dao, and at times took flight over the street.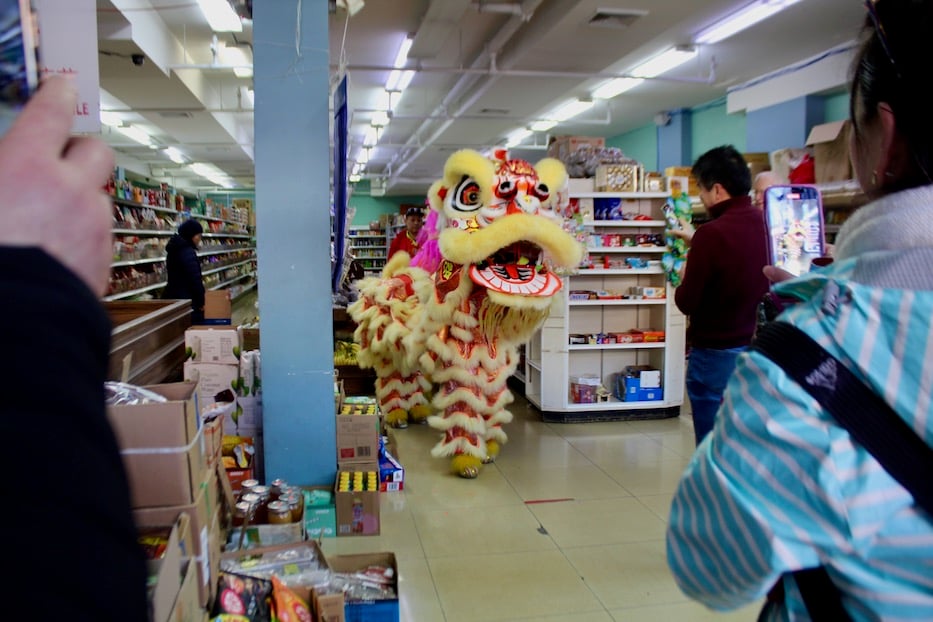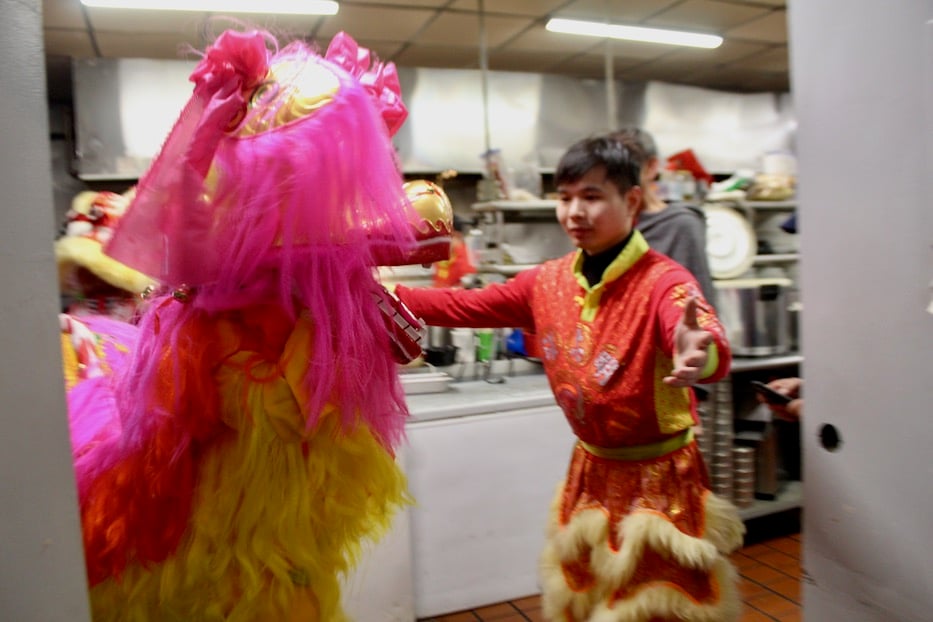 As in years past, lion dancers also took time to honor both Hong Kong Market and the Great Wall Restaurant, both of which have supported Lunarfest since its inception. When the Covid-19 pandemic hit New Haven in March 2020, both establishments closed for months; Great Wall reopened only last year.
Gliding down the aisles of Hong Kong Market, lions shook their heads and batted their eyes at sealed bags of basil and fennel seeds, neat cases of eggs and chilled moon cakes filled with red bean and pineapple paste. In Great Wall, they crouched before owners Peter and Michelle Guo, later taking greens from a high countertop before walking toward the kitchen, to bless it for a safe and healthy Lunar New Year.
Before they left, both owners beamed at the return of a tradition that has helped them feel at home in New Haven.
Back outside, mom Nadia Woods waited patiently for the lions to reemerge. As they finished their dance with the eating of greens and blessing for the Lunar New Year, she hoisted her son Theodore onto her shoulders. Afterwards, she watched him feed them his first red envelope.
Originally from Michigan, Woods moved to New Haven two years ago. When she learned about Lunarfest on social media, she was thrilled.
"I get to teach him about different cultures," she said. As a mom, the day's educational component was exciting to her—as was the fact that the entire celebration is free to the community.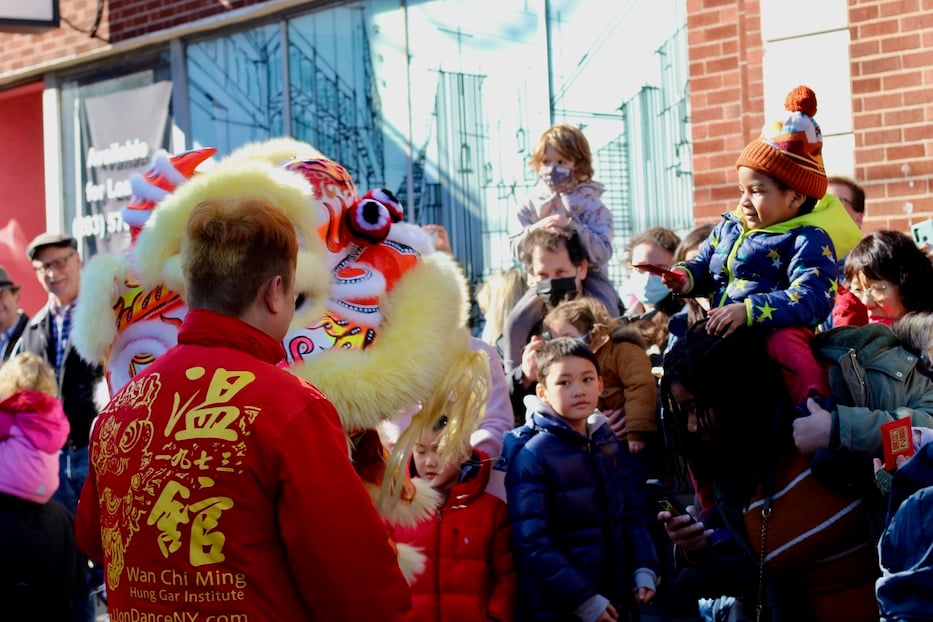 Theodore Woods with his mom, Nadia.
As they packed up their trucks after the parade, members of the Wan Chi Ming Hung Gar Institute called the parade a sort of homecoming. Even though the troupe is based in New York City, Lunarfest has become part of their routine for the past decade. When the celebration went virtual for two years, it felt like something was missing.
"Words can't describe it," said Raymond Mui, who joined the troupe as a teenager and still performs at 34. Growing up in a largely white area of Staten Island, Mui looked to the institute as a portal to culture and history. Many of the dancers and musicians who perform today learned the craft through their fathers, uncles, and older siblings.
Nearby, longtime member John Wang agreed. Wang was born in 1973, the same year that Wan Chi Ming Hung Gar Institute launched. Growing up in Manhattan, he spent his childhood watching lion dancers in Chinatown, when Lunar New Year still meant firecrackers instead of confetti cannons. He can still remember seeing them perform on East Broadway, he said with a smile—and when he was seven, he decided he wanted to join the troupe.
When he was 14, he did. Nearly 35 years later, it connects him to a deep history that is still evolving.
Lucky Fish & Racing Rabbits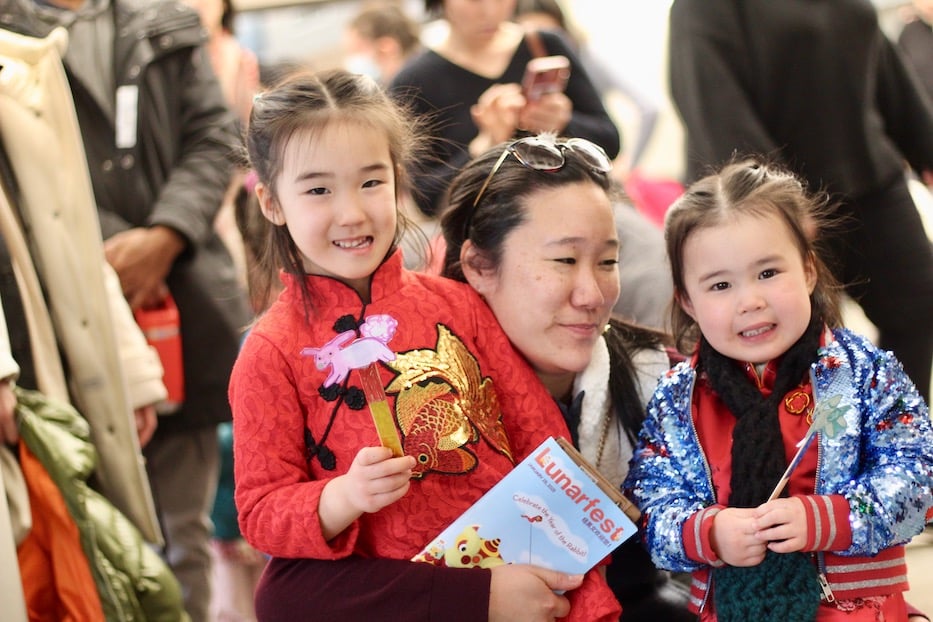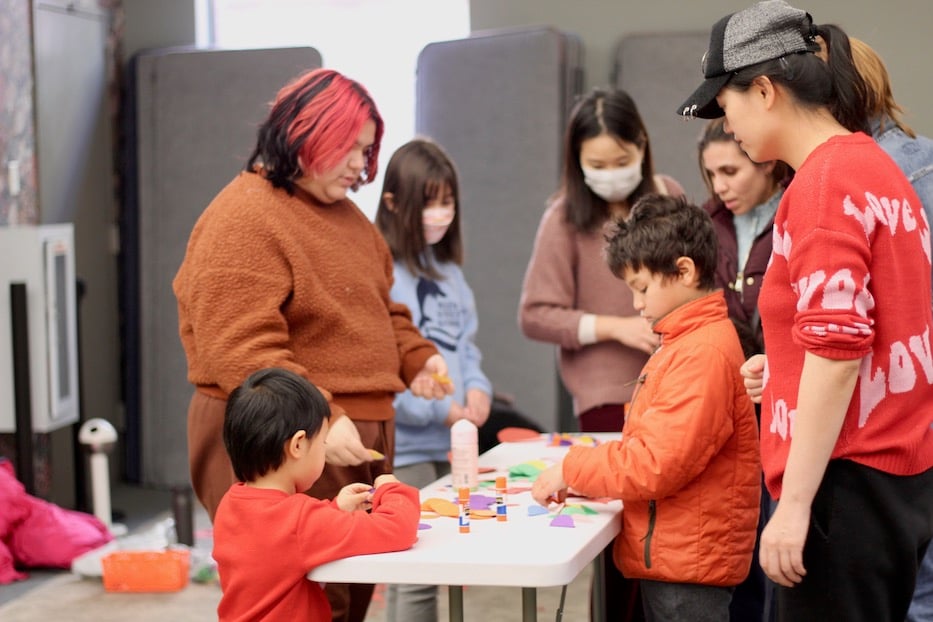 Top: Annie Lin with her daughters Fiona and Sophie. Bottom: Linda Wang (in the red sweater) and her daughter Miranda (also in red, on the left side of the table).
At the downtown branch of the New Haven Free Public Library, the festivities showed no sign of stopping. When the South Windsor-based Ju Long Wushu lion dance troupe headed out early (read more about their visit here), Lunarfest organizer Emily Chew and artist Kaitlin Tan Fung set up crafting stations in the center of the room. On each, gluesticks, markers, and rounds of bright construction paper beckoned as kids created their own fish-shaped designs to take home.
The Deputy Director of Education and Arts Programs for Yale-China, Chew sent a PowerPoint that explained that in the Chinese alphabet, the words for "fish" (魚 or yú) and "abundance" (裕, also yú) are homophones—words that sound the same, but have different meanings. Because of the overlap, families often have fish at their Lunar New Year's tables, and decorations around their homes. It's where the greeting Nian Nian You Yu (年年有余), wishing many years of abundance, comes from.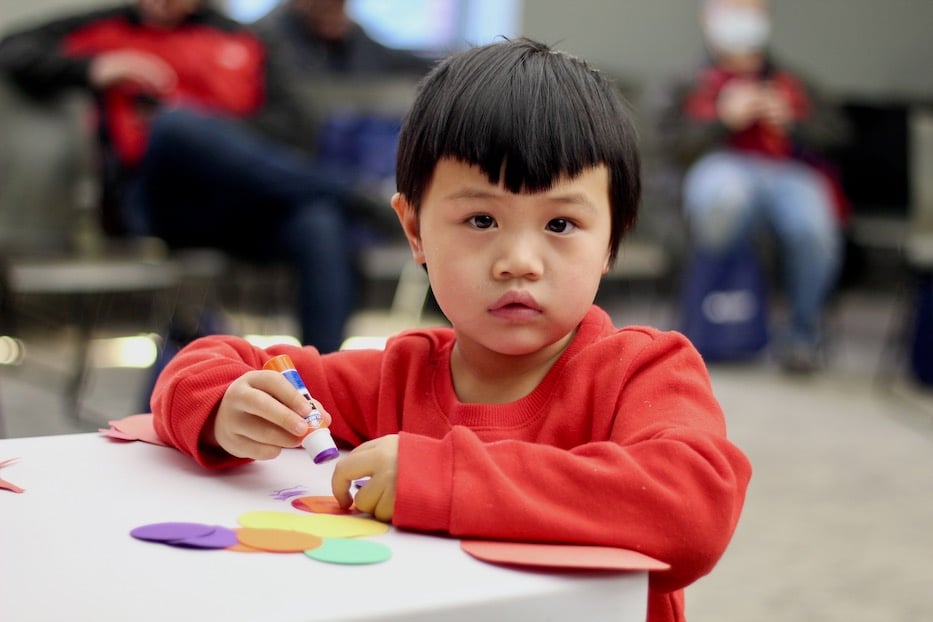 Miranda.
This year, Chew said, Yale-China was excited to get back into the classroom with its teaching fellows, who have a relationship with select New Haven Public Schools. Working with students at Edgewood School, Fair Haven School, Clinton Avenue School, and John Daniels School of International Communication, fellows were able to teach students about the Lunar New Year, including the significance of the Rabbit.
As they decorated a fish at one table, mom Linda Wang and her three-year-old daughter Miranda giggled at the multi-colored, bubbly animal taking shape in Miranda's small hands. Born in and raised in Harbin, China, Wang lived and worked for years in Beijing before moving to the U.S. She said that she's grateful to have a day of local Lunar New Year events that her child can participate in.
They were so engrossed in the project that they hardly noticed when puppeteer and artist Kimberly Van Aelst arrived, and began setting up for a show. As she assembled a mobile puppet stage, pint-sized attendees put their final touches on the fish, then found spots on the floor.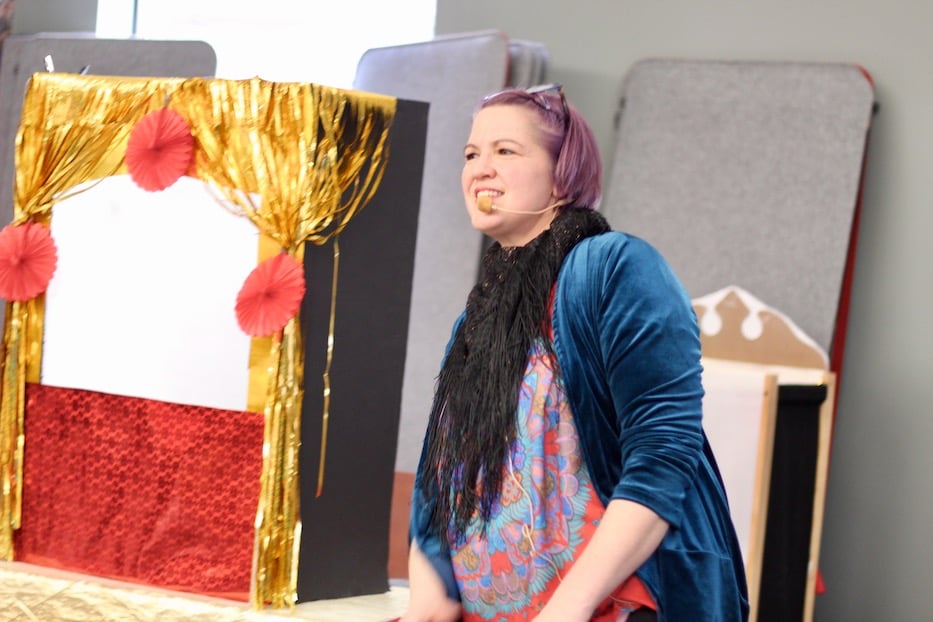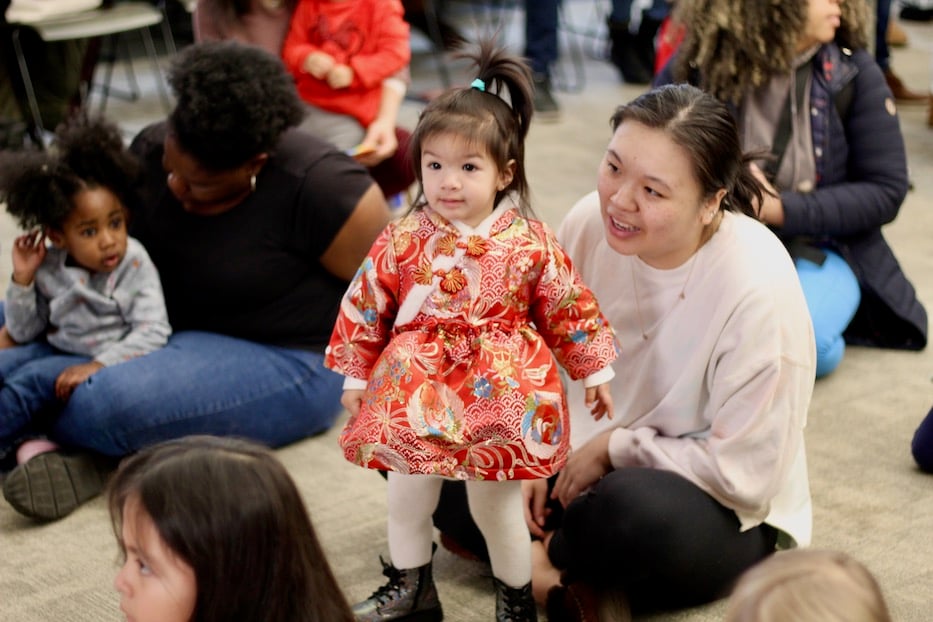 Top: Puppeteer Kimberly Van Aelst. Bottom: Mom Annie Graham and her daughter Zara.
In the front row, Annie Graham held her one and a half year old, Zara Maêi, as she danced in place. Her dad, Harold Rambharose, sat in a chair nearby. Both later said that they are grateful for a space to celebrate with Zara as she learns about her family's traditions.
Behind her screen, Van Aelst told the story of the tortoise and the hare, folding in tall trees with high, graceful branches, woodland visitors, a friendly bear and ice cream and pizza party that left the room giggling. When she finished, she invited listeners to make their own rabbits, and then take their own turns behind the screen.
A teacher at Elm City College Prep, Fung said that it was a joy to participate in Lunarfest as it revved back to life in-person. Last year, she worked with students from the community on a mural that lived at the library during the summer months. This year, she helmed a diorama project with high school students across the city, adding a personal touch with the figure of a stick dragon.
"It's just wonderful to collaborate," she said.
Watch more from Lunarfest above and click here to watch performances from the Wu Dang Kung Fu Academy.