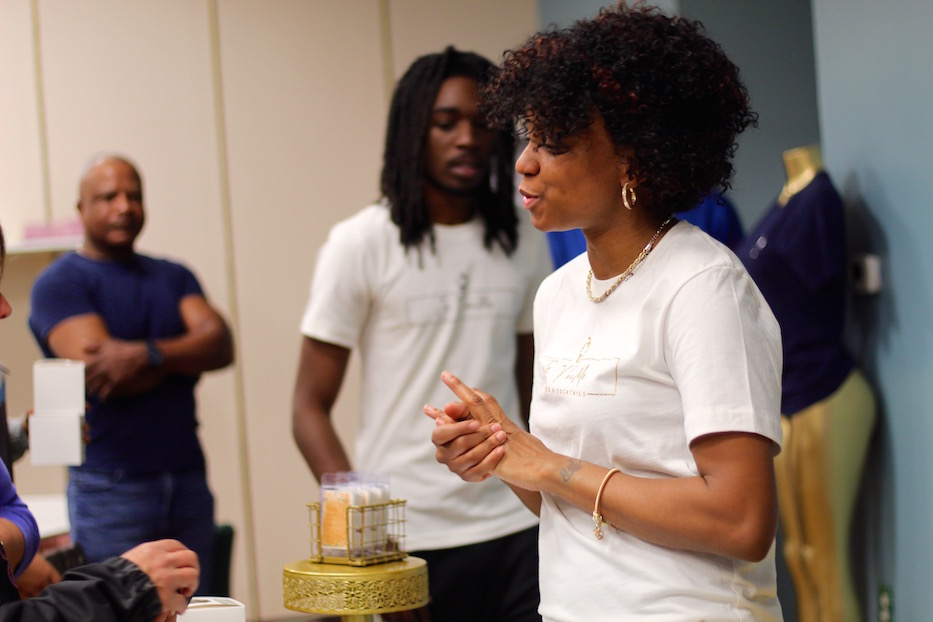 Culture & Community | Milford | Arts & Culture | Culinary Arts | Dixwell Community Q House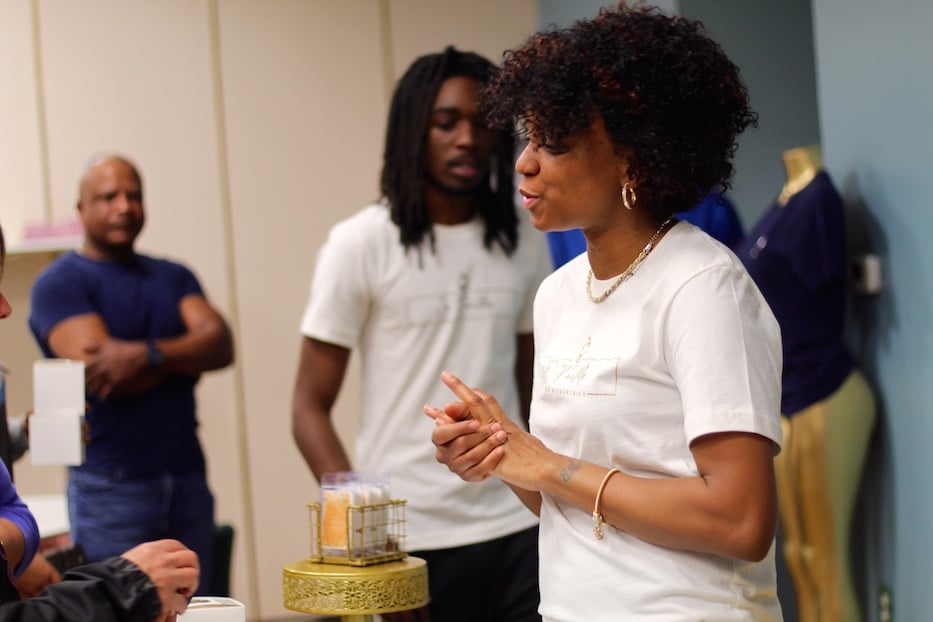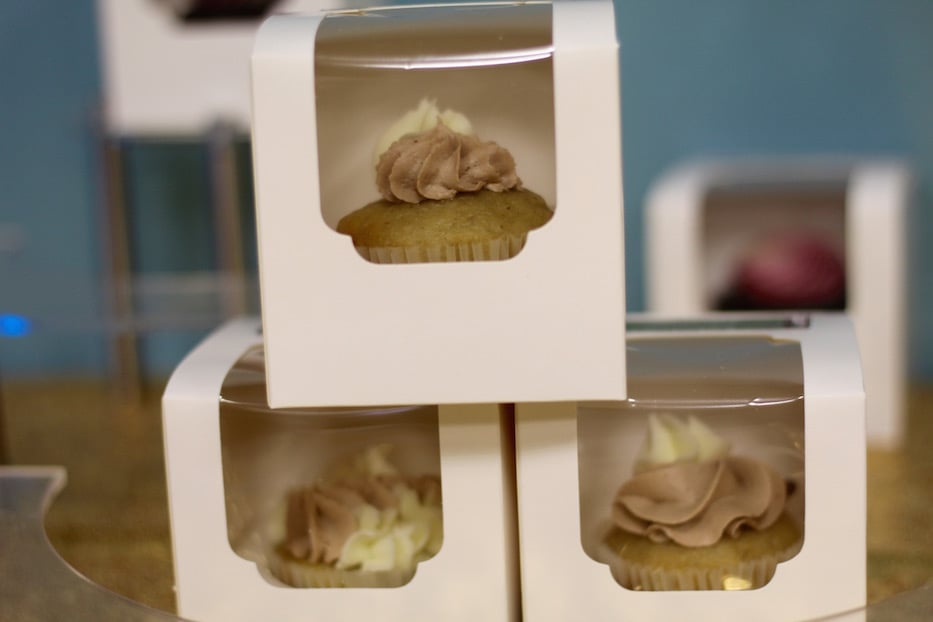 Top: Maxine Harris in the shop. Bottom: The Day Trader. Lucy Gellman Photos.
The cupcakes disappeared almost as quickly as they'd materialized. The first to go was the Day Trader, with swirls of espresso and vanilla buttercream adorning its banana-flavored crown. Then the Early Mornings, a citrus-kissed cake mingling with peach and mango frosting. Then the Wake & Bacon, with sweet and salty flecks that glowed like amber. The smells of spun sugar, bourbon vanilla and spiced cider drifted through the air.
Cupcakes and community set the tone Monday, as Je T'aime Cupcakes & Cocktails opened its doors on the first floor of the Connecticut Post Mall in Milford. It marks the first storefront for owners Maxine Harris and Laurren Robinson, who live in New Haven and have been friends for the better part of two decades. For both of them, it is a sweet brick-and-mortar dream years in the making.
The two have received support from vending partners across the state, as well as mentors in the Food Business Accelerator by CitySeed and Collab, of which they were 2020 cohort members. At a ribbon cutting Monday, Harris covered her face and cried with joy.
"A giant thank you to everyone who saw us from the ground up, where we started, where we came from," Robinson said, looking out onto a crowd that included family, friends, mall-goers, and representatives from CitySeed, Collab, and the Milford Regional Chamber of Commerce. "Just the guidance that you guys all have given us—the support, the encouragement. When we're down, the, 'Okay it's time to take a moment for yourselves and kind of recharge' … all of those made today what it is."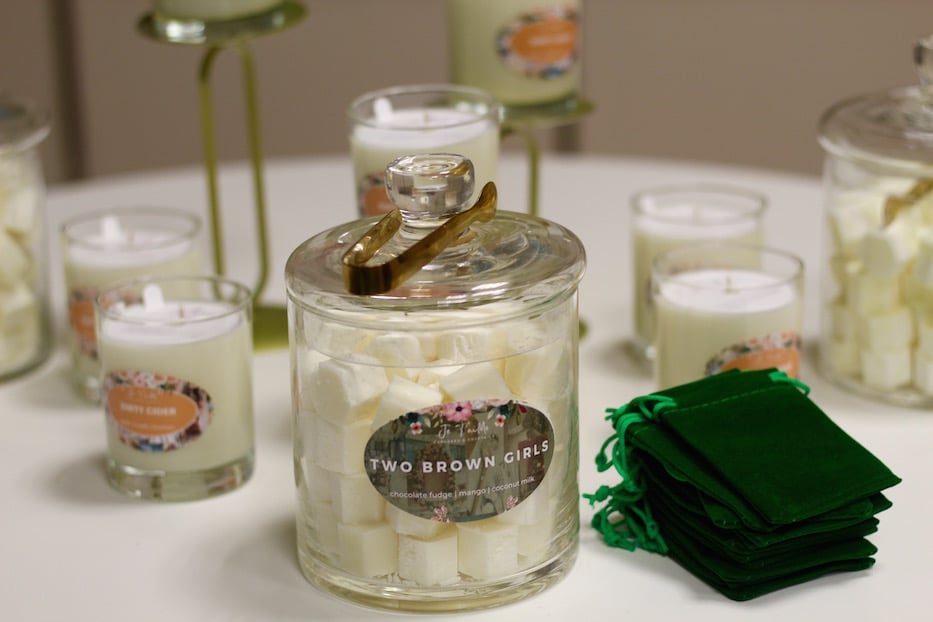 The storefront, which the two decorated entirely themselves, is nestled between a Rue 21 and Shoe Dept. on the side of the mall closest to Target. From the outside, black, vinyl lettering spells out Je T'aime—fittingly, "I Love You" in French, and an homage to three of their family members—against floor-to-ceiling glass, with the decal of a cupcake floating above the words. Monday, a shiny blue ribbon stretched across the double doors, waiting for a giant pair of scissors to arrive. When they did, emblazoned with the words "City Of Milford," both Robinson and Harris seemed to radiate light.
Inside, the walls are painted blue and gold, as if the two have prepared for royalty to step into the space at any time. In addition to dozens of fresh cupcakes, hand-decorated merch includes t-shirts with the Je T'aime logo in black and glitter-dusted gold, neatly printed menus, and champagne flutes perched against cream-colored fabric roses. Glass jars of their signature candles peek out from across the room, from "Two Brown Girls" (chocolate fudge, mango, and coconut milk, named in honor of Harris and Robinson) to the "Queen Elizabeth," named after Harris' mom, LaQuita Elizabeth Kearney.
Well before it was a candle, the Queen Elizabeth also became one of their signature cupcakes. Monday, freshly-baked iterations beckoned with a rosewater-scented, moist vanilla cake base filled with raspberry cream. Delicate, gem-colored swirls of raspberry, champagne and mint frosting danced on top. While there is a small back room for assembly and refrigeration at the store, Harris and Robinson bake fresh batches of cupcakes at CitySeed's Legion Avenue kitchen, and will soon be moving to the Dixwell Community Q House.
"I'm just really excited for them," said Collab Venture Manager George Black, who Harris and Robinson have called one of two "fairy godfathers" with Venture Manager Ndubisi Okeke. "They put in so much work, and they built a really great team. I'm happy that me, Ndubisi and Collab were able to be a part of that team, but we're one component, one cog in a larger team that they have taken initiative to build. And it's been amazing to watch them do that."
"The Wake & Bacon, it changed my life," he added.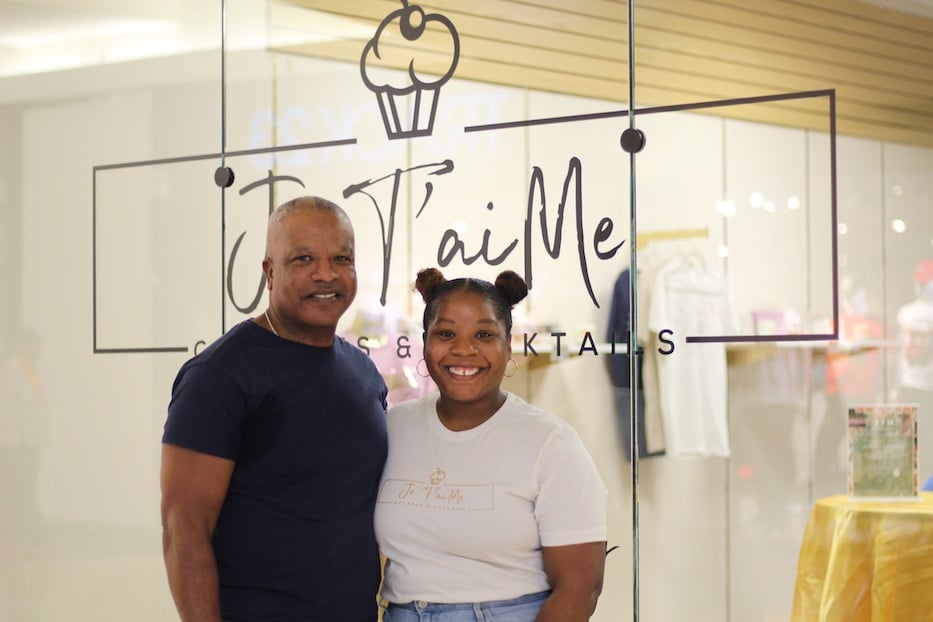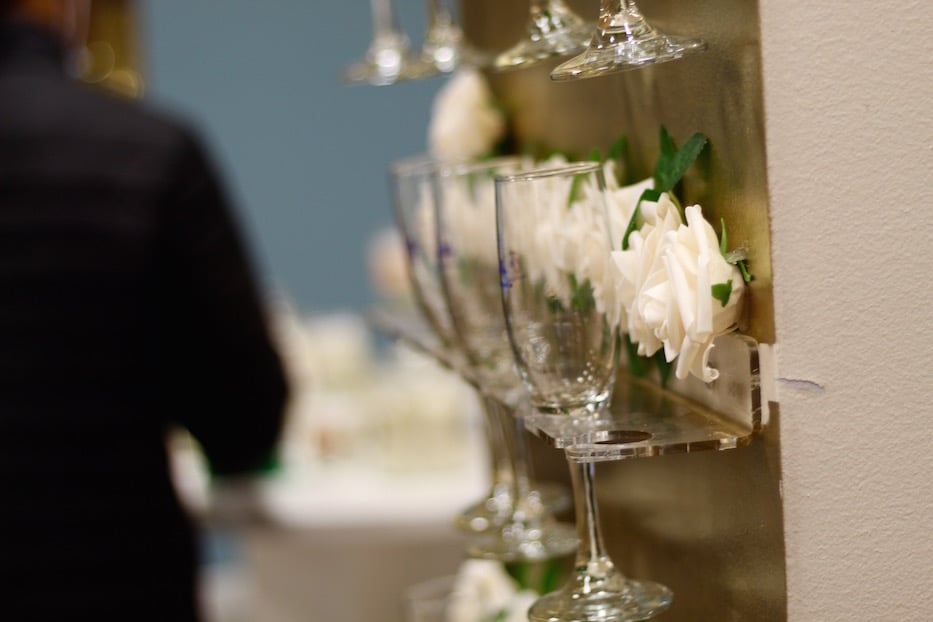 Top: Proud dad Dale Robinson and Laurren Robinson. Bottom: Champagne flutes bear the Je T'aime logo.
It has taken thousands of cupcakes, hundreds of hours in the kitchen, and a village of support to get to the opening. In the past three months, Harris and Robinson have taken multiple vending and catering jobs per weekend—sometimes as many as three in a single day—to raise the $10,000 in seed funding that they needed for the store. On a given Saturday, it's not uncommon to see one of them at CitySeed's Wooster Square Farmers' Market, another at a beer festival or bridal expo several towns away, and a family member helping restock the fridge at Armada Brewing. The two often divide and conquer, splitting up events so that not everything falls on just one person.
Monday was no exception: Robinson buzzed between the front of the store and the back room, sometimes holding large trays of cupcakes as family members jumped in to help. Harris had to leave the opening by 2 p.m. to get to Southern Connecticut State University in time for a cupcake drop off. She had been baking all night with the help of her daughter, Symphany Jones, and a stand mixer that her aunt, Natasha Paige-Harris, ferried over to her at 2 a.m. when her own broke down. She frosted and packed her final cupcake of the day at 9:30 a.m. Less than two hours later, she was putting the final touches on the store.
"I don't know what to say," she said Monday, as she ran the register and took stock of which cupcakes were selling most quickly. "I'm really happy."
Inside the store, family, friends, and dozens of supporters queued up behind a tree of cupcakes, each neatly packed in a white box. At a counter, Harris and Jones pulled out a credit card reader and started ringing people up. No sooner had Harris turned on a speaker than Ed Sheeran's "Shivers" floated over the room, bass pumping. For half an hour, the stream of customers didn't stop. Harris flipped to music from Sheeran to her cousin's group High Caliber, and suddenly the space was on the lip of a sugar-flecked dance party. Musician Conrad Lemonious Harris smiled and began to sway as his music filled the shop.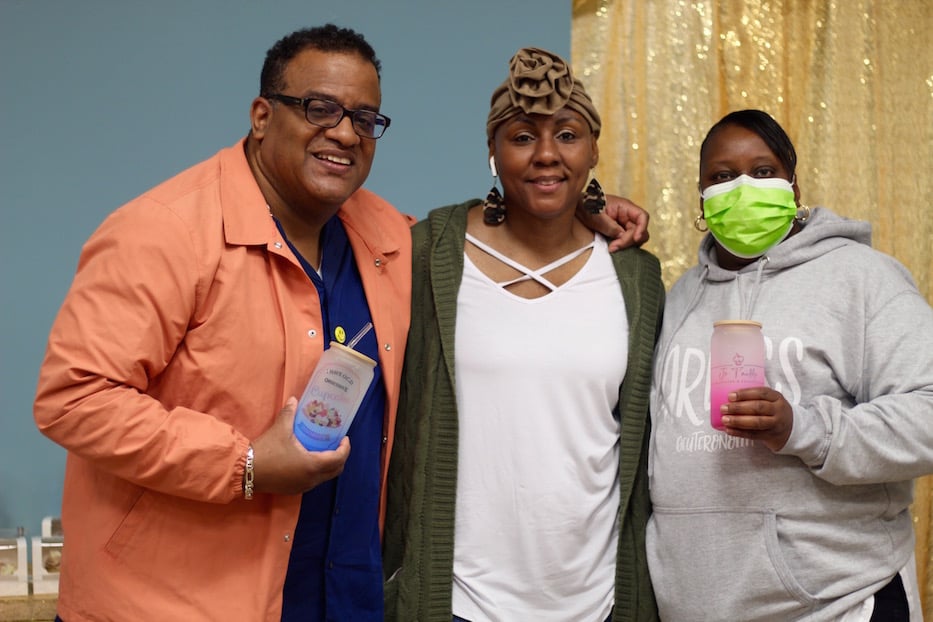 William Yearwood, LaQuita Elizabeth Kearney, and Lisa Kearney.
Standing to the side with matching Je T'aime logo water bottles, Harris' grandparents Lisa Kearney and William Yearwood beamed as they watched sale after sale. Having watched Harris grow up cooking, both Kearney and Yearwood agreed that "there is no greater joy" than seeing her succeed as the storefront takes shape. LaQuita Kearney, who bonded with her daughter through baking, added that she is overjoyed to see Harris following her lifelong passion. All of them are fans of the "Better Be Bourbon," a chocolate-and-bourbon cupcake that yields to bourbon and salted caramel pudding when it is cut open.
In the back room, Dale Robinson and Natasha Paige-Harris packed a steady stream of cupcakes into small boxes, restocking a supply that had run low. Paige-Harris—who had answered her phone at 2 a.m. for a stand mixer emergency—described herself as "beyond proud." Folding cardboard, she remembered watching a pint-sized Harris whip up confections in the kitchen that made the family swoon with delight. By the time she was a teenager, her sweet potato pie was the stuff of Harris family legend.
"When I heard that she was going into the mall, I was like 'Okay, Max is doing it,'" she said with a laugh.
As a proud dad and a chef himself, Dale Robinson said he's loved watching his daughter Laurren's journey to small business owner, in which she has lived up to her nickname "butterfly" several times over. Born in Montgomery, Ala., Robinson came to New Haven by way of the U.S. Navy, and has stayed in the city since. Watching his daughter soar into entrepreneurship while holding down a full-time job makes his life that much sweeter.
"She's my butterfly," he said, tearing up as he spoke. "I chose butterflies because they're always moving and because they're so beautiful. I've been so inspired by the go-getting. The diligence. The barriers being knocked down."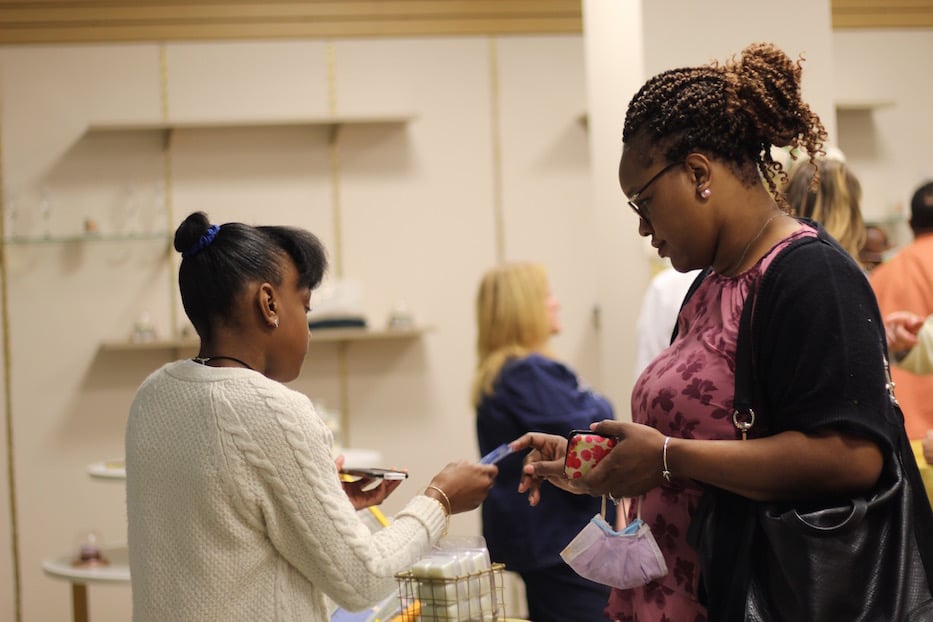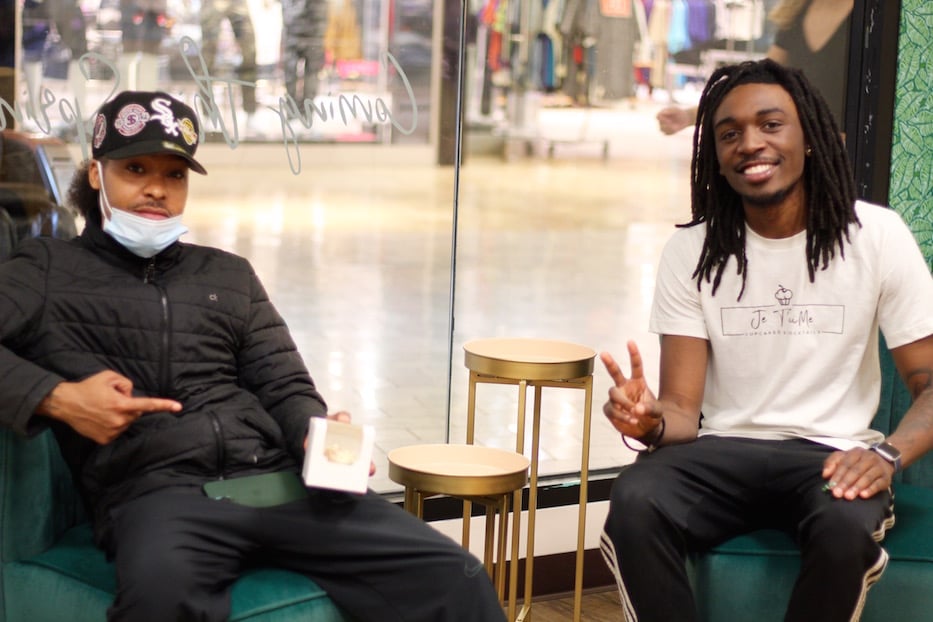 Top: Symphany Jones and Collab Executive Director Dawn Leaks. Bottom: Musicians Rashad McLeain and Conrad Lemonious Harris of High Caliber.
Back inside the shop, cousins, aunts, pint-sized cupcake enthusiasts and fiances floated through the space. At the counter, Symphany Jones took it all in. A fifth grader at Benjamin Jepson Magnet School—she was off Monday for Eid-al-Fitr, as were all New Haven students—Symphony said her favorite part of opening up the business is the baking she gets to do with her mom.
As a champion of buttercream, she often channels her feelings into the cupcakes she's making. If she's happy, for instance, she adds mango and peach to let the world feel the same boundless, bright kind of joy. Her chamomile honey mascarpone frosting, with just a little kick of lemon, has become a fan favorite.
"This is one way we can bond together," she said. She doesn't see it as a coincidence, she added. Decades after Harris became close with Kearney over bowls of batter and slowly heating ovens, she's passing it on to the next generation.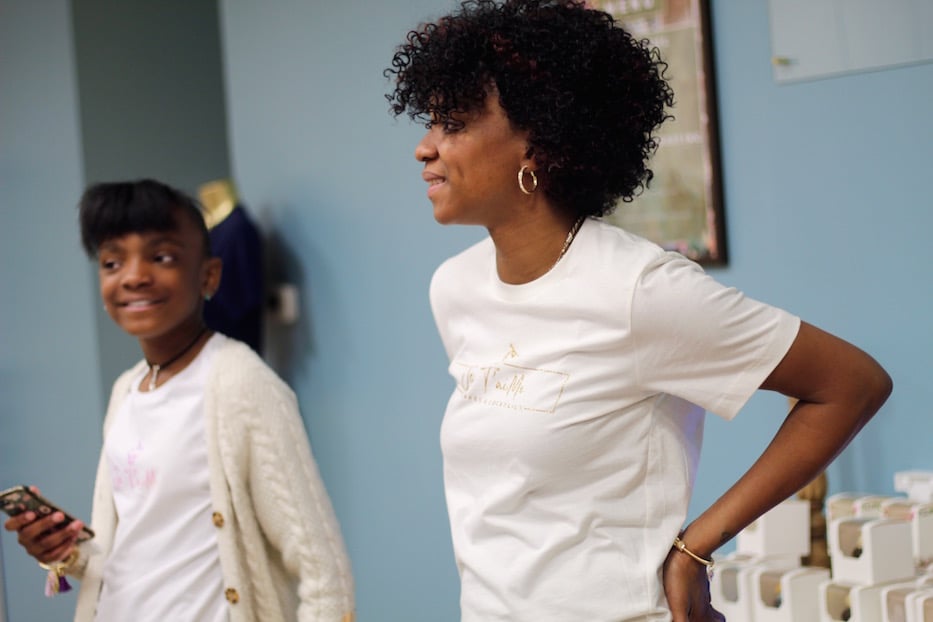 Symphany Jones and Maxine Harris.
The business is part of Milford's push to keep the Connecticut Post Mall, an increasingly rare breed, alive as more people turn to online shopping. For years, the city has worked to keep the mall bustling, offering empty storefronts to local businesses and nonprofits when big box chain stores move out. Je T'aime joins an arts collective, Black Business Alliance (BBA), the Milford Regional Chamber of Commerce, and the theater company Pantochino Productions in setting up shop inside the sprawling mall.
For Harris, who has long wanted a professional space to meet with customers, it fits the bill.
"It adds a vibrant and local connection that changes the whole dynamic of the mall," said Michael Moses, president of the Milford Regional Chamber of Commerce. "I think a regional mall needs to be looking at different businesses like this to survive."
"Approximately 500 new businesses are coming into Milford each and every year, and it's really buoying the rest of our town, it's giving it a lot of vibrancy," added Milford Mayor Ben Blake as he took a tour around the space. "When a cupcake place moves to town, it brings with it all the sweetness, all the things that people love most."
Je T'aime Cupcakes & Cocktails is located in Suite 1215 of the Connecticut Post Mall, 1201 Boston Post Road in Milford, Conn. Visit them at their website.