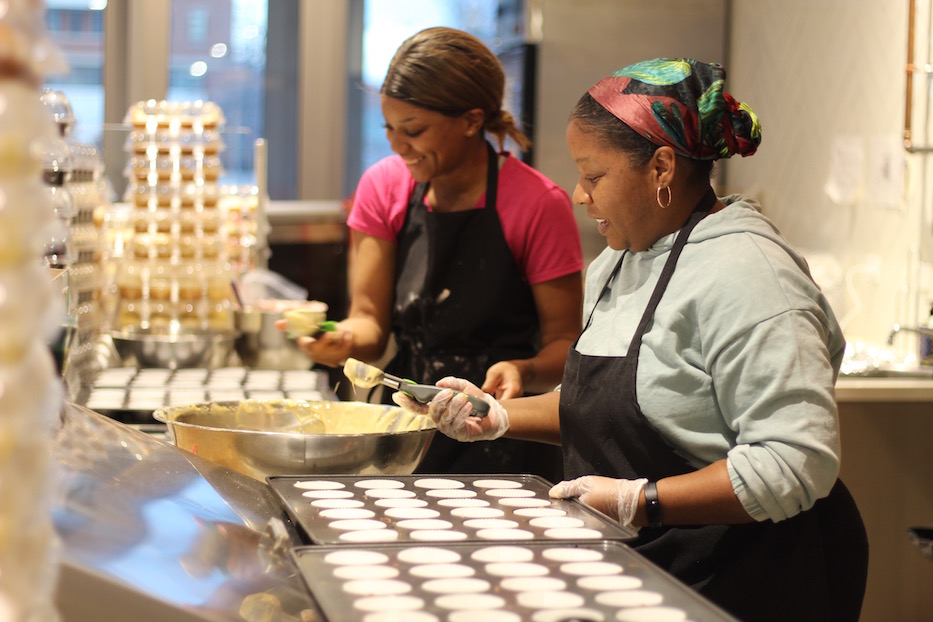 Black-owned businesses | CitySeed | Collab New Haven | Economic Development | Milford | Arts & Culture | Food Business | Culinary Arts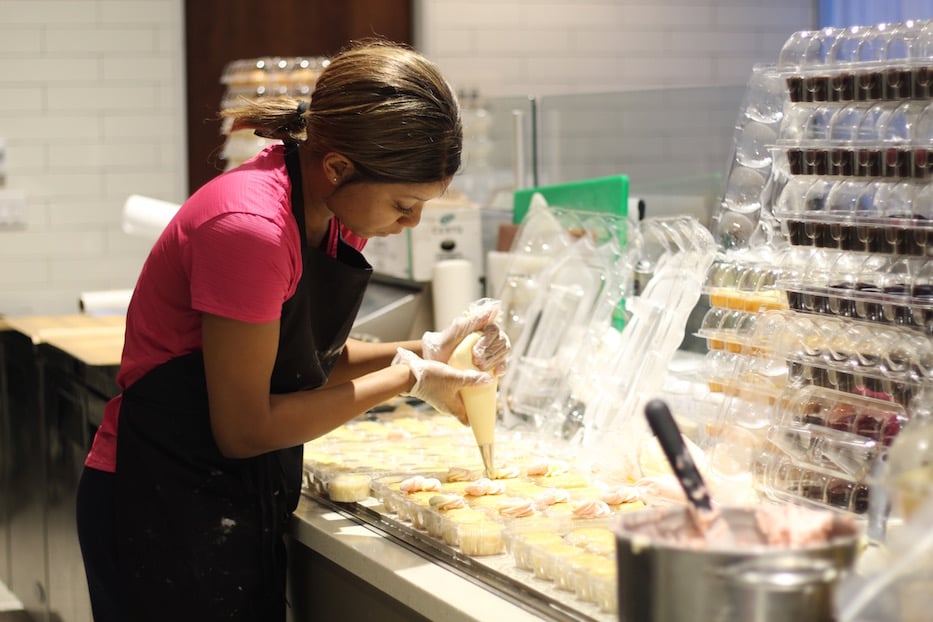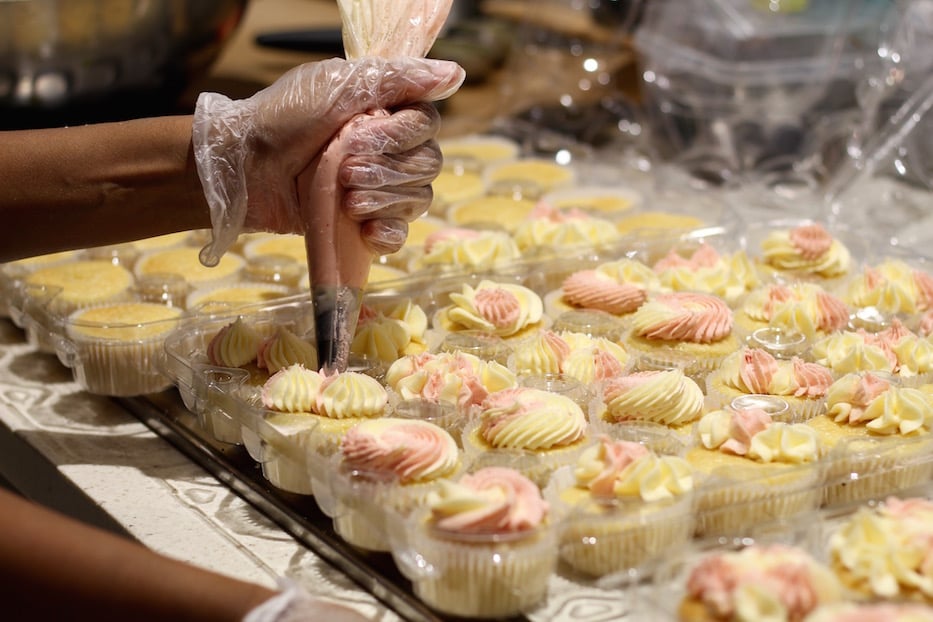 Harris frosts the "Early Morning Bombshell" (orange, peach, and cranberry frosting and a cupcake with Hog River Brewing's Bombshell IPA) on a recent Friday. A one-day festival often means two six- to eight-hour shifts in the kitchen—one to bake and one to frost. Lucy Gellman Photos.
Seventy-two cupcakes stared back at Maxine Harris, their faces domed and sunny in the sugar-scented air. From the stainless steel countertop, the scents of peach and vanilla swirled beneath her. Two industrial ovens clicked their warming lullaby. Deeper into the kitchen, the soundtrack from Encanto bounced from one track to the next. She lifted a piping bag filled with pink and yellow frosting, and turned out a perfect buttercream rose.
With six dozen down, she only had 2,900 cupcakes to go.
Harris is one half of Je T'aime Cupcakes, a New Haven-based small business that sells alcohol-infused and inspired cupcakes at private events and festivals across the state. This spring, she and co-founder Laurren Robinson are preparing to open their first storefront at the Connecticut Post Mall in Milford—and telling a sweet story of two friends' success in the process. Robinson is the company's chief financial officer and marketing director and Harris is the chief culinary officer.
The two have been fielding orders for thousands of full-sized and miniature cupcakes for farmers' markets, craft beer and cocktail festivals, weddings, parties, and holidays to bring their brick-and-mortar dream to fruition. The storefront opens May 2 on the mall's first floor, nestled in between Rue 21 and Shoe Dept. Encore. Support a fundraiser for the space here.
"We're a team," Harris said on a recent Thursday evening, buzzing around the Legion Avenue kitchen that chefs from Sanctuary Kitchen at CitySeed populate during the day. "No matter what. Not only would I not want to do it without her [Robinson]—I can't."
A Love Language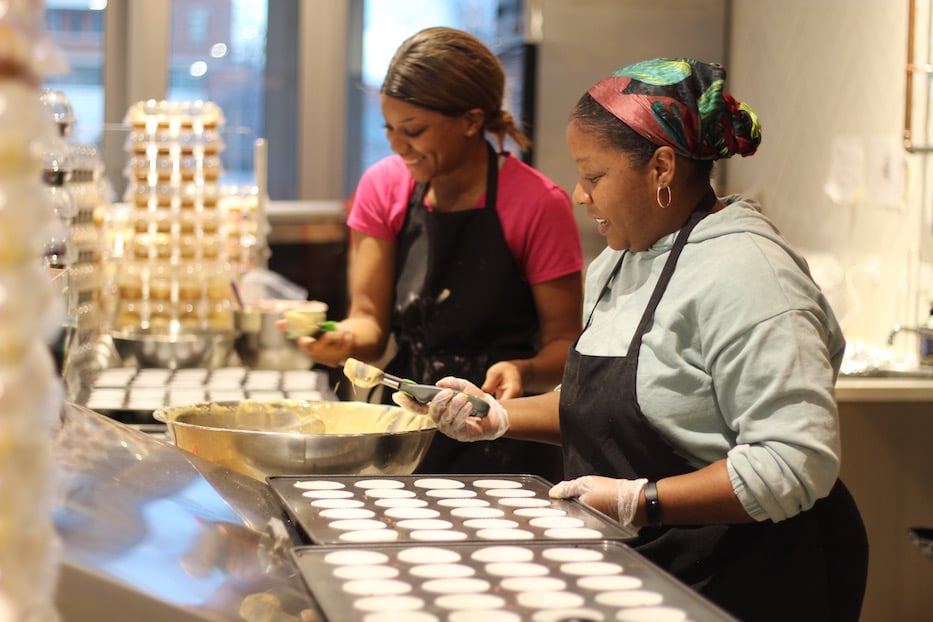 Harris (in the pink) and Robinson (in the green) finishing a batch of the "Early Morning Bombshell" cupcakes. The two spent a recent Thursday baking and Friday both baking and frosting.
Je T'aime has been over 16 years—and countless whisked eggs, bags of flour, sugar, cake mix, and experiments in pastel-colored buttercream—in the making.
Both Harris and Robinson grew up in New Haven, one baking as the other learned about running the show behind the scenes. In the business, Harris takes the lead on baking and meeting with clients while Robinson manages the financial end and designs special menus. Both handle vendor communications, from large-scale beer festivals to couples contemplating cupcakes at their weddings.
Raised by a young mom, Harris started cooking seriously when she was just five years old, because "I was able to communicate my feelings" when she was in the kitchen with her mom. By her thirteenth birthday, she had gotten serious about baking, and her mom and stepdad "were like, 'Let's invest.'" At home, she turned out cakes, pies, and cupcakes in their kitchen, learning the intricate science of scratch recipes and decoration.
It runs in the family, she said: her great-grandmother Thanie, now 93, is also a masterful baker. On holidays and special occasions, her family still holds a bake off, in which the most talented family member wins. She's learned tricks of the trade from her uncle Maurice, who has taken the baking crown a number of times.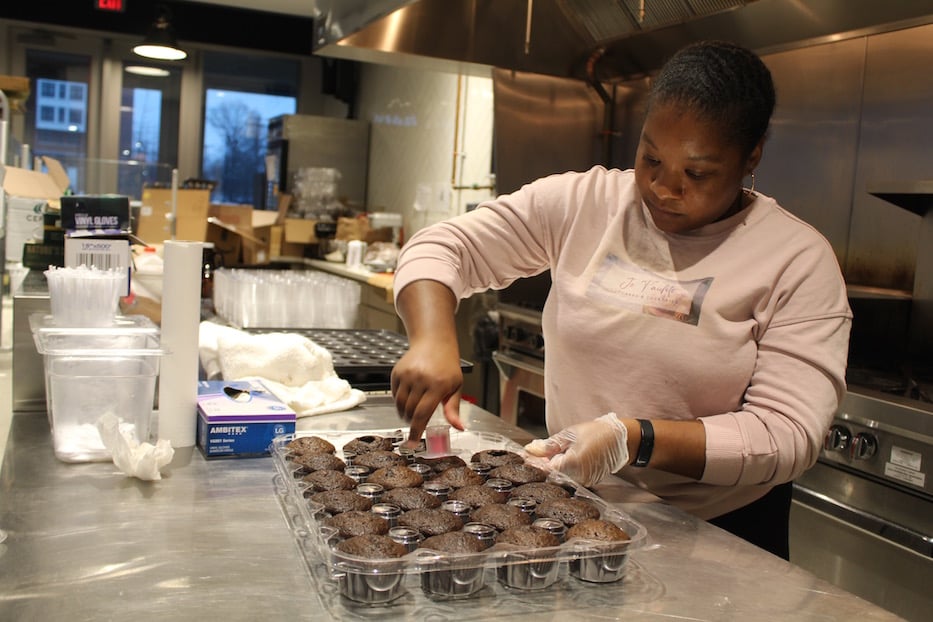 Robinson coring the "Imperial Stout Cupcake" before filling and frosting are added.
Meanwhile, Robinson liked "being a big helper," whether it was in the kitchen or elsewhere around the house, she said. As Harris was drifting into a youthful culinary ballet, Robinson gravitated toward drawing and design, and later finance and business. The desire to help followed her from the house to the classroom. "It's how I was raised," she said. She credits an aunt and uncle, Judy and Miles, as particularly influential in her young life.
New Haven was the secret ingredient that brought their worlds together. In 2006, the two friends met during a track and field camp at the Yale Bowl. It was the summer before high school—that time when the world is full of possibility—and they clicked. Originally, "I thought she was gonna be my summer friend," said Robinson with a knowing smile. When both ended up at Hill Career Regional High School, they became each others' confidants and cooked up business ideas together.
Years before baking was ever on the horizon, they launched a dance group called Code Red. They talked about event planning and creative event spaces. Harris, whose baking star was rising, would call Robinson if she wanted a hand in the kitchen.
After high school, the two remained close even as they attended different schools, started families, and picked up jobs that ranged from bartending and dining services to finance administration. In 2020, Harris was doing event planning and pregnant with her third child when the pandemic hit New Haven. It brought everything—including the fact that she had just applied for a line of credit—to a shuddering stop. After she gave birth, she fought the heavy, often isolating weight of postpartum depression with a familiar sight: her favorite sweet ingredients.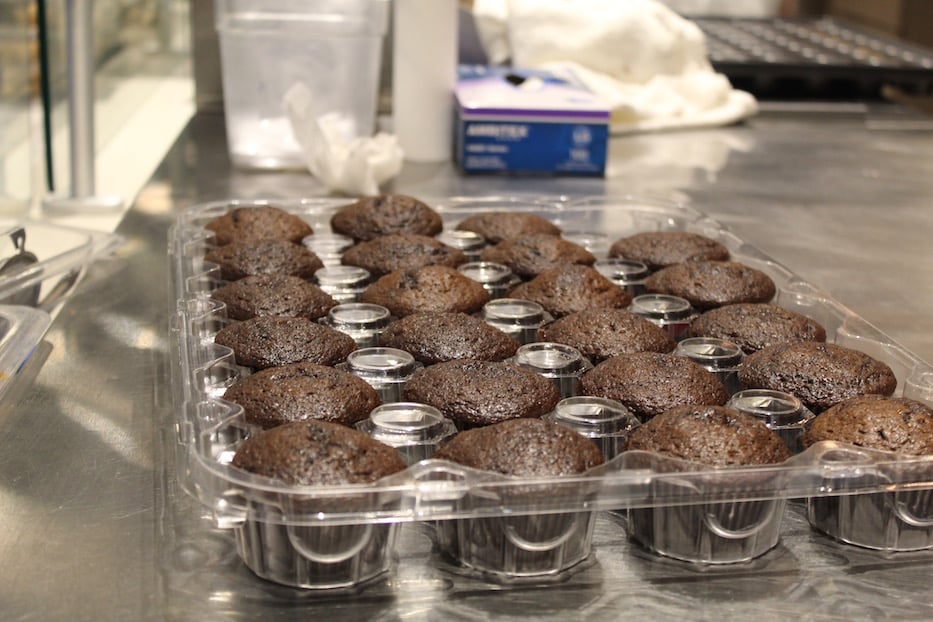 "I reverted to baking, where I felt safe," she said. People would come over to check in on her, and find dozens of baked goods lining the countertops. At some point, a light went off in her head. "I brought the idea [of a baking business] to Laurren, and she was like, duh."
Originally, the two named the business JTM, after Judy, Thanie, and Miles ("It's almost like a little Easter egg in our name," Robinson mused). After saying the name multiple times, both noticed that it sounded like "Je T'aime"—the French for "I love you." JTM became "Je T'aime" as a nod to the sweet language that both of them had taken in high school.
In early 2021, the two became part of the Food Business Accelerator by CitySeed and Collab, a program that teaches early-stage entrepreneurs how to turn their culinary ideas into small food businesses. They worked closely with Cara Santino, food entrepreneurship program manager at CitySeed, as well as several colleagues that they met through the program. Both praised Venture Managers George Black and Ndubisi Okeke as "our fairy godfathers in the beginning," who answered questions on everything from specialized business plans and official titles to advice on finding and renting incubator kitchen space in the city.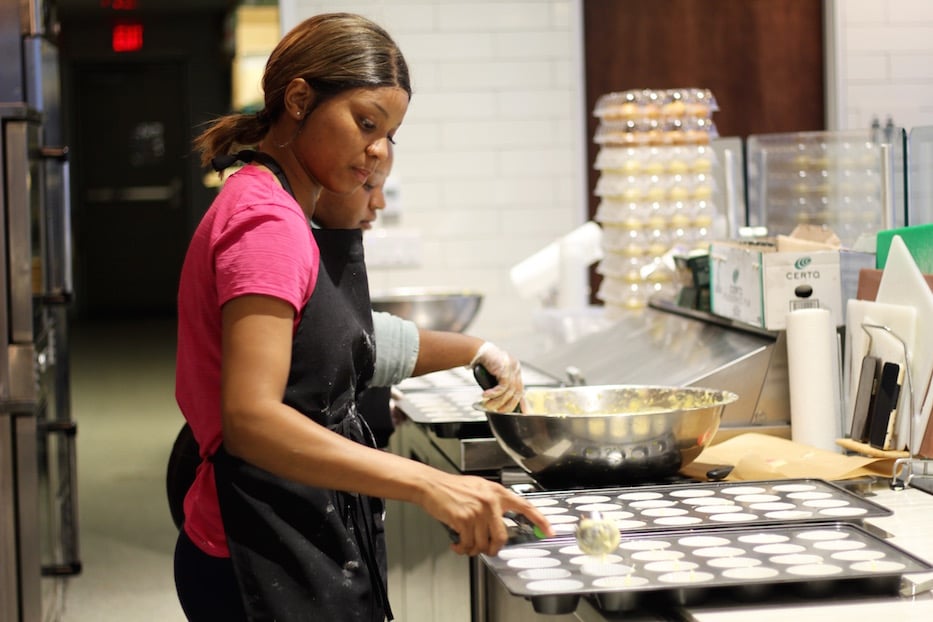 As they attended sessions with Collab, they started to grow Je T'aime's menu with their own family recipes—a banana pudding cupcake with a pie crust on the bottom was an early favorite—and a number of alcohol-infused treats that made their work totally unique. There was, for instance, the "Russian Tres Leches" (think of the sweet, milky cream of a Tres Leches cake and the syrup kick of a white Russian cocktail) and the "Manhattan," inspired by the eponymous cocktail (bourbon, vermouth, bitters) and dusted with 24-karat gold. Both left mouths watering across the city during a virtual pitch day for the business last year.
Not all of their cupcakes include alcohol: there are also flavors like lemon, strawberry hibiscus, autumn spice, and coconut passionfruit. The two use plant-based ingredients from the cake to the buttercream frosting, including freeze-dried fruit that gives batches their tang, color, and sweetness. That process sprang to life on a recent Thursday, as they portioned out eggs, vegetable oil, cream, and cake mix into stainless steel mixing bowls. It was going to be a long night, Harris said—each bowl holds enough batter for 96 cupcakes.
Paired with mentor Jason Sobocinski, whose culinary footprint includes Caseus, Olmo, Black Hog Brewery, Ordinary New Haven and most recently Haven Hot Chicken, the two also made inroads with local food vendors and continued to grow the business last year. By spring 2021, they were selling their confections at Ordinary downtown and Ricky D's Rib Shack in Science Park. From there, it has flourished into a full-fledged catering operation.
It's a family affair, Harris added. Her 10-year-old daughter, Symphany Jones, has a knack for dreaming up flavors, and bakes with her mom as Je T'aime's first mentee and apprentice. Her chamomile honey mascarpone buttercream frosting, folded with a lemon zest, has become one of the business' favorites as it grows. Harris' two toddlers are also expert taste testers (the cake bases are non-alcoholic), because she can count on them to be honest.
From Imperial Stout To "The Scorpion"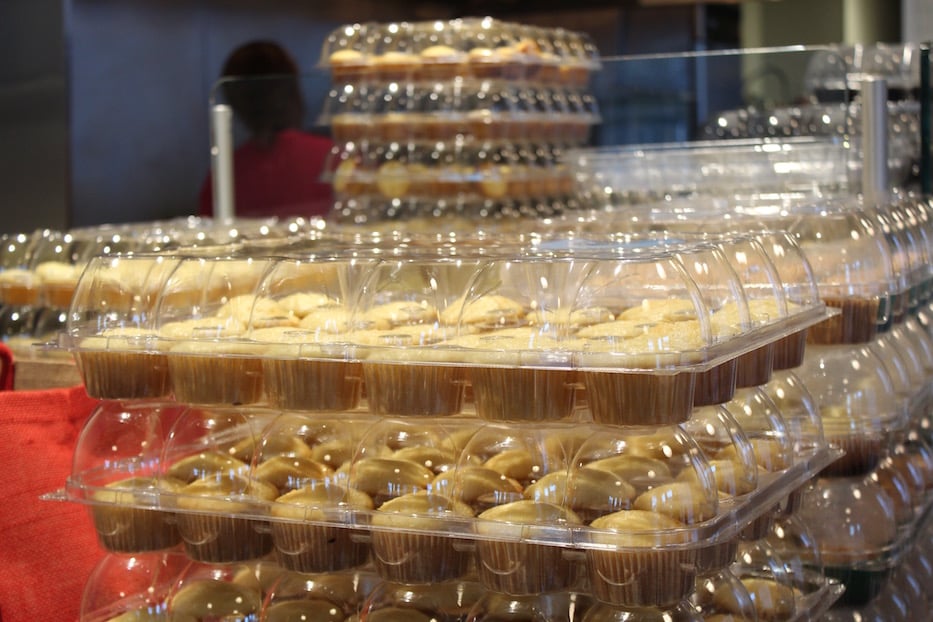 The business' strength and greatest source of excitement, Harris said, is experimenting with flavors. Each time she and Robinson get a new order, they think of how to marry a cake base and not-too-sweet blessing of buttercream with everything from freeze-dried fruit and whiskey bourbon to light, funky orange and grapefruit sours. For a recent Irish festival, Harris turned out cupcakes flavored with Irish whiskey, stout, and a green tea Matcha the color of fresh-cut grass. When she got a call for her first Purim party, she started researching Hamantaschen and started playing with triangular cake shapes.
There is nothing she hasn't been able to do—including a fresh, creamy avocado and chocolate buttercream that is Robinson's favorite. After connecting with New England Brewing Company's (NEBCO) ​​Jamal Robinson last year, that has extended to beer-infused cupcakes, where Harris performs alchemy with beer reductions, fruit purees, and sugar-flecked boozy pairings that might fall bitter and flat in any other bakers' hands.
That work recently brought Je T'aime a 3,200-cupcake order for the Connecticut Craft Beer Festival, held at the end of last month at the Toyota Oakdale Theatre in Wallingford. After getting the order (1,200 regular cupcakes and 2,400 miniature cupcakes), the two built a menu including an "Imperial Stout Cupcake" (chocolate raspberry and avocado frosting with a cupcake with NEBCO's imperial stout), "Early Morning Bombshell" (orange, peach, cranberry and mango flavors and Hog River Brewing's Bombshell IPA) and the "Scorpion" (pineapple upside down cake with orange buttercream, light and dark rum, and Alvarium Beer Company's Scorpion sour).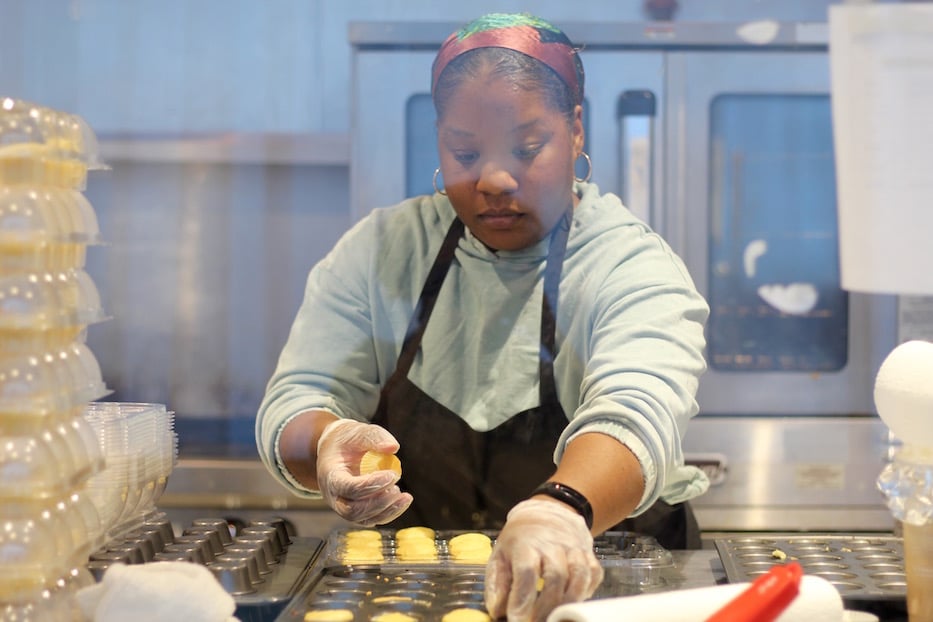 As they loaded plastic cupcake carriers, stainless steel mixing bowls, baking sheets, bags of cake mix, and hundreds of eggs into the Legion Avenue kitchen on a recent Thursday, the two prepared to pull two six-hour shifts to finish the order. Normally, they spend one day baking, and return the next day to frost. Any cupcakes that they don't sell—of 3,200, they ended up selling roughly 700—they are able to freeze and reuse.
Harris set up an assembly line, precise as she calculated the number of eggs and cups of milk and oil that would go into each batch. Behind the bowls, she set down bottles of rum and growlers filled with hours-long reductions of NEBCO's Imperial Chocolate Stout and Hog River Brewing's Bombshell IPA, simmered down to syrupy consistency and mixed with a peach puree for sweetness. On a shelf below, dozens of bags of cake mix waited patiently for their moment to shine. Gem-colored bags of freeze-dried and powdered fruit, which get mixed into frosting, waited at the ready close to two mixers in the back.
Flipping through her phone, Robinson found the soundtrack to Encanto and turned on Sebastián Yatra's "Dos Oruguitas," starting to slow dance her way through ingredients. When they bake, Harris and Robinson listen to musical soundtracks—Encanto, Vivo, The Greatest Showman and Hamilton are some recent favorites.
Harris hummed along, her shoulders swaying even as she mixed her first bowl of batter, and carefully doled out half-cup scoops into waiting baking sheets nearby. As she slipped the first tray into the oven, she noted how important it was to mix the wet ingredients before the dry ones made an appearance. The ovens made a low humming sound beneath her, as if they were agreeing.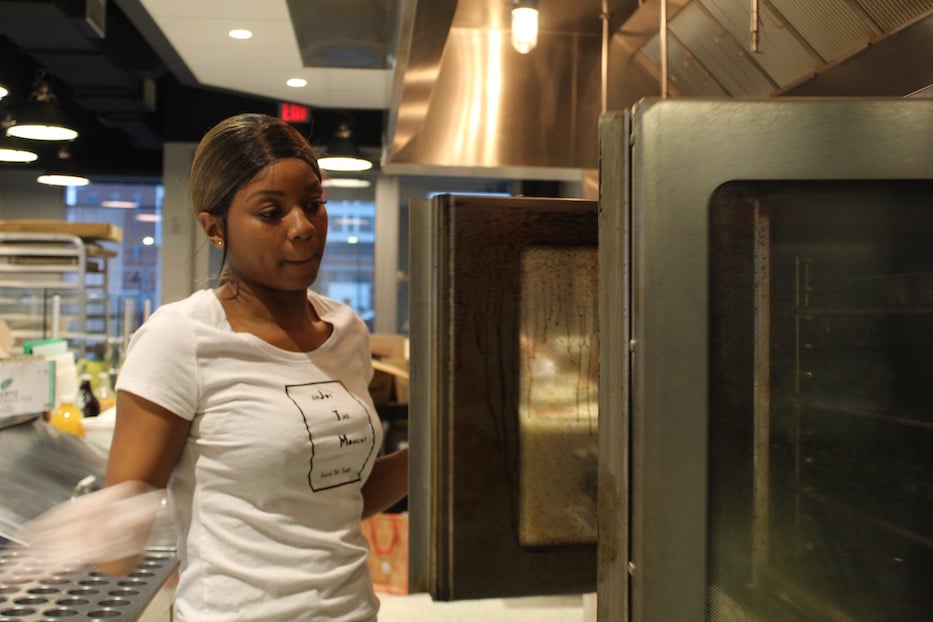 It took time for the two to get into a rhythm, Robinson added, but they've figured it out. Later this month, she and Harris will be moving Je T'aime to a larger incubator space at the Dixwell Community Q House, where the mixers alone hold 20 quarts. The same week, they plan to soft open in Milford.
"Hello!" Harris chimed in as a phone alarm went off, and she carefully opened the oven door to a breath of warm, chocolatey air. Inside, 48 cupcakes looked back, their shiny brown tops catching in the light. She inserted a toothpick and watched as it came out clean. Just moments later, one revealed itself in layers of flavor, a malty beginning giving way to deep, not-too-sweet chocolate and a springy crumb.
As she mapped out the avocado-raspberry frosting she would later add, Harris said that she is proud of how often Je T'aime is able to convert patrons who insist they don't like a particular flavor, and then realize they just haven't experienced it fully.
"We're like mythbusters with flavors," she said. Beside her, Robinson pulled out a doll-sized cupcake corer and got to work. In addition to frostings, Je T'aime has become known for mousse- and jam-filled cupcakes.
Shattering Sugared Ceilings
If they are myth busters, Harris and Robinson are also into shattering sugared ceilings. This spring, the two have catered multiple events per week to cover the costs of opening a store. After a wedding expo, Irish festival, Purim party and beer expo in March, they planned their menus for an "April Sours" festival, event at Southern Connecticut State University, bacon and beer festival in Massachusetts and celebration of women artisans at NEBCO.
They hold near-weekly pop ups at Alvarium Beer Co. and Hog River Brewing, and sell their goods at the Wooster Square Farmers Market. From the Craft Beer Festival last month alone, they were able to add "three more breweries to our roster," Harris said.
"The passion is there," Harris said. "Like yes, we're running a business, but we're making something that we're passionate about."
It's worth it, she added. Because CitySeed's kitchen is a shared space, the two aren't able to conduct their business there, and often meet with clients for tastings at Harris' Westville home or a nearby business in the neighborhood. "We couldn't expect people to take us seriously if we don't have a legit space," she said.
It's part of how Harris also hopes to add to a baking landscape that is collaborative, rather than competitive. When she's not on the clock for Je T'aime, she still frequents her favorite bakeries in the city, including Four Flours Bakery, Katalina's, and Julia's in Orange. Each time she walks in, she knows she's supporting a small business owner just like herself, who started out with spun sugar and scratch baking in a home kitchen.
In the kitchen, she slipped another two baking sheets into the oven and looked over her handiwork, checking off items on a mental checklist. Dusk was falling outside; Encanto had flowed right into the soundtrack to Vivo. She danced to the beat, arms free for a moment. Then like clockwork, she turned back to the ingredients, picked up the scoop, and got back to work.
Learn more about Je T'aime at their website. The storefront opens May 2 on the mall's first floor, nestled in between Rue 21 and Shoe Dept. Encore. Support a fundraiser for the space here.