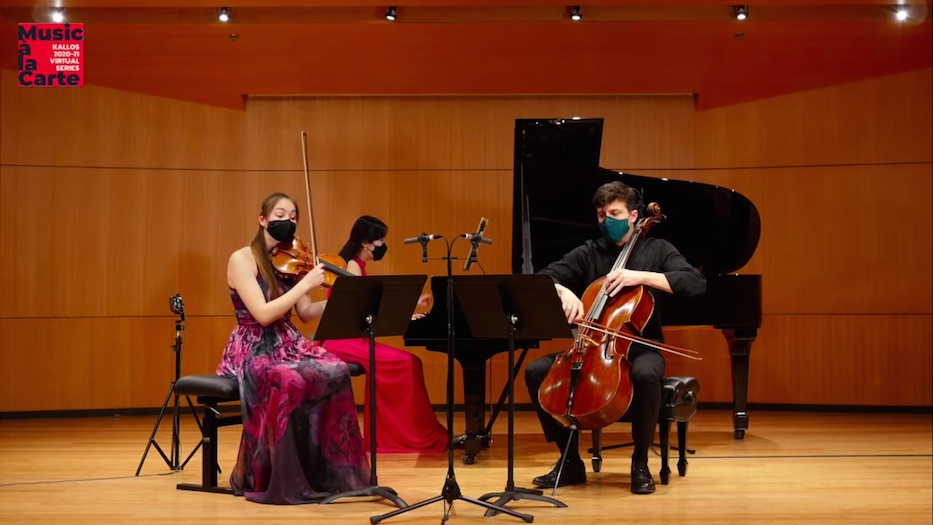 Music | Arts & Culture | COVID-19 | Kallos Chamber Music Series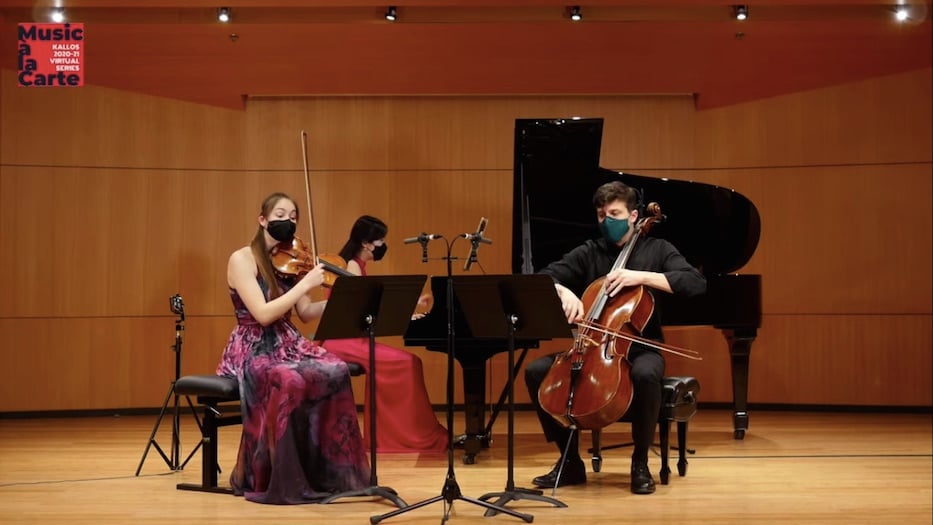 Screenshot from YouTube.
Piano and violin were aflutter. Violin sang out, welcoming in the first signs of spring with a rising, jubilant cry. Piano chirped, climbed, and mimicked in return. Cello clamored to get in on the action. An ocean away in Père Lachaise Cemetery, composer Jean Françaix did a little pirouette six feet under the thawing ground, and settled back in for the night.
The Kallos Chamber Music Series returned Monday with Françaix's buoyant Piano Trio in D major, part of its third Music à la Carte program of the season. The virtual, three-week lineup of composers includes Wolfgang Amadeus Mozart, Françaix, and Robert Schumann. Titled Radiant Blossom, the concerts feature Min Young Kang on piano, Geneva Lewis on violin, and Joshua Halpern on cello. While the series has New Haven roots, the concerts were recorded earlier this year at NV Factory in New Jersey.
The concerts run from March 22 through April 5 online. Ten percent of proceeds go to the Community Fund for Women & Girls, in an effort to support New Haveners a year into the coronavirus pandemic. Tickets and more information are available here.
"I believe this program can bring hope to listeners," said Kang, who launched Music à la Carte last year as a way to keep performing during Covid-19. "There is this incredible energy from all three pieces. This piece has so much fire and so much heart … it is definitely a hidden gem in twentieth-century repertoire. It has to sound very easy and effortless."
Françaix's Piano Trio in D major is a piece that embraces this season of new growth from the moment bows touch strings and fingers grace keys. Its opening is bright and propulsive, as if the composer is winding up a little toy that can do tricks in time with the music. No sooner has the air crackled with excitement than the three instruments are bolting forward, racing right out of the gate. Written in 5/8 time, the work moves so quickly that one's ears must make an effort to keep up.
If they do, they are well rewarded for it. To a warbling suggestion from the violin, piano responds joyfully, trying to mimic the instrument as it adds a playful trill. Soon, the two are dancing with each other, in a sort of dazzling, quirky foxtrot where they try not to step on each other's toes (and, in a feat of musical maneuvering, succeed). Cello is the third wheel until it's suddenly not, holding everything in place as the music swirls and slows methodically. The instruments become old friends, settling into a conversation they've had many times before.
As the piece unfolds, a listener can conjure a whole scene: a sun-soaked day at the height of spring, where everything is coming back to life all at once. Or maybe that wind up toy, doing mechanized backflips until it unexpectedly grinds to a halt, then springs right back into action. The delight of the work is that it keeps a listener guessing: Françaix starts with a kind of witty repartee among the instruments, then explores what each of them can do. He pulls apart his own phrases, and then stitches them happily back together.
It's a varied cycle that slackens, quickens, and repeats like a merry-go-round in a house of mirrors. In the second movement, the cello becomes a total flirt with the violin, sharp and responsive until the instruments are nearly moving in unison. By the fourth, it is cross about something that the piano has said, and trying to think of the right rejoinder. Throughout the piece, piano dazzles, so punchy and full of verve that even the moments of silence are shocking. Monday, Kang made it feel weightless, as if liftoff from Crown Street to another, more curious universe was entirely possible.
From the recording studio, members of the trio brought the composer to life, injecting a kind of lightness into the chilly spring night. In the absence of facial expressions—all three wore face masks, in what has become a pandemic norm—they devised a language of sharp and softened head nods, wide-eyed exchanges, shoulder shrugs, and deep, furrowed brows.
At the beginning of the first movement, Lewis lifted her entire carriage triumphantly, as if welcoming Françaix to the space. By the third, her whole spine was bending forward with the music as it seesawed and wound upward. In response, Halpern played as if the piece had electrified his whole body, reeling the emotion in then throwing himself into it as the composer demanded.
Monday, it came across as a welcome reminder of beauty and lightness in a month—and year—that has been incredibly violent for both the city and the country as a whole. Not unlike humans trying to coalition build, the instruments are extremely codependent—Françaix's system of singsong call-and-response ensures it—but they also get time to share their distinct voices. If one listens closely, it's nearly impossible not to get swept up in whole layers of ebullience.
"One of the defining characteristics of Françaix's music is his sense of humor, and we really took that to heart, I think," Lewis said at the top of the concert. "In our whole rehearsal process, we were just laughing the whole time and having so much fun, which I hope will come across as you hear us performing this piece."
It does come across. Françaix's Piano Trio in D major is of a piece with Radiant Blossom, which focuses on works that composers churned out near the end of their lives. The composer wrote his Piano Trio in D major in 1986, 11 years before his death in Paris, France. Mozart finished his effervescent Piano Trio K. 548 in 1788, just three years before his death in 1791. And Schumann wrote his red-hot Piano Trio No. 1 in 1847, nine years before his death. Kang said that in all of them, she hears a kind of fierce maturity that bloomed only when the three had reached the final stage in their careers.
It is also exactly the right for the end of March, when daylight suddenly extends into the early evening and snow and ice disappear from the ground. The piece is not timid, like the first crocuses poking their heads up to see what the landscape is looking like. Instead, it announces itself fully, hurtling in with a force that warrants multiple listens. It is an extremely sunny work, leaving a listener full of light.
It comes at a time when Kallos is also moving into a new stage of development. After the group's founding in New Haven in 2019, the series has continued to adapt and flourish even during the pandemic. This year, Kang is in the process of building a board of directors for the group, which is currently sponsored through Fractured Atlas. She said it has also been a salve in a year that has been economically devastating for performing artists.
"I feel like I kind of got out of the darkness, the dark tunnel," she said. "I think I'm finally out of it. And I think I'm building up momentum for the time that I'll be able to be out in the world again. There are more and more people getting vaccines, and the energy is definitely different."
Now, she is watching the world slowly wake up around her. She has started to think about what outdoor concerts might look like in the summer and fall, as some venues remain shuttered. In an interview before the concert, she noted that the series feels even more sacred this month because of Lewis' violin, a 1714 Stradivarius that belonged to Hungarian violinist Joseph Joachim.
Joachim played Schumann's work during the composer's lifetime. As the group rehearsed his Piano Trio No. 1, which premieres April 5, "it's crazy to think that Schumann might have heard this piece with this particular instrument that she is playing," Kang said. The instrument is on loan from the Colburn School, where Lewis is currently studying.
The Kallos Chamber Music Series returns next Monday with Robert Schumann's Piano Trio No. 1. Find tickets here.