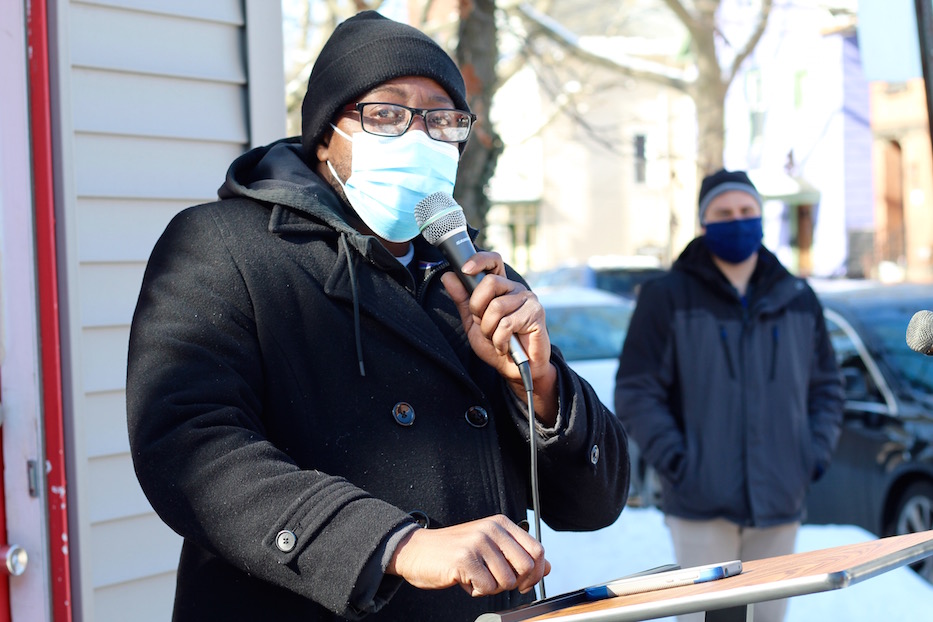 Culture & Community | East Rock | Goatville | Ice The Beef | COVID-19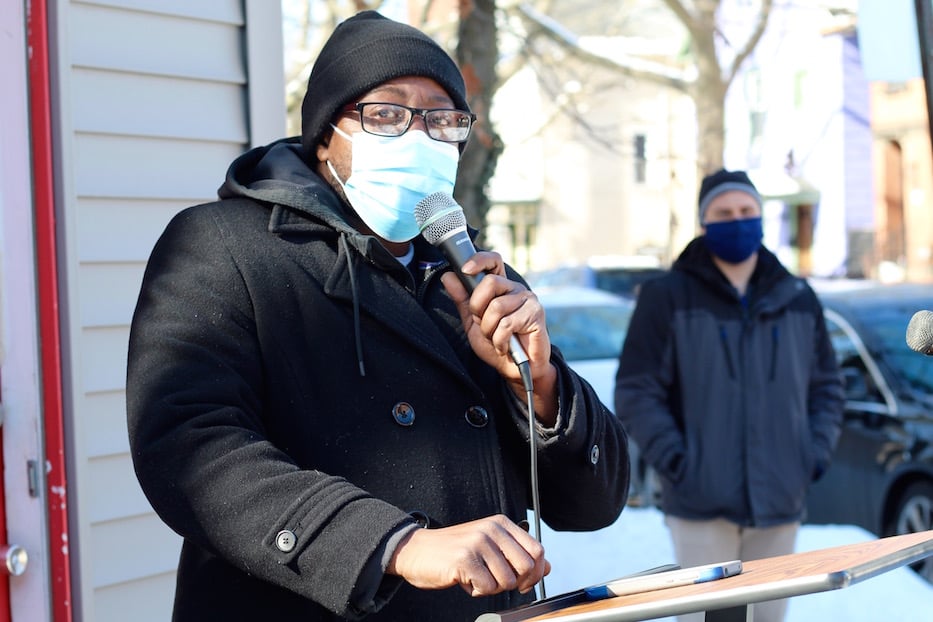 Ice The Beef President Chaz Carmon. Lucy Gellman Photos.
The prayers boomed over Lawrence Street, each hanging in the air for just a moment. For New Haven's safety. For all who loved Kevin Jiang, and all he loved in return. For a city, from its neighbors to its elected officials, to unite against gun violence when any life, in any neighborhood, is taken by a weapon of war.
That call defined a vigil for Jiang, the 26-year-old graduate student at the Yale School of the Environment who was shot and killed Saturday night on Lawrence Street. Tuesday afternoon, close to two dozen friends, faith leaders, and members of the anti-violence group Ice The Beef gathered at the corner of Lawrence and Nash Street to both honor Jiang's life and make an urgent plea to end violence in the city.
"Now, I didn't have to know Kevin to love Kevin," said Ice The Beef President Chaz Carmon. "I don't have to know any of you to love you. I can just love you because you're a human being."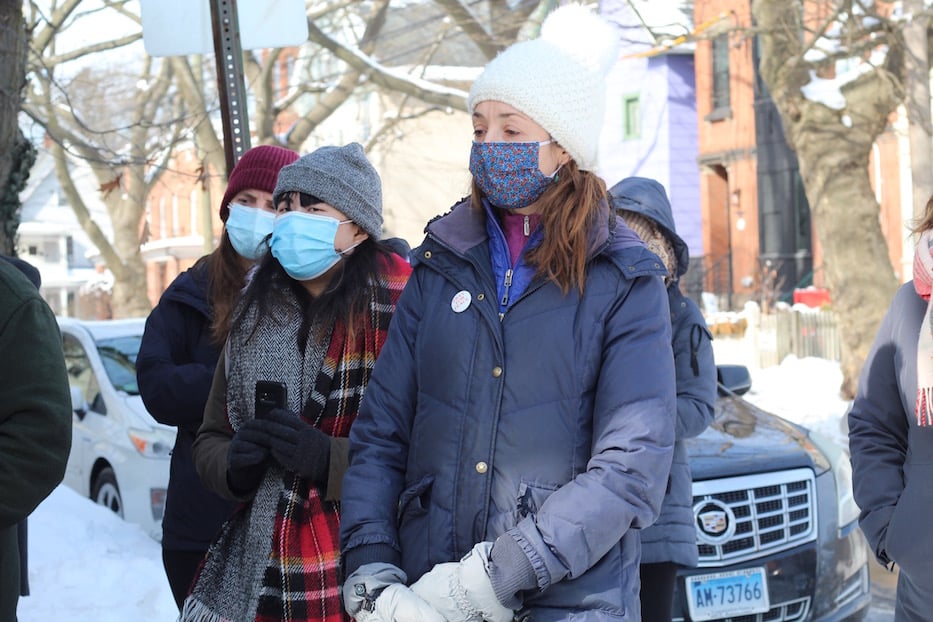 Jiang's murder marks the city's sixth homicide in five weeks. In early January, 50-year old Alfreda Youmans and 42-year-old Jeffrey Dotson were found dead inside a Winthrop Avenue apartment. Five days later, 32-year-old Jorge Osorio-Caballero was shot and killed on Grand Avenue. Two days after that, 31-year-old Marquis Winfrey was shot and killed in Newhallville.
At the beginning of this month, 28-year-old Joseph Vincent Mattei died of gunshot wounds that he sustained in the Hill four days prior. 18-year-old High School in the Community alum Brandon Jenkins, who went missing in December, was found dead in Edgewood Park earlier this month. During the vigil, Ice The Beef Outreach Director Remidy Shareef held a moment of silence for each of them, as well as for 18-year-old Dashown Myers, who was shot and killed last January.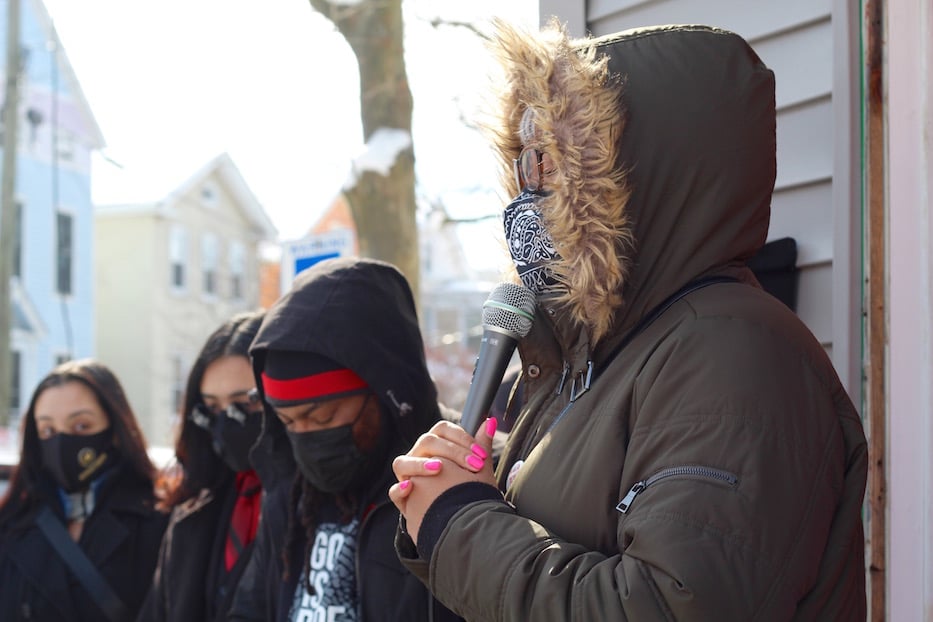 Deniqua Washington: " I ask for your healing, for you to come and for you to hold us accountable in the ways that we use violence against one another."
For roughly an hour, prayer, poetry, and song all carried the same call to unite in a neighborhood where the town-gown divide is often stark. Opening the vigil, Pastor Deniqua Washington said that she was recently reminded of the story of Cain and Abel, brothers in the book of Genesis. When Cain killed his brother in a fit of jealousy, Abel's blood cried out from the ground that it soaked. She bowed her head as she spoke, eyes peeking out from between a mask and fur-lined hood.
"It cried out for reconciliation, for accountability, but most of all for healing," she said. "So God … I ask for your healing, for you to come and for you to hold us accountable in the ways that we use violence against one another. Show us the way that we can move forward and transform this land."
She pressed for healing and accountability not just when a shooting takes place in East Rock, but when violence happens anywhere in the city. She called on news crews and reporters to cover victims of gun violence equally and with an awareness of the whole city. She prayed not just for Jiang, but for all those who have felt the stinging loss of violence take someone from them.
"[We pray] that these stories will be splattered around so that people can realize that we have an issue, and so that it has to change now," she said. "I just ask humbly, Lord, that each of the hearts that are here today, that we want to make a change and we be about that change. That we don't just talk about it but we walk about it. That we become pacemakers that walk boldly and truthfully and with courage."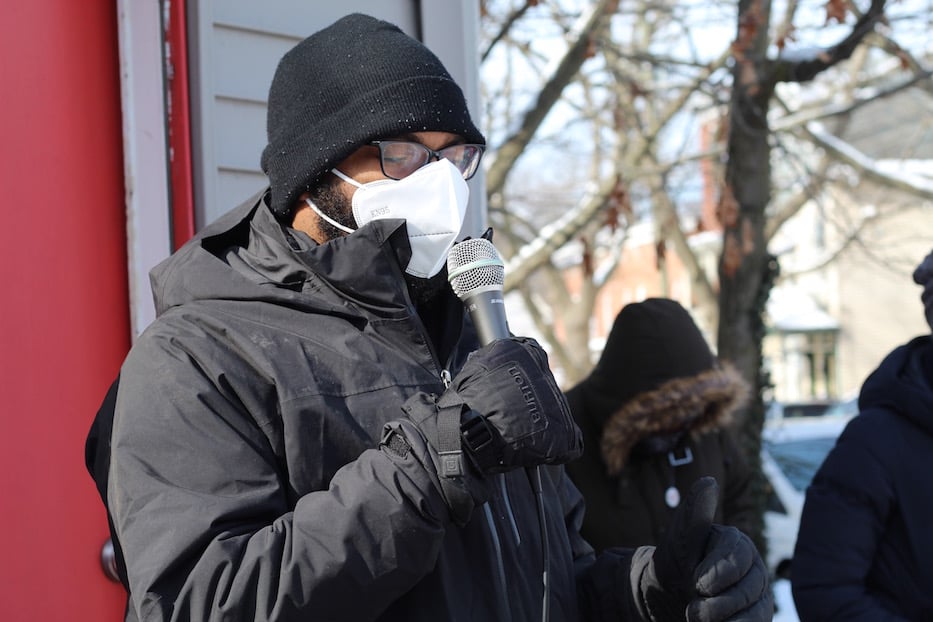 Williams: Where are the good shepherds?
Elm City Vineyard Church Pastor Josh Williams looked to both scripture and the city's geography, including its chiseled up map of policing districts. Lawrence Street sits in District 7—the same district that contains Newhallville, and a Winchester Avenue substation that many East Rock residents have never walked past. Williams said that the contrast of the two neighborhoods, which are separated by Prospect Hill, made him think of a question in Jeremiah: "Where are the shepherds?"
"And there's a question as to, where are the shepherds here, in East Rock, where are the shepherds in Newhallville, where are the shepherds in District 7?" he asked aloud. "And how are people treated in each one? What does the policing look like in each one? We know the lives are all sacred. Each life that's lost in either place in the district is sacred. But there's a question of, are we gonna commit ourselves to be shepherds, no matter where we find the bodies? No matter where we find the lives? No matter where we find the need for peace."
Michelle Phương Ting: "I know hatred festers and shoots, turns brother, neighbor, kin into another target."
Poet Michelle Phương Ting, who is a member of Elm City Vineyard, introduced herself as the daughter of Vietnamese refugees and a former worker in the city's Dixwell neighborhood, where she was a fellow at NXTHVN. She began with a benediction for Jiang, during which she urged attendees to look beyond his service to the U.S. military, Yale University affiliation, and hours of volunteer work to the weight of his sheer humanity. He leaves behind a mother with whom he was close as well as a 22-year-old fiancée who was preparing to begin her life with him.
"I did not know Kevin, but I know war," she said. "I know hatred festers and shoots, turns brother, neighbor, kin into another target. I know the wails of mothers, centuries deep. I know the void crows circle overhead. The rows and rows of locked doors. The beginning of partitions in every fence, floodlight, impulse to bolt up and shut out, to survey the streets for a face to blame."
As she spoke, her words pushed back against the notion that law and order—particularly police, military, firearms, and fences—are what make a community safer. At a moment when the motives behind Jiang's murder remained unclear, she spoke of the associations with racial violence that can arise for historically targeted communities, particularly against the current climate of escalating anti-Asian violence. She recalled the murder of 27-year-old Vincent Chin, who was killed by a white father and son in Detroit in 1982, shortly before his wedding.
The two believed that Chin, who was Chinese-American, was to blame for auto industry layoffs in the city. After Chin's death, they received probation and a fine. She warned against responding to fears, even of racial violence, with escalation of policing, which promises safety to some at the expense of Black, Brown, poor, and immigrant communities. She urged attendees not to succumb to the same culture of white supremacy that has birthed patriarchy, toxic masculinity, and physical violence.
"I know Kevin's life is worth remembering on its own," she said. "But his life was an entire history. And I don't know the reasons behind his death. But I know violence born out of scarcity. Violence wed to violence, that seeks its outlet on the foreign body. The suspicious body. The bodies that American racism needs to keep itself intact. Violence wed to the violence of Alfreda, Jeffrey, Jorge, Marquis, and Joseph."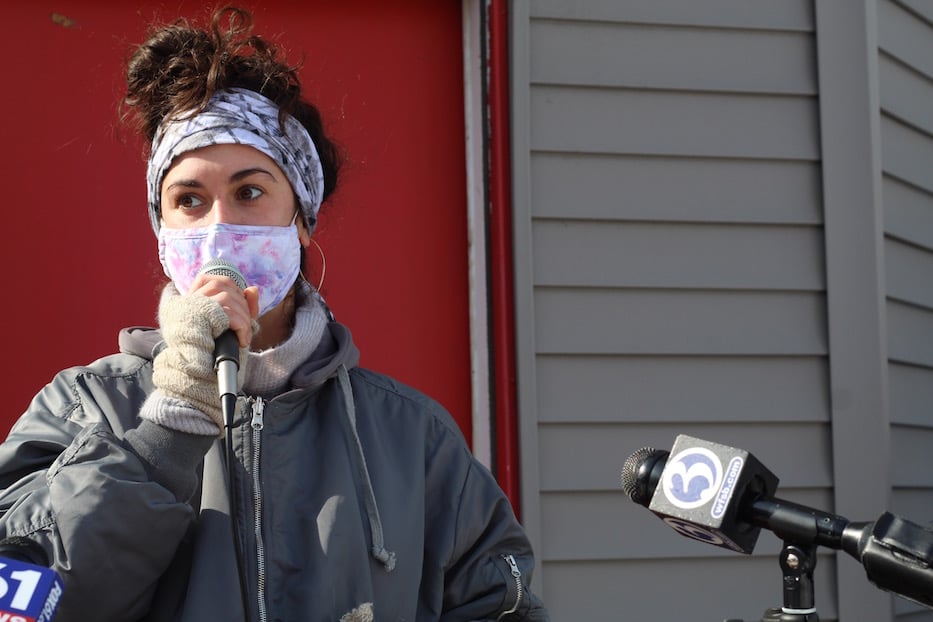 "I'm grateful for the power of community and coming together, and what that could do to prevent future acts of violence to be standing together in the first place."
Ice The Beef member Natalia Katz, who lives in East Rock, recalled the disconnect she felt Saturday night, when she saw flashing red and blue lights and police tape blocking off her street. Just hours earlier, she had joined members of Ice The Beef and community organizers in Fair Haven to rally against gun violence and opioid abuse.
She left the rally feeling empowered to fight violence in the city and ready to support many of the young people who are leading the charge. Then, walking home, she came across the body of a young man lying in the street, surrounded by police. She later discovered that it was Jiang, who had touched hundreds of lives during his 26 years on the planet. When she called Shareef in crisis, he urged her to write down everything she was feeling.
"I'm hopeful that if anything, the tragedy of this event is an opportunity to see that gun violence is existing throughout New Haven, and is not something that has gone to rest," she said. "I'm grateful for the power of community and coming together, and what that could do to prevent future acts of violence to be standing together in the first place."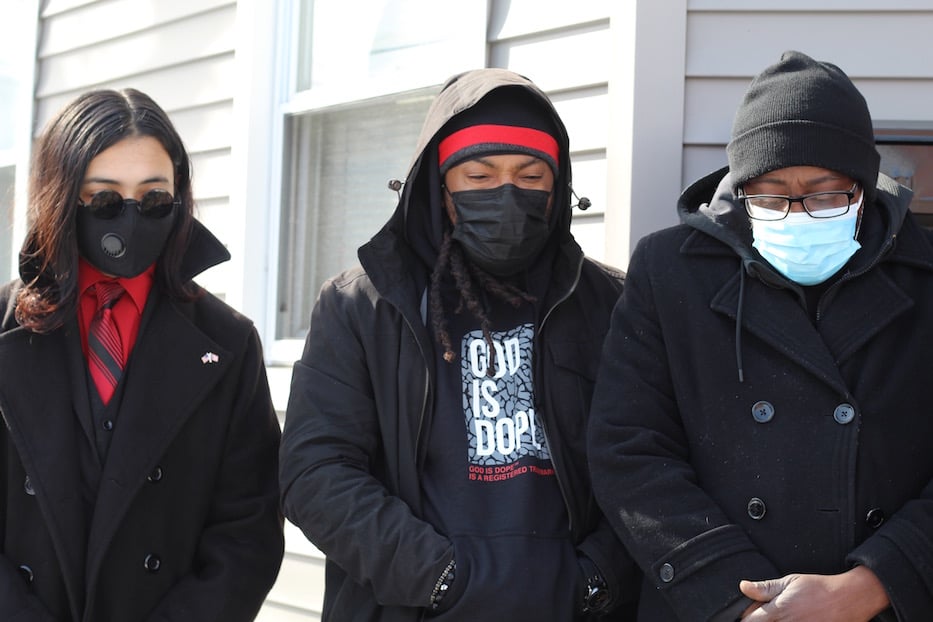 Ice The Beef Youth President Manuel Camacho, Outreach Director Remidy Shareef, and President Chaz Carmon. Marcey Lynn Jones, who is the resource coordinator for the organization, called for better education, better job opportunities, and more Covid-19 relief in a discussion before the vigil.
Ice The Beef Youth President Manuel Camacho also asked attendees to value every life lost to gun violence, regardless of where a shooting takes place. He said that he fears constantly for his two younger siblings and for himself, as a young person who has lost family members to gun violence. He asked attendees to "stand together on the front lines of this battle."
"It knows no boundaries, and it will make itself present anywhere, and at any time," he said. "Why must it take another individual who had a future to be taken for people to come together? To rise up and speak out? To recognize that this affects everyone. To recognize that it's been here."
At the end of 50 minutes, Carmon ended with both music and a call to local, state, and federal officials to declare gun violence a public health crisis, just as the city has recently done with racism. After playing Jay Chou's "Shuō le zài jiàn," he noted that the specter of gun violence is everywhere: Saturday marked what would have been Tyrick Keyes' 18th birthday. Keyes was shot to death in July 2017 on Bassett Street in Newhallville.
"What are we going to wait for?" he asked. "Are we going to wait for another mass shooting in a school? Are we going to continue to wait while people die every day of opioid overdoses? Are we going to wait while children die every day in American streets and our residents die? We have to come together and love as one family … I'm calling on New Haven to make this a health crisis. We gotta do something. We need to come together and see what we can do."