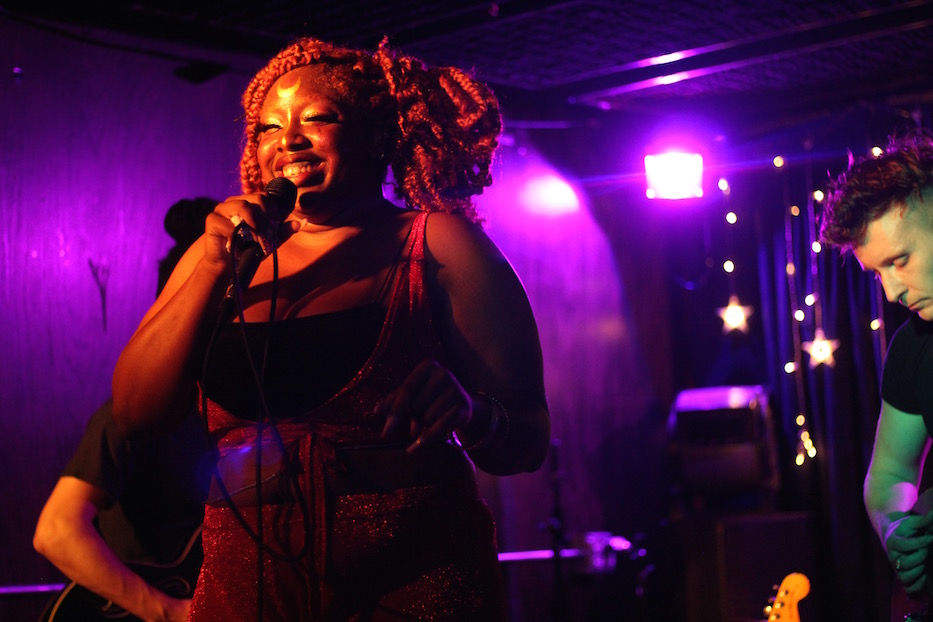 Cafe Nine | Music | Arts & Culture | Ninth Square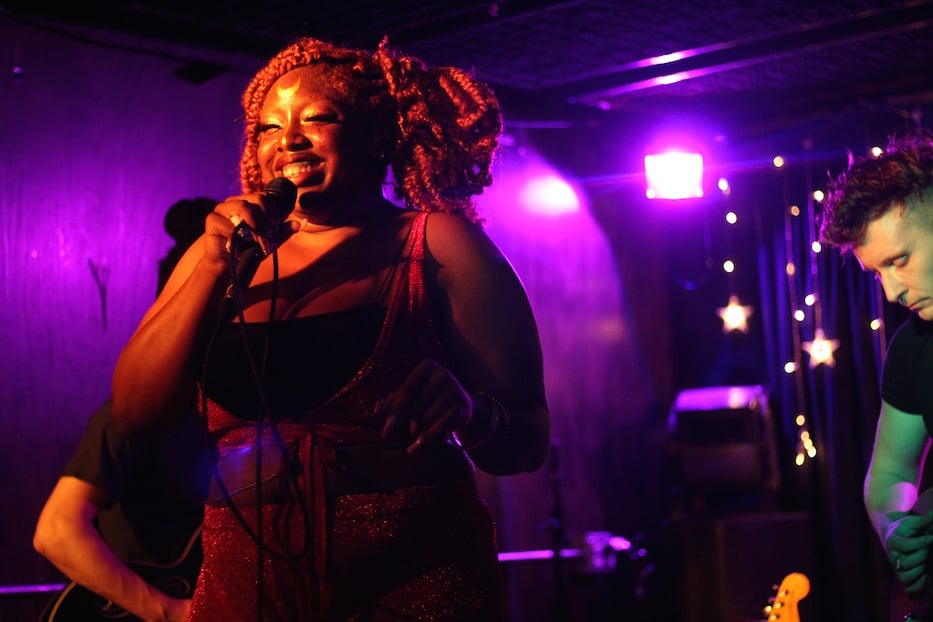 Love'N Co frontwoman Lovelind Richards at Cafe Nine. Lucy Gellman Photo.
As Friday night fell over the Ninth Square, Lovelind Richards started preaching from Cafe Nine's small stage. Twinkling white stars popped from the blue curtain behind her. A gold crescent moon glimmered from her forehead. Brendan Wolf's bass buzzed and hummed beneath her.
"You gotta break free of trauma/You gotta break free of chains/You gotta break free of choices/That you didn't even make," she belted. In an instant, the whole bar was dancing with her.
Friday night, Richards gave a stunning, surprising and at times intimate breakout performance as she and members of Love'N Co opened for Thabisa at Cafe Nine. By the end of their set, Richards not only baptized the stage for one of her musical role models, but left the audience hungry-eared for more.
The evening doubled as a bittersweet goodbye to musician Dylan McDonnell, who plays flute and sax with Thabisa and band Phat A$tronaut and will be heading to graduate school in Philadelphia this month.
"Thank you so much for having us," Richards said early in her set, hands on her cheeks as attendees cheered, squealed and stomped in response. "We're so excited to open for Thabisa. We're so excited to be at Cafe Nine. We're so excited to be outside!"
Love'N Co includes Richards on vocals, Wolf on bass, Lamar Smith and Ilya Gitelman on guitar, and Eli Farland on drums. Friday, Richards lifted the mic off its stand and kept it in her hands, her whole body angled around it as if it were an extension of herself. She told the audience that during the pandemic, she had to learn to sit with silence, which ultimately "was a blessing." It both fed her as an artist and made her grateful to be back in physical space with other people.
"We have just come out of this very difficult situation," she said.
That growth was evident as she opened on new music that the band has been rehearsing for months. She dipped into her first few pieces of the night, her voice a low, resonant growl that grew around the edges. The band stood still behind her, waiting for exactly the right moment.
"I could be ca-a-lm/Like the ocean right before a rage," she sang a cappella.
Farland unfroze, breaking into a steady rhythm as his drumsticks flew through the air and cymbals crashed under Richards' voice. Gitelman and Smith threw their heads forward and funky, full guitar filled the air. As the two fed off of each other–a nod here, a shoulder thrust there–Wolf stepped in and gave a thrumming, vibrating bass line that traveled under the floor and up through attendees' bodies.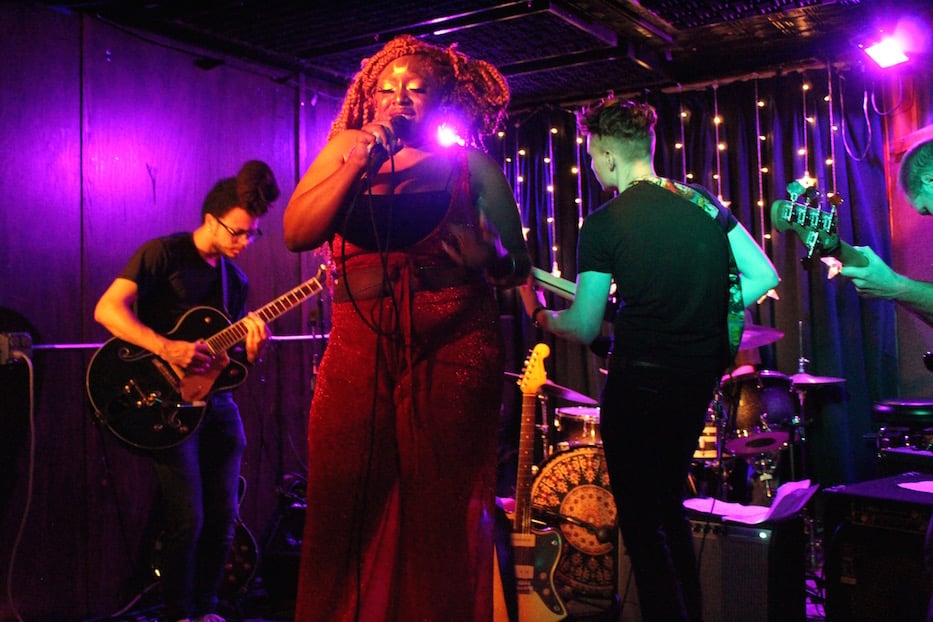 Richards sank into her lyrics, her voice sailing through each full roar and teasing, breathy almost-whisper. She jumped between octaves with ease, drawing the audience in as she held out her hand, wiggled her fingers, then pulled it back to her jawline, cheeks and shoulders. She walked a tightrope between budding star and pandemic-era therapist and preacher, giving sage advice in tight lyrics and four-four time.
When she crouched forward on the edge of the stage, bathed in blue and purple light, it felt like the whole house leaned in to hear what she had to say.
Richards also slowed it down and became candid with the audience, talking through a writing process that jumped from Black Lives Matter to her own responses to anger and intense loneliness. When police murdered George Floyd in Minneapolis last year, the artist was three months into the isolation of the Covid-19 pandemic.
Everything that she would usually do to cope was unavailable, she said. She looked at what was happening around her, and felt the need to write it down somewhere.
"I couldn't ignore the noise," she said. "My first thought was, 'This isn't something that we haven't seen a million times.'"
She paused and let it sink in, as if the thought were flickering across mind for the first time all over again.
"This … isn't something … that we haven't seen a million times," she repeated, more slowly, painfully. "This isn't something that we haven't seen a million times?"
Suddenly, the band was behind her again, her voice ricocheting off the drums and guitar. The refrain "I can't breathe" filled the bar all the way up, pressing against the window panes and the back door on State Street. It wove through the sweet smells of old wood, disinfectant, gin and beer that are baked into the space. It came up through the floorboards with throbbing bass and thumps of percussion.
Attendees, masked and unmasked, sunk into their hips and knees, hanging on to each word and sometimes onto each other. They stayed there as Richards ended her set with a jammy ode to Tinder—"one of my not so healthy coping mechanisms," she laughed—and song titled "Temporary." As she swayed to the lyrics and did a half-twirl at the mic, she gave each musician time to solo. Gitelman beamed so brightly it felt warm feet from the stage. Smith burst into a smile and kept grooving as Richards introduced him as "one of my best friends."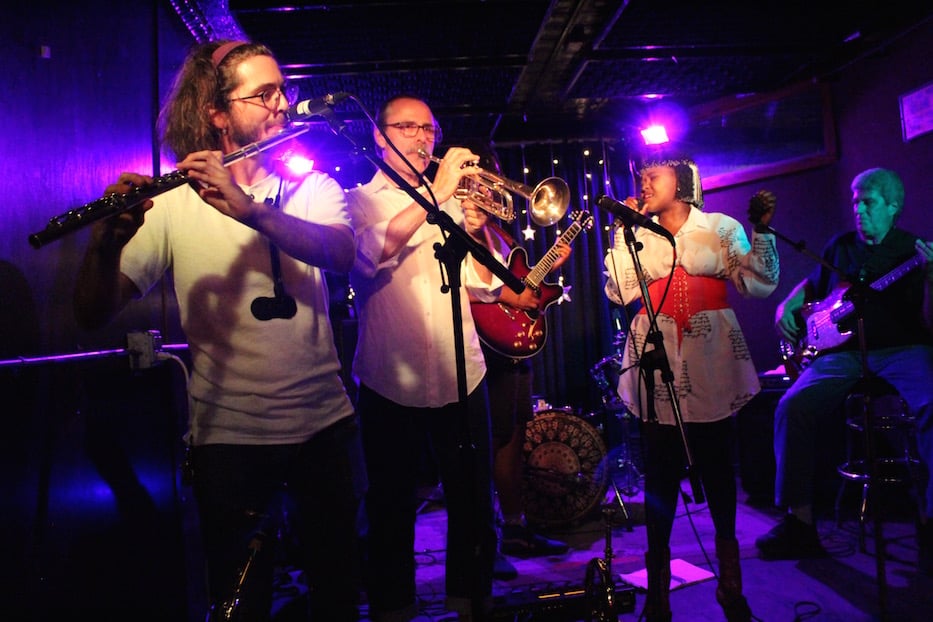 No sooner had Love'N Co breathed new life onto the stage than Thabisa rolled with its unexpected interventions. After learning her drummer would be absent because his partner was giving birth, she pulled a stool to the middle of the dance floor, strains of flute, guitar, trumpet and bass rising around her. When she opened with her recent track "Sweet Sorrow," her voice rolled from the front of the venue all the way to the back, spilling onto Crown Street as people milled around outside with beer and cigarettes.
Inside, it made Cafe Nine feel private, cloistered and safe as musicians presented a pared down set that started at old favorites and ended on tracks so fresh they were still dewy and finding their feet. As McDonnell laid down a flute solo for "Eyodidi," Thabisa told the audience that she, like many in the house, was in denial about his impending departure from New Haven. With a smile, she framed it as "his last performance ... for a while."
When she jumped on the mic, the song became a spirited back and forth between the two. Four minutes in, Tim Kane came in on trumpet, the instrument giving a brassy purr as Thabisa held a mic to its mouth. On guitar, Cliff Schloss donned two hats, holding down a rhythm section where there was none. It became a night of magic-making, where whatever they had filled in the absences until everything seemed like it was perfectly in place.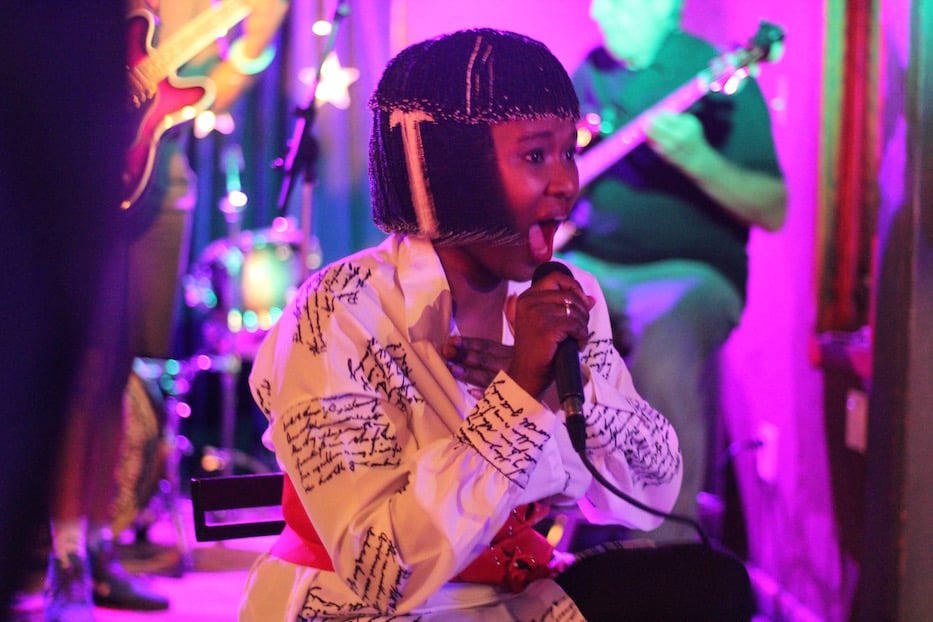 "It has been an intense week," Thabisa said between pieces. "How has your week been!?"
"Exceptional!" someone yelled from the audience.
"Bad!" came another voice. "I mean until now!"
"It's a beautiful moment that we're seeing and I hope it's not just a moment," Thabisa said. "I feel like you guys are meeting us where we are."
And attendees did. Without a drummer, musicians and audience members alike stepped in. McDonnell juggled his flute and sax nimbly between numbers. Smith and musician Briana Williams provided percussion to the musician's song "Diva From The River," slamming their feet into the floor with a clean smack and thud at the beginning of the song.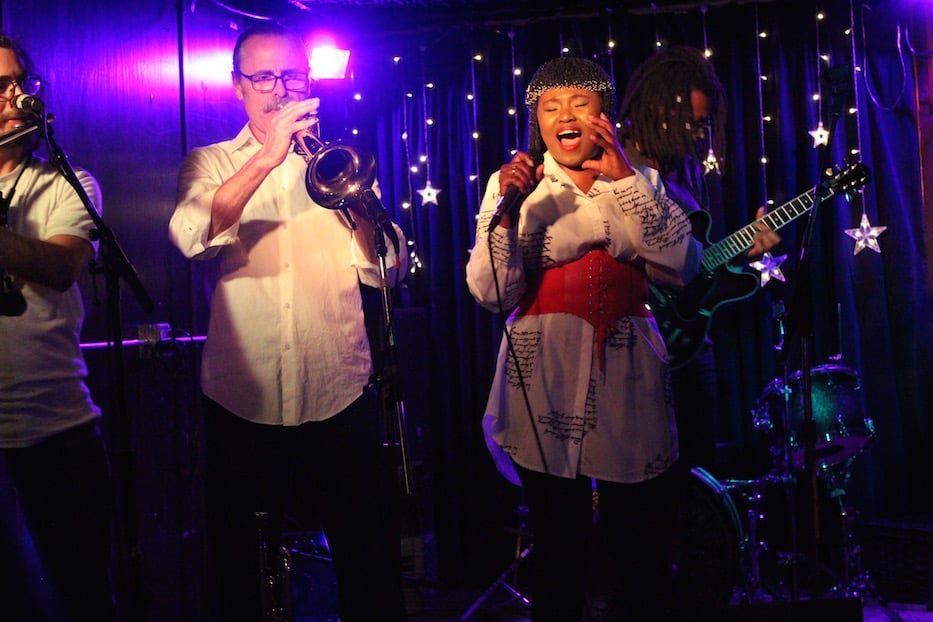 It felt right when the musician closed with her piece "Imagine," which was inspired by this year's eponymous theme at the International Festival of Arts & Ideas. Schloss and bass player Jim Lawson played beneath her as she introduced the song, audience members talking back to her. She leaned on the softest parts of her voice, the words tumbling over each other. On sax, McDonnell gave the audience that buttery ribbon of sound for which he has become known.
"I want you to close your eyes," she said before sliding into her native Xhosa. "Just close your eyes. Think about your mom, your dad, your grandparents, your sister, your brother—community. Think about your body. Imagine yourself not feeling so in pain … just for a second. What does that look like to you?"