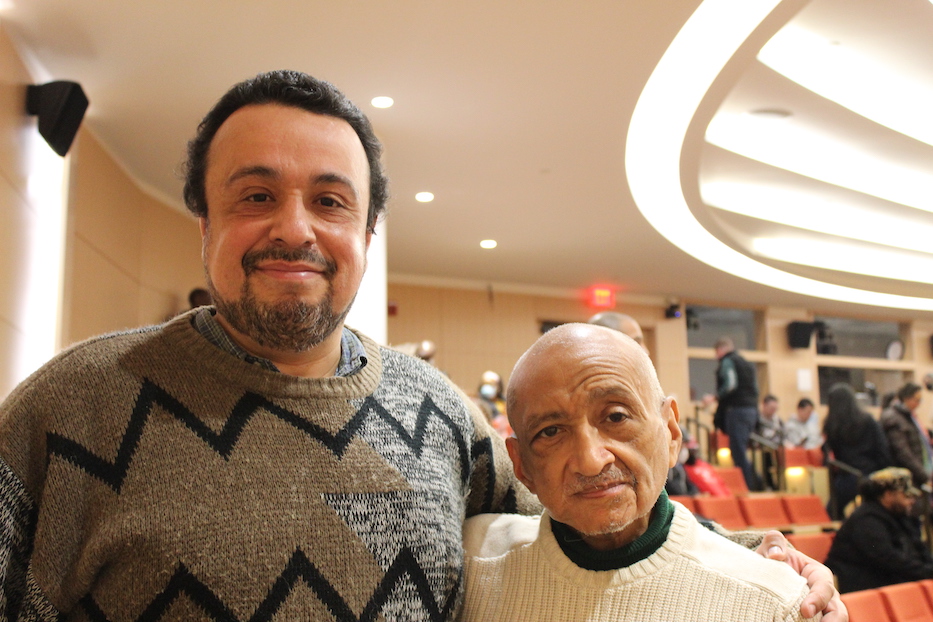 Culture & Community | Dr. Martin Luther King Jr. | Poetry | Poetry & Spoken Word | Arts & Culture | Yale Peabody Museum | Arts & Anti-racism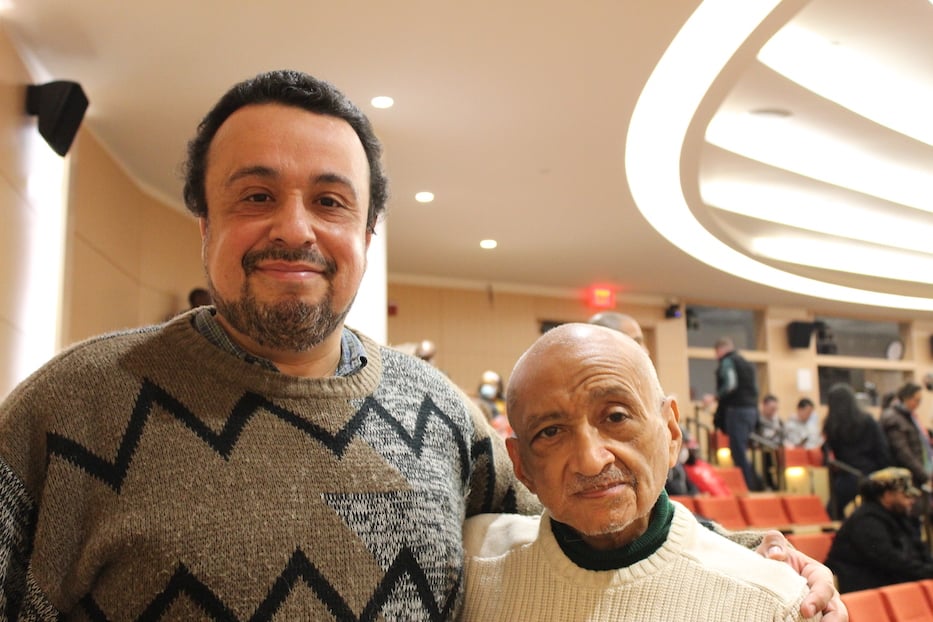 Ángel Martinez and Carlos Raúl Dufflar. Marie Sanford Photos.
"Mic check, mic check," a man with an easy confidence smiled into the crowd. "How's everybody doing?" Greeted with a lukewarm response, he shook his head and repeated, "I said…how's everybody doing?!"
The man, emcee Croilot Semexan, was met with the cheers from seniors, couples, groups of teenagers, young families, and friends gathered to enjoy Martin Luther King, Jr. Day festivities. Around him, around 100 attendees gathered in the O.C. Marsh Lecture Hall in the Yale Science Building for the 27th Annual MLK Jr's Legacy of Social & Environmental Justice Z Experience Poetry Slam.
Hosted annually by the Yale Peabody Museum of Natural History, the event returned to an in-person, hours-long gathering for the first time since Covid-19 hit New Haven in March 2020 (in 2021 and 2022 the event was fully virtual). The larger lecture hall setting also allowed for live-streaming the event online, which before had never occurred.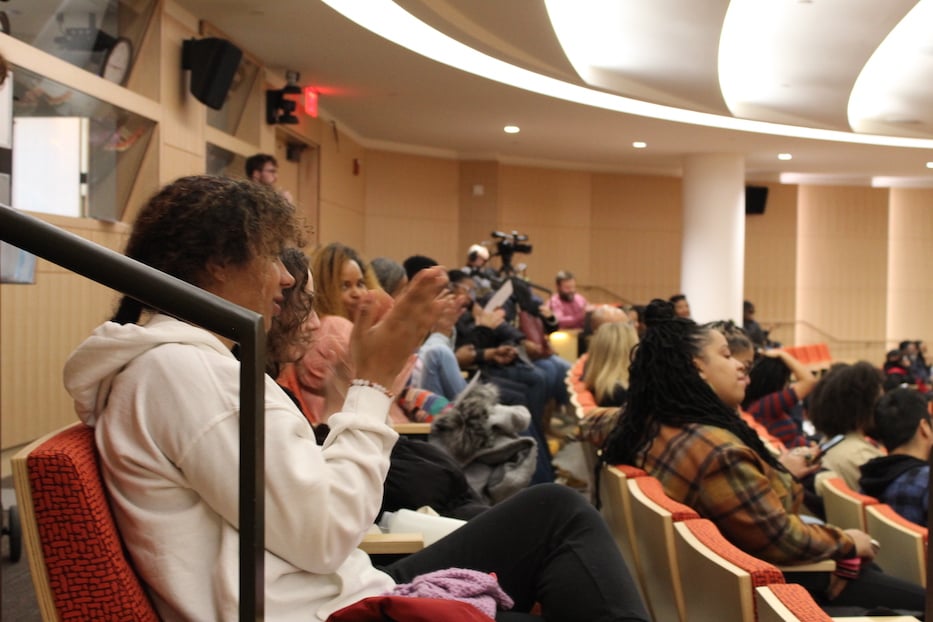 Despite the pandemic and ongoing renovations at the Peabody, Peabody Director of Student Programs David Heiser said that this year felt like "returning to the roots." Like years prior, people of various races and family configurations mingled, chatted, and shared hugs throughout the lecture hall before the poetry was underway. The program called for a slate of open mic poets followed by a group poetry performance before the climax, the judged poetry slam.
New Havener Natasha Webster said that she has attended the slam for years and used to bring her now-adult children. Monday, she sat in the audience with her young granddaughter, Asha.
"I was kind of afraid when we got here that it wouldn't have that same feel, but this is good," Webster said. "Still has the same energy."
As Semexan began to shake the slips of papers in his hand to determine who would be the first poet to read at the open mic, the energy in the room never became rigid or subdued. Slam poetry is a highly participatory event, and it was clear the New Haven community was ready to dive in.
Teaching At The Mic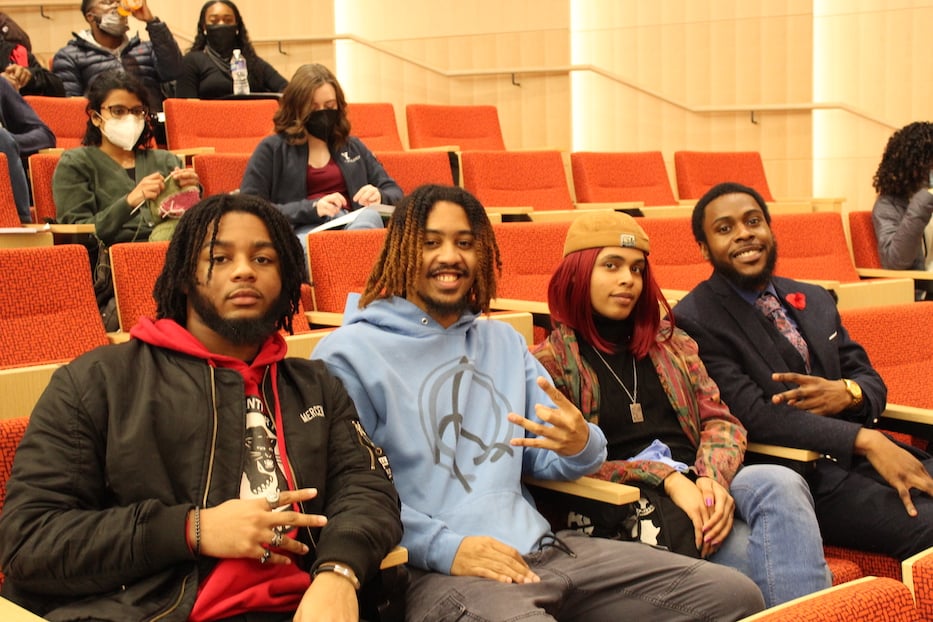 Brother Bear, Oso, Ethereal Empress and Phil C. Alexander.
Brother Bear, a 22 year old from Hartford, was the first poet called to the mic. In his opening poem, "Gang Signs," he described hip hop as "a viral sickness" that teaches kids to aspire to gang affiliations and engage in violence to seem cool:
I throw up gang signs every once in a while
Because that's the culture we've created, right?
When you go on TikTok and see white girls throwing up GDK thinking it's a half-heart
You must know what you've started
When they don't know that sign represents the dearly departed,
The "hip hop" culture they like to call it
Has brought attention to all the rights and wrongs
And this generation sees everything
So like a viral sickness they caught it
Brother Bear later explained that he is a behavior technician in a middle school, and he sees troubling behavior in kids in real time.
"[Hip hop] could definitely be seen as detrimental because of the fact that that's all [kids] see," said Bear. "They don't see anything outside of what is put in front of them and what they're digesting is something that in certain cases could be very harmful to the communities that they're in."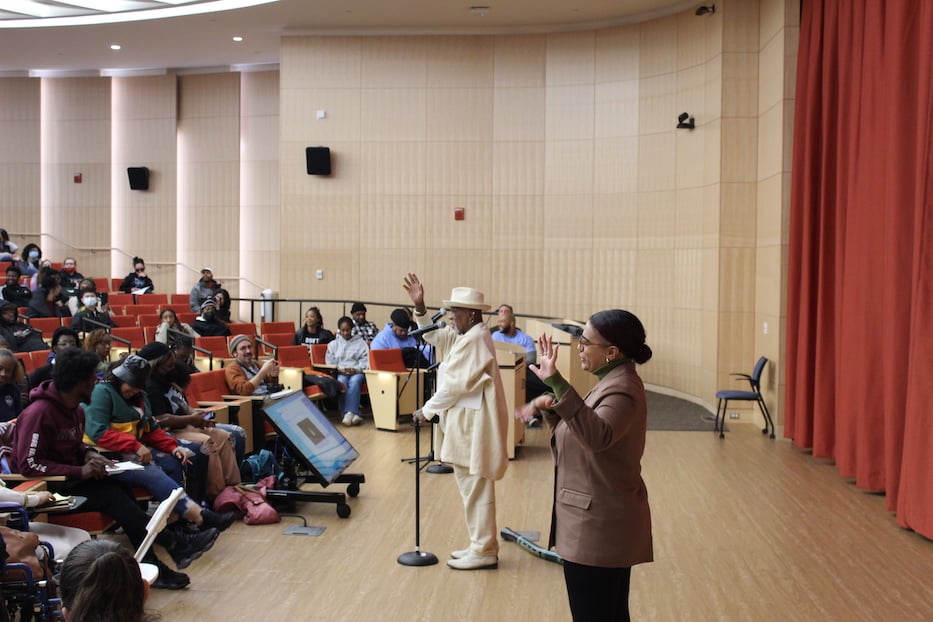 Ngoma Hill reading.
Empress, a 21 year old poet who had previously performed at the event in 2017, roused the crowd with her poem "Supreme," a piece about women empowerment. Empress said that this piece is about going for what you want to achieve.
She circled her belly with her palms as she practically sang, "My womb is the meeting place of the divine." When she spit, "God resides in me," several women yelled out as if she was delivering a church sermon. Of the message, Empress said she hoped to convey that "love exists inside yourself," so women should feel empowered to spurn "people that don't really matter."
Though Empress is just 21, she felt her words resonated with the crowd because they came from a place of authenticity. "I feel like I bring my own personal experiences and the things that I've been through and I feel like that adds to my wisdom," she said. "Kind of transmuting everyday scenarios to cultivate wisdom from it."
This sense of wisdom emanated from every speaker in the room, such that the slam was not just entertaining but also informative. Carlos Raúl Dufflar, who also performed during the open mic, spoke of meeting Dr. King 56 years ago and of being an original squatter in Resurrection City during the height of MLK's Poor People's Campaign in Washington, D.C., which this year celebrates its 55th anniversary.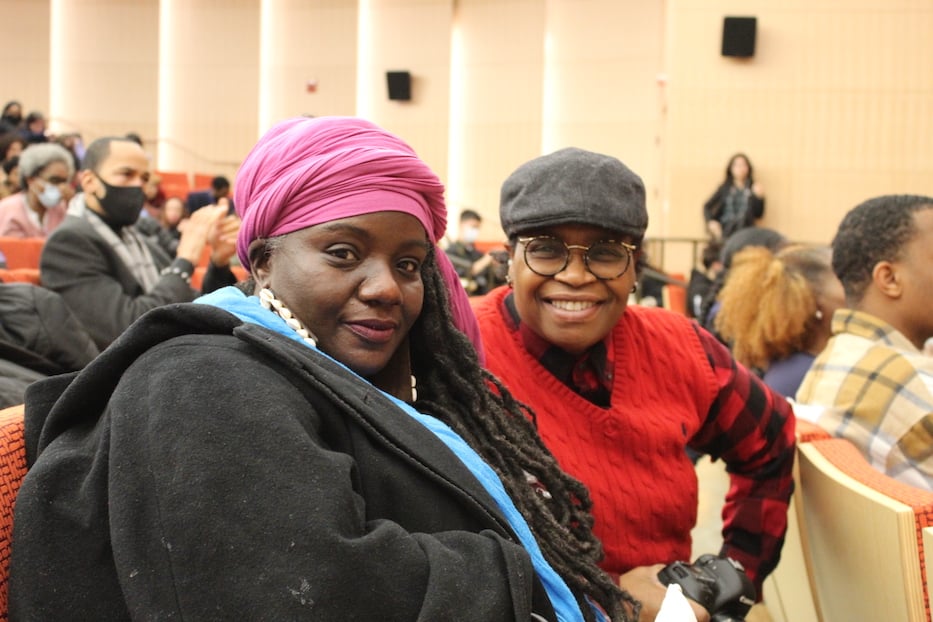 Dufflar's testimony was a history lesson for many in the room. Empress, for instance, said she didn't know that element of the Civil Rights Movement before. Thus, the sharing of multi-generational poets from their lived experience allowed for a cyclical teach-in of sorts.
The older generation could learn Gen Z's "view of our community and what's going on in the culture today since MLK has passed," Brother Bear said. In turn, the younger generation, like Ms. Webster's granddaughter and the several other young kids in the room, got exposed to their history in a new light.
"It's The Least You Can Do"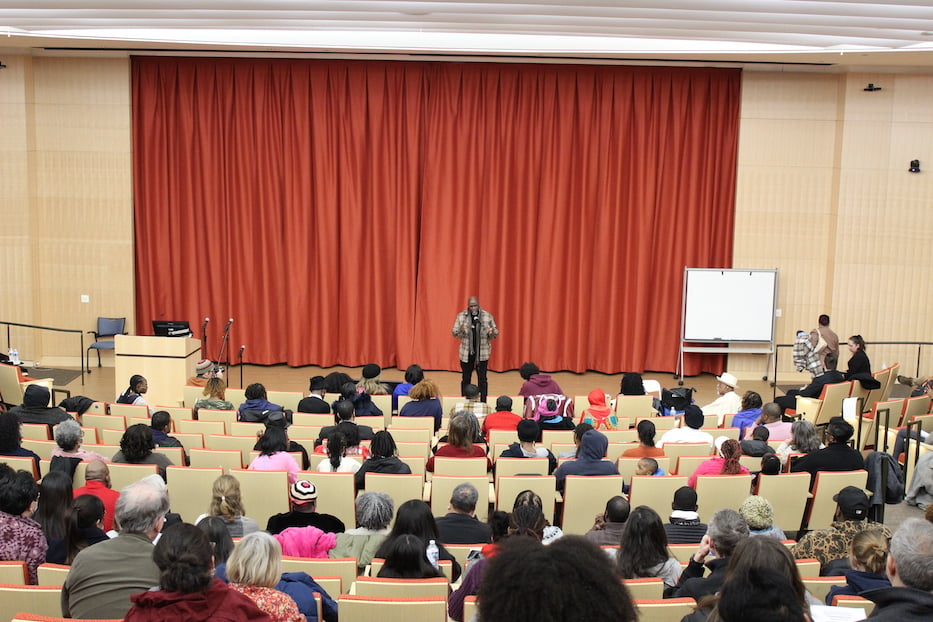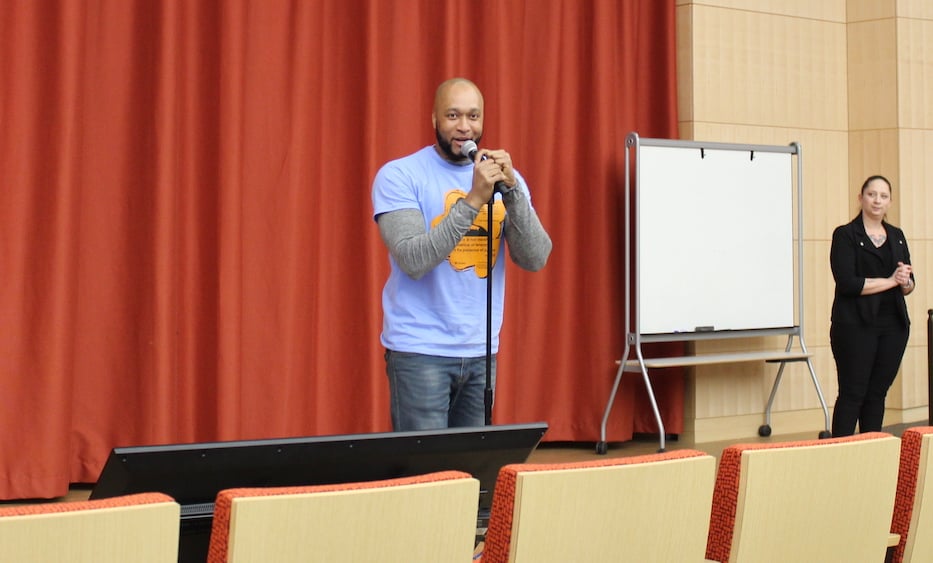 Top: The audience is ready for the slam. Bottom: Emcee Croilot Semexan.
For the main event, 10 poets competed over three rounds for cash prizes. The first place prize? $1000 dollars.
Ngoma Hill, the co-emcee and prolific poet and performer, opened the slam by playing a didgeridoo. As Hill explained, the didgeridoo is a sacred instrument traditionally played during Aboriginal ceremonies celebrating life and death, and as such was fitting to open the competition.
Sitting on the floor in his white wide-billed hat and matching kaftan, Hill brought the audience to a singular silence as he tenderly played the wailing instrument. Then he casually stood up and called, "Hey yo!" to which the audience roaringly responded, "Aight!"
The ten poets spoke to both the joys and hardships of Black life in the United States. Poet Yexandra "Yex" Diaz returned to a well-loved open letter to her daughter, Cyra, worrying aloud that her life would be devalued as a young woman of color. Another sang an excerpt of the spiritual "Wade in the Water," and spoke of the significance of the sea for a people whose ancestors died crossing the Atlantic.
One woman spoke to the importance of language, speaking up and ownership of one's words. Other topics included abortion, Black women's voices, and of course, MLK himself and his legacy.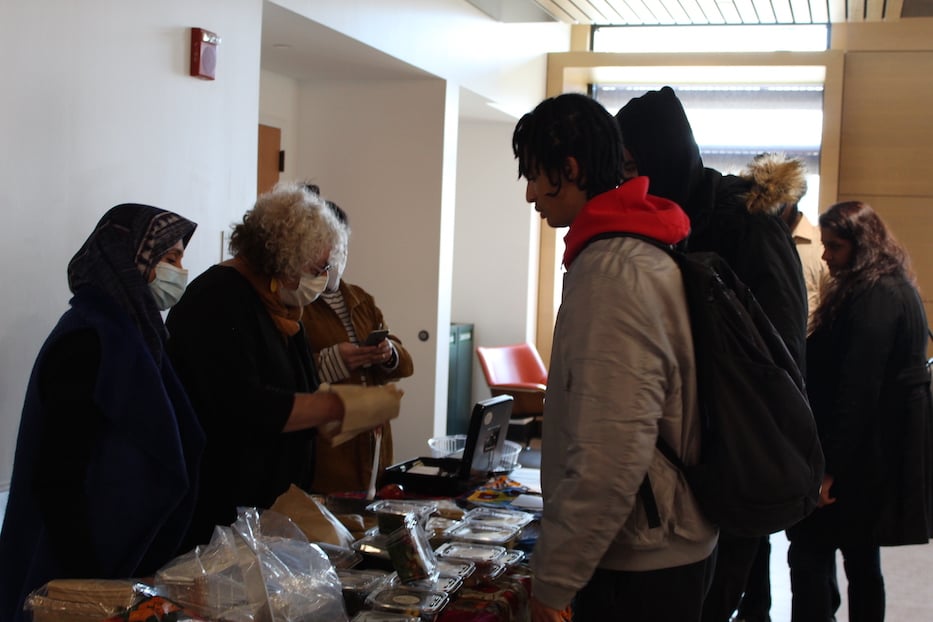 Outside of the slam, groups like Sanctuary Kitchen sold food for attendees.
At the end of round three, emcees announced a tie between Lyrical Faith and Goddess Tymani Rain. Both female poets had stood out over the course of the afternoon — Faith for her snarky character-driven slam delivered in matching neon green pants and heels; Rain for her vulnerable reflections on her sexual abuse and her relationship to her mother.
As Lyrical Faith delivered her tie-breaking poem "7 Lessons Learned At The Protest," she wove together centuries of anti-Black racism and recent protests that filled the streets following the state-sanctioned murders of Black people at the hands of police.
As she read, the crowd's energy was at an all-time high:
1. "let the white people get in front." we know y'all wanted to be invited to the cookout, and praise God,/this is the cookout. can't you see there ablaze in the distance? don't you smell the brown meat/grilling? hot, angry from years of being burned in the freezer, hungry from how long we've been left/to rot. you asked for this upon building a cold shoulder to my existence on our backs — damn right,/this ain't a democracy unless you icing down with me. so yeah, allow your white shield to cover me/like a picnic of guilty tears. it's the least you can do after showing up early, and bringing nothing, for/decades.
Tymani hyped her up from the second row of the auditorium. Audience members were shouting and on their feet.
This interplay, Heiser said, is the best part of a poetry slam. "When they're on a roll," Heiser said, "you can hear the murmur of the crowd and the snapping and the foot stomping and, you know, there was full on clapping at times this year, which there isn't always."
Ultimately, Lyrical Faith came in second while Tymani Rain came in third. Slangston Hughes, a high scorer throughout the afternoon, came in first.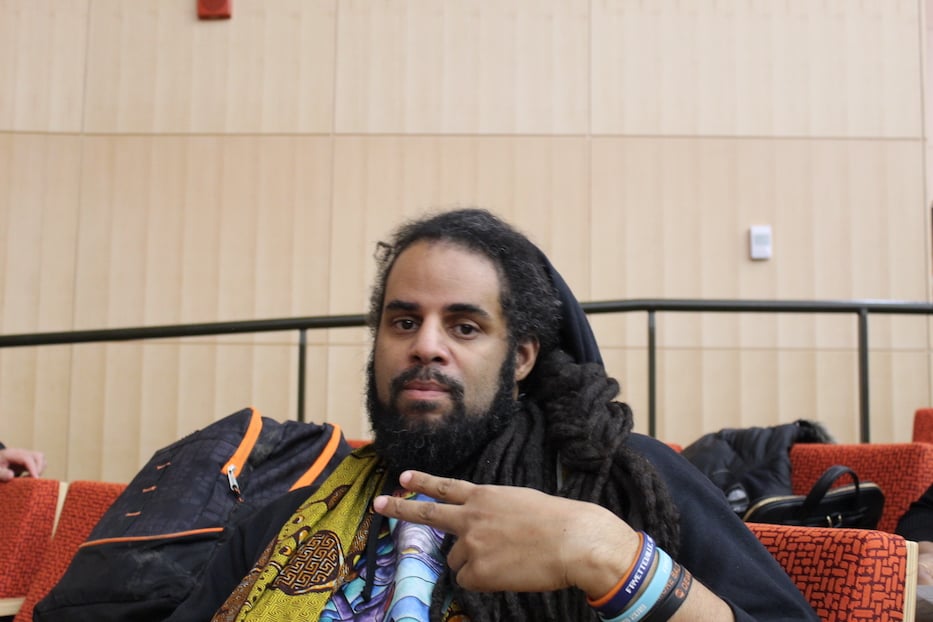 Hughes, a native of Baltimore who flew in for the event, was excited by his win— but the money wasn't the most important part for him. "Slam makes you push yourself as a writer, but I don't feel like it's the end all be all," he said.
Hughes is the artistic coordinator at DewMore Baltimore, an organization that uses spoken word and poetry as a means to support youth development. He sees poetry slams as places "where you make your words stronger so then you can take them to the places where they're really needed."
Lyrical Faith agreed with this unique ability of slam poetry to support artists "getting their work out there in a way that creates an impact." Slam poetry puts the poet "on a pedestal" where they can speak honestly about their lived experience. For Faith, who is a Black woman, this means her work is necessarily intersectional and discusses not just oppression and racism, but also patriarchy and misogynoir, a term which describes misogyny informed by both sexism and racism and uniquely targeted at Black women.
There may be stigma around critiquing the Black community, Faith said, but "those things have been happening and have been perpetuated and upheld for generations upon generations, and so all injustices are important to highlight and all injustices are important to call out."
As Inner-City News Editor and WNHH Community Radio Host Babz Rawls-Ivy, who chairs the board of the Arts Council of Greater New Haven, said after the show ended, "With the state of the world the way it is and to have these poets come and bring very topical poems … Oh, it was amazing!"
All in all, the Z Experience Poetry Slam went much further than being a community event, or even honoring MLK's legacy. Instead, a diverse and multigenerational group of poets and audience alike gained the gift of vulnerably entreated wisdom.
"We've done shows with these poets and they taught us a lot. We've run through poems and they give us critiques and feedback, and when we get off the stage it's like, 'Oh, you could have done this better,' or 'You know, you did a really good job today,'" said Brother Bear.
"It always feels not just self-affirming, but it's an affirmation to know that, you know, we're moving in the right direction."