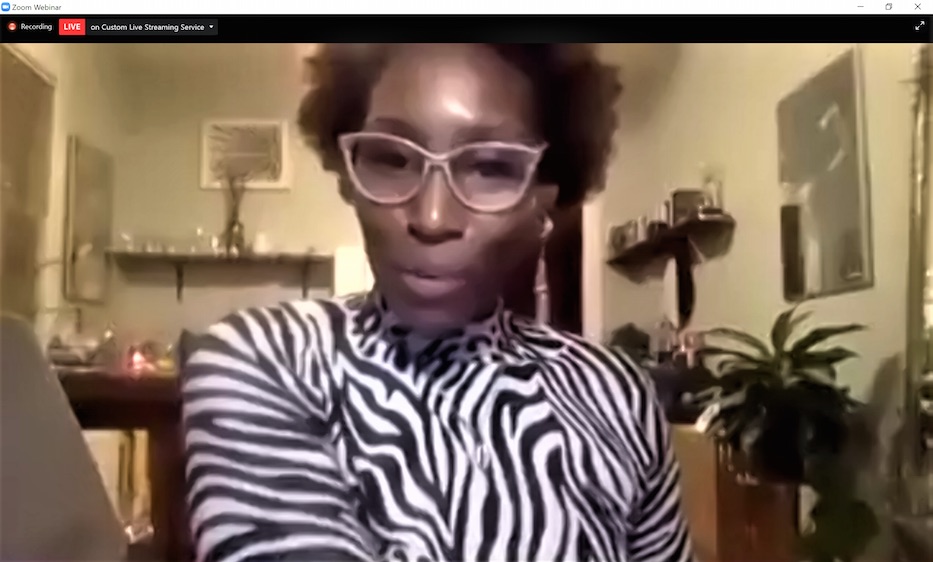 Dr. Martin Luther King Jr. | Poetry & Spoken Word | Arts & Culture | Yale Peabody Museum | COVID-19
Poet and New York native Lyvonne Proverbs Briggs beamed at the camera and began to sing.
This land is yo-our la-a-nd! This land's not my-y la-a-nd! From Califo-o-rnia! To Coney I-i-sland!
She clapped her hands and bounced to the beat of American Classic "This Land is Your Land" by Woody Guthrie. From One, Two, F-i-ish Street! To Here at M-L-K!
The clapping stopped. Briggs' smile dimmed. The next words came out slow and somber:
This land…was made…/For You. Not. Me.
Sunday evening, Briggs was one of 17 spoken word artists featured in a now-annual MLK Open Mic and Poetry Jam in honor of Zannette Lewis. Performance poets Croilot Semexan and Ngoma Hill emceed the performance as part of the Yale Peabody Museum of Natural History's 25th annual celebration of Dr. Martin Luther King, Jr. A full lineup of recorded events is on the Peabody's Facebook page. Throughout the three-hour event, poets focused on the power, grace, and sheer will of Black women in what became a defining theme of the night.
For years, the MLK Open Mic and Poetry Jam has been a community event, held for swarming crowds at both the Peabody Museum and Kroon Hall. This year, COVID-19 regulations moved the jam online. Organizers simulcasted live performances on Facebook, YouTube, and Zoom for virtual audiences, with over 1,500 views across platforms. A recording of the performance is available at the bottom of this article.
"Since this is virtual, we got people from all over the country and people all over the world checking this out on a larger stage," Hill said. "I appreciate the fact that we can do it."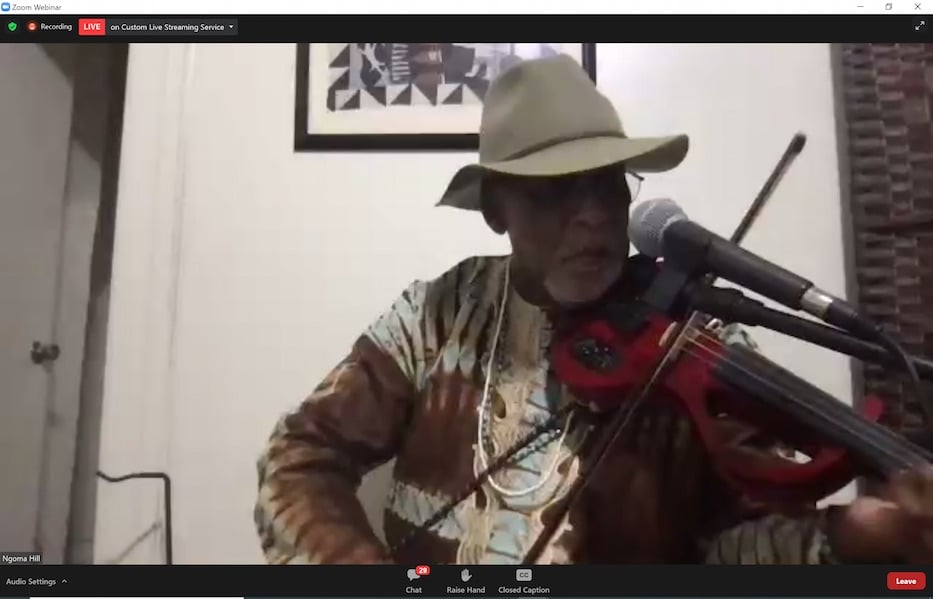 From the open mic to the end of the night, poets kept their performances fierce and intimate even through a screen. Yexandra "Yex" Diaz returned with her poem "Skipping Stones," an open letter to her 15-year-old daughter Cyra. Diaz wrote the piece after drafting an article on 4-year-old Darnell Gray. When Gray went missing in 2018, law enforcement declined to call an amber alert.
At the time officers insisted that Gray's disappearance did not meet the criteria for an alert. A community-driven effort saw the discovery of Gray's dead body; Diaz questioned the worth of her daughter in the eyes of a deliberately negligent system. By the end of her performance, there were cheers through unmuted mics, words of praise in the chat, and a plethora of snap, clap, and flame emojis.
"I know this is virtual," said Semexan. "But this is what I'm talkin' about! Straight heat!"
Yet the new, virtual platform was not the primary focus of Sunday's event. It was a tribute to Zannette Lewis in more than name. Before her passing in 2009, Lewis carved a career as a dedicated activist and was relentless in her pursuit of Black equality and excellence. Lewis founded the poetry jam and was fundamental to its growth at the Yale Peabody. She championed education for students of color across the city. Throughout the night, poets reminisced on Lewis, her contributions, and her place in Black diasporic history.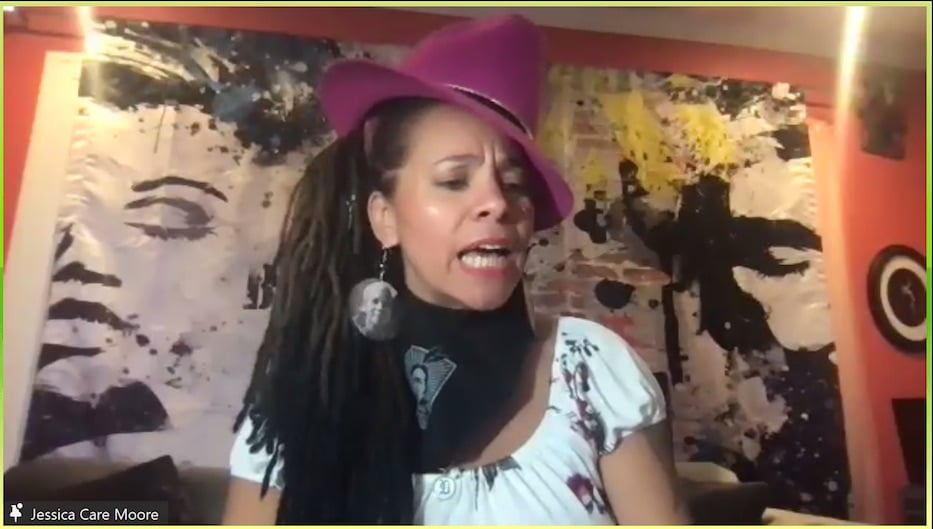 "It's important to acknowledge nothing moves without Black women," poet Jessica Care Moore recited. It was an excerpt from her 2009 poetry collection God is Not an American. Moore delivered the piece over livestream as audience members sat at attention, mics muted. Care Moore breathed each word into the still air with a thrumming conviction, eyes closed and fist pulsating to her prose's rhythm.
"It takes one woman to build the monument…You are mothers of Black art, Black consciousness…women of exile and love," she read. "You were never afraid of being radical or becoming a full-time student of human rights, you. Sacred. You. Not tired. You. Destiny driven. You. Kathleen Cleaver you. Evelyn Lowery you. Juanita Abernathy you. Elaine Brown you. Power seekers you. Goddess you…"
Briggs built on Care Moore's scaffolding, sharing the legacy of strong Caribbean women in her family. She spoke about trying to carry that legacy in a society that discourages the power and anger of Black women. She spoke about violence against Black transgender and cisgender women. She mourned the Black male and female victims of the prison industrial complex. Above all, she warned of a "trend alert."
"When did it become fashionable for Black women to hate themselves?" Briggs asked the audience. "For the very ancestors who sway in our hips and expand our chests to be relegated to nothing in our own eyes?"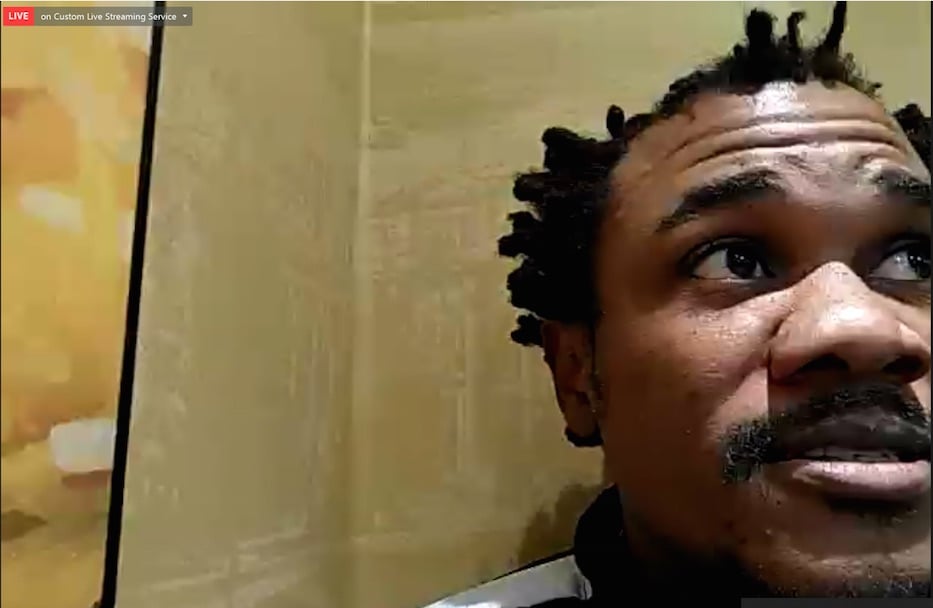 3rd Eye Studios founder James Black praised Black single mothers, reminiscing on his own. He addressed high rates of single motherhood in the Black community that leave women exhausted, under-resourced, and overburdened as they stand strong for their families. The prison industrial complex means that a disproportionate number of their husbands are gone; there are more Black men incarcerated than were enslaved in 1850. Many of them are serving long sentences for small infractions.
"From day to night, in the wake of sleep, she wakes and sees on the light burdens in total," he whispered. "Tools of her fortune never seemed to change, but for wind that assails, there is a woman who softly smiles, a Hallelujah child."
Black's eyes turned wistful.
"She plants lilies in valleys and lifts a weight off shoulders, prayer is her way and for you a better day…Hallelujah woman sits sifting your name, lifting your joy…"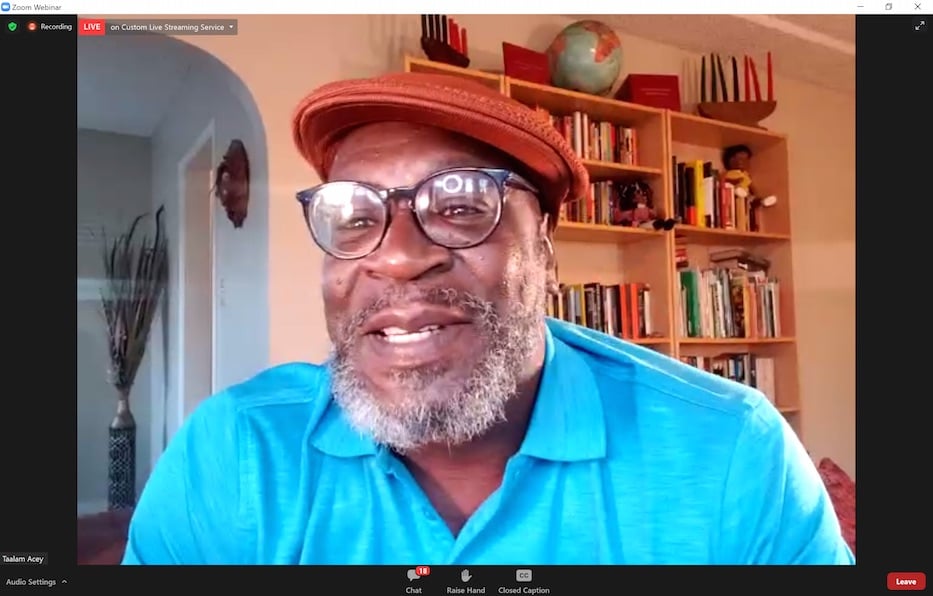 Taalam Acey had witnessed strength among Black women. He praised the ingenuity and wit of Black women in his performance, reciting a work from his CD "Optics."
"It is something about the way she conjures the ancestors.," he read. "She dances and she walks like she's from the Congo, pu-u-re! Congo like Assata Shakur, says brothers don't understand this giants behind her self-reliance… as her lips move, I get lost in her rhythm, and as her thoughts move, I get lost in her wisdom. Nation building, she is Harriet Tubman."
Acey pointed to a tattoo of Tubman on his forearm. His delivery was fast, fiery, and filled with passion. He continued, his voice fierce.
"Yo! You might think you know me, but if you ain't never seen me with her, then you ain't ever seen me ali-ive!," he read. "Something about the way she conjures the ancestor-ors and conjures my so-o-ul by day and night! And something about the way she conjured me back from the dead and brings me back to li-ife!"
Sunni Patterson brought a reactionary wit and verve to her performance Sunday. On the fly, she took the cadence of a previous performer, New Havener Baub Bidon, and let out a freestyle poem about the sizzling essence of Black women. Earlier in the evening Bidon had performed a poem from the perspective of Muhammad Ali. Patterson flipped it and gave the perspective to a woman.
"What do you do when your existence is being threatened?" she asked. "Some turn into someday-tsunami. Or, just like our hair, coiled up, curled up and sometimes too relaxed to stand up. But, ain't that Black? Ain't that still good? Ain't that what proverbs make us feel? Isn't that good? And conjure how the sway of her hips can change the weather. Certainly, she can change your mind and heart and spirit. And ain't it easy? Or is it?"
The chat was on fire, and the snaps were hot by the time Patterson finished. When the livestream had cooled, Patterson turned down the heat with a slower piece. This time, she spoke about the social demands put on Black women and the fetishization of their bodies.
"They wanted her. They wanted her piecemealed and papier-mâchéd. They wanted her low and high. Flat and wide. Filled with all their empty," she read.
Patterson creased her brow and pursed her lips.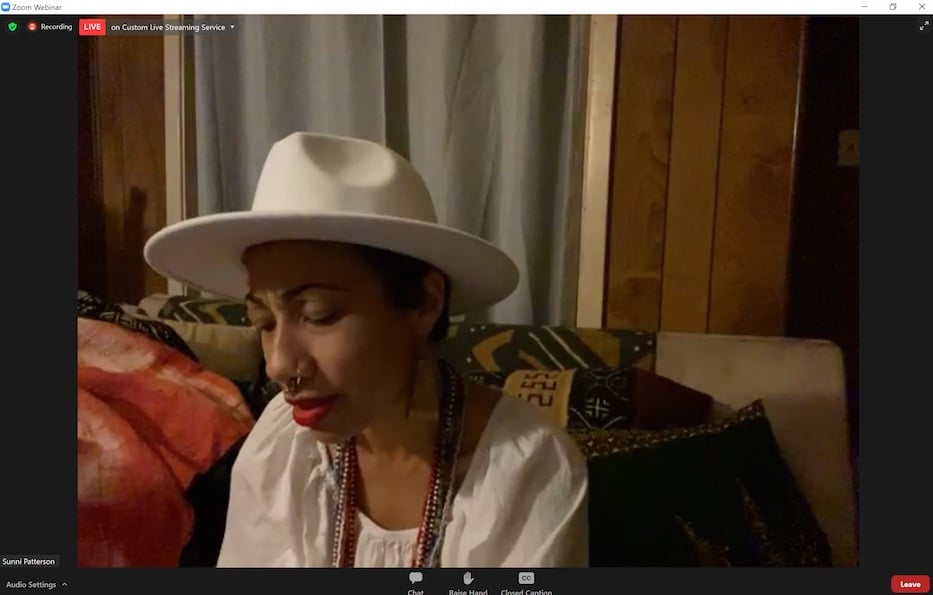 "They wanted her to be more like them, not knowing her conception was immaculate. She was too much of a mouthful for the greedy. They wanted her bland and barren, and unspirited. And under siege in the streets, and handcuffed."
The line was reminiscent of a wrongful arrest in Aurora, Colorado. Brittney Gilliam and her nieces had been profiled, forced out of their car, pushed on the ground, and made to lie in the middle of a parking lot until police let them go. A bystander took evidential footage.
The line was reminiscent of a wrongful arrest in Chicago, Illinois. Police raided Anjanette Young's home in February of 2019. She stood, pleading her innocence as police handcuffed her naked. The police had the wrong house. The incident would parallel law enforcement's murder of Breonna Taylor; Young was lucky enough to survive.
"They wanted her complete, and they came fraction, and half soul and no regards…If they knew she was the glue to the revolution, and if they knew her, she would know."
Patterson's last words of the night resounded past Sunday, past 2020, and past the start of 2021.
"Move head and heart into alignment, and they will know, because they know the power and presence of devotion and will of culture and spirit and justice of light and harmony, and divinity. And when they read of this moment, they will see how we endured, and still question how we made it."
"And we will say: 'How could we not?'"
To watch the full poetry jam, click on the video above. Click here to access the full 25th Annual Dr. Martin Luther King, Jr. Legacy of Social and Environmental Justice program. Click here to watch segment recordings.