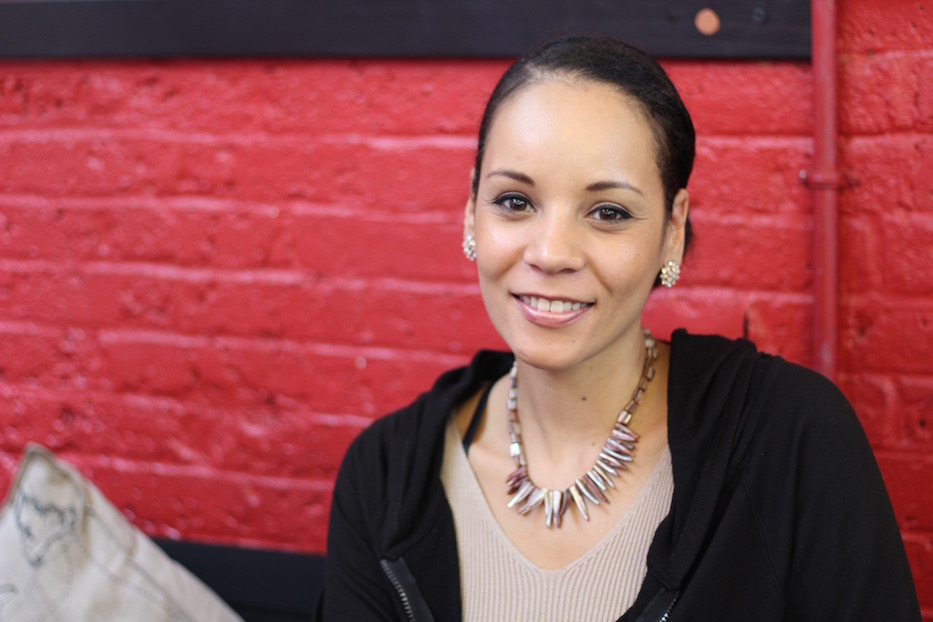 Plays | Arts & Culture | Theater | Sharece Sellem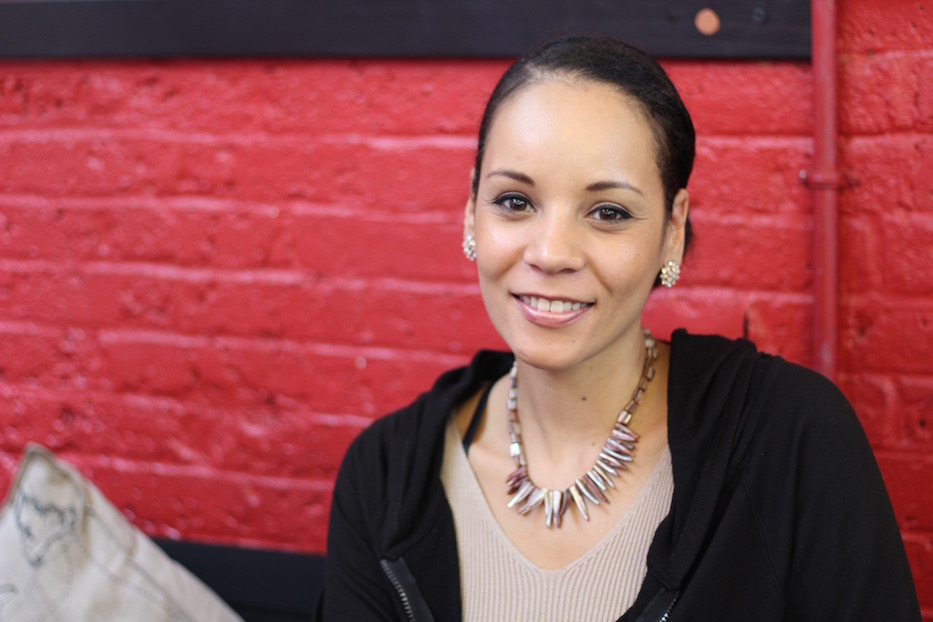 Sharece Sellem in a recent interview. Lucy Gellman Photo.
The scene is set. At center stage, playwright Sharece Sellem has a script about New York City knocking on the front of her skull. It's an insistent tapping, slow and steady, escaping in fits and starts. When it makes it out, scored by one big exhale, it wins her a national award, and then another.
That's the real-life story for Sellem, 35, who was named winner of the 13th annual Dr. Floyd Gaffney Playwriting Competition on the African American Experience at the University of California, San Diego (UCSD) earlier this month. The play, Daisies On Harlem's Doorstep, received a staged reading at the university's Wagner New Play Festival, as well as monetary award of $1,000 and travel and lodging expenses for Sellem to fly to California. It is also set for Connecticut production at the Norwich Arts Center in February of next year.
Sellem, who attends Gateway Community College, is the first Gaffney Competition winner from a community college in the history of the contest. Allan Havis, chair and professor of UCSD's theatre and dance department, called the work "a richly imagined drama that teleports a contemporary audience 90 years into the past."
"Our campus is delighted to have selected this poetic period piece," he wrote in an email Wednesday morning. "Sharece is a splendid portraitist who writes with economy and purpose."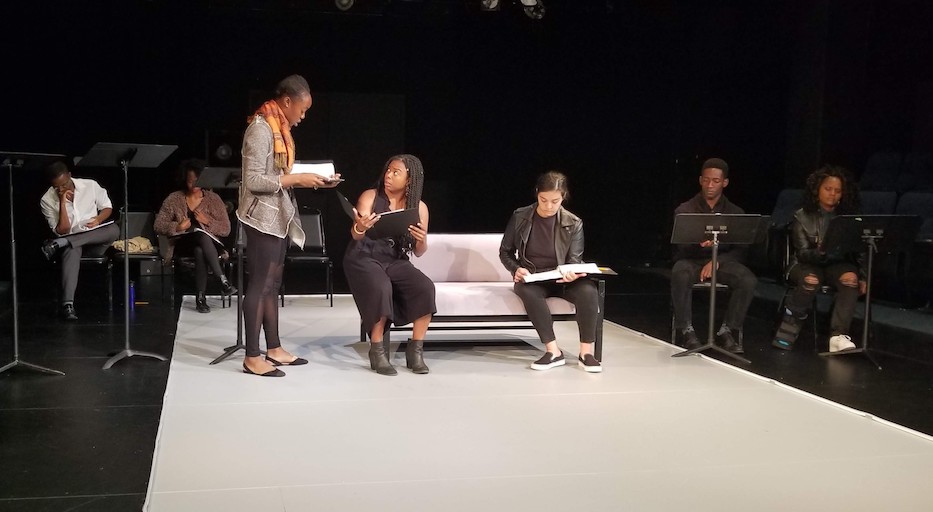 A shot from the reading earlier this month. Sharece Sellem Photo.
The play (read an excerpt here) follows 18-year-old Daisy, who leaves Atlanta for Harlem in search of her sister Rose. The year is 1929, just on the cusp of the Great Depression, and Daisy is still a kid—"naïve, desperately trying to figure life out, and learning survival at the same time," Sellem said in a recent interview at Koffee? on Audubon. The search for her sister is a puzzle: she has Rose's last known address in Harlem, a few dollars, and a baby sister she must look after.
What sets the play apart, said Sellem, are the unlikely kindnesses Daisy receives from the women around her when she gets to New York. There's a deaf-mute named Gilly who takes her in, and reveals herself as a natural-born healer and herbalist. There's Red, a feminist madam with a steel spine who puts Daisy to work—but not in the way Daisy expects. There's Detroit-born transplant Can, who wants to be with a white woman, and Baltimore transplant Charlie, who must figure out what to do with an unexpected pregnancy. And there's a young banker named Henry Taylor who enters the play, and throws Daisy's world into tumult.
From the beginning, Sellem said it was important to her to have multiple characters whose worlds are unapologetically Black, and equally queer. Not only is it true to the history of the period—"Harlem was a place you could go if you were queer," she said—it was about his little representation she saw in the American theater landscape.
"I love what's behind closed doors," she said. "That's my thing. So this story could have very well have happened in that era, because Harlem was a place to run to if you were queer. I just felt like it was needed."
"I'm so excited about this," she added. "I just feel like it has a world of its own. In the future, I just feel like it's going to be a piece of American history. I just see it. You know how Color Purple is? There's the play, there's the movie, there's the book. There's everything. This is that piece. It's old and new."
But for Sellem, the play—and the recent recognition it's been getting—has been years in the making. Born in Hartford and raised in Hartford and Wethersfield, she started writing very early, immersed in books from a young age. By first grade, she had illustrated a book and read it to her entire elementary school at an assembly. By the following year, the children's magazine Highlights had become her Bible. She was the eldest of five and "an absolute loner," she said. But for every book she picked up off the shelf, she never ventured into scripts.
In her teens, Sellem became a devout Jehovah's Witness, meaning that "I was pretty much away from society for a good portion of my life." She had started college classes, but withdrew. For five years, the religion became all-consuming, leaving her with a background that was similar to the delicate character she would later write into being. She broke with the religion in 2008.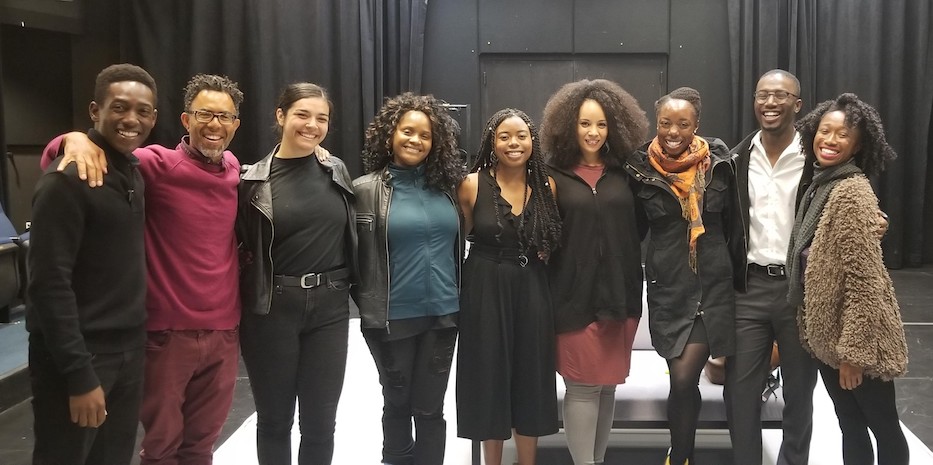 Sellem with the cast after the reading. Contributed Photo.
Then in 2009, she moved to New Haven. For the first time in her life, she was watching theater and reading plays, discovering new works in New York and locally at the Shubert Theatre, Yale Cabaret, Collective Consciousness Theatre and Bregamos Community Theater. She started performing mime, leading an after-school youth group in dramatic performance and later starring in a music video with singer Faith Evans.
"That's where I really found my passion for writing plays, for teaching and for theater," she said.
After time at the Headlong Performance Institute in Philadelphia, she began part-time work at the Davis Street School, writing and directing a play called "Lazy Lester Leon," as part of her work. The play, a journey through music history, made a detour through the Harlem Renaissance before chugging forward through the latter half of the twentieth century. The period dazzled her, and the students with whom she was working.
On opening night, she watched from the audience as students breathed new life into Billie Holiday and Ella Fitzgerald, then jumped ahead to Motown and R&B. She found herself wanting to go deeper: she felt a connection to the period that pulled her back with almost umbilical force.
"I feel bad about that history being so potent, for it to be gone," she said. "I just feel like this connection. Like, I want to hold onto it."
She did a one-woman show on Josephine Baker, and found that she was still hungry for more about the Harlem Renaissance. She started writing a novel, also called Daisies On Harlem's Doorstep. The neighborhood, with its rich history, haunted and obsessed her: she went on a Harlem Renaissance tour in New York "just to feel it," and sensed the past underfoot (she also observed small gardens on the tour, which later became the show's namesake).
As she worked on the novel, the neighborhood filled her with a deep sadness: all the history she was hearing and writing on was gone. She saw some of herself in the titular character—just as Daisy was discovering herself at 18, Sellem was in 2009, when she left the Jehovah's Witnesses. But eight chapters in, she stopped writing.
"And that's kind of been this little world that's been existing in the back of my head ever since then," she said. "I've always told myself, someday, I'll do something with this work. I'm not sure what it'll be, but I've just gotta release it. It's been in my mind for 10 years."
In early 2018, she started rewriting the novel as a play. At first, it was a 10-minute play titled Biscuits and Bacon, skimming the surface of Daisy's journey. She said it was always important that there were multiple queer women of color at its core, "because you just don't see them out there that often." It won awards almost immediately, premiering at the Chicago Pride Arts Center's 2018 LezPlay Fest, then the Central PA Theatre and Dance Festival.
Months ago, she decided to expand it. Since finishing that version, she has seen a staged reading at the HartBeat Ensemble in Hartford and scored a second playwriting award for the full-length script at the Pride Arts Center. The play scooped up other awards, with the most recent prize bringing that number to seven. While she said she is excited for the performance in Norwalk next year, she said that she'd also love to have the show play for a New Haven audience. First, she needs a theater to do it.
"It's in a good place," she said. "I would like to really see what people will do with it as a whole production. I'm sure it could always use tweaking here, tweaking there, but it's in a good place to stand on its own."