Culture & Community | Hamden | Arts & Culture | New Haven | Visual Arts | ConnCORP | Arts & Anti-racism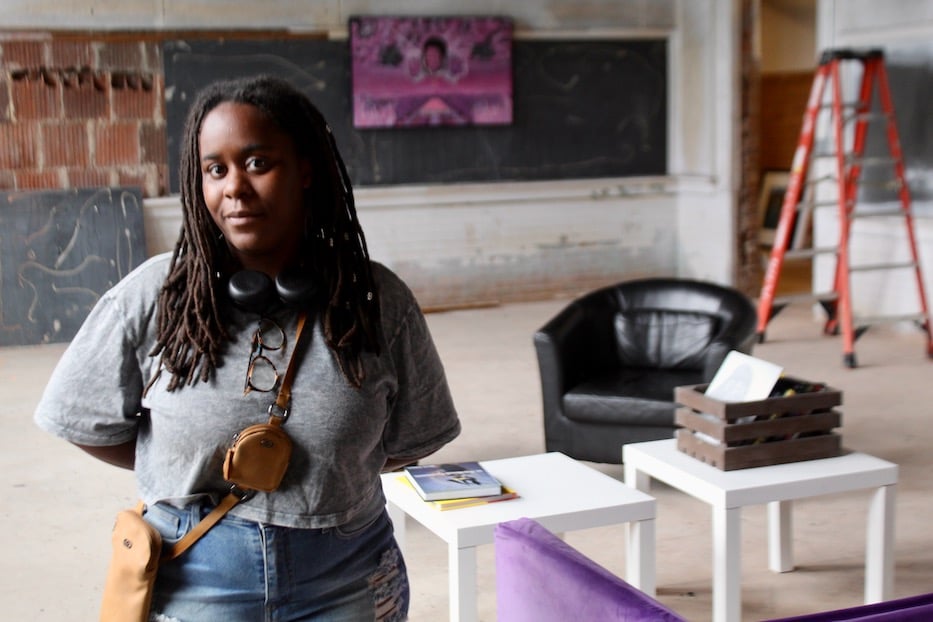 Sunday during a recent tour of the exhibition. Shawna Carey's work is behind her. Lucy Gellman Photos.
Juanita Sunday made her way through the third floor of the LAB at ConnCORP, taking in the exposed brick, raw piping and unfinished walls that surrounded Winter Dior Hart's God Lives in Texas. Across the length of denim, white circles multiplied, thick and still chalky at the edges. A cop car crawled along the bottom, gold paper softened and folded over the front bumper. In the center, an angel looked out in soft blue tones, its thin white wings extending behind it.
"I really enjoy his work," Sunday said. "It gives this otherworldly, outer space dimension."
Sunday is the curator of 6th Dimension, an Afofuturist exhibition and arts festival running at the LAB at ConnCORP and several partner institutions through Oct. 28. Installed across the building's third floor, it includes work by Winter Dior Hart, Ashley Innocent, Illformative, Darkmythist, Josh "AnUrbanNerd" Brown, Greg Aimé, Keila Myles, Kashata Kofi, Adelyana Reyes, Jahmane, Shawna Carey, Ira Revels, Saint Phifer, Jasmine Nikole, Alisa Sikelianos-Carter, Candyce "Marsh" John, Nadine Nelson, Aishatu Ado, and Tea Montgomery. A video installation titled "Write No History" comes from Black Quantum Futurism.
Before the end of October, it includes artist talks, film screenings, and book club meetings at BLOOM, Possible Futures, and Best Video Film & Cultural Center (BVFCC) in New Haven and Hamden. A day-long "Into The Afroverse" summit is scheduled for Oct. 14 at NXTHVN on 169 Henry St. The show, which places finished, sometimes obsessively polished art in an unfinished, still-transforming space, works to capture and synthesize all of those complexities in one place.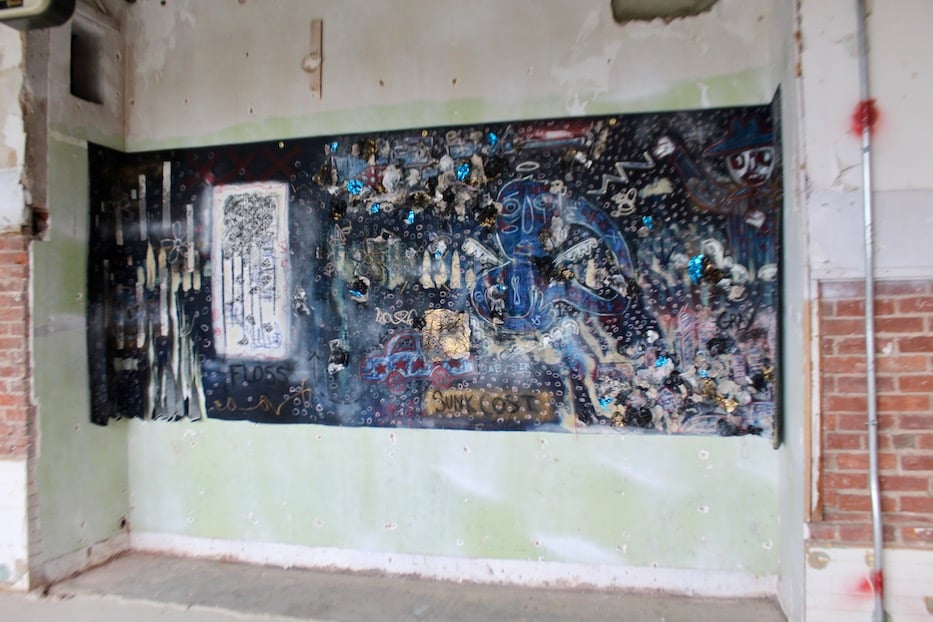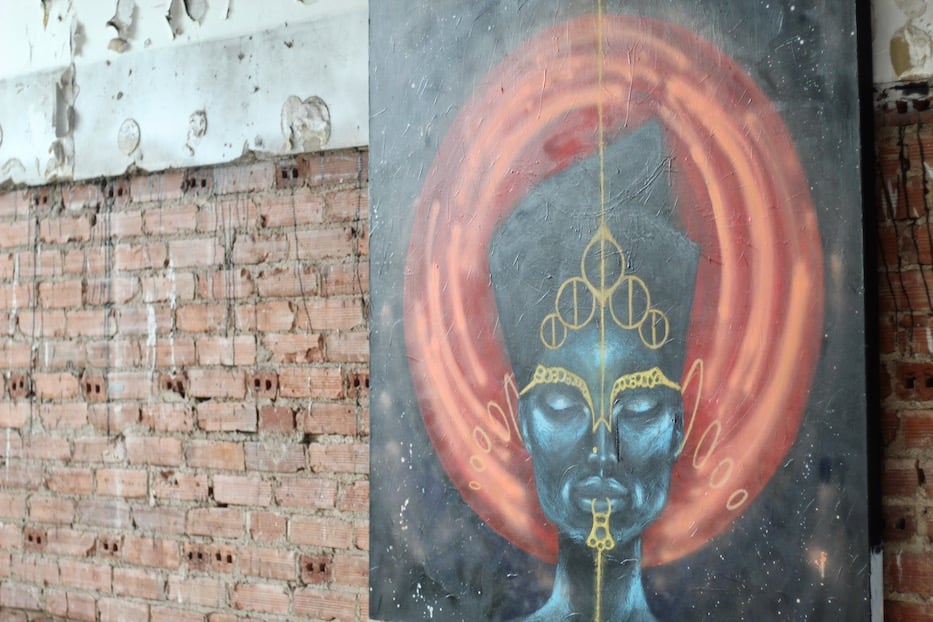 Top: Winter Dior Hart's God Lives in Texas. Bottom: Keila Myles' Mars.
"For me, Afrofuturism is not only an artistic practice, but also a framework for reexamining our world through a Black cultural lens," Sunday said in a recent interview at the LAB, taking a moment to sit in a room dedicated to reading and reflection. "We're centering Black folks in the way that we design our world, in the way that we look at our neighbors, in everything that we do. Afrofuturism revisits the past, rewrites the past, it reexamines our present in order to build a new future."
Even before a viewer enters the exhibition—Sunday's first in a nontraditional gallery space—that approach runs through the building, where jazz often greets visitors in the lobby and Motown crackles over the speakers in the bathrooms. Across an old chalkboard—the LAB sits in a converted school, the third floor of which has not yet been renovated—comments from attendees give three dozen different takes on Afrofuturism.
Beautiful is Black! Black Is Always!, reads one. Love is the true revolution! reads another. Beside it, someone has written simply: Push through.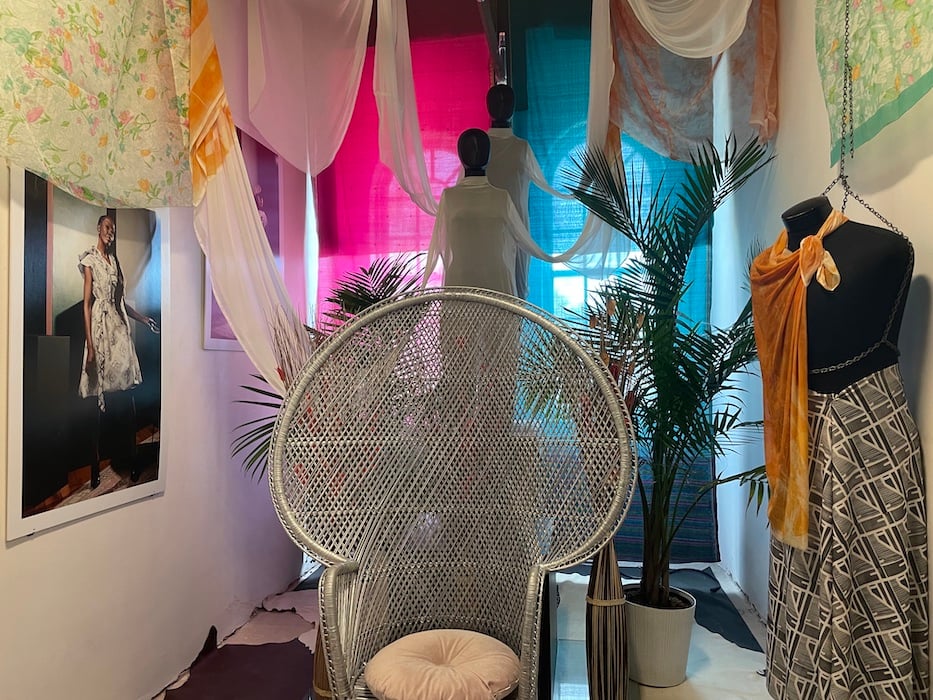 An installation from designer Tea Montgomery sits at one end of the show.
There's an energy that thrums beneath these words, a sort of primer for what is to come. Just beyond the chalkboard, an old door becomes a portal, welcoming people into a multimedia, diasporic and often intersectional vision for the future. On the other side, a fabric installation from Montgomery hangs around a large, chrome-colored and high-backed throne, inviting a viewer to sit and stay a while. Behind the chair, mannequins stand by the window and to one side, outfitted in white cloth capes that flow, ethereal, from their bodies.
It is a cacophony of color that welcomes a body into this space, giving the show a lush and sweeping feel despite its spare surroundings. At its wildly beating heart is the throne, which appears as both an homage to Black pasts (in a smart visual culture reference from Montgomery, one looks at it and sees a nod to Black Panther Huey Newton) and a nod to Black futures.
Montgomery sets a fitting tone for the show, which continues in two classrooms-turned-galleries that flank the installation on both sides. In one, Dior Hart's large-scale, multimedia-on-denim works pull a viewer in with magnetic force, their sense of present-ness in conversation with the future that appears across Myles' canvases.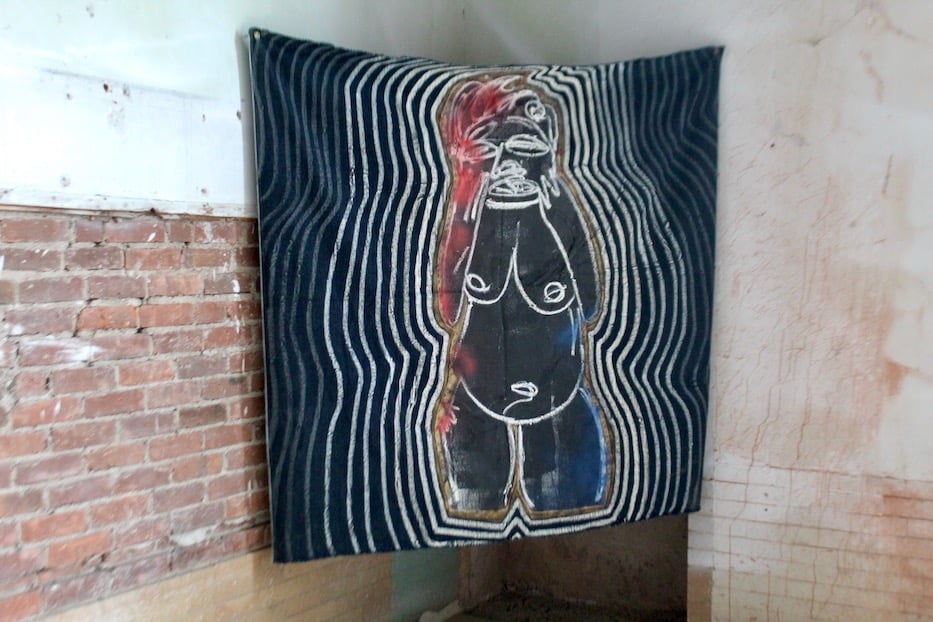 Winter Dior Hart, Preacher's Nephew.
In Dior Hart's Preacher's Nephew, for instance, a nude figure lifts his hands to his cheeks, a red film floating over the right side of his body. Around him, a single gold outline multiplies into a dozen white echoes, as if there are sound waves radiating out from his skin. There is a nod to the past here: the form and expression evokes sculpture from the Bwa and Djenné people, street art and graffiti, and Neo-Expressionist "high art" all at once.
The strokes, controlled and multiplying against the denim, feel elemental, where his method and care meets a vision that can hold and collapse multiple points in time and space.
Myles' canvases, meanwhile, offer up a vision that brings the future to the fore. In her Mars, which becomes an unexpected anchor for the room, a regal figure looks downward, her eyes closed against blue-tinged skin. A fiery ball of color—presumably Mars—blooms and spins behind her, in a universe that is otherwise a stretched, velvety expanse of black. Gold markings adorn her face, lips and chin. The piece seems to commune with two moonscape-like, thickly painted black canvases from artist Alisa Sikelianos-Carter that sit in the center of the room.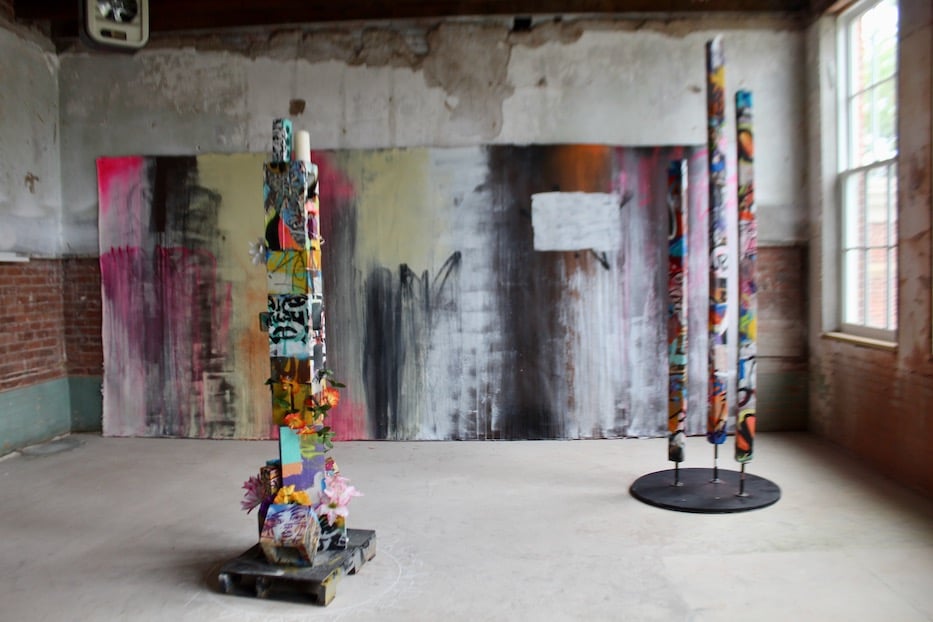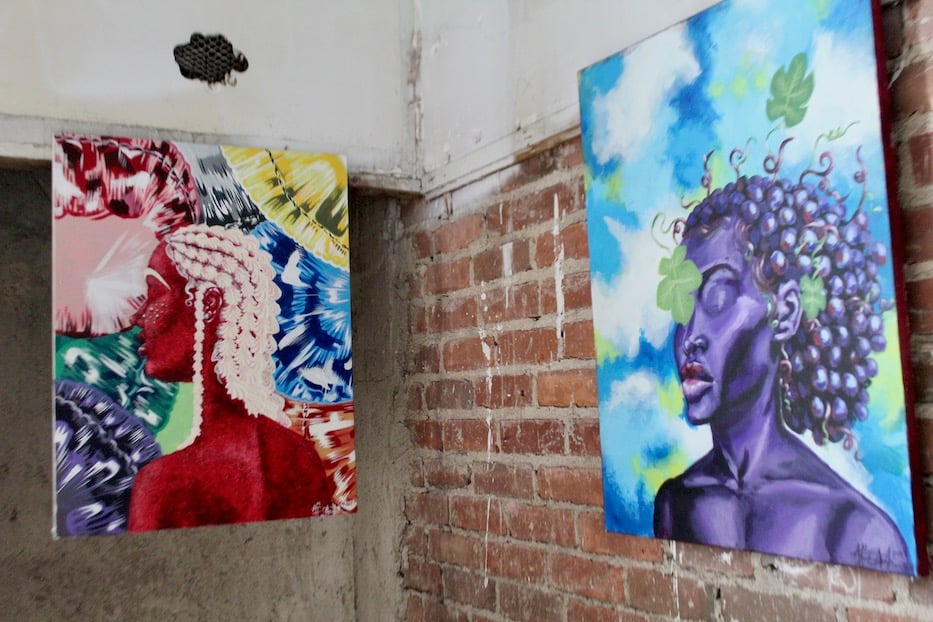 Top: Work by the Bridgeport-based artist Jahmane. Bottm: Canvases from Ashley Innocent, who also goes by Ashley the Creator.
Together, these artists jump back and forth through time, letting a viewer float through a space where anything—or at least, any future—feels possible. That resonates across and down the hall, where Sunday has paired large- and small-scale sculptures from the artist Jahmane and paintings by Innocent (she also goes by Ashley the Creator) with several objects found and repurposed in the building's basement.
Working with the artist Marsh, Sunday has assembled the pieces into a kind of living triptych, the bases vibrant and illustrated as soil- and bulb-filled glass jugs sit above them. Everything here, it seems, is germinating, an idea brought together by Innocent's vibrant canvases on the walls and a series of fluid-filled jars from Jahmane. The room's rawness—it's not decay—works to its advantage, the works popping against the exposed brick and stripped-away walls.
"When I was putting the rooms together, I was doing it by feel," Sunday said on a recent walkthrough of the show. And indeed, there's a sharp-eyed intuitiveness that a viewer can feel in the space, where time is often porous and malleable. Nadine Nelson's oceanic homage to Yemayá, the Yoruba orisha of motherhood, feels of a piece with Revels' bright, digitized takes on traditional West African masks. Shawna Carey's homage to Octavia Butler, and particularly to her prophetic Parable of the Sower, resonates with Sunday's Afrofuturist bookshelf, and works that range from Ibi Zoboi's Star Child to Tochi Onyebuchi's Goliath.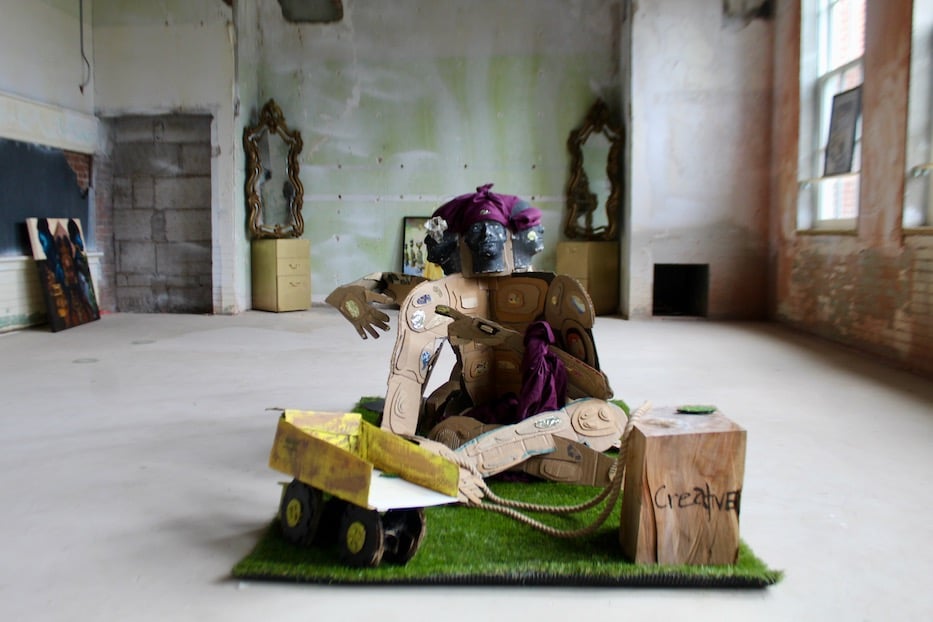 Greg Aimé, Black Atom.
Taken individually and together, the works give viewers plenty to chew on, and often demand a second or third or tenth close look. In a former classroom close to the end of the hall, a mix of sculpture and digital work from the artist Greg Aimé asks viewers to come close in two different ways, with a series of collage-and-digital artworks and a multimedia sculpture that is best seen from the floor.
In his sculpture, titled Black Atom, a many-headed figure sits still and cross-legged on a square of astroturf, his body rigid and straight-backed in layers of cardboard. Silky, violet cloth wraps his heads, falling at points over his eyes. Below, his right arm rises at the elbow, pointing to the opposite side of the room. On his knees, shoulders, elbows and pecs, circles of cardboard rise, pieces of paint and paper glinting at their centers.
A rope trails from his other hand to a wooden box emblazoned with the word Creative, reminding viewers that the yoking of capitalism, artistry, labor, and race is a social intervention that has not always existed. Suddenly, in this corner of a renovated school, among the hum of Newhall and Morse Streets outside, it is possible to imagine a world where artmaking and access to wealth are no longer bound at the hip. Nearby, a canvas from Jasmine Nikole's The Present is the Future brings it full circle.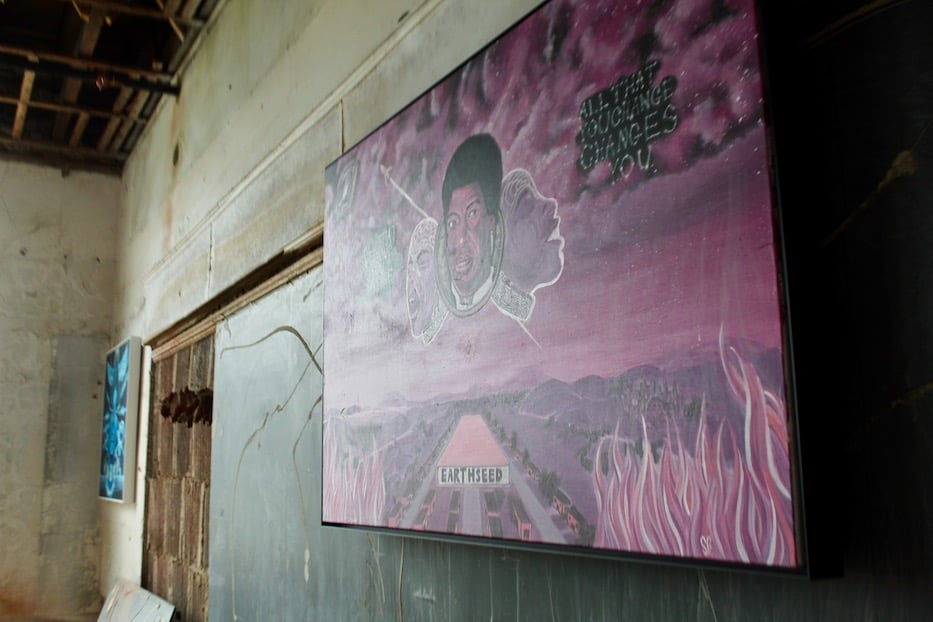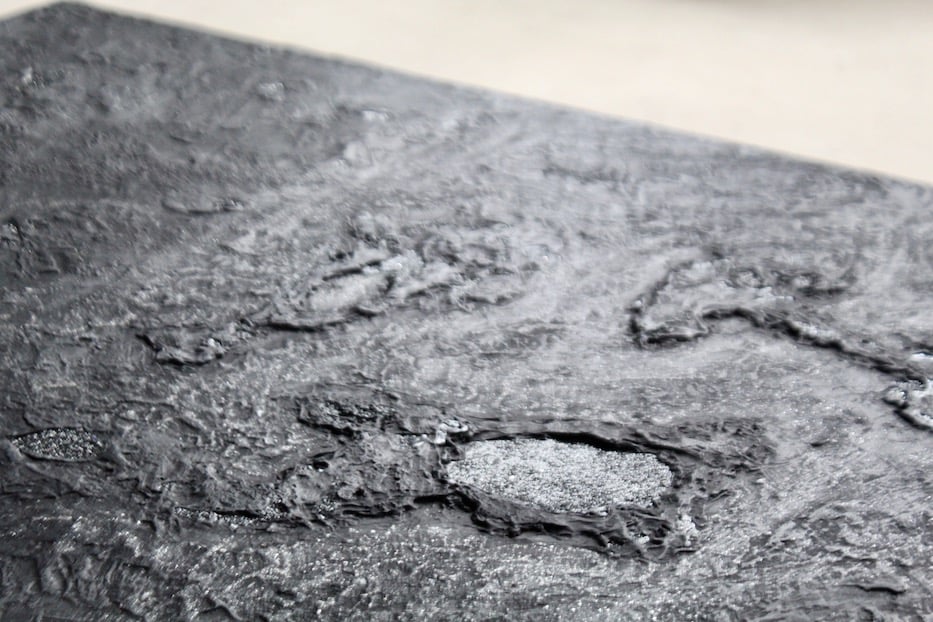 Top: Shawna Carey. Bottom: A detail from Alisa Sikelianos-Carter's work in the show.
For Sunday, who curated the first leg of 6th Dimension at Connecticut College in January of this year, it is a long-held dream and triumph of a show that is still very much evolving. Two years ago, she became interested in Afrofuturism after taking a workshop with artist, scholar, and activist Ingrid LaFleur, who will be giving the keynote at the summit on Oct. 14.
Well before that time, Sunday had been thinking about what it meant to be a Black artist and curator supporting fellow Black artists and curators. She has also always loved time travel and science fiction, but didn't know there was a whole aesthetic for it. As LaFleur spoke about her work, a lightbulb went off in Sunday's head.
"That was the first time, conceptually, where I was like, 'Oh, this is what Afrofuturism is.' There are principles that go along with this … a framework of how we look at the world and how we treat each other," she said. "I think a lot of people, we see it in pop culture but don't have a name for it. I think about music videos in the 90s—Busta Rhymes, TLC, Erykah Badu. Present day, we see it in Janelle Monae, hip hop and R&B culture."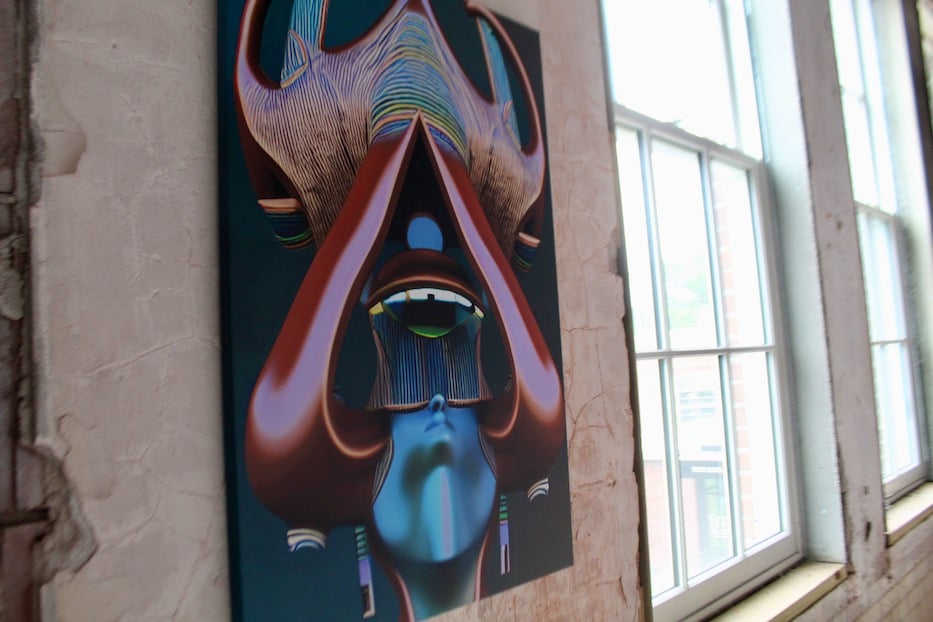 Detail of Ira Revels' work.
In New Haven, where she has lived for the past two years, Sunday said she also thinks about Afrofuturism as it relates to the city's rich Black history, past and present. When she was first thinking about the 6th Dimension exhibition, her dream was to present it concurrently in three Connecticut cities, collapsing the geographic boundaries that exist in an already small state. Doing a deconstructed show in phases was the next best thing. She praised ConnCORP for their help and their space.
"It's symbolic for me, being from New London and being able to close with this big experience here in New Haven, where I'm based now," she said. "I really wanted to explode that idea of having these different experiences over a course of time that people can connect with in different ways."
In a room dedicated to reading and reflection, a suite of neon-colored "Letters to the Future," brings those ways together, making the exhibition feel like the conceptual core of the festival. While most are from an opening reception at the end of August, the show is open to the public with weekly hours through the end of October. As a viewer reads them, they feel like a template for the best version of the future, except in the present.
You will be beautiful. We are thriving. Covering. Supportive. Held. Divine.
Remember who you are. Put your all into the things that bring you joy.
To love is a blessing. Love endlessly.
6th Dimension runs at the LAB at ConnCORP, 496 Newhall St. in Hamden, through Oct. 28. For all events related to the festival, click here. The "Into the Afroverse" summit, at which LeFleur is the keynote speaker, will take place Oct. 14 from 10:30 a.m. to 8 p.m. at NXTHVN, 169 Henry St. in New Haven. Register here.