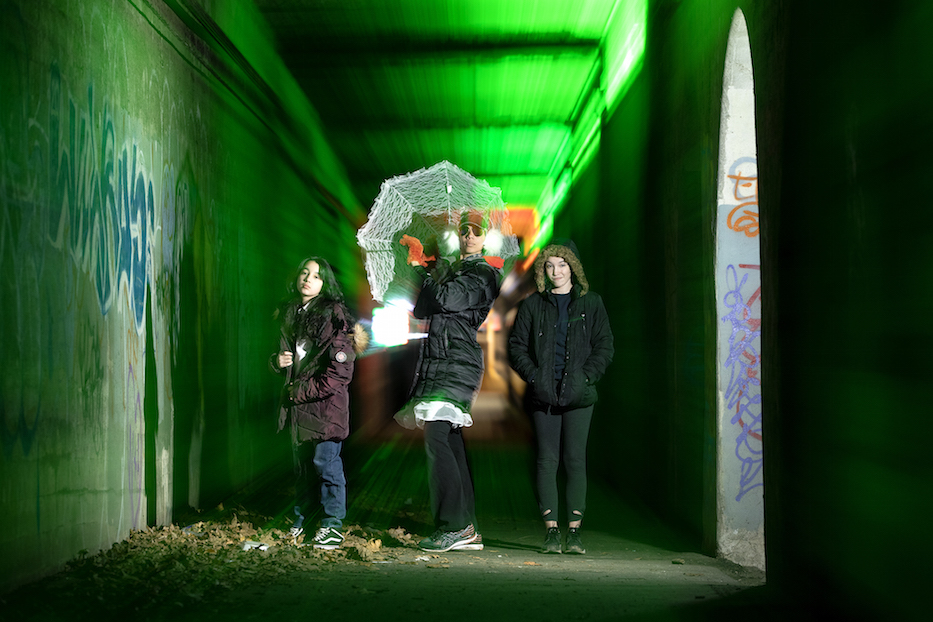 Fair Haven | MakeHaven | Public art | Arts & Culture | Mill River District | Could Be Fund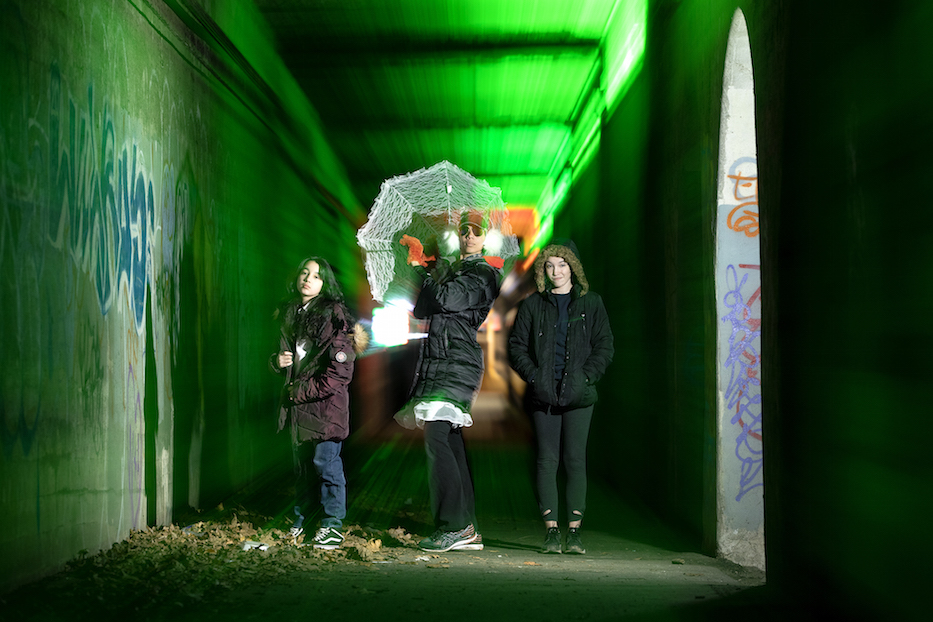 The Notorious P.I.C. Co-Founder Teresa Joseph (center) and her kids at the underpass. Chris Randall Photo.
Teresa Joseph was one of the first to see the lights, flashing red and green from the glowing mouth of a Mill River underpass. They bewitched her, twinkling in the dark, wet winter night. Her kids were spellbound in the backseat. She insisted that her partner pull the car over. In just minutes, it became the beginning of a new love affair with an old, industrial part of the city.
The bright colors are part of a new, long-term light installation in the Mill River District, wired into the concrete Amtrak underpass by Humphrey and James Streets. The installation is the part of a years-long initiative from Mill River advocate, professional tinkerer and MakeHaven Director J.R. Logan and Acuity Brands Director of Engineering Ryan Zaveruha to light the underpass. In November, the two moved forward on the project with full funding from a number of partners and final approval from the City of New Haven.
While the bridge itself belongs to Amtrak, the road and lighting are maintained by the city.
"There was a need," said Logan in a recent interview over Zoom. "It felt like such a dark entryway to Fair Haven, or vice versa, to East Rock. We haven't made it pristine. We've made it interesting. Made it cared for."
The project has been in the works for over two years. After years of walking through the underpass on his way to and from the United Way of Greater New Haven, Logan enlisted the help of Zaveruha and other members of MakeHaven on something then called the Brilliant Underpass Project. In spring 2019, the two launched a fundraising campaign and began to play with lighting designs at the site. The two were particularly inspired by artist Bill FitzGibbons' 2013 installation LightRails in Birmingham, Alabama, among others.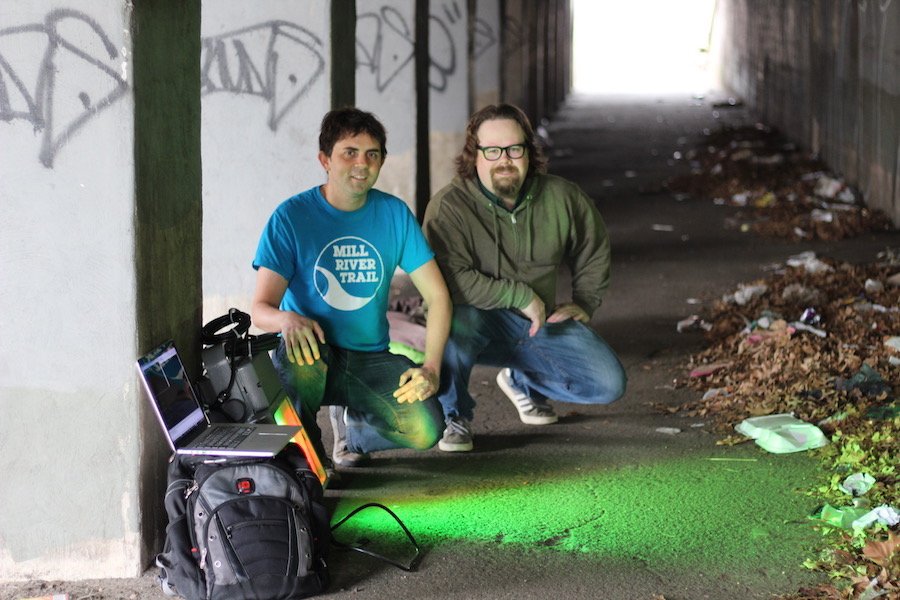 J.R. Logan and Ryan Zaveruha at the underpass in April 2019. Lucy Gellman File Photo.
After securing grants from the Could Be Fund, Sustainable CT, the Community Foundation for Greater New Haven, nearby local businesses and several individuals (a full list is available here), they started looking at long-lasting commercial lighting fixtures that could withstand the elements.
Logan said the project's mission was—and continues to be—twofold. He wants to increase pedestrian safety in an area where pedestrians are too often an afterthought, despite nearby bus stops, offices, residential housing, and a laundromat just beyond the underpass. He also wants to encourage greater usage of the Mill River Trail, a newly completed section of which opened by the underpass last September.
"I want to be sending people on the trail," he said. "I've done dozens of walks with people, and folks are always saying, 'geez, this is such a dark, scary spot.' If I talk to people at District or in the area, they always know what I'm talking about when I say 'the dark underpass' or 'the creepy underpass.' I wanted to make it more pleasant for pedestrians."
Last November, he and Zaveruha invested in several 25-pound light fixtures from Acuity Brands, which they assembled in Logan's living room. That month, Zaveruha also worked with Accurate Electrical Contractors to install the wiring and test the lights. He recalled the anticipation he felt as he twisted the final wires and taped them up by an electrical box that sits in the underpass.
"I put 'em together, and all of a sudden there's a light show happening," Zaveruha said. "And it just worked perfectly. Everything just worked instantly. We literally taped it up and closed the door, and we were done. It never happens like that. There's always something wrong. Then I went back and checked it a few days later, and it's still running … now I'm sort of obsessed with it."
Chris Randall Photo.
The lights currently operate 24 hours a day off of a pre-programmed SD card. They are under warranty to run for a minimum of five years, which Zaveruha said can translate to hundreds of different light shows. Going forward, he is working on a way to schedule lighting patterns remotely using a developer board and low-cost, public wireless network called Helium, to which District New Haven has a connection.
In addition to a daily glow of pinks, blues, and greens, he has designed a red-and-green Christmas light show and a red, white, and blue pattern for the Fourth of July. He said he'd love to see community contributions as well: both District New Haven and its The Holberton School, focused on software engineering, are nearby. So too is a community of techies and tech-curious tinkerers at MakeHaven.
This spring, he and Logan also plan to paint and clean up the underpass, which is currently covered in graffiti, broken and discarded nip bottles, and piles of fall leaves. Logan said he envisions a volunteer-run painting party, for which the city's anti-blight Livable City Initiative has already provided 25 cans of paint. He has also wondered if the underpass might be a good location for a mural.
"I would be interested in how we encourage, just like, a good vibe in there," Logan said. "So there can be creativity. Maybe a mural. I don't think painting it all as a white block is going to do anything other than create a canvas. So that's another phase of this. But the main thing we promised, that we will put lights under here and it will look cool, that's happened."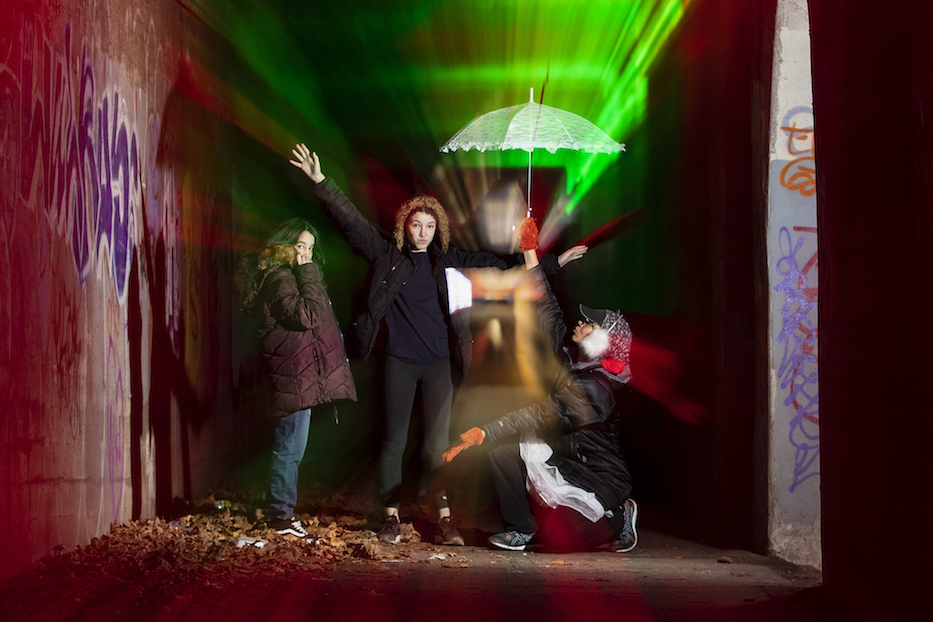 Chris Randall Photo.
New Haveners, meanwhile, have started to discover and delight in the underpass' new appearance. On Christmas Eve, The Notorious P.I.C. co-founders Chris Randall and Teresa Joseph found themselves gawking at the lights during a photo tour of the city with their family. While the two had not initially planned to stop, Joseph insisted that they pull over and capture the colors in action. They returned two days later for a follow-up holiday photo shoot.
"I was like 'What the hell is this? It's beautiful!''' Randall recalled in a phone call on New Year's Eve. "It's a pretty desolate space. With there being lights there, it adds some extra humanity or intention that didn't exist before."
Joseph added that she was excited to stumble on the underpass, and doubly excited to learn that the installation is intended as a long term project with multiple color schemes planned for the future. She said she was inspired by the Christmas-themed lights, which were a welcome shock to her system. She and Randall are already planning a return to the site, which she's dubbed a "photo mission."
"The first time we went by it, we were on a different mission," she said. "I was like, 'Where are we? What is this?! It's holiday themed! You have to get this!' It's red and green and the most gorgeous thing I have ever seen.
"For me, the first experience was like, 'Wow, this is so beautiful.' I was nothing but inspired. I wanted to come back for a shoot. Once I'm inspired, I'm obsessive."
City Engineer Giovanni Zinn, who signed off on the project last year, praised the installation for breathing new life into the underpass and surrounding area. Going forward, he said he would welcome similar projects around the city. He added that he was excited to work with Logan, whose enthusiasm for the project ultimately sustained it.
"I think it certainly makes it more friendly," he said. "Instead of being the dark rail underpass, it's the place with the colored lights. I think it completely changes people's perceptions of it. I love these projects. They're fantastic. When we get these ideas in the community, I think it really starts to reframe how we start to see creative lighting projects going forward."
To find out more about the Mill River Trail, click here.