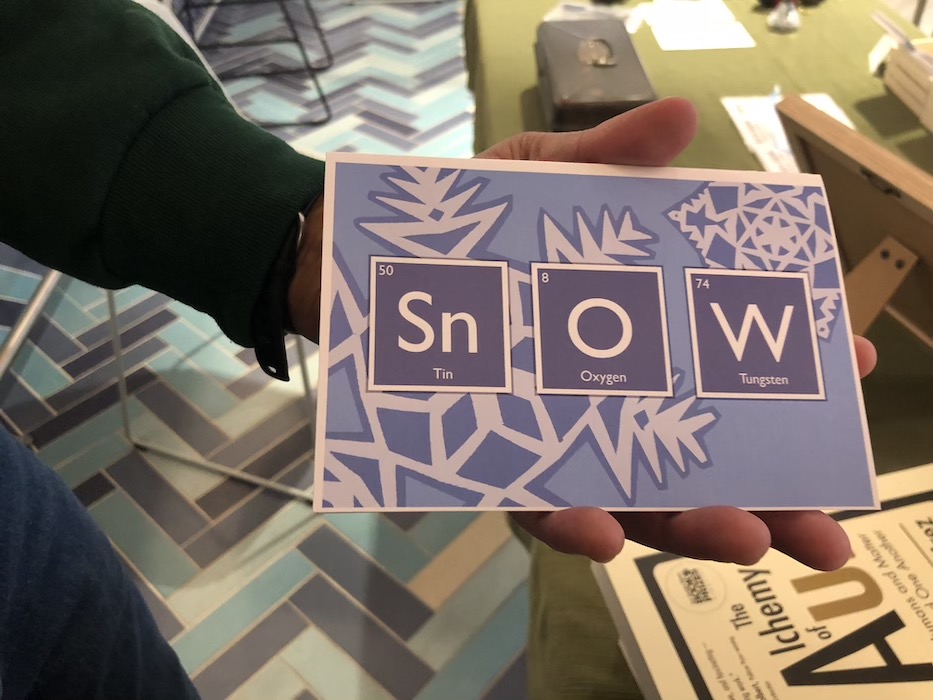 Culture & Community | Arts & Culture | New Haven Free Public Library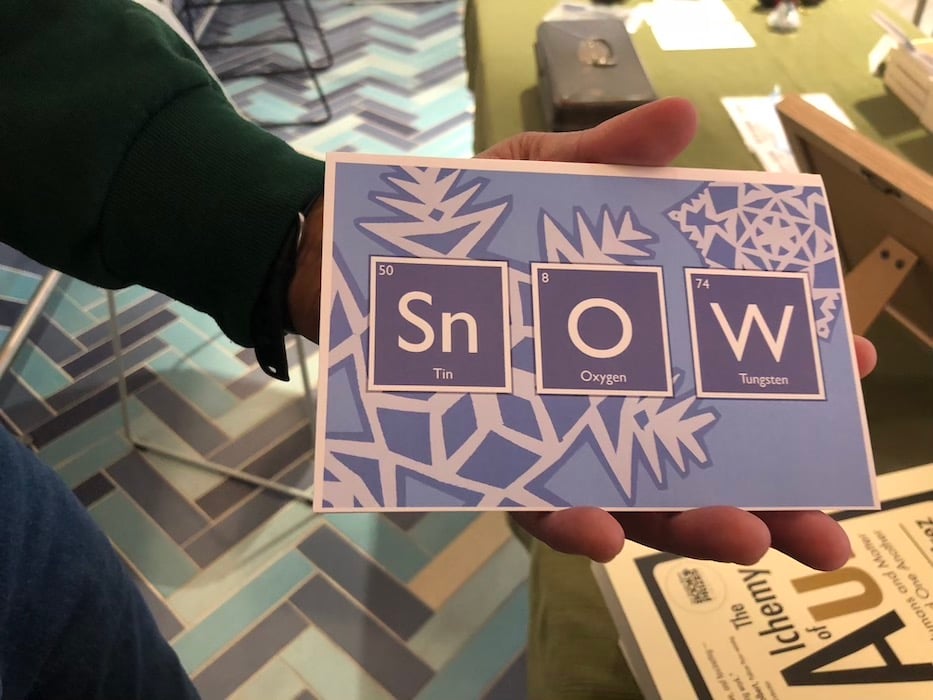 Ramirez, a self-described science evangelist who is moving from author to entrepreneur. Neha Middela Photos.
At the center of a long table, Ainissa Ramirez stood behind three wooden boxes, waiting for attendees. Inside each sat postcards emblazoned with line drawings—an ice cream scoop, a traffic light, and an ironing board. Written above these drawings were the names Alfred L. Cralle, Garrett A. Morgan, and Sarah Boone—all Black inventors who changed the course of material history.
Last Saturday, self-described science evangelist Ramirez was one of three artist-entrepreneurs at the New Haven Free Public Library's second annual Make-To-Sell Holiday Bazaar, held in the former Orchid Café at Ives Squared. Over four hours, graduates had a chance to tell attendees about their work in the program, show off their products, and network.
Make-to-Sell graduates included Ramirez, Delores Byrd of Breathless Boutique, and Fern Levels of Gifts by Fern. Two additional graduates were unable to attend.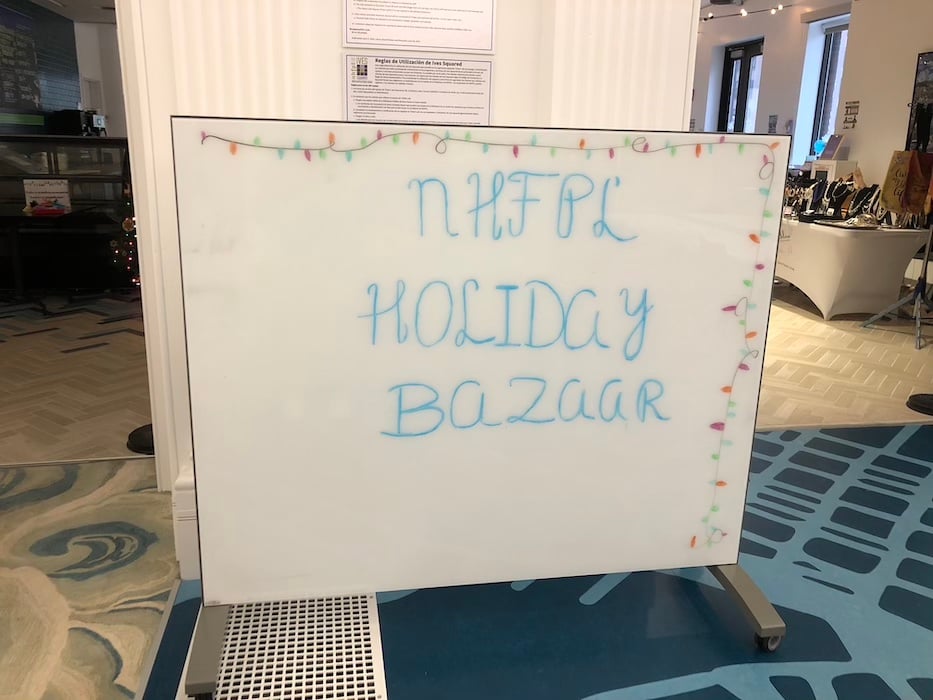 The program aims to demystify aspects of owning and setting up a small business. According to Jennifer Gargiulo, the manager of Ives Squared, the program features lessons on topics such as setting up a limited liability company (LLC), creating a website, creating a business plan, and marketing on social media. Every holiday season, the library invites previous participants of the program to return to the library, receiving the chance to share their work with the public.
Gargiulo said that the program was funded by grants from the New Haven Innovation Collaborative and CT Next. While the library does not plan to run a Make-to-Sell cohort this upcoming year, as the grants from these programs have expired, Gargiulo said that the library hopes to host classes that are similar to the Make-to-Sell program.
This year, Ramirez is one of those graduates. After completing the program, she launched a business making and selling science-themed greeting cards and postcards that highlight Black inventors. The postcards, which are colorable, feature information about the inventors on the back of the card. They build on her book The Alchemy of Us, which was published by MIT Press last year and has gone on to win science and literary awards across the country.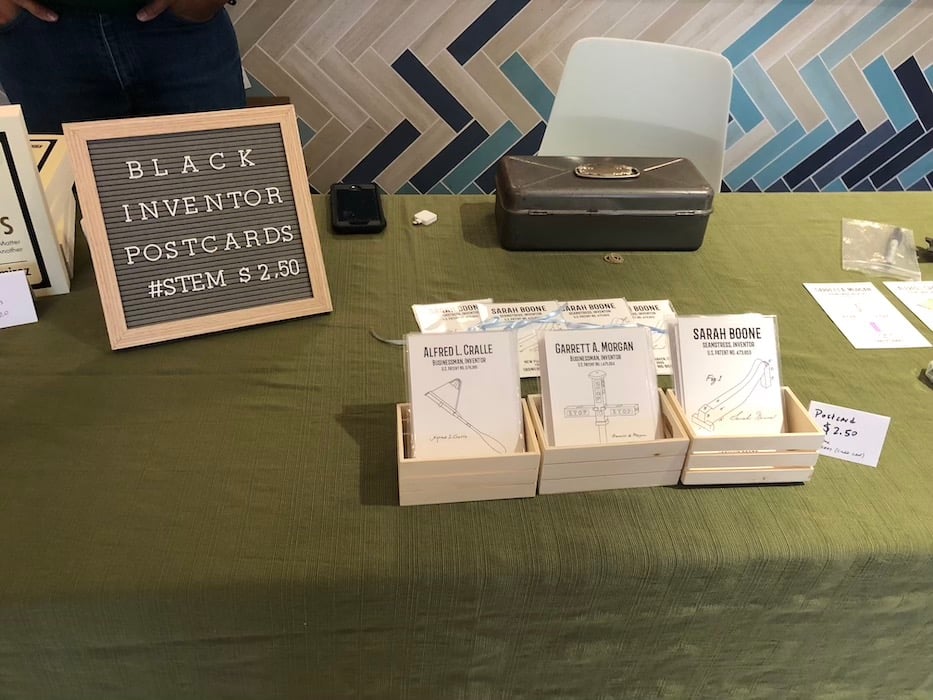 "The ice cream scoop was invented by an African American man. The early traffic light was invented by an African American man, and New Haven's own Sarah Boone created an early form of the ironing board," she said, as an instrumental version of "Little Drummer Boy" played in the background. "I'm just trying to share New Haven's hero with other people."
Ramirez said that she appreciated how the program took participants "from zero to hero" in setting up a creative business. Teachers walked cohort participants through on pricing, how to use online platforms such as Etsy, and key financial aspects of owning a business. Noting that entrepreneurs often feel discouraged at the various steps associated with having a business, Ramirez emphasized how the program removes several hurdles associated with business setup.
In addition to the Make-to-Sell program, Ramirez has also been inspired by other resources at the library. Her book The Alchemy of Us details little-known stories about widely used inventions such as clocks, lightbulbs, and photographic film. Ramirez learned more about Boone, who is one of the inventors featured in the book, through resources at the library.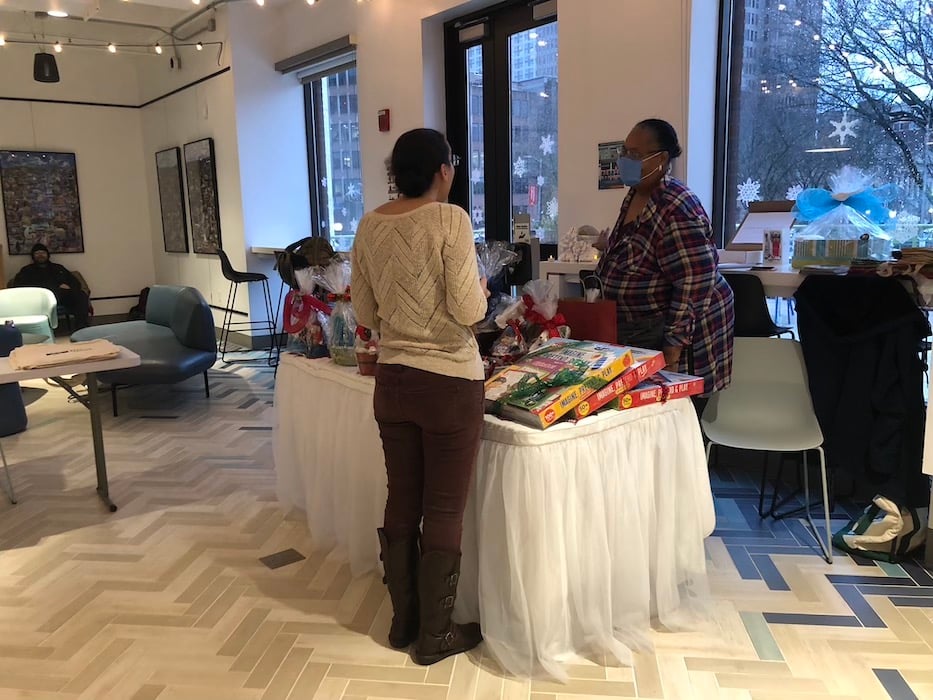 Fern Levels of Gifts by Fern talks to an attendee.
The two booths on the right side of the room featured the work of Delores Byrd, of Breathless Boutique, and Fern Levels of Gifts by Fern.
Byrd, who has operated her business for 23 years, has noticed how new gadgets and technological tools, such as QR-code business cards have changed craft fairs. Her table featured originally designed necklaces, earrings, and bracelets. Next to the table were shelves, filled with purses and tote bags.
Inspired by her mother's bridal gown business, Byrd decided to create jewelry. She said that the designs used for the jewelry are inspired by various cultures as well as input from customers. Now, she runs her business with the help of her daughter and grandchildren.
"I like vending because I'm a people person and I get to meet a lot of different people," she said. "It's rewarding."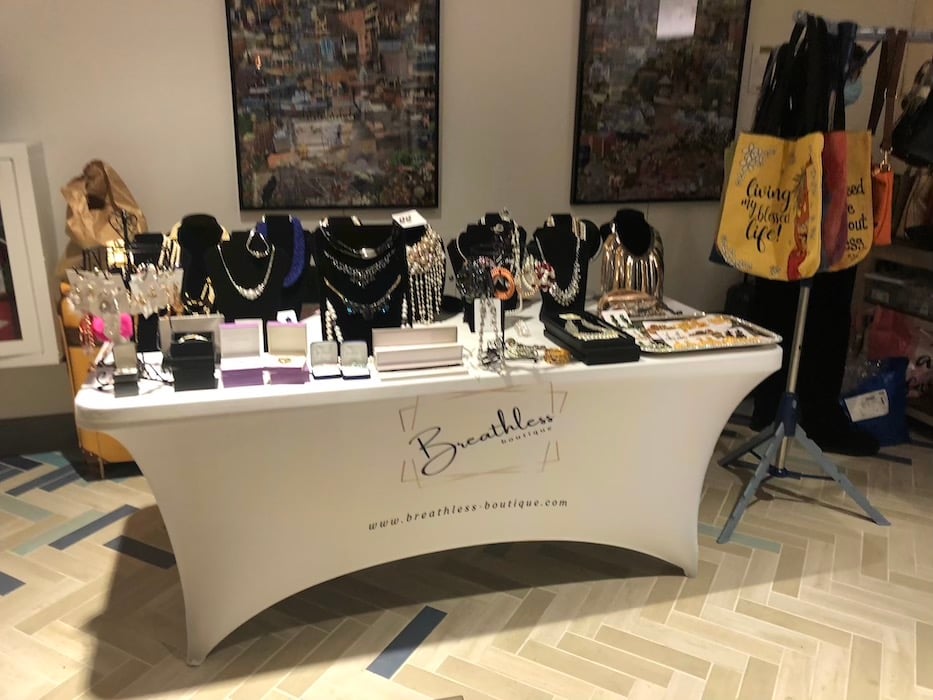 Next to her, Levels helped a customer buying a gift basket as a Christmas present. She explained that her table consisted of custom gift baskets, activity boards for kids, and custom gift wrap that she designed.
"I've been a vendor for over 20 years," she said, adding that her experience began with over seven years of free ministry.
Her son gave her the idea for her gift wrap, "Gospel Gift Wrap," featuring passages from scripture and words with religious significance. After a lengthy process of research, Levels learned how to make the gift wrap using the Canva graphic design software.
The idea of making gift baskets came after a suggestion from her pastor. After a process of gathering items, including finding unused items in her home, couponing and buying items from the store, and repurposing items, she wraps her baskets.
"The major thing with my baskets are the bows," she said. "I just decide what looks good, and put it on there."