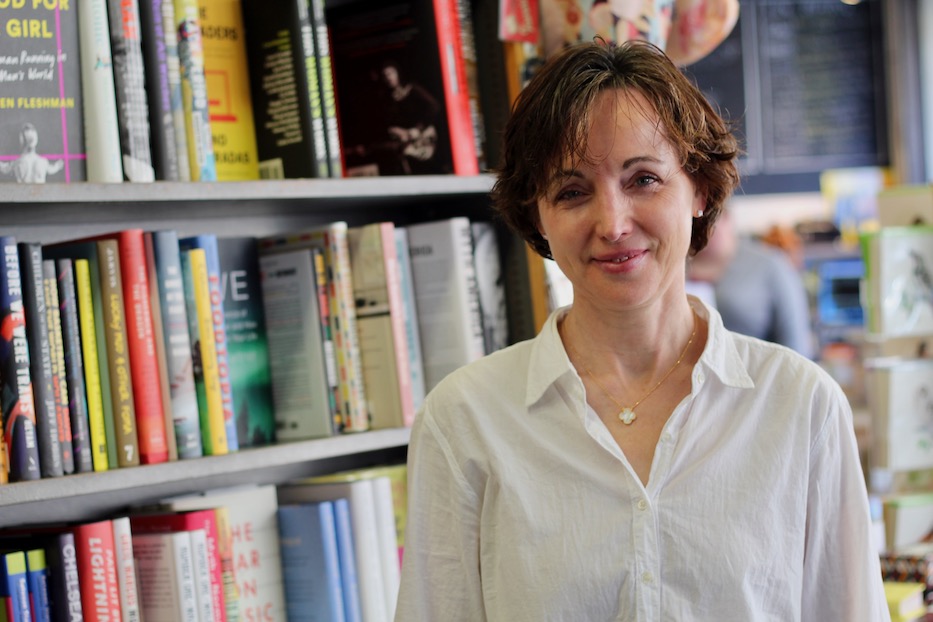 Culture & Community | Music | Southern Connecticut State University | Arts & Culture | New Haven Symphony Orchestra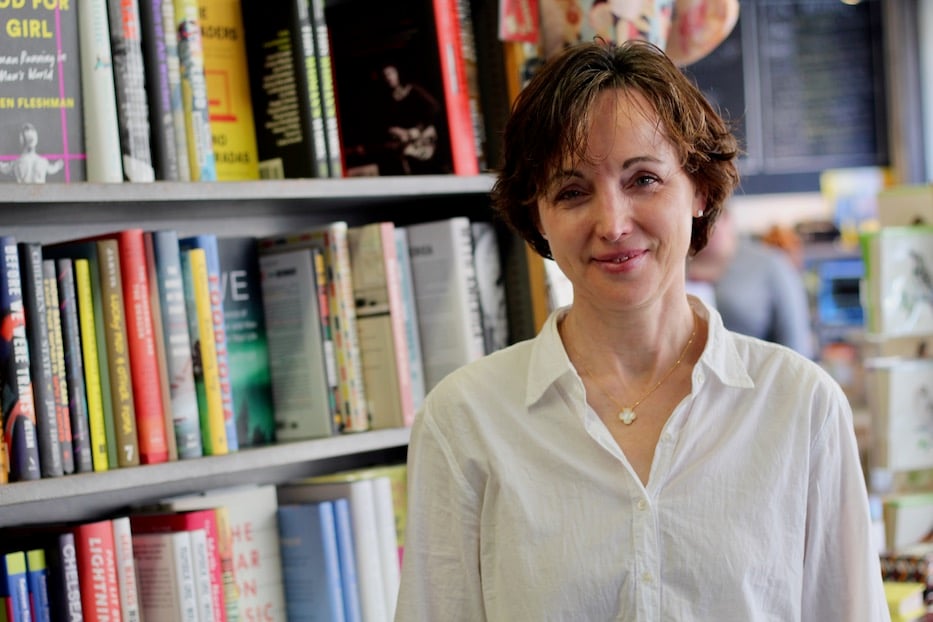 Tania Miller Tuesday morning at Atticus. "One of the first things I believe is that music is for everyone," she said. "And that's really truly a passion for me. I think about myself as this young kid from a rural place, and I'm in love with classical music. I can translate the humble place that I started into this extraordinary world of expression, of art, of the highest art." Lucy Gellman Photo.
Classical music carried conductor Tania Miller from small-town Canada to stages across the globe. Somewhere along the way, it burrowed from her arms and outstretched hands deep inside her chest, and all the way to her soul. When she takes the podium in New Haven Friday night, she's ready to share that feeling with the city—and hoping that it will have her back for an encore.
Miller—who made history when she was tapped to lead the Victoria Symphony two decades ago—is the second of four finalists in the New Haven Symphony Orchestra's (NHSO) search for a new music director. This Friday, she will conduct Ludwig van Beethoven's Piano Concerto No. 2, Robert Schumann's Symphony No. 2, and Valentin Silvestrov's "Hymne," as well as Franz Lehar's "Vilja's Song" from the opera The Merry Widow.
She is currently the interim principal conductor for the Rhode Island Philharmonic Orchestra & Music School, a position she has held since last year.
The program, which features pianist and vocalist Chelsea Guo and work from Ukrainian-born Silvestrov, is meant to summon light and resilience in the fog of conflict, distraction, and war. The show begins Friday at 7:30 p.m at the John Lyman Center for the Performing Arts at Southern Connecticut State University (SCSU). Tickets and more information are available here.
Maestro Alasdair Neale, who began his tenure in 2019 and helped shepherd the symphony through the Covid-19 pandemic, plans to step away after the 2023-2024 season. The three other finalists include Donato Cabrera, who guest conducted a concert on Jan. 20 of this year; Perry So on March 26; and James Blachly on April 16.
"I feel that music has never been more critical as a path for us to communicate with each other, to experience understanding of each other, in a way that doesn't use words and doesn't tell us what to do, doesn't divide us," she said Tuesday morning, in an interview at Atticus Bookstore Café downtown. "[It] doesn't tell us to take this side or that side, or to cancel this side or that side. It just causes us to experience and to share and to connect."
Her own relationship with music and music education has been decades in the making. Miller grew up in rural Saskatchewan, the Canadian province that sits like a friendly puzzle piece just over North Dakota. Despite a town of just 1,000, she was surrounded by "this great community spirit which centered around a small place."
Part of that was the town's commitment to music. In addition to its love for ice hockey and curling, the province is proudly home to Mrs. Thelma Gillis, a piano teacher who served Eastern Saskatchewan one student at a time until she was 91 years old (she is now 95, and still extremely sharp, Miller said). When Miller was seven or eight, she began to play the piano under Gillis' watchful eye.
Piano led to the pipe organ, as she slowly grew her mellifluous footprint. Still, she said, there was the reality of being in a small town, where the closest symphony was a two-hour drive away. Unlike many of her contemporaries, who grew up with classical music, she didn't get her first full taste of symphonic repertoire until she was 16, and was able to visit the Regina Symphony Orchestra on a field trip.
She remembered sitting, still and completely amazed, as musicians played Claude Debussy's "Prelude to the Afternoon of a Faun," making sounds with their instruments that she didn't know were even possible.
Even then, "My start was to think that someday I would go to Carnegie Hall playing piano," she said as she sipped her tea. "I didn't know that I could be a conductor."
When Miller went to college at the University of Saskatchewan, she entered with an interest in piano performance and music education. Those years were filled with firsts: her first ballet, her first job as a pipe organist, her first paying gig as a choir conductor at a local church. After falling in love with the last, she began taking summer conducting courses, soaking up every ounce of knowledge that she could.
"When you discover what you're meant to do, your growth can be extraordinary and sort of explode," she said.
It was in those summer classes that she first met conducting faculty from the University of Michigan. Just as Gillis had a decade before, they saw something in her. It wasn't long before she was on her way to Ann Arbor, where she earned her graduate and doctorate degrees in conducting. Although Miller was initially self-conscious of her background—here she was, this rural kid surrounded by students who had studied music their whole lives—she soared.
"I just went straight up from nothing, in terms of what I was learning," she said. "You can't say straight up, because the thing is, it's just a steep, steep hill ... all of these experiences, I was learning an extraordinary amount. I didn't ever stop studying. For me, every hour of every day was filled with learning this art form."
Her years at Michigan were transformative (for someone from a small, rural area, even the drive from Saskatchewan to Ann Arbor was a culture shock, she said). By the time Miller was finishing her doctorate, she had founded Michigan Opera Works, a small opera company based in Ann Arbor. It became her springboard to the Carmel Bach Festival in California, and later the Vancouver Symphony and the Victoria Symphony.
When she arrived at the last in 2003, she shattered a glass ceiling as the first woman (and one of only two Canadians) to lead a large Canadian symphony. Her sense of personal, even soul-stirring growth through music has never stopped.
"Music is so much an expression of life, and as we live our lives, the music reveals more and more of what we're ready for, what life is, and different aspects to us along the way," she said. "I truly feel that every time until the last concert in my life, I will still be growing, and I will still find something new."
This Friday, she's excited to bring that revelation to the podium at SCSU. When she was building the program, she began with artist Chelsea Guo, who will be the soloist on Beethoven's Piano Concerto No. 2 and vocalist for "Vilja's Song." From Beethoven, she began thinking of the German composer Robert Schumann, whose Symphony No. 2 helped pull him out of a deep and documented depression. In part, it was the influence of Beethoven, as well as Johannes Bach, that got him writing again.
Thinking of those works led her to Silvestrov, a much-sought-after, living Ukrainian composer who, at 84, has become a refugee displaced by war. In the piece, written in 2001 and simply titled "Hymne," strings cry out to each other, so slow and methodical that they form a glistening web of sound. There is no rising action, no thunderous climax: the build is slow, so that when a violin breaks through, it's a small, delicate triumph.
It's as if Silvestrov is writing about the act of breathing itself. When resolution comes, a carpet of horns rolling gently in, it's quiet. To listen for it is to still one's mind, and concentrate only on the sound as it glides through space.
For Miller, the grace in Silvestrov's compositions is a call to find solace in the darkest and most horrifying of times. When she listens to his work, she can feel the composer probing the relationship between sound and silence. That feels especially true this month, almost exactly a year after he and his family fled their native Ukraine for Germany.
"The great art forms, once they're written and as they are experienced by different historical moments, by different countries, they transform and morph and travel and change with us," she said. "In many ways, I feel like music is a reflection of us."
It's that same belief in music as a bridge—and a music director's ability to steer it—that drew her to the position at the NHSO. On the East Coast, she can feel a different, "electric" sort of energy that doesn't exist in the same way on the West Coast. In New Haven specifically, she sees a diverse, polyphonic community where the NHSO is already thinking about how to bring people together through familiar symphonic repertoire, emerging and underrepresented voices, and new music.
Already, she's been impressed by the amount of programming that the NHSO does specifically for and with young people, from their instrument petting zoos and young peoples' concerts to the young composers' project, most recently a collaboration with composer Joel Thompson. In addition to the four rehearsals she gets with the NHSO this week—their fifth night together is the concert—she is meeting with musicians, board members, and staff before she leaves the city.
If she is lucky enough to return, she will bring a career of blending old and new along with her. While she is steadfast in her dedication to the classical canon, she is equally excited about new composers, she said. During her 14-year tenure with the Victoria Symphony, she commissioned and premiered over five dozen works by living composers. Her recent favorites include Aaron Jay Kernis (who is based in New Haven), Kevin Puts, Nico Muhly, Jared Miller, Michael Oesterle, and Jessie Montgomery among dozens of others.
"It's a part of exploring who we are in our time," she said. She added that she's excited to also make more accessible the work of long-dead voices, including Dmitri Shostakovich, Igor Stravinsky and Carl Nielsen.
For her, conducting is so much more than just the music, she added. When she takes the podium, it's an urgent and timely reminder to slow down and process a single work in a world that has become obsessed with instant gratification and quick, sometimes superficial connection. She is onto something there: ostensibly "smart" devices have shortened human attention spans and given people a false sense of connection as their use has skyrocketed.
To that, music may be the antidote. She's hopeful audiences will give it a chance on Friday.
"I feel like we are in a place where we are searching, and a little bit lost," she said. "I feel that division between people has become concerning, and I feel that music has that ability to bring us back together. We need to think. We need to spend time going for walks and being in experiences. So I feel like music is critical at this point. The experience of classical music gives us a depth of an art form that is very, very special and can impact all people."
"Once I'm on the podium rehearsing and performing with the music, for me it's just about that music," she later added. "It's about that communication and that spontaneity that we have together—the way the music kind of has a journey of its own. One gesture, one tempo, can create the next."
Tania Miller conducts the New Haven Symphony Orchestra this Friday, March 10, at 7:30 p.m at the John Lyman Center for the Performing Arts at Southern Connecticut State University (SCSU). Tickets and more information are available here.