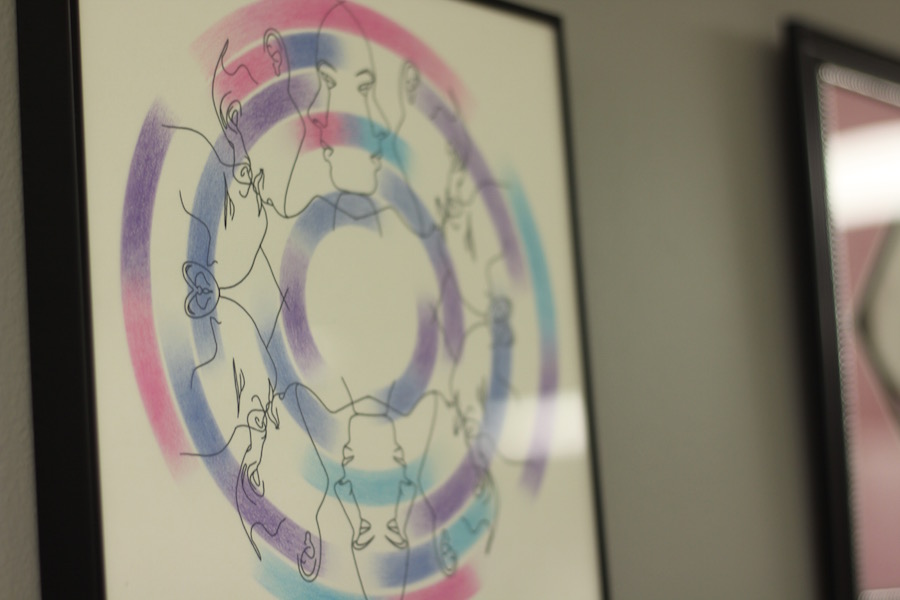 Downtown | LGBTQ | New Haven Pride Center | Visual Arts | Arts, Culture & Community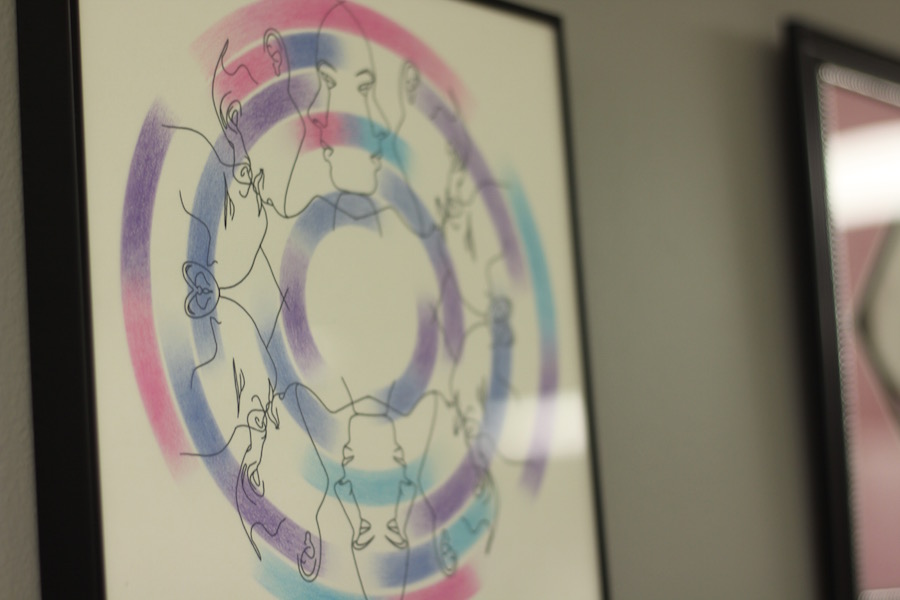 "Love Wheel" by Nao Uchiyama. Freedom To Love runs through Feb. 28. Lucy Gellman Photos.
It's easy to lose count of the faces in Neo Uchiyama's Love Wheel. First there are 10. Then, 11. Then another seems to materialize from the background, and we start counting all over again. Around the faces, pink, purple, and blue bands bleed into each other, spiraling out from the center. The faces don't notice it: they are pressed together at the lips and noses, enthralled and ready to meet for a kiss.
That dizzying rush takes center stage in Freedom To Love, a group show "of love in its many forms" now running at the New Haven Pride Center (NHPC) through Feb. 28. Planned to coincide with Valentine's Day, the exhibition features over 10 artists all addressing queer love—political and not—in painting, photography, and multimedia sculpture. Hours and more information on the center are available here.
Freedom To Love began as a faint heartbeat last fall, as NHPC Executive Director Patrick Dunn waded into programming for 2019, and found himself "feeling the need to celebrate the concept of love." An activist in his job and in his life, Dunn said he doesn't specifically see his love as political—but also knows that an invisible label is foisted on him every time he goes on a date, takes the stage to perform drag, or enters a new relationship. It follows him home at night and is there when he walks to work in the morning. So he decided to address it head on, opening a call for submissions.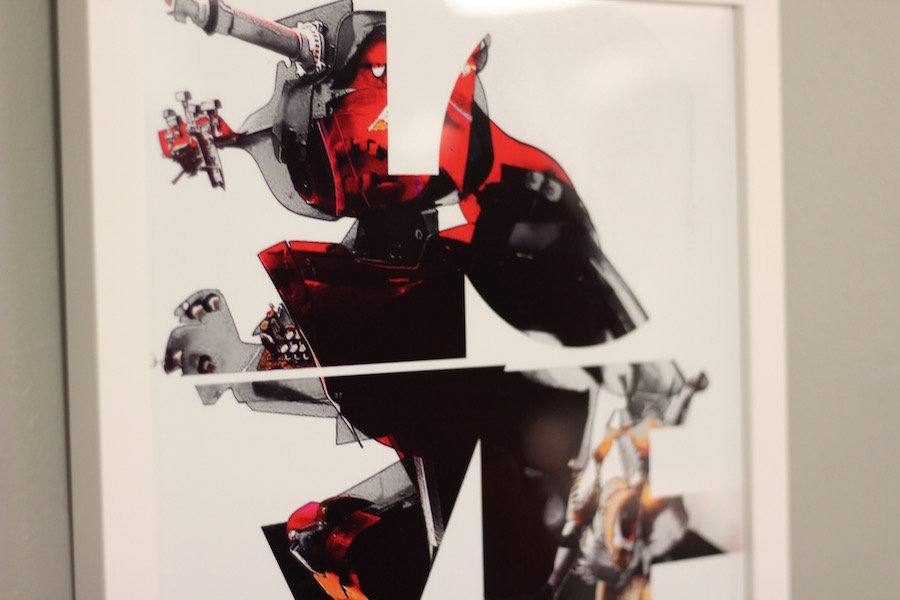 "It's not my fault that the Republican party has chosen to politicize my relationship status and my life," he said at the show's opening Monday night. "We're just trying to live, man. We're just trying to love."
Inside the center's basement gallery, that attempt to simply love—and to love simply, without all the outside noise—comes alive in brilliant color. Along one wall, a photograph from artist Arienne Davey is in good company, buttressed by multimedia work from Ray Baldelli, Maxwell Kale and Don Houston. On one end, Baldelli's small LOVE is at first an enigma, a sort of mechanized form that appears to be pulling apart, or hurtling forward on one end while the other can't decide what to do.
A longer look, and the form's absences become just as pronounced—a clean white line right through the center, a dip where the chest and neck might otherwise be on a person. It's enough to make us wonder: what do we know about love, and what are we missing?
On the other, Houston's "Two Lovers" is instantly eye-catching, slightly larger than the works around it. Against a swirling blue background—maybe bedroom paint, or maybe night sky, or maybe something otherworldly altogether—two men fold into one, their torsos entwined as one comes from behind, and the other reaches his left arm around to caress his lover's head. Both close their eyes as breath keeps coming from half-open lips, and their delicate eyelids almost flutter open in delight or surprise.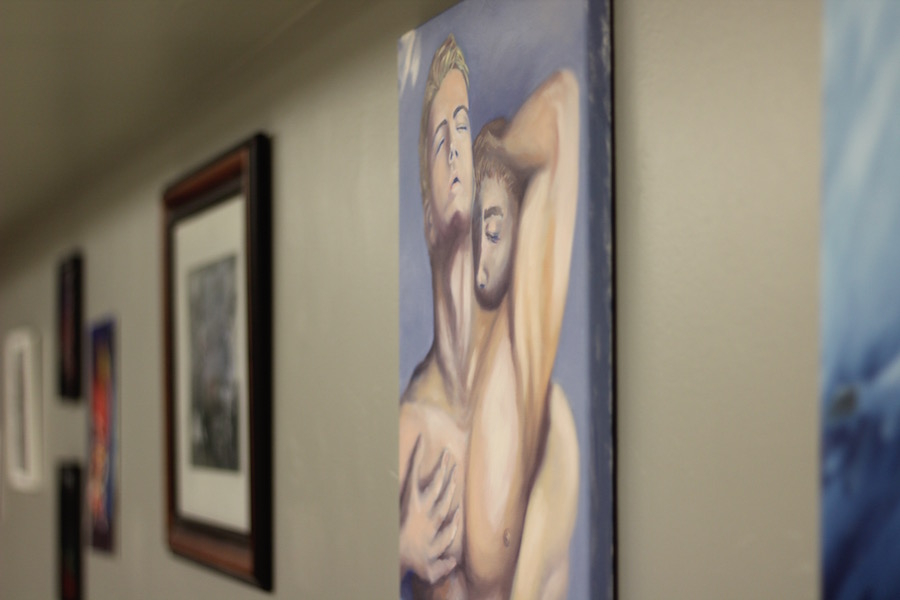 They may be idealized rather than realistic—Houston seems to have taken a page from Greco-Roman form, with bodies so ripped and obsessively polished they are nearly glistening—but leave us with a love that is raw yet tender and totally immediate. We can nearly feel the heat coming off naked flesh, the inevitable clockwork of two bodies that will follow this embrace. The skin is smooth, the kisses soft, the cheeks warm as they graze shoulder blades and necks. And we root for them, these blissed-out figures in the throes of tender passion. Because how how could we not?
Other artists have taken a more outwardly activist stance, their love for love made political. Close to the beginning of the show, Fred Verillo has left us with a meditation on self-love with his I'm Gay series, six photographs that each declare "I'm Gay" in identical script, and colors of the rainbow spectrum. It reads as a personal admission that he has wanted to make for some time, as if it needs to be not just shouted, but written on surfaces across town, to remind onlookers to get with the program.
Midway across from Davey's "Let Love, Stay Love," taken at the first Women's March in January 2017, Susan Czark's Edie/Thea prints dot a pillar and center table, chronicling moments in the decades-long relationship and engagement of Edith "Edie" Windsor and Thea Spyer.
The subjects of the documentary Edie and Thea: A Very Long Engagement, Windsor and Spyer were married in Canada in 2007, 42 years into their relationship and eight before their marriage would have been recognized across the United States. During her lifetime and after Spyer's death in 2009, Windsor became a leading force in the fight for marriage equality, vocal through the Supreme Court's favorable ruling in June 2015. She died two years later.
In each image, snapshots of Windsor and Spyer stretch across a grayscale backdrop, their faces grainy and visible behind a logo now synonymous with the Human Rights Campaign (HRC). Czark's messaging is both legible and moving: here are two of the twentieth century's great loves, who endured far more than they should have had to just to be with each other. As their faces peek through, they replace the HRC's signature two maize bars, which turn its logo from a simple blue backdrop to a clean blue and yellow equality sign. Where there was an institutional logo—even one beloved by many in the LGBTQ+ community—there are now smiling faces that stay with us long after we have walked away from the images.
But the logo, rendered in several primary colors, also makes them complicated. Our hearts dip and swell thinking of these two women, whose steady love withstood decades of secrecy, discrimination, and legal action that persisted even after Spyer's death a decade ago. But the HRC's logo also gives us pause for the millions of transgender bodies that the organization, founded in 1980, left out of the conversation for so many years. Displayed at a political moment when both gay marriage still feels very much imperiled and the HRC has publicly vowed to do better by the trans community, they seem to come off with a different final message: let's just do this, and let love be love.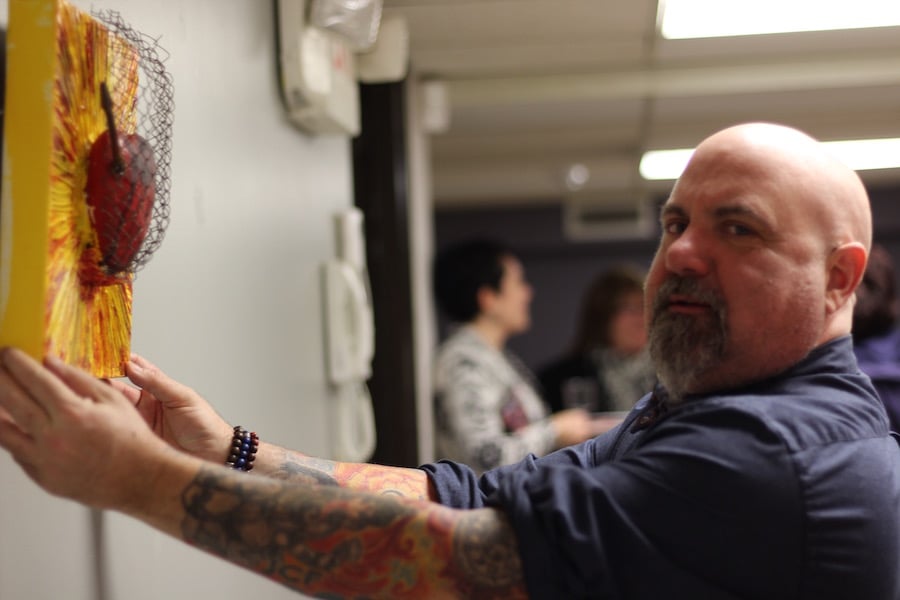 Artist Tony Ferraiolo installs his work.
Other images still live in between, asking the viewer to make the connection. Beyond a pillar in the center of the room, Verillo returns with more photographs, including the evocative "Hardcore" and "Crown of Thorns & Leather." In the second, a man's head peeks out in a shiny leather cap. On top of it—cut off partly by the frame—a chrome-colored crown dips over the tops of his ears. And we wonder: what's the context? Will he too be crucified for acting on his belief?
In another corner of the gallery, three bright canvases by Sarah Savercool remind us of Alex Mickens' wonderfully fluid work, with figures who don't seem of this universe, but don't seem totally outside of it either. Across the three works, arms reach; plants grow out of where organs should be; bodies elongate and split in ways that seem both unnatural and totally organic. Down the wall, Ricky Mestre takes a different tack, his figures nude, heavy-breasted and covered with thick lipstick kisses in "Besame" and "Mucho." Are they already well-loved, or are we compelled to love them well?
In one of the exhibition's final works, artist Tony Ferraiolo has fixed a heart inside a wire cage, it's thick redness punctured by a brown arrow. Around the cage, ribbons of red slice through a yellow background. It's too bright for us to look away.
Is this love, we ask ourselves? Love punctured, or love deferred, or love as it struggles towards freedom to be itself? Is it what it feels like for love to be captive? If we need to free it, the show has given us our marching orders.
The New Haven Pride Center, located at 84 Orange St. in downtown New Haven, is open Tuesday through Thursday from 3-6 p.m. Freedom to Love runs through Feb. 28. For more information on the show and events at the center, visit the organization's website.