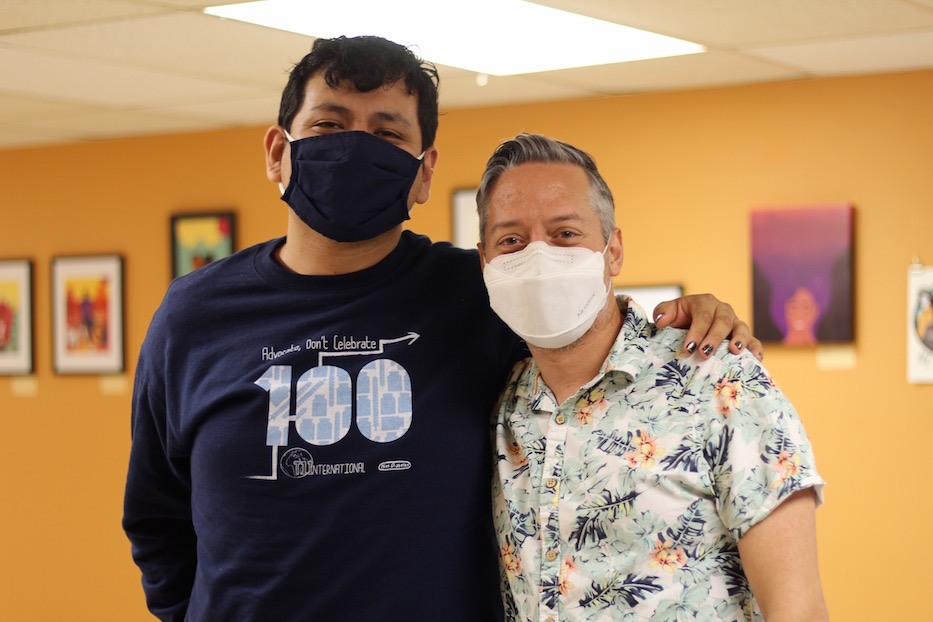 LGBTQ | Arts & Culture | New Haven Pride Center | Visual Arts | Arts & Anti-racism | Hispanic Heritage Month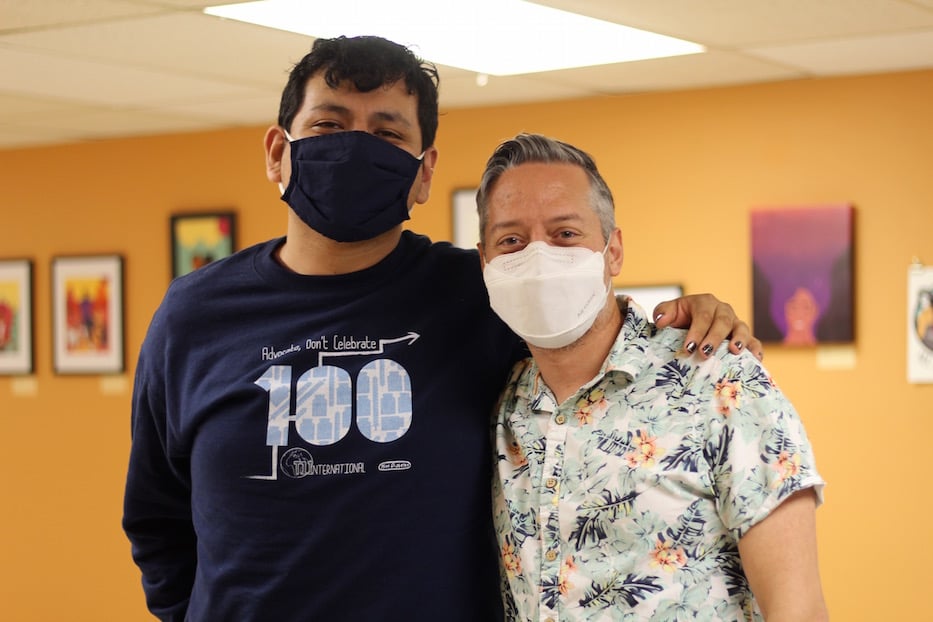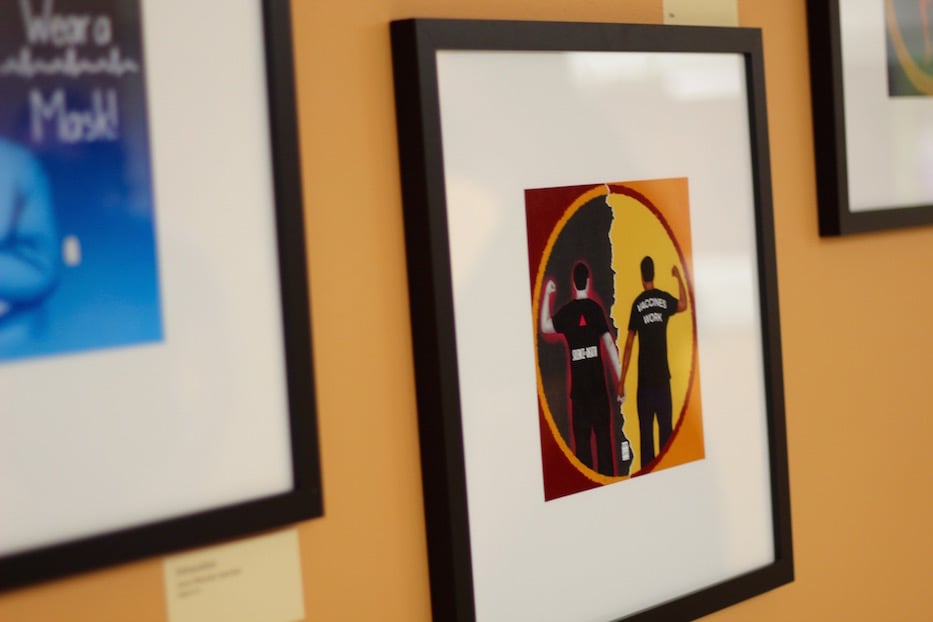 Drawing In Spanglish runs at the New Haven Pride Center, 84 Orange St., through Oct. 5. Lucy Gellman Photos; all art by Jesus Abraham Morales Sánchez and Juancarlos Soto.
The men stand hand in hand, their backs to the viewer. On the left, a pink triangle marks one as a member of ACT UP, his arms emerging from a band of text that reads "Silence = Death." On the right, his friend offers an open palm, his shirt boasting the message "Vaccines Work." A jagged line cuts down the center of the page, as if it has been ripped in half and taped back together. Decades of history hum in the space in between.
The work is one of dozens in Drawing In Spanglish, a joint exhibition from artivist-illustrators Jesus Abraham Morales Sánchez and Juancarlos Soto running at the New Haven Pride Center through Oct. 5. Installed in the space's Great Room Gallery on Orange Street, the show is both a celebration of new work from both artists and a testament to where they have been in the past 18 months.
It doubles as a chance to fête Hispanic Heritage Month, which runs from Sept. 15 through Oct. 15. This year, both Soto and Morales Sánchez also moderated panels during the Center's annual Day Of Action, dedicated entirely to queer Latinx activism and liberation.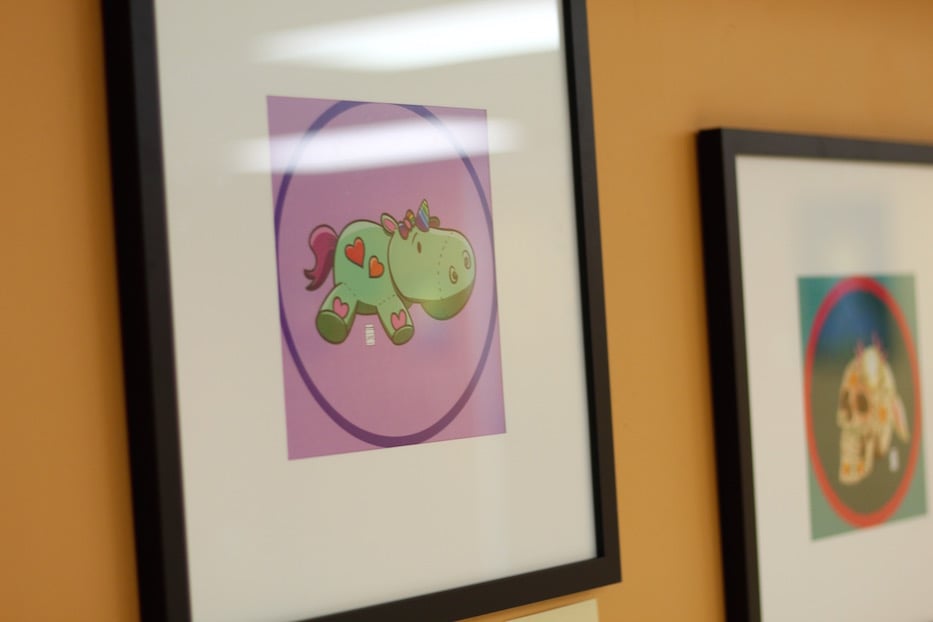 Jesus Abraham Morales Sánchez said the works helped him navigate a year and a half turned upside down by the pandemic.
"It's exciting to have a show in person again," Executive Director Patrick Dunn said in the clementine-colored gallery earlier this month. This year, he and LGBTQ+ Latinx Program Director Max Cisneros "really wanted to elevate Latinx history and programming, and having this show fits right into that goal."
For the artists, who are both based in New Haven, Drawing In Spanglish became a way to process the past year and a half in real time. In March 2020, Morales Sánchez was working at Planned Parenthood of Southern New England, where he supervised a team of high school students in the organization's STARS Program. When the pandemic hit, he used his skills to draw and distribute a cartoon in Spanish around the spread of Covid-19. He began the Quarantink challenge, a prompt-based daily practice dedicated to drawing in quarantine.
It gave him a chance to work through a world turned on its head, he said. Last summer, he and Planned Parenthood came out with a coloring book dedicated to safe sex during the pandemic. When he made time to draw for himself, he took on everything from reproductive rights to the Black Lives Matter movement to affordable access to insulin. He left Planned Parenthood and joined T1 International, which does advocacy and education around Type 1 diabetes, earlier this year.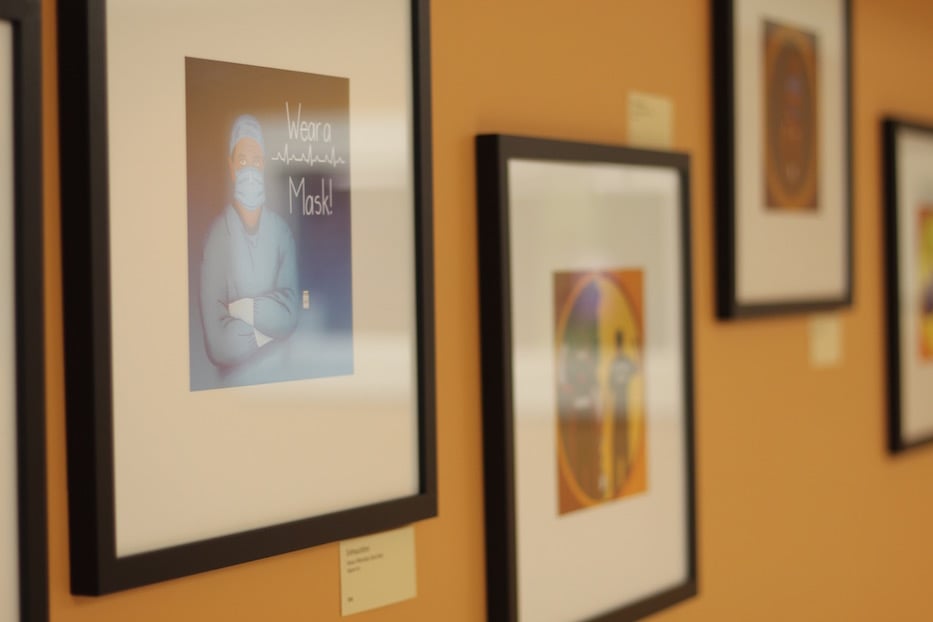 The works read as a diary of the past 18 months, marrying public health and vaccine literacy to grief, intense isolation, and a healthy dose of magic and whimsy. A stuffed unicorn peeks out, her limbs splayed past the soft fold of her belly as her beady eyes make her seem lifelike, animate. A decorated skull floats in space, carrying centuries of meaning as it brings past and present together.
In a composition that shows the artist's wry, often cheeky sense of humor, a small cowboy rides a ripe eggplant, its purple skin nearly gleaming. It was inspired by the early Quarantink prompt "penis," issued just weeks into the 2020 challenge.
Some works hit hard, testaments to an American healthcare system that is never not broken. In one print, Morales Sánchez draws a line from the early days of the HIV/AIDS epidemic to the ongoing threat of Covid-19, bringing together two very different viruses in which disparities in care remain a constant (he named epidemiologist Gregg Gonsalves, whose career has included activism in ACT UP, as among his heroes and inspirations).
In another, A doctor locks eyes with the viewer, his exhaustion palpable as the words "Wear A Mask!" flash across the right side of the drawing, separated by the spiky wave of an electrocardiogram.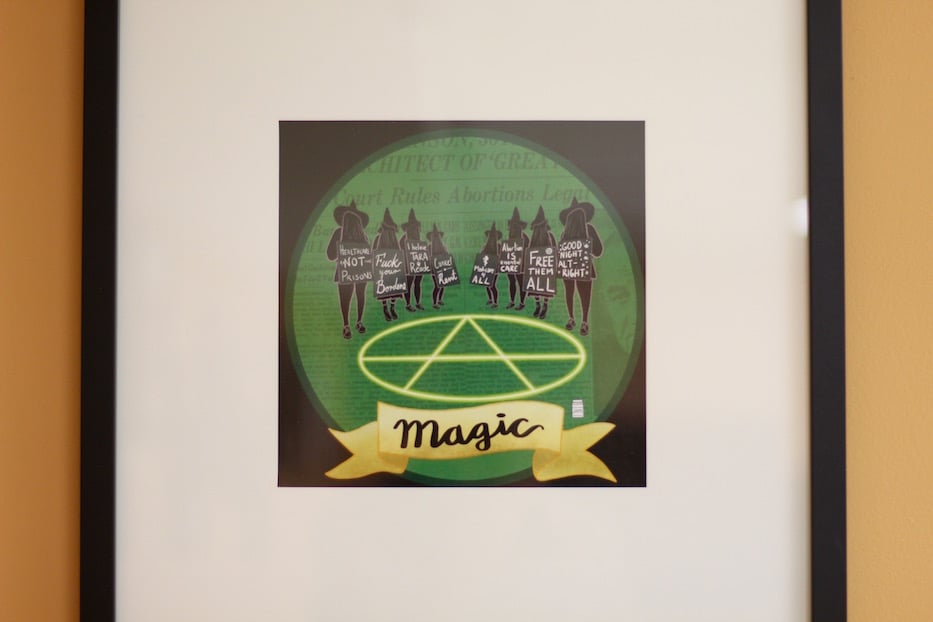 In a framed, Elphaba-green print completed well before Texas voted on S.B. 8, a coven of eight witches communes around a half-pentagram that doubles as the A for anarchy. Behind them, headlines herald the landmark decision in Roe v. Wade. In the foreground, the figures' signs push for prison abolition, open borders, bodily autonomy and abortion as fundamental healthcare—a reminder that the fight for reproductive rights is intersectional.
The artist brings himself fully into the works too. In a self-portrait that is especially moving, Morales Sánchez stands inside a halo-like circle, almost beatific and saint-like as he gives himself insulin. He said that it was important to him to shatter the intense stigma, ignorance and misunderstanding that often accompanies his own Type 1 diabetes diagnosis, which he has lived with for several years.
"All of them are little snapshots of where I was," he said at an opening earlier this month. "I think a lot of it is dealing with and processing a lot of emotions. It's been a rough couple of months."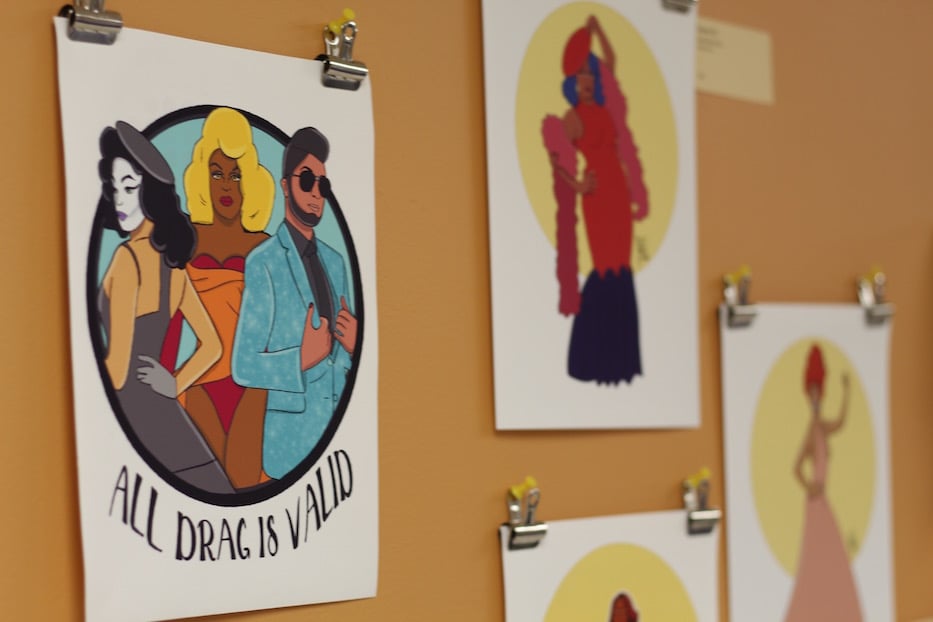 On the opposite side of the gallery, Soto has used the exhibition as a chance to dive further into his Puerto Rican heritage, while also exploding preconceived and whitewashed notions around both drag and tarot. Along the wall, illustrated musicians approach the mic with claves and raised voices that a viewer can almost hear. An elder leans over two conga drums, and teaches the next generation to play the music of resistance.
Beside the doorway, three drag artists look out at the viewer, their heads protruding from the circle that contains them. One tugs at their blue blazer, hair worked into an Elvis-like coiffure with sunglasses to match. Another rocks an A-line dress and matching grey beret, her face painted in the black-and-white of mime. A third has a voluminous yellow wig, curvy corset bodice and hydrant-red lipstick. It all feels like someone needs to ring the alarm, but in the best way. A caption reads "All Drag Is Valid" in inky letters beneath it.
The fellow queens that accompany it pay homage to the ball culture of the 1980s and 1990s, now popularized in the hit show Pose. Earlier this year, Soto began drawing some of the Black and Latinx artists, many of them trans women, who transformed that landscape and created chosen community decades ago. This summer, he illustrated the can for Bee Fierce, a citrus-kissed sour beer from Alvarium Beer Company in New Britain. On the can, a drag queen looks out, eyes blazing as she smiles. She is dressed in a bumblebee yellow and black vest, with an orange dress just underneath.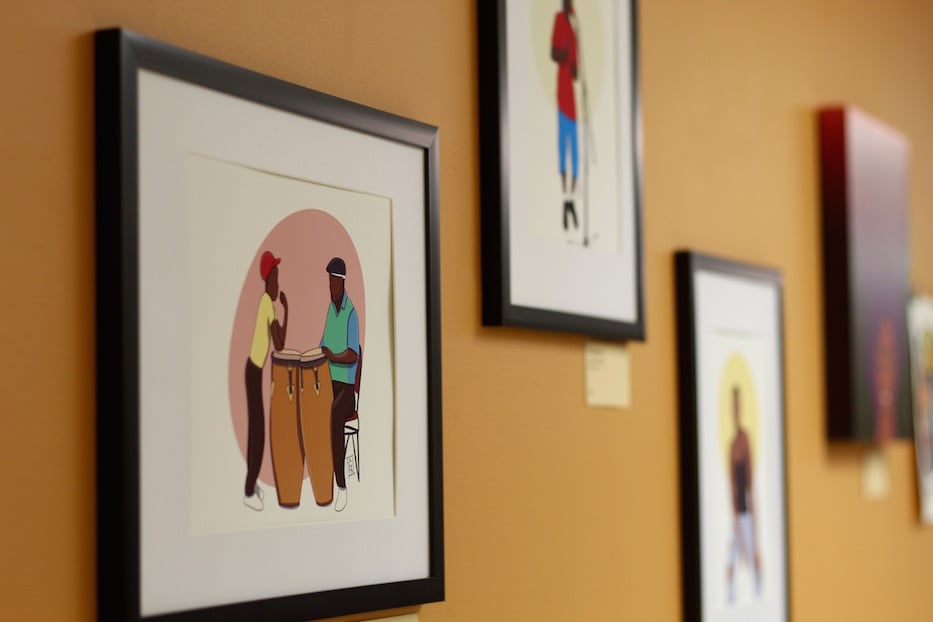 Juancarlos Soto has used the show as a chance to further explore his Puerto Rican heritage, a long foray into which he began last year.
He has, perhaps most deliciously, dipped into a longstanding interest in tarot, freeing it from its white and Eurocentric connotations (there is debate about the origin of tarot, and a sticking point is whether it originated in Turkey or Italy). Or as he puts it, "a browner, queerer, more modern, darker version of tarot."
On a slice of wall beside the Center's back offices, El Cacique (the Emperor) is reimagined as a strong Taíno ruler, with his spear planted firmly in a conquistador's helmet. The Hierophant is Latinx and genderqueer, with thick blue eyeshadow and a pouty, stern expression that makes it feel as if they are reading the viewer.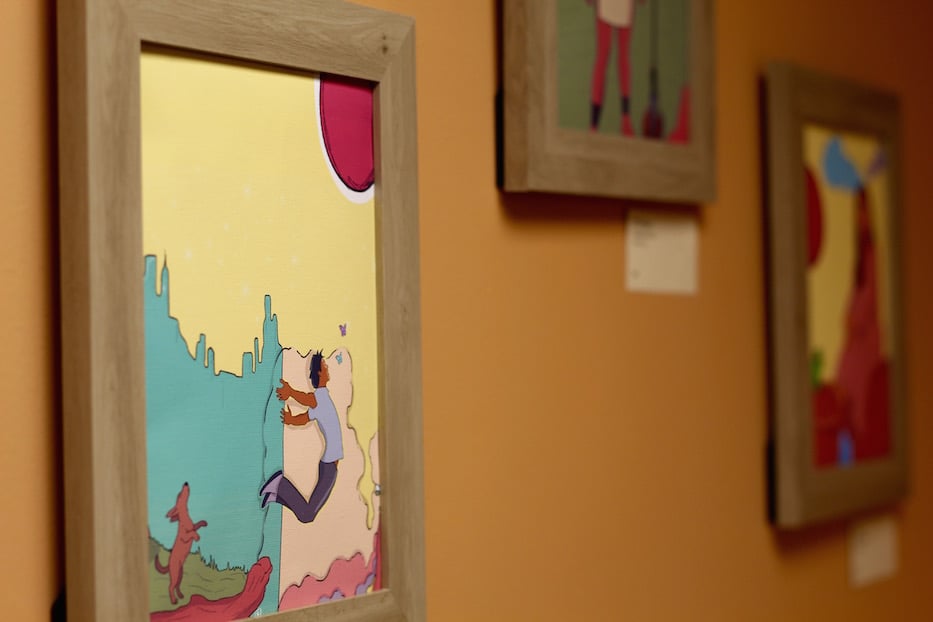 The Dreamer.
Soto's Mago (Wizard) holds an orb at bay in the space between his hands, a city rising in the background. It brings in questions around preserving history, Indigenous customs on stolen land, and the multiplicity of a diaspora.
And The Dreamer, often depicted as a fool, is joyful and confident. In the print, a red hand rises from the earth, its palm lovingly cupped toward the sky. From its warmth, a figure jumps forward, raising his arms as he sails over the pink sky. A bubble holds him steady as his dog rises on his hind legs and cheers him on. Butterflies wave hello overhead. A viewer finds themselves hoping, with all their might, that he will continue to soar.
"Something happened during Covid," Soto said at the opening. "I think the amount of time that I spent alone allowed me to go to this new space."
The New Haven Pride Center is located in the basement of 84 Orange St. in New Haven's Ninth Square neighborhood. Drawing In Spanglish runs through Oct. 5. Find out more at the New Haven Pride Center's website.