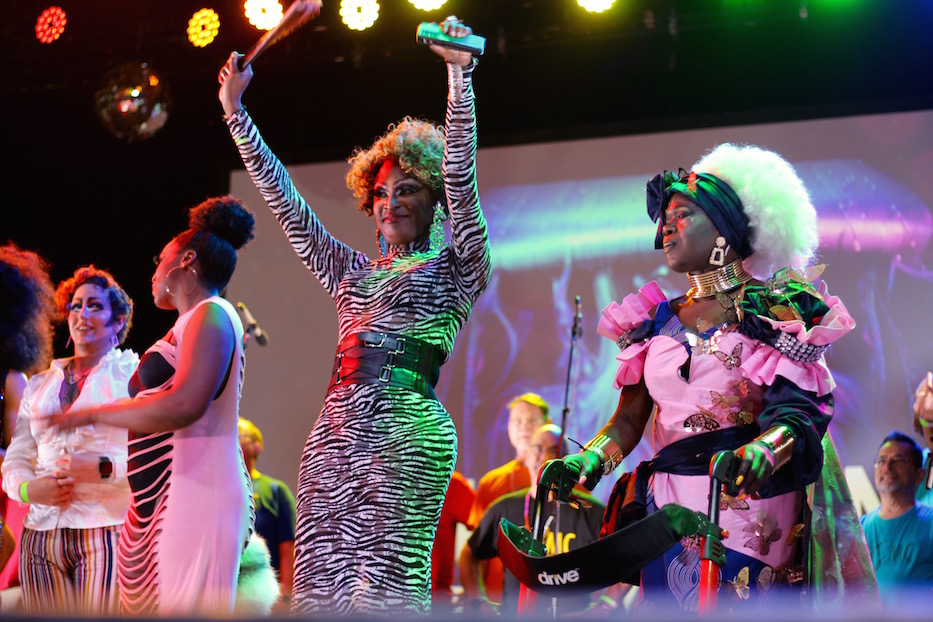 Downtown | International Festival of Arts & Ideas | LGBTQ | Pride Month | Arts & Culture | New Haven Pride Center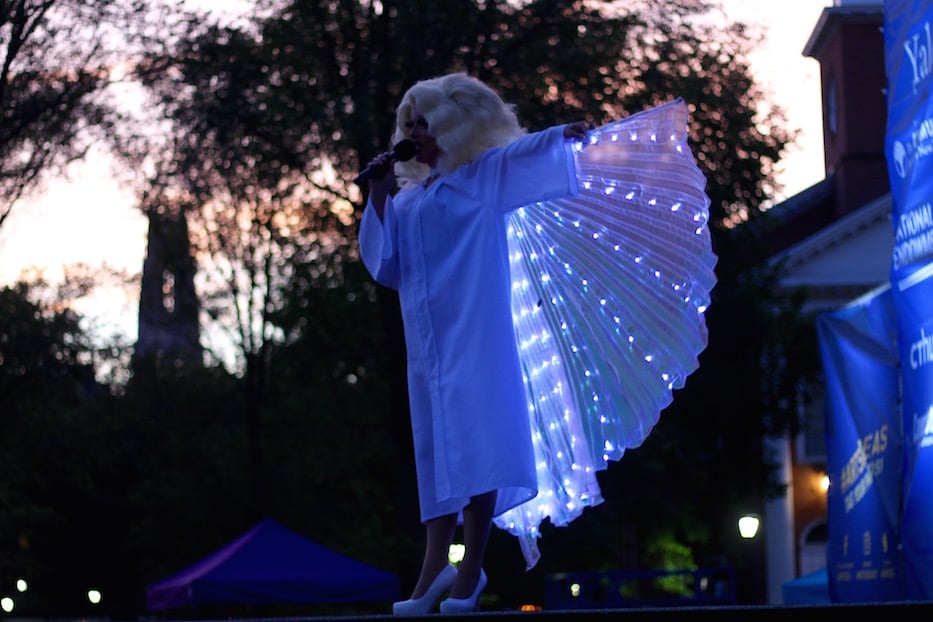 Kiki Lucia, who became the host, historian, storyteller and spiritual support during Sunday's show. Lucia's role as emcee included nine costume changes. Lucy Gellman Photos.
Kiki Lucia stood before hundreds of people in a bright white robe, white heels, and a blonde wig that glowed in the twilight. Across her back, two huge, shimmering wings were fitted with rows of white lights. When she lifted her arms, she brought decades of history—and the memory of millions gone too soon—with her. The year was 1981, and 2021, all at once.
"I am here as an angel for you tonight to remember all who have been lost, all who have been murdered, and all who have to live with the virus every single day, when we can solve many illnesses, but we can't seem to find a solution to this," she said. "And when it takes the president of the United States six years to admit that there's a problem, it's more than a problem. It's on purpose."
Lucia was a host, historian, storyteller and spiritual support Sunday night, as she and drag queens from across the state brought the International Festival of Arts & Ideas to a close with the Legend Drag Show on the festival's main stage on the New Haven Green. Held on the last weekend of Pride Month and one night before the 52nd anniversary of the Stonewall Riot, the show took the audience through decades of queer history through drag. It ended in a celebration with La'Diva Monet, a glamorous queen and Fantasia impersonator who has gained national recognition.
Throughout, it was a reminder of just how much is omitted from history books—and how vital queer voices are in restoring that narrative.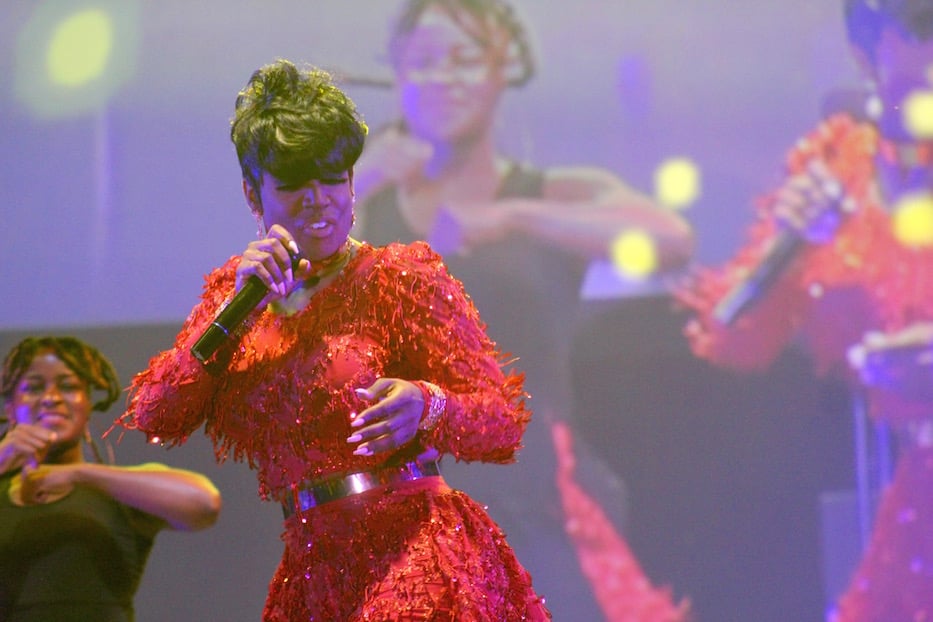 La'Diva Monet performed in the latter half of the evening.
Lucia, who is known around the state for her activist drag, wound back the clock to 1966—three years before Marsha P. Johnson allegedly threw that fated brick outside the Stonewall Inn. She scanned the audience for any signs of recognition and got crickets. During the 1960s, she told the crowd, LGBTQ+ people met in restaurants and bars largely owned by straight people. One of them was Compton's Cafeteria, located in San Francisco's downtown Tenderloin neighborhood.
The choices were limited, she said. And there were "all these rules you had to follow," including dancing near a couple of the opposite gender, "so if the police raided you could immediately turn and be dancing with an opposite sex person." It was a time when people could be arrested for not wearing gender-conforming clothing—three articles to be exact, said Lucia.
She shouted out Stormé DeLarverie, a lesbian activist who reportedly frequented the Stonewall Inn with pearl earrings, a bra, and a thong beneath her otherwise male clothes. If the police harassed her—and they did,constantly—DeLarverie would insist she met her three item quota. That kind of grit was also present in 1966, on the night police harassed a group of trans women across the country at Compton's.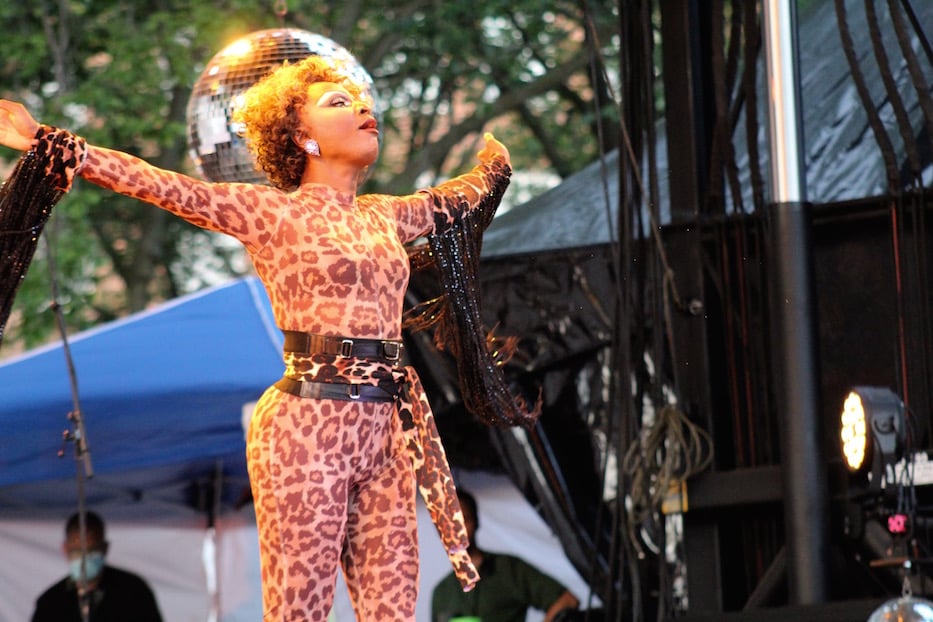 Sparkle Diamond.
As Lucia walked offstage, a voice over played overhead: For a trace of mascara on the wrong night, they would beat you. Bust you up in the most despicable ways. A woman sat, drinking a cup of coffee onstage. When a cop lunged in to arrest her, she threw it in his face—which allegedly happened that night. Instead of hot coffee, glitter spilled from the cup. Sparkle Diamond strutted onstage to Oleta Adams' cover of "Everything Must Change."
She lifted her hand to her heart as black and white photos of protest flashed behind her. The music switched suddenly, to a testimonial of a trans woman whose drink had been spiked. When she went to the police, they laughed in her face. Diamond held her head in her hands. Then she lifted it from her palms, anger bubbling underneath.
She looked right at the audience and peeled off her jacket, Janelle Monáe's "Turntables" suddenly crackling over the speaker. She took the runway, defiant. Glittering fringe hung from her sleeves as she walked in a leopard-print jumpsuit. She ended with her arms raised to cheers and applause from the audience.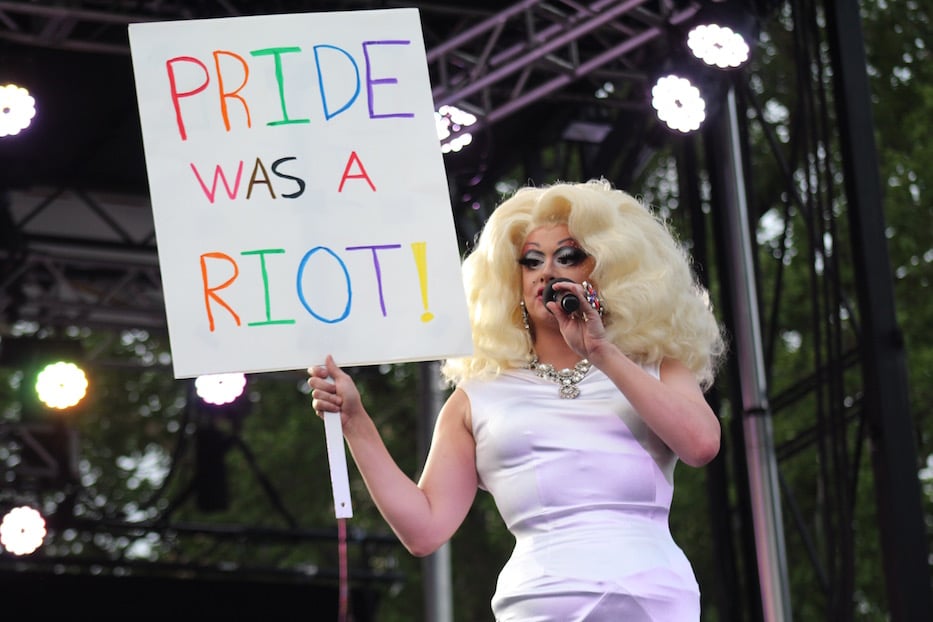 Diamond took the audience right through the late 1960s, as members traveled from San Francisco to New York City. Walking back onstage, Lucia dipped back into history, noting that the heroes of the Stonewall Riot were not white gay men—as Hollywood would like to have people believe—but Black and Latinx trans women, nonwhite lesbians who have been entirely written out of the narrative, and some "cute little gay boys."
No one is exactly sure who started the riot, she said. It may have been Johnson, a Black trans woman who allegedly threw a brick as police raided the inn for the umpteenth time. Or DeLarverie, who allegedly punched a cop. In the end, it became a seminal moment in queer history.
"Pride started with sex workers," Lucia said. "It started with lovers. It started with every single member of our community. Nobody was left out. Because they all came together to stand up against police brutality and say, 'Love is love.'"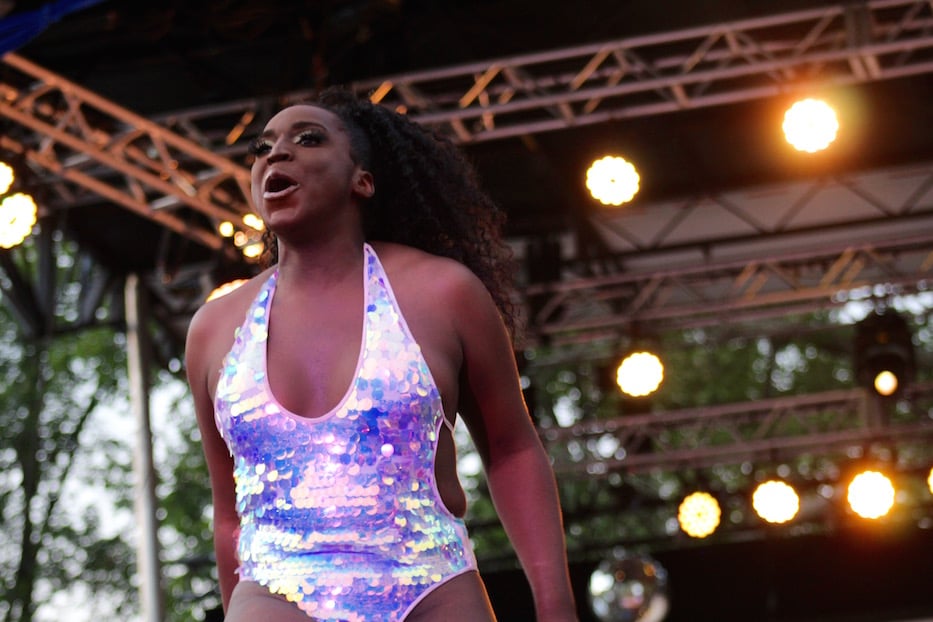 Tiana Maxim Rose.
Destiny's Child floated from somewhere overhead. Tiana Maxim Rose came onto the stage, dressed in a long camouflage jacket. Behind her, images of Black Lives Matter drew a through line from 1969 straight through the present. When she ripped off her jacket to reveal a sequined leotard underneath, the audience cheered. She let the lyrics electrify her body, each sending a jolt through her outstretched arms. Behind her, a prerecorded video of multiple Tianas played all at once.
The clock kept moving forward. Strutting out into the early 1970s, drag king Frankie Cyanide took the stage in wide pinstripe pants and a starched, ruffled white blouse, eyeliner scribbles turned chest hair visible underneath. Behind him, Marsha P. Johnson and Sylvia Rivera walked shoulder-to-shoulder on the streets of Manhattan. Carl Bean's "Born This Way" came over the sound system.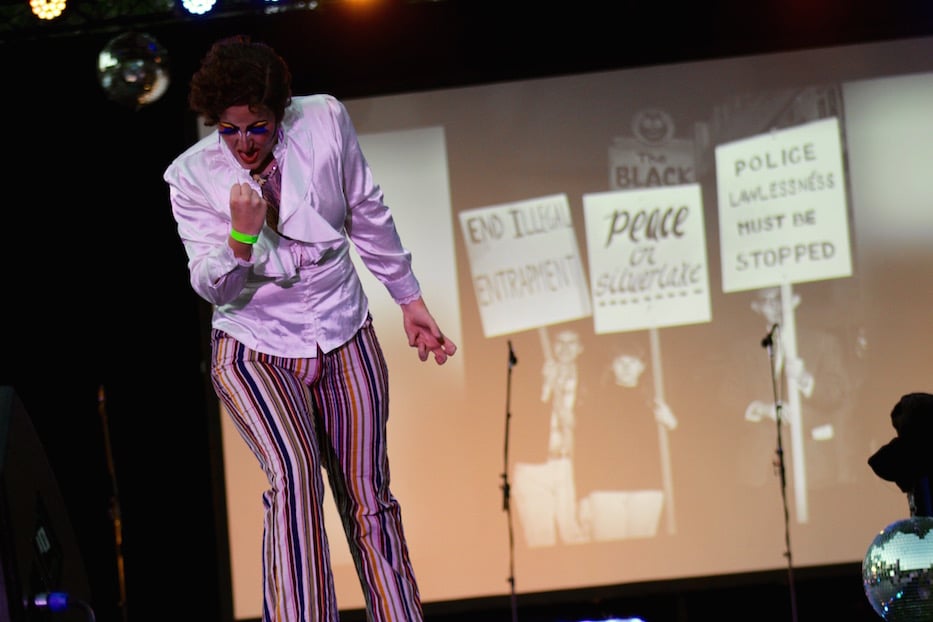 To the lyrics—Ain't no fault it's a fact! I was born this wayyyy—posters flashed behind him. One reminded attendees that Stonewall was a riot centered on abolition work—just as many of the protests that now fill New Haven's streets today. Cyanide held his arms all the way out at their full wingspan, reveling in the words I'm happy! I'm carefree! And I'm gay! I was born this way!
Bean's vocals cut out for news reports from the 1970s. One pointed to the fact that LGBTQ+ people were—and still are—a powerful political force. Another brought Harvey Milk's message to the Green, making 1977 seem not so far away at all. To a mashup from the Village People, Cyanide invited on members of the Connecticut Gay Men's Chorus, who burst into dance moves so contagious they caught on in the audience.
"There's hope for a better world," Cyanide lip synched before walking offstage. The words belonged to Harvey Milk, who spoke them in June 1978. He was assassinated five months later.
"There's hope for a better tomorrow," the words rolled over the audience. "Without hope, the us'es give up. I know that you cannot live on hope alone. But without it, life is not worth living. And you, and you, and you, gotta give us hope."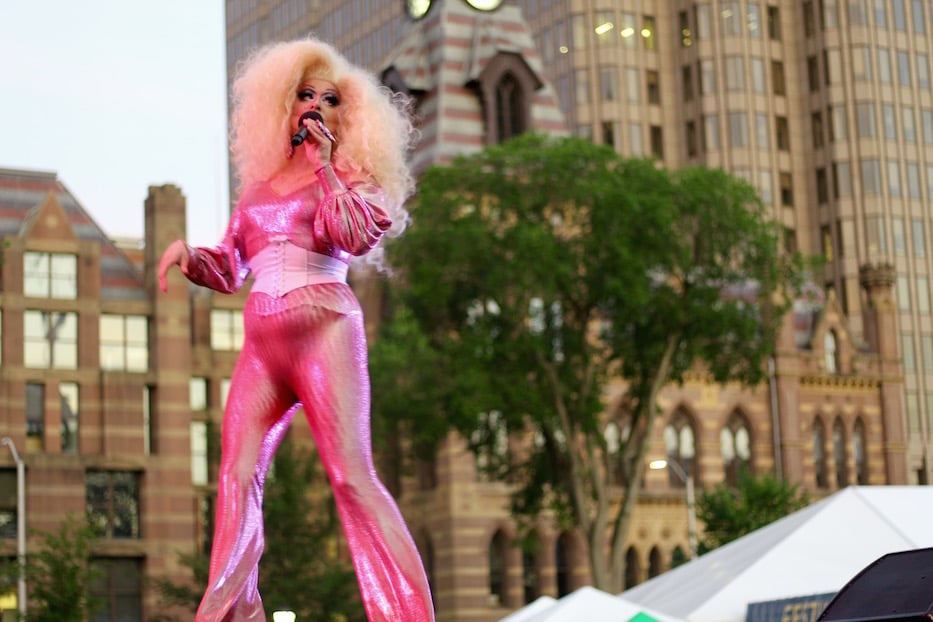 As Cyanide walked off, Lucia brought the audience into the era of disco, throwing a little trivia on the first openly gay American political candidate (José Sarria, who ran a decade before Milk) and the mood-lifting qualities of Donna Summer into the mix. She noted how important disco was to the formation of the queer community in the years that came after Stonewall and before HIV and AIDS.
"It was where so much of our culture found its footing," she said. "Stonewall had happened. Pride had started to happen. People were starting to recognize that no, you can't just arrest someone for walking down the street. Unfortunately the police are still learning that lesson."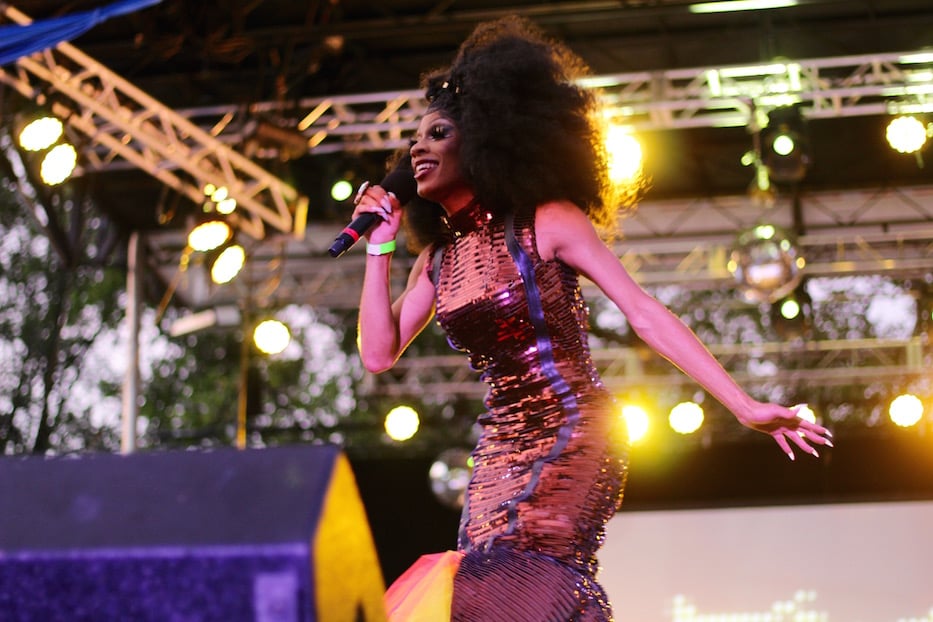 Robin Fierce channels Donna Summer.
Robin Fierce glided onto the stage to the first strains of Summer's "Last Dance," melting into that slow, sultry beginning. A huge fro sat over a tight, copper-colored sequined dress that fishtailed at the end. A cloud of rainbow-colored tulle peeked out from the front. She lifted the mic to her mouth.
In the crowd, people who had started dancing during Cyanide's routine never sat down. A sparkling disco background filled the screen behind her as two balls glittered on the stage. Fierce came up to the front of the runway, rocking at the hips before she did a tight turn and headed offstage.
Lucia moved into the 1980s, her wings lifted. At the time, she reminded the audience AIDS was often labeled as "the gay cancer." When Ronald Reagan became president in 1981, there were fewer than 300 documented cases of AIDS in the U.S., according to Avert. By the time he left office in 1989—two years after Cleve Jones' memorial AIDS Quilt was displayed on the National Mall for the first time—that number was over 100,000.
Lucia didn't have to go through that history alone. For the first time in over a year, members of the Connecticut's Gay Men's Chorus took the stage on risers, bringing the audience to a hush—and then a sudden roar—with a harmonized version of Gloria Gaynor's "I Am What I Am." No sooner had the Green exploded in applause than drag queen Loosey LaDuca appeared in a blue dress, mic lifted as the music to Pat Benatar "We Belong" played her in.
On a screen behind them, photos in grayscale and color told the story of AIDS activism not as a movement suspended in amber, but one that is ongoing. From archival images of ACT UP to marches that the National Gay Task Force led while battling the Oklahoma Board of Education, they championed resistance over helplessness, collective care over individualism.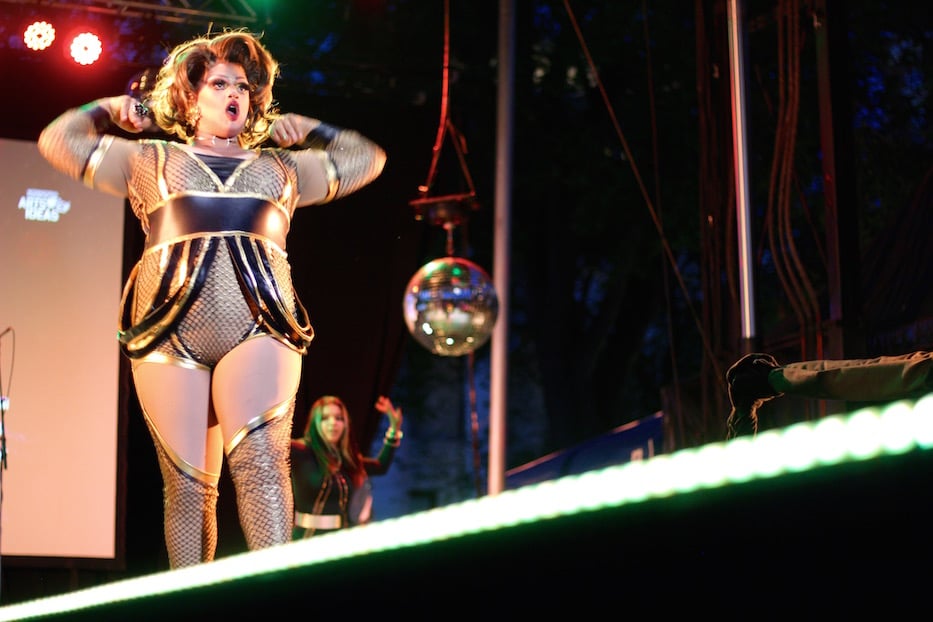 Xiomarie LaBeija, who also led Black Gay Pride earlier this month in Goffe Street Park.
It led right into the history of ballroom, during which chosen families supported each other when biological families often did not. Long before RuPaul's Drag Race and Pose ever saw the light of day, Lucia said, ballroom was a gesture of mutual aid that included not just a house system and affinity spaces, but free HIV testing and underground channels through which medicine was distributed.
"Every single thing in pop culture that exists right now was stolen from the culture of the ballroom scene," she said. "The ballroom scene saved lives … there is so much about 2021 that has roots in the ballroom scene."
Taking the stage to Crystal LaBeija's read from The Queen, Xiomarie LaBeija waited for the lights to come up, a voluminous coat hiked up around her shoulders. The words rippled over the audience, each with a harder edge than the one before. It was the 1980s, and LaBeija knew she was being discriminated against as she faced Rachel Harlow, a white queen with a bad beehive and a worse attitude.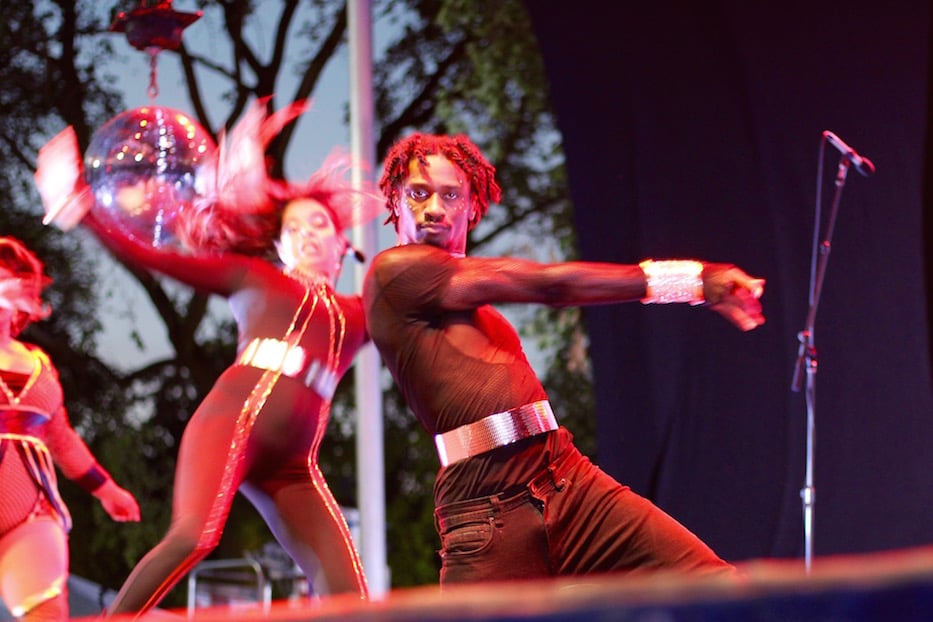 "I have a right to show my color!" Crystal spat over the sound system, and back in 2021 Xiomarie pointed to her brown skin and picked up her legacy. She stretched out her arms to the audience as if to say Are you even ready for this? Jennifer Lopez' "Tens" boomed over the stage. Suddenly, she was working through a crash course on voguing, wrists loose and facing the sky. Behind her, two dancers moved in perfect unison. She did a dip and sprang into a crouch. She got ready to walk.
From ballroom, the audience reached the 1990s. Harmony Valentino took flight—literally—to celebrate the legacy of the Club Kids and living legends including James St. James, Amanda Lepore and Michael Alig. Performing to Lady Gaga's "Free Woman," she turned, climbed and midair somersaulted through the memory of places like New York's Limelight, a church-turned-club where parties might last for days. At times, the lighting left her in shadow, a glittering blue silhouette against the night.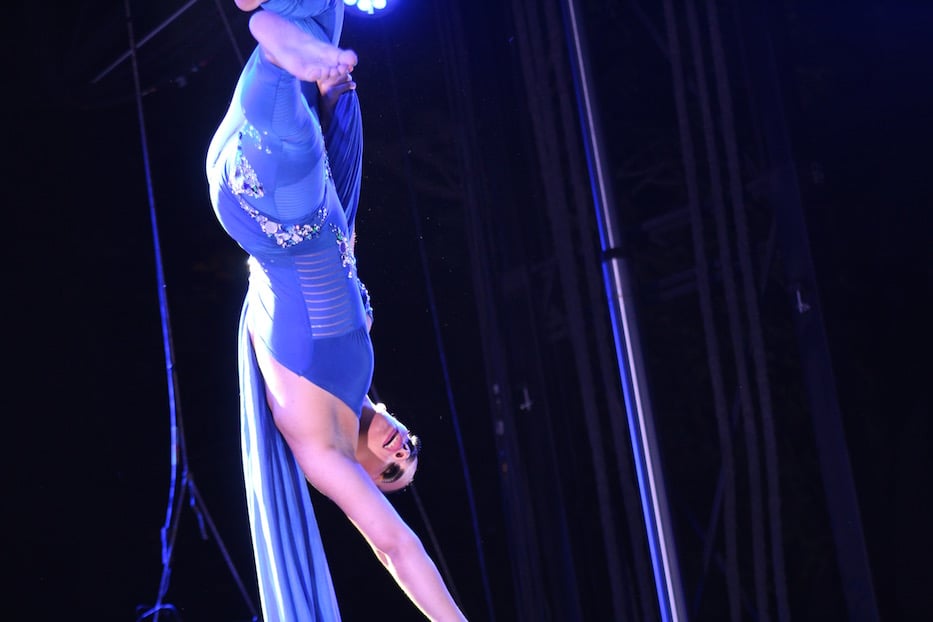 There was only one more place to go, Lucia said: the present. As shafts of pink and blue light fell onto the stage, she introduced the New Haven queen Bubbles, recognized by many as the founder of New Haven's drag scene. When Bubbles made her way to a table with a walker moments later, she moved with over three decades of drag history.
"She literally created the space by putting her own body on the line to make sure all of us could stand on this stage here before all of you," Lucia said. "So when I say that I better see a standing ovation at the end, I mean it. "
She didn't need to ask. The first notes of Aretha Franklin's "A Deeper Love" pulsed through the night air. On stage, Bubbles entered slowly, her body methodical as she walked to a table at the front of the stage.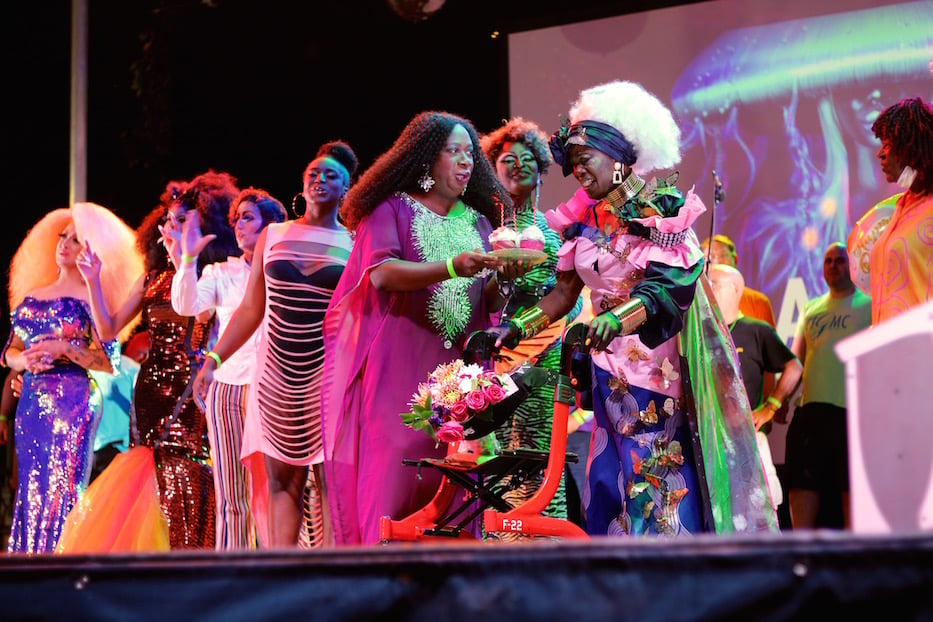 Bubbles, who later received a standing ovation and a rendition of "Happy Birthday" from Sunday's performers.
A long, striped coat covered a patterned silk dress underneath. As she removed it, she revealed an outfit that was regal, from a high gold collar to puffed pink sleeves and a batik skirt underneath. Her hair, a voluminous white wig pulled back with a purple scarf, became a butterfly-studded crown.
Suddenly, she wasn't alone: fellow drag performers and members of the Connecticut Gay Men's Chorus joined her onstage, carrying the portraits of trans people who have been murdered this year.
Poe Black, who was just 21 when he was stabbed earlier this month. Danika Henson, 31 years old when she was shot to death in May. 24-year-old Chyna Carrillo, who was killed in February. The list went on. In a trend that has become eerily familiar, most were Black and Latinx trans women.
For Bubbles, who is a Black trans woman and activist who has been vocal for years, it marked a kind of coming full circle—and a reminder of how much work remained. At the end of the performance, she took the mic.
"I want to say, please," she said. "Just don't sleep on what is going on."