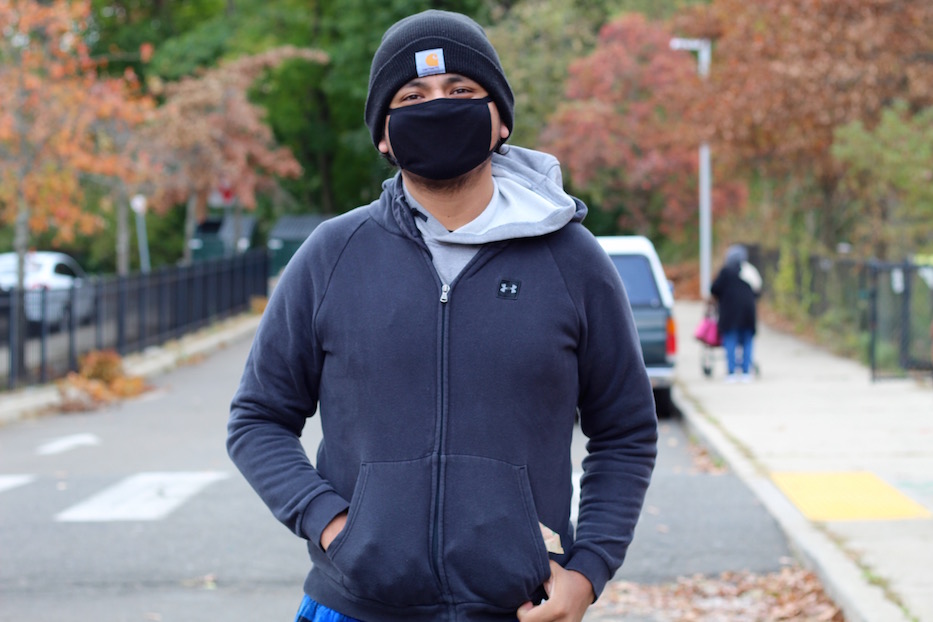 Immigration | Politics | Arts & Culture | West River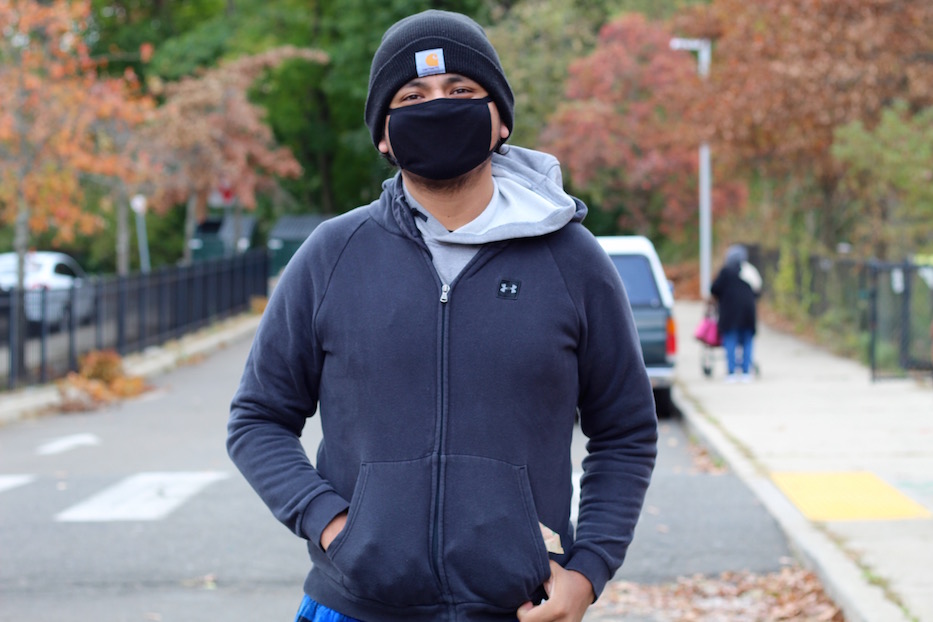 Jesus Abraham Morales Sánchez outside of Barnard Environmental Studies Interdistrict Magnet School. Lucy Gellman Photo. The photo below is courtesy of Jesus Abraham Morales Sánchez.
Jesus Abraham Morales Sánchez thought voting in his first presidential election would be easy. Three hours, 49 minutes, three polling places, and one trip to City Hall later, he cast his ballot for Joe Biden and Kamala Harris.
Morales Sánchez is an artist, activist, and Mexican immigrant who lives in New Haven with his mom and 23-year-old brother Luis Morales Sánchez (pictured below). In September 2018, he became a U.S. citizen in time to vote for Gov. Ned Lamont. This year marked his first presidential election. Tuesday morning, he woke up before dawn with no idea how long it would take before he filled in that meaningful oval.
"For me, the last four years have been very painful and emotionally scarring," he said Tuesday. "From Nury [Chavarria] to Marco [Reyes] … and all of the people that we lost to Immigration and Customs Enforcement. I think about Bakhodir [Madjitov, a father of three who was deported to Uzbekistan in September]. I know his family. I know his kids. A lot of people I care about, they're still scared."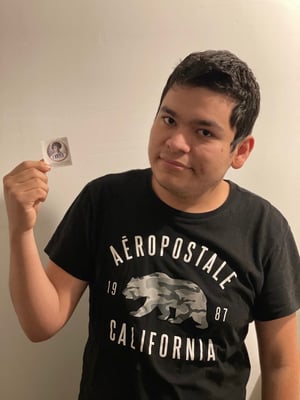 Tuesday, Morales Sánchez woke up early to drive his mom to work, just like he does every morning. In the lead up to the election, he'd received a postcard from the Registrar of Voters' office listing Celentano School as his polling place.
It didn't seem right: he lives in New Haven's Dwight neighborhood, across the street from Augusta Lewis Troup School on Edgewood Avenue. But he trusted the city, he said. He figured it would be a quick ordeal, and left the house in his blue-and-black plaid pajama pants and a hoodie.
By 5:30 a.m., he had dropped his mom off and was on his way to the school, a huge brick building that sits on Canner Street in the city's East Rock/Prospect Hill neighborhood. At 6:05 a.m., he got in line with hundreds of other voters who had beaten the sunrise. In the cold, damp morning, he shifted from foot to foot waiting. After 30 minutes, he got to the front of the line. Poll workers scratched their heads. He wasn't on the voter rolls for the ward. They suggested he check in with the city's Registrar of Voters.
Around the same time, Morales Sánchez heard that his brother Luis was heading to City Hall for same day registration, and tagged along. In the Registrar's office, someone explained that Celentano was kind of correct—it would have been his polling location had he not moved neighborhoods earlier that year. City officials sent him to Troup School, which is in Ward 2.
"You would think, because it's right across the street, it would be correct," he said Tuesday. Outside of the school—named after fierce suffragette and journalist Augusta Lewis Troup—he waited in a second line for 25 minutes. For a second time in under two hours, poll workers told him he was in the wrong place. While the school is in Ward 2, his section of Edgewood Avenue marks the boundary between Wards 2 and 23. He took a deep breath and got back in the car.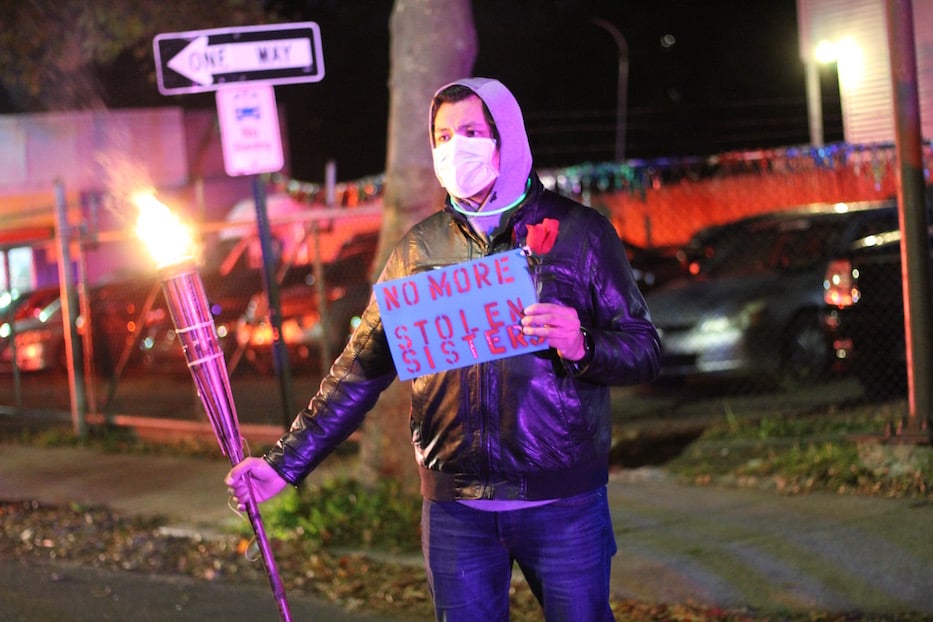 Jesus Abraham Morales Sánchez at a Day of the Dead parade in Fair Haven Monday night. Lucy Gellman Photo.
Barnard Environmental Studies Interdistrict Magnet School sits on Derby Avenue and Ella T. Grasso Boulevard in the city's West River neighborhood. He hopped in line—volunteers had marked spacing with spray-painted red hearts—and waited for two hours. He danced along to over an hour of music from DJ That Dana Game, later calling it "the only thing that kept me going."
He inched toward the school's open front door. This time, poll workers told him he was in the right place. They crossed off his address and handed him a ballot.
As he filled it out, Morales Sánchez said he thought about the issues that had driven him to the polls and kept him motivated as he navigated the process for the first time. Several of his friends, family members, and colleagues are also immigrants, and cannot vote. Many of them are also undocumented, and fear for their lives under President Donald Trump. They remind him of a 2016 version of himself, when he was politically active but unable to vote.
As a diabetic and a champion of reproductive rights, he is also terrified of losing his health insurance, which he receives through his employer. If his healthcare disappears, he worries that he won't be able to afford the insulin that keeps him alive and healthy. While he is not especially fond of Biden and Harris, he suggested that they are far less likely to gut American healthcare and LGBTQ+ rights than the current administration.
"Honestly, I feel completely cheated," he said. "It's having to choose between bad and worse. It's demoralizing."
He added that he was more enthusiastic about voting for the Working Families Party Candidate Sergio Rodriguez, who was running for Registrar Of Voters, as well as State Rep. Gary Winfield and U.S. Rep. Rosa DeLauro. He praised DeLauro for her support of sanctuary city policies, recalling a recent holiday season when she brought Christmas gifts to a family seeking sanctuary in a New Haven church. She didn't invite news cameras or ask for anything in return. It felt like a genuine gesture to brighten their year.
His brother also had a chance to cast his vote—his first ever as an American citizen—after registering in the aldermanic chambers Tuesday morning. While he said that there were no issues that were especially pressing to him, he joked that his brother would probably have disowned him if he hadn't voted for Biden and Harris.
"It was good," he said. "It was a new experience for me. One step forward to being an adult. It was a really good experience. It's not as scary or as complicated as people say it is."