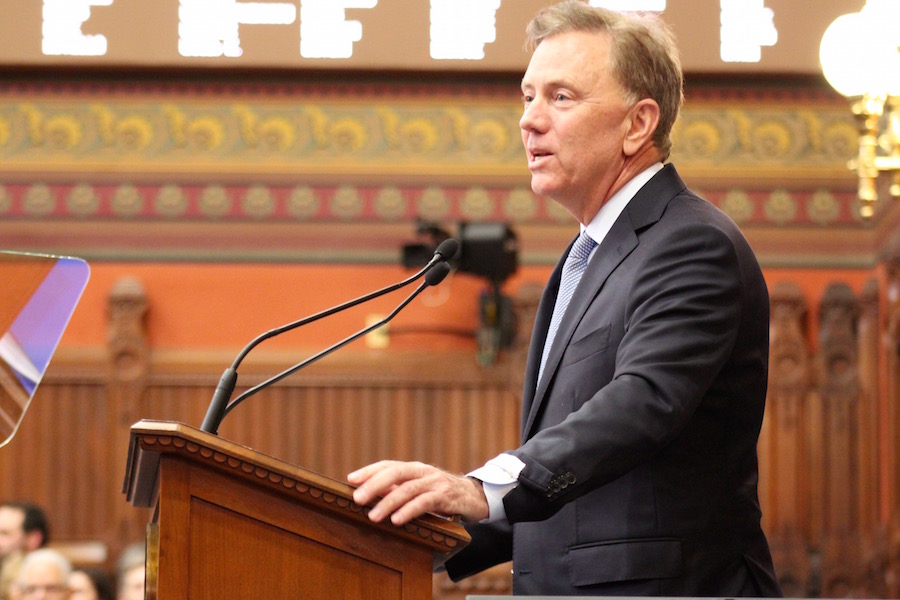 Music | Politics | Arts & Culture | Ned Lamont | Campaign 2018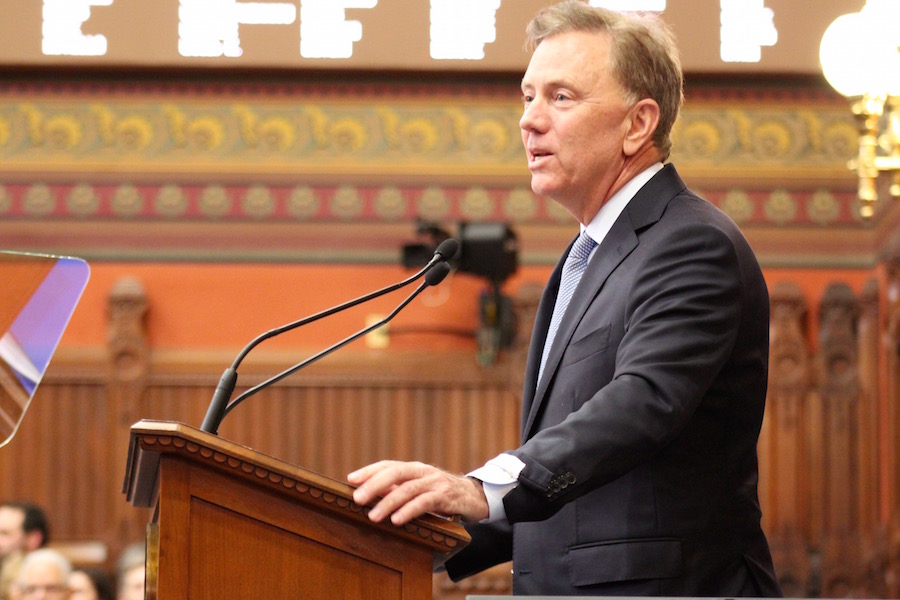 Ned Lamont gives his first State of the State as governor of Connecticut. Lucy Gellman Photo.
Ned Lamont is not throwing away his shot. He's learned how to look skyward and sway with New Haven gospel choirs, then turn around and cut a rug with Joe Scarborough. He likes his national anthems soulful, with a side of bipartisanship. He can march to the beat of his own drum, or a marching band's thrumming melody. He is ready to be in the room where it happens.
But can his choice of performers lend insight into what his priorities might look like as he drafts his first budget as governor?
Wednesday, that question bubbled to the surface as Lamont was sworn in as the 89th governor of Connecticut at the Governor William A. O'Neill State Armory on Hartford's Broad Street. Over 1,200 attended the event, followed by an artillery salute, windy inaugural parade, and Lamont's first State of the State address at Connecticut State Capitol. An inaugural ball followed Wednesday night.
For months, the arts have played a sort of backstage role in Lamont's campaign and election. But Wednesday, those kinds of artistic choices were front and center, performers largely reflecting Lamont's campaign promise to diversify state government, foreground education, prioritize major cities, and create sustainable jobs for Nutmeggers of all skill levels—while drafting budget that pulls Connecticut out of a deficit.
A self-taught pianist, the governor began his own artistic career early, in a band called Flower Pot. During his campaign, he was known to play piano at senior centers, burst spontaneously into Bob Marley at union rallies, and use the arts—particularly arts education and economic development—as a talking point for job growth, school funding, and education.
Even now, he relaxes instantly when he talks about music. He has tossed around the idea of a 50th anniversary celebration of New York's Woodstock in Woodstock, Conn. despite suggestions from several state arts nonprofits that more state funding for the International Festival of Arts & Ideas or a 50th anniversary celebration of the Stonewall Riots might be more tactful.
And there are arts policy recommendations on the table. Earlier this month, Lamont held his final meeting with a transition committee in Arts, Culture, and Tourism, taking suggestions that ranged from the creation of a new Connecticut Facilities Fund to different tax structures to support the state's tourism budget to making sure arts education doesn't get scrapped as the budget is balanced.
Like Wednesday's performers, it might be a shift that happens with slow and nuanced but deliberate precision. As attendees waited for the event to begin Wednesday, the Connecticut National Guard 102nd Army Band serenaded them, orchestrated versions of Lee Greenwood's "Proud To Be An American" and John Philip Sousa's "Stars and Stripes Forever" filling the room. The melodies vibrated through the floor, muscled strains of horn and drum coming up through chairs, and straight into attendees' chests.
But as a parade of newly elected officials strode in, the mood shifted. Ushering in the ceremony, singer and songwriter Javier Colon took the stage, spilling a deeply soulful rendition of the National Anthem. Cradling his guitar as he sang, Colon wailed the lyrics, the gently-picked guitar beneath him more like a lullaby than a triumphant ballad to a military victory and the piece of cloth it inspired. As he lifted his face to the ceiling and then back to the crowd, his voice soared between words, attendees on the edge of their seats.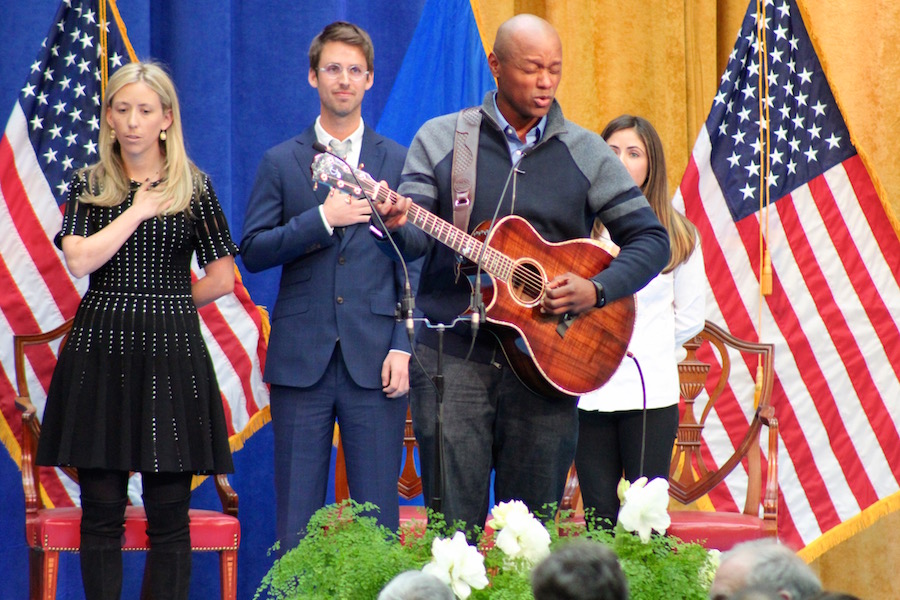 As he finished the room burst into applause, Colon getting congratulatory shoulder slaps, high fives and handshakes as he returned to his seat. But the message—a new, soul-crackling take on a standard that doesn't change easily—seemed to echo just hours later in the state's packed chambers, as Lamont promised "a bigger table and an open door" in policy and budgetary decisions, listening to members of an old guard while pausing for what new ones—allies and adversaries alike—have to say.
Like Colon, he has already proposed putting a new spin on the land of steady habits. "I am ready to listen to any good idea, and I will take the heat and share the credit," he said in his address, proposing that Connecticut open itself to new companies (he has formed a Business Advocacy Council that is already working toward this), and services that are shared on a regional, rather than municipal, basis.
Other performances dovetailed with Lamont's vow to grow jobs and place a focus on the state's major cities, including Bridgeport, Hartford and New Haven. Minutes before the governor was sworn in, Master of Ceremonies Michael Petersen welcomed the choir from Varick Memorial Zion AME, a pillar of New Haven's Dixwell community that became a close ally to Lamont during his gubernatorial run. (Watch the video of them singing here or at the bottom of the article).
In the lead up to November's election, Varick Pastor Kelcy Steele and a small army of volunteers held get out the vote rallies, knocked on doors, and chartered a number of buses on Election Day, for voters unable to reach their polling places unassisted.
Then about a month ago, the Lamont campaign approached Steele about having the choir perform at the inauguration. Steele thought about the message he wanted to send before selecting "Amazing Grace," inspired by the role it played in John Newton's eighteenth-century renunciation and condemnation of African slave trade. At the ceremony Wednesday, he introduced the piece by noting that "we all need grace at this moment."
"I consider Varick to to be the center of not just the African-American community, but the center of community life," he added by phone Wednesday night, noting the church's soup kitchen and addiction-focused programming. "The music is the most universal language. It speaks even when it' not speaking. To get Biblical, it soothes the spirit."
Now that Lamont has taken the oath of office, Steele said he is eager to see what happens with the proposed budget. In addition to wraparound programs for mental health, addiction, and state aid, he said he hopes that there will soon be new legislation around parole, pardons and reentry—all human rights issues he thinks about when ministering to his Dixwell Avenue congregation each week.
"I'm definitely hoping to see a shift in the job market and job development," he said. "I think his administration is really going to bring a renewal."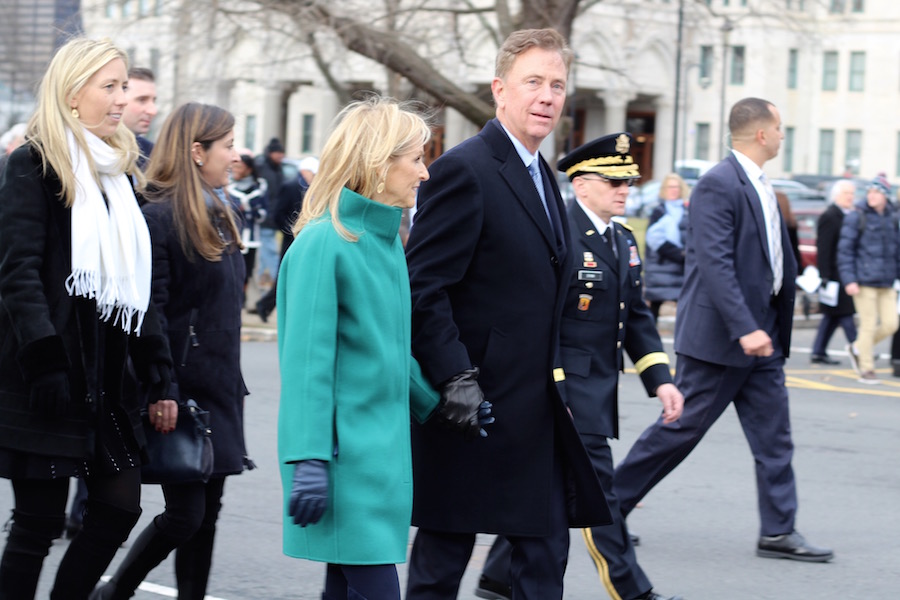 During his remarks Wednesday, Lamont also focused in on that renewal, promising to bring "the workforce into the 21st century" with a new wave of job growth, paid family leave and $15 minimum wage, and more deliberate transit-oriented development. In particular, he rolled out his "30/30/30" plan, which would include 30-minute commutes from New Haven to Stamford, Stamford to New York, and Hartford to New Haven.
"Connecticut's economic revival cannot only be about creating opportunities for just some of our people. It must be an economy that works for everyone," he said.
He added that "Connecticut will need to invest wisely in its urban centers—making them affordable and lively, where families want to live, work and play. That means great schools, safe streets and by making our cities the first with 5G in New England."
In his State of the State, Lamont also wove in the importance of education to his administration, noting another arts influence that is close to his heart—the Warren G. Harding High School marching band that accompanied him during the inaugural parade. Just an hour before, the group had marched down Broad Street, setting the parade on a steady beat with the drone of bagpipes further back.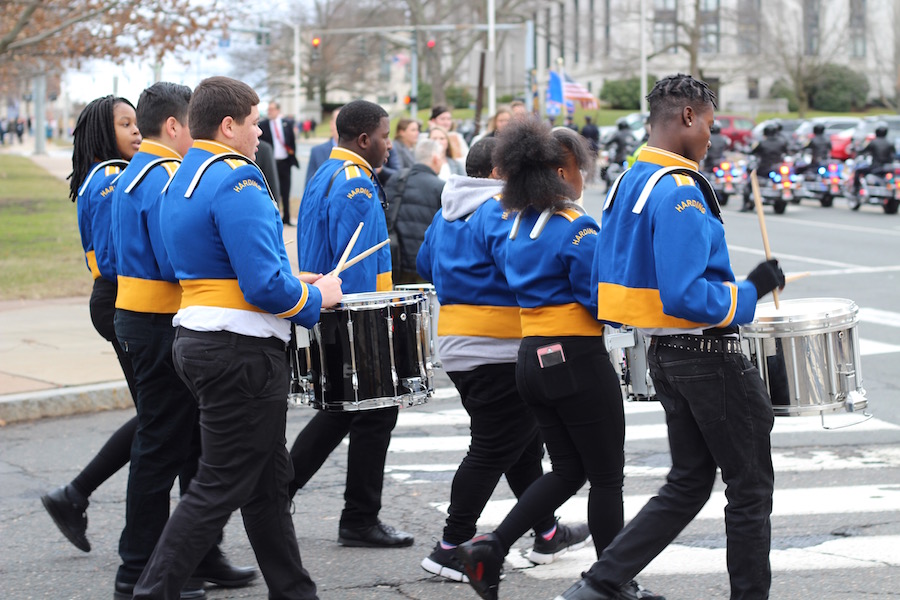 After drawing on his experience as a volunteer teacher at Harding High—a story he told frequently while on the campaign trail—Lamont recalled watching students' excitement on entering a rebuilt, renovated Harding High. He exhorted curricula in Science, Technology, Engineering and Math (STEM), coding as early as kindergarten, apprenticeship programs, and more affordable paths to higher education.
He did not say whether he'll be officially adding an arts component to that proposal, turning "STEM" to "STEAM," a movement that has already gained traction in several school districts around the country.
Lamont also has his own cache of performance phrases at the ready—inspired by the hip-hop opera Hamilton. While Middletown Rep. Matthew Lesser may have set the trend by quoting Hamilton over a year ago, in a hearing on Connecticut's electoral college, Lamont's brush with the work is more recent. During both his swearing in and State of the State, he recalled attending a student matinee of the show when it was at the Bushnell in December.
Before the show started, he and his wife Annie spoke to students about his favorite song in the musical, a propulsive introduction to Hamilton's chutzpah titled "My Shot." What draws him to the song, he said, is its origin story—a young immigrant and person of color building something completely unique, that can stand for generations after he is gone. Now, some of his go-to phrases include "I am not throwing away my shot" and "history has its eyes on you" among others.
"What I love about America is that in every generation we get a chance to reinvent ourselves, and every election gives us a fresh start," he said. "This is our chance to reinvent Connecticut, to think big and act boldly."
"And it starts right here in the room where it happens," he added, quoting the man who cut Alexander Hamilton's life prematurely short.
At the inaugural ball Wednesday night, Lamont took a more cautiously bipartisan approach, with performances from the Joe Scarborough Band, Connecticut State Troubadour Nekita Waller, and State Sen. George Logan, who represents Ansonia, Beacon Falls, Bethany, Derby, Hamden, Naugatuck and Woodbridge and sang the National Anthem.
Read Governor Ned Lamont's full State of the State address here. To read more about some of the proposals from Lamont's Arts, Culture and Tourism transition committee, click here. To watch more from the swearing in ceremony, check out the videos below.