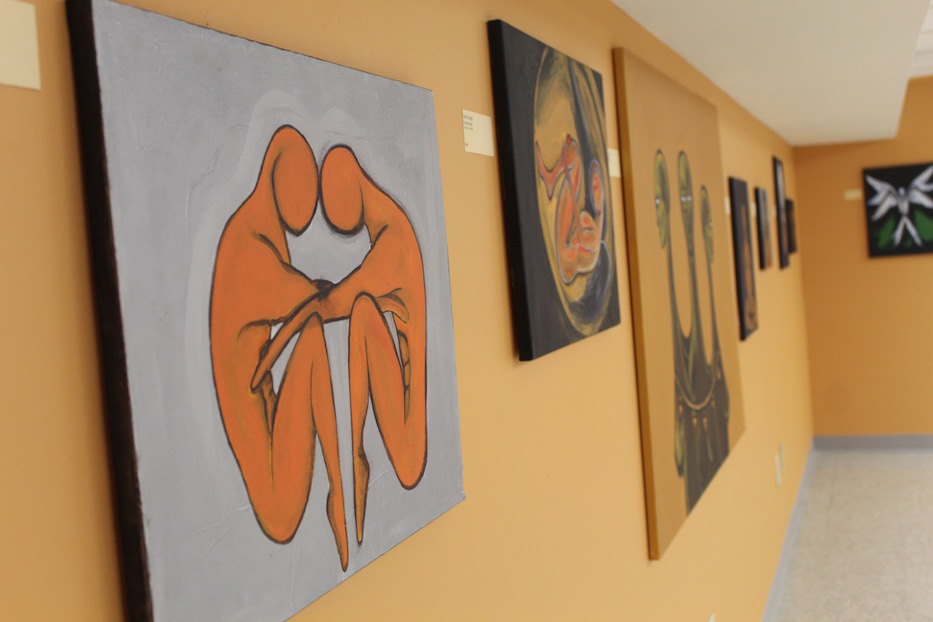 Downtown | Painting | Arts & Culture | New Haven Pride Center | Ninth Square | Visual Arts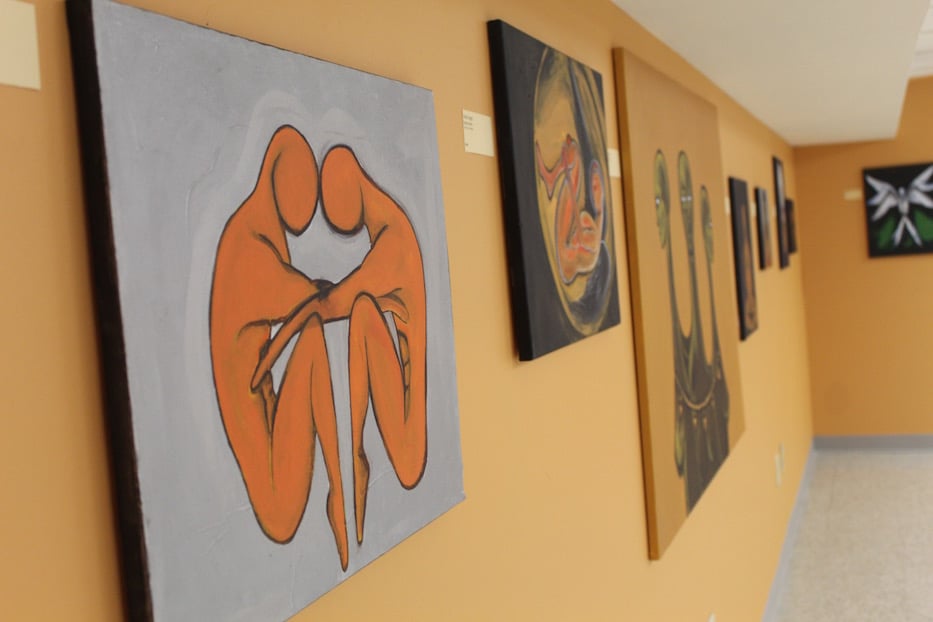 Page Wooller's Two Hearts Can Burn installed at the New Haven Pride Center. Lucy Gellman Photo.
The two figures sit forehead to forehead, their arms stretching forward until they overlap. Skin meets skin at the elbows, biceps, chest and abdomens. Their necks bend forward, relaxed. The burnt orange of their bodies vibrates against the slate grey background, as if they might look up, realize where they are, and emerge from the canvas at any moment.
Page Wooller's Two Hearts Can Burn is one of 15 works on view at the New Haven Pride Center, where a solo show from the artist will close out the year. Installed during Transgender Awreness Week in mid-November, it feels like a fitting end to 2021, with an emphasis on creation, dreaming, and self-discovery. The work will remain on view through Dec. 31 of this year.
A second exhibition, Queer Art Retrospectively, runs at Chez Est in Hartford through Dec. 15. For hours and more information, visit the Pride Center's website.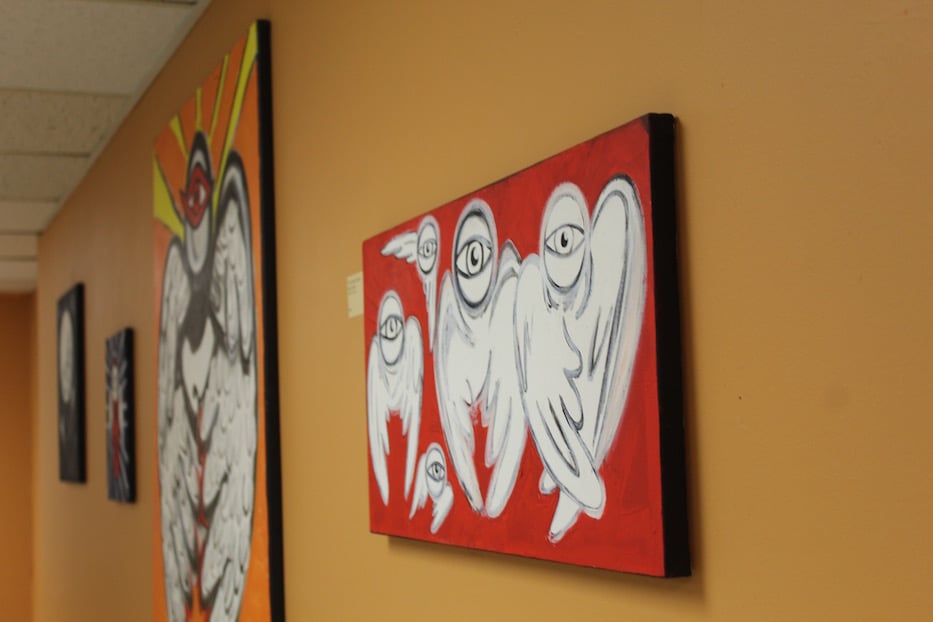 Behind The Eye and The Good Family.
"During my education in science and the arts, performance, dance—there's always a birthing of ideas and there's always a process," the artist said in a recent phone interview from their home in Foster, Rhode Island. "Nothing is ever complete or finished. I'm always interested in reflecting on that, recycling those notions and those ideas of 'What if?'"
The work represents a focus on germination and experiment that Wooller has been honing for decades. Born and raised in LittleHampton, England, the artist first turned to the arts as a way to deal with their dyslexia when they were in grade school. In those years, their teachers labelled them as a daydreamer—a nickname not meant to convey kindness or compliment. Wooller credited their parents, who "were always supportive of my dreamscaping," for nurturing that interest instead of quashing it.
Their artwork became "an outlet of exploration," where they could get their large, sometimes hard-to-describe emotions and frustrations out onto the page. Around the time that they began exploring gender and gender identity in high school, they discovered theater and dance. Even as they pursued undergraduate and graduate degrees in exercise science and biology, the arts were never too far from reach. They currently dance with Metamorphosis Dance Company, a small group out of Pawtucket.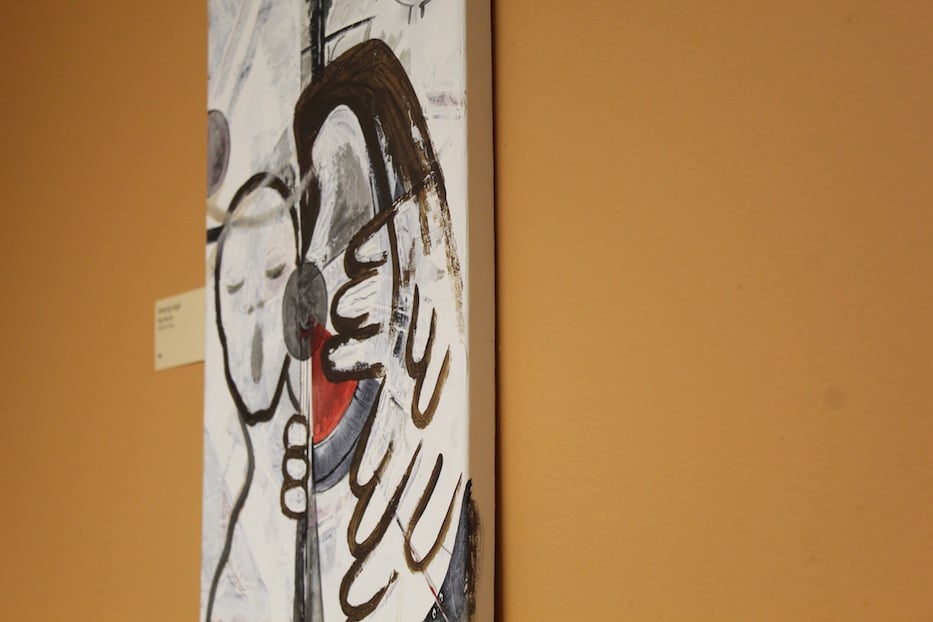 Page Wooller's Sleeping Angel.
Wooller ended up in the U.S. through their husband, an Arkansian whose work in medicine took the couple to Washington State, and then on to Rhode Island shortly before the Covid-19 pandemic. As the world shut down, Wooller turned to their art as a form of solace (they have also planted hundreds of fruit trees on their property, which feels of a piece with their artwork). Several months in, they found the Pride Center through a colleague at their dance company who suggested the Elm City Dance Collective (ECDC). ECDC was working on Trans Body III, a virtual performance with the Pride Center that premiered in April.
Wooller stayed in touch with the Pride Center after the project. This year, Executive Director Patrick Dunn offered them the exhibition slot after a show unexpectedly fell through. The tone was right on time, Dunn said: Wooller's work drifts into the subconscious and the dream-world, and probes the porous, often liminal space between binary gender identities. Dunn and Center staff installed it just one day after celebrating the organization's 25-year anniversary, as they kicked off six days of programming around transgender awareness.
Across the center's creamsicle-colored walls, humanoid, abstracted and sometimes alien forms now curl into fetal balls, pray and meditate against black and silver haloes, spread their thickly painted white wings. Some hang between this world and another, in a testament to an artist whose imagination crawls into every nook and cranny of the show.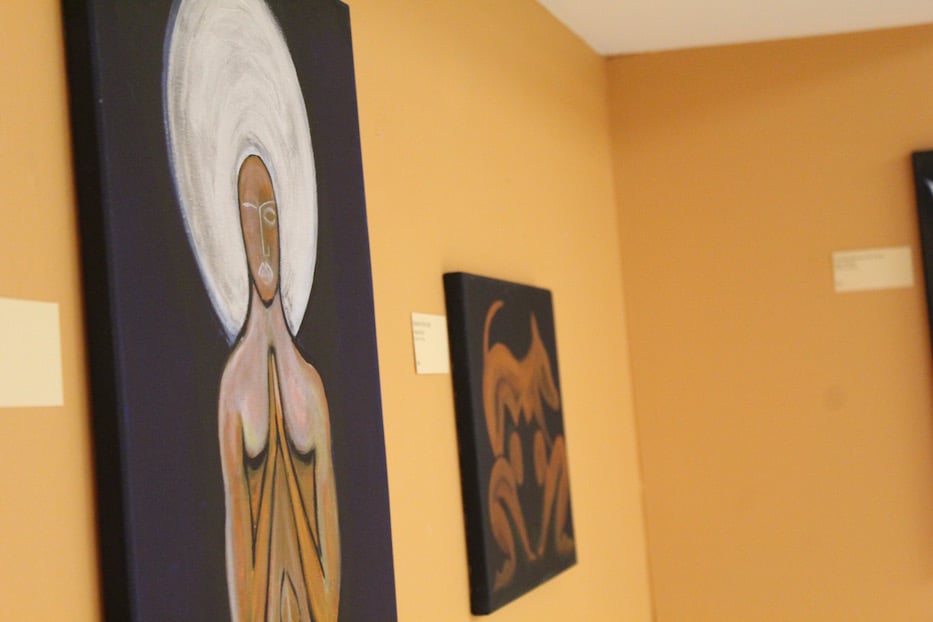 Pray ... and Raised To Be Loyal.
In an acrylic on canvas painting pulled straight from one of Wooller's dreams, a blue boy appears among flames that spring up around his body. Across the room, a graceful, three-headed creature looks out into the bright gallery, its face tinged with green and gold as six ink-black eyes probe the space. Figures are deliberately androgynous, with U- and W-shaped pectorals and abdominal muscles that sometimes look like they may spring into bloom.
Several of the works are spiritual, but never explicitly religious. In Pray ..., a broad-shouldered, Matisse-esque figure faces a viewer, their chest rendered in brown and milky white. One eye is merely the suggestion of an eye, drawn as a thin line beside the figure's nose. The other pops open, abstracted, and looks out onto the room. Behind them, a disk of white light swells outward. Is it a halo? The moon? A spool of silvery thread? Wooller has left it up to the viewer to decide. Beneath its bright light, the figure presses their palms together in prayer.
To the painting's left, the subject of Inbetween keeps one eye on the viewer as their body splits into two even halves, each a slightly different shade of umber. Their mouth is neat, as though two triangles have been pressed together. Two round, swollen breasts rest on their chest mounds of flesh rising from the skin. On their head, there's an oval of black that could be a close-cropped coiffure, head wrapping, or halo. Where the figure's arms might otherwise be, two smaller bodies rise up, each facing outward. Like Pray..., Wooller does not force meaning on the viewer, but leaves it open-ended.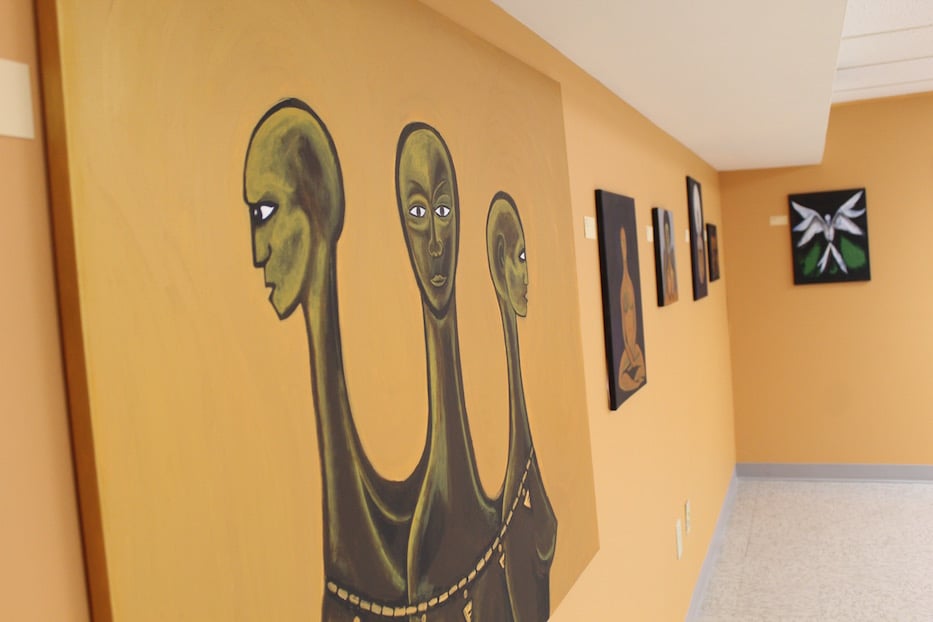 Page Wooller, She is me x 3.​​
"In the LGBTQ community we're lacking representation, especially for some of the minorities within the minorities," they said over the phone. "I always hold that question of: 'Who are we, what are we, what's our pathway?' It's where I am with my process."
Other works in the show signal a kind of gestation and birthing, in what Wooller described as inherently "wombish." In Fetal Angel, an angel rests its black wings on the back of a golden circle, its knees pulled in. The ball of one foot touches the circle, bidding hello to whatever life force might lie just beyond its bounds. The angel figure also has their own agency: they grip their knees and take in their surroundings, their head enclosed in some kind of space helmet. They seem to know exactly where they are, and where they want to be.
An eye motif also appears frequently throughout Wooller's work, part of a sense that maybe the finished canvases are always keeping one eye trained on their creator. In The Good Family, those eyes are wide and unblinking, balanced on wide white wings. In Moon Baby, it's a single eye that looks out from thick swaddling cloth, wrapping the bean-sized being as it gazes out onto the universe. Around the moon, the night is back, with green-tipped floral shapes that float and buzz through the air.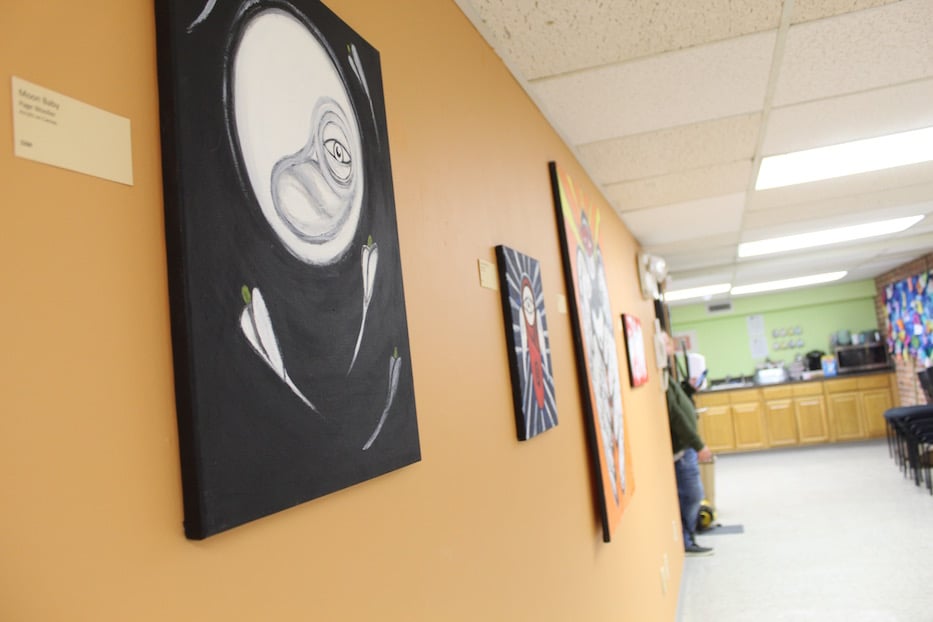 Wooller's Moon Baby.
The show comes at a transition point in Wooller's own life and work. Two years ago, the artist began the process of coming out as nonbinary, and more recently started to try out she/her pronouns alongside they/them. They called the shift "very new and very raw in its essence," particularly when they are working creatively outside the home. At a class with a new dance company (not Metamorphosis, the artist clarified) earlier this year, they found themselves gently correcting people who used the wrong pronouns simply because they didn't know.
"People presume things," they said. "It's interesting when you don't feel internally as the label, and you softly say to people, that's not how I see myself. If you want to know me, we can sort of work together to build that together. We're sort of conditioned to follow the standard of 'oh, that's a guy.'"
Just before the pandemic, they also started working on Emily Corn: Discovering Darkness, a graphic novel that features a nonbinary protagonist named Emily. The book came out in April 2020, just one month into quarantine. Like the figures that populate Wooller's paintings, Emily doubles as a role model for young readers—and adult ones too—who may be nonbinary. Wooller said that Emily Corn will ultimately be a series.
"There aren't solidified examples of roles for us," they said. "There's no sort of guidance. A lot of older civilizations had a purpose, they had a role for LGBTQ members. But it seems as though modern day society has sort of brushed us aside."
The Art Of Page Wooller is on view at the New Haven Pride Center, 84 Orange St., through Dec. 31. Find out more at the Center's website.