Culture & Community | Downtown | Politics | Arts & Culture | New Haven Green | New Haven Pride Center | Transgender Awareness Week | Trans rights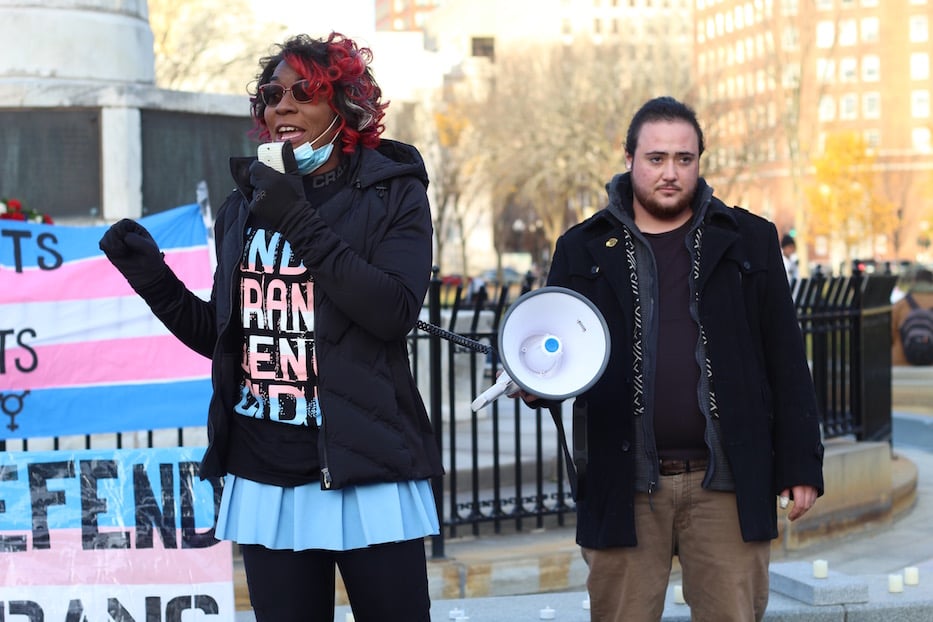 Karleigh Webb, who spoke Saturday. Eliot Olson, who is the trans, intersex, and non-binary program officer at the New Have Pride Center , is pictured to her right. Lucy Gellman Photos.
The names rose from a crowd gathered on the New Haven Green, each followed by a muscled cry of "Rest In Power!" Tyianna Alexander, 28, in Chicago. Samuel Edmund Damián Valentín in Trujillo Alto, Puerto Rico. Bianca Bankz, an Atlanta resident whose friends and family called her "Muffin" for the blueberry baked goods she loved. Dominique Jackson in Baton Rouge and siblings JJ Bright and Jasmine Cannady, both under 23, in Ambridge, Pennsylvania.
The list continued for three minutes. By the end, attendees had read 47 names. A few deep breaths filled the space as friends held each other, bowed their heads, and listened.
Saturday marked the 22nd annual Transgender Day of Remembrance, held for the third consecutive year on the New Haven Green. To date, 2021 marks the deadliest year for transgender and gender nonconforming people on record. The majority of people killed were trans women of color, and specifically Black trans women. Roughly four dozen attended the event, the culmination of a week of trans-specific programming at the New Haven Pride Center.
"There were 47 this year, I'm afraid of being number 48," said Karleigh Chardonnay Webb, a Black trans woman, journalist, activist, and fierce advocate for trans lives across the state and the country. "I'm afraid of being number 49. Or 50. Or 51. Or number one next year. Or any number next year. This is why I fight. Because yes, I'm scared."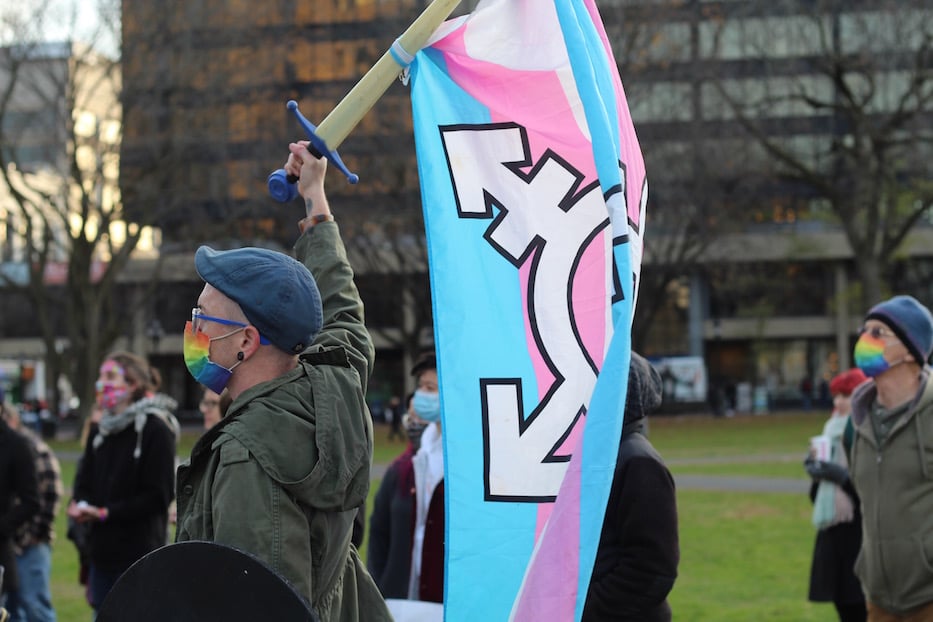 Brian Timko, who is associated with Unidad Latina en Acción.
​Transgender Day of Remembrance began in 1999 to honor Rita Hester, a Black trans woman who was murdered in her Boston apartment in November 1998. Over two decades later, her case and so many others like it remains unsolved. 2021 has also been a deadly year worldwide: this week, the advocacy group Transrespect Versus Transphobia reported 375 murders of trans and nonbinary people across the globe, 125 of which took place in Jair Bolsonaro's Brazil.
As a cold wind cut through the Green Saturday, attendees began to read the names of the dead from strips of paper they'd picked out of a hat. In a year of deadly violence, the list is still likely incomplete because of the number of trans and nonbinary people who are misgendered and deadnamed by dieners, morticians, obituary writers, and next of kin.
Together and apart, they told a story of an epidemic of both transphobia and of entrenched racism: of sisters, aunties, cousins, and sons struck down before their thirties and forties, sometimes by partners and members of their own family. Many faced housing insecurity during a pandemic that has laid bare a crisis in tenant rights. Others relied on sex work and an underground economy to survive.
At the end of three minutes, Party for Socialism and Liberation member Kirill Staklo cried one more name: musician, activist, and trans advocate Maia Leonardo, who died in New Haven earlier this year at 28. Last year, it was Leonardo's voice that carried a portion of the Nov. 20 gathering at the same place, as an icy and wet wind ripped through the city and candles flickered against a November drizzle.
"Miss you, comrade!" Webb cried, her fist raised in a gesture of solidarity.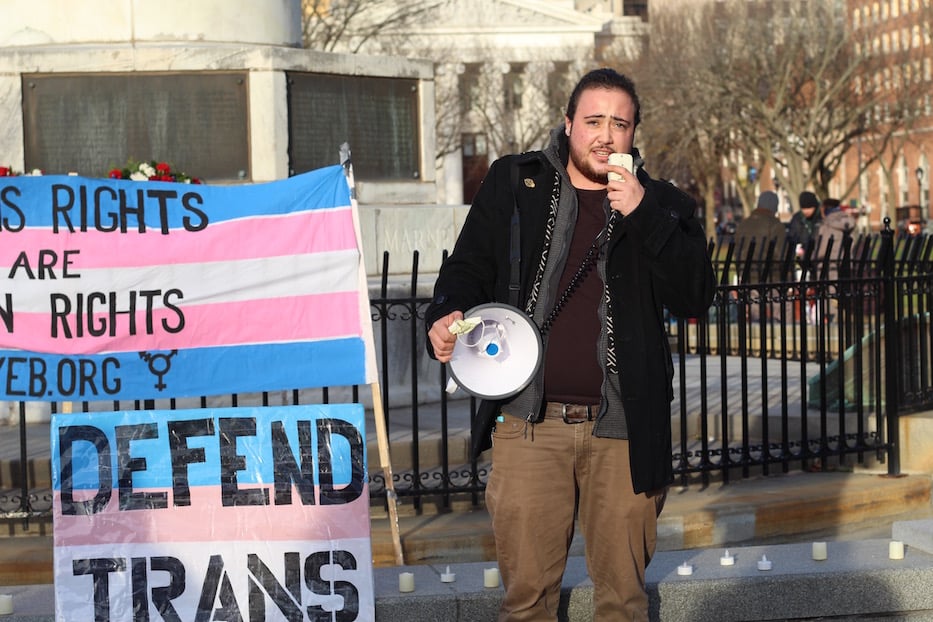 Eliot Olson: "If everybody could just reflect on all the lives that have been lost, all the futures that will not be anymore, and all the love that's been taken out of the world."
"There are so many names that aren't remembered, just because of the day in, day out toll that it takes on people's lives," said Eliot Olson, transgender, nonbinary and intersex program officer at the New Haven Pride Center. "If everybody could just reflect on all the lives that have been lost, all the futures that will not be anymore, and all the love that's been taken out of the world."
Olson, like many of those gathered Saturday, has felt that toll firsthand. On Friday night, he was stopped at a gas station on his way home from work when "this asshole" began throwing change at his car and yelling transphobic slurs at him. It was a shock to the system. Olson had spent the afternoon running a program on supporting trans youth (watch it here). He had picked up Chinese food for dinner and was excited to get home.
​​"It was coming from such a high to such a low so quickly," he said. "And you think you're making a change, and in a split second, you see how much there is to change."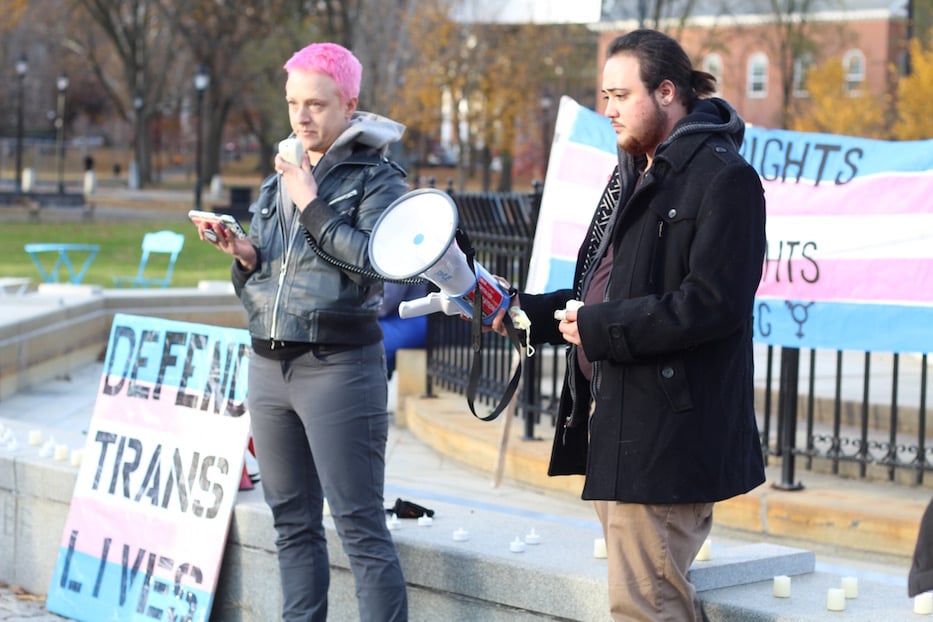 Dr. AJ Eckert and Eliot Olson.
During a short speaking program, a number of community partners reminded attendees that they don't have to fight transphobia, or the emotional and social isolation that it breeds, by themselves. Dr. AJ Eckert, who leads the gender and life-affirming medical program at Anchor Health Initiative, thanked attendees for coming out to the event in a year "disproportionately marked by death."
Taking the microphone, Eckert spoke about their own experience as an openly nonbinary person and suicide survivor. In seeking and now providing medical care, they have experienced a system that is not built for or particularly supportive of trans people, from the frequent misgendering of patients to outright denial of gender-affirming care. According to the Trevor Project, 42 percent of LGBTQ+ youth, and half of all transgender and gender nonconforming youth, considered suicide in 2021. Even before the pandemic, that number was also extremely high among transgender adults as compared to the general population.
In particular, they said, it is incumbent upon healthcare professionals and patient advocates to defend the rights of the most marginalized—trans and nonbinary people who also live at the intersection of Blackness, who are trapped within the carceral system, who are doing survival sex work.
"To my trans family, remember that you are perfect the way you are, and that you are loved," they said. "Join me as we remember our dead, and fight like hell for the living."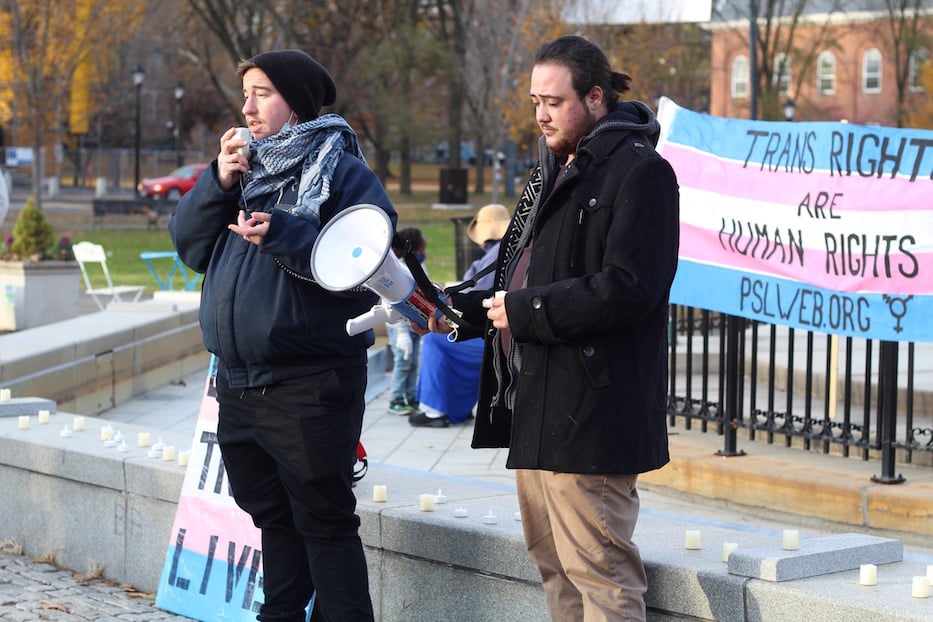 Seth Wallace, who leads the Office of LGBTQ Resources at Yale with Maria Trumpler.
Seth Wallace, assistant director at Yale's ​​Office of LGBTQ Resources, echoed that message. When people walk into his office—or now, log onto a Zoom appointment—he often tells them "that they belong to a rich tradition of resilience and intentional family," he said. On days like Saturday, he's buoyed by that reminder himself. He looked out over the crowd, noting that the faces he recognized knitted together different corners of the city.
"I hope that you know how loved you are, and I hope that you take excellent care of yourselves," he said.
Webb, who has covered the Alliance Defending Freedom's attack on Black trans athletes in Connecticut, closed the outdoor gathering with a fiery call to arms. After opening with an adaptation of Sam Cooke's "A Change Is Gonna Come"—I wanna see trans people livin'/I don't want us to die/But for my humanity/I will stand and fight—she turned toward the crowd, eyes blazing.
Beneath her coat, four lines of large blue, white and pink patterned text read "End Trans Genocide." A powder-blue skirt and striped socks that doubled as tiny trans pride flags matched it below.
"My head's in a swivel every day I walk out of my apartment," she said. "But I'm here to tell you friends, I'm here to tell you comrades, every day with that fear, we walk out into the world, every day we walk into our workplaces, and every day we walk into our schools, we are committing an act of revolution."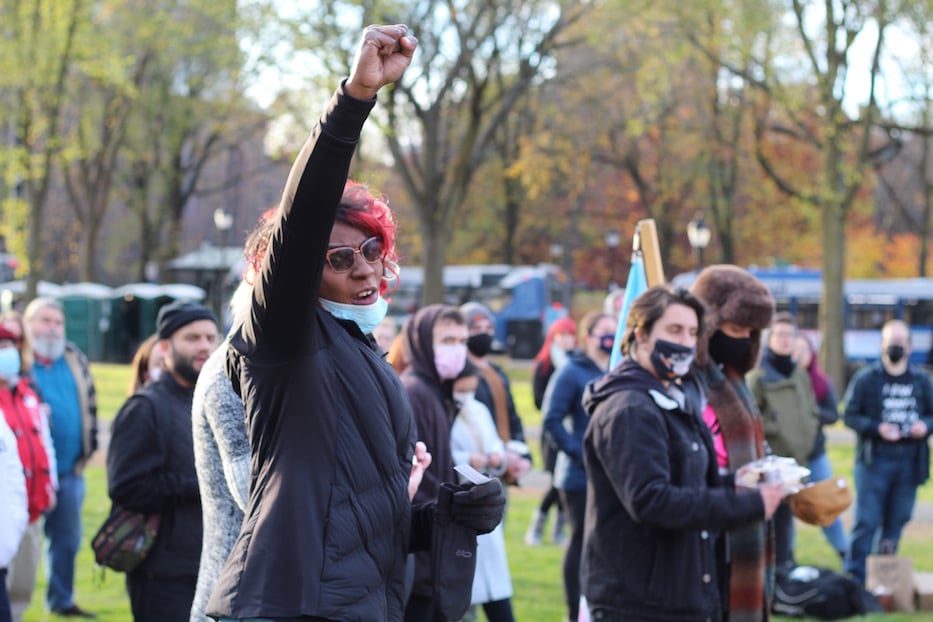 Each year, she said, she comes to the same gathering to hear the same message: that it has again been the deadliest for trans people on record. As the event itself has moved from the steps of New Haven's Superior Courthouse to the Green, she has watched the death count climb senselessly from 22 to 47.
As she roared the word "Again!" over the Green, it caught in her throat for a moment, then sailed over the space. She bent at the knees and waist, as if wounded by its weight.
Then, she sprang back into action. She drew a through line from the systematic and violent erasure of trans people, particularly Black trans women like herself, to waves of white supremacist, often state-sanctioned violence across the country. She pointed out that Alexander, a 28-year-old Black trans woman killed in Chicago, was discovered dead on the morning of January 6. By that afternoon, supporters of former president Donald Trump had stormed the U.S. Capitol in an attempt to overthrow Congress.
"To those of you who may call yourself an ally, understand this," Webb said, scanning the crowd. "If they can go after trans healthcare, they can go after yours too. And in fact, they already did. It was called the COVID pandemic, which is still going on … if they can go after my employment rights, they can go after yours. In fact, that's part of the plan."
She urged attendees to take the space to mourn, but also to stand up to attacks on LBGTQ+ and specifically transgender rights that have exploded in number across the country. Almost 40 of 50 states have proposed at least one anti-trans piece of legislation. Currently, there are 102 pieces of proposed anti-trans legislation across seven U.S. states alone, including almost 50 in the state of Texas alone.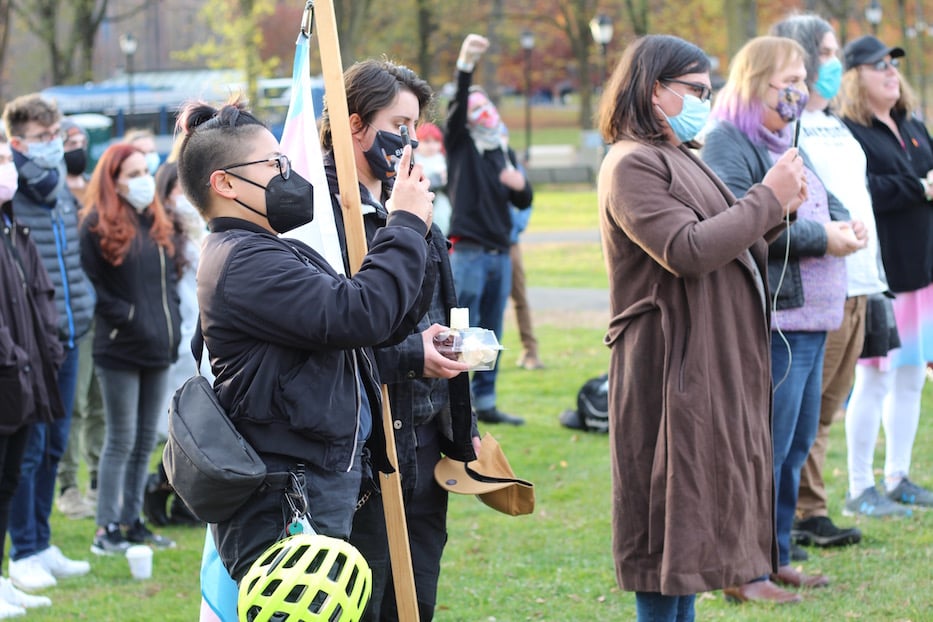 They represent a wide-ranging attack on transgender rights, and particularly the rights of transgender children. They target arenas that range from the sports field to the classroom to the pediatrician's office.
If it's a national problem, Webb said, it's also a Connecticut problem. Shortly before the COVID-19 pandemic hit Connecticut, the Alliance Defending Freedom mounted an attack against trans women in Connecticut high school sports that sought to legalize statewide discrimination against trans student athletes (the Southern Poverty Law Center has listed the Alliance Defending Freedom as a documented hate group since 2016). Webb called for the swift passage of the Equality Act, which would prohibit sex- and gender-based discrimination on a national level.
"You right!" yelled someone sitting beside the fountain, who had been silently listening to speakers for 20 minutes. "You right!"
Webb also pointed to the LGBTQ+ Needs Assessment Survey results recently released by the New Haven Pride Center earlier this month, which show an overwhelming need for greater housing security and support among LGBTQ+ Connecticut residents. According to the results, one in three transgender residents report that they have been denied housing in the state. During her life, Webb said, she's been one of them.
"We must stand at the barricades together," she said. "We have systems that we're fighting against and systems that we need to change."
"We have to lift each other up, we have to hold each other up, we have to be there for each other," she added. "If there's someone you don't know, meet them. Don't just come here, have this moment, and then leave … we are in an emergency situation."
If you or someone you know is looking for trans support and community, Trans Lifeline is accessible 24/7. The Trevor Project offers 24/7 confidential support for LGBTQ+ youth in crisis. Eliot Olson is accessible at trans@newhavenpridecenter.org.