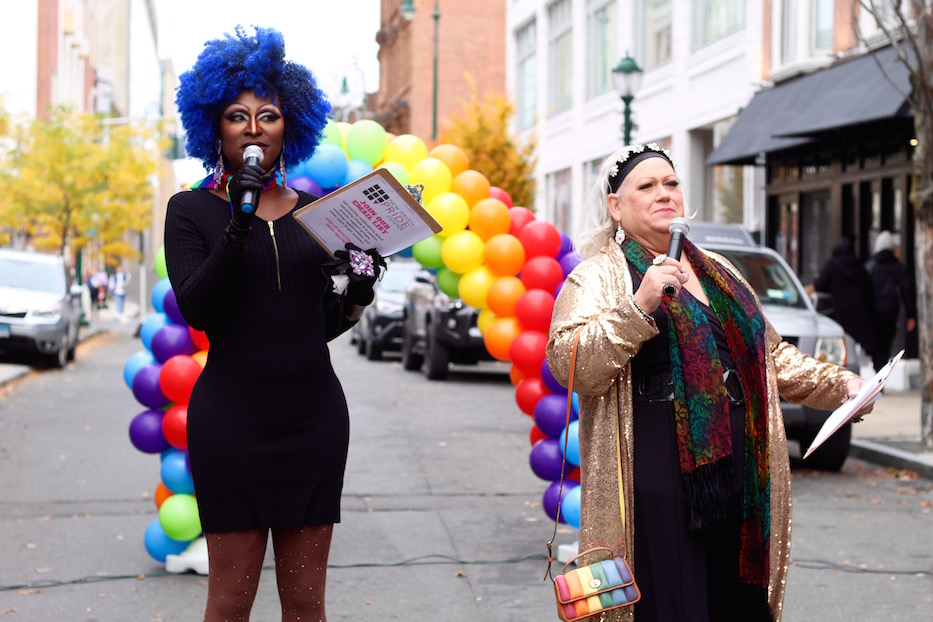 Culture & Community | Downtown | LGBTQ | Arts & Culture | New Haven Pride Center | Ninth Square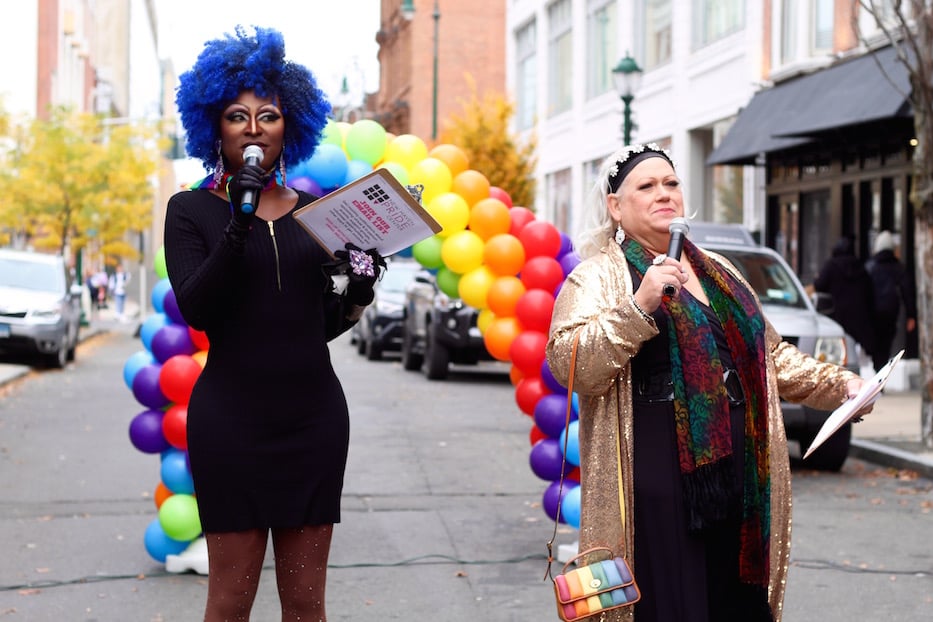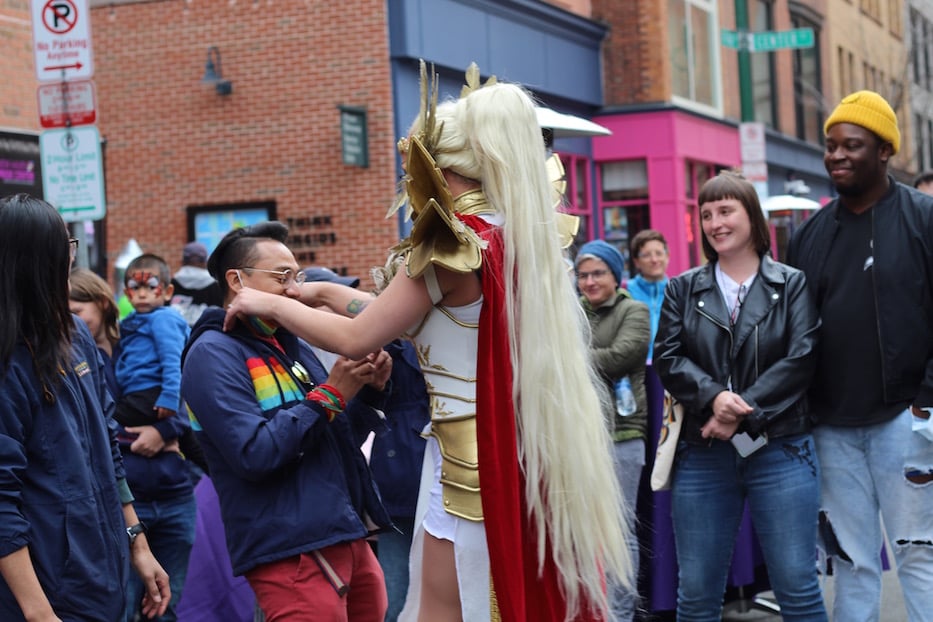 Top: Emcees Sparkle Diamond and Dolores Dégagé Hopkins. Dégagé Hopkins is making history as the first trans woman to chair the New Haven Pride Center's board of directors. Bottom: Latinx Program Officer Max Cisneros and Serenity Lockhart. Lucy Gellman Photos.
Drag queens came ready to dance away the chasm between ballroom and cosplay. City officials traded their ties for cat-eyed and bedazzled sunglasses. Public artists rubbed shoulders with unicorns and spider-people as face painting took hold. And by three in the afternoon, it seemed that all of Orange Street was moving to Lady Gaga's "Born This Way" in a cacophonous, unsynchronized and rainbow-dotted ballet.
Sunday afternoon, a block party and celebration rang in the 25-year anniversary of the New Haven Pride Center, a community hub that has sustained and grown LGBTQ+ life in New Haven for two and a half decades. From drag queen story hour and public art to performances that banished a wintry chill, the event brought hundreds of people to lower Orange Street to dance away the afternoon.
Monday, the organization continued its celebrations as it launched six days of Trans Awareness Week programming and opened The Art of Page Wooller, a solo show from the British-born, nonbinary artist.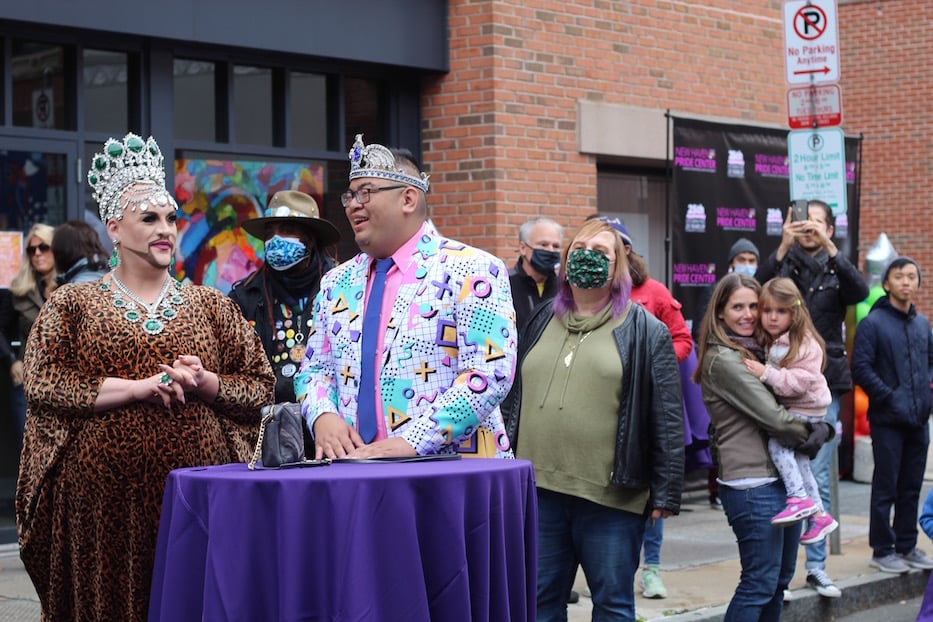 Miss Frank, who served as Empress 22 of the Imperial Sovereign Court of All Connecticut, with Emperor 22 Vu Tran. New Haven Pride Center Board Member Lindsay Pembrooke is pictured to their right.
"I feel so good," said Patrick Dunn, who became the New Haven Pride Center's first paid executive director in August 2017. "This is our first real in-person event at the center since the start of the pandemic. The day after PRIDE [in September], we started planning it because we knew that we wanted to do something that brought everyone together."
The New Haven Pride Center was founded in November 1996, three years after John D. Allen and a group of gay rights activists launched a fight for domestic partnership in New Haven. At the time, a 40-year-old Allen had already been pushing the city's Board of Alders on the issue for three years, and realized that the struggle towards LGBTQ+ equality in the city would be a long one. Twenty-five years later, it still is.
During his graduate work in education at Southern Connecticut State University, Allen conducted the first-ever LGBTQ+ needs assessment that the city had ever seen. It proved to him what he knew: that there was a need for safe, communal gathering spaces for gay people in New Haven. He would experience a full circle moment decades later, as the results of a second, more comprehensive LGBTQ+ needs assessment survey were released on the steps of the State Capitol in Hartford this month (watch that here and read the full report here).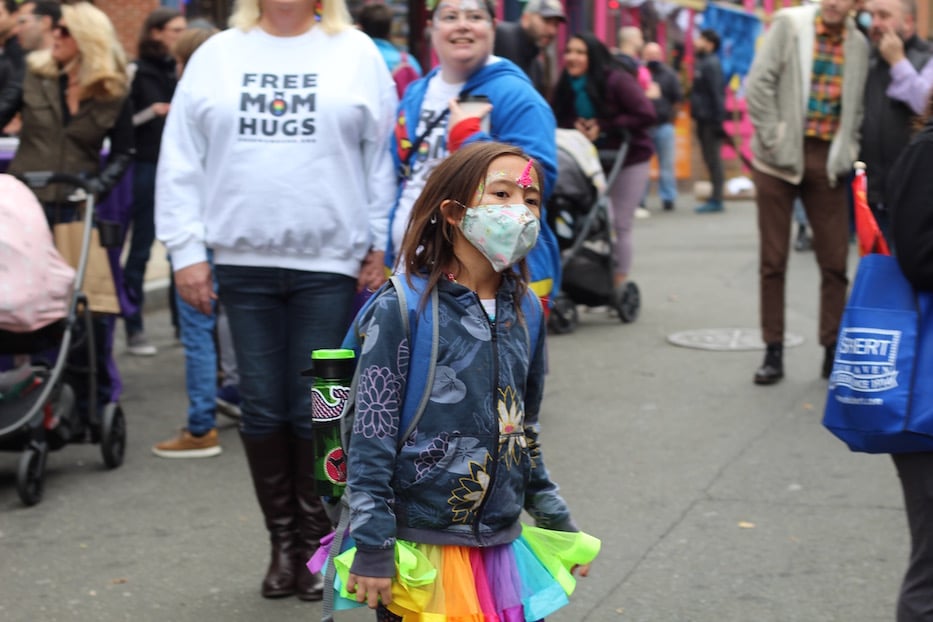 Magdalena Diaz. She, her mom Jenny, and her little sister Gabriela all attended the drag queen story hour and stayed for the music and performances.
The mid-1990s "were still pretty scary times to be out," he recalled in a phone call Wednesday. The state had only passed civil rights protections for LGBTQ+ people in 1991, meaning that a job could no longer terminate its employees on the basis of their sexual orientation. In 1987, when he was out to only friends and family, Allen was fired from his place of work when his supervisors learned he was gay. He was thrilled with the new legislation—and he wanted to see more.
The New Haven Pride Center's launch came at a specific moment in LGBTQ+ history for the city. It would be eight years until the New Haven Board of Alders passed domestic partnership legislation in 2003, and 12 before Connecticut became the second state to grant same-sex marriage in 2008. It would be two decades until the U.S. Supreme Court ruled that same-sex marriage was constitutional.
Allen found his allies along the way, he said. After working with then-Mayor John DeStefano and Archbishop Peter Rosazza, Allen opened the first offices of the New Haven Pride Center at 1 Long Wharf Dr., where it lived for only a year until moving to 50 Fitch St. in the city's Westville Neighborhood. He gained the support of New Haven Police Chief Nicholas Pastore and Kay Codish, a lesbian activist who ran the New Haven Police Academy from 1992 to 2008.
He also began to lead the "Rainbow Support Group," a gathering for LGBTQ+ people with intellectual disabilities that has become the space's longest-running support group. Sunday, he led a session before heading outside.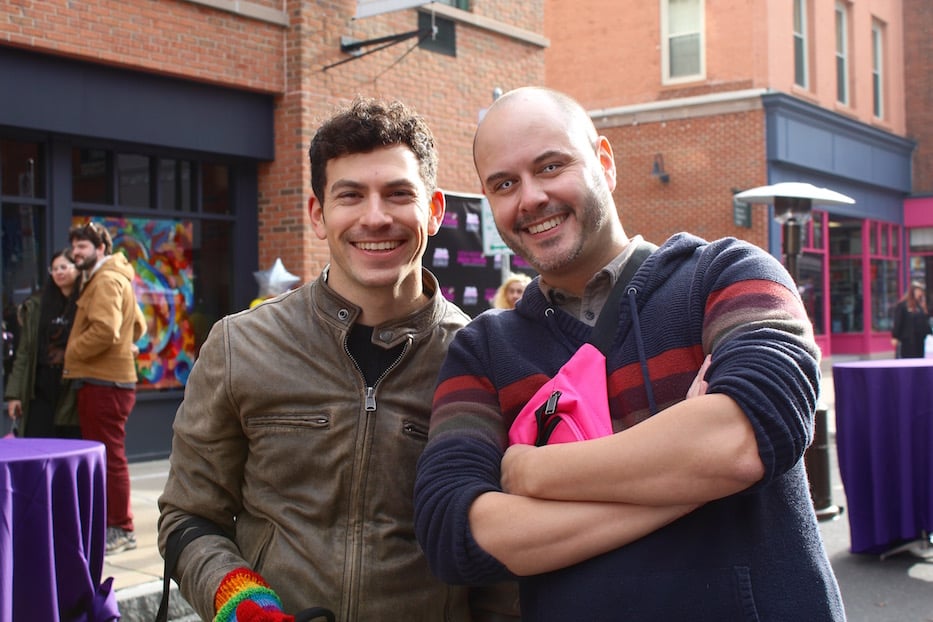 Michael Rady, who helped the Center build out its Rainbow Libraries program, returned to New Haven for the block party. He is hugging Dunn.
By 1997—the year Ellen DeGeneres came out, which Allen calls his "second Stonewall moment"—Gotham Citi Cafe owner Robb Bartolomeo was working with the then-young Connecticut Pride Committee to bring an inaugural PRIDE celebration to the New Haven Green. After launching Pride New Haven in 1998, Bartolomeo worked for decades with the center to keep Pride running. He most recently supported efforts that brought out over 1,000 people to the North Haven fairgrounds in late September.
For years, Allen and a dedicated group of volunteers ran the space on a shoestring budget. In 2000, he was particularly excited to invite Stonewall icon Sylvia Rivera to speak at the Center through a collaboration with the International Festival of Arts & Ideas. In 2009, he helped move the Center to a third location on Gilbert Street in West Haven. In 2013, a gift from the Imperial Sovereign Court of All Connecticut allowed it to move into its current home at 84 Orange St. Dunn became its first paid executive director four years later.
Through all of it, Allen served as a president of the Center's board, getting it through its leanest years. He only recently stepped down, and now sits on it as a non-voting member. As he strolled down memory lane in Wednesdays phone call, he praised Dunn and a steadily growing staff for turning it into "a full-service agency" that has been responsive to the community's needs, most recently in a pandemic.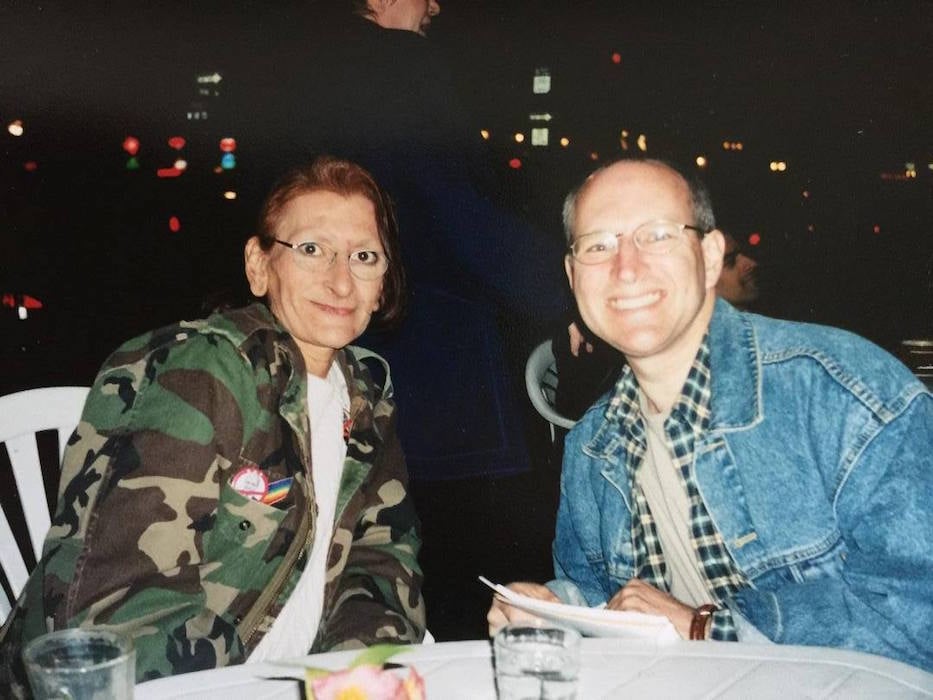 Sylvia Rivera and John Allen in 2000 at the Center's 50 Fitch St. Location. Rivera passed away in New York in 2002. John Allen Photo.
"The thing I think most about the Center is, I took it to a place where I really knew how to," he said. "We were like a clubhouse. We did what we were able to do on a minuscule budget. We rubbed nickels together. We kept the place going. And now, I don't have children, but it's like watching your child go off to college and finally launch. It's evolving. It's constantly evolving."
It's a vision that Dunn, since beginning his tenure four and a half years ago, has transformed into an engine for community support, youth and adult programming, and the state's only dedicated hub for LGBTQ+ arts and culture. Since starting in 2017, Dunn has grown out the Center's staff to six full- and part-time positions (including his own), with case management services, a one-man development department, and specific resource coordinators for trans and Latinx community members of (read more about the Center's work, particularly during the pandemic, here).
Recently, he has worked to ensure more diversity from not just the Center's staff, but also its board leadership. Earlier this month, the Pride Center elected several trans and nonbinary board members, including artist and now-Chair Dolores Dégagé Hopkins and Chloe Jasmine, who goes by CJ. Lindsay Pembrooke, who is nonbinary, will also stay on as secretary. LGBTQ+ leaders Kishorn Henry-Walker, Hope Chávez, and Marcie Monaco were also elected in the same time period.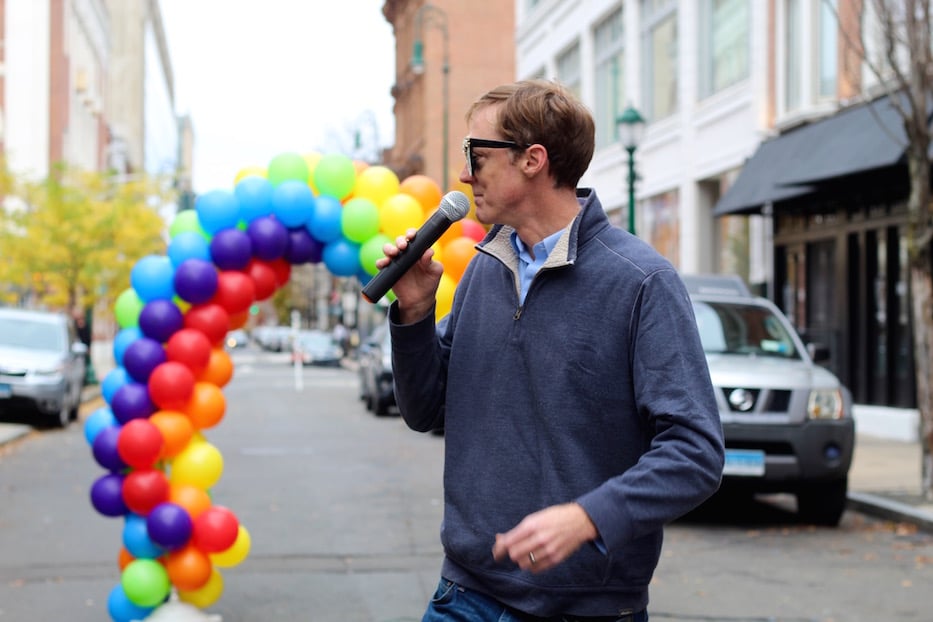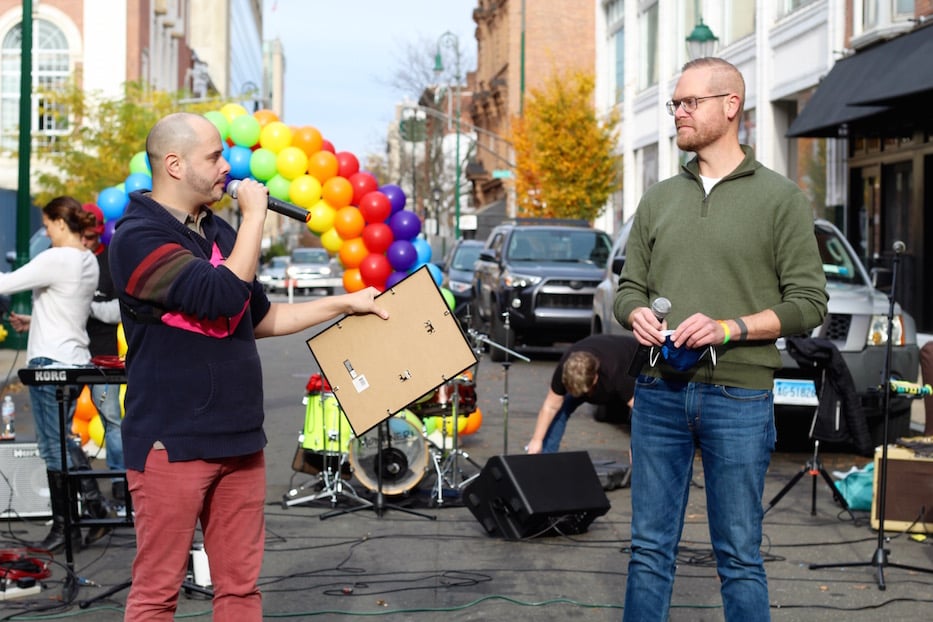 Top: Mayor Justin Elicker, who praised the Center as he pointed to New Haven as "a place that welcomes everyone." Bottom: Dunn with State Rep. Jeff Currey. "Unless our voice is at the table, no one is listening to us completely," Currey said.
At Sunday's block party, that effort did not go unnoticed. As Sister Funk sang away a wintry wind, the street filled up with a multigenerational crowd, attendees drawn to the street by their relationship with the Pride Center. Some reminisced with Allen about the early days, when frantic volunteers "were stuffing envelopes to keep things going," he later said. Others made a beeline for the organization's basement offices, where drag queens waited with story hour reads in tow.
By the time Sister Funk covered DNCE's "Cake By The Ocean," there wasn't a single attendee standing still. Some started jumping, flinging their arms over their heads as they skipped back and forth down the sidewalk. Others swayed and head-bopped in tutus, tiaras, tie-dye, and all manners of rainbow swag. A few teenagers rode their bikes unannounced through the crowd, grooving as they rolled toward Chapel Street.
Presenting Dunn with an honorary proclamation, State Rep. Jeff Currey applauded the Center's work, particularly in the past 19 months. Between running the state's LGBTQ Caucus, ushering in "the gayest legislative session" in state history in 2019 and getting a new kidney earlier this year, Currey has been a steadfast supporter of the Center—going so far as to perform in drag as Bianka Merica two years ago in a benefit for queer youth.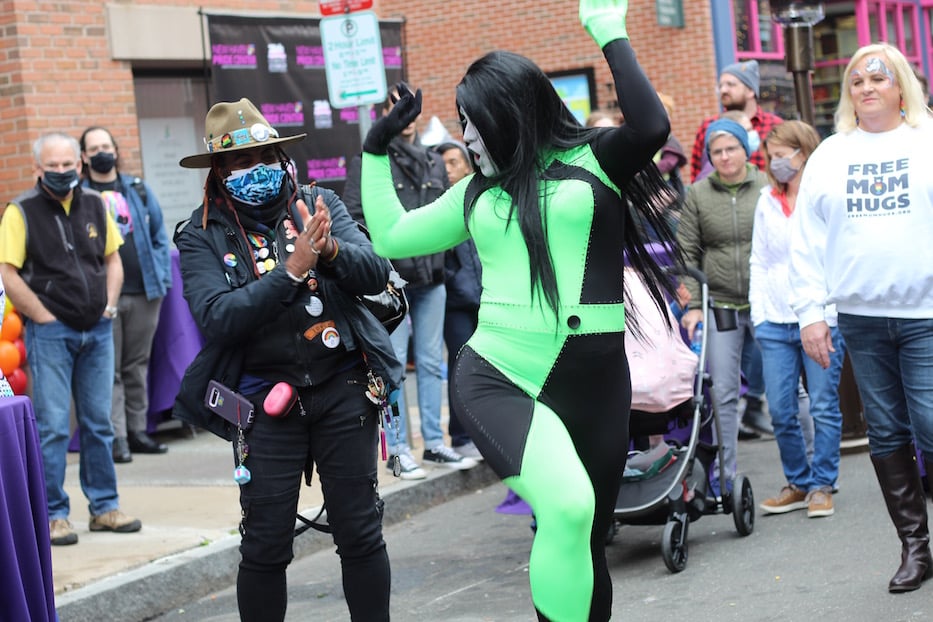 Ryuichi Bell and Peachy Cream.
"I can't tell you how much I love, admire and respect this human standing next to me," he said as Dunn blushed. "He and the organization stand up, step up, speak out every single time that we ask them to. I would put our legislative LGBTQ agenda up against any other state in the last few years, and we have continued to provide safe spaces, programs and people for our community … we couldn't do that without the New Haven Pride Center."
As one member of the two-person LGBTQ Caucus, he also urged attendees to run for office. "Unless our voice is at the table, no one is listening to us completely," he said. It echoed a warning that Vu Tran, the Center's accountant and Emperor 22 of the Imperial Sovereign Court of All Connecticut, later issued to the crowd: "If we don't support community spaces, those spaces will close."
As Giganta Smalls closed out drag queen story hour downstairs, emcees Dégagé Hopkins and Sparkle Diamond kept the party going on the street. Against a backdrop of rainbow balloons, they introduced Serenity Lockhart, one of three performers from drag-meets-cosplay convention ChibiCon to take the street-turned-stage. With the first notes of Katy Perry's "Rise," Lockhart emerged from the doors of 84 Orange St., moving with such force it seemed she might have busted through them.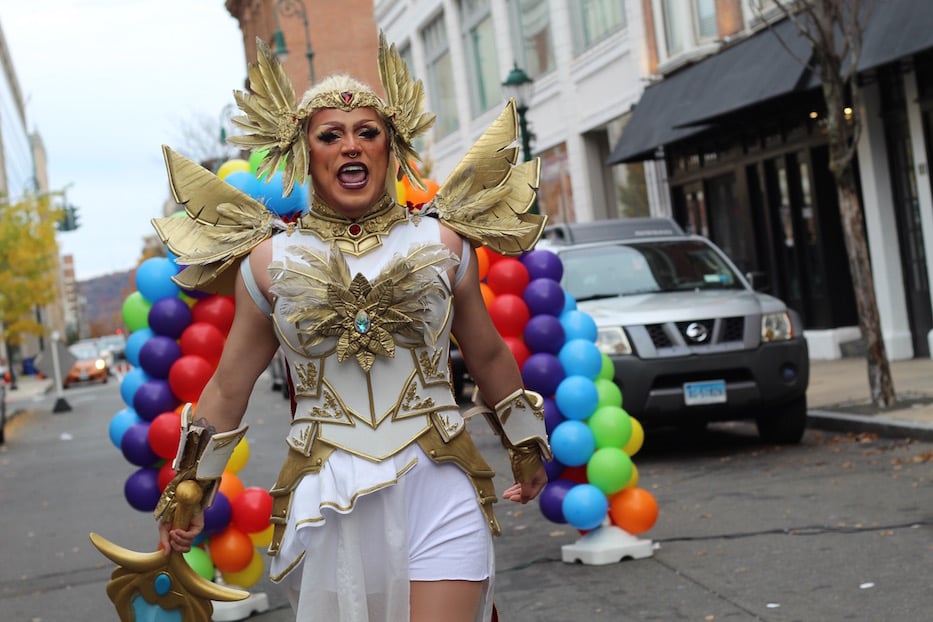 Serenity Lockhart.
In gold-dusted foam armor, wings, and feathers, Lockhart glided before the crowd, walking back to dance among cheers and crumpled dollar bills, cautiously extended from a sea of hands and fingertips. It set the tone for Tito Midnight's drag-meets-Super-Mario routine, which flowed from Nintendo music into Scorpions, BTS, and Meduza. As Midnight began to bounce, members of the crowd bounced with them.
"I was gonna say that this next name sounds like a Southern cocktail," Dégagé Hopkins said as Midnight exited and she kept the crowd cheering. I'm gonna introduce Peachy Cream. Sounds like something you sip slowly."
She paused and gave a little smile as the bass to K/DA's "Villan" dropped. "Oh! She is, I heard from the sidelines."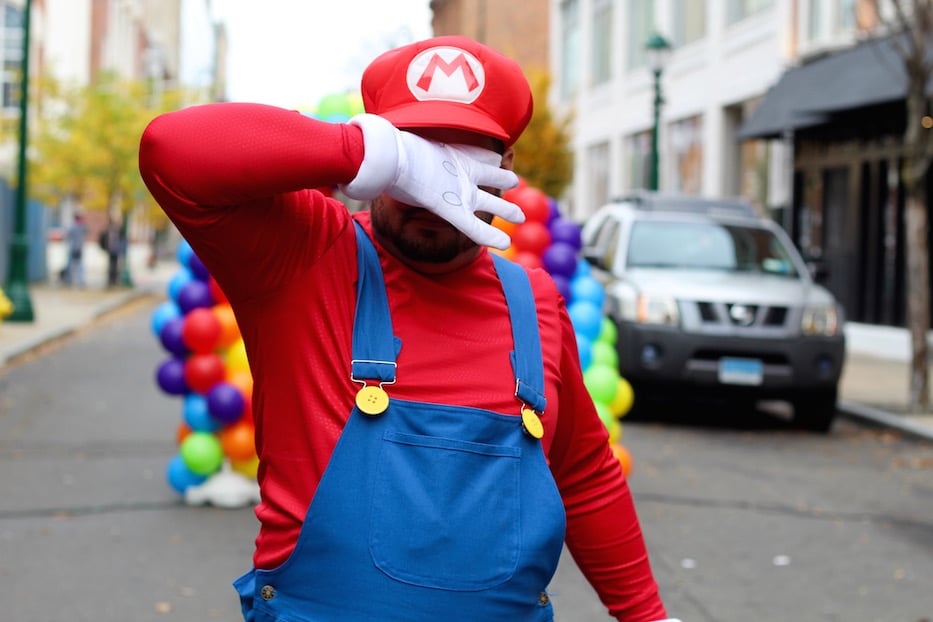 Tito Midnight.
As Cream danced in a black-and-green Kim Possible jumpsuit, artist Aly Maderson Quinlog greeted attendees down the street, showing them around a cyanotype mural covered with pieces of queer Connecticut history. On one side, archival photographs undulated against blue and white, showing years of pride marches, gatherings, and community discussions. On the other, recent photographs from the Center's programming reminded attendees that queer history is living and emergent.
The photographs told a story of a community of care. Drag queens danced on a stage from a Pride New Haven celebration from six or seven years ago. High school and college students at Black and Brown Queer Camp pulled out their best moves to Lady Gaga. A photograph paying tribute to Maia Leonardo, a trans advocate who passed away unexpectedly in September, stopped some viewers in their tracks.
On both sides of the mural, Maderson Quinlog worked with community members to design and add their own fabric squares, attached to the mural with clothespins. Jesus loves you!, read one. Another showed a person wrapping their arms around themselves.
"The mural is really part of an ongoing project related to the queer archive," they said. "Art … it's where we keep our memories. I saw myself in art before I knew I was queer."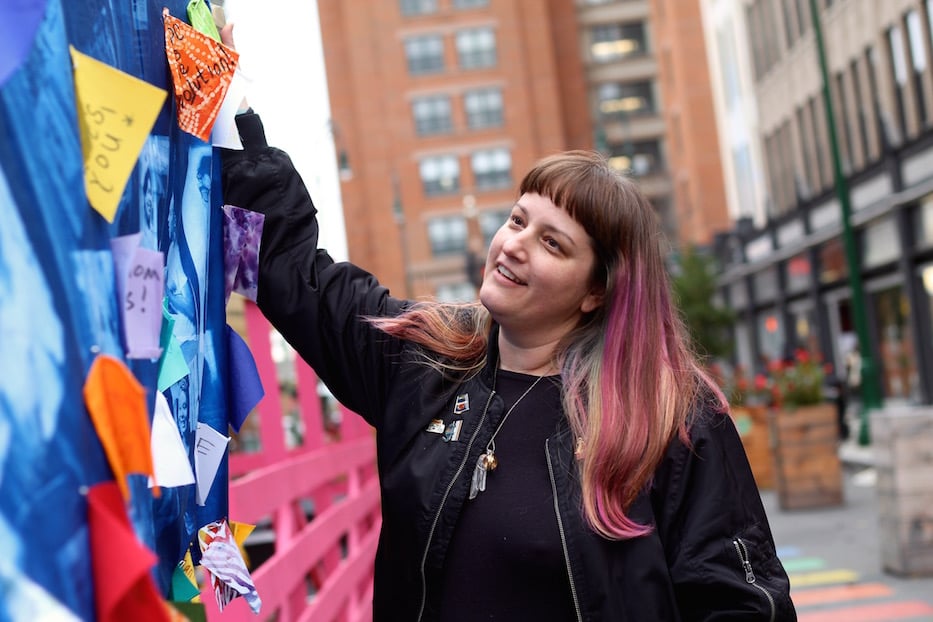 Artist Aly Maderson Quinlog.
To create the mural, they sourced archival photographs, made negatives, and then did a 30-minute solar exposure that the cyanotype process requires. The result is a piece of public art with a number of not-quite-ghostly images that float on the fabric, telling the story of Connecticut's complex, evolving queer past and its vibrant present. Before the block party, they worked with Youth Programs Manager Ala Ochumare on the idea.
A few feet away, two red starbursts exploded across Joe Currie's face as he sat still for Darci Mchenry, the founder of TeachArt2Me. Twenty years ago, she started bringing her face painting station to pride events around the state. As the mom of a nonbinary person, pride celebrations are personal to her. Sunday, she worked alongside Chuan Quarterson, who happens to be her daughter-in-law, and turned out "to give back to the community."
"We need support for the community!" Currie said as Mchenry added some red to his lips with a fine-tipped brush. He tried to stay still between words. "We need to be a part of this. With Covid, it really closed everything down."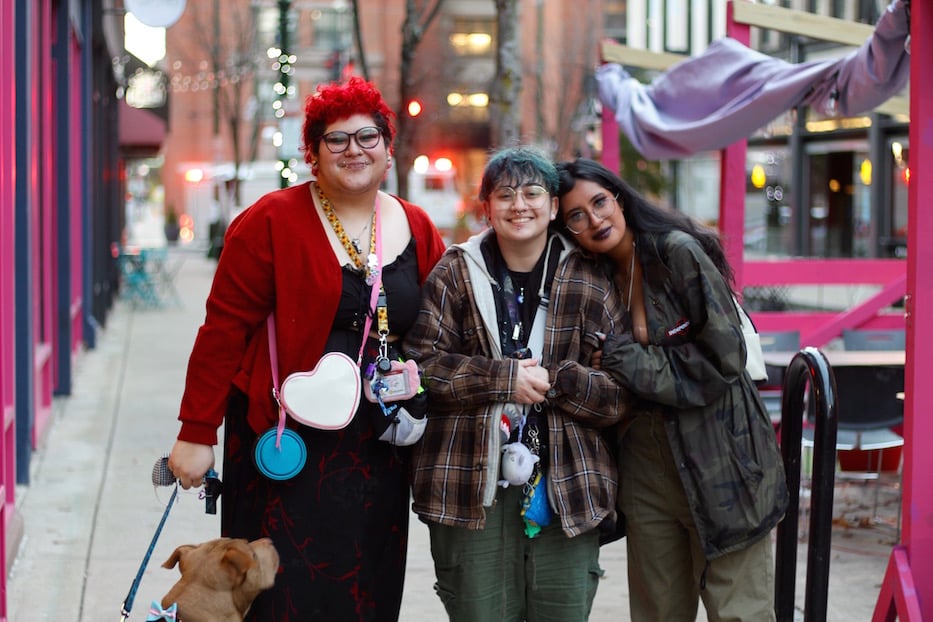 Gerson Martinez, Anthony Voytershark and Carmen Campos. Martinez' service dog, pictured at the bottom, is named Leo.
Friends Gerson Martinez, Carmen Campos and Anthony Voytershark checked out Elm City Games, one of the local businesses donating a portion of the day's proceeds to the Pride Center. During their time at Wilbur Cross High School, Martinez was a student in the inaugural Black and Brown Queer Camp and then served on the LGBTQ Youth Task Force.
Then the pandemic shut everything down. After a year and a half of isolation, they said they were glad to be back at an in-person pride event. "For me, it's about connecting [with] community," they said.
That was true for Campos, who became close with Voytershark when the two were in marching band together. As the party's 4 p.m. end time approached and Lady Gaga pumped over the street, they tried to soak in every moment of the celebration. A student in liberal arts and sciences at Gateway Community College, Campos said they had never been to a Pride event before Sunday's block party.
As a Mexican-American who identifies as nonbinary, "there's not a lot of space for acceptance" at home, they said. Sunday, they traded the form-fitting women's clothes they often feel forced into for cargo pants, a thickly insulated jacket, and tape smoothed over their nipples.
"I just felt the love everywhere," they said. "Complete and utter love and acceptance … I could cry. All of this means so much to me. I can be myself."
"I tend to forget that being gay is okay sometimes," Voytershark added. "When I go to these events, it feels like being home."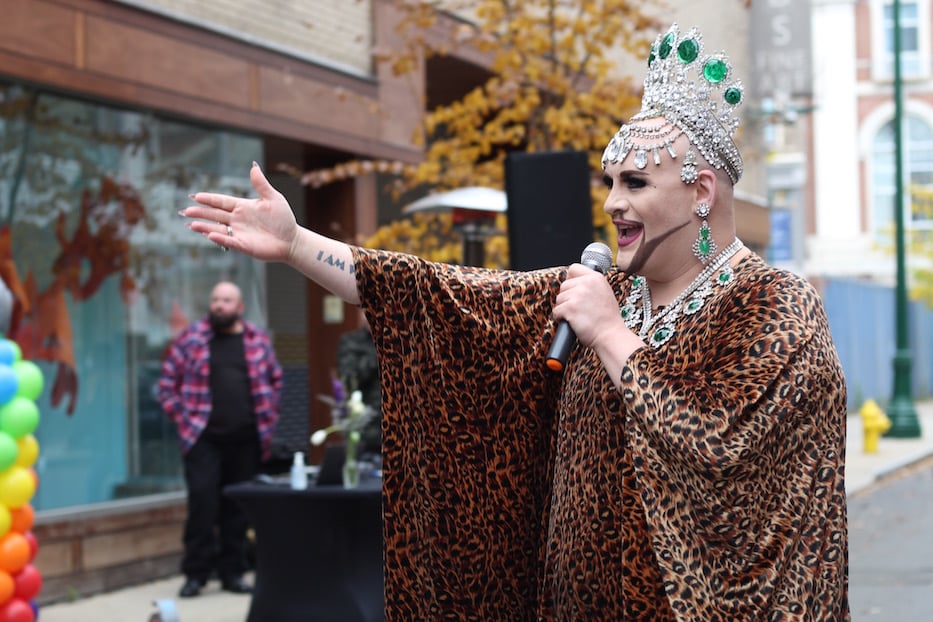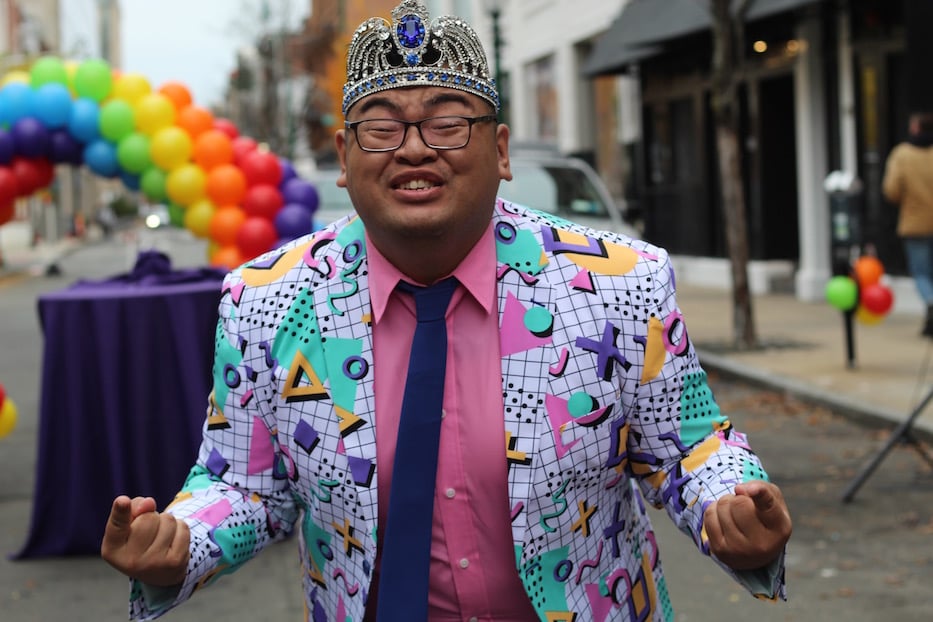 Top: Empress 22 Miss Frank in all the fabulousness. Bottom: Emperor 22 Vu Tran keeps the crowd on its feet.
Down the street, Dégagé Hopkins had started to help Dunn clean up before a drag afterparty at Blue Orchid nearby. After learning about Allen's work decades ago—she met him when she was living on Crown Street, above Cafe Nine—she has long been a steadfast advocate of LGBTQ+ rights in the state and of the Pride Center specifically.
Ten years ago, she sat on the board as it negotiated the move from West Haven back to New Haven. She stepped off when her spouse grew ill from cancer, and rejoined "a little over a year ago," she said. Having spent years supporting Dunn's vision and performing with his drag alter ego Kiki Lucia, she is excited to chair the board as the Center steps into its next 25 years. She is already making history as the first trans woman to hold the position.
"I've seen so much progress, I just want to support Patrick's vision," she said. She added that she plans to "get the board out there" at community events.
Learn more about the New Haven Pride Center here.