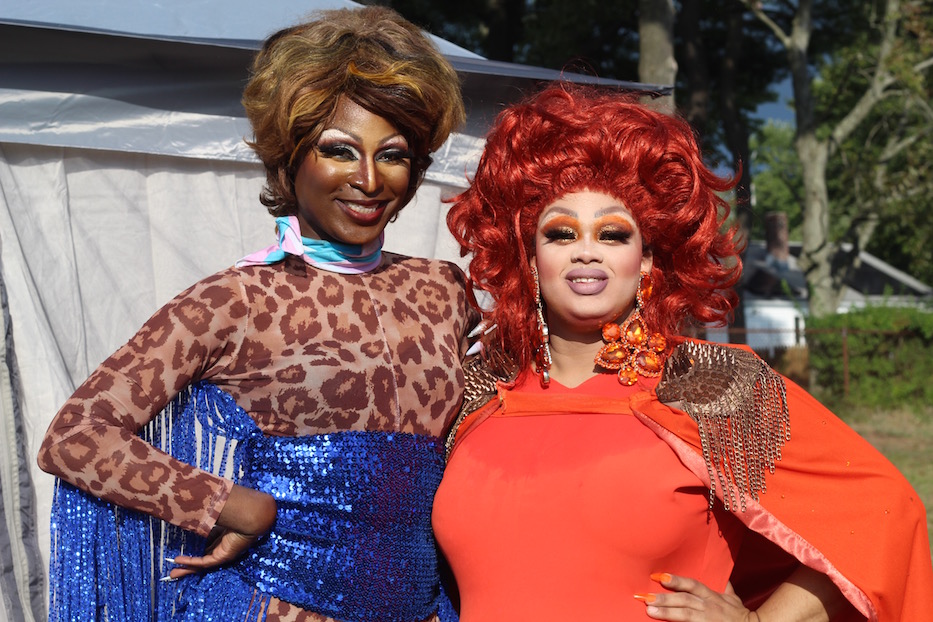 LGBTQ | Pride Month | Arts & Culture | New Haven Pride Center | North Haven | COVID-19 | Pride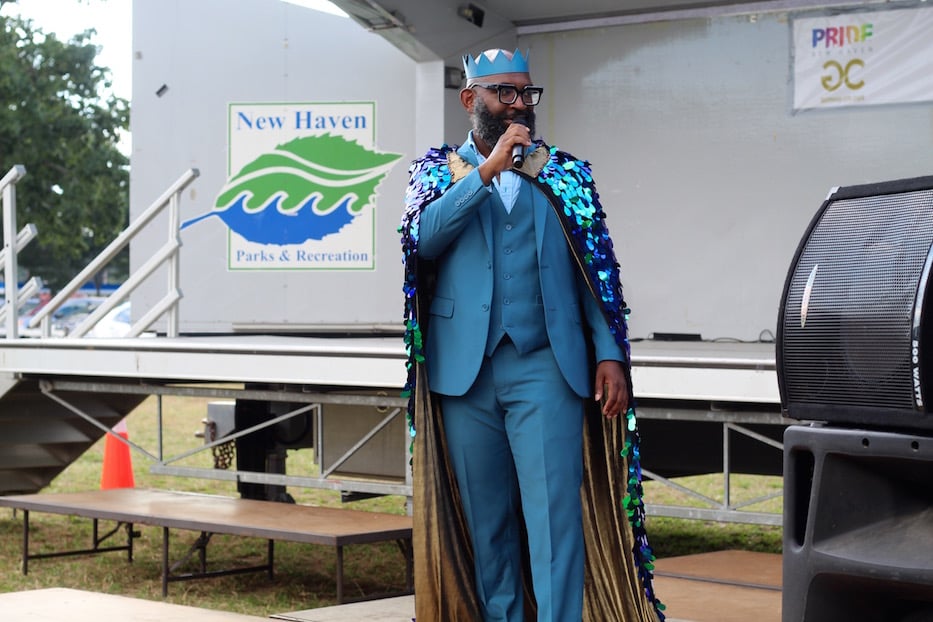 Professor M, the Black Kingpin of Swagger, at PRIDEFest 2021. Lucy Gellman Photos.
Professor M was living up to his name as the Black Kingpin of Swagger. Onstage, his blue and green cape shimmered beneath a blue crown in the 90-degree sun. In tents behind him, drag queens applied their makeup, half-listening to the lyrics. He turned, and his cape swished in a seafoam-tinted rainbow. He finished his rendition of "Walk Unafraid," and held the mic at his side.
"When you walk unafraid, know that you won't walk alone for long," he said. "I see you, and I thank you for being here today. For walking unafraid."
Saturday afternoon, performers, small business owners, and hundreds of attendees walked unafraid at New Haven's PRIDEFest 2021, held at the North Haven fairgrounds for the second year in a row. For seven hours, the festival brought together a cross-section of Connecticut's kaleidoscopic LGBTQ+ community, from pups and their handlers to drag artists to brewers to baby-faced teenagers wrapped in trans- and bi-pride flags. Over 1,000 attended, according to crowd estimates from the New Haven Pride Center.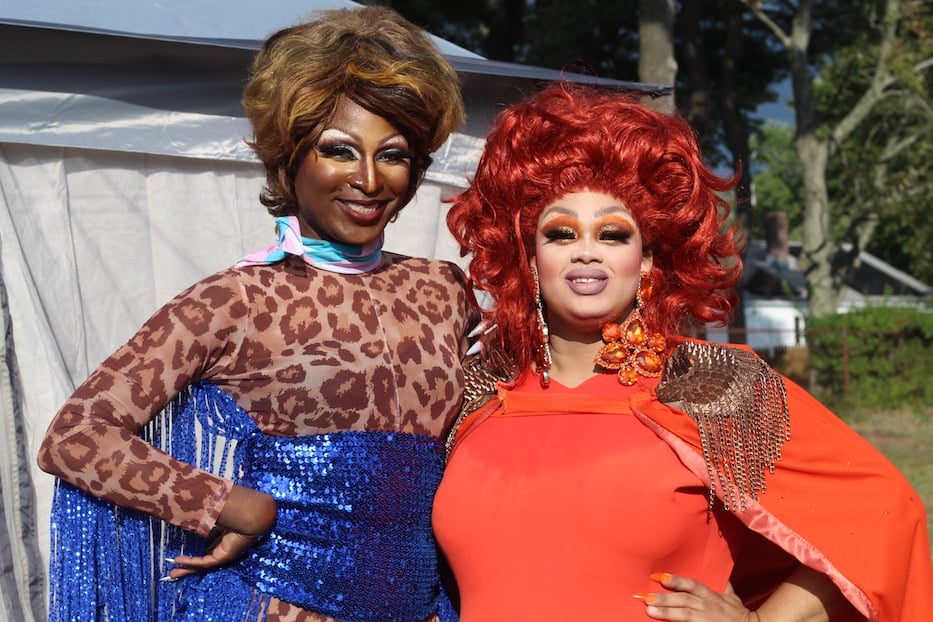 Co-emcees Sparkle Diamond and Xiomarie LaBeija.
"I feel like there's a lot of love here today," said Sparkle Diamond, a Bridgeport-based queen who emceed the event with Hartford's Xiomarie LaBeija. "That's what I feel every time I'm at New Haven Pride. This pandemic really made people stop and think about life and what matters … people are in a place where they truly see the impact of the world and the ways that we have to go to bring about more equality."
New Haven celebrates LGBTQ+ Pride in September as not to conflict with a regional pride season that runs from May through September (read more about the origins of that tradition here). Saturday, the late summer sun still brought June weather to the fairgrounds, with rainbow-patterned fans, parasols and masks that made an appearance throughout the day.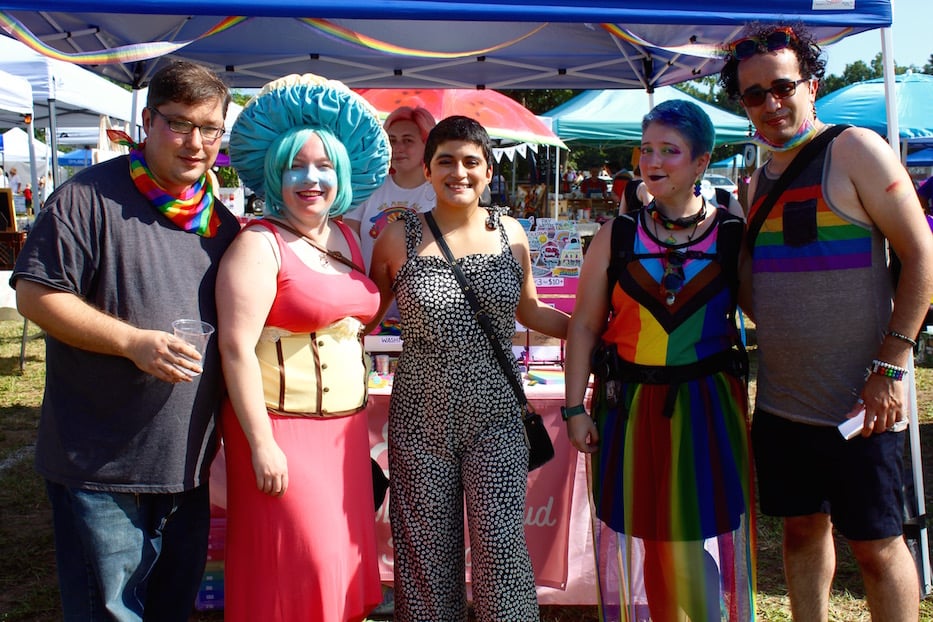 Friends David Baum, Samantha Levesque, Kaira Ayad, Terry Press, and Phil Brown.
At a sun-soaked tent for Raspberry Cloud Studio, business owner Natalie Wallington chatted with customers, some of whom were attending Pride for the first time. There with a group of four friends, David Baum perused LGBTQ+ stationary, felted pins and bright stickers as Aretha Franklin's "A Deeper Love" blasted from the stage. For the Bridgeport resident, who came out this year, PRIDEFest marked a milestone.
"It feels really open, metaphorically and literally," he said.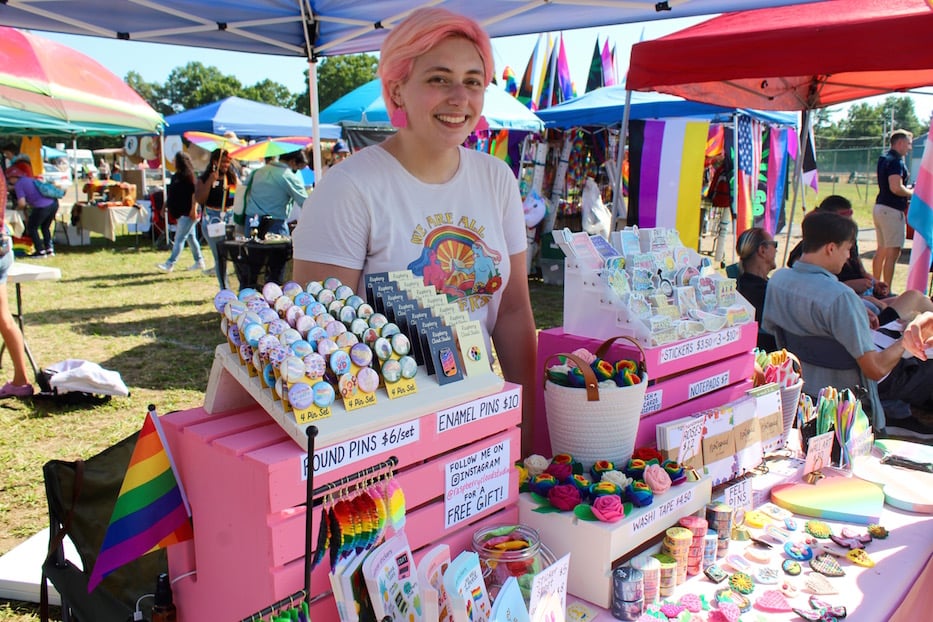 Raspberry Cloud Studio owner Natalie Wallington. When she isn't running a small business, Wallington is working as a reporter.
Around him, his friends drifted from booth to booth, looking over rainbow-patterned pins, hand-carved wooden bowls and planters, jewelry and dozens of handmade soaps and candles. This year, PRIDEFest became a meeting place for the five, who live across Meriden, Ansonia, Middletown, and Bridgeport. Terry Press, who hails from Meriden, said she was excited to be back with the group.
"There's something about a bunch of queer nerds," Press said. "We sort of just find each other."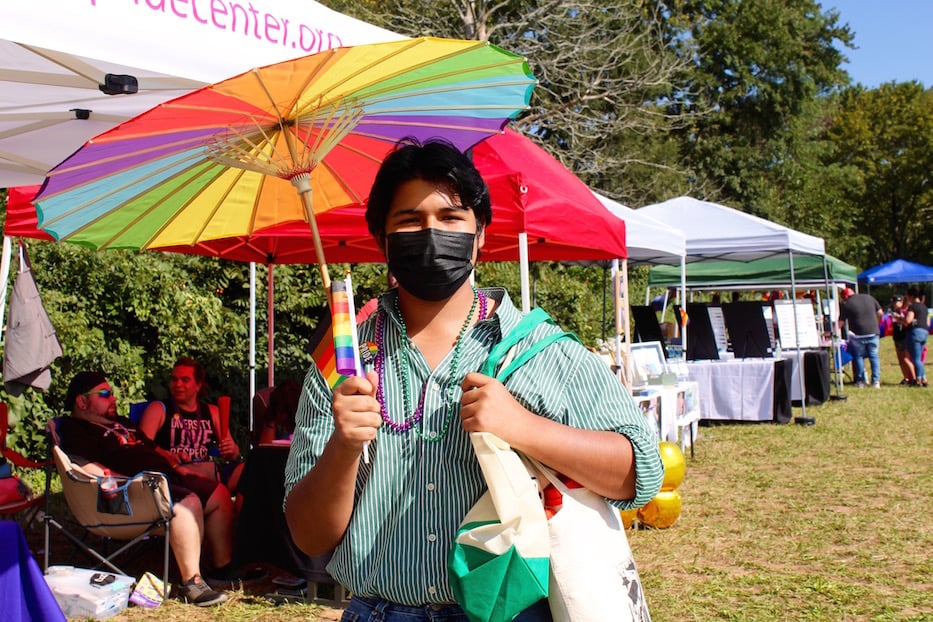 Dave John Cruz-Bustamante, a sophomore at Wilbur Cross High School in New Haven.
In a row of tents closer to the stage, Wilbur Cross High School sophomore and New Havener Dave John Cruz-Bustamante lifted a rainbow-patterned parasol above their head and chatted with friends from the New Haven Pride Center. Earlier this year, Cruz-Bustamante joined the Center and CityWide Youth Coalition for an annual Black and Brown Queer Camp.
They said that PRIDEFest, like the camp, gave them a place to be completely themselves without fear or judgement. While they have friends at Cross, they haven't found any sort of infrastructure at the school for LGBTQ+ students.
"It feels really nice," they said of PRIDEFest. "It's very reaffirming to know we exist. It's a nice, tight-knit community."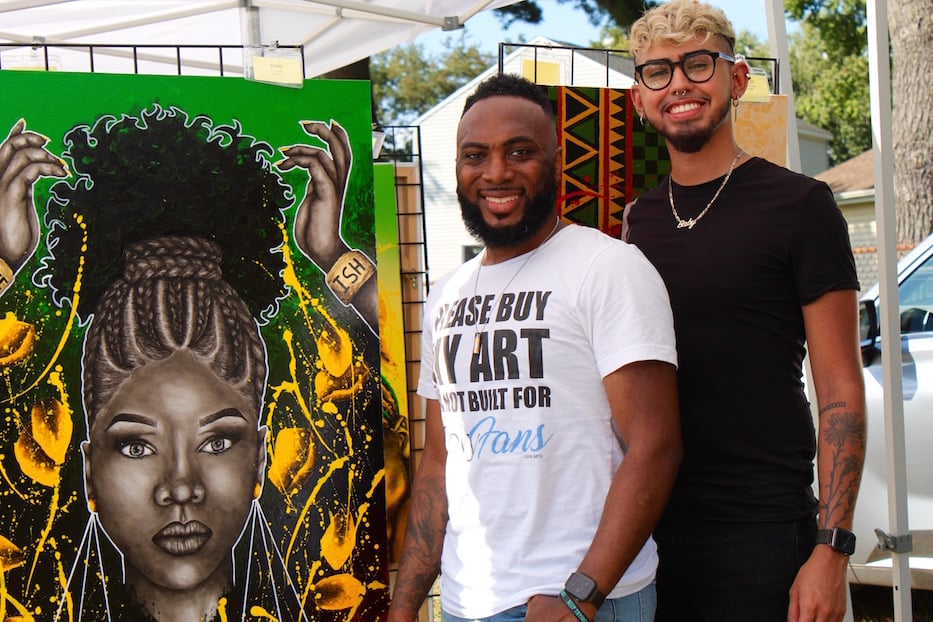 Artist and business owner Jaii Marc Renee, with his partner Nicholas Figueroa.
Just a few feet away, Manchester-based artist Jaii Marc Renee walked attendees through a display of large-scale canvases, each exploding in vibrant color. In one, a figure removed a red fedora, orange and black monarchs flying out from beneath it. In another, a woman looked right out at her viewers, one eye unblinking as a deep blue parrot rested in front of the other.
A business analyst by day, Renee is currently working on turning his artwork into a full-time career. He said that opportunities like PRIDEFest, along with exhibition venues that have included the Center and Chez Est in Hartford, help him get his name out to potential customers and collaborators. As he chatted, he passed out purple-and-blue flyers for his next opening, scheduled for next Saturday in Manchester.
"This feels good," he said. "To be surrounded by family, as they say."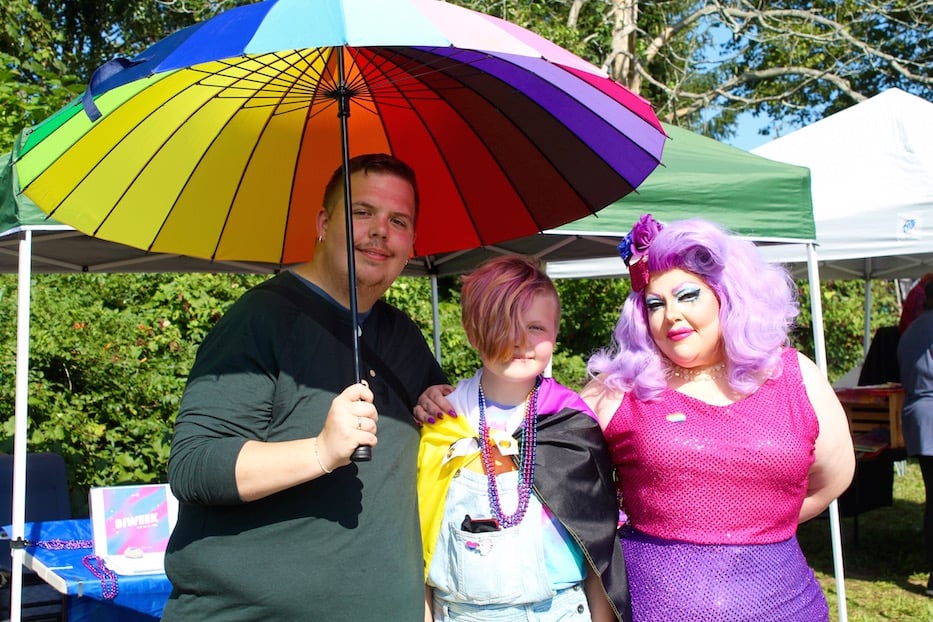 Stephen Wrye, CeCe Wrye, and Tiki Malone. All three identify as bisexual.
From the stage, the first low strains of Lady Gaga's "Poker Face" drifted from the speakers and floated over the sprawling lawn. Rocking a cotton-candy-colored wig, queen Tiki Malone walked through the crowd, a shimmering vision in the pink, purple and blue of the bisexual pride flag. Every so often, families strolling through the grounds paused to say hello and look over her outfit, from a lavender coiffure that sprouted silk flowers to a tapered gown that gleamed in the sun.
As one of Saturday's performers, she brought bi pride to the stage with a mix that included audio from Schitt's Creek, "Gettin' Bi" from Crazy Ex Girlfriend, and the Backstreet Boys' "Bye Bye Bye" Afterwards, she stayed for the vendors with her family members CeCe and Stephen Wrye. While it is not her first time at a pride event—she has been performing alongside queen and PRIDEFest organizer Kiki Lucia for years—it was her first time at New Haven's PRIDEFest. She said that she seeks to break through a trend of bisexual erasure that is still prevalent in the LGBTQ+ community.
"The bi community makes up over 50 percent of the queer community," she said. "There's more awareness now."
Friends Amelea Lowery and Julie Cheung.
That was true at Pinwheel Productions, where a bi pride flag hung proudly behind a display of wooden planters, laser-cut pronoun pins, keychains, and striped cutting boards in tan and coffee-colored wood. The business came out of the pandemic, when owners Amy Schneider and Dylan Callery both lost their jobs in carpentry shops at theaters.
When "there wasn't work to go back to," Schneider said, the partners dusted off their carpentry tools and went to work for themselves. By mid-afternoon, she and Callery were doing bustling business beneath their tent.
As the couple fielded questions, friends Amelea Lowery and Julie Cheung drifted from their booth to the next, eyeing jewelry from artist Finn Lockwood and handmade soaps from Lockwood's sister, PRIDEFest Assistant Producer Val Doty. A graduate student in cancer immunology at Yale, Cheung said she was enjoying it as her first-ever pride event since coming out.
"I think what I like is feeling like I'm really comfortable in a safe space," she said.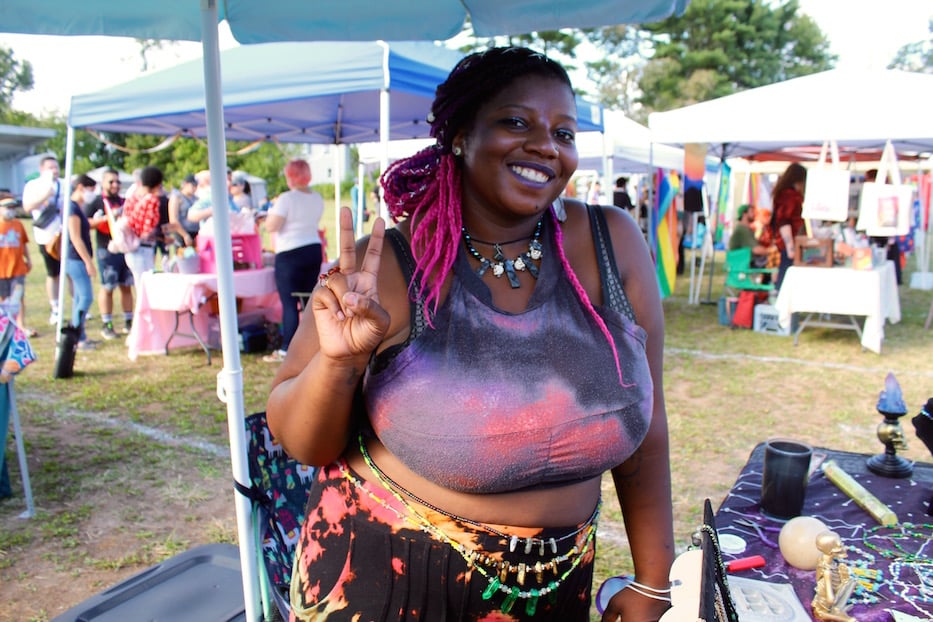 Annissa Carter, who launched her business Wrap Artist Gems at New Haven's Black Art Fair last year.
Several artists, small business owners, and attendees looked to the intersectional focus of the event, which has grown increasingly diverse each year. Lockwood, who suspends flowers in resin for their necklaces and charms, called it a way to network with fellow queer artists, who don't often have in-person affinity spaces to connect.
Annissa Carter, who launched her business Wrap Artist Gems at New Haven's Black Art Fair last year, said she was "feeling more empowered" after a year in business and also picking up business tips for her next event. As she chatted with potential customers, her hands floated over a spray of rose quartz, hematite, and amethyst, hovering over a new series of gem tiaras.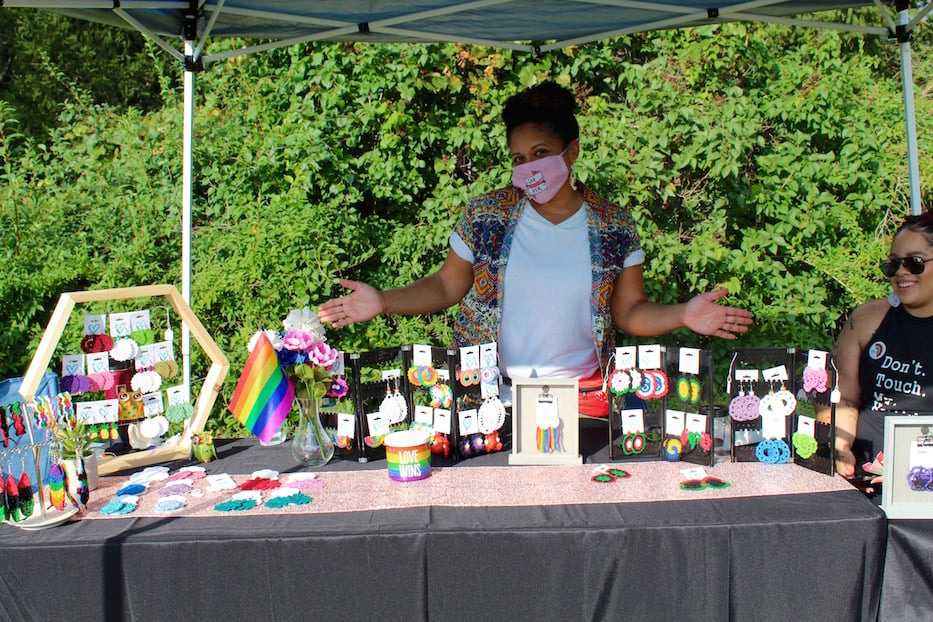 Nicole Hayes, who sells as the small business YesQuare. Tiffany Martin is to her right.
After moving to Connecticut eight years ago, artist-turned-business owner Nicole Hayes taught herself to crochet as a hobby. In June of this year, she started selling goods from her small crochet jewelry business, YesQuare. Saturday, she sat surrounded by earrings with crocheted rainbow half moons, huge, pastel-patterned flowers and ovals and starbursts in pan-African colors.
She said that she sees her business as a chance to blend Black, queer artistry with a craft that is still often seen as predominately white.
"I don't really see that much representation when it comes to crochet," she said. There are Black and queer fiber artists, she added—they just don't get a lot of recognition. When she isn't working on her business, she is a graduate student at Sarah Lawrence College with a focus on Black queer feminism.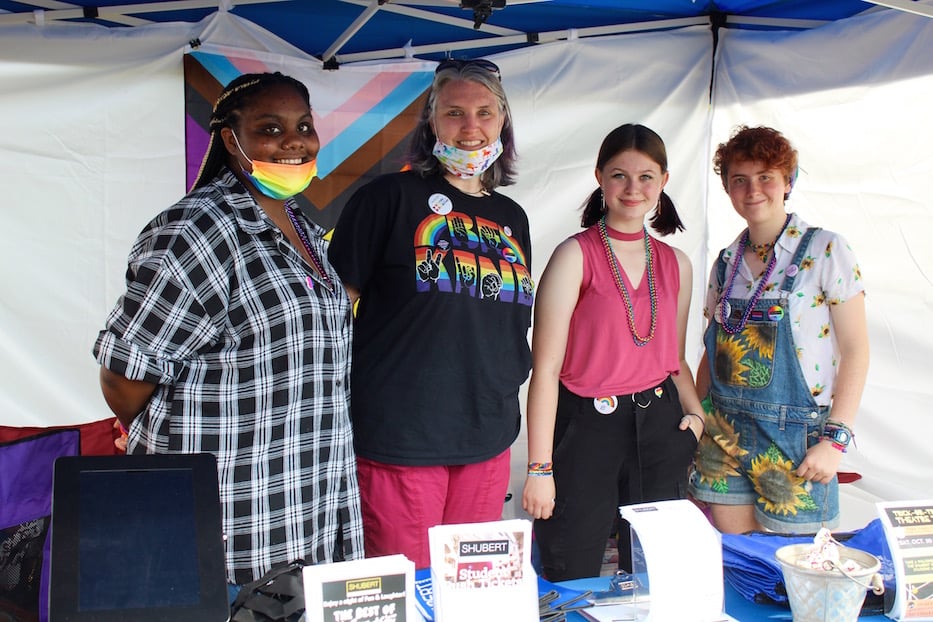 Kamahria Troutman, Kelly Wuzzardo, Lauriann Burt, and Hayden Earnshaw. Troutman is a senior at Cooperative Arts & Humanities High School; Burt and Earnshaw are both sophomores., studying theater and voice respectively.
Under a tent for the Shubert Theatre, Director of Education and Engagement Kelly Wuzzardo and Cooperative Arts & Humanities High School students handed out information about the theater's coming season, which begins early next month. Lauriann Burt, a sophomore at the school, said it was good to be back: they've led annual workshops through the organization True Colors, and attended PRIDEFest before.
"I think it's important to show support to other people, especially those who are not out yet," Burt said.
For senior Kamahria Troutman, the day was a chance to feel the full breadth of acceptance. Often, she said, it's hard to live at the intersection of queerness and Blackness at the same time. At PRIDEFest, she saw a community of people "comfortable in their own skin."
"You come as you," she said. "You don't come as another person."
New Havener Jesamir Ibrahim.
Just feet away, Jesamir Ibrahim opened a striped rainbow fan and half-waltzed across the sun-splattered lawn.Born in Puerto Rico and raised in New Haven, Ibrahim has spent the last few years in Florida. Since moving back in June, he's searched for LGBTQ+ events in the area, and said he's found himself hungry for more. He was thrilled to find PRIDEFest.
"I'm gay as fuck!" he said. "I want New Haven to be more gay—we need more gay out here. We matter. We need to express ourselves and embrace ourselves."
Find out more about the New Haven Pride Center at their website.