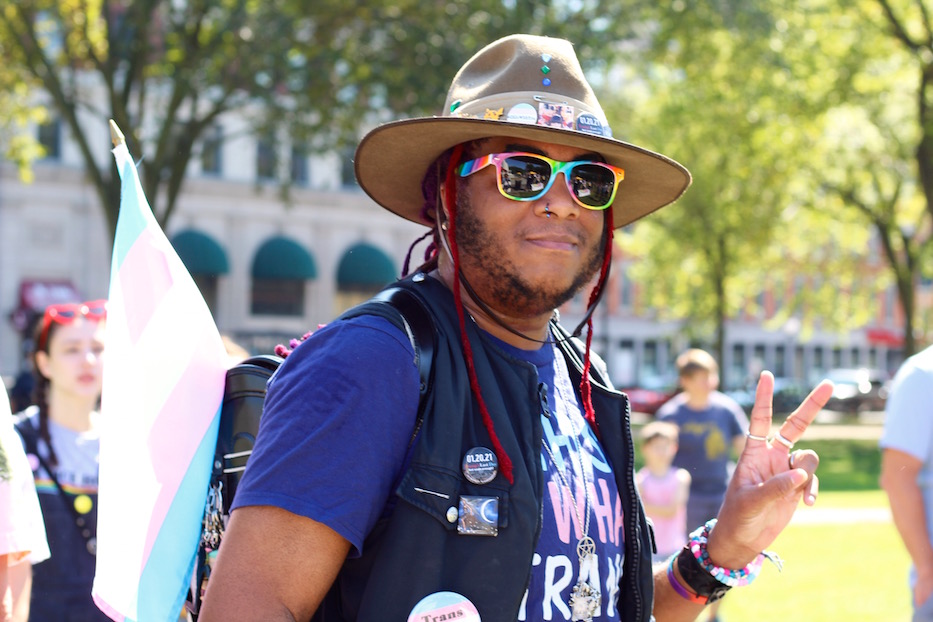 LGBTQ | Pride Month | New Haven Pride Center | Arts, Culture & Community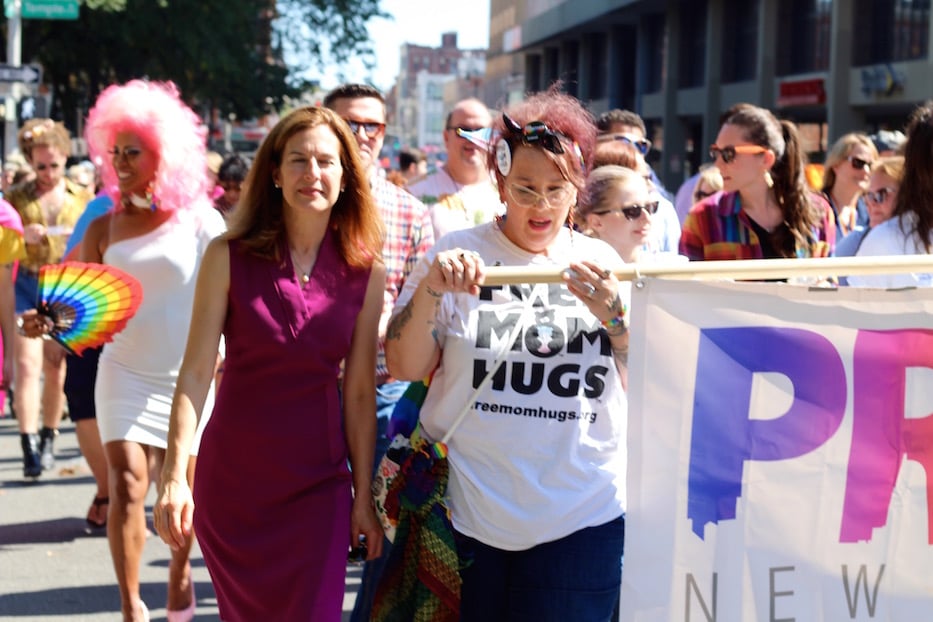 Lt. Governor Susan Bysiewicz and Liz Konner lead the parade with O'Connell and Streetsand. Lucy Gellman Photos.
The sun blazed overhead like a friendly omen. Pumping fists and rainbow flags filled the air. Moms and dads gave free hugs on Chapel Street. When the group ran out of cheers midway through, members made something up and kept on going.
Saturday afternoon marked New Haven's third annual PRIDE March, a short but jubilant trek through downtown New Haven that drew close to 100 marchers. The march ended at an expanded PRIDE New Haven block party on Center Street, where arcs of rainbow flags joined vendors, artists, social justice organizers, and an eight-hour lineup of performers.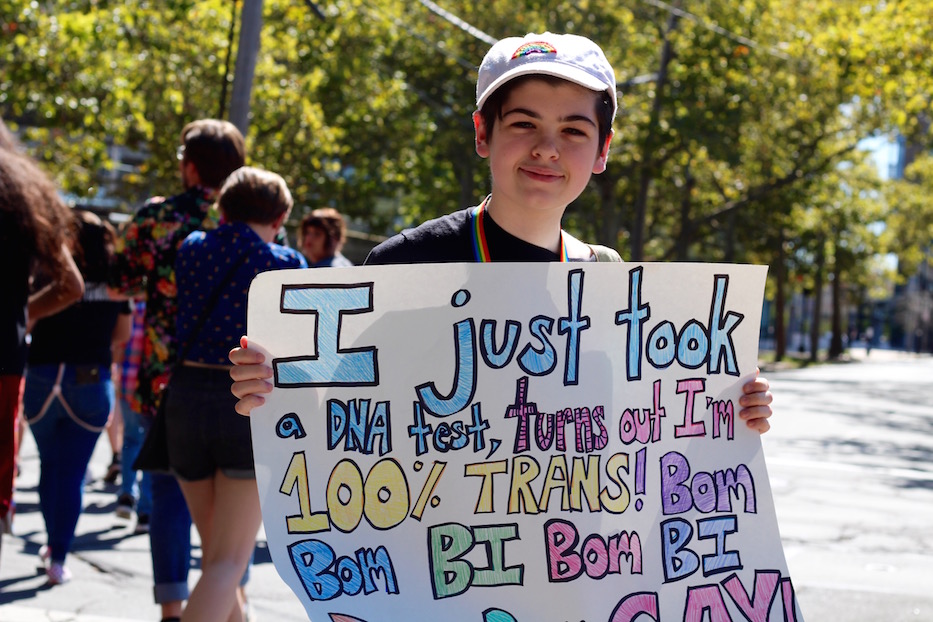 The events were co-produced by the New Haven Pride Center (NHPC) and Gotham Citi, whose owner Robb Bartolomeo jumpstarted New Haven's gay pride circuit in 1998 on the New Haven Green.
"It's a reminder that Pride started as a protest and not as a party," said NHPC Board Chair Joshua O'Connell, noting a refrain that NHPC Director Patrick Dunn has used frequently this year. Mid-march, O'Connell later added that the event was a moment to remember the activist forbearers of the movement, and continue their work.
Before the crowd set off, attendees arrived on the New Haven Green sporting handmade signs and rainbow flags that doubled as capes, skirts, and hair pieces. For many, like New Havener Forseti Rivera, the event was an opportunity to support members of the LGBTQ+ community in a year that has seen hate crimes on the rise across the country and the globe.
Clockwise from top: Barbara Joan Streetsand, friends Wrath and Will Ocasio, Forseti Rivera, Queen Lucia Virginity and Lt. Governor Susan Bysiewicz.
"I'm trans, and I'm kind of gay,"he said. "There are many states in this country that still allow conversion therapy, and there are a lot more things that could be done to help the trans community and the LGBTQ community in general."
Elsewhere in the crowd, several first-time marchers were finding their footing. Wrapped snugly in the pink, purple and blue stripes of a bisexual pride flag, Yale freshman Natasha Ambriz said she'd decided to march with her friends after coming out recently as bi, an identity with which she struggled after growing up in a Catholic household in Georgia.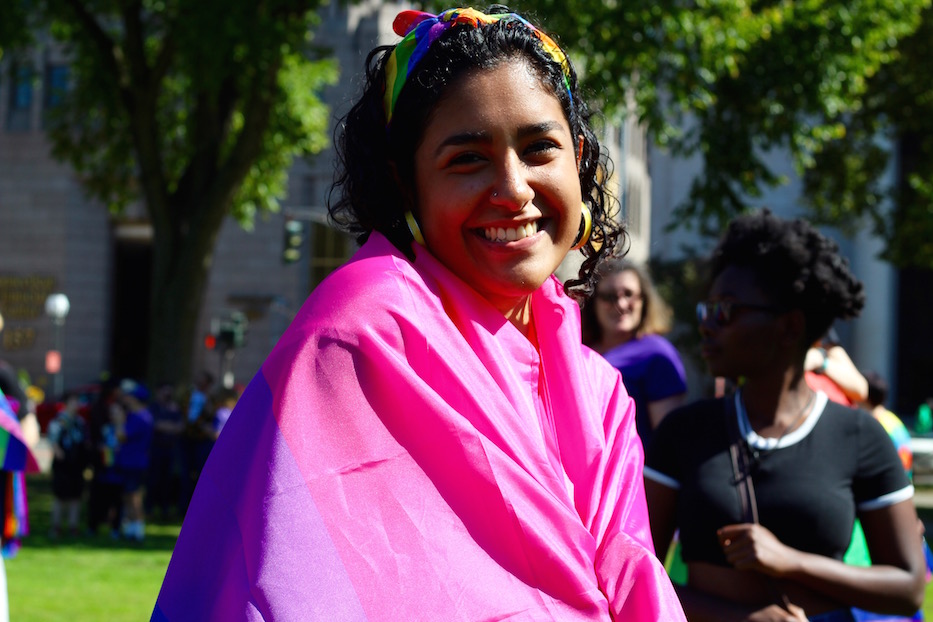 Yale freshman Natasha Ambriz.
Before her time in New Haven, she recalled an "internalized homophobia on my behalf," which she credited her peers for helping her shake. Now, she said she has a better sense of who she is.
"For so long, I hid my identity," she said. "Now, being able to wear it publicly with pride, it's just such an important moment for me."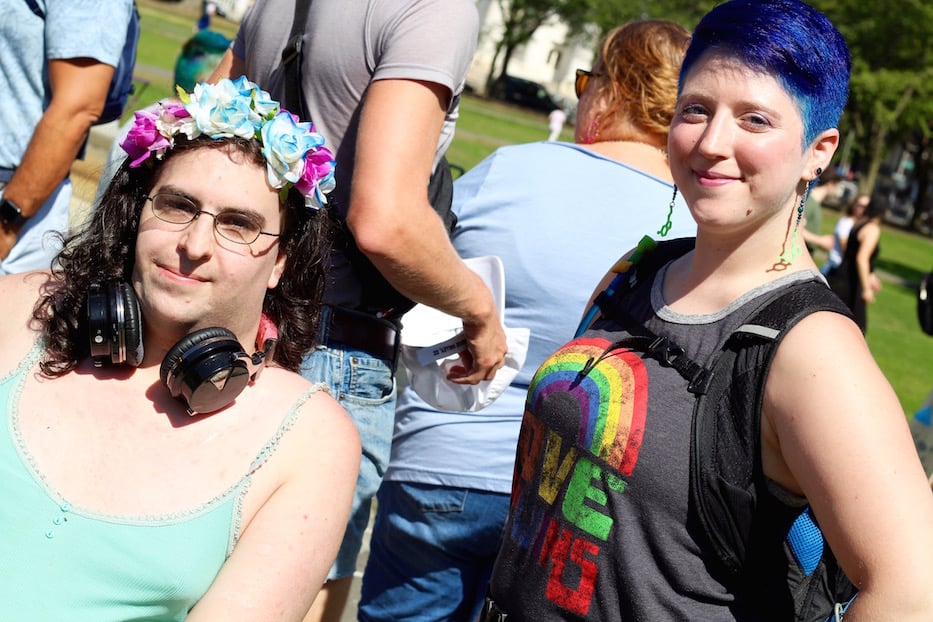 Amethyst Felidae and Terry Press, who did not know each other before the march.
Others said that they had come out for community, some traveling almost an hour to get to New Haven. Close to Bennett Fountain, New Haven transplant Amethyst Felidae made fast friends with Terry Press, an eighth grade science teacher who identifies as queer, and had driven from Shelton that morning.
Felidae, who uses a wheelchair and enlisted Press' help before the march, called the event a chance to connect with fellow members of the LGBTQ+ community as she gets to know New Haven.
As attendees multiplied, O'Connell and grand marshal Barbara Joan Streetsand headed to the corner of the green, waiting for a second police escort to get going. Nearby, fellow queen Lucia Virginity posed for selfies in a bubblegum-colored wig, grinning as she sidled up to marchers including Lt. Governor Susan Bysiewicz.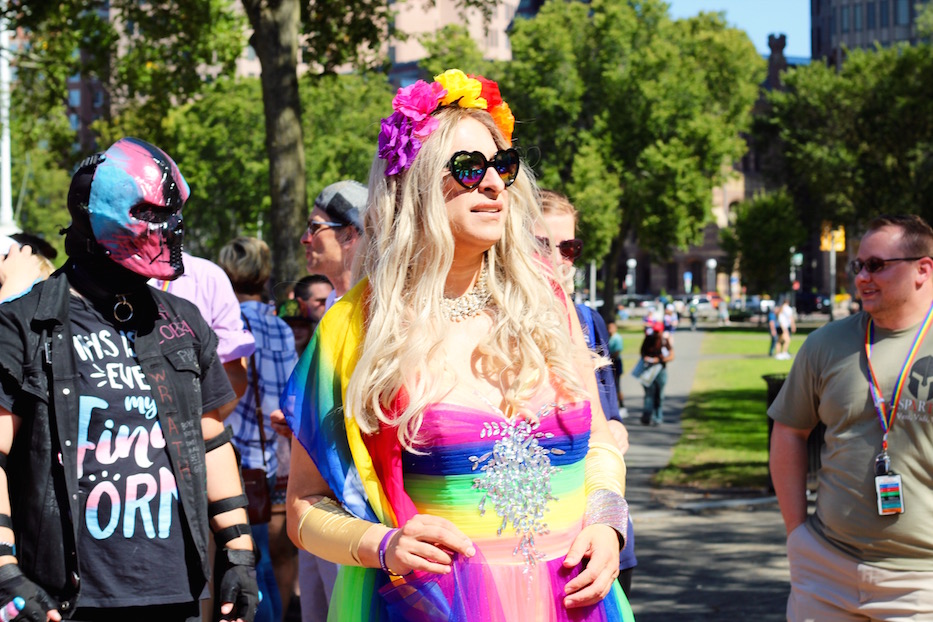 "We're here/We're queer/We're waiting for a police escort!" Streetsand shouted through a red-and-white bullhorn, members of the crowd half-laughing as they picked up the cheer. From Chapel Street, a few drivers honked merrily as they drove past. A dad walking past with his daughter nodded approvingly.
As the police escort arrived, marchers filed into a single lane of traffic and headed down Chapel Street, waving and cheering at passers-by who watched from the sidewalk. At the front of the crowd, first-time marcher Liz Konner hoisted up a bright banner celebrating PRIDE New Haven. As she marched forward, two miniature trans pride flags waved from her hair, a pop of blue and pink against her ponytail.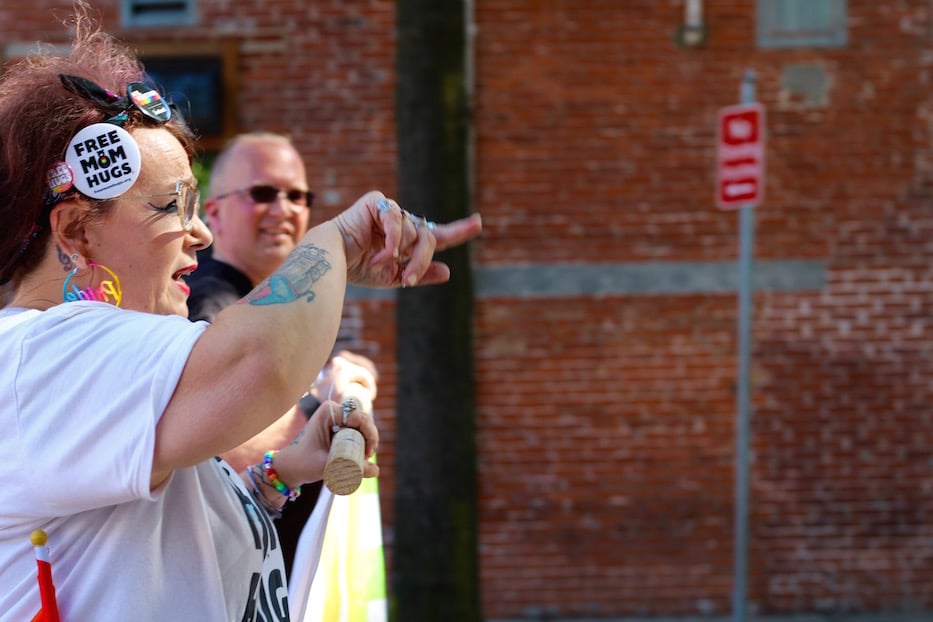 "Everybody should be loved, there's no room for judgement."
"Everybody should be loved, there's no room for judgement," she said, explaining that her Christianity propelled her to the march, just as it did to New York's march earlier this year. "I'm here to do his work, and that's share love—fair and unconditional love for everybody. You need a hug, you come see me."
"There's no lines, there's no categories, we're all human beings, and everybody needs love," she said as the crowd cheered an apropos "Love is love! Love is love!" behind her. "So if you want to identify as whatever you want to identify as, that's fine. But to me, people are people. I don't care. And this, to me, is huge."
On the sidewalks, handfuls of New Haveners turned into coordinated and impromptu supporters, some joining the march as it passed them. Just beyond College Street, a group of kids and parents waited with signs offering free mom and dad hugs, pumping homemade signs in the air as the crowd walked past.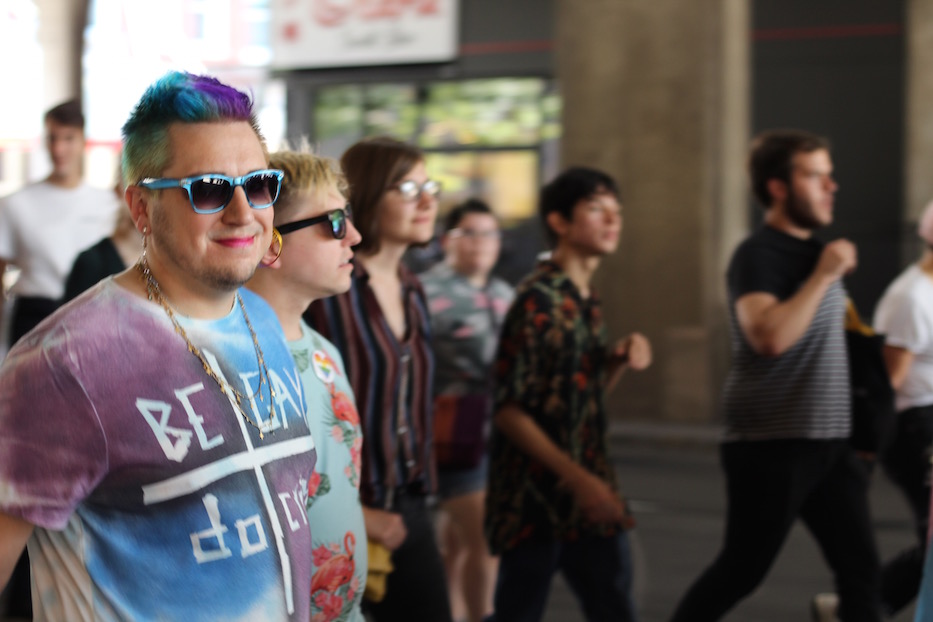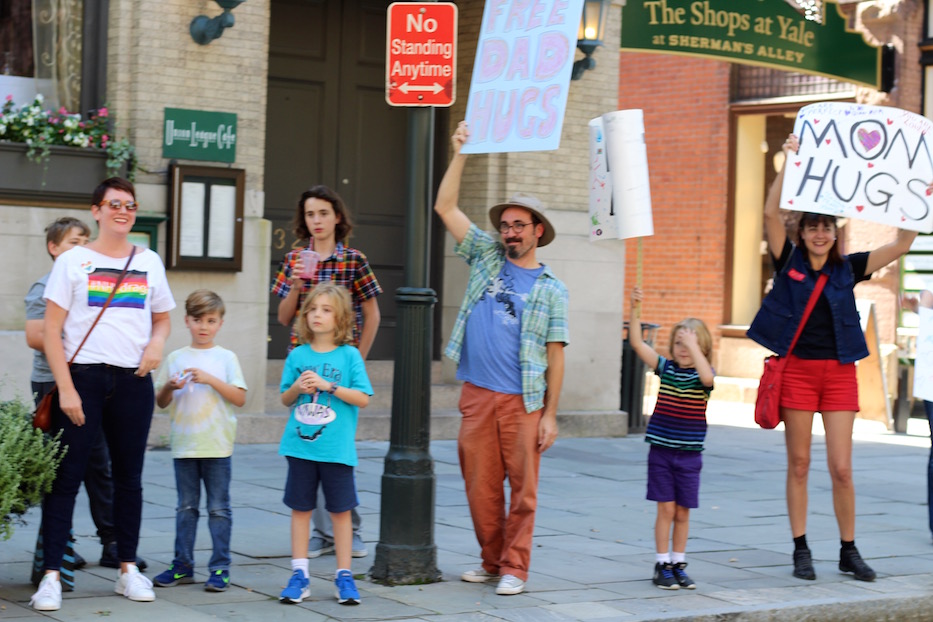 "Oh hey daddy," Streetsand yelled out to the New Haven Independent's Brian Slattery as he held it down on the dad hug front. As she strode forward in a rainbow dress and flower crown, she formulated a new cheer on the spot: "LGBTQ you see/We've something here from A to Z!"
Other marchers held their own chanting "Love is love!" loudly enough to fend off a lone counter-protester who walked along the sidewalk with a Bible. As the march turned from Park onto George Street, and George onto Church, at least one hand-drawn nod to Lizzo—"I just took a DNA test/Turns out I'm 100% trans!"— drew cheers from the sidewalk.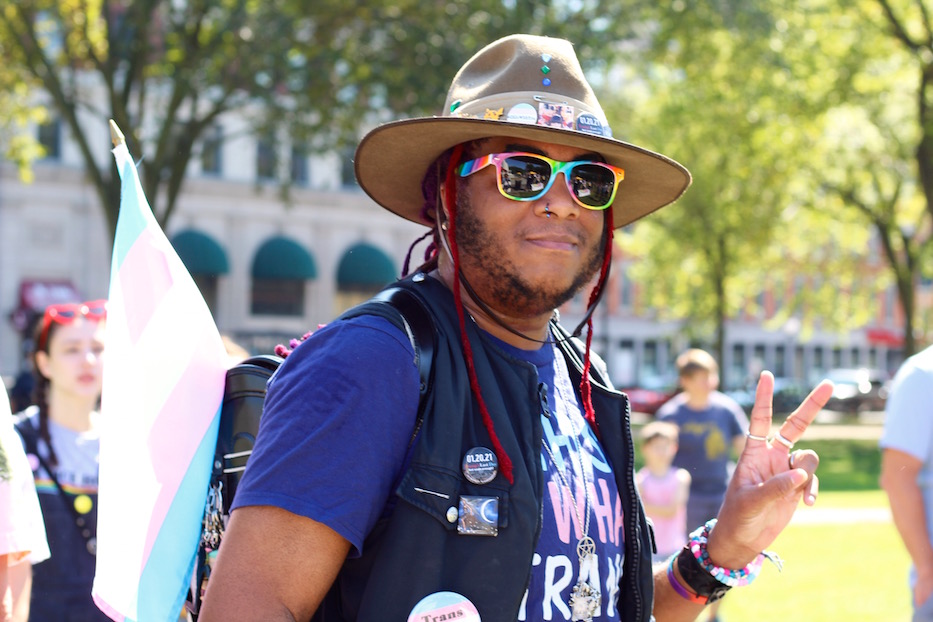 Ryuichi, who also volunteers at the New Haven Pride Center. He asked that only his first name be used.
Somewhere in the middle of the crowd, Pride Center volunteer Ryuichi called the march a chance to represent and advocate for members of the transgender community, of which he is a part. Three years into his own transition, he leads a trans-masculine support group at the New Haven Pride Center, and said he sees events like the march as an extension of his advocacy.
"I want to see us just being treated like we exist," he said, noting the staggering number of trans women of color who are killed each year for simply living as they are. "You know, having healthcare. Being able to join the military. Being able to be recognized as the men and women that we are."
"All we want to do is live our lives," he continued. "We don't want to hurt anybody. When I go to the bathroom, I go to the bathroom to use it, not to scope out anybody. What the heck kind of pervert came up with the idea that we're doing something else? Leave us alone. We just want to exist. We just want to live."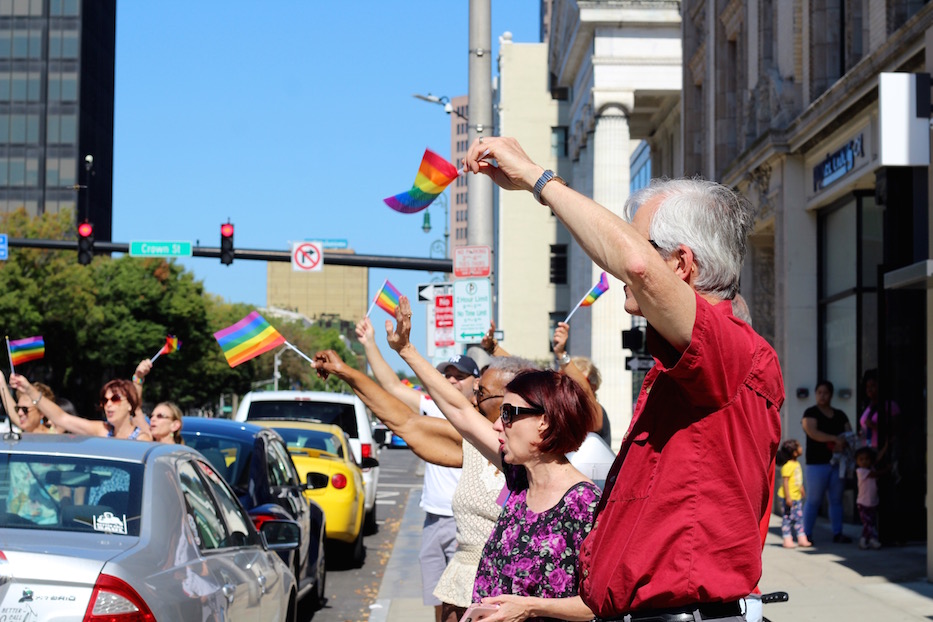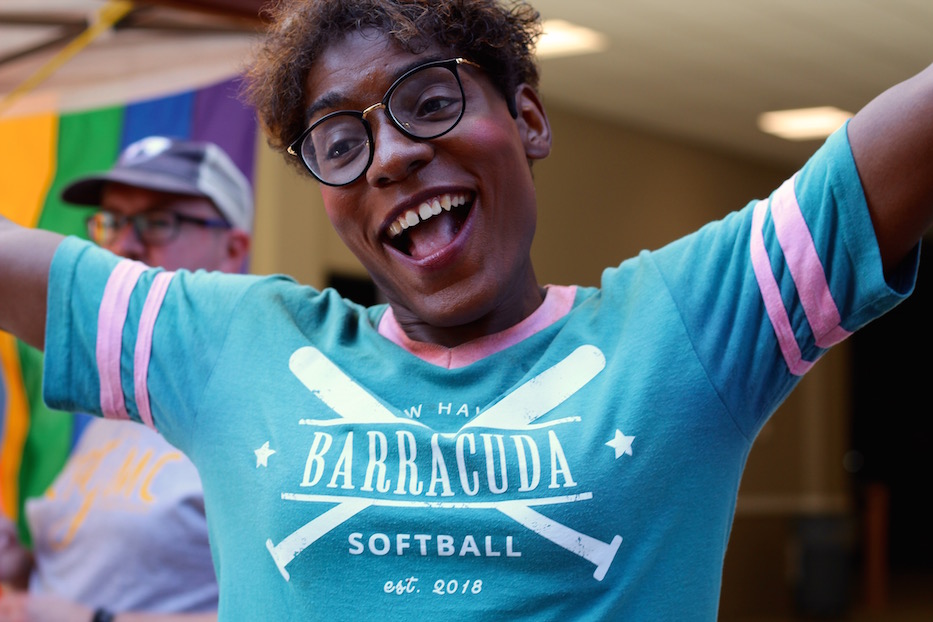 Top: supporters cheer marchers on as they approach Center Street. Bottom: Party for Socialism and Liberation (PSL) member Karleigh Chardonnay Merlot, an outspoken trans rights activist and journalist who celebrated an official name change in probate court earlier this year.
At the block party that followed, vendors kept that momentum going as rainbow flags and balloons dotted street and sky. Beneath one tent, members of the Connecticut Gay Men's Chorus prepared their performance, running through their paces even as rock and roll flowed from a stage at the end of the street. A few filtered out into the crowd, trying on rainbow scarves and weaving through knots of people, almost all of them clad in bright clothing.
Elsewhere along the street, representatives of A Place To Nourish Your Health, Planned Parenthood of Southern New England, GLSEN CT and others handed out literature about their organizations and chatted with passers-by. Drag performers finalized their outfits and mentally ran through their routines one more time.
Clockwise from top: Drag queen Robin Banks tries out a rainbow scarf, rainbows abound, People Get Ready co-founder Lauren Anderson with her neighbor and fellow book and writing nerd Honesty Robinson, one of many attendees offering free dad hugs.
At a table for fledgling bookstore People Get Ready, attendees perused titles including Julian Is A Mermaid and Pink Is For Boys among others, marveling at a table crammed with new books and rainbow socks that read "book nerd." The store, which is still in its early phases, will focus on books that teach diversity, equity and inclusion through their characters and their storylines.
Sunday evening, Dunn said that Saturday's events alone brought in between 5,000 and 6,000 attendees. He approximated a total of 10,000 attendees for the week, which began with a flag raising and formal kickoff reception last weekend, as well as auxiliary events including the state's first-ever Connecticut Black Pride.
To find out more about the New Haven Pride Center, visit its website. To watch a video from the march, click on the embedded piece below.