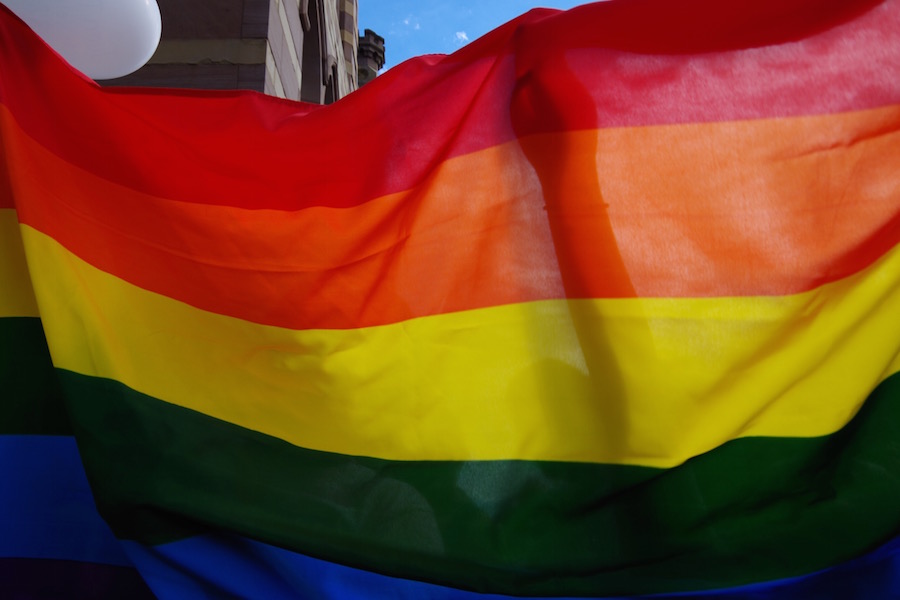 Culture & Community | Greater New Haven | Hartford | LGBTQ | Arts & Culture | New Haven Pride Center | Kamora's Cultural Corner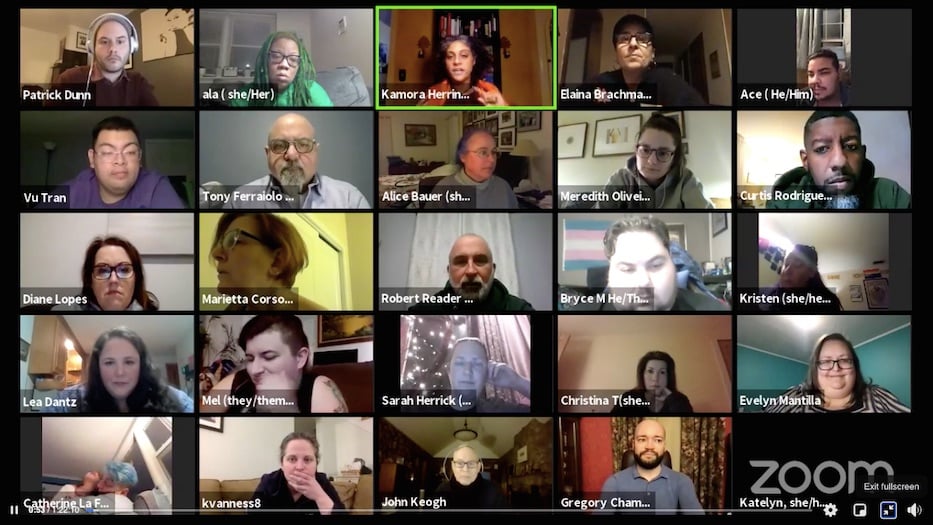 Monday's discussion was held on Zoom and streamed on Facebook Live. Screenshot from Facebook Live.
A statewide organization for LGBTQ+ youth has unexpectedly hit pause during the Covid-19 pandemic. Now, queer organizers and advocates across the state are trying to figure out who will fill the gap—and how quickly they can do it.
That conversation took place Monday night, as dozens of LGBTQ+ activists, organizers, and service providers gathered over Zoom to discuss what to do in the unexpected absence of True Colors, Inc. Last Thursday, the Hartford-based organization abruptly announced on social media that it would be pausing operations and laying off all program staff until further notice. By the weekend, leadership at the New Haven Pride Center and Kamora's Cultural Corner (KCC) had agreed to hold a forum to figure out next steps.
True Colors still plans to hold its annual conference virtually in May, but has not released any other details. In the meantime, the future of its youth-focused Safe Harbor Project and one-on-one Mentorship Program are in limbo. Monday, KCC Founder Kamora Herrington focused on the mentorship program as a vital lifeline for LGBTQ+ youth, many of whom are living in unsafe congregate settings.
"We're going to talk about what needs to happen going forward," she said. "People need to figure out where the chips need to fall. People need to figure out who takes responsibility for what. But the most important thing right now is that our queer babies need to be cared for in the moment."
"The conversation that I want to step into is, if True Colors no longer exists, it's okay," she later added. "True Colors has touched everyone in here, Everyone here has taken those kernels and those nuggets, and we've all taken and are taking them out there."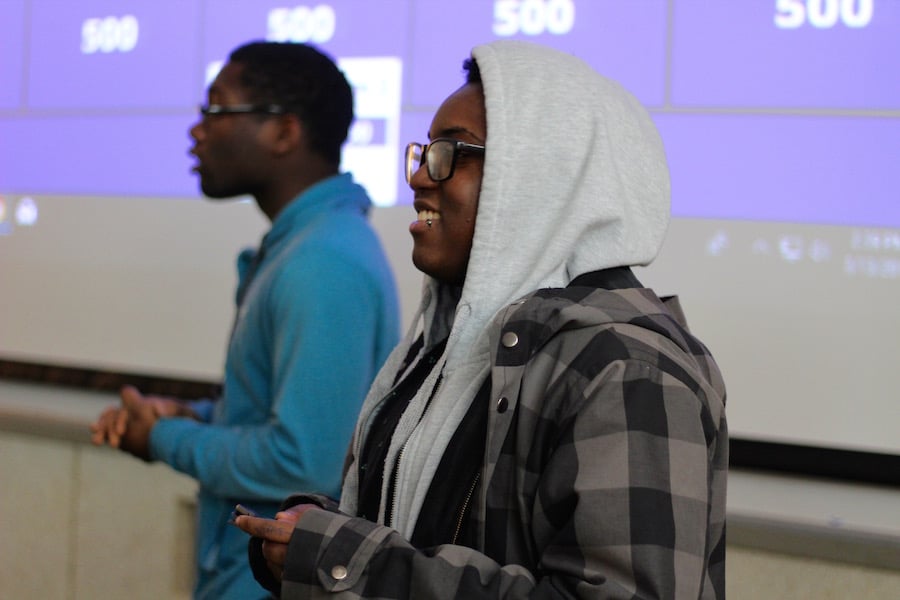 Cooperative Arts & Humanities High School student Dayne Bell, who helped design an LGBTQ+ Jeopardy game for the True Colors annual conference in 2019. Lucy Gellman Pre-Pandemic File Photo.
For nearly three decades, True Colors served queer youth and families across the state as a safe haven and educational hub. In August of last year, founding director Robin McHaelen stepped down after 27 years. In November, executive director Patrick Comerford also left the organization. For the past few years, it has been the only LGBTQ+ social service organization in the state to receive funding from the Department of Children and Families (DCF) for its mentorship program.
Last Thursday, the announcement was met with outrage and frustration on social media, as advocates, mentors, and former mentees scrambled to find a stopgap for LGBTQ+ youth. After March of last year, the organization moved its programming online and was serving thousands of LGBTQ+ young people and families across the state. While its mentors connected with youth on a one-on-one basis, its weekly programs provided an online, confidential space for people to connect and discuss their lived experience.
Speaking halfway through the meeting, a longtime mentor said that she was feeling especially frustrated at the lack of communication from the board before the announcement. She likened the board's responsibility to her own role as a new mom to a 19-month-old baby girl.
"I can't just walk out of my home without a plan and leave her there," she said. "And what's happening right now is you're feeling from us the betrayal and the tear in the trust relationship that we have worked years to build with one another, with our kids, with all of us. And that needs repair immediately, because there's massive bleeding."
Monday, True Colors Board President Evelyn Mantilla said that the organization struggled during Covid-19 because it lost its two largest revenue generators, a gala and its annual in-person conference at the University of Connecticut. While the conference continued online last year, it did so for free. In response to questions, she said that the board is in discussions with DCF to figure out how to continue or hand off its mentorship program.
"The board came together, and had to come to the realization that it would be irresponsible of us if we let all resources be exhausted before we did something about making sure that True Colors is here," she said on the call. "I appreciate the fact that people understand that we're having to hold back on some of our programming, and our expectation is that that is on a temporary basis."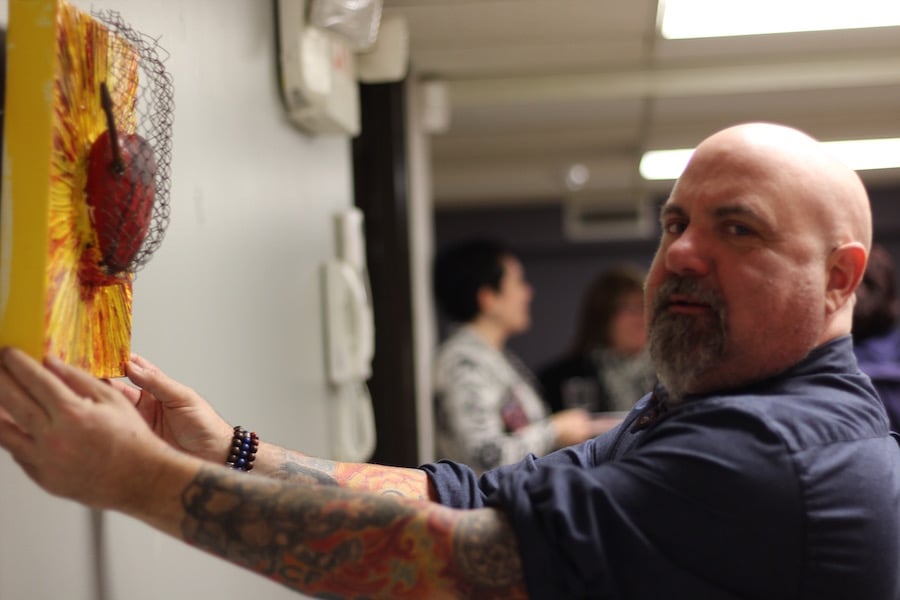 Trans advocate Ferraiolo at the New Haven Pride Center. Lucy Gellman Pre-Pandemic File Photo.
The announcement comes at a particularly hard time for LGBTQ+ youth across the state, and across the country more broadly. Even before Covid-19, LGBTQ+ youth were at higher risk of suicide, unsafe home environments, and housing insecurity than their heterosexual and cisgender peers. In July of 2020, the Trevor Project reported that 40 percent of LGBTQ+ youth considered suicide, a number that has risen as the Covid-19 pandemic fuels social and physical isolation. Trans Lifeline has reported an 89 percent increase in calls that directly address the pandemic and suicidal ideation.
In Connecticut, many of True Colors' mentors were working with queer youth who live in congregate settings, and were caught off guard by the announcement. On the call, multiple mentors said they had not yet heard personally from the organization, and feel that their mentees' lives are hanging in the balance.
On the call, Mantilla said that she is hoping that the pause will push True Colors into "new partnership conversations," including with the New Haven Pride Center. She did not give a timeline for those conversations.
"The Board of Directors at True Colors, we're not vested in holding on to a particular program," she said. "We are vested in making sure that the youth that need that support get that support. And if it turns out that we are not the ones to give or provide it, or wholly be the ones to provide it, then I wholly welcome partnership conversations."
Monday, attendees jumped into problem-solving mode, generating a resource list in just under 90 minutes. Already, the New Haven Pride Center, KCC, and several regional GSAs have reached out to True Colors to see how they can fill a gap, Mantilla said. Attendees from across the state filled the chat with potential resources, from the Family Advocacy Center and Anchor Health Initiative to Hartford Psychological Services and the Sexual Assault Crisis Service at the YWCA of New Britain. A full list is available here.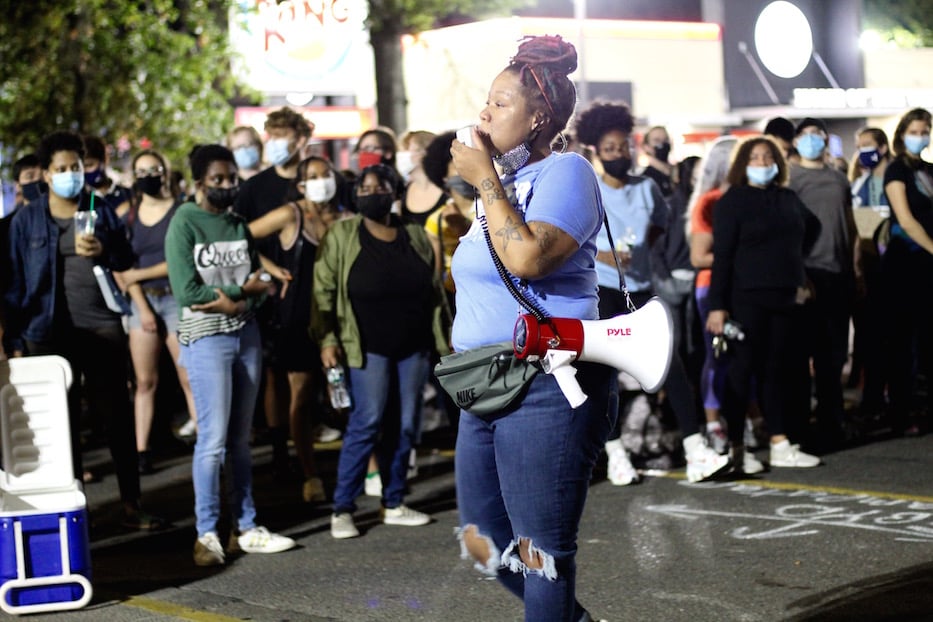 Ala Ochumare, youth program officer at the New Haven Pride Center, at a rally for Breonna Taylor last September. Lucy Gellman File Photo.
Throughout, the spotlight remained on replicating mentor-mentee relations. A former mentor for True Colors, trans advocate Tony Ferraiolo recalled working with a young man in Hamden, whose life in a congregate setting improved after he met and began to talk to someone with a similar lived experience. Ferraiolo has since served over 1,000 trans youth and families across the country as the founder of Translations, which runs weekly support groups and artmaking activities for trans and nonbinary youth.
For the past month, he's been also growing virtual programming as the director of youth and family programs for Health Care Advocates International. He said he has been developing a resource list "for people who are culturally competent with our children" that may help fill a statewide resource gap.
Ala Ochumare, youth program officer at the Pride Center, suggested that Zoom could be a geographical bridge for the current moment: the Center is able to serve youth well outside of New Haven as long as they have an internet connection. As she spoke, the chat filled up with suggestions and new networking strategies, email addresses appearing one after the other. Pride Center Executive Director Patrick Dunn added that the center also offers case management and social services for youth and families.
Ochumare noted that the center has been expanding its youth programming online during Covid-19. Currently, she holds a "safe space"meeting every Thursday for people between the ages of 14 and 24. Every third Friday, the center is home to a virtual art space, where youth can make, share, and discuss their artwork. She is also in the process of building a "buddy program" for queer youth, and invited True Colors' mentors to bring their skills to the program.
"For me, it sounds like the plus in this is to jump out of our comfort zones of only going to True Colors as a resource, and realizing that … there is a network, a queer community that has always existed in Connecticut," Ochumare said. "And some of us are connected. Let's just do the things that we've been talking about doing and passing, and let's just be intentional and get this stuff done. And really make sure that we are stepping into what has happened with Covid, and that we're centering youth voices."
Mel Cordner served as the youth activities and GSA coordinator at True Colors for five years, until they were let go unexpectedly last Wednesday. Monday, they explained that their first thought was the young people that the organization serves, many of whom are in crisis. By Wednesday night, they began to run programming with the young, peer-led grassroots organization Q Plus. Monday, they made a fundraising pitch to attendees, so that their youth team can be making at least minimum wage.
"There are kids in crisis across the state every day," they said. "We're in a pandemic. This isn't news—it's been a year. So many kids just lost the only support system they have. There are group home kids who are not allowed to use the internet except to talk to True Colors, and they have nothing now. There are kids whose only friends were the support group that I ran on Wednesday night, and they have nothing now. I'm really not here for the 'we're gonna make a plan' … our kids are dying. So I'm gonna get that out right now. "
Attendees also expressed concern over what happens to DCF funding if True Colors does not resume programming. Herrington said that she believes the New Haven Pride Center has the capacity to take over the mentoring program, which would entail new contract and funding negotiations with the state. She described it as a race against the clock, as Gov. Ned Lamont drafts and releases a proposed budget this month.
"Knowing how DCF works, knowing what our state budget looks like—if it disappears for a second, it's gone," she said. "And then queer youth in out of home care in the State of Connecticut don't have this amazing thing that they've got. And right now, that will be all True Colors' fault."
QUEST (Queer Unity Empowerment Support Team) Coordinator Juan Fonseca Tapia also pointed to the proposed budget that Gov. Ned Lamont is expected to drop on Feb. 10. He asked whether DCF could open that mentorship funding to fellow organizations that need resources for young people and have kept their doors open during Covid-19.
"I think that inviting other people to the table from different regions around the state, it's definitely important," he said.
"The answer to that is yes," Mantilla answered. "We haven't contacted everybody that we need to contact, because this is still very new."
Watch Monday's full conversation in the video above. Another conversation is planned for next Monday night at 6 p.m.