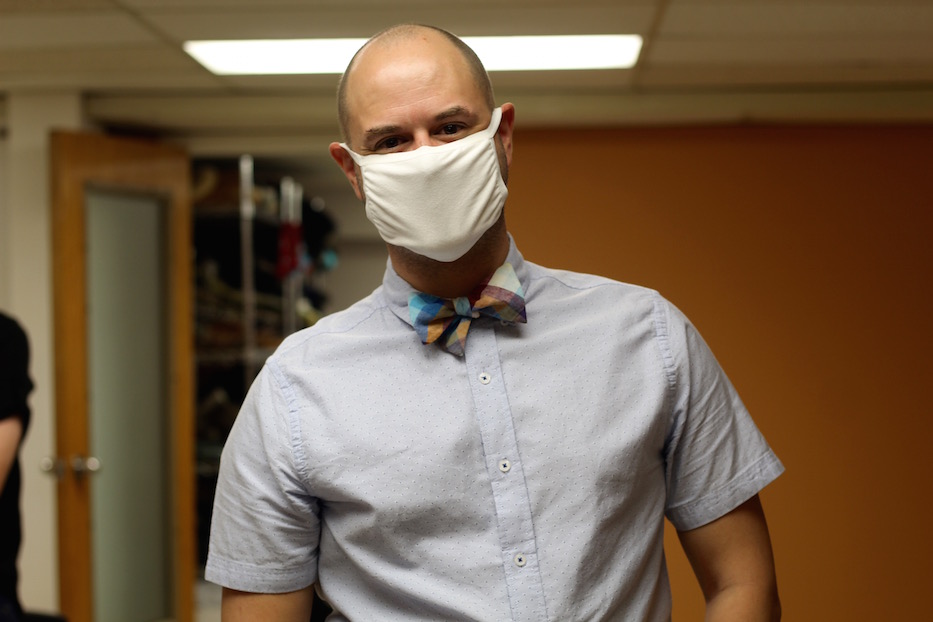 Drag | LGBTQ | Arts & Culture | New Haven Pride Center | Pride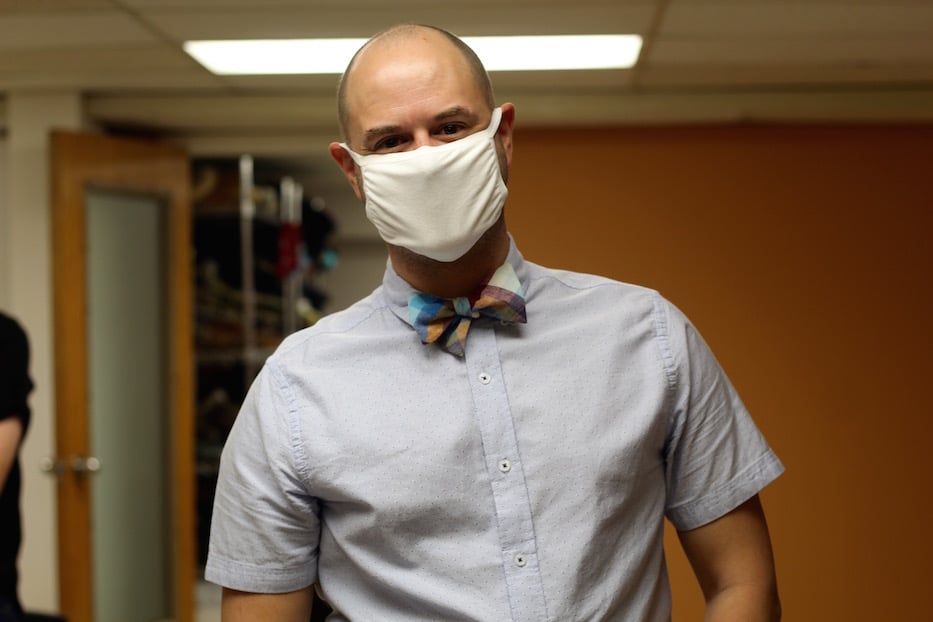 Patrick Dunn, executive director at the New Haven Pride Center. Lucy Gellman Photos.
A drag queen plans to helm the Elm City Party Bike for the first time, but perhaps not the last. A women's social will unfold beneath the stars, working to bring business to New Haven's increasingly queer Ninth Square. Panels in both English and Spanish are poised to take on Black feminism, Latinx organizing, fringe drag, and intersex parenting. And there will be dancing in the streets.
Those are just a few of the events on tap as the New Haven Pride Center prepares for a hybrid, multilingual and community-focused PRIDE New Haven this September. Wednesday night, Executive Director Patrick Dunn unveiled that vision before a dozen masked attendees at the center's 84 Orange St. digs. Thursday afternoon, he announced the program live on the center's social media channels.
Scheduled for September 12 through 19, the weeklong celebration includes a total of 47 events, ranging from virtual panels to bike rides, bar crawls, drag pageants and a reinvigorated day-long Pridefest on the North Haven fairgrounds. A full program of events, most of which are free, is available here.
It marks the 23rd annual celebration of LGBTQ+ Pride in the city and includes 19 panels and conversations, 13 live and virtual arts events, nine social events and three family-focused activities. To get it off the ground, Dunn has worked with Center Coordinator Laura Boccadoro and producers Frank Borrelli and Valerie Doty.
"I'm excited to bring the community together again, and to uplift LGBTQ artists from across our state who are going to be on stages," he said Wednesday at the Center. "Some of them for the first time in a long time, some of them for the first time ever. I'm super excited to uplift those artists and give them a platform where they can showcase what they do and get paid while they are doing it."
The festivities kick off Sunday, Sept. 12 with center's third annual Day of Action, dedicated this year to queer liberation in the Latinx Comunity. As a nod to the center's growing Spanish-language programming and to Hispanic Heritage Month, several of the day's panels will be held only in Spanish, with English subtitles that the center plans to add retroactively.
In addition to virtual conversations and workshops on immigration and asylum seeking, the day includes a drag queen story hour with Xiomarie LaBeija and the center's Rainbow Library, in-person gathering at Te Amo Tequila and a late afternoon, women's-focused social on the closed off section of Orange Street. Dunn said that he sees the events as a way to directly support local businesses, many of which are still recovering from the pandemic.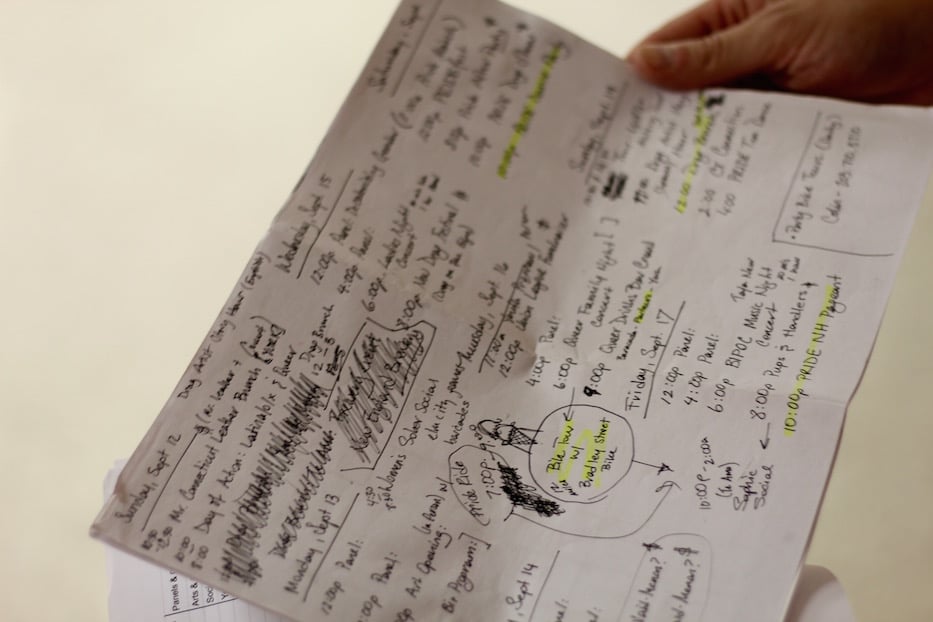 This year, planning for PRIDE New Haven started July 1, on a piece of paper Dunn still carries with him.
That's particularly true in his own neighborhood, he said. In recent years the Ninth Square, home to the center's 84 Orange St. digs and many of the week's events, has become increasingly queer. LGBTQ+ owned and operated businesses now include Blue Orchid, Barcade, Bark & Vine, Pride New Haven progenitor Gotham Citi nightclub, and Strange Ways, which is in the midst of relocating to Orange Street.
"Long before the Pride Center was involved, it [Pride] has always paid performers to be onstage," Dunn said. "Even if they were a drag queen for five minutes, they got paid. It's always been part of the DNA of Pride, and I'm so, so excited to be investing in the sheer number of artists and performers."
Following Sunday's opening activities, celebrations will run through the following Sunday online and in person. They include drag performances, a kink social and beginner-friendly Pride-themed bike ride, tours of and conversations around New Haven's queer history, and a growing focus on intersectional identity, including panels that explore queerness and religion, feminism, and activism within the Asian American and Pacific Islander (AAPI) community.
Drawing In Spanglish, an exhibition featuring artist-activists Juancarlos Soto and Jesus Abraham Morales Sánchez, is also set to open on that Monday, with the first in-person reception at the center's basement gallery in over a year.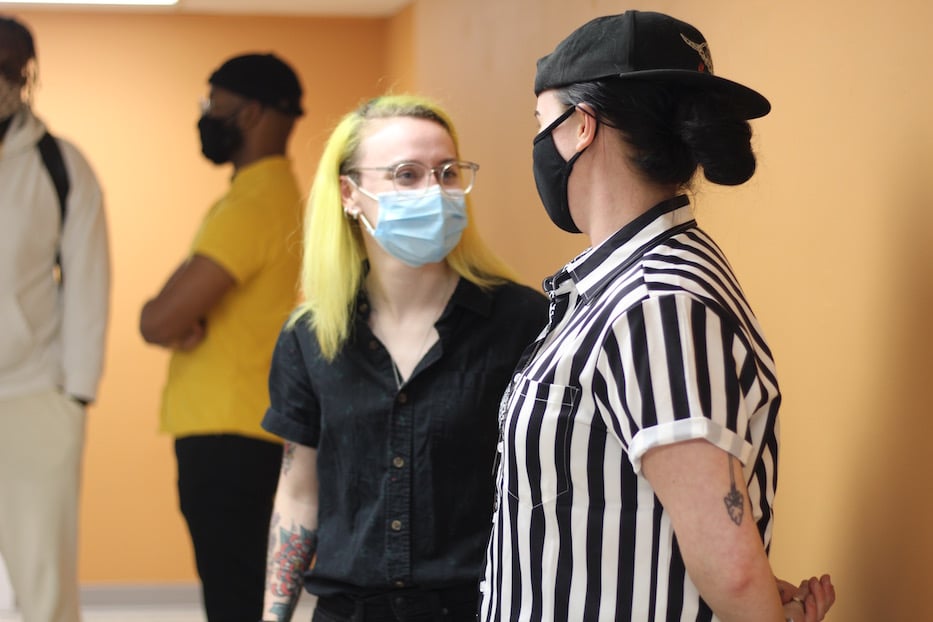 Center Coordinator Laura Boccadoro and her girlfriend, Ashley Buhrer.
Currently, Pride New Haven's flagship events—its day-long PRIDEfest and fifth annual Mx. New Haven pageant—are still scheduled to unfold in person. On Friday, the pageant will take place at Partner's Cafe, which reopened in May. Then on Saturday, PRIDEfest will party for seven hours at the North Haven fairgrounds with drag performances, tutorials, food trucks and a vendor village. That is, Dunn said, "assuming that Miss Rona does not ruin everything."
As he continues to keep a close eye on Covid-19 infections and hospitalizations in the region, Dunn said that he and center staff are prepared to go fully virtual at any time. He said that programming live events in a pandemic—particularly amidst the new, highly contagious Delta variant—has been a challenge. For over a year, the center has pivoted to virtual events and support and affinity groups, as well as in-person access to its clothing closet, hygiene kits, and food distribution program.
Last year, he learned that "you can't plan too far out," because the virus looks different from week to week, and sometimes even day to day. As a performing artist, Dunn estimated that he's already lost $500 in cancellations related to new mask mandates—a change he wasn't expecting two weeks ago. He doesn't know what the performing arts landscape will look like in a month.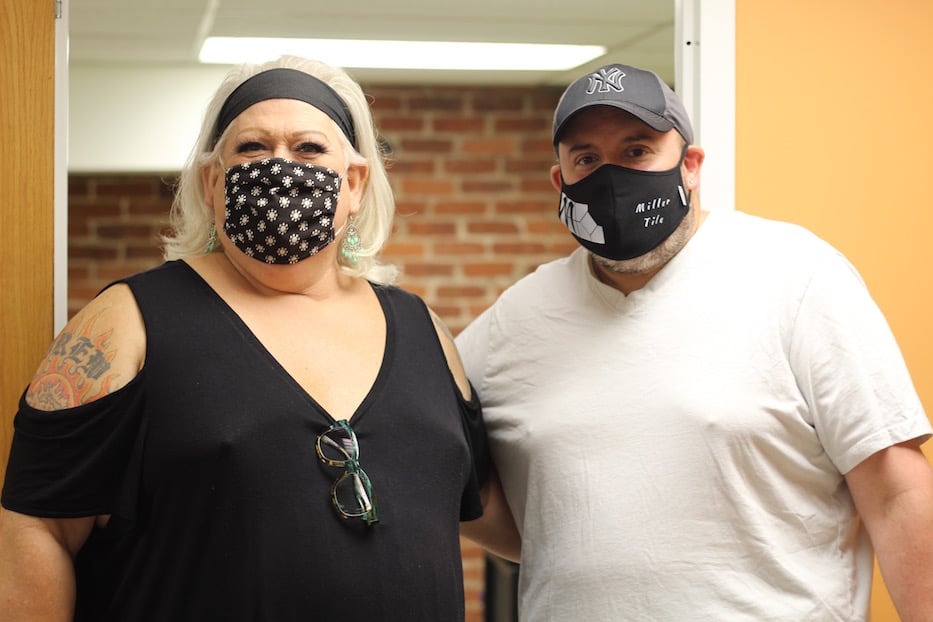 Dolores Dégagé Hopkins and Marc Esposito.
As attendees milled around the space and caught up with each other Wednesday night, several expressed their excitement for Pride's return to the city.
One attendee, who asked not to be identified by name, said that it will mark her first year at any Pride event ever. As a lifelong resident of Shelton, she discovered the Pride Center virtually last year, when she was transitioning in the midst of the pandemic. She connected with Board Member Lindsey Pembrooke Pasquale and other members of the center's Trans Adult Support Group.
Wednesday marked her first time at the Center's Orange Street building. She said she's looking forward to connecting with other people who turn out to the events, both on screen and in the city's jubilant streets.
"When I came out last year, I felt embraced immediately" by the support group, she said. "I feel like myself for the first time in my life."
There with saxophonist Marc Esposito, artist Dolores Dégagé Hopkins said she is also "excited and honored" to participate in this year's festivities, which include her monthly drag brunch at Soul de Cuba Cafe on Sept. 19. Last year, Dégagé Hopkins went into lockdown while transitioning. Her first performance when she emerged was on the stage of the historic Stonewall Inn in New York City.
She called New Haven's festivities part of a regional "Pride season," that stretches from Bethel Pride in May all the way through Pride New Haven in September.