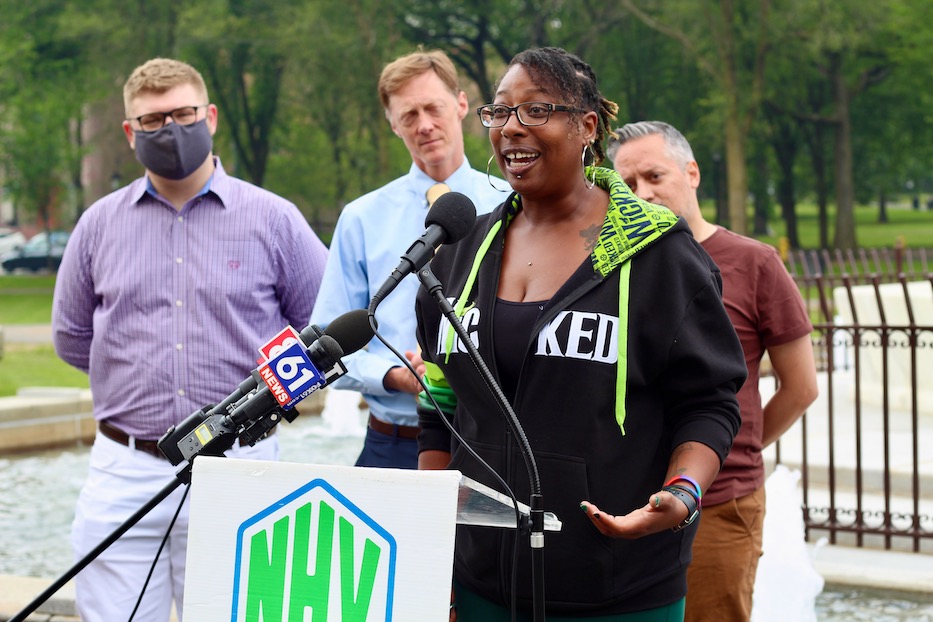 Downtown | LGBTQ | Pride Month | New Haven Green | New Haven Pride Center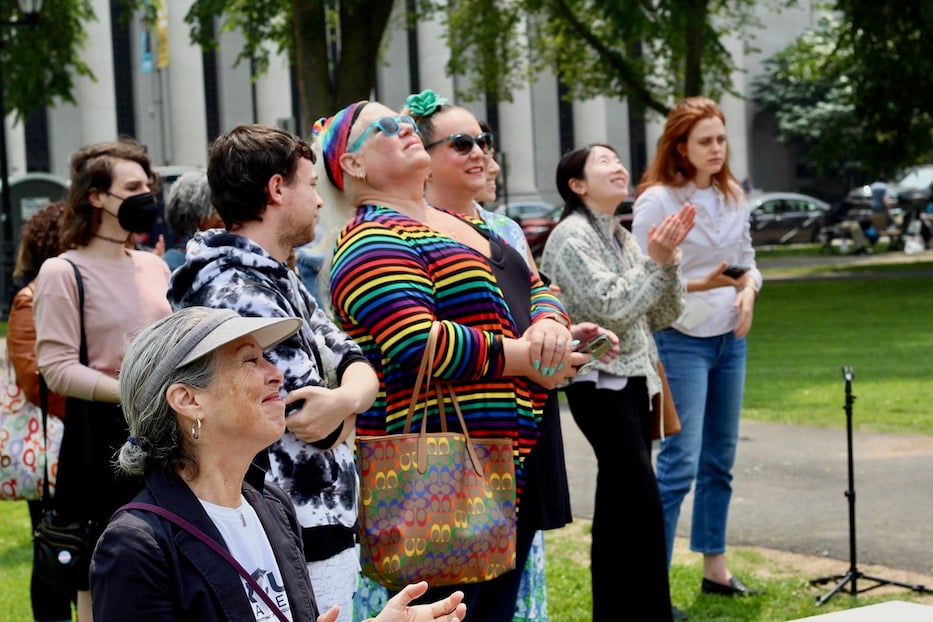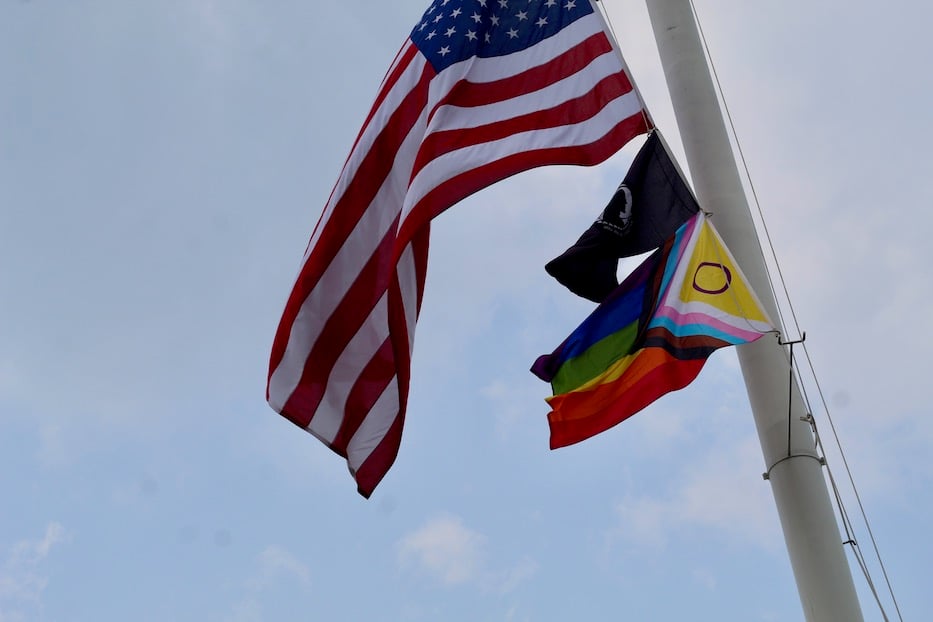 Top: The crowd watches the flag rise. Bottom: The flag. Lucy Gellman Photos.
Fiancées Dolores Dégagé Hopkins and Jennifer Linden stood side by side on the New Haven Green, beaming as a burst of yellow and pink made its first appearance on the flagpole. Overhead, a smear of blue sky broke through the afternoon haze, and the flag revealed a neat rainbow of color, a perfect purple circle to one side. As it rose into the air, they turned to each other and kissed.
Thursday afternoon, the two gathered with representatives of the New Haven Pride Center (NHPC), Anchor Health CT, A Place To Nourish Your Health, The Children of Marsha P. Johnson, Fair Haven Community Health Care, the New Haven Free Public Library and the City of New Haven for a flag raising and recognition of Pride Month on the Green. Throughout, speakers both praised New Haven as an LGBTQ+-friendly city—and reminded attendees to remain vigilant as queer rights come under constant attack across the country.
The message came just two days after the Human Rights Campaign declared a state of emergency for LGBTQ+ people living in the United States, and in a year that has seen over 550 pieces of anti-trans legislation introduced across 49 of 50 states.
"It feels awesome to have this," said NHPC Communications Coordinator Laura Boccadoro, who has been with the center for four years this June. "With all that is going on, it's so important to have this beacon of positivity. Here, doing this work, we are only as visible as we can be. This"—she gestured to the flag, which had not yet made its full ascent— "Brings it to a whole different level."
This year, the Center selected an updated version of Daniel Quasar's 2018 Progress Pride Flag, with a new symbol recognizing the intersex community that comes from writer and intersex advocate Valentino Vecchietti. Vecchietti's addition to the flag includes a yellow triangle with an open, perfect purple circle inside. Like a nesting doll, the yellow triangle fits within a series of white, pink, blue, brown and black bands of color representing trans, Black, and Brown members of the LGBTQ+ community.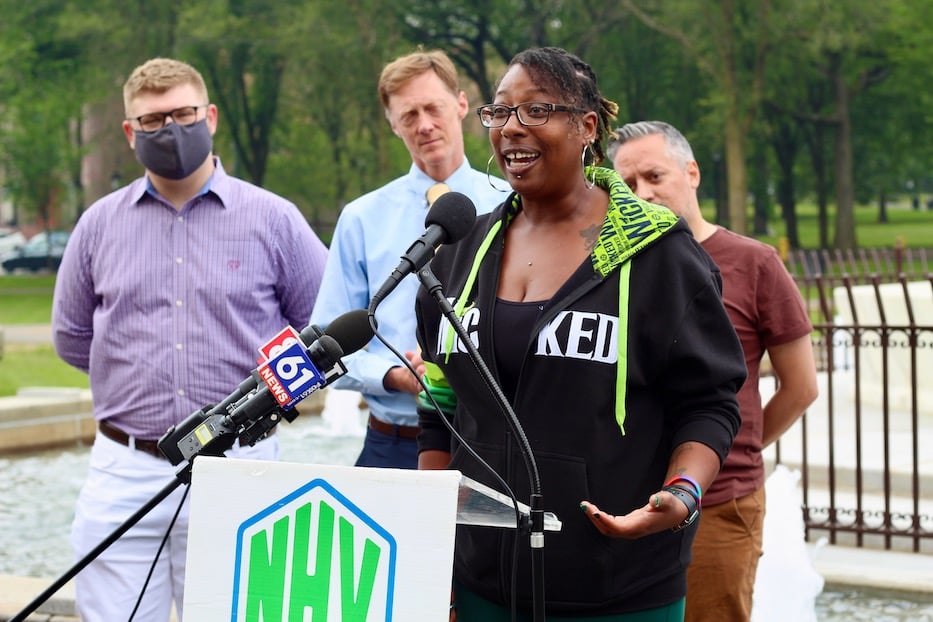 Ta'LannaMonique Lawson-Dickerson. Behind her are Adam Cohen, New Haven Mayor Justin Elicker, and NHPC Interim Executive Director Juancarlos Soto.
As it flapped against the smoggy sky overhead, speaker after speaker reminded attendees of how precarious a time it is for LGBTQ+ people living in the U.S., particularly for those who are also queer people of color. Across the country—and sometimes in response to greater LGBTQ+ visibility—LGBTQ+ advocates, care providers, educators and allies have seen swift and vociferous pushback, often targeted at the safety and care of trans and LGBTQ+ youth.
Connecticut is not immune to those attacks, speakers noted Thursday. Speaking early in the lineup, Pride Center Youth Services Coordinator Ta'LannaMonique Lawson-Dickerson turned her attention to New Haven's queer youth, many of whom do not feel safe in their schools. While the New Haven Board of Education passed a policy meant to protect LGBTQIA+ students in 2021, she said, many of them still face bullying, misgendering, and deadnaming from both their teachers and peers.
"That's a problem!" she said. As a mom and an advocate for young people, Pride Month for her means demonstrable, immediate and sustained action that helps students feel safer in their schools and communities, she said. "Not only in the month of June, but every single day of the year! Our students matter! They need to hear from us that their mere existence is important."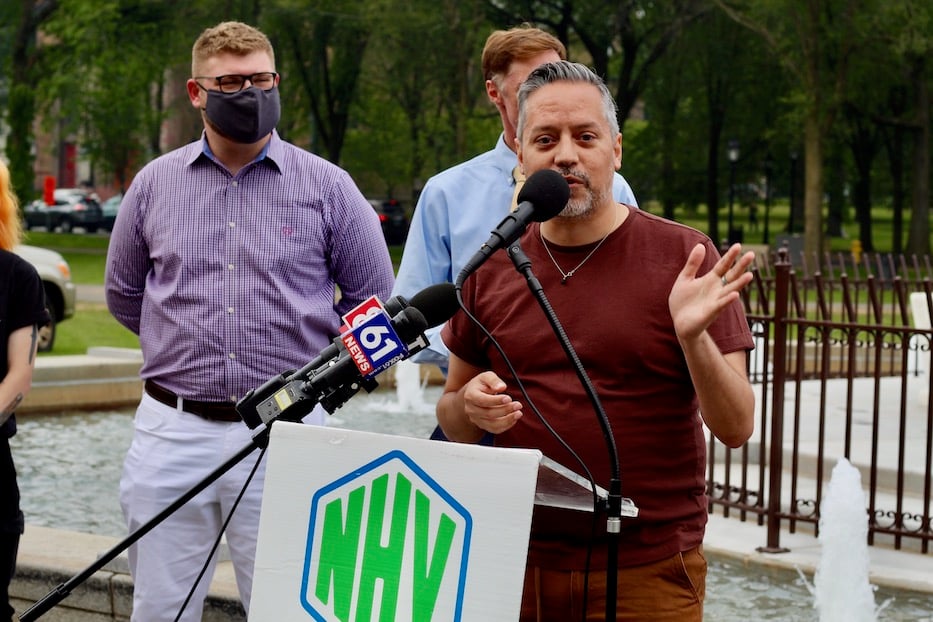 New Haven Pride Center Interim ED Juancarlos Soto.
She sees it real time, she added. In the past several months, she's heard directly from New Haven kids who don't feel like their peers, teachers, and school administrators are working to protect them. She and other NHPC staff have also received at least three serious inquiries about relocation to Connecticut, often from parents of trans kids who are no longer safe in their respective states.
Meanwhile, the Pride Center has seen a growing demand for its case management services, which it offers alongside a food pantry, weekly support and affinity groups and clothing and hygiene closet.
Adam Cohen, the director of development at Anchor Health, stressed the importance of trans- and queer-led healthcare initiatives in and well beyond the state. As he watches politicians try to legislate LGBTQ+ people "who look like me and love like me" out of existence, he worries for the future of that healthcare—and feels a simultaneous resolve to fight for it.
He encouraged attendees to put their support behind grassroots LGBTQ+ organizations including the Pride Center, Q Plus, Anchor Health and others.
"Make no mistake, when they come for one of us, they come for all of us," he said.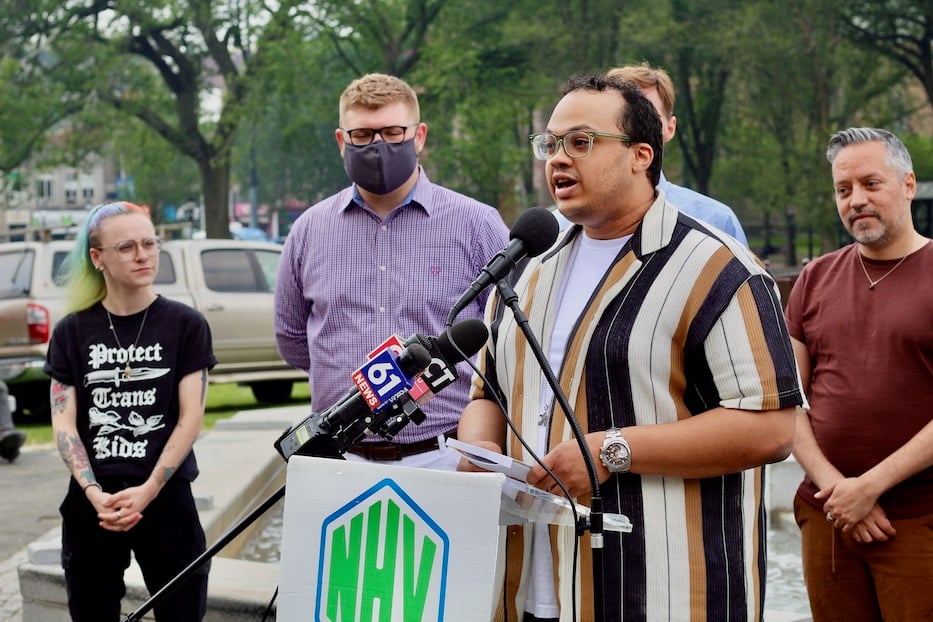 APNH Safe Space Coordinator Jovanni Cabanas, who performs as queen Xiomarie LaBeija.
Several speakers also made space for celebration, particularly on the eve of the Greater New Haven Visibility Ball and third annual New Haven Black Pride this weekend. APNH Safe Space Coordinator Jovanni Cabanas, who performs as queen Xiomarie LaBeija (yes, from the House of LaBeija), fêted Pride Month as a reminder of the importance of advocacy and visibility all year round.
In their position at APNH—formerly AIDS Project New Haven, and now A Place To Nourish Your Health—Cabanas advocates for HIV prevention, homelessness wrap-around services, and direct support for those in recovery, they said. As a plus-size Afro-Latina queen, meanwhile, Xiomarie sees it as her duty to remind people how deeply and urgently representation matters.
"[We're] making sure that everyone continues to move from a place of love, making sure that everyone is educated as need be to know that there is an answer and to know that there is a way to get through," Cabanas said.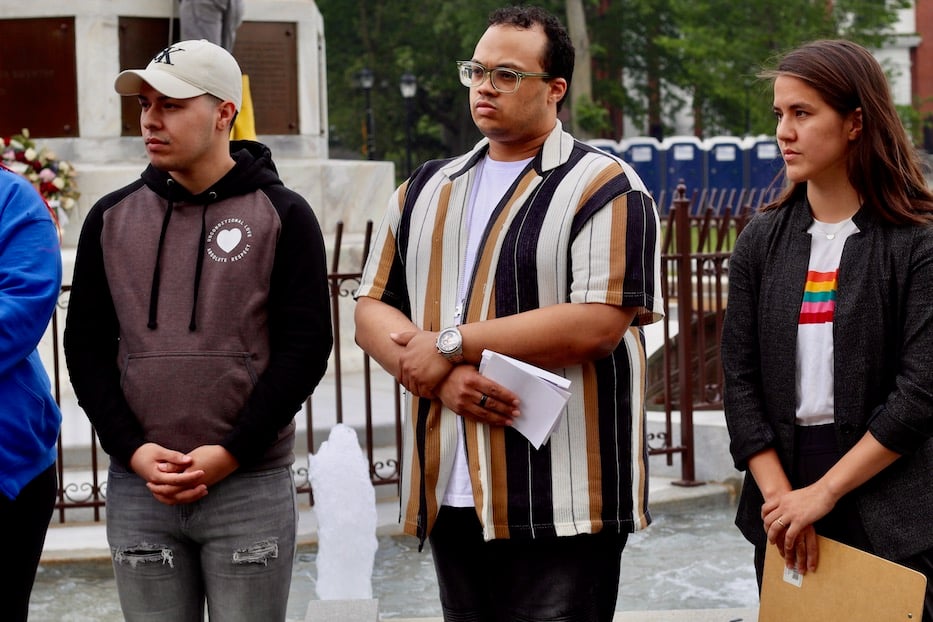 New Haven Pride Center Support Services Coordinator Bennie Saldana, APNH Safe Space Coordinator Jovanni Cabanas and Ward 9 Alder Candidate Caroline Tanbee Smith.
Caroline Tanbee Smith, who is currently running unopposed for East Rock/Fair Haven Alder in Ward 9, also ushered in a spirit of celebration while reminding attendees that the fight for LGBTQ+ rights in New Haven, in Connecticut and across the U.S. is far from over.
When Smith moved to New Haven for college at Yale University, she was 17 and still in the closet, she said. As she was falling in love with the city—a place where she stayed "because of love," she said as her girlfriend, Megan Baker, looked on—she also became more comfortable with herself. She came out for the first time. She held hands publicly with other women. She stayed because the city welcomed her as she was.
"To be clear, these moments have not been easy," she said. "These and other LGBTQ rights, they had to be won. And right now, we're at a moment in history where anti-LGBTQ laws are being passed across the country that infringe on those rights and beyond."
Smith encouraged attendees to work towards making New Haven a safer and more welcoming place for all of its residents, including the queer people who choose to move to, stay in, and build community in the city. She shouted out those who are already doing that work, from NHPC Interim Executive Director Juancarlos Soto to muralist Kwadwo Adae, whose portraits of LGBTQ+ heroes now line the hallways at Elm City Montessori.
The View From New Haven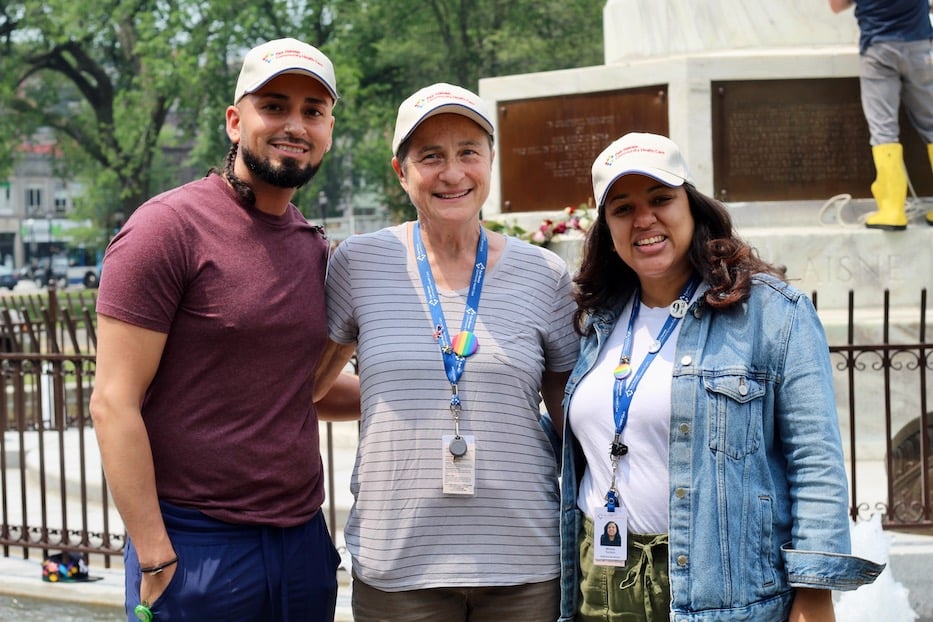 Giovanni Amador, Wendy Cusick and Wilma Toribio of Fair Haven Community Health Care.
In a show of coalition building that has grown since last year, many of Thursday's attendees also spoke to the services that their organizations are providing for LGBTQ+ New Haveners all year round. Standing to the side of the flagpole, Fair Haven Community Health Care's (FHCHC) Wilma Toribio, Wendy Cusick and Giovanni Amador noted the growth of FHCHC's Gender-Affirming Medicine Clinic, which started roughly seven years ago.
In the past two years, Cusick said, staff have seen the clinic expand from 12 patients to 60, in a testament to both growing awareness and community need. The Ryan White Program Director at Fair Haven Community Health Care, Cusick praised Connecticut HUSKY as especially generous in covering gender-affirming care, from hormone injections to therapy. For those who are uninsured, she said, the clinic still finds ways to provide care, including medicine that would otherwise be prohibitively expensive.
Toribio, who is the clinic's outreach and prevention program manager, said that people come for a mix of hormone replacement therapy, gender-affirming mental and behavioral healthcare services, and access to PrEP (pre-exposure prophylaxis), often known by its on-the-market names Truvada and Descovy. Thursday, she said that she and her colleagues came to support the Pride Center as a community partner and "friend" of FHCHC.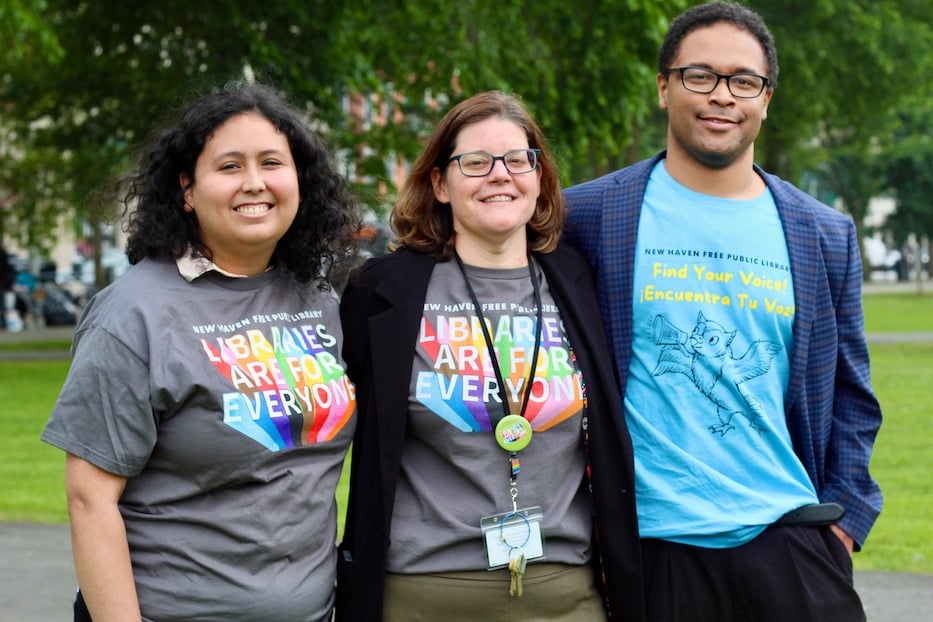 NHFPL Public Services Administrator Karina Gonzalez, incoming City Librarian Maria Bernhey, and Deputy Director Luis Chavez-Brumell.
Standing further back in bright "Libraries Are For Everyone" t-shirts as they listened, NHFPL Public Services Administrator Karina Gonzalez, incoming City Librarian Maria Bernhey, and Deputy Director Luis Chavez-Brumell praised the Pride Center as a longtime and mission-aligned community partner. For all three, the library is meant to be a welcoming place for all who walk through its doors.
"The most important thing is that people feel safe in the library," Chavez-Brumell said. When requests for LGBTQ+ literature, gender-affirming titles, and new books in general come into the library, staff does its best to meet them in real time. At the same time, "the library keeps [individuals'] privacy sacred, Gonzalez said—it will not share records of what patrons are reading.
Bernhey, who begins her tenure as city librarian on July 1, added that the library's commitment to information and access does not end at New Haven's geographical borders. Currently, the NHFPL has a program through which residents of other Connecticut towns and cities can submit their library card to the NHFPL, and the library can add them to the system.
In practice, that means more readers have access to both the library's physical books and E-Resources—including titles that may have been removed from their home libraries.
Back at the flagpole, Dégagé Hopkins and Linden took a moment to watch the flag flap in the wind before heading out. This spring, Dégagé Hopkins stepped down from her role as board president at the New Haven Pride Center (she is still on the board) after helping steer it through seven months of financial uncertainty.
She said that even in its reminder to fight, Thursday's flag raising also felt like a celebration and a sign that "we're on the other side of all of it."
"It's very exciting," she said.
Learn more about the New Haven Pride Center here.