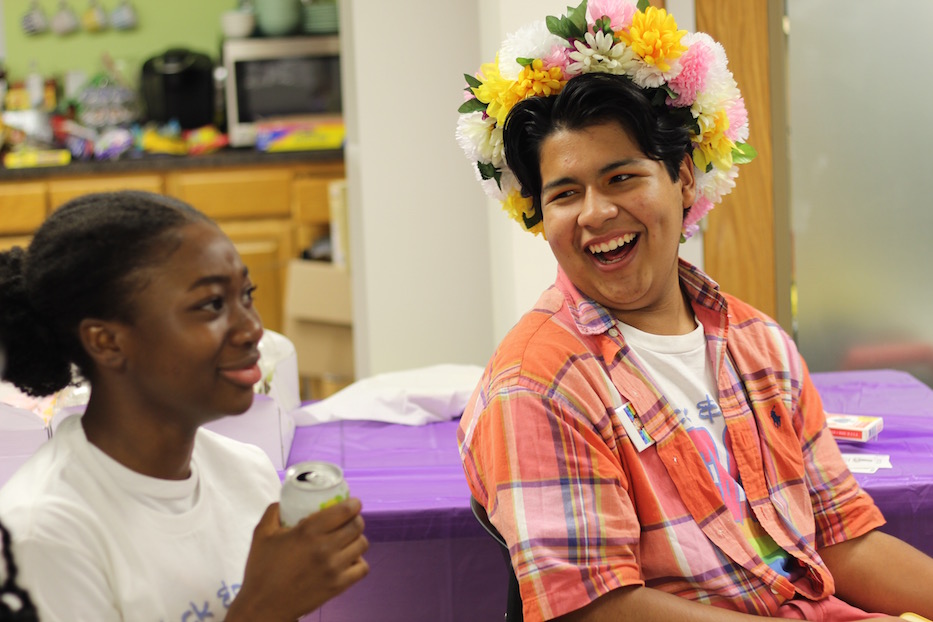 Education & Youth | LGBTQ | Arts & Culture | Education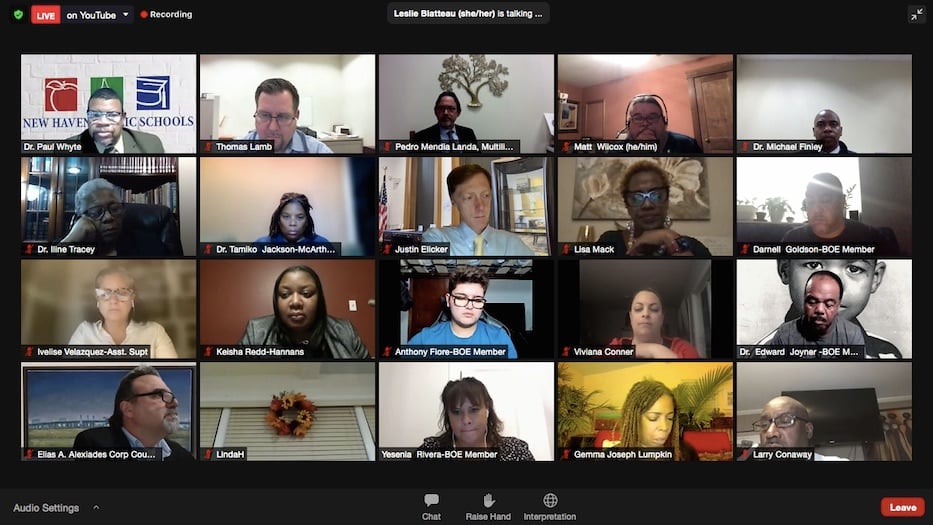 Screenshot via Zoom.
Andrew Pressley spent a year getting misgendered by the same math teacher, then watched as a friend was bullied out of the men's bathroom. Dave John Cruz-Bustamante has only heard one of their teachers ask for pronouns. Adrian Huq stepped into a new name and pronouns the fall of their junior year, and found that it got off "to a sort of funky awkward start."
All of them are current and former New Haven Public Schools (NHPS) students. Now, the city is one step closer to making sure they—and dozens of their peers—don't face discrimination every time they walk into a school building.
Monday evening, the New Haven Board of Education passed Policy 5145.53 on Transgender and Gender Non-Conforming Youth, a long-awaited measure intended to make schools safer and more affirming for transgender and gender nonconforming youth across the district. The brainchild of New Haven's LGBTQ+ Youth Task Force and the Board of Education, the policy includes extensive language around names and pronouns, harassment and bullying, students' physical and emotional safety, gender segregated activities, and gender-affirming access to bathrooms, locker rooms, and dress code. Read it here or here; read more students weighing in on the policy below.
Perhaps most vitally, it gives transgender and gender nonconforming students the same legal right to privacy that their cisgender peers have always been afforded. In other words, teachers and administrators cannot out a student to their peers, parents or guardian. That's because some students may be out at school, and not at home. Others simply don't want to talk about their gender or their coming out process.
After 40 minutes of impassioned testimony from students, parents, advocates, and educators, it passed unanimously. It came two days after a gathering for the 22nd annual Transgender Day of Remembrance on the New Haven Green, during which attendees remembered 47 trans and nonbinary people that have been murdered this year. Some of them were the same age as students the Arts Paper talked to for this article.
"I just really wanted to share how very critical having a policy like this is," said parent Tahnee Cookson Muhammad, who ultimately pulled her child from New Haven schools due to bullying and transphobia. "It literally is and can be lifesaving for so many students."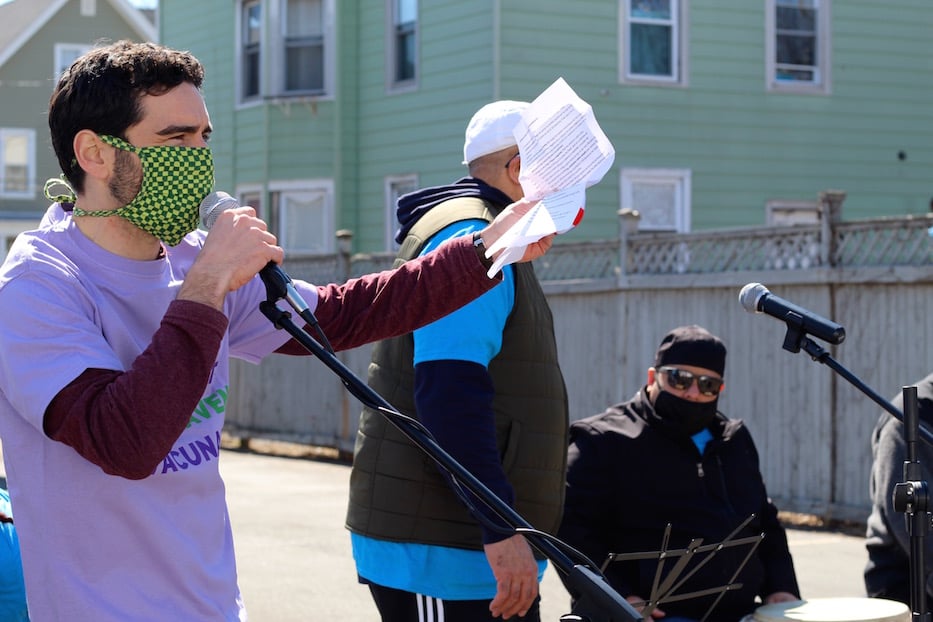 Weinreb at Vaccinate Fair Haven efforts earlier this year. Lucy Gellman File Photo.
The policy has been years in the making. In January 2018, the city's Youth Services Department launched the New Haven LGBTQ+ Task Force as a gathering space for teachers, health care professionals and patient advocates, LGBTQ+ youth and service organizations like the New Haven Pride Center and Translations. As they worked toward making schools safer—from thriving Gender-Sexuality Alliances to LGBTQ+ specific libraries—members also looked at policy that would bar gender-based discrimination within schools.
Board of Education minutes show that the policy, which is in keeping with language from the Connecticut Association of Boards of Education (CABE), first appeared as a discussion topic in February of this year. David Weinreb, a founding member of the LGBTQ+ Youth Task Force who is now a magnet resource teacher at Elm City Montessori, noted that it has very much been a collective effort. Monday, he thanked not just fellow task force members and students, but also Board of Education members Matthew Wilcox, Dr. Tamiko Jackson-McArthur, and Director of Student Services Typhanie Jackson.
As the board opened the floor to public comment, parents and teachers praised the policy as both necessary and long overdue. Cookson Muhammad recalled years of elementary and middle-school bullying that ultimately made NHPS an unsafe place for her child. When she suggested a GSA at the middle school level, educators and administrators told her it was too early.
She said she is relieved to hear that that's no longer the case at some schools. She lauded a section of the policy that calls for LGBTQ+ and gender-sensitivity training and resource development across the district. When her child came out as nonbinary, at least one of their teachers seemed totally befuddled.
"When I shared that, this person asked, 'So your child thinks they're more than one person?'" she recalled Monday evening. "It wasn't to be mean or malicious. It was just something like, when you don't know something, you just don't know."
Leslie Blatteau, a teacher at Metropolitan Business Academy teacher who is also an NHPS parent, said that she sees the policy as part of the city's long of educational leadership. A member of the "Fighting For Our Future" slate, she noted that the board had a large "collective task" before it: to transform it from written policy to safer and more affirming schools.
"To be on the right side of this civil liberties issue is the right thing to do," she said. "The clarity of this policy will help school communities to honor students' identities and ensure students feel safe and respected in their schools. And most importantly, this policy serves as a clear reminder to students that New Haven Public Schools will support them."
Sara Armstrong, whose three children have all gone through the New Haven Public Schools (two have graduated and one is a high school student who has been active in LGBTQ+ advocacy), told the board that she has never spoken at a meeting before—but was moved to do so after thinking of "the bravery that out LGBTQ+ students, particularly our trans and gender nonconforming students, display on a daily basis just going to school and living their lives."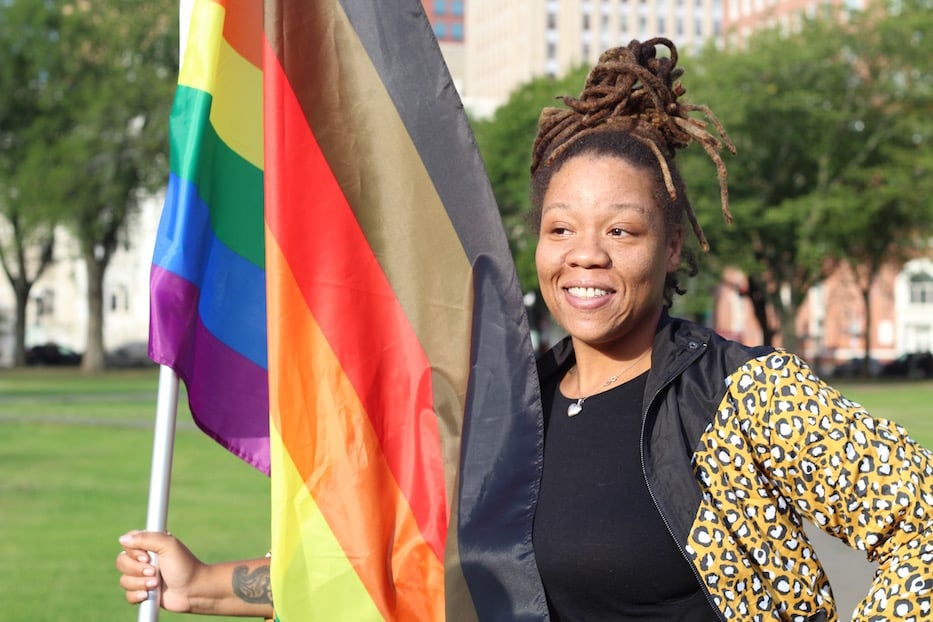 Ala Ochumare, LGBTQ+ Youth Officer at the New Haven Pride Center, also spoke Monday. Teachers and administrators can't be too careful with a student's privacy, she said—"you never know" when you accidentally might be outing a young person to their parents or guardian.
She looked to statistics that consistently show higher rates of housing insecurity, suicidality, self-harm and the threat of physical violence among LGBTQ+ youth, particularly those who are trans and gender nonconforming. Because they are more likely to face housing insecurity and poverty, LGBTQ+ teens also turn to survival sex work at a rate far higher than their cisgender and heterosexual peers. This month, Connecticut's own LGBTQ Needs Assessment Survey Survey that one in three trans adults in the state has faced housing discrimination at some point.
"I hope that our trans and gender nonconforming students experience what this policy lays out," she said. "That they are respected, believed when they tell us who they are, they can bring their whole selves to school and they are going to be safe in doing so. And that they will be able to participate fully, fully belong in their school communities."
Board of Education member Matthew Wilcox, who worked extensively on the policy, called it "lifesaving." He pointed to a 2021 report from The Trevor Project that shows that 42 percent of LGBTQ+ youth, and over half of trans and gender nonconforming youth, have considered suicide in the past year. The same report showed that trans and nonbinary youth whose pronouns were regularly respected by peers and adults, as well as those who were able to legally and without incident change their name and gender marker, were far less likely to consider or attempt suicide.
Choking up, Board of Education member Dr. Edward Joyner expressed his excitement for the policy. As a child growing up in the segregated South, "My father taught me that everybody had a right to live a fulfilling life. And he meant everybody," he said.
Decades ago, he found the work of James Baldwin, who wrote fiercely "about how hard it was to be poor, Black and gay." Baldwin became his springboard to Bayard Rustin, a fiery rhetorician and adviser to Martin Luther King, Jr. Then Joyner worked his way backward, into the Harlem Renaissance. He realized that many of the authors now heralded as giants of 20th century Black literature had been gay.
"While it's late, I'm proud to live in a city where people have a chance to be who they are," he said, his voice starting to waver.
Students Weigh In: "They Are Not 'Other.' They Are Students."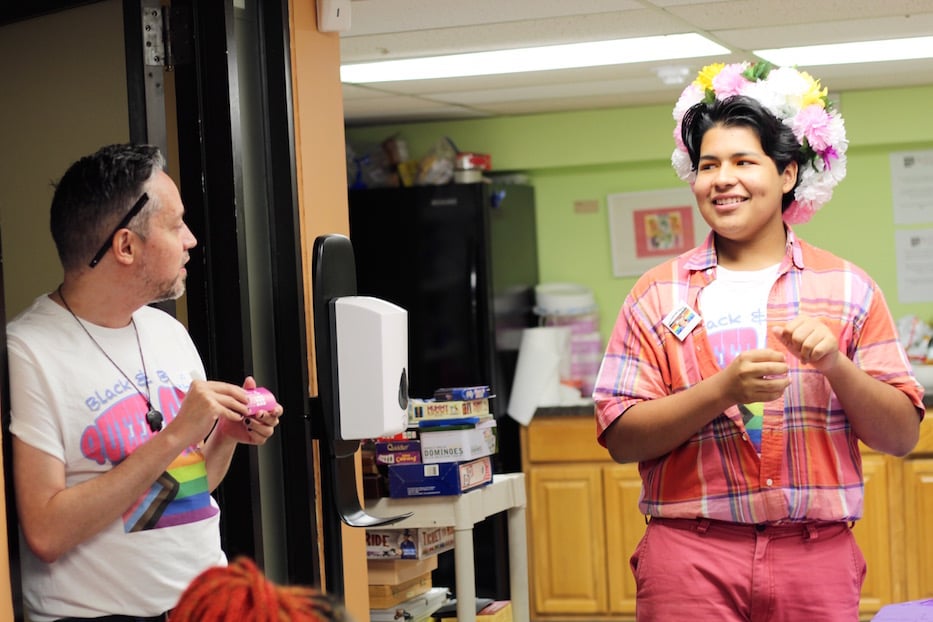 Juancarlos Soto and Dave John Cruz-Bustamante at the New Haven Pride Center's Black and Brown Queer Camp earlier this year.
Perhaps the most moving arguments for the policy came from students themselves. Assata Johnson and Elisa Cruz, both students at Hill Regional Career High School, advocated for the policy after learning about the LGBTQ+ Task Force through their school. For Cruz, a senior who is cisgender and uses she/her pronouns, it comes down to the basic right to privacy.
"Trans youth deserve this fundamental right to privacy in keeping their status to themselves unless they decide they want to outwardly identify themselves as trans," she wrote, in a testimony that Partners in Sex Education Founder and Director Megara Bell read on her behalf. "Just as I am able to keep my status as a cisgender woman to myself, trans youth should be extended the same right."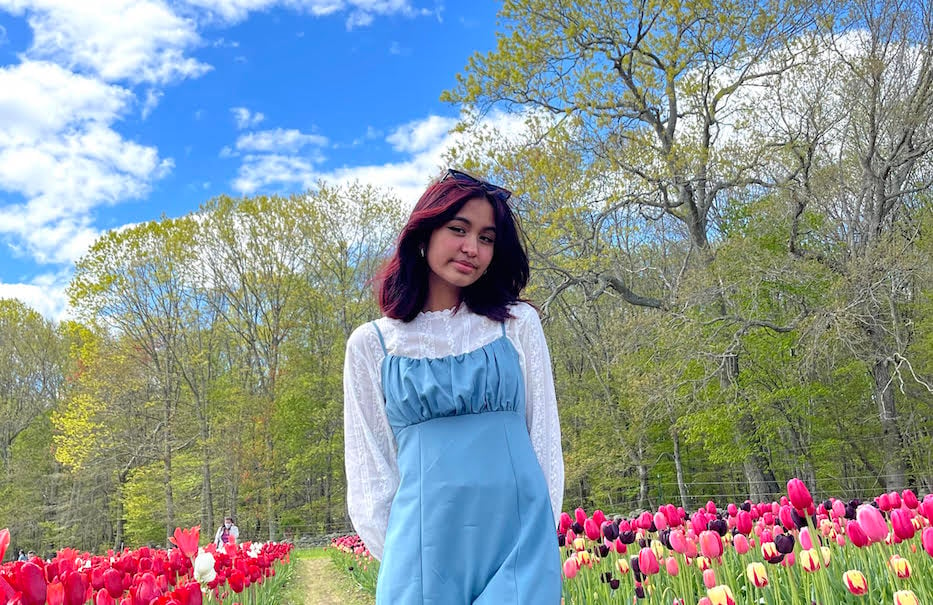 Elisa Cruz: "No one questions, like, 'Oh, are you really a woman?" Elisa Cruz Photo.
In a phone call after the meeting Monday night, Cruz said that writing something just seemed like the right thing to do. While she hasn't seen anything "that's so greatly transphobic" at Career, she acknowledged that bullying and harassment still happen within the school's walls. For instance, she said, students still use the word "gay" as an insult.
The existence of a strong Gender-Sexuality Alliance and network of allies have helped build solidarity at the school, she said. But she wants to see more for trans and gender nonconforming students, who are sometimes questioned on basic and private matters.
"I really did realize that I have this inherent privilege," she said. "No one questions, like, 'Oh, are you really a woman?"
Johnson, who is also a senior at Career, echoed those sentiments in their testimony. When they were unable to make the meeting Monday night, New Haven Academy teacher Fana Hickinson read the testimony on their behalf.
"Transgender and non-binary students shouldn't have to go to great lengths to gain respect throughout the building," Johnson wrote. "These students are students in the building and deserve respect and privacy. If they don't want to disclose that they are transgender, they shouldn't be forced to. You wouldn't ask a random woman if she was assigned female at birth would you?
"They are not 'Other,'" Johnson added. "They are students."
In a text message Tuesday afternoon, Johnson added that they were moved to write because "Whenever I hear the words 'every' or 'all,' I mean it."
"When schools say 'every student,' that includes LGBTQ students," they wrote. "That includes every race, that all genders of students, that includes non-binary students. The statement includes all students and I feel that some people don't understand that every student means every student."
Ma'Shai Roman, a student member of the Board of Education, said that the policy can't be enacted quickly enough. Roman is a student at Engineering and Science University Magnet School (ESUMS). At the most recent meeting of the Citywide Student Council, she said, students were clearly in distress.
"A lot of them talked about how their mental health wasn't okay, and many teachers and adults made them feel uncomfortable when they tried to be themselves," Roman said.
In a series of interviews after the meeting, three current and former NHPS students said they welcome the policy, which will create gender-affirming spaces, educate students, teachers, and administrators, and hold teachers more accountable if implemented correctly. Of the three interviewed for this article, all describe themselves as gender nonconforming or genderqueer, and all have faced some level of discrimination in their schools.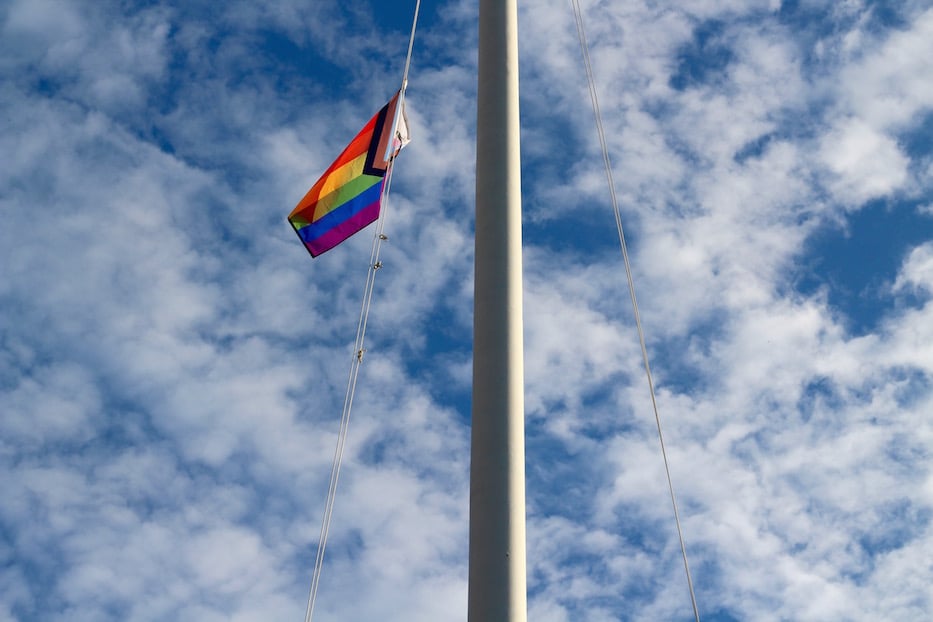 Daniel Quasar's reimagined "progress forward flag" flying in New Haven during PRIDE New Haven in September 2019. The flag is meant to be more inclusive of queer people of color and trans people. Lucy Gellman File Photo.
For Andrew Pressley, a junior at Common Ground High School, the problem started last year in math class. When Pressley came out as nonbinary, they changed their name as well as their pronouns. They said they are particularly grateful for a queer guidance counselor and gender nonbinary art teacher who uses "Mx."—rather than Ms. or Mr.—and shares some of that lived experience.
But last year—in the midst of remote learning—it felt like their geometry teacher didn't even try to understand their pronouns, Pressley said. He misgendered Pressley on assignments, a progress report and email updates. In the midst of remote learning, Pressley said, it was exhausting and demoralizing.
"He knew my pronouns and would continue to call me 'he,'" they said in a phone call Monday night. "It definitely feels safer in a school environment to have people recognize that I'm not a guy or a girl."
Fast forward to this fall, and "it's not really teachers I'm worried about this year, but it's more about students," they said. Since returning to school in person a few months ago, they and a close friend have been victims of near-constant bullying and harassment from a cisgender student in a different grade. Recently, it escalated to an incident in which the friend was allegedly told to leave a school bathroom. Pressley said it later turned physical, and their friend was shoved.
"I feel entirely threatened by him," Pressley said of the bully. "Whenever people do tell, a report is filed and sometimes there's a peer-mediated session. Nothing really happens."
"I'm glad that this [policy] has become a reality and I hope that this can be fixed in the future," they added.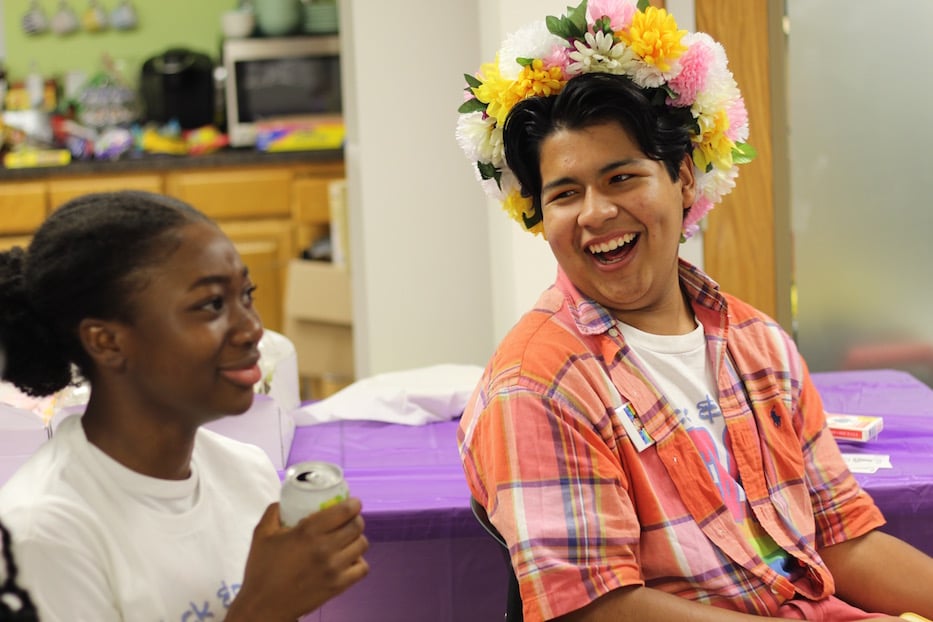 Lihame Arouna and Dave John Cruz-Bustamante at Black and Brown Queer Camp in summer 2021. Lucy Gellman File Photo.
Cruz-Bustamante, who is a sophomore at Wilbur Cross High School, said that bullying, harassment, "a lot of rampant homophobia" and blatant staff disregard for gender identity have all become part of their high school experience. In school, only one of their teachers pays attention to pronouns. Others have assumed that every one of their students is binary.
There's no LGBTQ-affirming literature around the building. And when students are reprimanded, it's overwhelmingly punitive. Cruz-Bustamante doesn't want to see punishment that feeds into the school-to-prison pipeline, they said. They want to see real education.
"The queer people at my school are not visible," they said. "Their issues are not visible. Their struggles are not visible. There's no platform there."
Outside of school, they work with several groups that are gender-affirming, including City Wide Youth Coalition and the New Haven Pride Center. But every time they get onto the school bus or step into a classroom or a hallway, they feel like they're that much more likely to be harassed.
They think frequently about the tension between "safety and comfort versus being your true self," they said—a concept they first talked about at Black and Brown Queer Camp last summer. In practice, that means they may make themselves appear less genderqueer than they feel on a given day.
"I don't hide everything, but oftentimes it's that underlying feeling of worrying or fear about getting on a bus, stuff like that," they said Monday night. "In general, I think our school needs a bigger sense of community. It's easier to hurt someone when you don't know them."
"I'm so so proud and excited and just amazed at the students and the people who have organized behind this effort," they said. "I just think we need more of this education."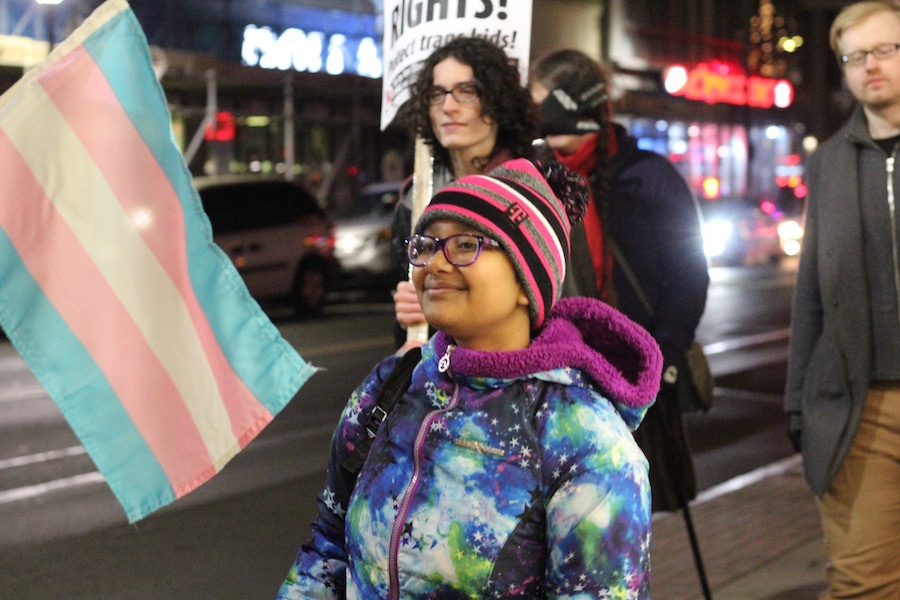 Adrian Huq at a Trans Day of Remembrance march and rally downtown in 2018. They are now a sophomore at Tufts University. Lucy Gellman File Photo.
Huq, who is now studying at Tufts University, came out as nonbinary in fall 2018. At the time, they were a newly-minted junior at Metropolitan Business Academy and changed their name and pronouns. They said that teachers and classmates were fairly accommodating—but sometimes got confused. They remembered one teacher who called on them, then stopped the class to explain why they had said "Adrian" and what gender nonbinary pronouns were. There was also the matter of bathrooms, only one of which, located on Metro's first floor, was gender-neutral. If Huq had to go between classes, they had to choose a bathroom that didn't correspond to their gender identity.
They pointed to the importance of teachers who provide immediate and unconditional support to their LGBTQ+ students. At Metro, those teachers are Nataliya Braginsky and Julia Miller, who advise the school's GSA. Huq recalled how helpful it was to have them reach out to their teachers and act as go-betweens.
"There were some other questions from students," they said. "There were some negative comments behind my back. Overall, I had a pretty fine time."
They added that they're glad to see the policy, which seems of a piece with college applications, financial assistance forms, and Google classroom settings that allow students to use the name and pronouns with which they are most comfortable. They said they are also grateful for a policy that will hold educators responsible.
"I just think that having this policy in place is going to be really affirming and important," they said.
Next Steps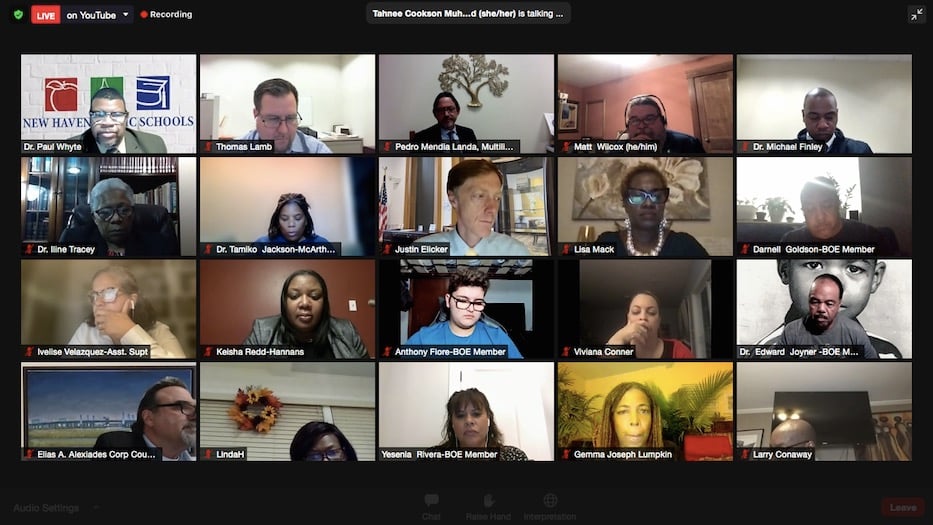 During his testimony, Weinreb noted that the Board of Education's affirmative vote is just a beginning. In the months and year ahead, the district will need to implement the policy, which includes sensitivity training for staff and, where applicable, for students.
"The Board directs the Superintendent to provide for the training of all District staff in transgender sensitivity, in what it means to treat all people respectfully and equally," reads a section of the policy. "Developmentally age-appropriate training shall also be provided for all students."
In the past months, trans educator and advocate Tony Ferraiolo, himself a New Havener, has received funding from the Yale Gender Program to "provide twenty 90-minute LGBTQ+ trainings at no cost to the district," Weinreb said. Those training sessions are not yet scheduled; Ferraiolo has already given trainings at ESUMS and at Metropolitan Business Academy.
Weinreb also pointed to the need for a more inclusive and affirming health curriculum for LGBTQ+ youth. This year, NHPS Physical Education Director Marvin Christley and Athletic Director Erik Patchkofsky have been working with the Board of Education toward a potential pilot program that is positioned to do just that.
In part, they have used the Michigan Model for Health, the more abstinence-heavy parts of which Patchkofsky said they've updated with their own resources on LGBTQ+ youth and sex education during Covid-19. Weinreb has also supplied them with materials from GLSEN, Advocates for Youth, and the video-based sex educaion platform ​​Amaze.
"We've updated it to make it affirming, we've updated it to make it inclusive," Patchkofsky said. "I think in the long term though, we need to start looking at a new curriculum at some point."