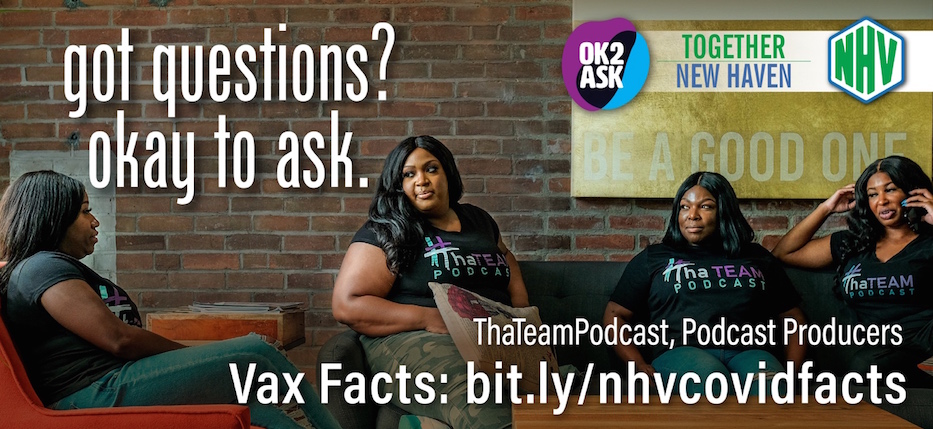 Public art | Arts & Culture | Public Health | Elicker Administration
Leigh Busby Photos. City of New Haven Vaccine Campaign.
The hosts of ThaTeam Podcast sit around a table, their smiles guarded as they listen closely to each other. One picks up the phone as the words Be A Good One shine behind her in white and gold leaf. The others take a beat; eyes swivel to one side of the room. Even without sound, a conversation is almost palpable. Above their heads, huge white letters read "Got Questions? Okay to ask."
The podcasters are part of a two-pronged campaign from the New Haven Health Department, Department of Cultural Affairs, and multiple citywide partners working to spread vaccine literacy among New Haven adults and youth who are still hesitant around the shot, and sometimes fighting a rising tide of disinformation. This month, it joins dozens of pop-up vaccination clinics and at least one health fair geared toward getting the city vaccinated.
"We are ensuring that we are being inclusive of our partners, we are collaborative, and we don't necessarily have to lead at the city level," said city Health Director Maritza Bond during a press conference last week. "We have to partner with individuals who have built relationships with the city."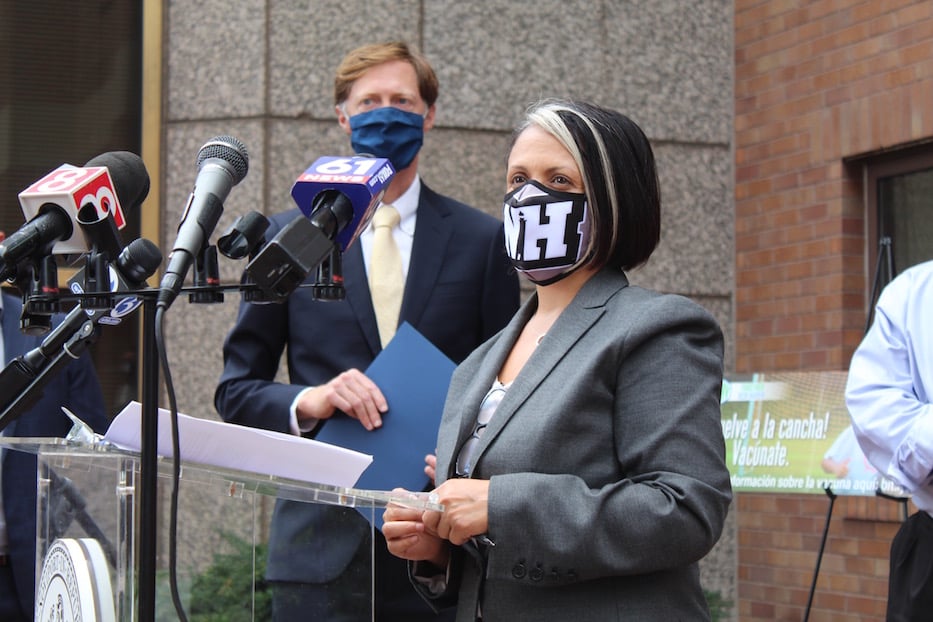 City Health Director Maritza Bond at a press conference celebrating the vaccine campaign last week. So far, roughly 65 percent of New Haveners are fully vaccinated. Lucy Gellman Photo.
Roughly 65 percent of eligible New Haveners (meaning 12 years old and over) are fully vaccinated, according to the Elicker Administration. Over 71 percent have received at least one vaccine dose. In New Haven youth, that number remains closer to 50 percent. To date, the city has held over 530 vaccine pop-up clinics with the help of Griffin Hospital, Cornell Scott Hill Health Center, and Fair Haven Community Health Center. Last month, Mayor Justin Elicker also instituted a vaccine-or-test mandate for city employees that officially went into effect on Sept. 27.
The twin campaigns, which have enlisted photographer Leigh Busby and videographer Donnell Durden, are dedicated to getting more residents vaccinated as the pandemic passes its 18-month mark. One, branded "OK2AsK," is intended to target adults who may still have medical questions around the vaccine, and haven't yet connected with a provider they trust. The other, aimed at teens and called "Life Back," offers the vaccine as a path to some degree of normalcy at school, on the playing field, and at home.
Both come out of $4 million in federal funding that the city secured earlier this year from the Office of Minority Health (OMH). Both bring in local influencers, from designer Tea Montgomery to members of Wilbur Cross High School's basketball team to Dr. Tamiko Jackson-McArthur, a pediatric specialist and a member of the city's Board of Education. Many of the images and videos also come in Spanish.

Leigh Busby Photos. City of New Haven Vaccine Campaign.
Adriane Jefferson, city director of cultural affairs, said the branding language came out of conversations with citywide artists, young professionals, healthcare providers, creators and entrepreneurs and members of the city's Board of Education. Figures like Montgomery and members of ThaTeam, who she met while working for the Connecticut Office of the Arts in 2019, seemed like trusted messengers.
"The first is a call to action to find out the answers to the questions," she said. "Make your choice, but make a decision that's going to be best for you and the people around you. Then ​​what we discovered in our conversations with the Board of Education is that a lot of young people are more moved by what they can do to get their life back."
The results, which build on New Haven's 2020 Mask Up campaign and URU's evolving "Our Humanity" banners, criss-cross the city on billboards, city buses, and social media channels. In one, Montgomery bursts into a smile, eyes crinkling at the edges. He is talking to Jackson-McArthur, whose blue scrubs peek out at the right of the frame. A raffia sculpture hangs over their heads, dipping its pink strands into the frame. It feels easy, joyful, as if whatever alarm or hesitancy was there before has dissolved completely.
In another, members of ThaTeam freeze mid-discussion, as if they are recording an episode and have paused to unpack a question (as, in fact, they often do on the show). Their eyes are soft, understanding. A warm sort of energy crackles between them.
Co-host Rebekah Moore—known simply as Bek by her friends and family—said that she and fellow ThaTeam members were excited to jump on board after learning about the campaign from Jefferson. Moore was born in Hamden, and moved to New Haven when she was in high school. She's a proud alum of James Hillhouse High School and Southern Connecticut State University.
"What we liked about it [the campaign] was it wasn't so much, 'Go get vaxx'—which we want people to do—but it was 'Get the vaxx facts,'" she said in a phone call last week. "There are a lot of people giving out false narratives ... we just want people to get their own proper information from credible resources."
As a healthcare professional, Moore has been in the eye of the pandemic's storm for just over a year and a half. When Covid-19 hit the city last year, she was pregnant and working in an emergency department as an information assistant. As public information spread about how to prevent transmission of the virus, she took every precaution that was available to her. She got vaccinated when she returned from maternity leave this year.
She didn't need convincing, she said—but she understands why people may. She pointed to an American healthcare system that has not given Black people and non-Black people of color reason to trust it, from the history of medical apartheid and experimentation to nursing books that spread harmful misconceptions about Black women's ability to feel pain. The same week the campaign dropped, she and co-host Latrelle Coward held a special episode with Dr. Tanilla Brown about vaccine literacy, science versus disinformation, and navigating a new normal.
She added that the politicization of Covid-19—conservative white Americans remain the single largest group opposed to vaccination—is "just mind-boggling to me." For her, the vaccine was a way to protect herself, her infant son, and members of her extended circle. When she sees a friend, she said, she always remembers that they might be going home to a grandmother who is more likely to fall ill from Covid-19.
​​"I have to protect my family and my mom, my sister, my business partner and friends," she said. "The people around me that I love, and the people that they love. And our community! With so much death around, we don't need to add another reason why we are dying in vast numbers. We already have a lot going on with police brutality and senseless killings. This doesn't need to be part of that list."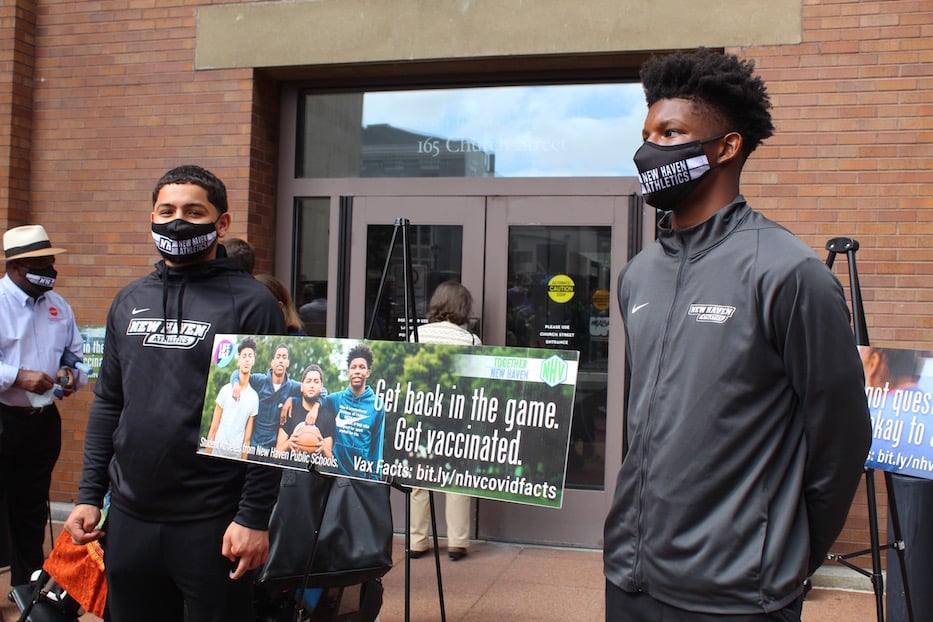 Wilbur Cross High School Students Fredo Delgado and Christian McClease at a press conference on the campaign. Lucy Gellman Photo.
In a photograph meant to speak to younger New Haveners, four members of Wilbur Cross High School's basketball team throw their arms around each other, eyes on the camera as trees blur in the background. Three players in, junior Fredo Delgado holds the ball steady between his hands. A few inches away, a message reads "Get Back In The Game. Get Vaccinated."
Delgado practices what he preaches. Earlier this year, he and fellow team member Christian McClease received the Pfizer vaccine at the Health Department's Meadow Street headquarters (New Haven Public Schools Athletic Director Erik Patchkofsky took a video to encourage other players to do the same). The two have since tried to spread the vaccine gospel at school, although "we're mainly telling the sports people," Delgado said.
McClease and Delgado also got vaccinated to protect their families, they said in a conversation last week. Both watched their mothers contract and become sick from Covid-19. At home, Delgado has two brothers, one of whom is just seven months old. McClease has five brothers, who he said are still vaccine hesitant "because they don't want Covid in their bodies."
That hesitancy springs from a common piece of disinformation that the vaccine contains a live virus, he learned before getting the shot himself. To the contrary, the Pfizer and Moderna vaccines both use messenger Ribonucleic acid (mRNA), which teaches a body's cells to make a spike protein. That protein in turn stimulates the production of antibodies. It means that if Covid-19 does enter the body after full vaccination, cells have the genetic memory to recognize and fight it.
"I'd like to encourage my fellow athletes, my teammates and classmates to get vaccinated," McClease said. "Just to make sure everybody's safe, in case another outbreak happens. I encourage them, and everybody that I'm around … so everybody around me can be safe. That's really it."