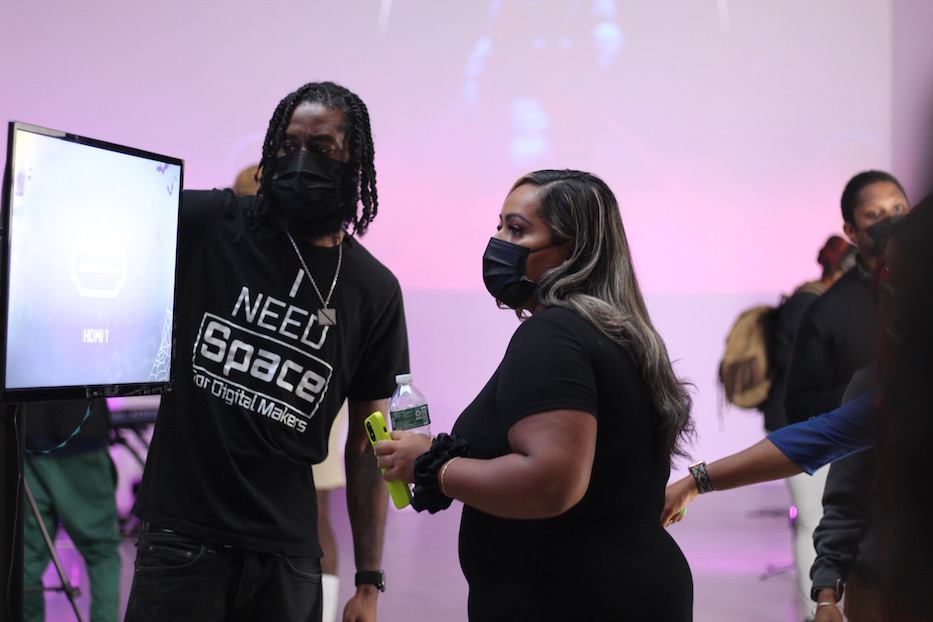 Black-owned businesses | Economic Development | Fair Haven | Photography | Arts & Culture | Film & Video | Mill River District | District New Haven | COVID-19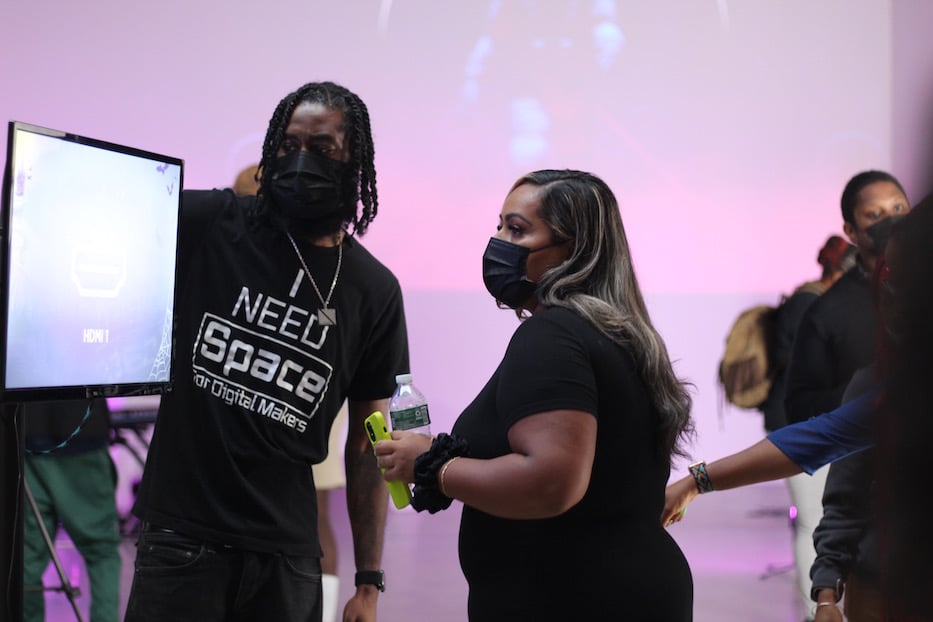 Donnell Durden and Corinna Santos. Lucy Gellman Photos.
A larger-than-life astronaut beckoned from one wall, projected in hazy pinks and a crisp white space suit. On a couch across the room, Adriane Jefferson interviewed musician Finn Wiggins-Henry about what it meant to have ownership over an artistic project. A camera bulb flashed nearby. Chatter spilled out into the hallway, where friends compared notes on just-sweet-enough tiramisu and thick, silky banana pudding.
That is the vision behind Space Studios, the multimedia project of 35-year-old filmmaker Donnell Durden and Aligning Media. Thursday night, Durden launched the studio from District New Haven, where he is renting out a 1600 square foot space for photography, film, music, and small-scale video production. While the space has technically been in use for months, Thursday marked its formal opening to the public.
"I want to be an asset to people in our community," he said. "I felt a way about this building [District] being in the heart of Fair Haven, which is mostly Black and Spanish … We're coming in through this creative channel. This was fully intentional."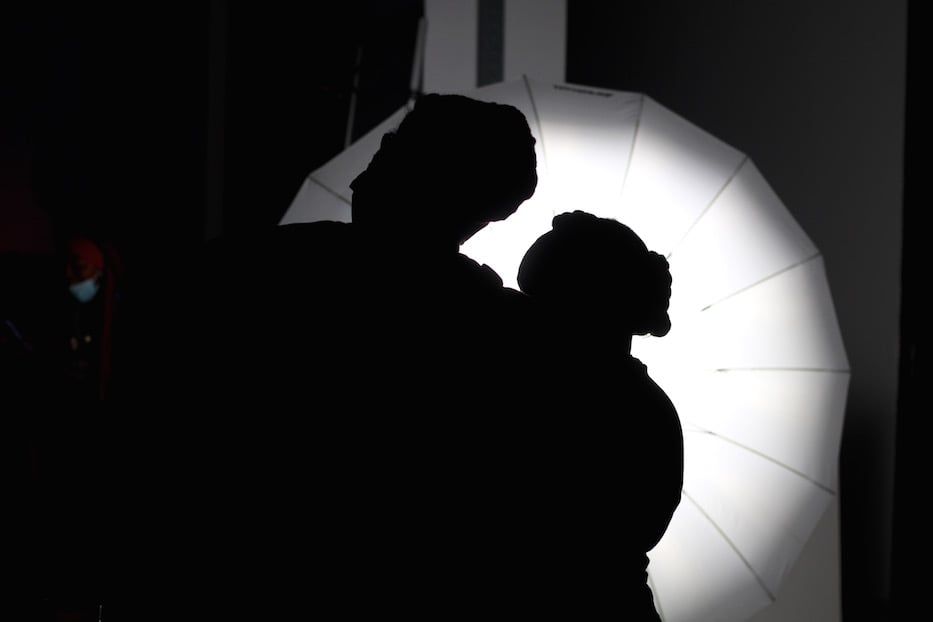 Of the services that Space Studios offers, photography was one on display Thursday.
Durden said that Tiffany Stewart, who was originally his business partner and worked on earlier iterations of Space as the president and chief executive officer of Aligning, is no longer involved in the project. In December of last year, Stewart published her second book and has been working to spread the word on it in the months since. He is working closely with consultant Corinna Santos, who has also done work for the city's Economic Development Administration and Civic Space initiative.
Nestled in District's James Street home, Space Studios is meant to be a hub for Black creatives and non-Black creatives of color. Located just a few yards beyond the building's entrance, the hub is set up as a large room, with sweeping white walls, mood lighting and high ceilings. Thursday, one niche became a photo studio, with bright lighting equipment and a black backdrop against which people posed all night.
Just a few yards away, another mini-studio was set up for videography and live interviews. On a plush couch, Cultural Affairs Director Adriane Jefferson interviewed musicians Thabisa Rich and Finn Wiggins-Henry before they drifted to the front of the room, and soaked it in floor-to-ceiling sound in two different performances. Nearby, makeup artist Yulonda Zanders chatted with attendees about her business, WildHeart Beauty Den.
Durden said that the model is meant to support creatives across varying income brackets, including those who have small budgets or can do a talent swap, like a musical performance for a photo or video shoot. He has already landed multiple projects with organizations including the City of New Haven, Tsai City at Yale, the Community Foundation for Greater New Haven, and the United Way of Greater New Haven.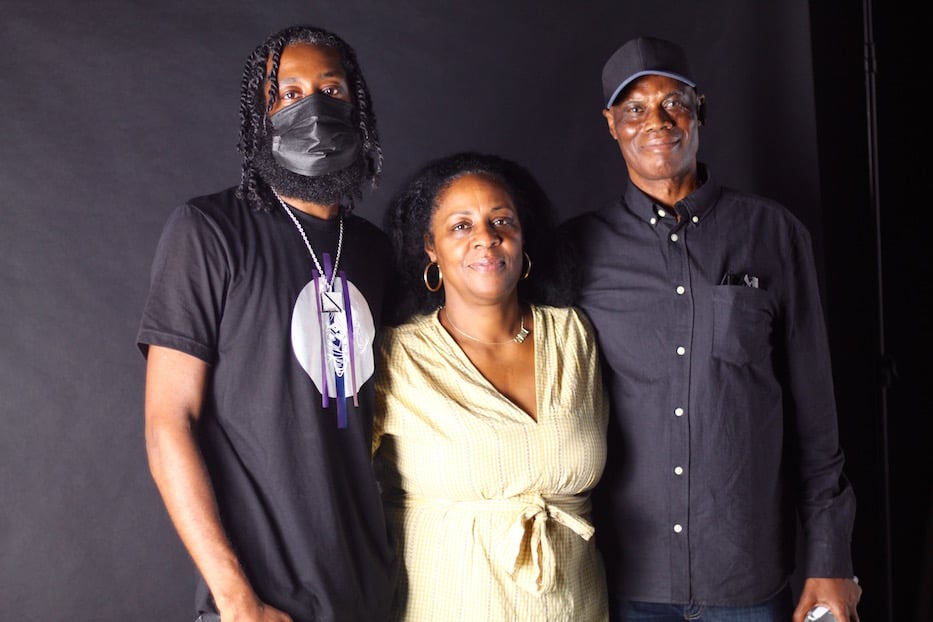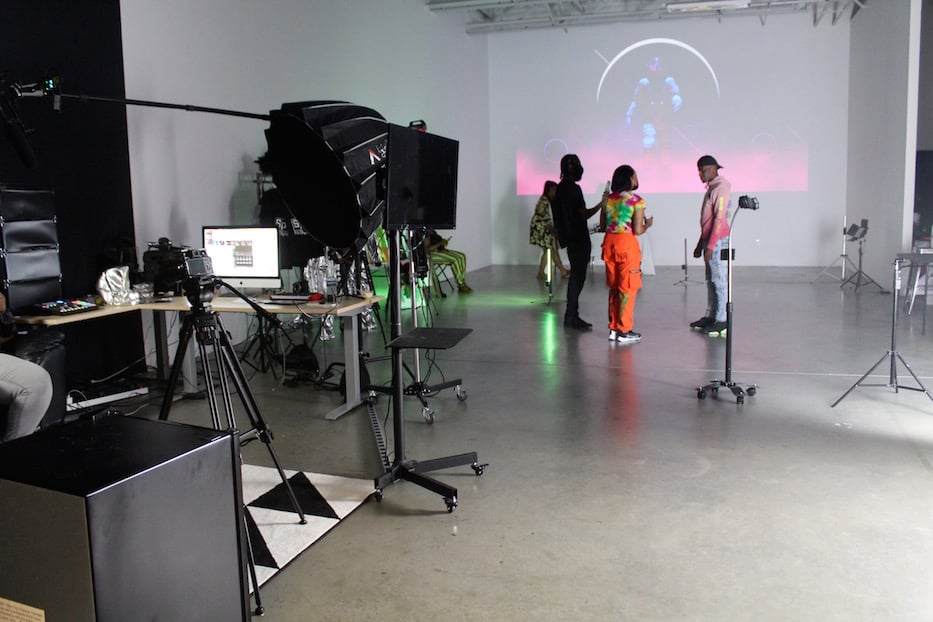 Top: Donnell Durden with his mom, Arndra Hatcher, and step-grandfather Hakeem Nassirou. Hatcher, who runs the wig shop Flawless in East Haven, said she's thrilled to see her son soar. "This is a vehicle for community," she said. "There needs to be a space like this for the up and coming kids."
He said that ideally, he can use those bigger-ticket items—as well as corporate partnerships that he is working to secure—to subsidize projects that have smaller budgets. His goal is to not have to turn anyone away, he said. Thursday, he motioned to a small, masked crowd filling the hallway, pointing out painters, visual artists, and videographers among the group.
"This is why I did what I did," he later said.
He added that launching from District is part of that mission. Durden grew up in Newport, Rhode Island and moved to New Haven when he was in high school. As a student at James Hillhouse High School, "I got in trouble a lot," he said. "I was a crazy kid."
His creative pursuits, including music and filmmaking, were the things that pulled him back into wanting a sustainable career. When his son Bryce was born 10 years ago, Durden went back to school for accounting, and picked up marketing skills that transferred surprisingly well onto arts administration. When he graduated, he said, he didn't feel fulfilled in a nine-to-five finance job. He turned back to media, and discovered a universe that was waiting for him.
When he first spotted District several years ago, he wondered if it would reflect the diversity of the Fair Haven community, which is largely Black and Latinx. He realized very quickly that it didn't, despite what he sees as a clear need in the community. That's where Space Studios comes in, he said. He is also in preliminary discussions about a second satellite location in Dixwell, but said that he can not give many details about it at this time.
"This is what it's all about—all the creatives being creative,," he said. "I felt a need for us to be here, taking advantage of this space. It's all about the dream. Music, photography, videography … this really gives me life. It inspires me."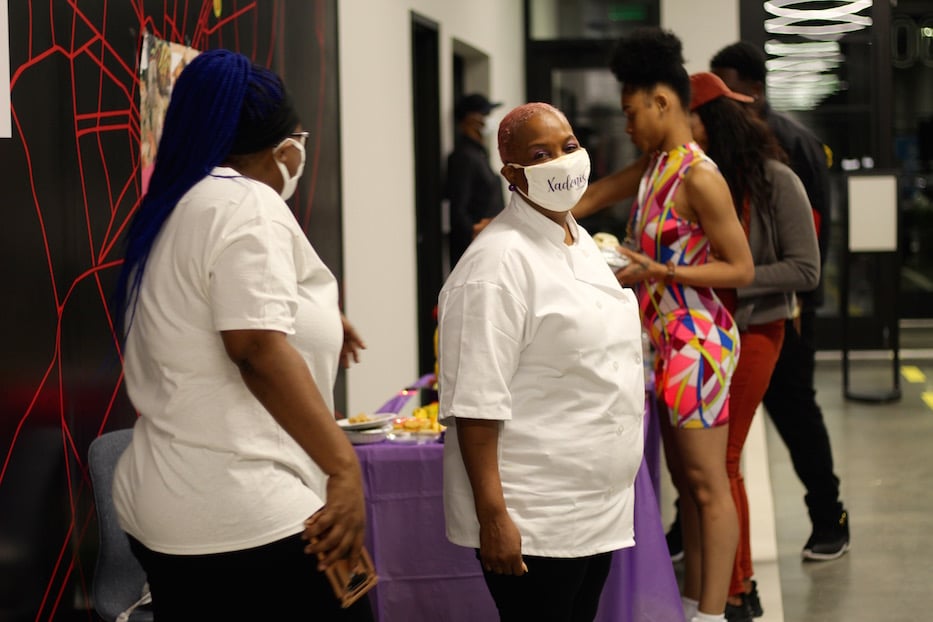 Elena Brito of Xadonis Catering. Her daughter, Cameo Davis, helped her with the event.
Thursday night, friends, family, and artists from across the city and the state turned out to support him. In the hallway, Elena Brito of Xadonis Catering greeted attendees with a spread of cheese and meats, frosted strawberries, sliced fruit and a watermelon carved into a hollow, delicate pink-and-green bowl. As attendees trickled in, she and her daughter Cameo Davis buzzed around the table, helping attendees fill their plates.
A lifelong New Havener and graduate of the Connecticut Center for Arts and Technology's (ConnCAT) culinary arts program, Brito said she is thrilled to see Space taking off. Living in Newhallville, she often feels like people associate Blackness—and particularly young Black men—with crime, she said. This flips the script.
"I love it," Brito said. "I love it because it gives people an opportunity to see that we have such great talent."
Down the hall, friends taste-tested banana pudding, tiramisu, and still-warm beef and chicken empanadas from Cruz Control Bakery, a food business run by Chef Amanda Cruz. While she is based in Seymour, Cruz does a lot of her business in New Haven. The small-scale bakery was born during the pandemic, when the Cordon Bleu graduate found she had more time to cook at home.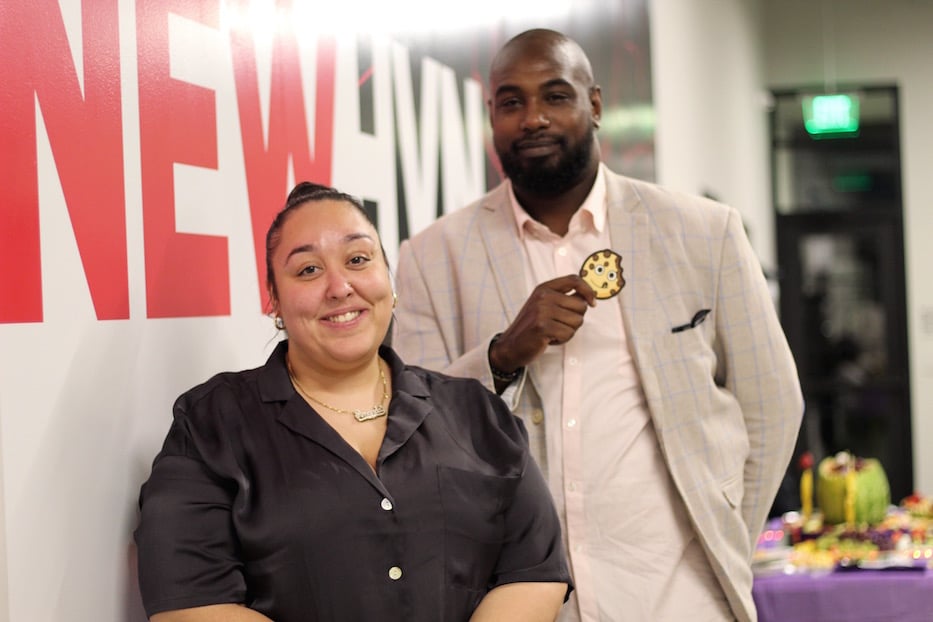 Chef Amanda Cruz, who lives in Seymour, and consultant Malcolm Redfield. Redfield does PR for Cruz Control Bakery. Both were masked up before the photo was taken.
She met Durden a few months ago through Malcolm Redfield, a childhood friend of his who runs a small consulting business. Thursday, she watched as attendees compared her desserts, and layered praise on her empanadas, crisped and toasty on the outside and still giving off steam on the inside.
"I think it's great," said Redfield, with whom she agreed almost instantly.
Inside Space, attendees gathered to watch live interviews, pose for brightly lit photos, and listen as musicians turned one half of the room into a stage. Sade Manigault, who started the Fairfield-based apparel business iCrown Collective in 2019, watched a live painting demonstration from artist D. Douglas.
After moving to New Haven from New York for the University of New Haven 11 years ago, Manigault created iCrown as a way to spread affirmations by and for creatives of color. She said the brand currently produces t-shirts, sweatshirts, and masks. Before going into business, she was working in medical administration for the Stamford Hospital system. But "I wasn't satisfied."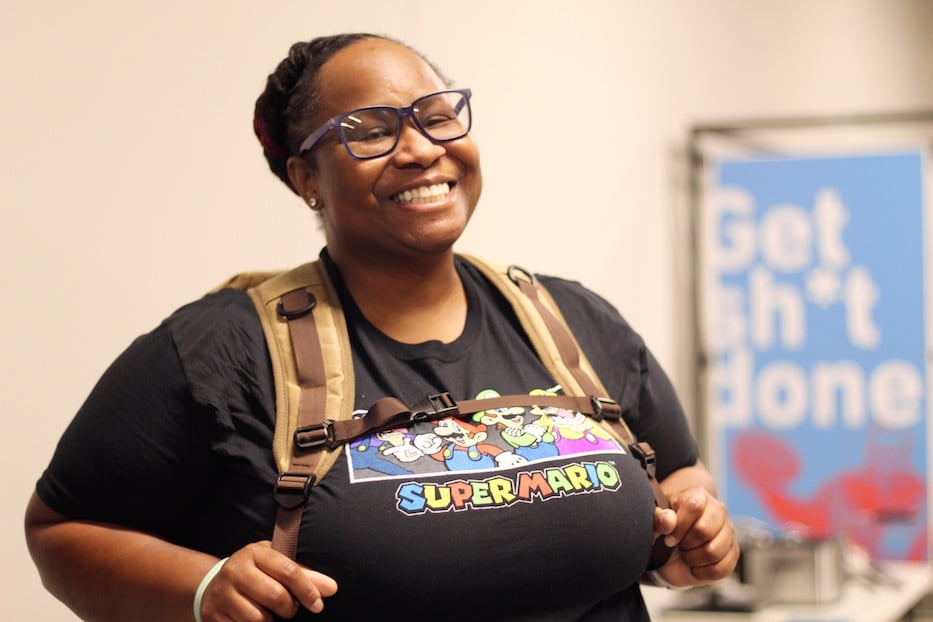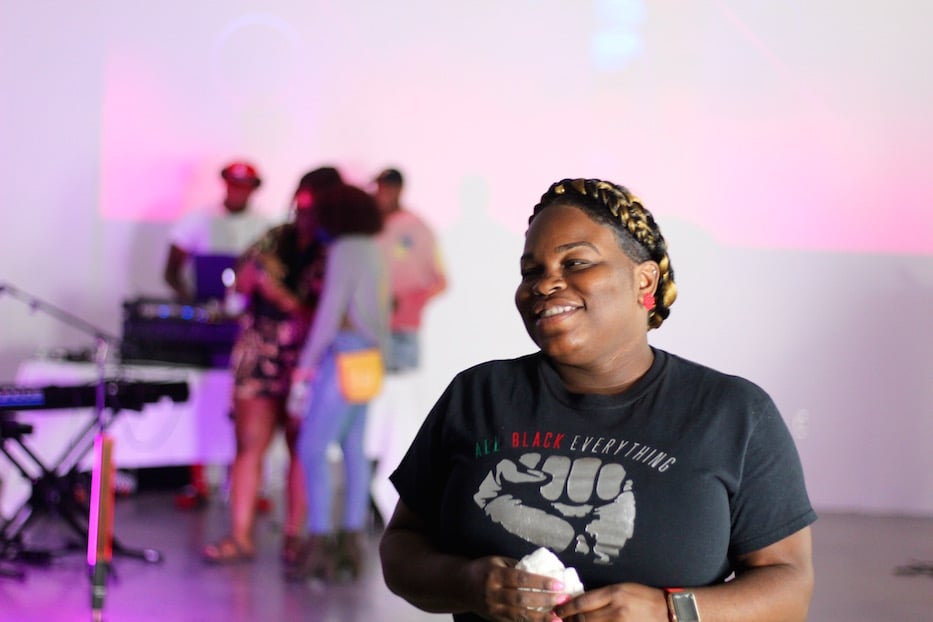 Top: Photographer Quantwilla Gibson. Bottom: Sade Manigault, founder and owner of iCrown Collective.
She now does her own designs and prints apparel for fellow small businesses, including Space Studios. After meeting Durden through the 48 Hour Film Project last month, she offered to collaborate with the venture as it was getting off the ground. She sees iCrown as aligned with Durden's mission, she said.
"I felt like I was meant to serve my community. And that is Black and Brown people—that is our main target audience," she said. She added that she sees the importance of Space as "three words: inspire, influence, and impact."
In a Super Mario t-shirt that glowed yellow and green, photographer Quantwilla Gibson buzzed around and snapped a few shots. The founder Gibson Saw It Photography, she called Space Studios "part of an awakening for Black culture."
On the other side of the room, Jefferson and Wiggins-Henry's interview ended with a smattering of applause and a few knowing mmmms. Wiggins-Henry headed over to the keys, and began to play notes that filled up every inch of space. Attendees drifted to the front of the room, still holding plastic plates and small cups of pudding. Some hummed along and began to sway; others pulled out their phones and started filming.
Wiggins-Henry made a calculation in their head, and rearranged the set list.
"White people have really been trying me this week," they said before going busting out an a cappella cover of Alice Smith's "Shell Shock." No sooner had they asked for musical help than the room became a percussion section, hands clapping and feet stomping the floor. Standing from the piano bench, they belted, walking into the center of the space to serenade the audience directly.
They later performed a mix of covers and originals, getting the audience dancing with Chaka Khan's "Ain't Nobody" before slowing it down with buttery vocals and soft, almost purring spoken word. When the first notes of "Ain't Nobody" drifted into the air, the room exploded in cries of "Hey!" "Yeah!" and "C'mon!" Fresh off her own set, the musician Thabisa began to dance shoulder-to-shoulder with New Haven Independent reporter Karen Ponzio.
"Y'all better sing that!" Wiggins-Henry cried between lyrics. "This is what happens when the culture gets together," they later added.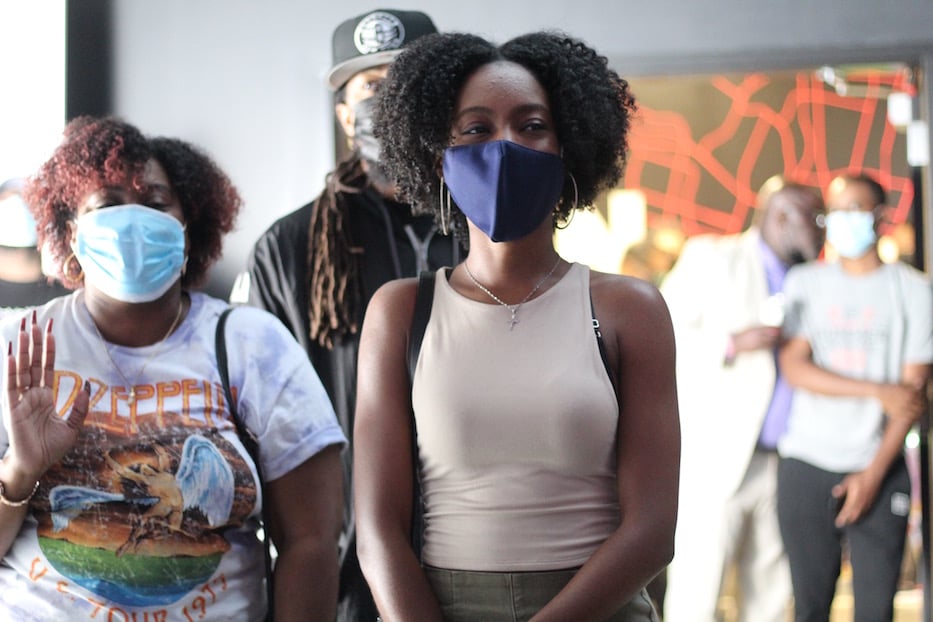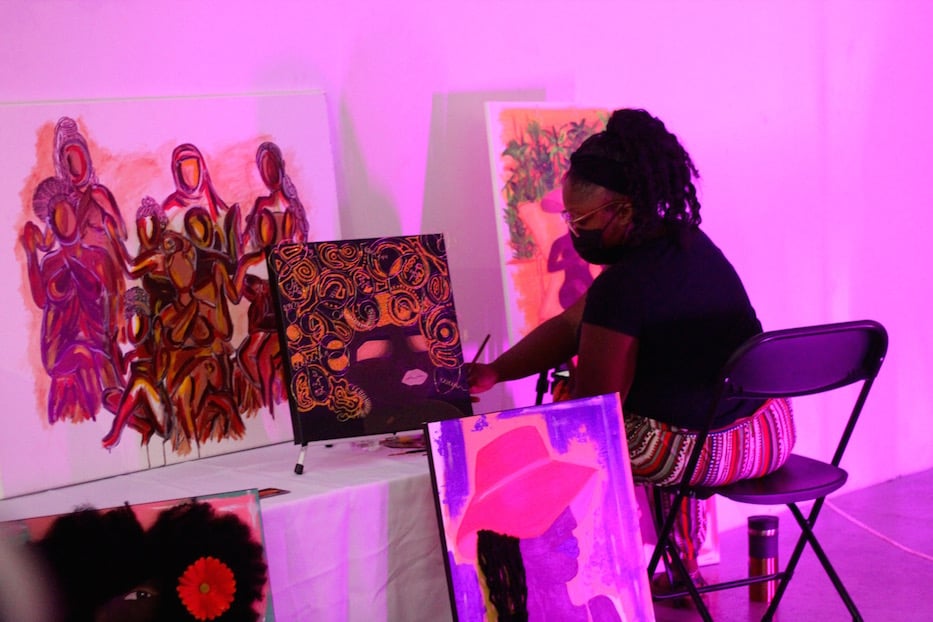 Top: Attendees listen as Finn Wiggins-Henry plays. Bottom: Artist D. Douglas. "This is everything for me," she said at the event.
Nearby, a woman's torso and crossed legs bloomed across a canvas as Douglas worked on a new painting, nodding her head to music as Wiggins-Henry and then DJ Spinfresh kept the beat pumping. Douglas, who is in the midst of curating a new "Make It Melanin" art show at Erector Square, said she's grateful for a new space for Black makers in the city. She ended the night fielding questions on her work.
She hadn't expected to be at the event, but had jumped at the opportunity after flooding from Hurricane Ida left the artist Marsh stranded in Philadelphia and looking for a last-minute replacement. She praised Durden for his vision, pointing to the chronic lack of space and resources that Black artists experience in New Haven. It was her first time painting live, she added—but almost certainly not her last.
"This is everything for me," she said. "We don't have many spaces like this, that are for us by us."
Find out more about Space Studios at their website.