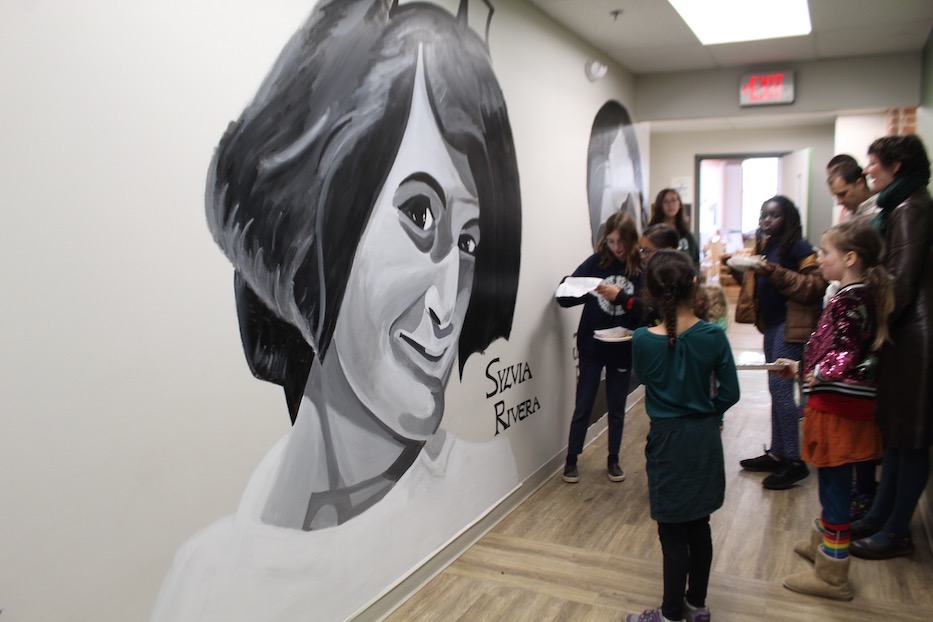 Culture & Community | Education & Youth | Kwadwo Adae | LGBTQ | Arts & Culture | New Haven Schools | Visual Arts | Arts & Anti-racism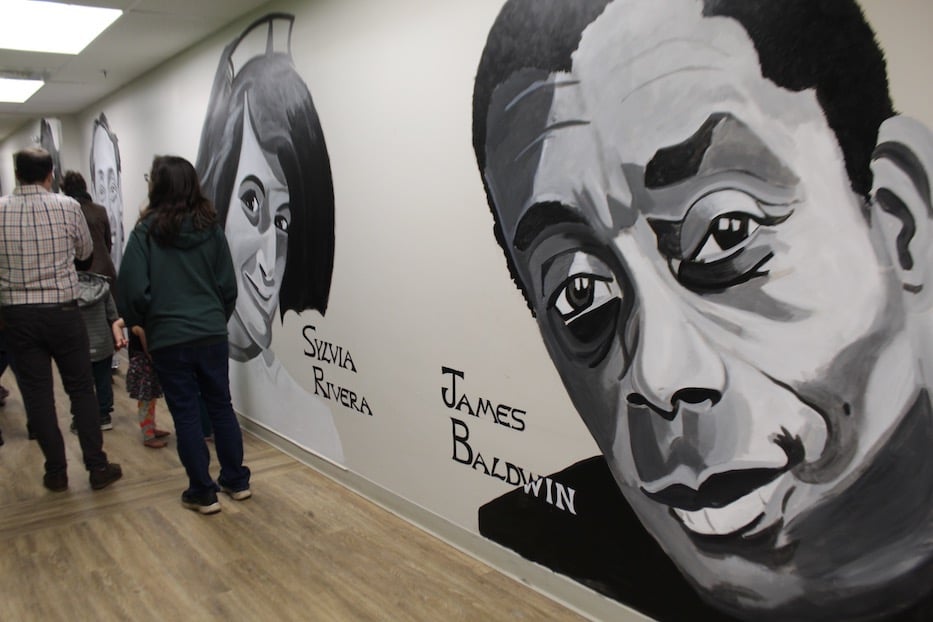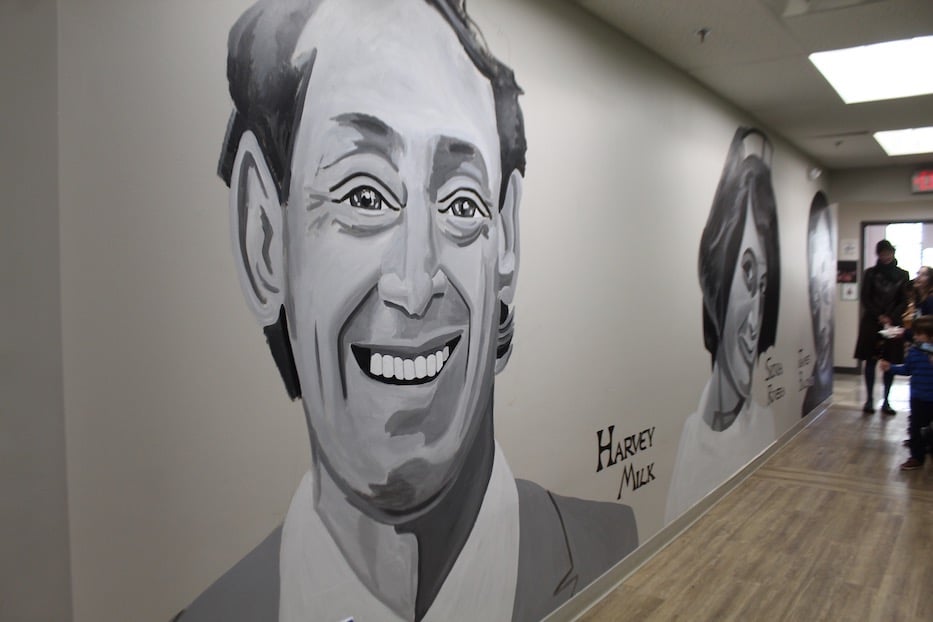 The mural. Lucy Gellman Photos; all mural artwork by artist Kwadwo Adae.
What gets you about the faces is how alive they are. Harvey Milk's eyes smile back at you, and for a moment, he looks just like he did in June 1978, when he called for equal protections on San Francisco's eighth annual Gay Freedom Day. Just down the hall, Marsha P. Johnson's whole face glows, stars gleaming in her wavy, wide curls. A few yards away, Sylvia Rivera smiles just slyly enough for you to know she has a secret.
Those figures now live at Elm City Montessori School (ECMS), where artist Kwadwo Adae has brought six LGBTQ+ icons to life against a once-blank wall. Across the mural, which stretches eight feet tall and is roughly 100 feet long, Adae has rendered LGBTQ+ icons James Baldwin, Sylvia Rivera, Harvey Milk, Marsha P. Johnson, Alan Turing, and Audre Lorde.
Together, they represent six seminal figures who lived and died in the last century (Rivera passed away from liver cancer in 2002). They are mothers of the trans rights movement, some of 20th-century America's greatest and most foundational writers, a lifesaving British code-cracker and mathematician, and California's first openly gay elected politician.
"These are people that have changed lives, and changed the world, and changed all of us," Adae said Wednesday, during an unveiling at the school. "We need to lead by examples of that. Mathematicians. Writers. Feminists. Artists. Activists. These are the people who we look towards when things get rough. It's a really beautiful thing to do and to be a part of this here."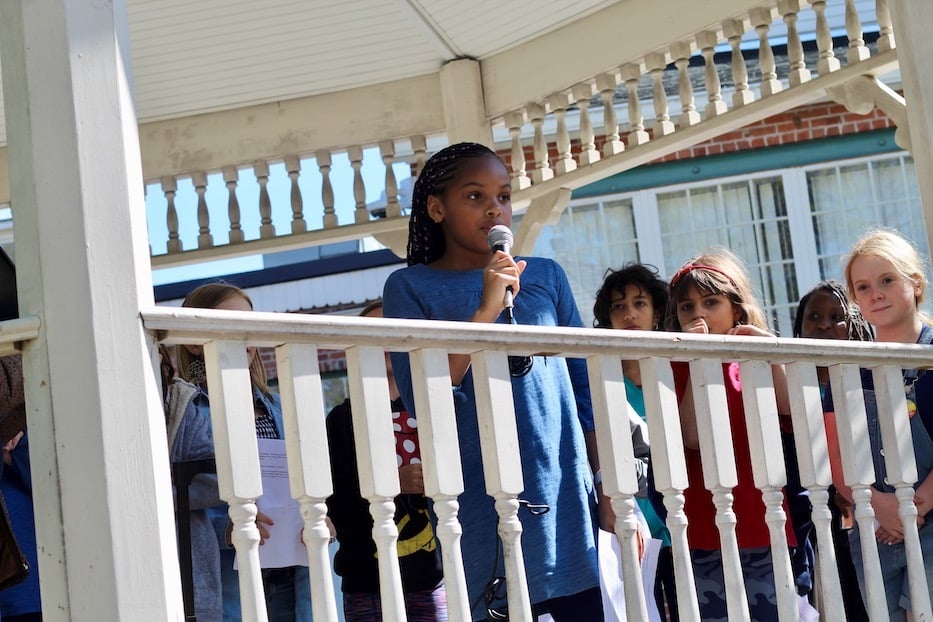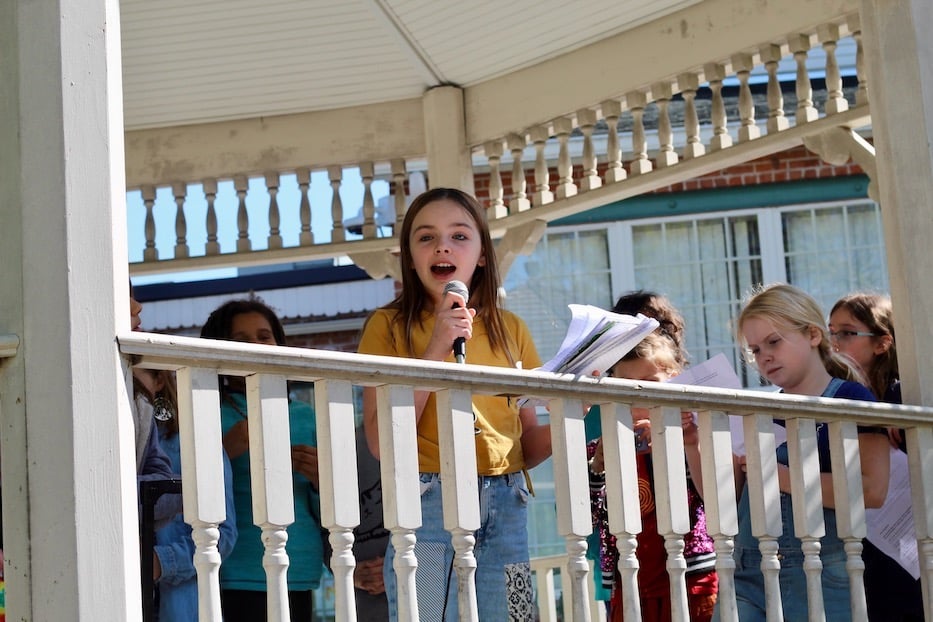 Top: Emcee Corinne Scott, who is nine. Bottom: Alison Maloney.
Wednesday afternoon, that message echoed as students, families, and faculty celebrated the work with a short, peer-led speaking program and tours from the school's growing Gender and Sexuality Alliance (GSA). The mural runs along one of the school's central corridors, where first and third graders are some of the first to see it every single day.
"All these people are on these walls because they made a difference in the LGBTQIAP+ community, and made it easier to be accepted, just like all of our members in GSA," said sixth grader Alison Maloney, who identified herself as an ally. "The impact of our murals in our school is good because even people that aren't queer can learn about them and LGBTQ+ history."
The work, which builds on a rainbow chameleon mural in a primary school hallway, has been months in the making. Last year, ECMS Magnet Resource Teacher David Weinreb and Anti-Bias Anti Racism Director Sade Jean-Jacques worked with GSA members to draft and submit a $20,000 grant proposal to the Nellie Mae Education Foundation, with the hope of expanding LGBTQ+ awareness and tolerance at and beyond ECMS. At a time when some legislatures are working to ban LGBTQ+ history, ECMS is doing the opposite.
When the grant came through last year, the school was able to hire consultant Robin P. McHaelen, who founded and for years ran True Colors, Inc. in Hartford, for a series of four workshops called "Exploring The Genderverse." In all, Weinreb said, between 20 and 25 families, all with students in Pre-K and kindergarten, attended them.
In addition, the school worked with Possible Futures to provide 200 LGBTQ+-friendly books to students, and was able to pay Adae for two mural projects at the school. An extra $600 went to Blue Orchid, an LGBTQ+-owned business downtown, for catering Wednesday's event.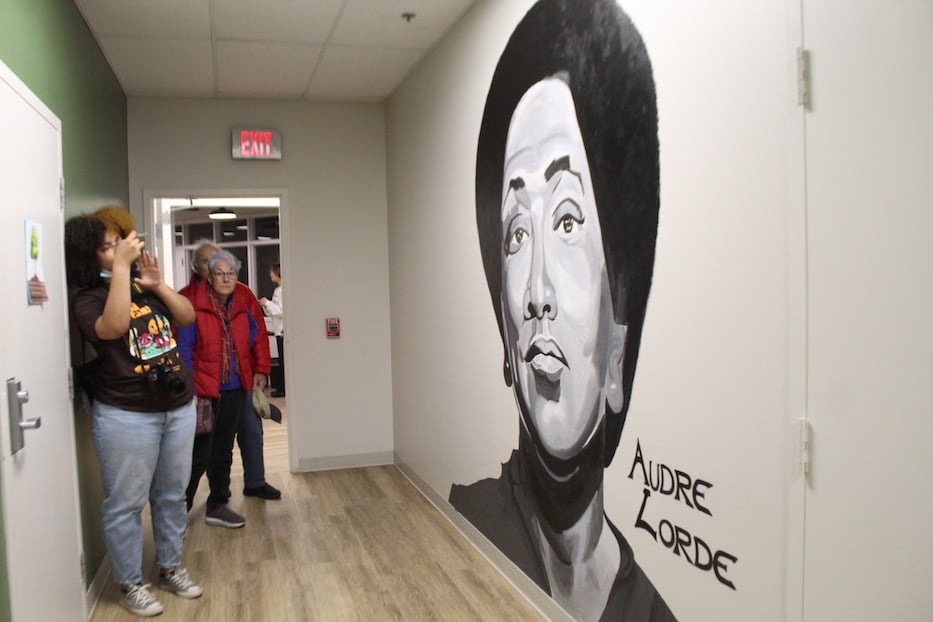 While "the murals are sort of the centerpieces," Weinreb said, ECMS is also focused on supporting young people across the city. So the school is offering up to ten $125 stipends to New Haven middle schools that pledge to start Gender Sexuality Alliances. Currently, only ECMS and L.W. Beecher Museum Magnet School of Arts & Sciences have operating GSAs, Weinreb said.
"The dream was all about welcoming new members into our community," he said as his infant daughter munched away at fried rice and pan-seared tofu in his lap. "Creating a GSA is one of the most specific things a middle school can do to build a culture of community and affirmation."
Wednesday, students, parents, and educators all praised the mural for creating a sense of acceptance and belonging at the school, which is built on anti-bias, anti-racism (ABAR) training and the principles of Montessori education. Speaking about James Baldwin, fifth grader Aiyana Adams said that both the chameleon and the queer icons mural "make me feel like I'm not alone."
Oni David, who is in the fourth grade, looked to the legacy of Harvey Milk, who in 1977 made California history when he was the first openly gay person elected to the San Francisco Board of Supervisors. During his life, Milk was an outspoken champion of LGBTQ+ rights and gay liberation in both California and the wider United States. While it is a common misconception that he was the first openly gay elected politician in the U.S., his legacy may be one of the most remembered.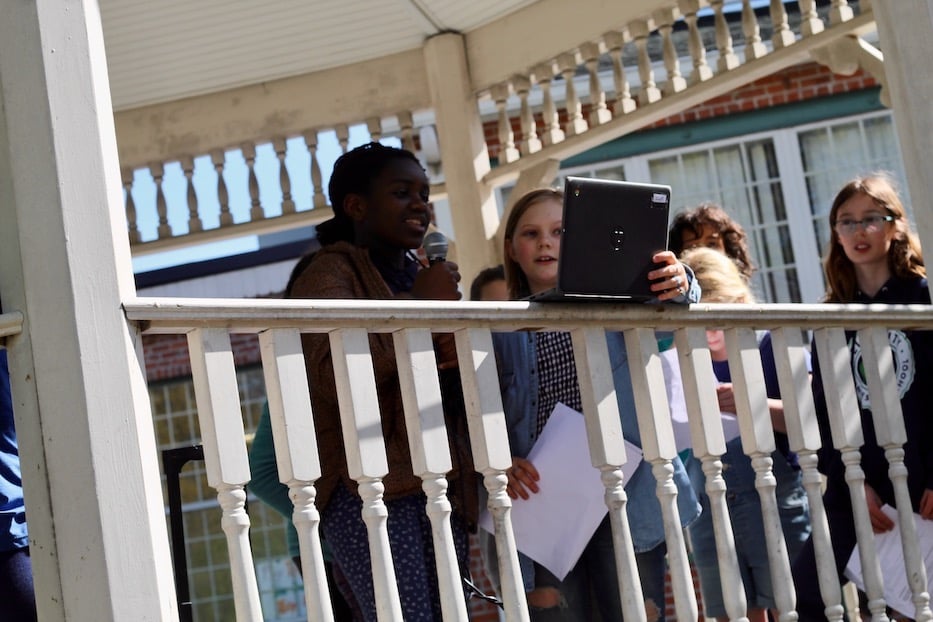 Oni David during a short speaking program. "So whenever you see something horrible going on, or something wrong, just remember to speak up, because your voice should always be heard," she said.
Before him, Ann Arbor City Councillors Nancy Wechsler, Jerry DeGrieck and Kathy Kozachenko, as well as Massachusetts State Rep. Elaine Noble, were all elected in the early 1970s. In 1972, Minnesota State Sen. Allan Spear won his election, although he remained in the closet until 1974.
The difference is that they got to keep living. Milk's life was cut short prematurely in 1978, when he was assassinated alongside San Francisco Mayor George Moscone while at work.
"He is an amazing fighter, and even when he wasn't treated the best, he still worked hard," Oni said. "So whenever you see something horrible going on, or something wrong, just remember to speak up, because your voice should always be heard."
"Whenever somebody new wants to come into the school and they see the mural, they'll be like 'Oh my gosh! This is a place for me! I'm a part of the LGBTQ community and I'm gonna feel open in this space,'" she later added. "'I'm gonna really love it here.'"
"Y'all are gonna make me cry!" joked fourth grader Corinne Scott, who emceed the program and later held court during a tour of the mural projects inside the school. "I need a tissue!"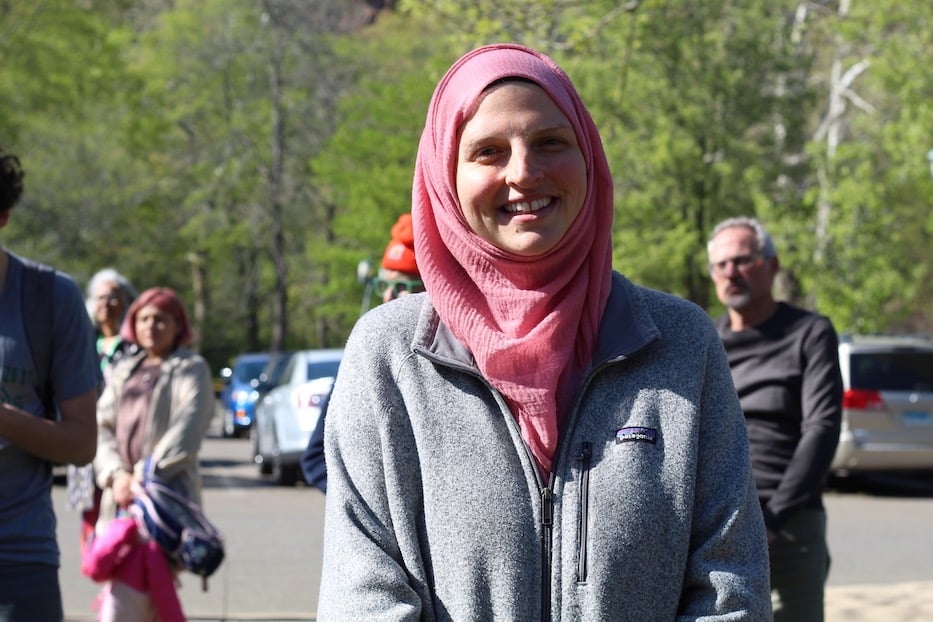 Dianne Schindler.
Both fellow GSA members and ECMS faculty echoed that importance. Dianne Schindler, a reading intervention specialist at the school, pointed to the mural as a way to help students, staff, and teachers all recognize the value of representation, whether or not they identify as LGBTQ+.
Prior to her time at ECMS, she was an assistant professor at the University of Connecticut, where she taught in both the Women's, Gender and Sexuality Studies and Anthropology departments. Her field of research is kinship models within the trans community.
"Our children need windows and they need mirrors," she said. The mural is both: it encourages students to ask questions around identity, and support peers who may be navigating what it means to be queer for the first time. "Right now, there's so much increasing hostility toward trans and queer folks. You want them to have those bright spots."
"Everyone Is Really Beautiful"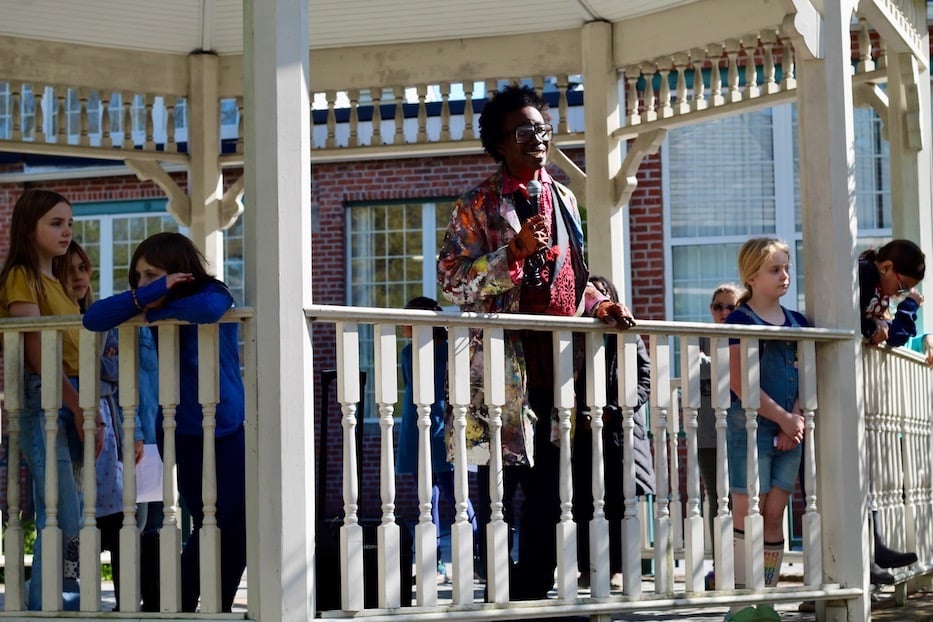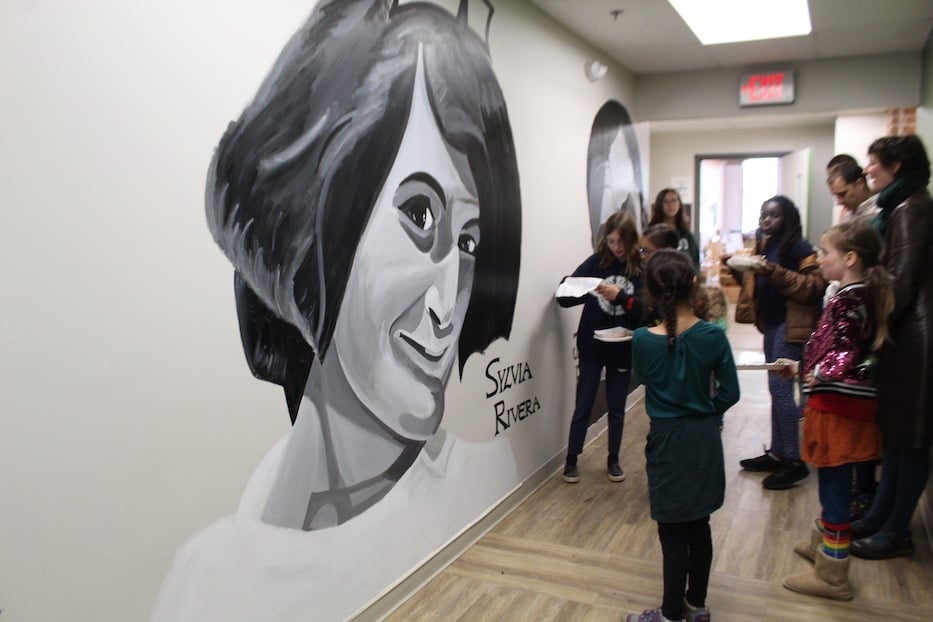 Adae, who has been working on the mural since January, said he is grateful for the thinking and reflection that the project has pushed him to do. While LGBTQ+ rights fits into his wider oeuvre and work in New Haven's schools, this marks his third project at ECMS, and the second to celebrate LGBTQ+ identity within its halls. Wednesday, he said that the specificity of the work and the use of portraiture together gave him the chance to do some deep looking.
In the process, he learned new history about each person, only some of whom he was already familiar with. From Lorde, whose poetry lived at all of her intersections, he learned to reject the idea of a "hierarchy of oppression," he said. He learned that Turing helped save the lives of millions of people when he cracked the code on Germany's Enigma messaging machine.
He celebrated Johnson's pioneering legacy, which ended abruptly when her body washed up without explanation in the Hudson River in 1992. Wednesday, he learned that Rivera graced New Haven during her lifetime, when she spoke at the New Haven Pride Center's Fitch Street home in 2000. As a Black man, he said, these trailblazers spoke to him intimately, leaving him moved by the sheer impact they made during their lifetimes.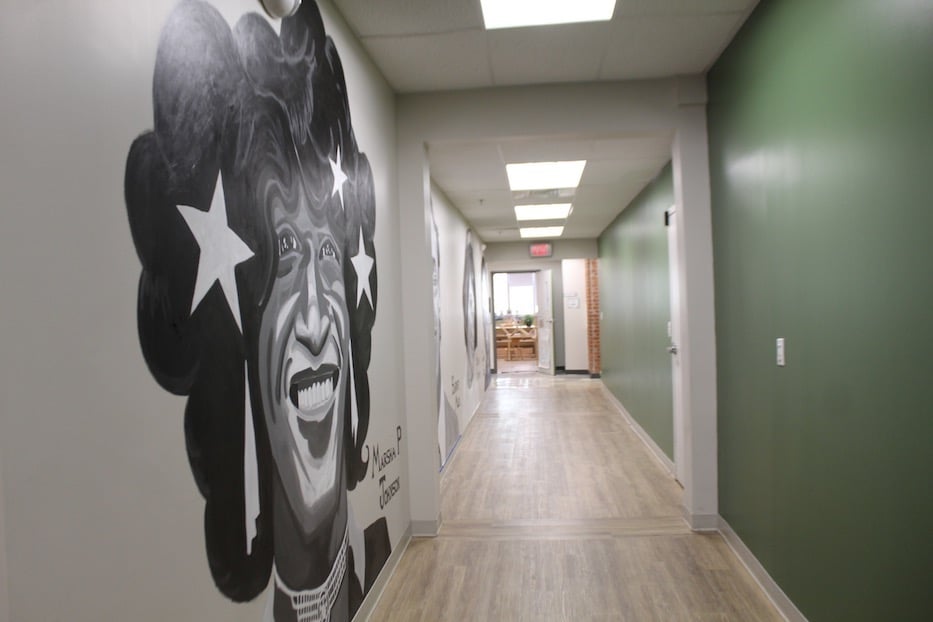 Marsha P. Johnson.
"When anyone else is oppressed, you want to make sure that you do something about it," he said. "That's what I have learned. And the beautiful part about these murals is I've learned so much about these people … these lives that were so poignant and beautiful and feisty."
"Everyone, everyone is really beautiful," he added to cheers and applause. "All you have to do is just study, take a moment to study anyone, and there's this gorgeousness around."
He said that the mural's message feels particularly urgent right now, as legislatures across the country introduce, debate, and in some cases pass bills that directly attack LGBTQ+ rights, and particularly the rights of trans children and teens. Currently, there are almost 500 anti-LGBTQ+ bills proposed across the country, from bans on gender-affirming care to the exclusion of trans women and girls from sports. Connecticut is not immune: this year saw bills that sought to ban the term "Latinx" and increase "parental rights" across the state.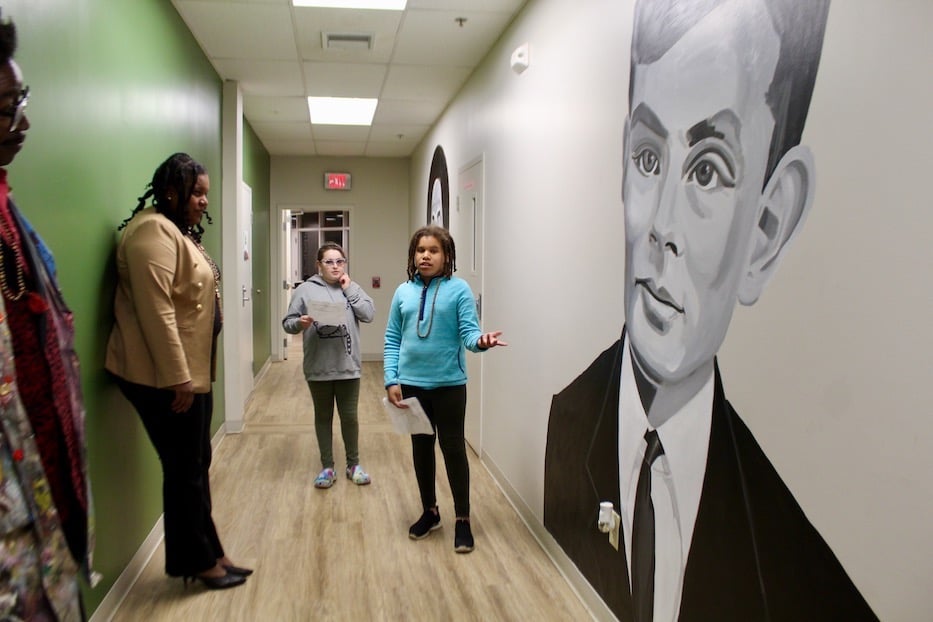 Fifth graders Pearl Webb Sterrer and Avery Elizabeth Beard talk about Alan Turing.
Inside the school, students, parents and educators lingered by the larger-than-life figures, taking them in as they walked down a corridor used to welcoming a fleet of tiny feet each day. As they led a tour, fifth graders Pearl Webb Sterrer and Avery Elizabeth Beard said they're drawn not just to the figures, but how the figures make them feel.
"I feel like people should know about it [LGBTQ+ history]," Pearl said. "If they don't know, they might not think it's okay. It's important to know that you're not alone."
With a smile as slight and secretive as Rivera's, she remembered getting in a fight with a classmate who insisted that there were only two binary genders. She doesn't think her classmate was ignorant, she said; she just thinks they were missing a piece of education.
"I just like that it's happening," Avery said.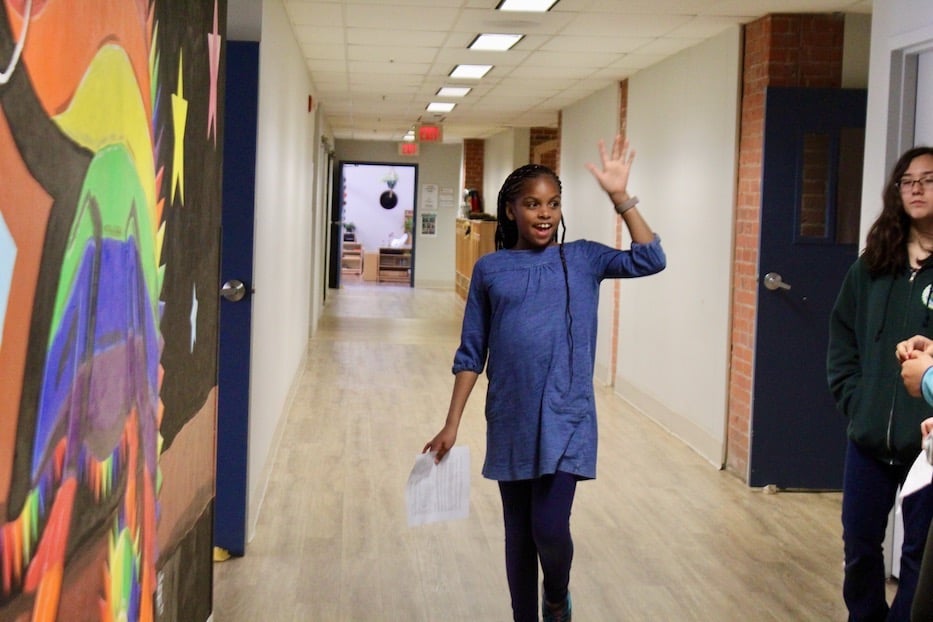 Corinne Scott at the chameleon mural, which is decorated with Daniel Quasar's Progress Pride Flag.
So do a number of the staff members and parents, who see it as a reminder of the work they do every day to counter a dominant, cisgender, heterosexual and white narrative. As she walked with her daughter to her car, Jean-Jacques pointed to the murals as a chance to normalize teaching Black and LGBTQ+ history.
She remembered seeing the finished image of Lorde for the first time, and being moved by the care with which Adae had depicted a roll of fat on her neck. This wasn't Lorde, airbrushed or amended for the sake of optics. It was Lorde just as she lived, which was without apology. As a mom, Jean-Jacques added, it gave her an opening to talk about who Lorde was (her daughter, Zora Lee, originally thought it was Angela Davis).
"I'm feeling my feelings," she said. "This is inspiring and moving."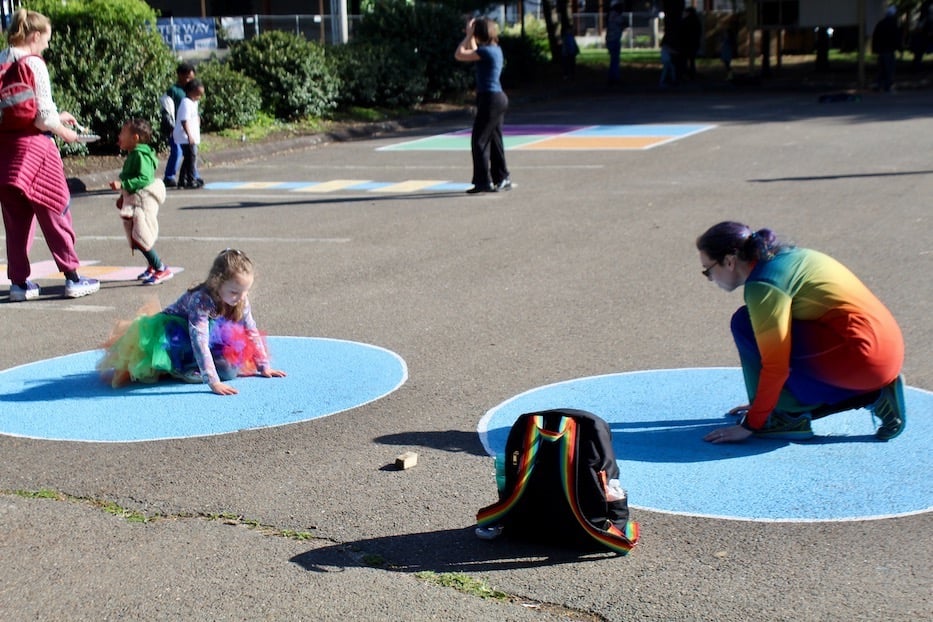 Hypatia Hughes and Illa Hiller. Both dressed for the occasion in rainbow.
Back on the basketball court and playground behind the school, ECMS parent Illa Hiller applauded the mural as she played an involved game of "Simon Says" with her five-year-old daughter, Hypatia.
While she's "still figuring it out," Hiller said she thinks that she's probably bisexual or pansexual, and identifies both as a member of the LGBTQ+ community and a cisgender ally.
"The school is gentle but doesn't shy away from the ugly truths of history," she said. "We have to learn from them so that we don't repeat them."
Corinne, who is nine ("almost 10," she noted), agreed. As a Black girl, she said, she knows that "many people are against my skin color." When she comes to GSA meetings, she knows that she's not being judged. She wants that for everyone.