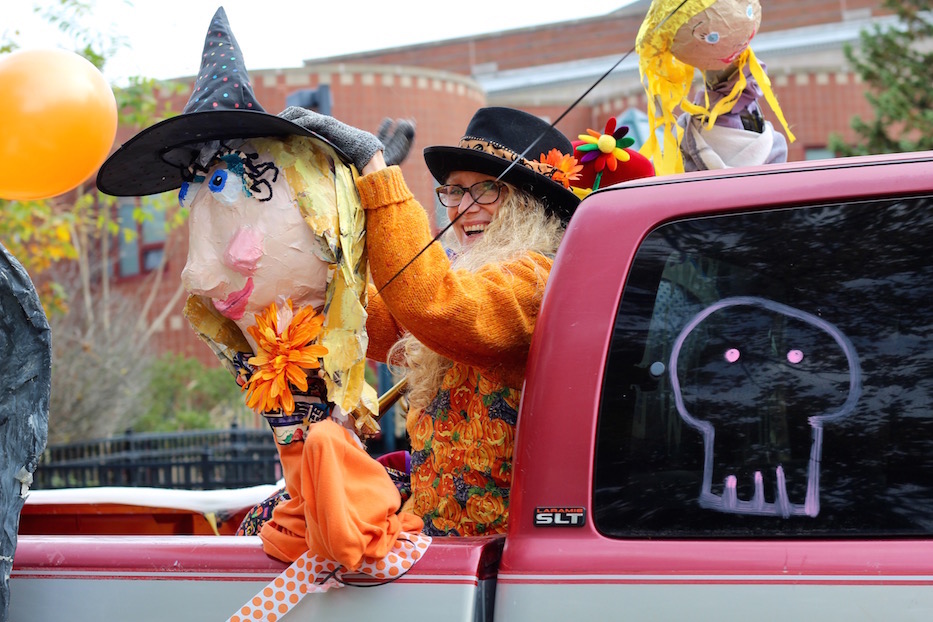 Halloween | Arts & Culture | Westville | Puppetry | COVID-19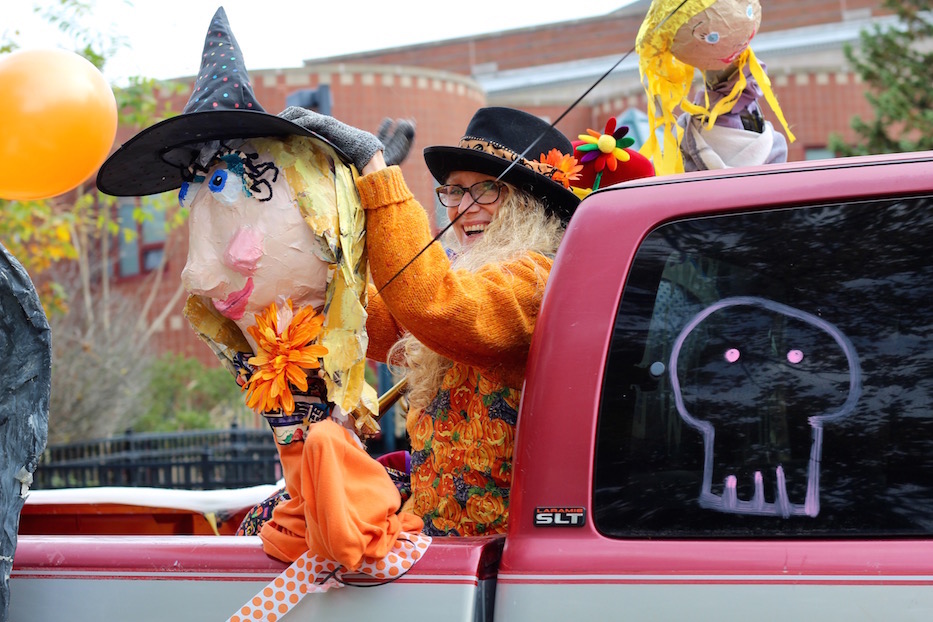 Jaime Kane, who teaches at Westville Community Nursery School and leads the Edgewood After School Drama Club. Lucy Gellman Photos.
Honking filled the air at the corner of West Rock and Edgewood Avenues. In the street, a cobweb-covered car and wide-cheeked witch had suddenly appeared, a shock of orange and black against the yellow and rust-colored leaves. A huge brown goat rose behind her, his head bobbing slowly with the motion of a truck. Trumpet sailed over the block.
At Deja Brew cafe, a few diners put down their coffee cups and half-nibbled scones. Families trotted out onto the sidewalk and cheered. Westville had saved Halloween a week early.
So began the neighborhood's tenth annual Giant Puppet and People Making Mayhem Parade, a boisterous and just-fearsome-enough car caravan that wound through the streets of Westville and Amity Sunday morning. The caravan concept was born just three weeks ago, as a way to hold the parade safely during the COVID-19 pandemic.
It came as a collaboration among the Westville Village Renaissance Alliance (WVRA), neighborhood artists, artist and de facto puppet master Muffy Pendergast and members of A Broken Umbrella Theatre (ABUT).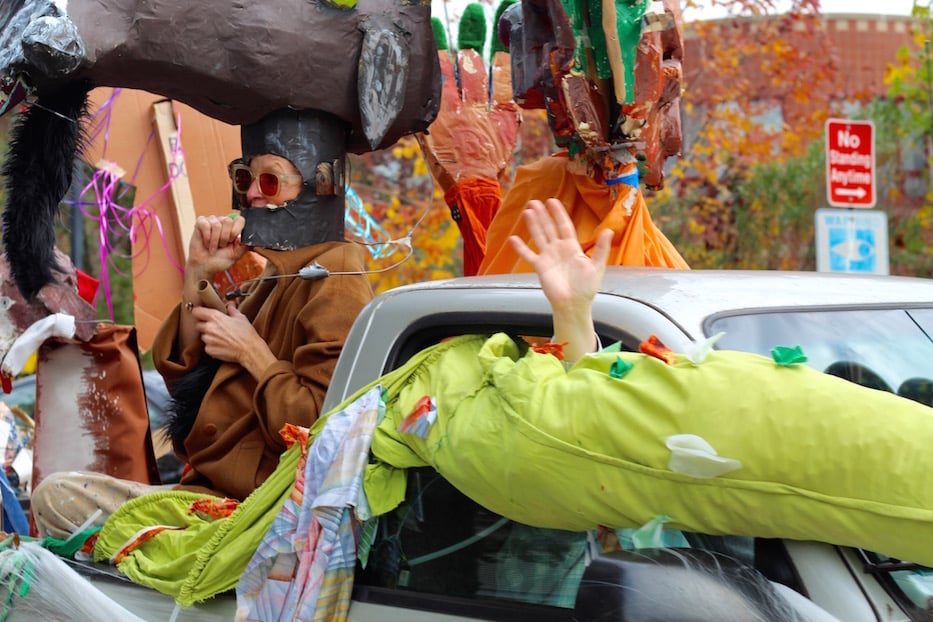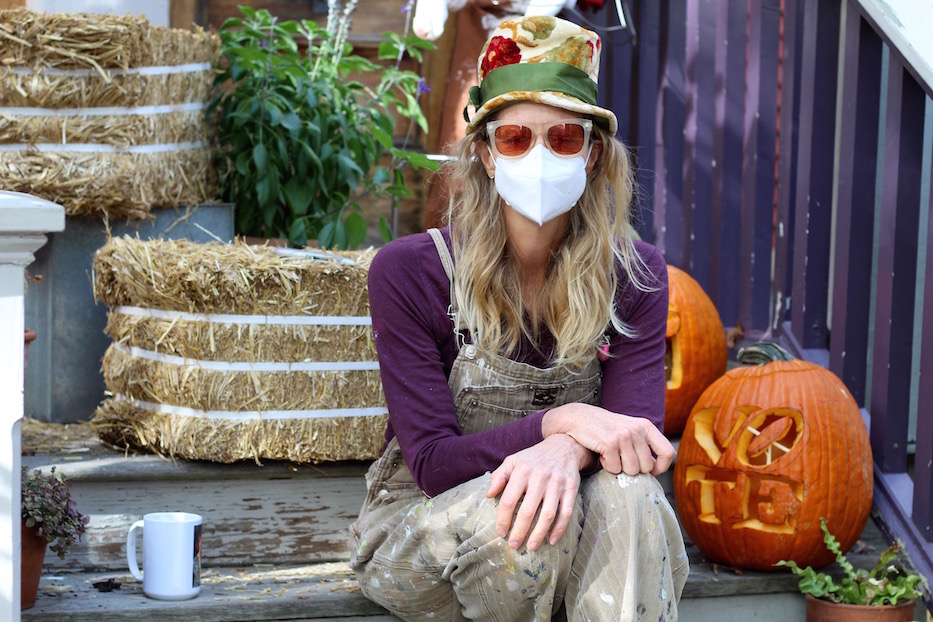 Muffy Pendergast, on her West Rock Avenue porch after the parade. "It felt like we needed to do it," she said.
"It felt like we needed to do it," said Pendergast, who brought the concept to Westville after moving to New Haven in 1998. "We just needed to continue the tradition in some way."
Puppet parades have a long, globe-spanning history, from the giant, unblinking marionettes of French street theater to Dhaka's giant puppets to the regional artistry of Bread and Puppet in Vermont and the now-defunct Stony Creek Puppet House Theater in Branford. For years, giant puppets and circus performers were part of the International Festival of Arts & Ideas, a concept to which the festival returned briefly with Manual Cinema in 2017 and Circa last year.
Pendergast's first exposure to Connecticut puppet theater came when she and her husband, the artist Frank Bruckmann, lived in South Norwalk in the 1990s. Living there, they experienced the city's Giant Puppet Parade, which became the culminating event of what is now the SoNo Arts Festival. When the couple moved to New Haven, they wanted to bring the tradition to the neighborhood.
"It was so much fun to have a creative project that had nothing to do with work," she said. "When we moved here, I was like, 'yes, we have to do this here.'"
Ten years ago, she launched the parade with weeks of puppet-making workshops that were open to the community. They popped up around the neighborhood in October—in empty storefronts, Neville Wisdom's former fashion studio, Lotta Studio, Coogan Pavilion and the ranger Station at Edgewood Park. For whole days, families would stop by and make larger-than-life papier-mâché creations.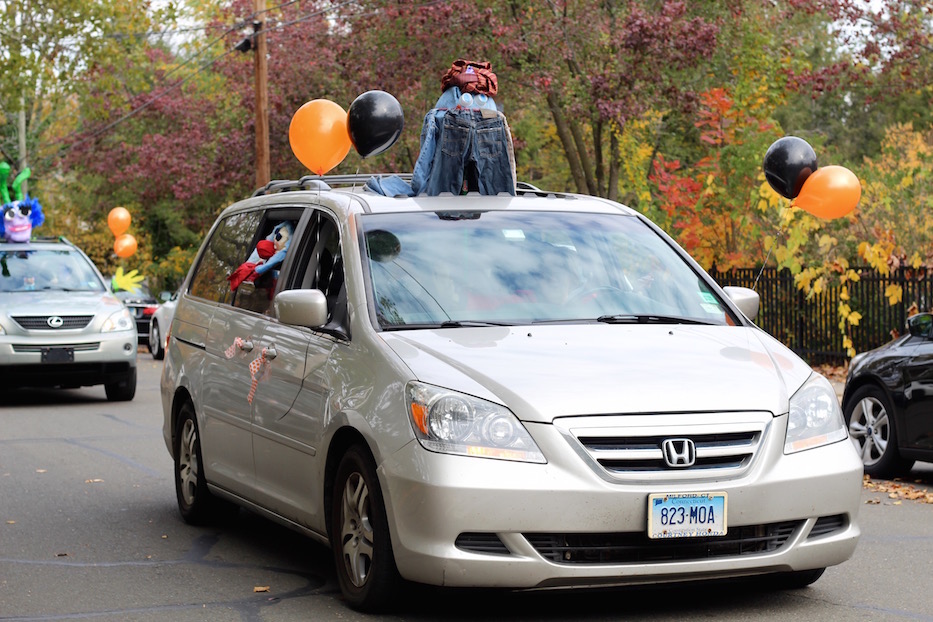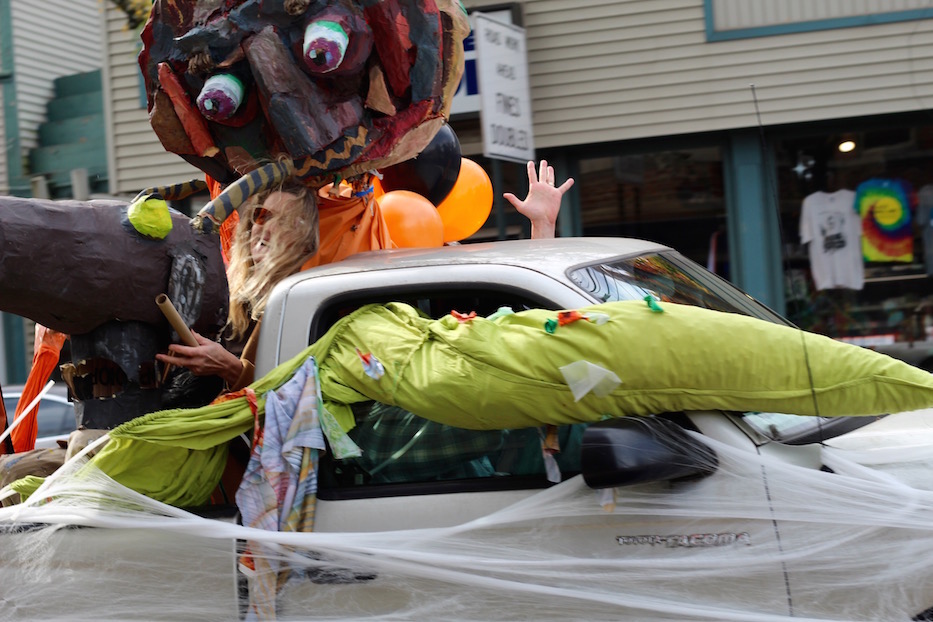 Pendergast recalled watching families walk by, first with a look of utter confusion, sometimes contempt, and then enough curiosity to stick around and try out the puppet arts for themselves. On the Sunday before Halloween, the puppets took the streets, propped up by their creators as they marched on foot to Edgewood Park. For Pendergast, it was a way to create community in a neighborhood filled with artists and young families.
The parade grew into a harvest party in Edgewood Park, with burlap sack races, hot cider and baked goods, Halloween costumes and apple-eating contests. Pendergast's own "West Rock Troll," a leaf-colored puppet with a huge head and eyes made from inverted yogurt containers, became a symbol of the event. When COVID-19 made that impossible, she found herself mourning the loss of the workshops.
"I missed building the puppets so much," she said, sandwiched between carved pumpkins and bales of hay on her porch. "The reason that I got into this is I wanted to give people the chance to create. To give people the chance to play."
Three weeks ago, she and WVRA members decided to put the parade on wheels. Neighbors, educators, and artists from the community jumped onboard, pulled out old puppets and decorated their cars. Sunday morning, WVRA put out a map of the parade route, so that residents could come out of their homes and watch.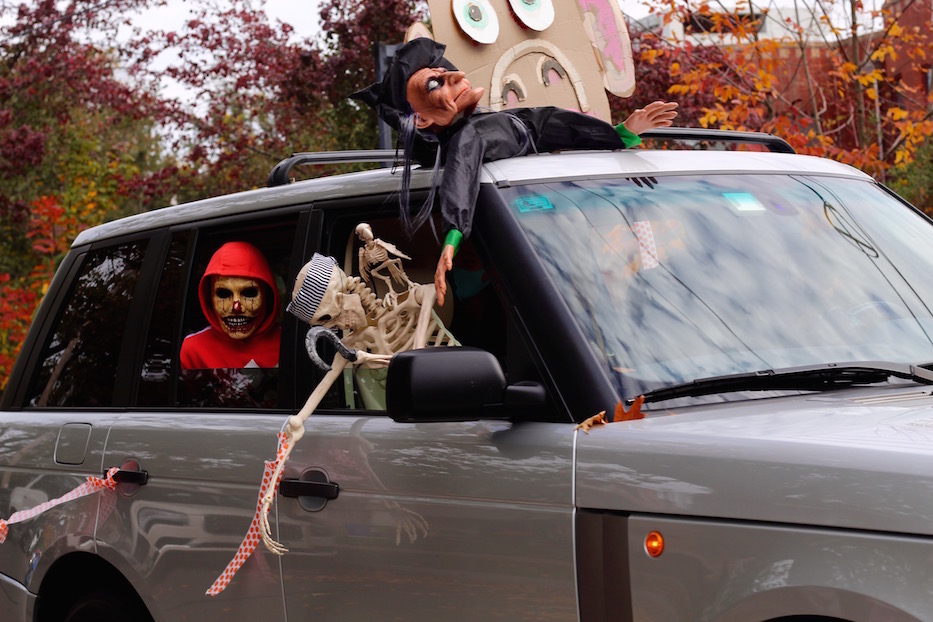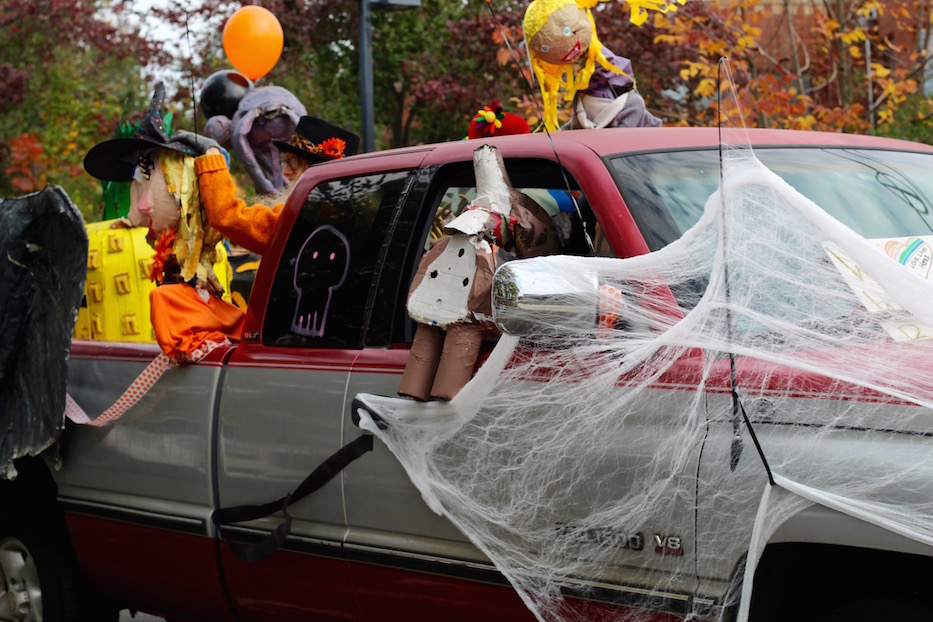 Before hitting the streets, the group spent time setting up a line of cars on West Rock Avenue, loading puppets into truck beds with live music and at least one ghastly-looking creature buckled into a backseat. As they lurched forward, the sound of honking merged with a brassy, jubilant trumpet from Hillhouse teacher Tim Kane. Neighbors looked up, some stopping while raking their lawns and walking through the crisp air.
At the corner of West Rock and Edgewood Avenues, Samuel Manka and his 5-month-old Alexander waited eagerly for the parade as his wife and daughter chatted with neighbors nearby. This year, Manka said he expects Halloween to feel different, particularly following Mayor Justin Elicker's statement discouraging trick-or-treating. As a dad, he and his wife have tried to think of ways to salvage the holiday for their kids, including a contactless candy chute at their home.
"We just wanted to do something fun," he said, adding that it may be particularly hard for their two and a half year old. "And we wanted to do some Halloween activities. We're not sure how much of Halloween can happen on Halloween this year."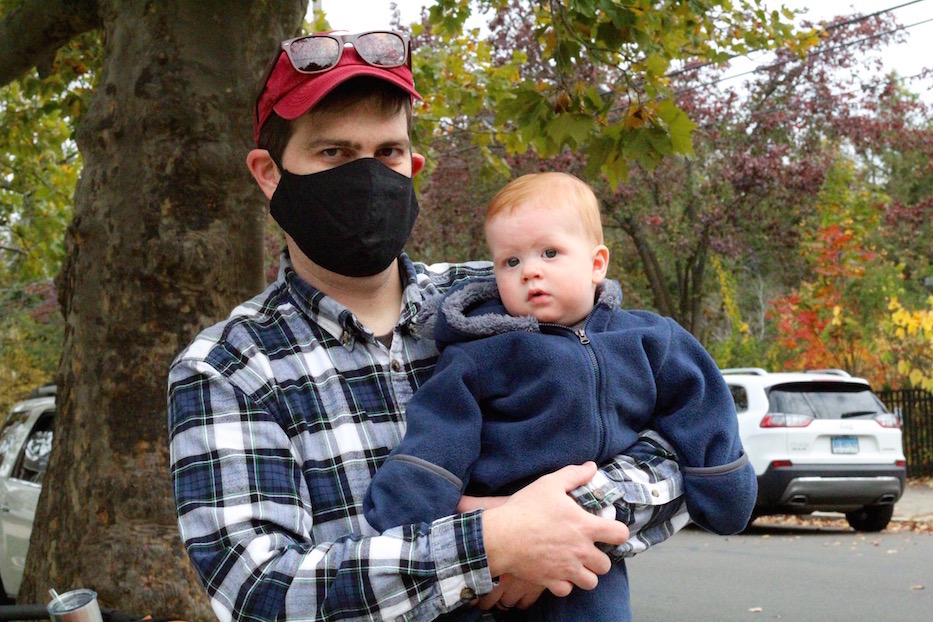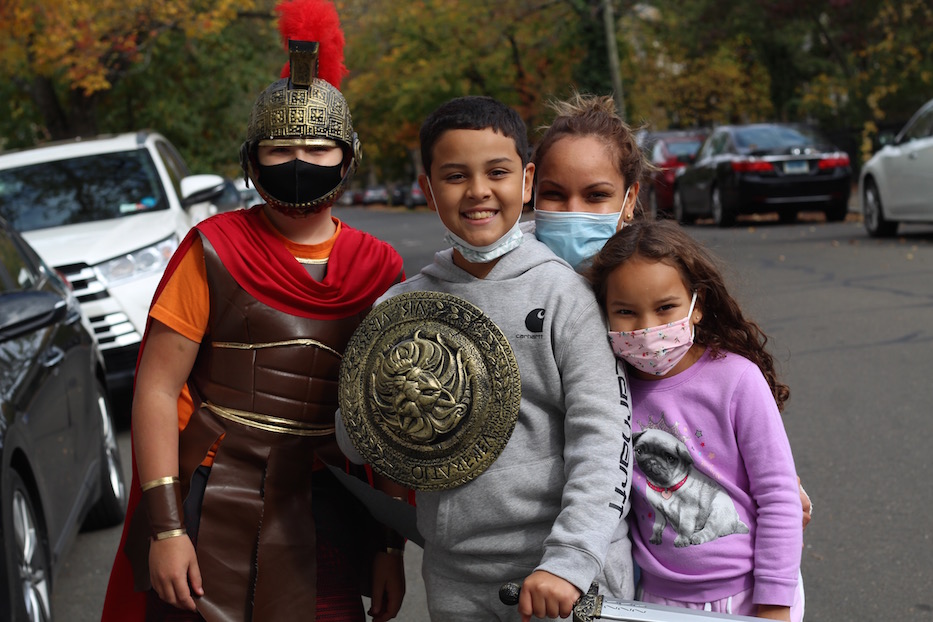 Top: Samuel Manka and his 5-month-old Alexander. Bottom: 10-year-old Silas Turner, with Alexandra Sanchez and her kids Michael and London. Michael is 10 and London is six.
In the street, Alexandra Sanchez waited for the parade with her kids London and Michael, and Michael's friend-turned-gladiator Silas Turner. A former Westvillian—she now lives in Woodbridge—she returns to the neighborhood with her kids as often as she can. Because she expects Halloween to feel more subdued this year, she wanted to celebrate the puppets at a safe distance.
"It's something that is happening in this year," she said, adding that "the only positive thing' about 2020 has been her kids, including a new baby daughter who was sleeping at home.
Michael, who is 10, added that the parade helped save part of Halloween for him. The candy was out, he said, but the spooky masks and costumes still made an appearance. Back at the corner, the cars turned onto Edgewood Avenue and kept going. He waved as they went by.
"I like being out here," he said. "It feels a lot different, because corona is still going around. But this is still fun."